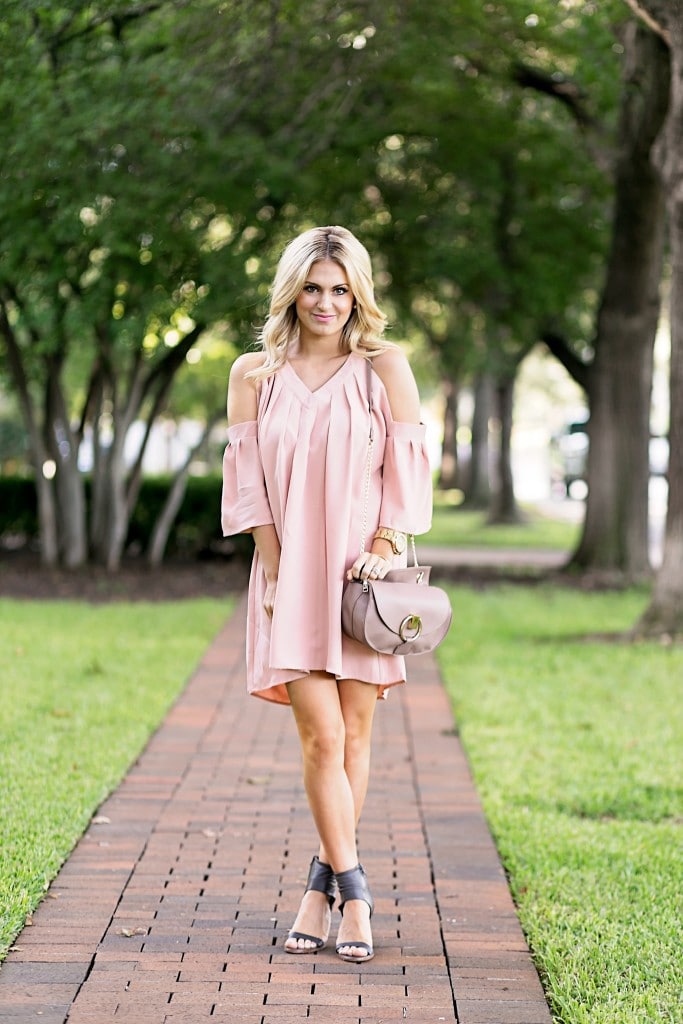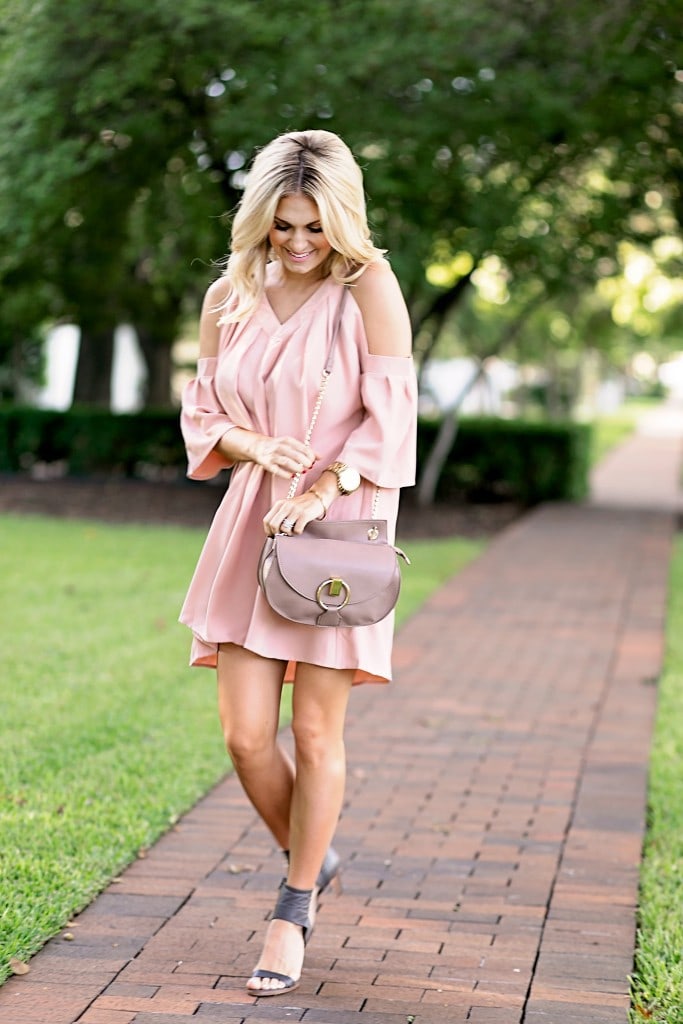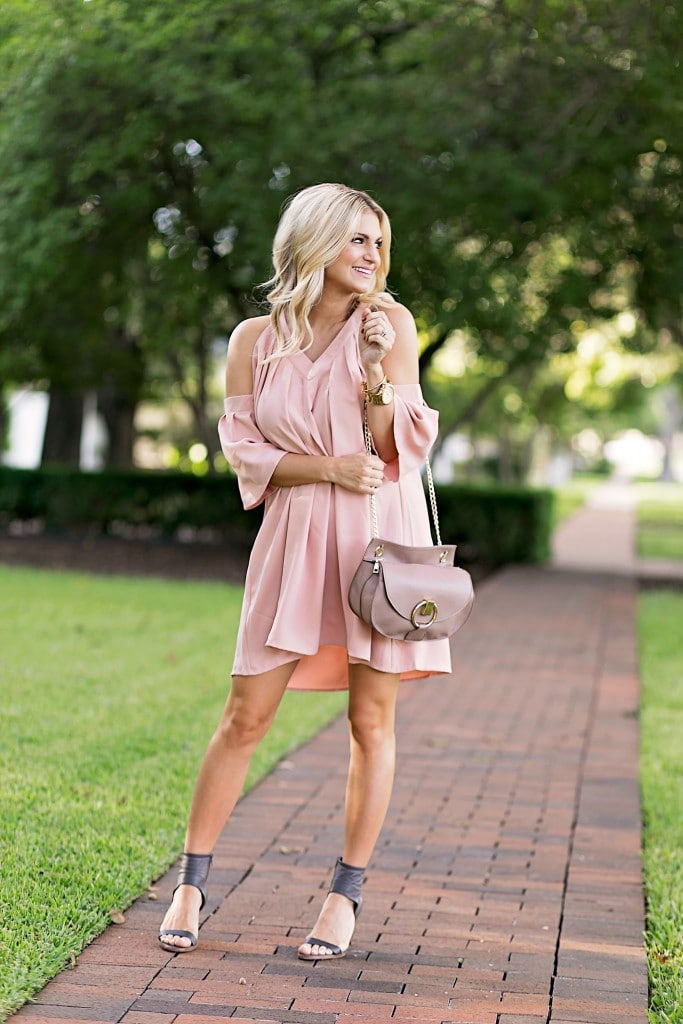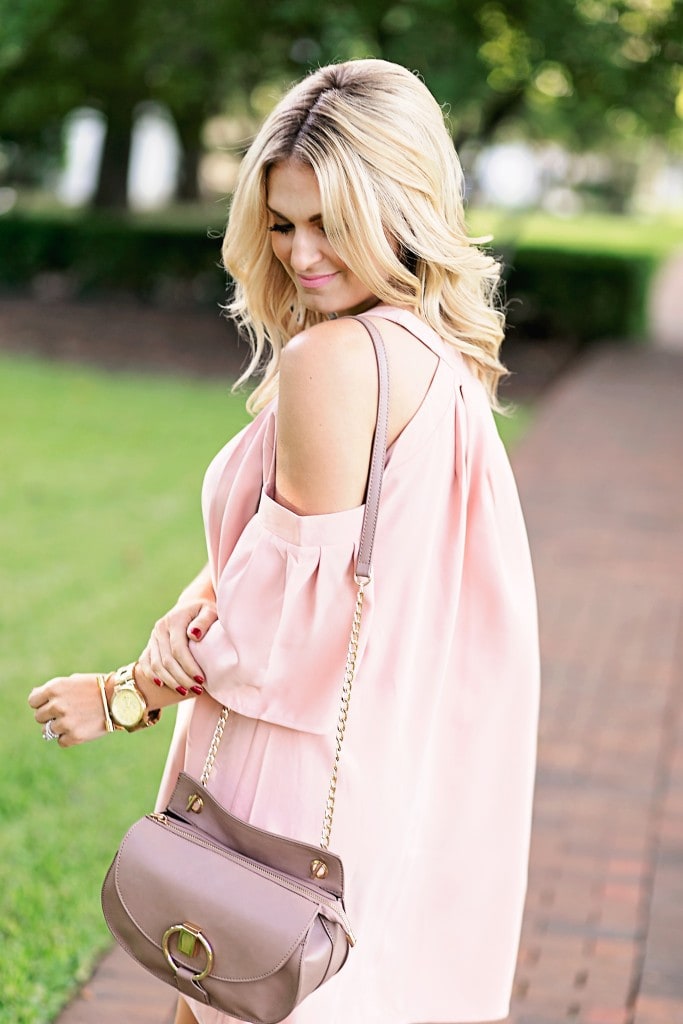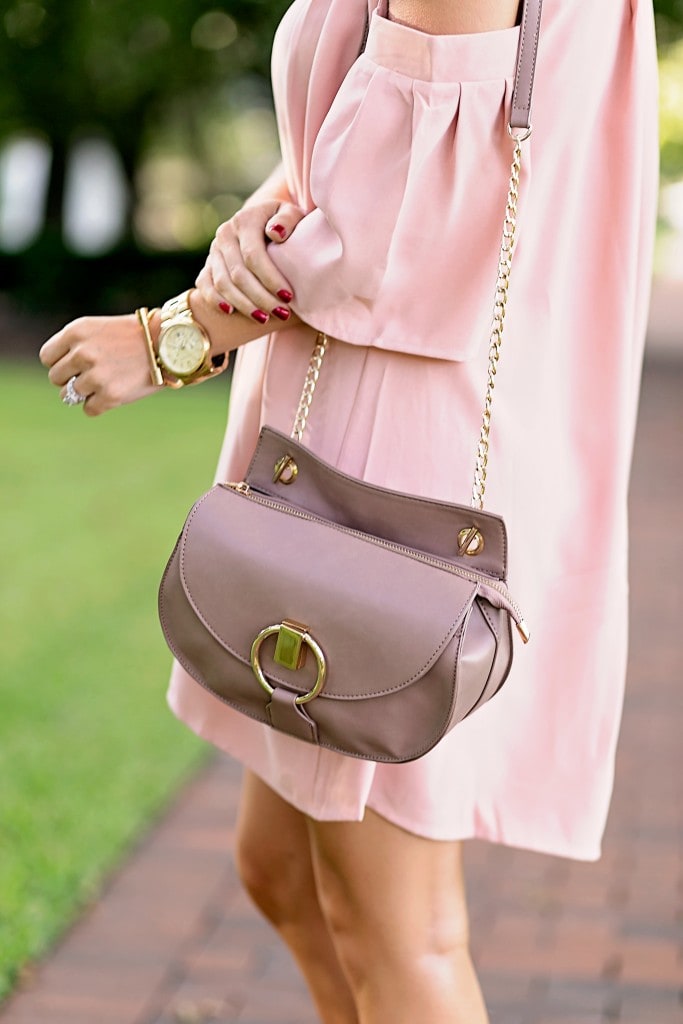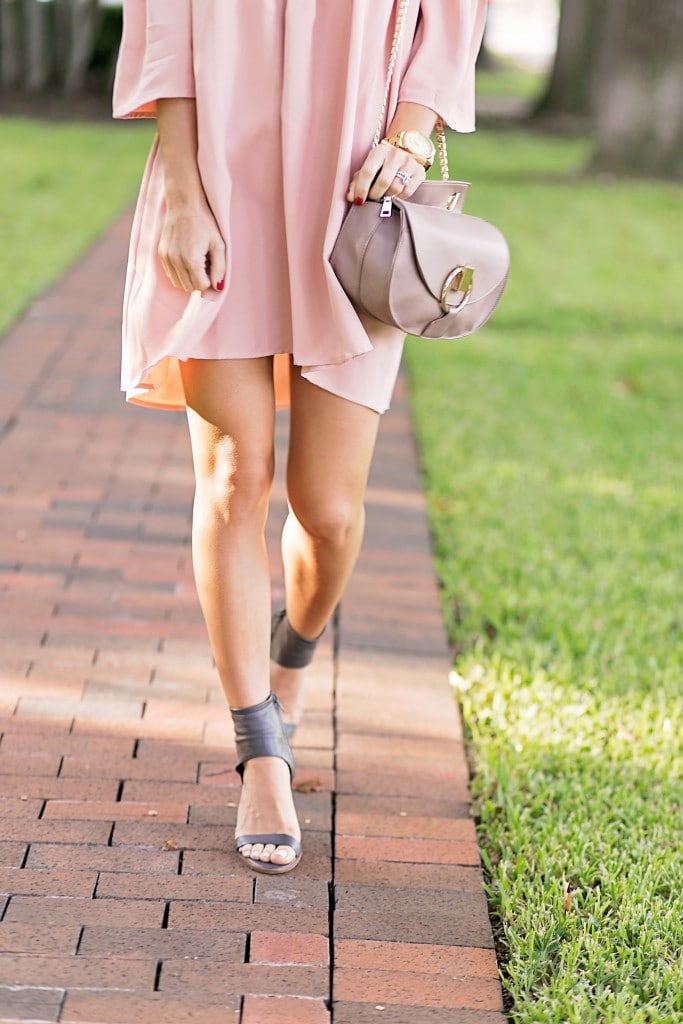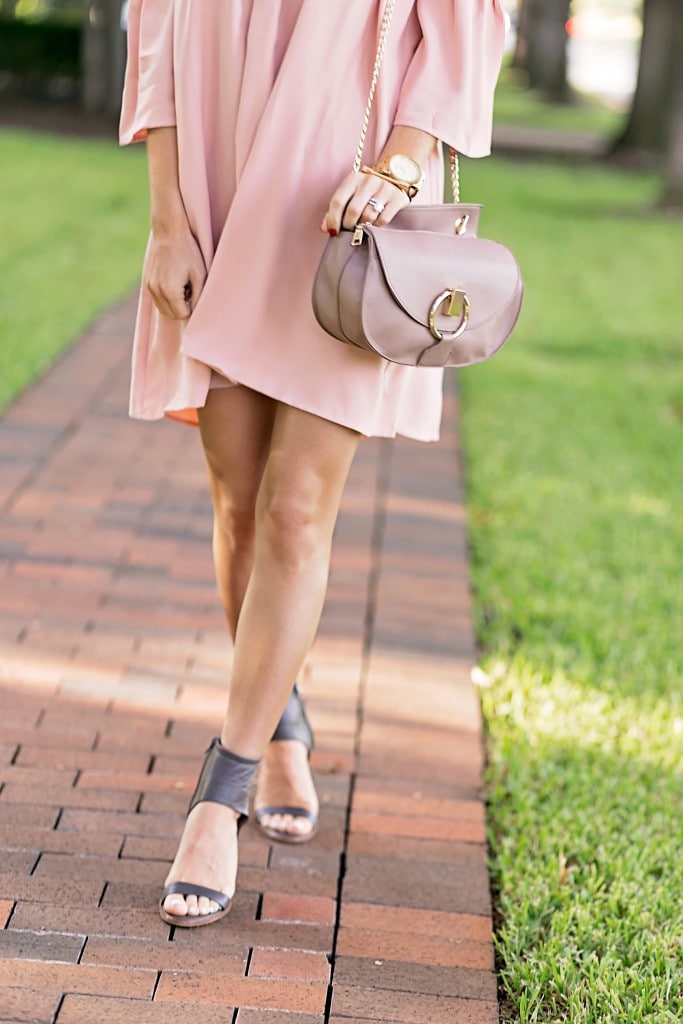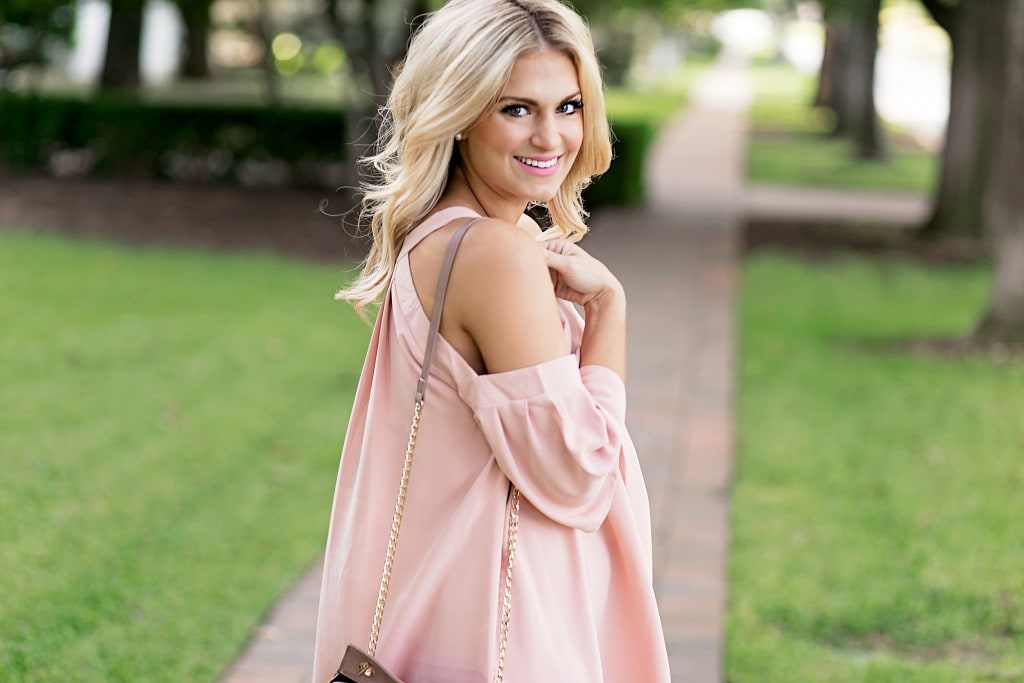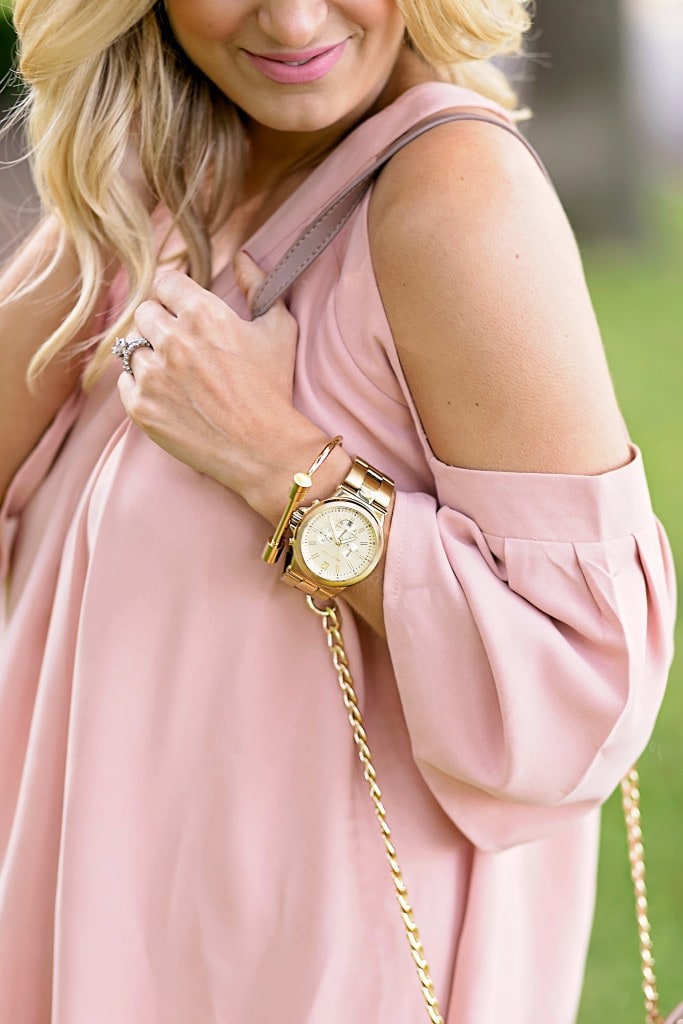 Dress: The Styled Collection [c/o] | Bag: The Styled Collection [c/o] | Bracelet: The Styled Collection [c/o]
Photography by: Angie Garcia
---
I wore this little dress on Snapchat last week and I got so many questions, so I knew I had to share on the blog! One thing you may notice is that it is oversized, and no my bump didn't grow overnight! haha. She did pop out a little bit more on Saturday night though! We were walking in church and I kept asking Paul, "Okay, do you think people will actually start asking me when I'm due?!" haha! You get so excited about each stage of your bump! I found The Styled Collection right before I went to fashion week and fell in love with this little pink number. It's the softest shade that makes you feel far more tan than you actually are, which in my case is ALWAYS welcomed!
So as I went to order this dress I thought, "Wait! I don't want to get this and only wear it for a week, I want to wear it to my baby shower." So I got bit nervous and ordered a M. Always have to think ahead for the future y'all! 😉 However, it runs a bit larger anyways, so get your normal size or size down if you want a more fitted look!
The reason I wanted to share The Styled Collection is because I'm always getting e-mails from you all wanting unique shops with boutique-pricing, that has a good amount of inventory! There's always a struggle with finding you all a store that can provide both, as most boutiques keep limited sizing as they are always switching up inventory. My dress is on sale, my bag [which reminds me of Chloe!] is $44 and my bracelet is $18. I wore this bracelet to a few events last week in Dallas and everyone kept grabbing my wrist like it was a chocolate chip cookie right out of the oven. "Where did you get this?!" "I need this!" "How much was this?" Feels pretty good to share a steal with your girlfriends under $20! I know it's only October, but for $18, this bracelet would be the perfect Christmas gift for girlfriends!
 I hope you enjoy this little steal of a site I found and that you're having a great start to your week! We registered for Baby H last night and oh my! I chose to do it online because I just wanted to be able to research online as I did it and only register for the things we need. I think it took me 4 hours to research everything and I was still thinking, "Did I look up enough reviews?" I'll definitely share my registry list, but probably once she is born so I can test things out as I know she will be partial to certain bottles, diapers, etc. I'm also working on a post soon that will share what I've purchased so far and things my best friends have promised are must haves! Thank you so much for stopping by!

P.S. the prices may change as these items were on sale during the blog post and could go back full price!
In partnership with The Styled Collection. All opinions are my own!