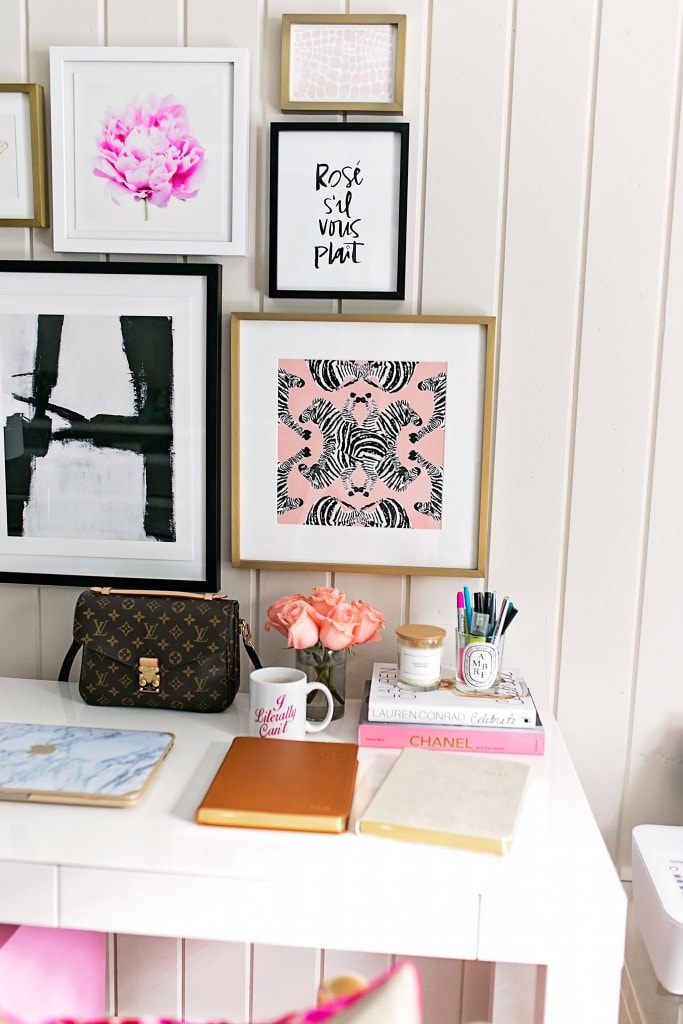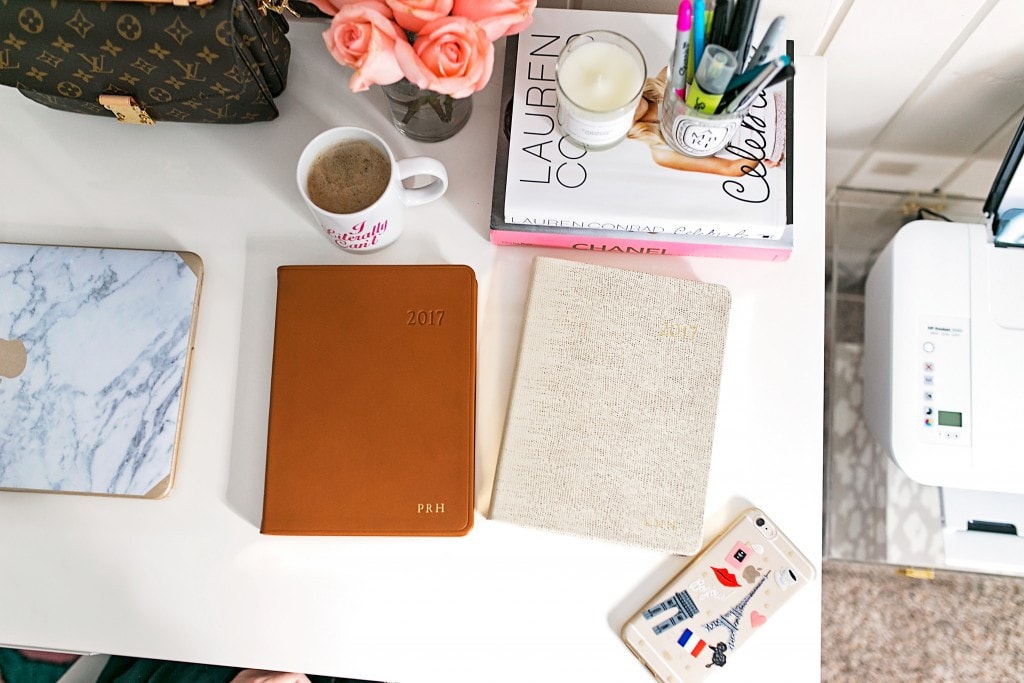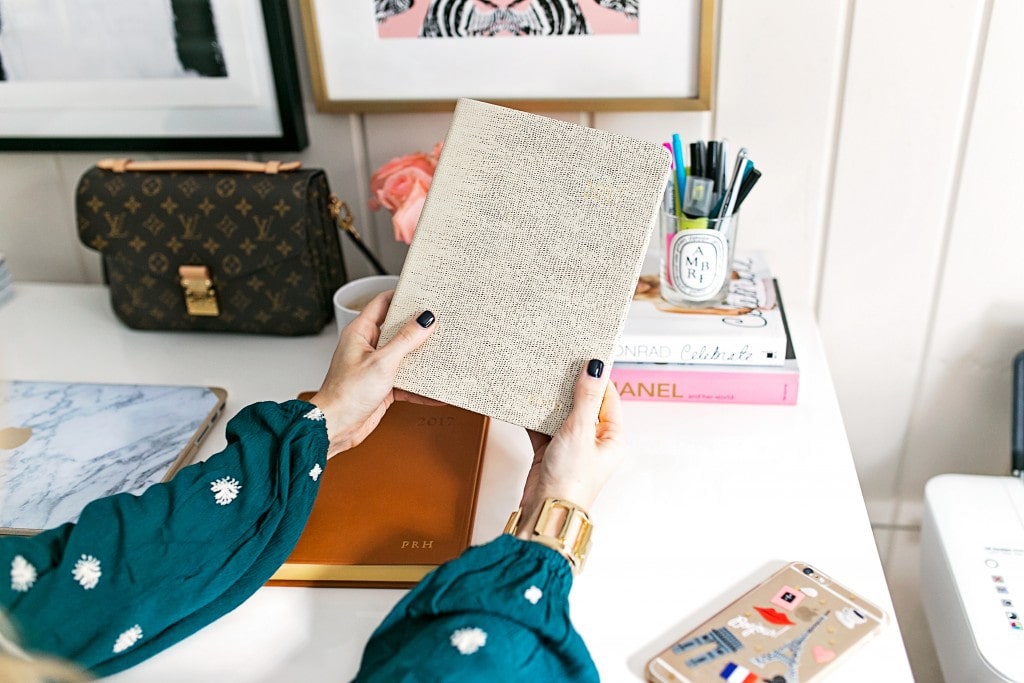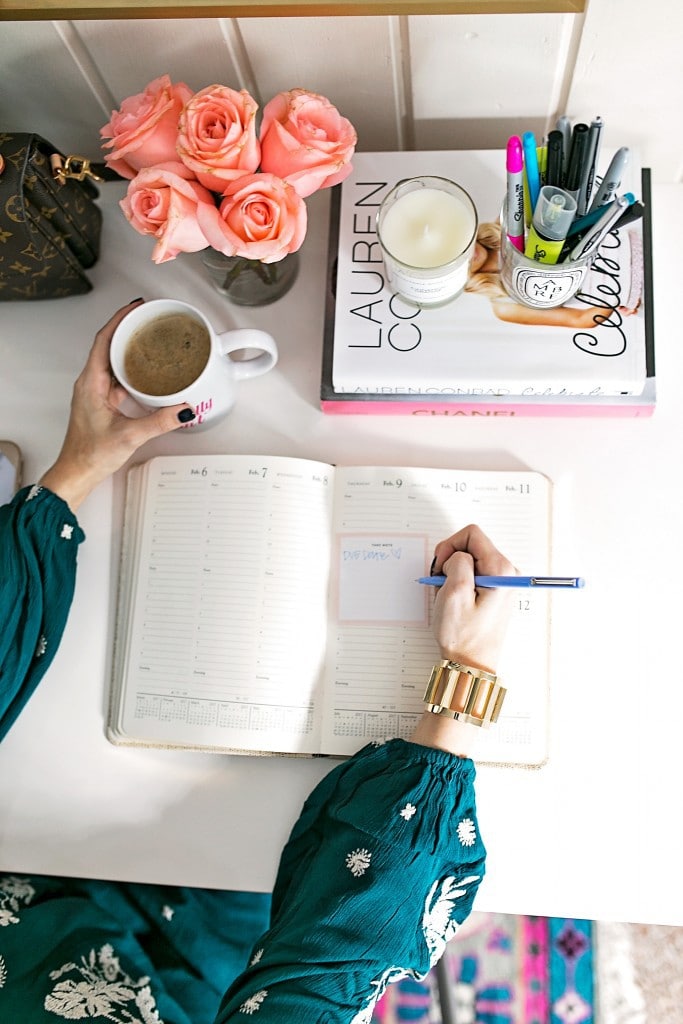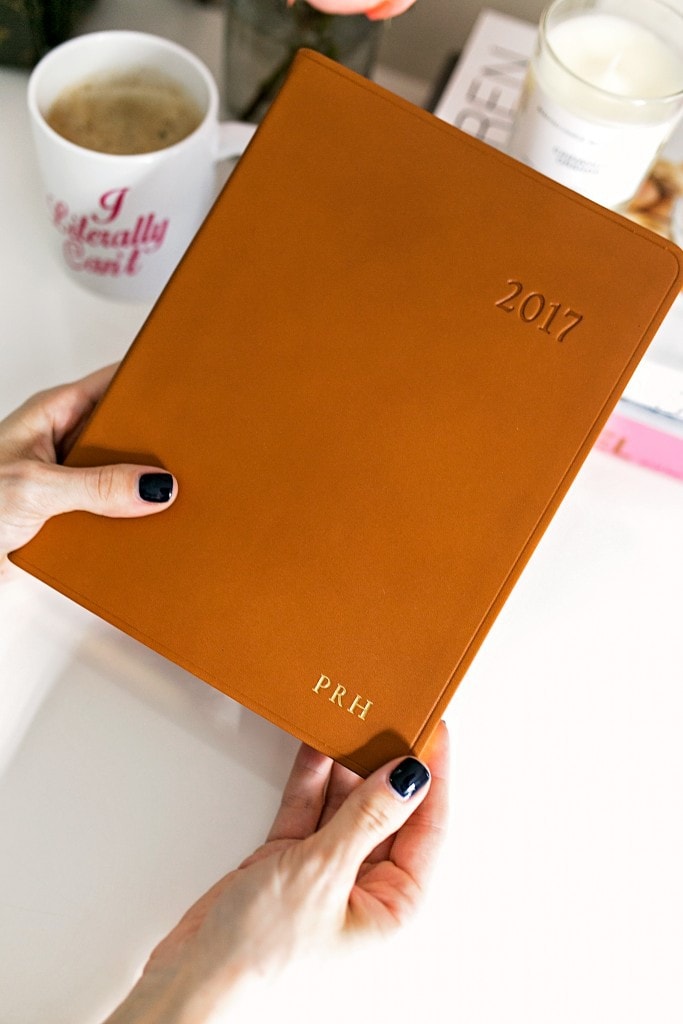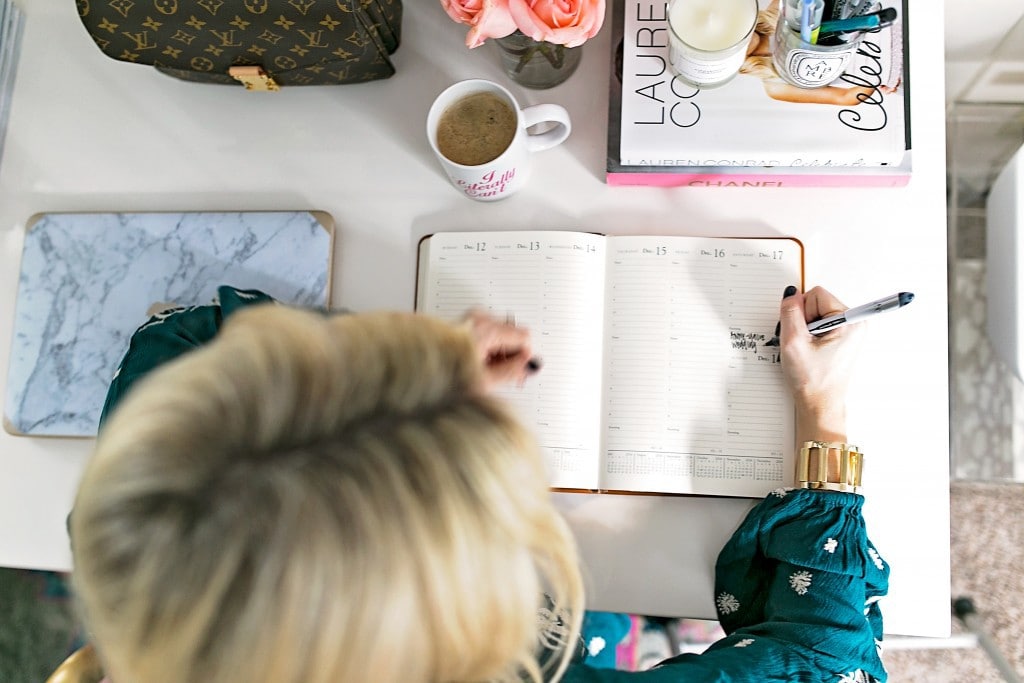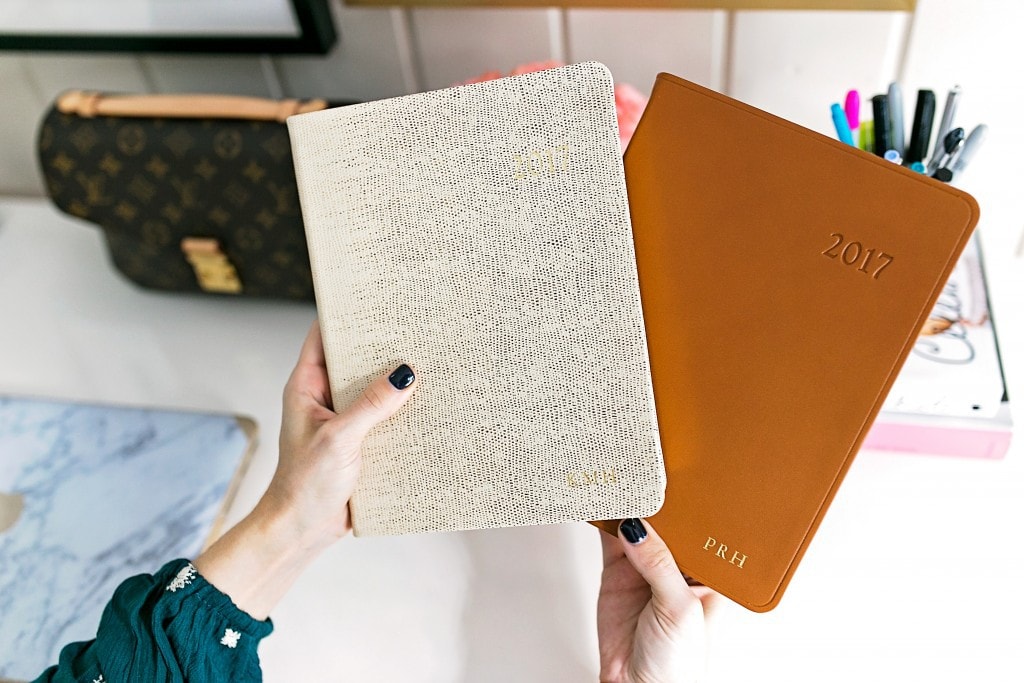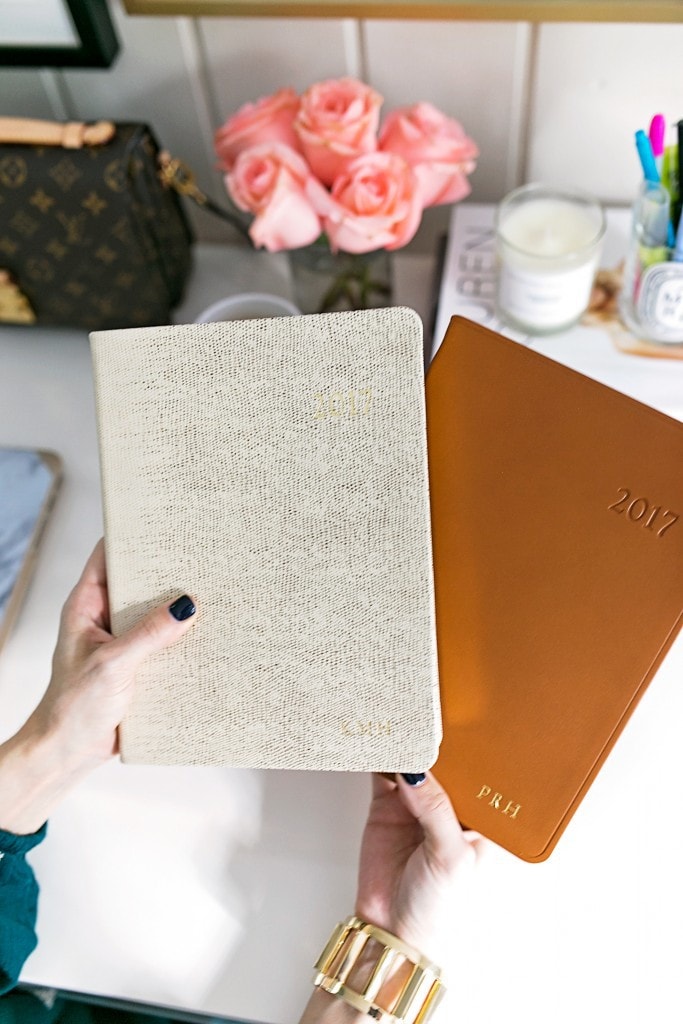 White Planner: Daily Journal Version [the exact is the desk diary and sold out but this has the same hour time slots!] [c/o] | Tan Planner: Graphic Image [c/o] | Dress: Shopbop | Bag: LV, Dupe | Laptop Cover: Etsy | Gallery Wall: Minted Post Here
Photography by: Angie Garcia
---
Let's talk organizing, shall we?! It's no secret, this is one of my favorite parts of having my own business. I could make schedules, lists, spreadsheets and plans all day long. It's when the to-do list is made and I have to actually "do" my work that I think, "Ohhhh, I think I need a snack [or Diet Coke 😉 ] before I start on this!" In PR there are always creators and implementors and I loved being a creator. I would create PR campaigns all day long, it's just the implementation that gets me a bit weary.
As 2017 approaches, we start to look at planners and think of resolutions and organization tips we want to implement for the next year. Whether you want to be more organized, give your schedule more grace or have less commitments, one place to always start is a planner. Maybe it's symbolic of a new start, but breaking in a new planner always gives me numerous reasons to set new goals.
With all the technology today, why wouldn't I just use my phone or tablet like the one from huawei? Because writing down plans helps you remember them better than typing out plans. Another reason I like to write, is that writing down plans is known to help you visualize and accomplish your goals better than typing. For example, my OB appointments are always at 9 or 9:15 a.m. each time! If I just write it in my phone I can NEVER remember if it is 9 or 9:15. When I take the time to write in it in my planner, I always remember. The small ritual of writing something down, visualizing our schedule and seeing our day on paper helps me not feel as overwhelmed and more confident to take on my schedule.
So which paper planner is my favorite? I love to use the word favorite, as I'm a fan of all of life's little frivolities [no pun intended, I swear!] so I had to think about which one I consistently use. For the past 3 years, I've used a planner from Graphic Image. I've had a green one, a python-print one, a hot pink one and for 2017 I went with a lighter hue. I found these planners back when I was a single girl living in Dallas [Okay, not "single" as Paul and I started dating when I was in college. But I had my own bachelorette pad so you get the idea! haha] and at brunch with a girlfriend. She whipped her planner out and I was a bit taken aback. Let's just be honest here, planners usually aren't chic. They are normally falling apart with coffee stains and frayed edges. I honestly thought she was carrying around a fancy coffee table book in her tote and I was floored. She opened it to check her work schedule the following week and I was nosey and started peeking. When I saw it was a planner, I lost all social graces and immediately said, "Where do I get that?"
She told me it was made by Graphic Image and I spent the next 30 minutes while we were getting pedicures ordering my new planner.
So all aesthetics aside [because we all know gold embossed initials and different leathers are beautiful] I love this planner for it's scheduling purposes. It has the traditional monthly planners at the beginning of the journal then it starts into a day planner as pictured above. Each day starts with a notes section, starts hourly at 8 a.m. and then has an evening section. I find this extremely helpful with scheduling meetings because I don't have to just write down my call and what time, I can simply just write down the call and not worry because the time is allotted. I know the times will also be extremely helpful with a little next year and my days will revolve around her feeding and nap schedule. When I'm not sure of the time of something I just add a post-it note on top of the day [like I did with my due date pictured!] and this way I know there needs to be flexibility allotted for that day. It's a great reminder to not overbook myself or have anything too concrete.
Another way that I organize my planner is on Friday the week before. I make a big to-do list of things that didn't get accomplished that week or things I want to make sure I'm intentional about the following week [maybe it's a work out class or it might be coffee with a friend]. I call this my "want to do" to-do list. I add that list with a paperclip to the specific week in my planner and I can fill in blank times and cross off my wants and needs as the week goes on. If I'm not able to get to those things, It's fine and the to-do list just goes on to the next week with the same paper clip! Because this planner is bound like a journal, it's made to hold these notes and paperclips, unlike some spiral bound planners that are thin and would tear.
After 3 years of planner loyalty, I decided to grab one for Paul for 2017 as well!  I've shared before that my sweet husband always forgets dates/plans we have made with other people so I'm constantly leaving him post it notes and texts reminding him. When we were in NYC for fashion week we popped into the Gigi New York store. Paul picked up this neutral planner and said, "I really think I would use this at work, this is so nice."
Paul doesn't even give requests for what he wants to eat for dinner, so if he ever makes a comment praising an item I know I have to get it because that means he really likes it. It's masculine with the leather binding and you can personalize it with his initials embossed, which makes it a really special gift for the holidays.
One way I decided to combat him forgetting plans was to just fill out this planner for him every few weeks. When it came in the mail I threw in wedding dates we have/doctor's appointments, double dates and times our family was in town for the holidays.
I about fell out of my chair the other day when he said, "What time will we go to Anne-Claire's wedding on the 17th?"
Did my husband just remember a date?!
Did he?!
If all it took was me spending 5 minutes to throw some dates in a planner, why have I not done this sooner?!
Overall, here are a few tips I have for organizing your days:
1. Write down your schedule and goals to help better implement, visualize and accomplish them.
2. Write down your day in hour increments. This helps you allot time to projects more efficiently, makes sure you give yourself breaks in your day and avoids overbooking.
3. Add post-it notes to your planner for details that aren't concrete. It's a good reminder to not set things in stone that day.
4. If your husband is forgetful, take 5 minutes each month to fill out dates in a planner for him, it surprisingly works!
5. Take time each Friday to plan your week ahead. Look to your commitments, meetings and schedules so you can better prepare over the weekend. Make a "want to do" to-do list for the following week and add it in with a paperclip, so you make sure you get those "me time" necessities in. This way Monday doesn't sneak up on you and you feel restful when Monday morning comes.
I'll share the other coloring options below for these planners! My specific one with the hour slots in this color is sold out, but they have the daily journal in it. Thank you so much for reading, I hope you have a wonderful start to your week! Do you have any tips for helping your significant other remember dates and times?!
* The planners like mine featured are the Desk Diaries, the planners that are daily planners with bigger hourly spaces are the Daily Journal and for a smaller planner option to keep in your bag they have the 2017 Notebook option. Just wanted to share the differences so you could pick what better suits your life and schedule. You can see which one is which on the site and they show inside photos as well! 🙂 *