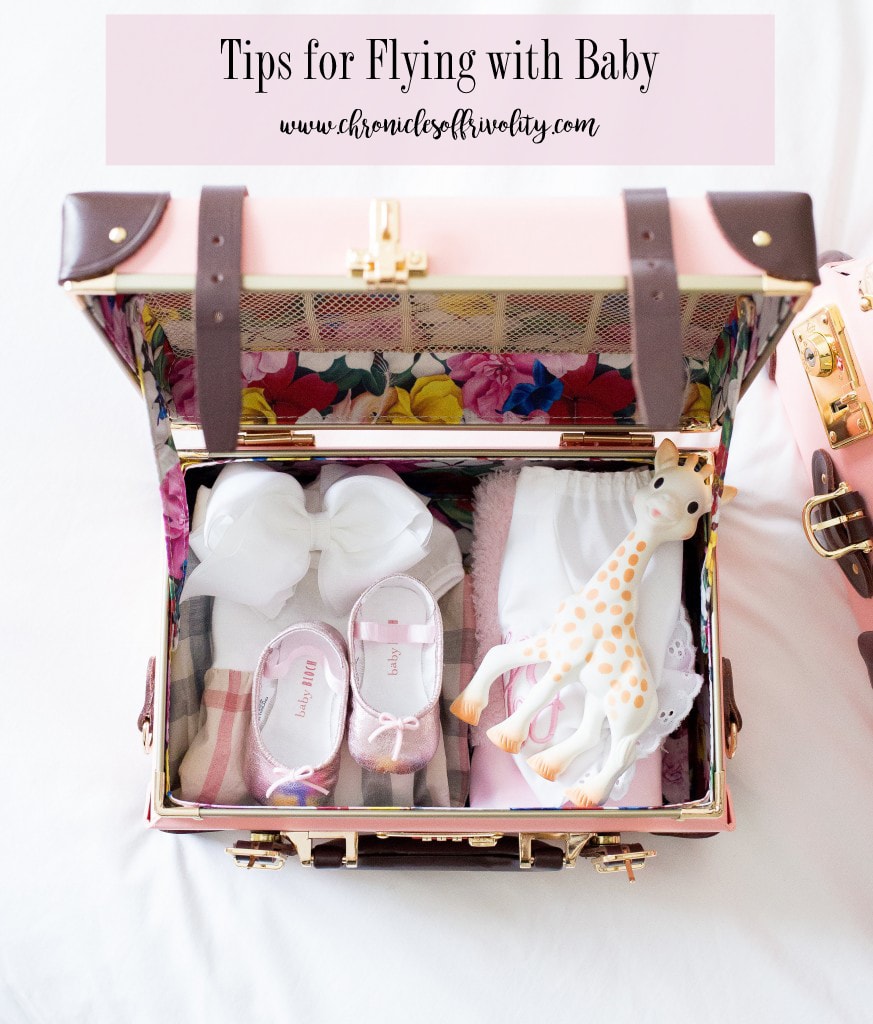 While Maxi has only flown once, before our trip I got so many tips from you all on flying with a baby! I jotted them all down in my "notes" section on my phone so that I could compile them in a blog post for you all. If you're prepping for a big flight, many experienced mamas will tell you that flying while they are 8 months and under is the easiest. And I can agree that we had a really good experience flying to and from Colorado. Ask me how she flies in 2 years and that could be a complete 180! haha!
Tips for Flying with a Baby
Prep your diaper bag with lots of different bags. Keep separate ziplocs of pacifiers, toys, extra clothes and a ziploc to throw in clothes that are on the unforgiving end of a blow out. Categorize things by type that way when baby gets fussy and you give your husband "the look" he'll know what to grab without rummaging through. At Maxi's age, she doesn't have to have toys 24/7. She's definitely busy and likes to look at things, but she can stay happy with 1 book and 1 toy. This won't be the case when she is older, but if you're flying with a little one I'd just bring 2 toys and have one be a new book they haven't seen yet! She loves these and the tails keep her entertained for hours. Use your room in your diaper bag for extra clothes, blankets and items that could get dirty.
Have your baby wear KicKeePants while flying. KicKee Pants are the Goldilocks of baby pajamas, not too warm, not too cold- just right! They have footies so you also don't need to worry about socks flying off into another seat. Also, don't forget the paci clip!
Throw a few white onesies in the diaper bag. If luggage gets lost, at least baby has some clothes to make it to Target for a mad dash.
I wore a maxi dress that I could nurse in, a Free People bralette because normal bra straps wouldn't work with that dress and those are easier to use than a strapless for me. I topped my outfit with this cardigan because I could use it as another blanket for Maxi if one of her's dropped on the floor. You can wear your baby in the wrap after take off, so they can get cozy and you can wrap your cardigan around their arms.
Stay calm going through security! When I went through both DFW and Colorado Springs security with Maxi they were so kind to us! We checked in curbside, and checked our stroller as well. Paul was able to carry our car seat in the carrier as a backpack [more on that below] and I carried Maxi and the diaper bag. I also kept my crossbody bag for my essentials and boarding pass. When going through security, I just handed them my bottles of milk, they tested them, wiped my hands and that was it. You can keep your baby in your wrap [I used Solly, Paul uses ergo] while you walk through security as well.
Get travel bags. You want a travel bag for your stroller and this for the car seat. I know with Uppababy if you have the stroller bag and your stroller is damaged while in flight they will replace for free. The great thing about the car seat bag is it is SO roomy. We were able to bring our base, car seat AND put the boppy pillow in it as well. If you gate check your stroller, you can just take the boppy out right before you board and use that to nurse your baby.
Formula, breast milk and juice are allowed in reasonable quantities. I have a friend that uses the liquid formula and she brought enough for an entire week in her carry on and had no issues. I was told if your milk is completely frozen they don't test it, but if it is partially frozen or "slushy-like" they will test. Just notify the TSA agent right when you go through and they'll tell you what to do! If you need ice packs for your milk, you can also bring those!
Nurse or bottle during take off and landing. One mom told me that her doctor recommended a bottle [with breast milk if you are nursing] because it makes them move their ears more. We used a bottle and it worked great.
Have an emergency section on your phone. Silly faces and songs always make Maxi happy, but she really loves music. Download a song on your phone that your baby loves. Maxi has a few favorites and so I kept those just in case of emergency of a melt down. I don't know about you, but I think most people would prefer to hear a little song on the lowest volume for a few seconds if they know it will keep baby happy! If you don't mind screen time for baby, I have a friend that suggests downloading a music video or something with bright colors. That way you can play it [with sound off] while baby is fussy and they'll love the colors.
Bring all the disposable changing pads. I did not realize what a treat it is to have a changing table. When traveling, you don't always have that luxury and our hotel didn't have changing tables in the bathrooms. I changed her in my lap, on a table and outside. Bring disposable changing pads in your diaper bag so you can just toss it and not worry about the mess or germs.
In terms of scheduling, we booked our flight to coincide with Maxi's nap. We tried to keep her schedule similar while traveling, but of course she was thrown off. My girlfriend has flown with her little baby over 20 times and suggests just giving yourself the goal of keeping all feeding times the same and the rest will fall in line. We can't always control if baby will nap on flight or at dinner, but we can encourage them to stay on track with feeds.
I get a ton of e-mails about which diaper bags I like best, and I'll say I rotate out. I use my Prada diaper bag, my Fawn backpack and a tote. I mostly pick my diaper bag based on what we are doing. If we are just running to the post office, I throw diapers in my tote and run out the door. If we have a full day, it's the Prada diaper bag. If we will be shopping, I need use of my hands or walking a lot I take the Fawn. I really recommend bringing a backpack while traveling. Even with Maxi being in her solly and my diaper bag on my backpack I still needed to carry items and this allowed me to have 2 free arms. A regular diaper bag can sometimes weigh one side of you down which makes traveling a bit uncomfortable.
When we think of a flight with a baby, it's so easy to have a flashback to that one flight you had with a screaming baby. Or we think of a baby we won't know how to calm. But a reader reminded me that you're flying with YOUR baby. You know how to calm them best, so don't worry. Babies feel our tension. Another one of my girlfriends that is a flight attendant said it best. At the beginning of flights she says, "Everyone here has either been a baby, had a baby, or loved a baby, so if the baby gets fussy just don't worry. Let the crew know how they can make the flight less stressful!" How true is that?! Of course I had people make some comments about why we would fly with a baby and the woman behind us said she was worried about sitting next to us. But Maxi slept the entire flight, never made a peep and if anything those adults caused more of a fuss than she did. Even if your baby has a melt down, it's fine! You'll never see these people again, it's life, we have all had melt downs. I know in the future there will be flights that are a breeze and flights where I want to crawl in a hole and never come out. But at the end of the day, just remember none of us were born knowing how to behave or adapt. We all learn and that is what our babies are doing! 🙂
I hope these tips from readers help you! I of course do NOT know what I'm doing, but these tips helped make our trip as relaxed as possible. If you have other tips be sure to include below so mamas can see! We are taking a Blue cruise at https://madeinturkeytours.com/blue-cruise/ this month so I'll definitely update this post if I figure out another trick or try something y'all suggest. 🙂
Thank you so much for reading!

Photography by: Madison Katlin | Suitcase: Streamline [c/o]