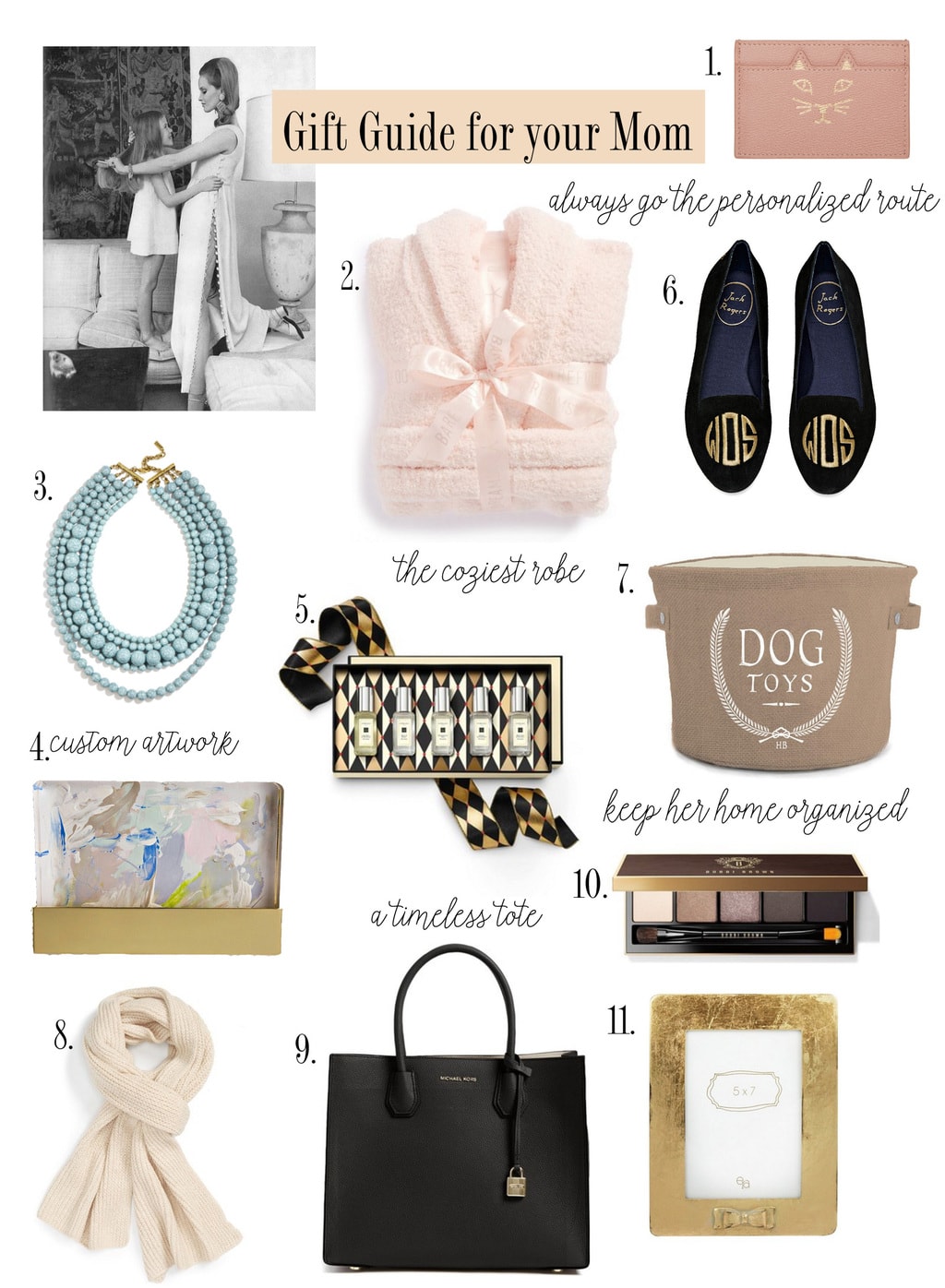 1 | 2 | 3 | 4 | 5 | 6 | 7 | 8 | 9 | 10 | 11
---
Whether you are shopping for your mom, stepmom or mother-in-law I think there is one common denominator! Girls are always nervous about what to get a mom! It might be because if you're anything like me, you think your mom has everything. I'm the one always raiding my mom's makeup bag or jewelry box, so it's odd to think of what she would need. Or maybe, it's hard because they spend so much on us year after year and how can you give a chic gift on a budget?! I feel all of those things when shopping for my mom for every gift just because she is my best friend and I want her gift to be incredibly special.
I've rounded up my favorite gifts with different price points for your mom or mother-in-law that they are sure to love. Once I hand her her gift I always remember she is the easiest person in the world to shop for, because moms love whatever you give them. But here are my favorite ways to spoil her!
1. Card Case: My mom's purse is always overflowing with receipts, cards, change and a random lip gloss here or there. She LOVES anything to help organize her purse a bit better and this Charlotte Olympia card case is such a sweet gift to do just the job.
2. Cozy Robe: My mom and I share a love of comfy pajamas and robes. Barefoot Dreams is the Olympic Gold of all robes. In fact, I had to order this exact robe for the hospital when I give birth! 😉 Get robes to match and watch a few episodes of Gilmore Girls together- don't forget the extra coffee!
3. Statement Necklace: For a gift under $40, you can't go wrong with this statement necklace. These beads come in 8 different shades, but the Ice Blue is my favorite for your mom! She can wear it to work and church all in the same week and it looks so much more luxe than it is.
4. Custom Artwork: My mom and I's favorite artist is Jenn Thatcher. My dad and Paul make so much fun of both of us because we have her work in every spot in our homes! She has done the art in my living room, office and she is making a piece for our nursery. These art blocks are acrylic and come on a gold base which can be styled on a bookshelf or accent table. Use code: KATEY at checkout for $20 off and free shipping! See the blocks here.
5. Jo Malone Collection: Jo Malone fragrances can be layered so you can create your own personalized scent. This is such a classic gift and brand, so if you are getting something for your boyfriend/fiancé's mom and you have no idea what to do, I would go with this. Everyone can find their own scent they love and I love that these fragrances smell so unique on everyone.
6. Monogram Flats: When in doubt, always go the personalized route. If you're nervous on what to get a mother-in-law, this is such a good option because it's practical and thoughtful all at the same time. These run TTS and are much less expensive than most personalized flats.
7. Dog Toy Basket: Moms love home decor, organization and cleaning. This gift completes all three! My mom is always finding new baskets to store our family dogs' toys and treats, and this one fits an array of home decor styles.
8. Chic Scarf: This chic scarf is such a good way to gift your mom on a budget as the chunky-knit makes it look much pricier than it is. It also comes in 8 different shades so you can find the perfect one for her coloring and complexion.
9. Mercer Tote: For a splurge-worthy gift, a timeless tote is always a wonderful option. I've had this tote in the luggage shade and no one thinks it's Michael Kors! Everyone would stop me and ask if it was a new YSL and I would laugh because it's not near the price! It fits a ton and she can wear it season after season.
10. Bobbi Brown Palette: Gifting makeup is always a bit iffy because some people prefer a natural look while other moms go full-on glam. Bobbi Brown is the perfect brand for combating that because her products achieve such a wonderful "no makeup, makeup" look as well as a smokey eye. You just apply more shadow depending on the pigmentation you want. I love to gift my mom Bobbi Brown palettes because that is actuality the first makeup brand I was ever allowed to wear and I got my makeup done at the counter in order to learn how to apply it. It holds such a special place in my heart.
11. Gold Bow Frame: I ordered 6 of these for the holidays! Moms, aunts, grandmothers, mother-in-laws always want updated photos of their children and family. Last year Paul and I gifted photos from our wedding and this year I think we will use the frames to gift some maternity photos. It seems a bit vain silly to gift a photo of you and your siblings, but I promise your mom wants them! My mom always says, "I don't need any gifts, I just want photos!"
I'll be spending the weekend with all the moms in my life as our family baby shower is this weekend! All of our grandmothers came in town and will be there as well as aunts, so I'm really excited to see them all and show them my bump! Lately, little missy has hiccups all the time so I love it because they last longer than kicks and everyone can feel. Moms definitely know what I mean by that. She will kick me so hard for 30 seconds straight and I'll grab my friend's hand and say, "Here she is kicking!" And she completely stops right when their hand is on my bump. haha! But with hiccups they last much longer so  I don't feel crazy. I hope you have a wonderful start to your weekend!