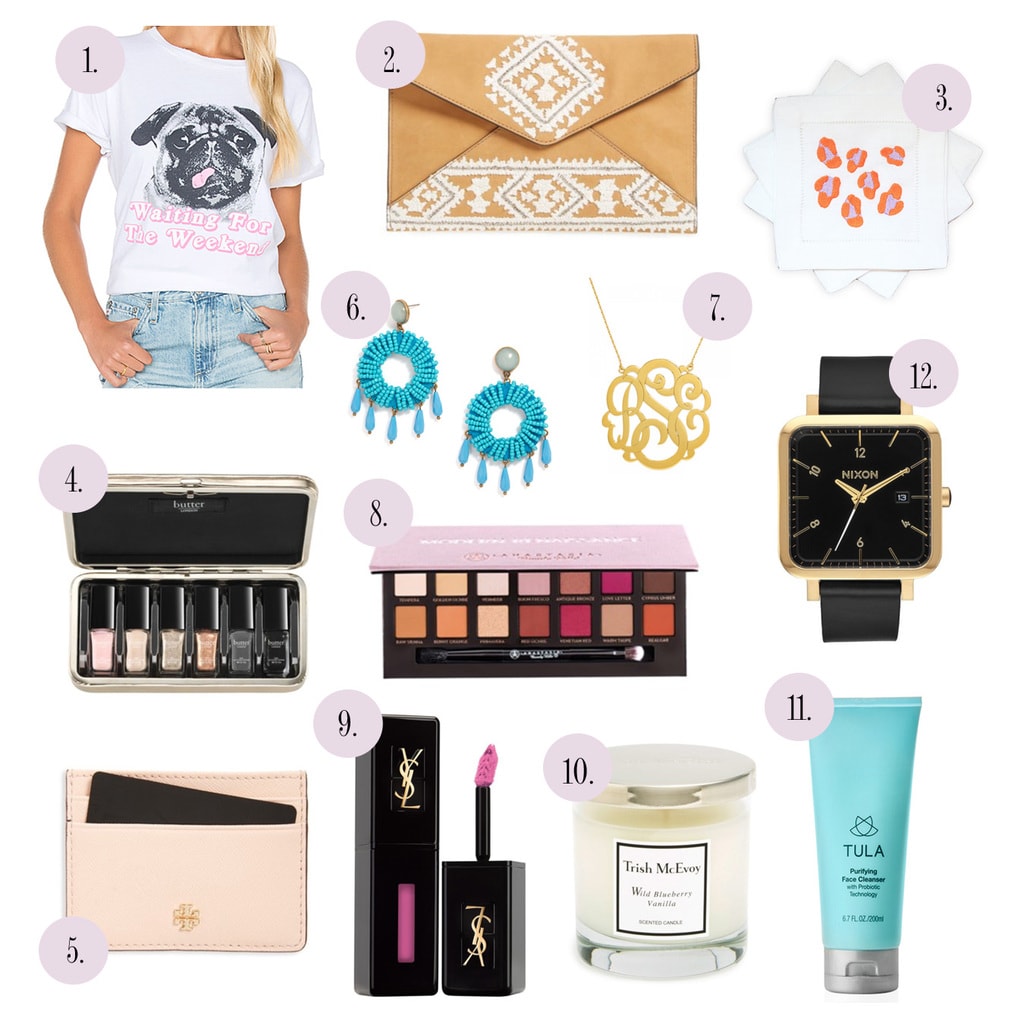 1 | 2 | 3 | 4 | 5 | 6 | 7 | 8 | 9 | 10 | 11 | 12
---
My two favorite people in the world have July birthdays [Paul and my mom!] so I've been shopping a lot the past few weeks for them! I was on the phone with my sister yesterday going over what I got our mom for her birthday and I kept rambling on about different products on sale so much that I thought I'd share my favorites for you in case you have a birthday to shop for or just want to treat yourself!
1. Cheeky Tee:
Wildfox is always a birthday win. Their cotton blend makes them the softest shirts and the cute sayings make them even better. However, they can be pricey and just aren't something a girl would normally treat herself to. This one is priced really well compared to most of their products and I thought the little pug made it perfect for a gift. My sister would want this shirt for her birthday!
2. Summer Clutch:
When I saw this clutch online I loved how it was a summer clutch that could be worn year round. I ordered it last week and it came in Saturday. It is a soft buttery leather that makes it feel so much more luxe than it actually is! The soft material also means you can fit plenty in it for running errands or a girls' night out!
I got my mom a bar cart for her birthday last year and she has had so much fun decorating it and stocking it with little serving details. These are little sorbet leopard ones and so precious! I use them when I have people come in my home to give them drinks because the linen material acts as a coaster. That way you don't have to seem like the "OCD housewife" saying, "Oh! Here is a coaster!! Use a coaster!!!" haha! You are already giving them one!
I love Butter London nail polishes! These are so pretty for a vanity and they last so long! This neutral set is part of the NSale and you get 6 polishes for $29!
I first dove into card cases last year after thinking they were ridiculous. Paul got me one on our honeymoon and until then I just didn't see how they were any better than a wallet or keychain wallet?! I'd had a little pouchette on my keys but it got frustrating having to take it off anytime you gave someone your keys or went to the carwash. Then I would carry my wallet around everywhere and that looked silly. Paul got me a card case and I've since purchased another! These are so practical and I take mine into the gym, lunch, errands and when we go on walks! Just in case I need to stop for some ice cream! 😉
A similar pair of earrings like this came out this summer and they were so pricey! They were upwards of $200 and gorgeous! However, these are so similar and only $24!
I always like to include a monogram necklace in gift guides because it has been my most special gift I've ever received besides my engagement and wedding rings! My mom got me my first monogram necklace when I went to college and I wore it up until I got married! Then she replaced it when my name changed! Recently, I've been loving her necklace more! It's a bit larger and just makes such a statement. When we were in NYC I finally had to ask her what brand she had and she showed me! It's Baublebar! She says she showers in it daily and it seriously had NO sign of wear. These are more expensive and are very special gifts, but for something you wear daily, I think it's worth it for something momentous!
8. Anastasia Modern Renaiisance Eyeshadow Palette:
I love giving and receiving eyeshadow palettes as gifts because they aren't practical to buy for yourself. It's the usual Sephora debate. "Will I use all the shades?" "Will I use it up?" "Should I really be buying myself 14 different shades for my eyelids?!" That's where girlfriends come in! They'll always spoil you with something you may not feel like you can purchase yourself. I've had my eye on this because it's one that beauty bloggers across the board are raving about. I have my few bloggers I follow because they are honest about when products are poor quality, and they love this! I'm thinking my mom would as well!
YSL lip products are such a treat and last up until you must toss them! Last week I had to part with a few because I'd had them a few years [#nogermsplease] and they still had some product left! The shade 405 is such a fun pink shade for a gift, but 404 is a beautiful every day look as well! These are great gifts when you aren't too sure what to get a girl, because these are well loved every time!
I first received this candle as a gift in college and became addicted. I lived in our sorority house and couldn't light candles, but it's so potent that if you just take the lid off you don't even have to light it! It smells like blueberry muffins with a vanilla maple syrup! My last semester of college it finally burnt out and I only found one in the Dallas area at the Galleria 4 days before Christmas. I. Wanted. It. So. Bad. So my girlfriend Daniela and I got in the car and after two hours fighting traffic I picked up this candle. I'll never do that again. But it still lasted me a year post grad and I guess that must be a testament to how good it smells or my insanity! 😉 Regardless, I'm relieved you can now find it online and it's truly my favorite scent in the world!
11. TULA cleanser
Okay, face cleanser as a gift? That's kind of like giving a mom a vacuum or a boyfriend giving a girlfriend body wash. "You tryin' to tell me something?!" But in all seriousness this is the one gift I've given girlfriends that they ask for over and over again! I've even had a girlfriend text me late at night saying she ran out and wanted to know if she could use some of mine to take her makeup off! It's that good. You can pair it as a little spa gift with the nail polish and a sleep mask! A reason I also wanted to include this face wash is because they have a special today! You get a free full-sized cleanser with ANY purchase [no minimum order!] just use code: freshface at checkout! One cleanser for a friend and one for you!
I purchased this watch for my mom's birthday [after she sent me a few texts requesting it! 😉 ] and love the square face! Anytime I wear a rectangle watch or something with a more structured face I get a lot of compliments. This is also on sale and perfect for fall, when you don't want to wear too many bracelets that would snag your sweaters!