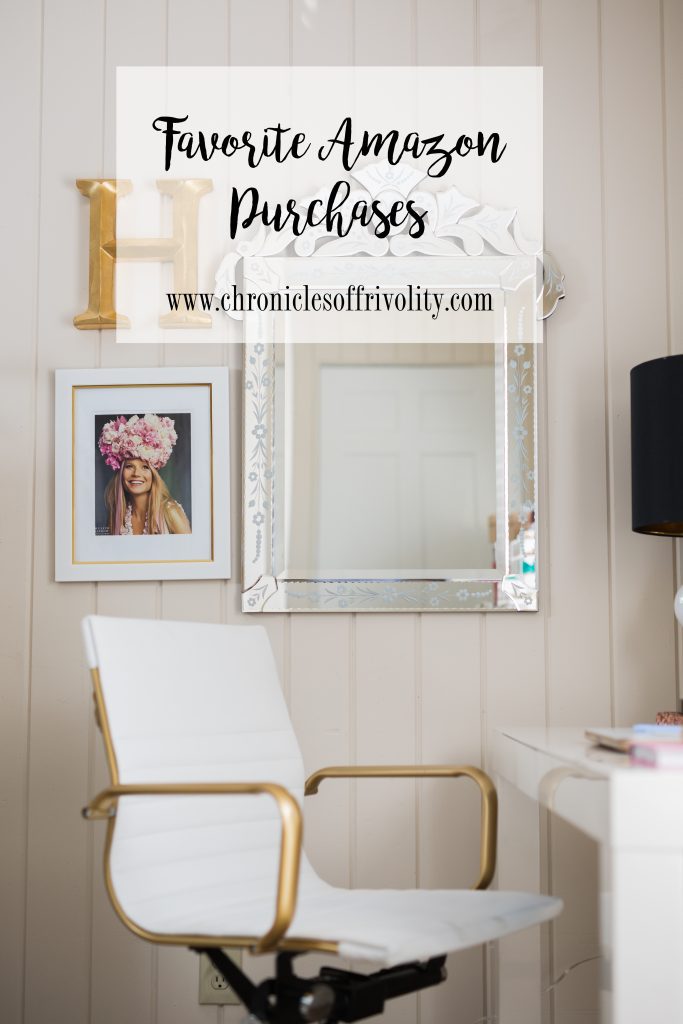 I liked Amazon before I had a baby. I found some great lotions. I ordered random chargers. Sometimes I found a coffee table book for a steal. Then I had a baby and I LOVED Amazon. I can't even properly profess my love for this magical company that brings me groceries and diapers through an app…but I can write a blog post. 😉
I'll go ahead and preface this post with my 2-cents on Amazon with beauty products. There are some things like coconut oil that are a safe bet. However, I don't recommend buying most of your skincare and haircare from Amazon. Why? Because if you don't double check the seller, half the time the produce is a dupe. Some products are only allowed to be sold in salons or medical spas. If it is something like a cleanser or a hard to find product, go right ahead. And YES, some things on Amazon really are the actual product [you can always see if the brand is the vendor of the product to be safe]. But if you find Neulash on Amazon for $30 your sister Katey is here to tell you do not put "said" Neulash on your eyes. You may end up with one nasty infection….
Like with anything in life, just use your best judgement! If it's a bronzer or a hairspray, buy it! If it is something more intense like a high-powered wrinkle serum with lots of retinol, I think it's probably safer to buy it from Nordstrom. However, if the brand is directly selling on Amazon, then you are good!
Wanna see my favorite Amazon finds?!
Can my favorite blush palette be under $15? Oh yes it can. This is my favorite blush palette and sometimes I can find it at ULTA or places like TJ Maxx. But when I need it stat, I just order on Amazon. These blushes are creamy, pigmented and dare I say I love them more than my Burberry blushes? I do. About 3 of the shades are too deep for my skin tone, but for this price I couldn't care less. I also love this palette because the shades mix really well. You get a nice array of warm and cool blushes so you can mix to make a neutral or compliment your complexion.
If you order this, have it arrive when your husband isn't home. He will wonder why you got a box the size of California filled with mason jars. These mason jars are half a gallon, so I just drink 2 a day to reach my goal. I also like that they are glass because if I want to mix in essential oils I could. I leave it out on my kitchen counter as a reminder to drink water all day and I'm always shocked at how easy it makes it.
If you follow me on Snapchat or IG Stories I apologize. I talk about these ALL the time. This post here can explain more in depth. These bad boys get tossed in your water, iced coffee or smoothies [I prefer in my coffee & protein shakes] and make your joints feel good, your hair thick, your nails strong and your skin glowing.
4. Dryer Balls
I use wool dryer balls instead of dryer sheets with my essential oils. See here on how I do it! I only have to purchase these about once a year and they help get wrinkles out of your clothes!
I shared about this magic cream back in this post and it's still one of my favorite products. It gets off stubborn eye makeup, heals cracked skin, moisturizes under the eye if you are peeling and fixes ultra-chapped lips. It's a bit thicker than coconut oil and doesn't have a hard texture so I like it for removing makeup.
One of my favorite places to get deals on coffee table books is Amazon. I can always find the most unique options and get them quickly!
7. Rosehip Oil
Rosehip oil is a new addition to my beauty routine and I apply it in the mornings before I do my makeup. It's a natural product that helps with undereye circles, dark spots, fine lines and sun spots. Now, be warned…this stuff smells like sushi to me. Maybe that's my hormones or something but I do think it smells a bit off. haha. But the scent dissipates and I don't smell it after a few seconds.
8. Nike Shoes
Nike shoes sell out SO fast on Nordstrom and it seems as if a size 7 has always magically disappeared. I just head to Amazon and they always have the shoe I'm looking for. These are my most recent find!
9. Water Wipes
I like to use water wipes with Maxi because of how gentle they are. I also think they are better than Huggies, etc.! I buy these in bulk off Amazon.
10. Hello Toothpaste
This is my favorite, favorite, FAVORITE toothpaste ever! My mouth feels so clean after so I'm always ordering it.
What are your favorite Amazon finds?!