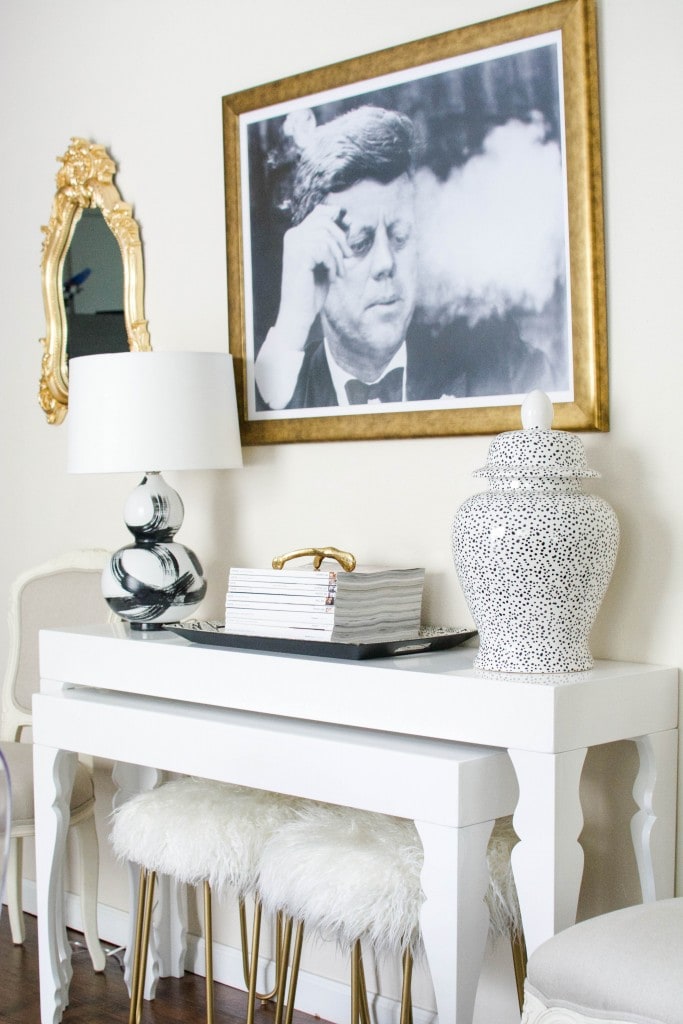 Dalmation Jar: Rachel George [c/o] | Lamp: Jana Bek Designs [c/o] | Stools: Similar | Nesting Table: One Kings Lane | Tray: Furbish Studio | JFK Print: Art.com | Mirrors: One Kings Lane [old] Similar
This little section of our dining area is my favorite! These nesting tables double as a serving bar when we have guests over [I just place food on it instead of decor] and it's become one of the most functional pieces we own. I had some black and white striped jars on the end of the table that were from my old apartment and wanted to move them to our guest bedroom. I replaced it with this dalmation-printed jar from Rachel George and the sizing is perfect. It's a bit larger than your average jar so it provides height and balance with the lamp being on the other end!
I feel like we've been hosting a lot lately and I love it because I always get gutsy and try new recipes. Side note, who does that? Shouldn't I be taste testing on myself or even my husband? But no, that's what I do to our precious guests. I'm sorry! Last week we had some friends over and I made the macaroni and cheese from Chrissy Teigen's new cookbook. I won't lie, it takes forever. But it's also foolproof and your husband will have 4 helpings and it's completely worth it!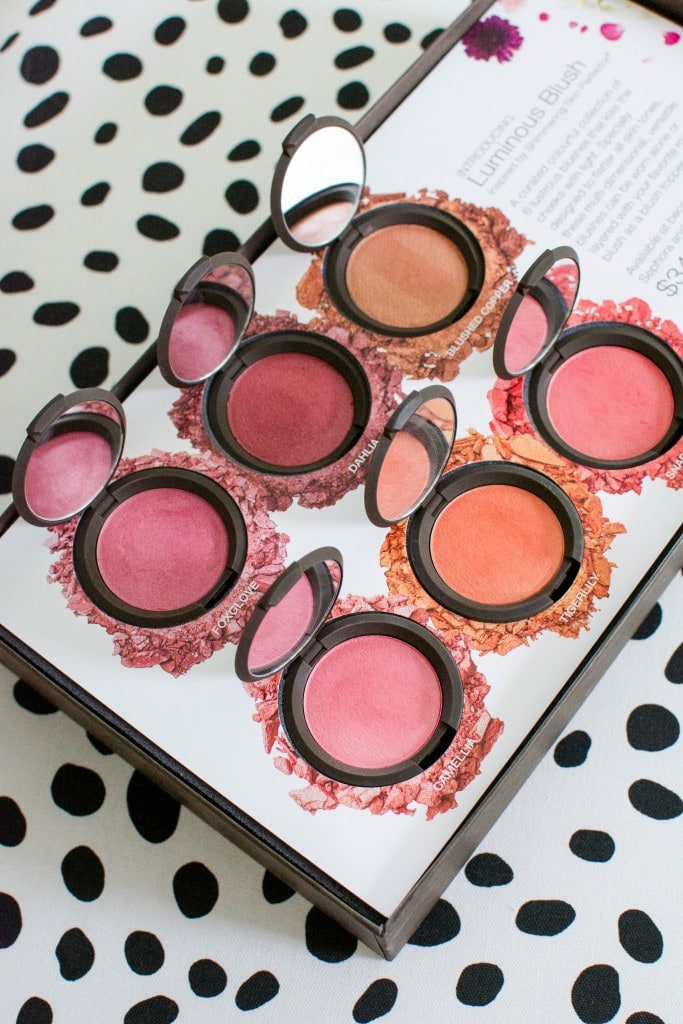 Blush: Becca [c/o] | Brush I use: Bobbi Brown
I snapped these blush beauties from Becca Cosmetics I was sent a few weeks ago! This was definitely a "never judge a book by its cover" moments because Blushed Copper ended up being my absolute favorite shade! In Sephora I would have NEVER thought it would have looked good on me. These blushes are actually made to blend with all skin tones. They are pretty pigmented so I honestly use my Bobbi Brown Face Blender Brush to make sure I can blend easily. The Blushed Copper looks so gorgeous on. My next favorites are TigerLily, Camellia and Foxglove.
Speaking of blush, I've been getting lots of requests for a new makeup tutorial! I've updated so many products I use, I just can't decide the format to share! I may try a new Youtube video [even though it's embarrassingly awkward when I'm on camera] but in a different sense. I may just have girl talk and explain the steps and how I use them! Let me know if you're up for that or would just want a regular blog post. 🙂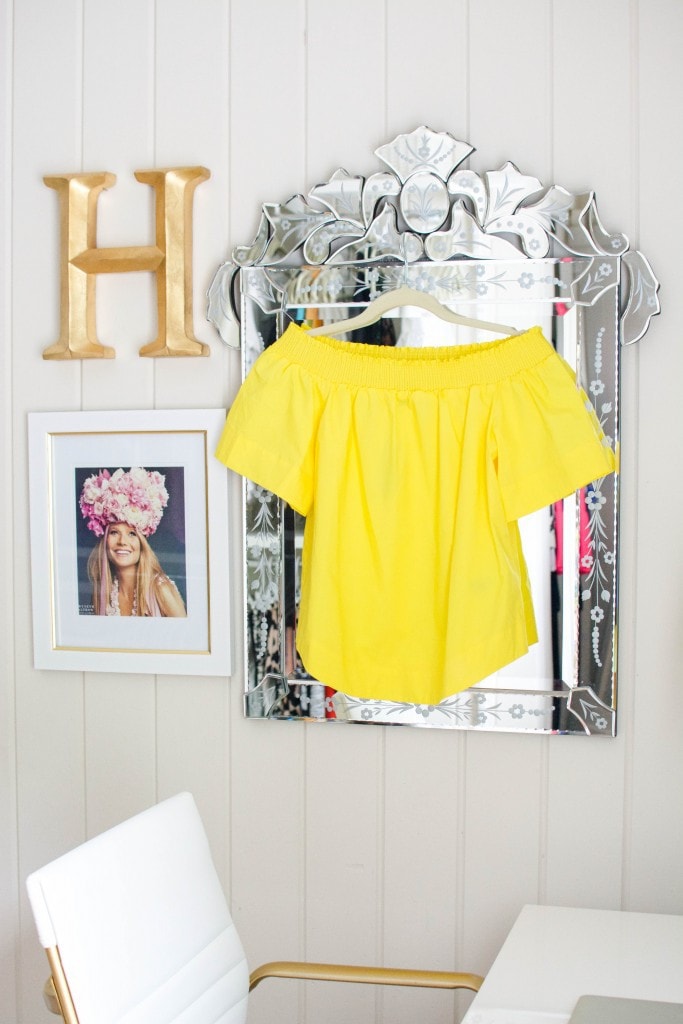 Top: J.Crew | Mirror: Similar | H: Hobby Lobby | Desk Chair: Rachel George [c/o]
How could you be unhappy wearing this top?! I picked this top up before I went to The Woodlands and I know I'll be wearing it this weekend in Austin. I'm headed there for one of my girlfriend's birthdays and sadly, it's such a quick trip! I am wearing a size 2 in it if that helps for sizing info!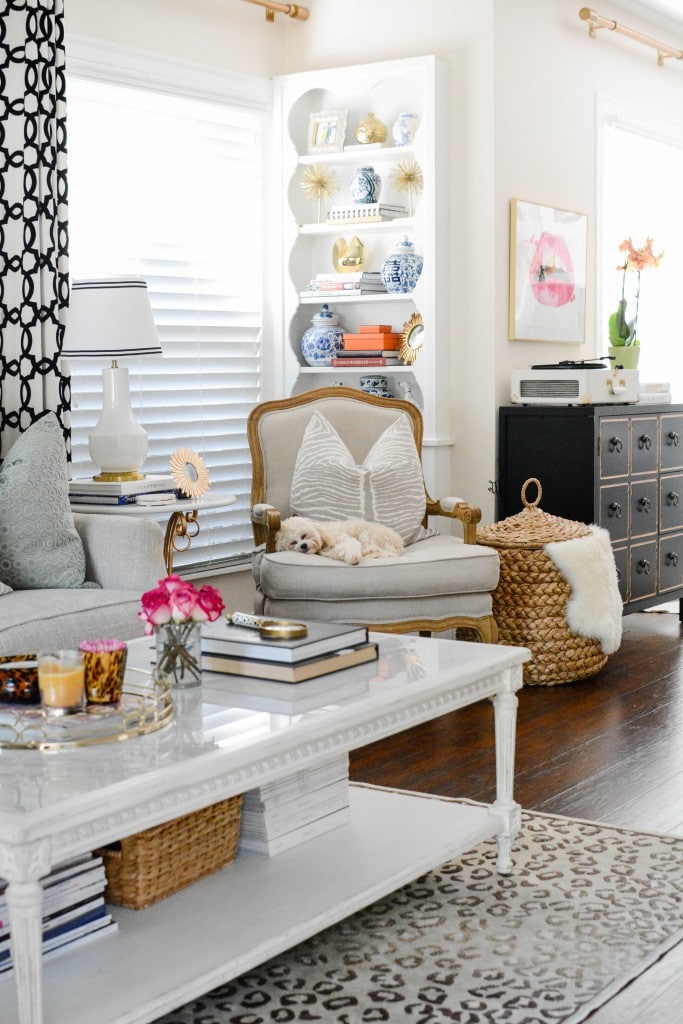 Chair: Kathy Kuo [c/o] | Pillow: Similar | Gold Figurines: Rachel George [c/o] | Ginger Jars: Here | Basket: Pottery Barn | Side Table: Safavieh | Lamp: Similar | Coffee Table: Custom, Similar | Dorothy Draper Dresser: Similar | Lip Print: The Aestate | Crosley: Urban Outfitters
I had to share this photo because of Peaches! Peaches goes full speed 5 hours a day and sleeps the rest. They have a dog daycare at the place she gets groomed at and they say when they take her outside she plays harder than any other dog there. It cracks me up every time! I know some people don't love little dogs, but she has the biggest personality! She's the sassiest spitfire one minute and then gives you the best cuddles the next.
Thanks so much for stopping by! I'll share what I'm loving in my shopping cart below! 🙂