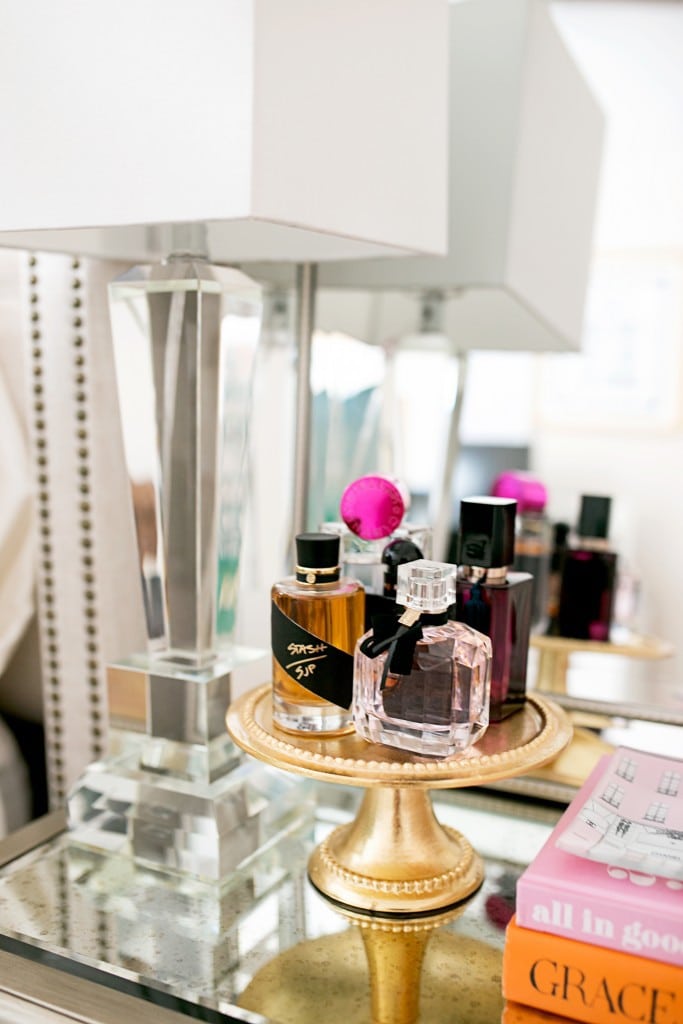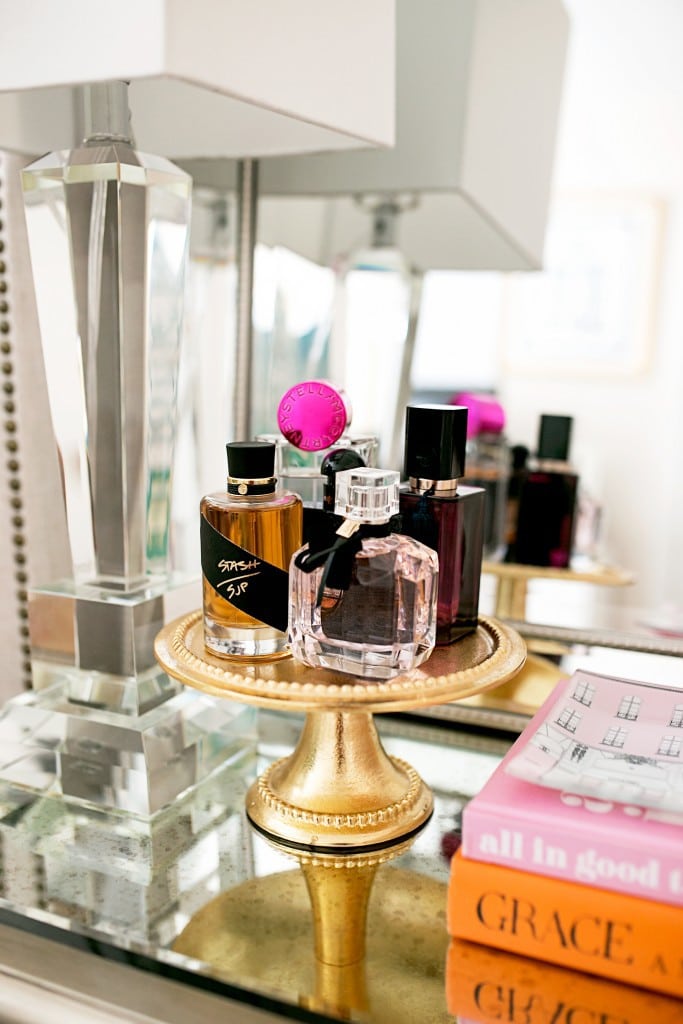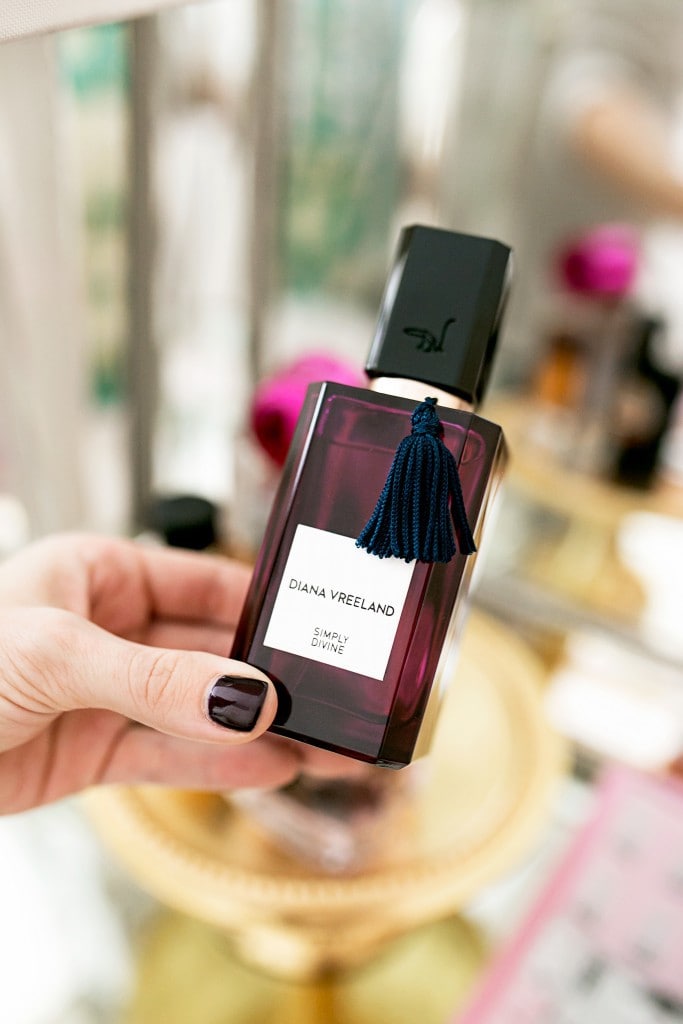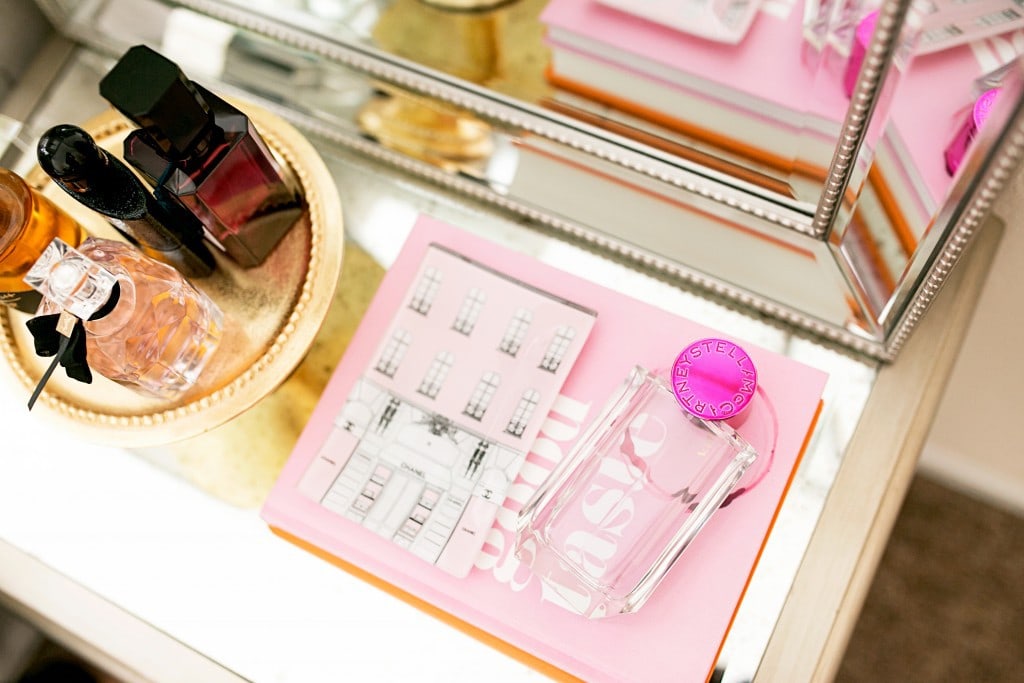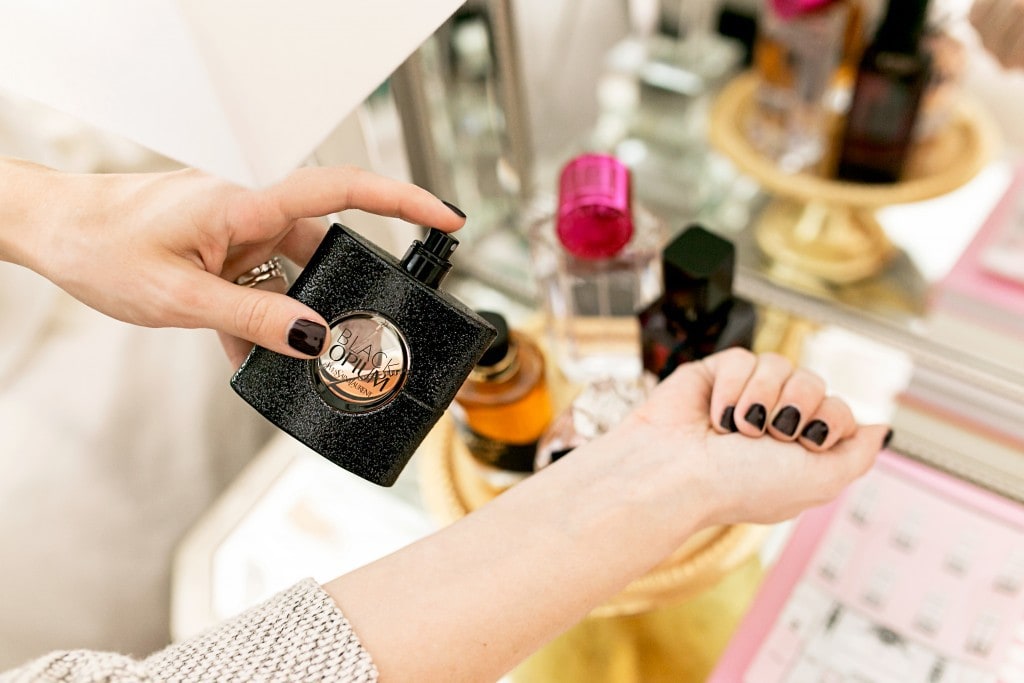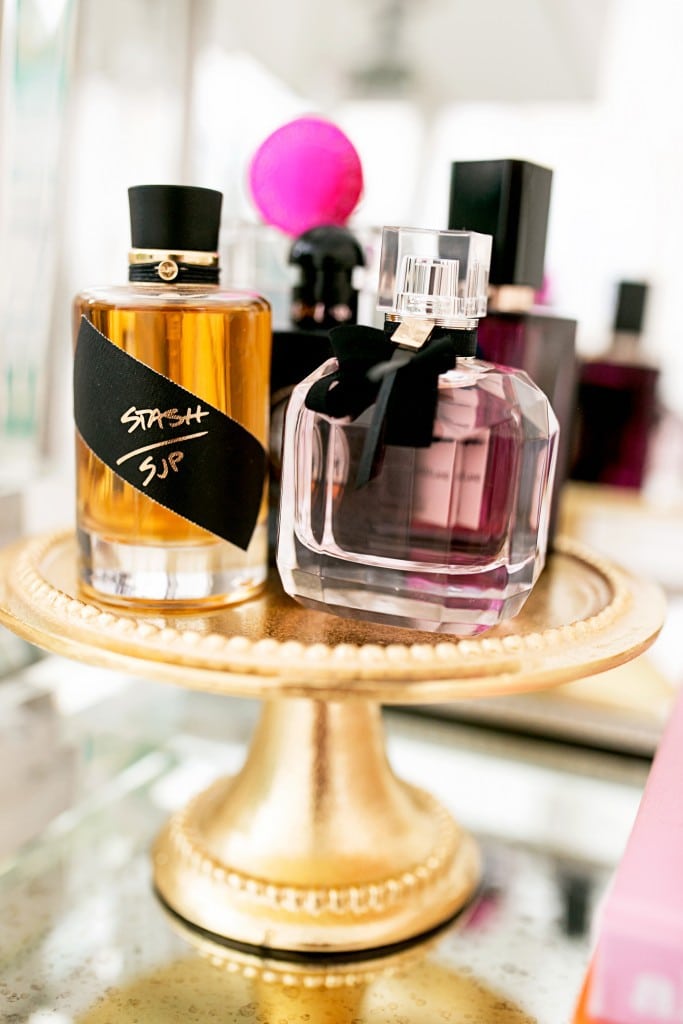 STASH by SJP [c/o] | Tocca Colette | YSL Mon Paris | YSL Black Opium | Stella McCartney POP | Diana Vreeland Simply Divine [c/o] | Perfume Stand: Homegoods
Photography by: Angie Garcia
---
Other than my Diclegis prescription [which I give thanks to the Lord for at least 100 times a day], I've also spent an absurd amount of money on fragrances while pregnant. I'm still having morning sickness every now and then, so scents have bothered me on and off continually. Paul jokes about how well I can smell everything while pregnant, so needless to say, I'll like something in store, purchase it, go home and hate it when I wear it the next day. My mom and sister have gotten all my leftover fragrances because I know I liked them at one point, I just can't really have them on me all day. Naturally, I thought after all these perfume purchases I needed to share my favorites because these bad boys made it to my little perfume stand. If they made an A+ on the pregnancy test they have to be golden, right?!
I divided my favorite scents up by when I wear them so you can see which type of scent you are looking for.
Favorite Date Night Scent
I was sent this perfume by SJP and her team to test and I first wore it for a date night which was the perfect way to try it out. This is such a good wintery evening scent as it is woodsy and described as something that will remind you of being wrapped in your guy's arms. But it isn't too deep as it has grapefruit top notes. To me, it feels like a fragrance that would be worn on Gossip Girl! It's the most daring scent I own, but when it blends in with your skin it isn't overpowering. You feel really confident when you wear it!
Favorite Girls' Night Scent
YSL Black Opium has been a favorite of mine for some time now. The notes are coffee, florals, pear and vanilla so it is definitely a sweeter scent. It's won awards by Allure magazine and the flirty scent always reminds me of going to dinner with my girlfriend Taylor as we both love to wear this! It's also a really great option for date night if you like scents that have a bit of a caramel take.
Favorite Daily Scent
My favorite daily scent is Stella McCartney POP. It's a really bright fragrance that has violet, plumeria and sandalwood. I tested it at Sephora one Sunday afternoon and went shopping in the mall for a few more hours and had to make sure I stopped BACK by Sephora before I went home so I could purchase this. I seriously couldn't stop smelling my wrist. This scent reminds me of a really bubbly and friendly girl without being too sweet.
Favorite Scent under $70
I didn't get this fragrance photographed as I had run out and had to get more, but my favorite scent under $70 is Tocca Colette. It has notes of bergamot, amber, lemon and juniper berry. I view it as a romantic scent, but one that can be worn daily. I actually keep a rollerball of this in my car because it's the most versatile scent I own and if I forget to put perfume on in the morning, I always know I can wear this no matter where I am going.
Favorite Girly Scent
YSL Mon Paris is my favorite girly scent for when I'm out to lunch with friends or having a shopping day with my mom. I first purchased this when my mom and I went to San Antonio together for a wedding. We both loved this perfume so much we purchased a gift set together because it came with two and split it. Then we got each other this perfume for Christmas as well, haha! It has top notes of raspberry, strawberry and then also pear, white peony and cedarwood. I keep a rollerball of this in my makeup bag while traveling as well.
Favorite Work Scent
I like to keep one splurge-worthy perfume on my perfume stand for good luck with brand meetings and important work events. I want something that isn't off-putting to anyone by being really forward in one note whether that's floral, fruity, woodsy, etc. Diana Vreeland perfumes are perfect for that as they are incredibly balanced. My favorite of her's is Simply Divine. The scent is based off the tuberose flower and feels fresh but also has nutmeg so it has a complexity to it.
What are your favorite scents?! I always love to stock up on rollerballs and try out what girls love as perfume always transforms differently on everyone's skin!