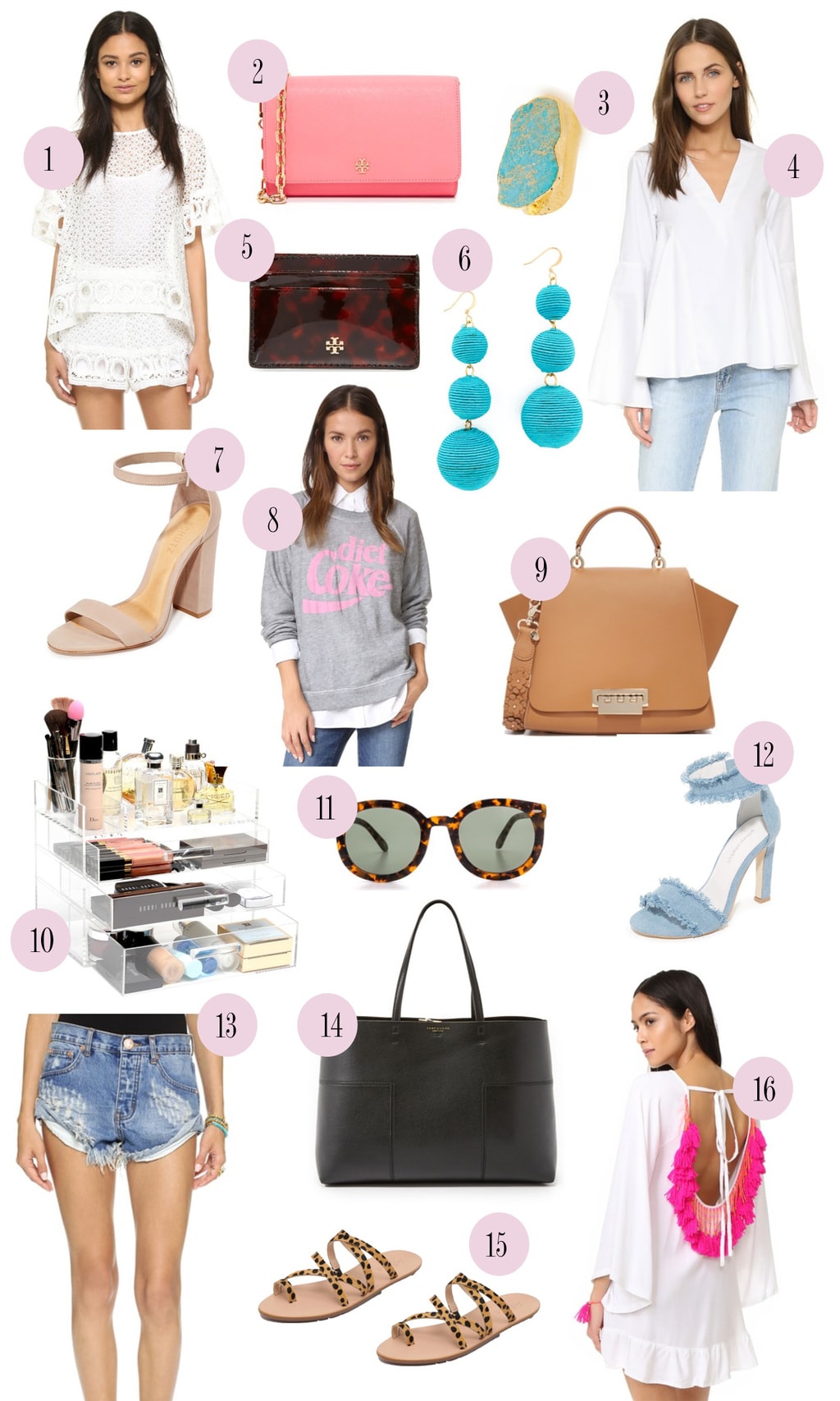 The Shopbop sale is live today and for the next 5 days, the more you buy the more you save! The Shopbop sale is tiered with code GOBIG17 at checkout. You get 15% off orders $200+, 20% off orders $500+ and 25% off orders $800+! I love Shopbop for trendy items as well as designer goods like Tory Burch. Here's my picks below!
1. Lace Top: This was the first item I put in my cart! English Factory is a great brand Shopbop carries with chic tops under $100. I love wearing lace in the summer heat because I find it to be so much more breathable and you NEED breathable tops in Texas humidity.
2. Tory Burch Bag: Y'all know this was immediately added to my cart right after! I can't get enough cross body bags right now because they are so easy while I carry Maxi and the diaper bag! This pink seemed so perfect for spring and summer.
3. Turquoise Ring: Remember when YSL had these stone rings? I remember wanting one SO badly! Then the trend died and I never got my turquoise fix. I saw this ring on the sale and thought it was just the thing to replace it!
4. White Blouse: This blouse is $55 and the flirty sleeves take this wardrobe staple and make it just trendy enough.
5. Tory Burch Card Case: Card cases are my favorite things to gift! This tortoise one is perfect to add to your gift closet for your BFF's birthday.
6. Statement Earrings: If you love to rock a ponytail with statement earrings in the summer, you'll be happy to know that these earrings come in 8 different shades!
7. Nude Sandals: I styled these exact sandals in black in this post! They are so comfortable [I was rocking them at 39 weeks pregnant!] so I can justify getting them in nude for summer as well. 🙂
8. Diet Coke Sweater: I have this sweater and wear it at least once a week! It's so comfortable and pays tribute to my first love! Haha.
9. Zac Posen Bag: I had this bag in a taupe shade for years and love how it fits so much stuff. If you need to be hands-free while carrying your bag you'll also love the detailed strap!
10. GLAMbox: Shopbop carries GLAMboxes! See how I store my makeup in the GLAMpetite here! I'm shooting an updated makeup storage post this weekend so keep your eye out for that on the blog soon.
11. Karen Walker Sunglasses: I love Karen Walker sunglasses and have had this pair in my Shopbop cart for months!
12. Jeffrey Campbell Denim Sandals: These are so Britney/Justin denim #ootd at the AMAs that they are a necessity! Haha. But in all seriousness, Lauren Bushnell styled a pair of denim sandals on her Instagram and I did a double take because they were so cute with a white top and jeans!
13. One Teaspoon Shorts: One Teaspoon makes my favorite shorts for summer! I recommend going up a size as they can be a little shorter, then I just style mine with a belt.
14. Tory Burch Tote: I have this tote, it just has suede detailing. I got it around Christmas and I love how it pairs well with whatever I'm wearing so I'm not having to constantly switch out handbags!
15. Leopard Sandals: Leopard. Sandals. Need I say more?
16. Beaded Coverup: I wore this coverup my entire honeymoon and loved it! It runs large, so if you're unsure of sizing just go down a size! 🙂
Be sure to enter code GOBIG17 at checkout! I'll share a few more things I purchased down below.