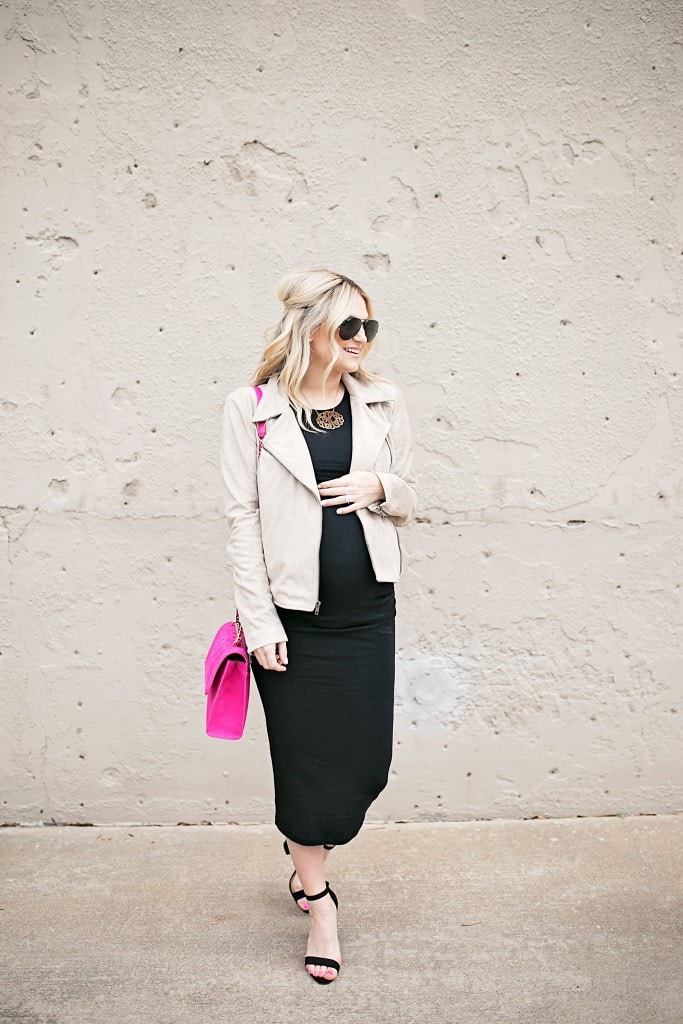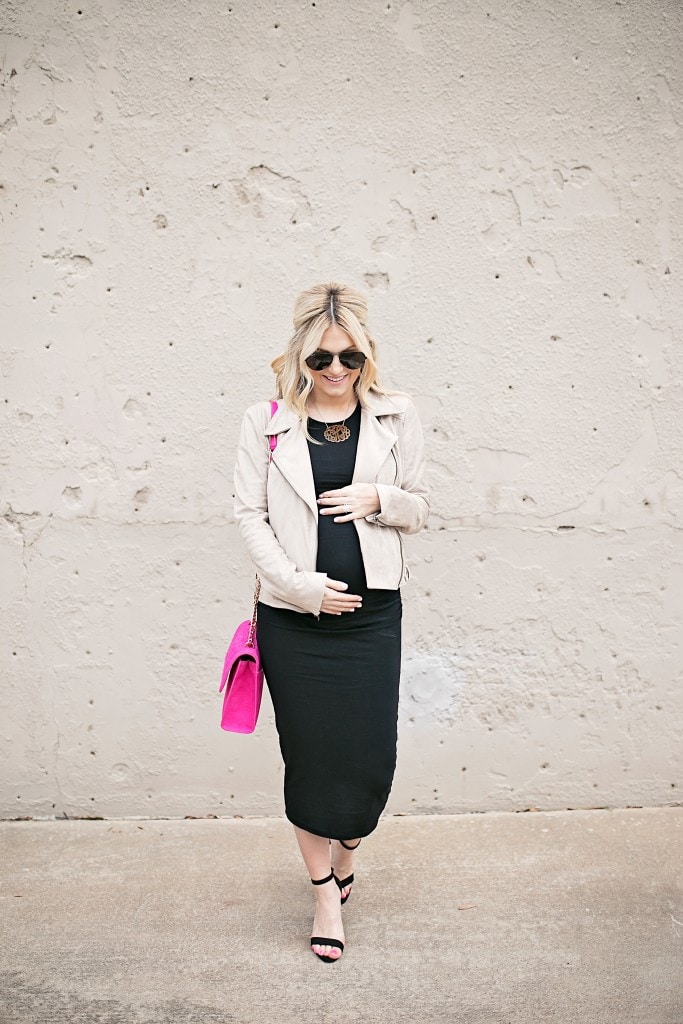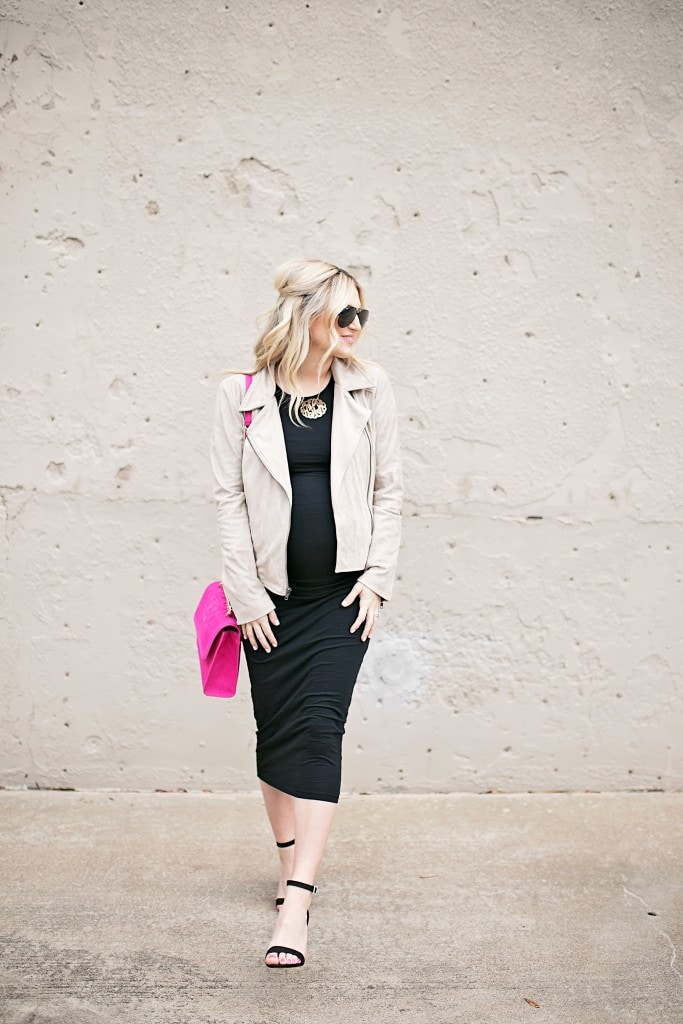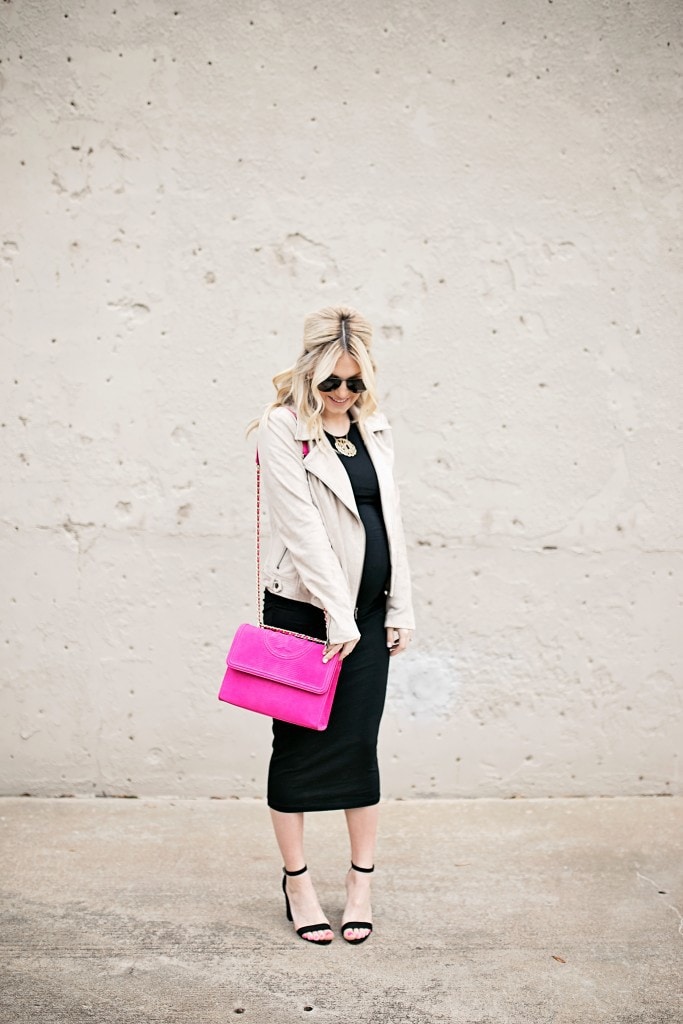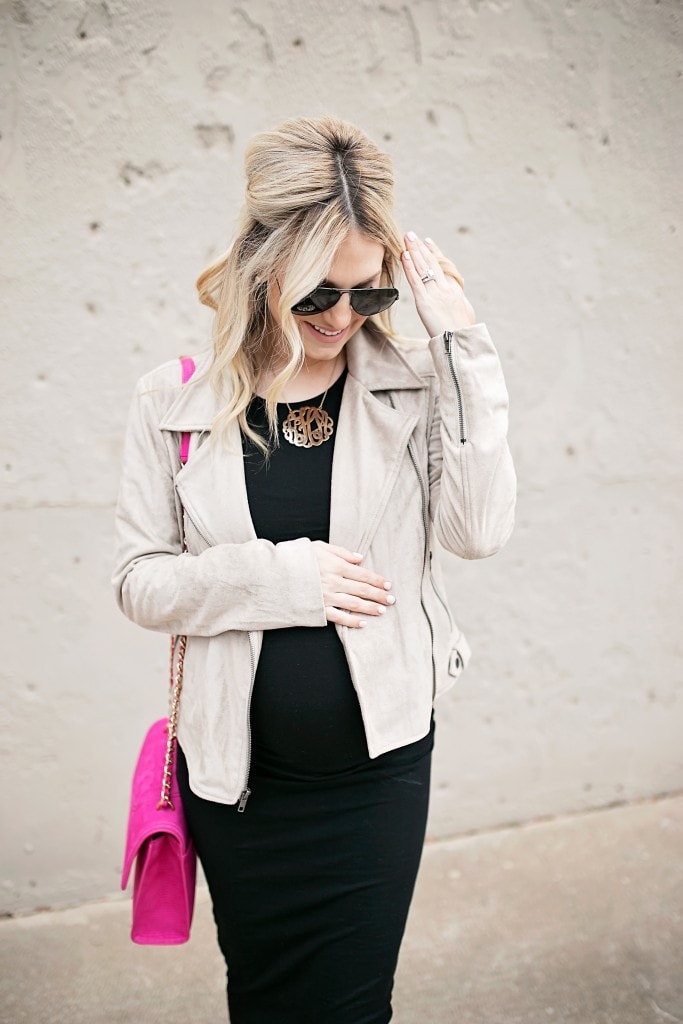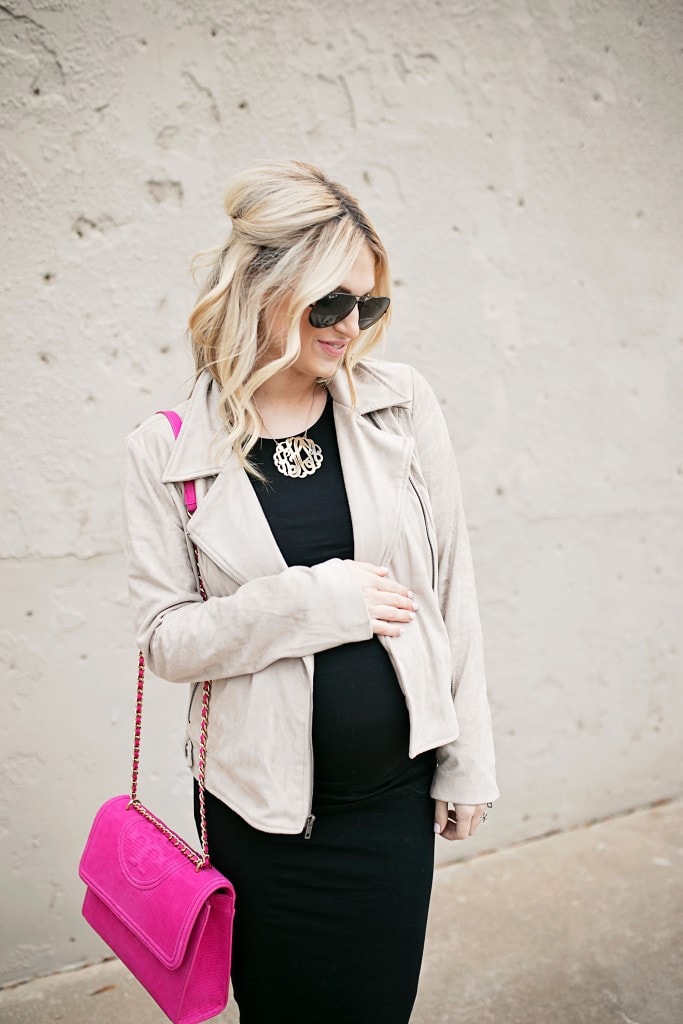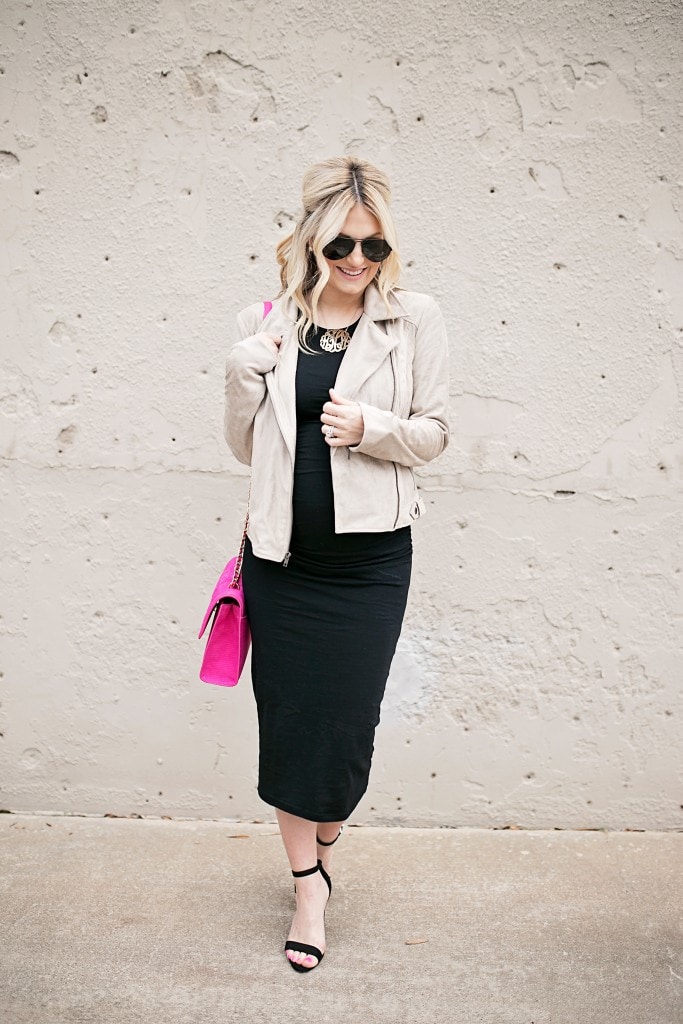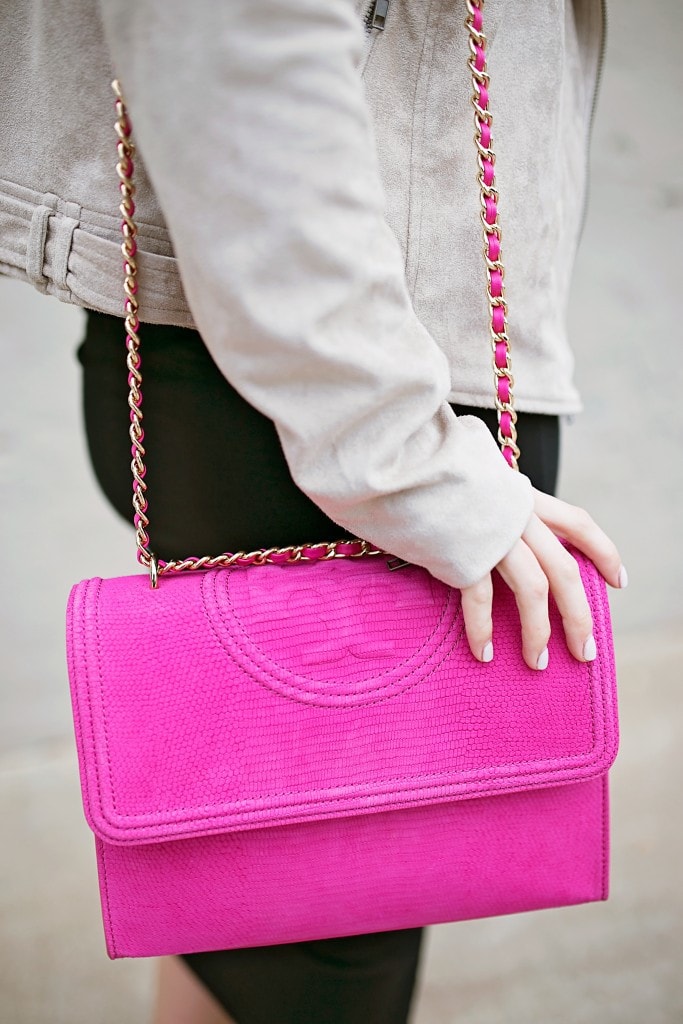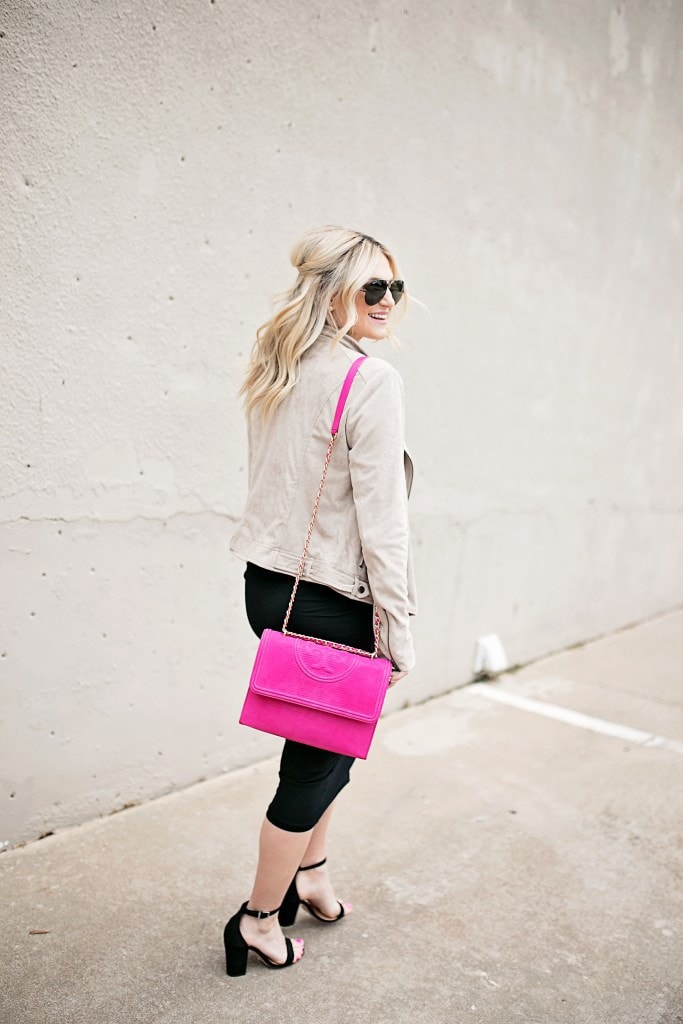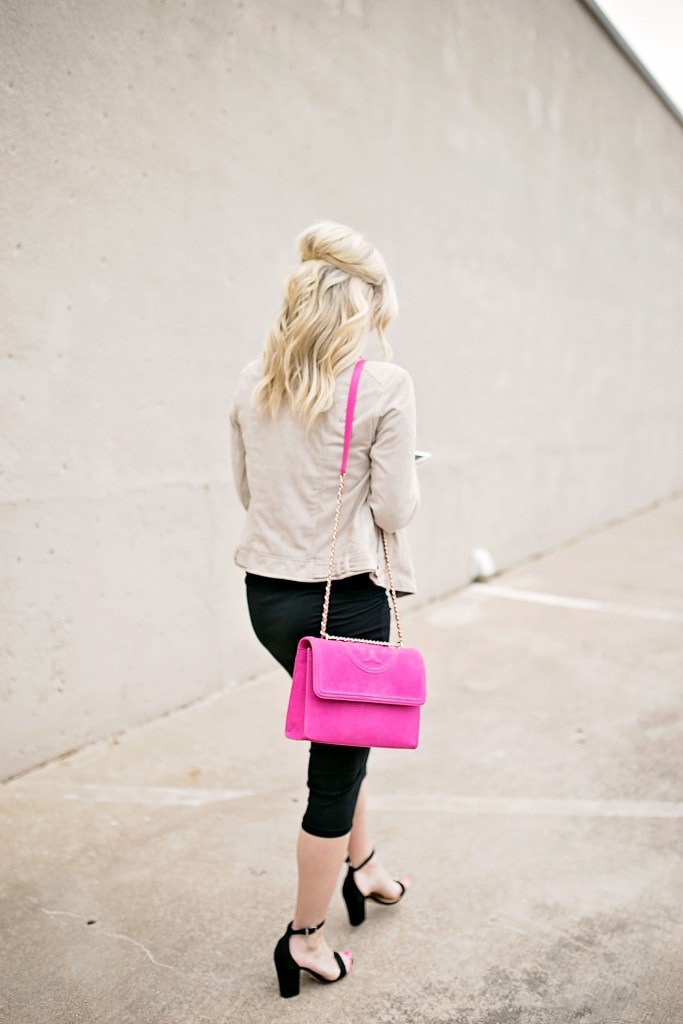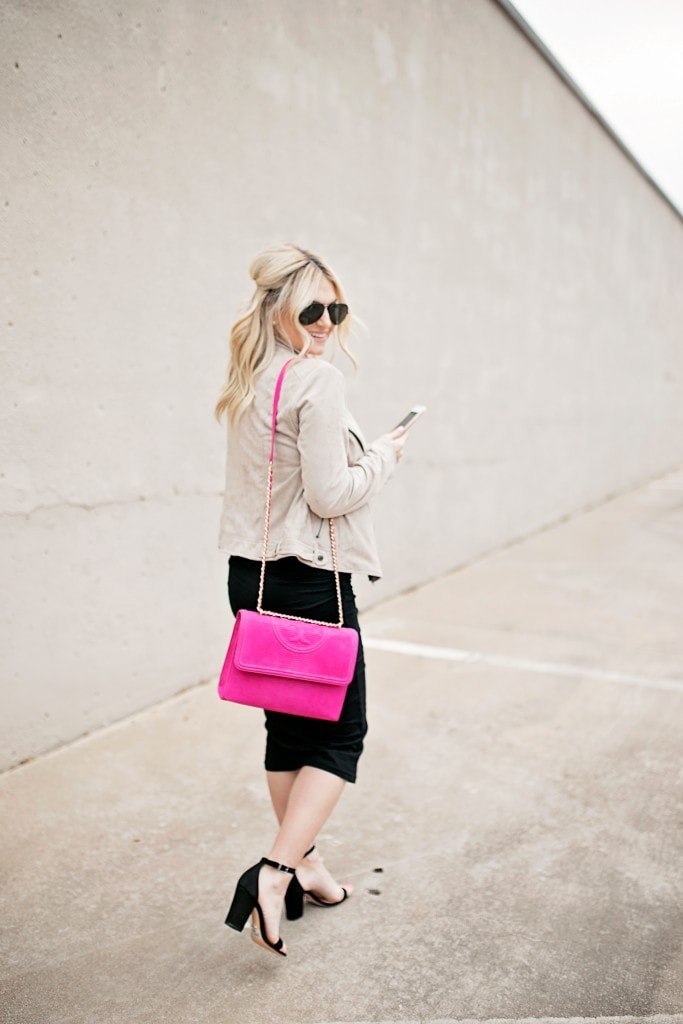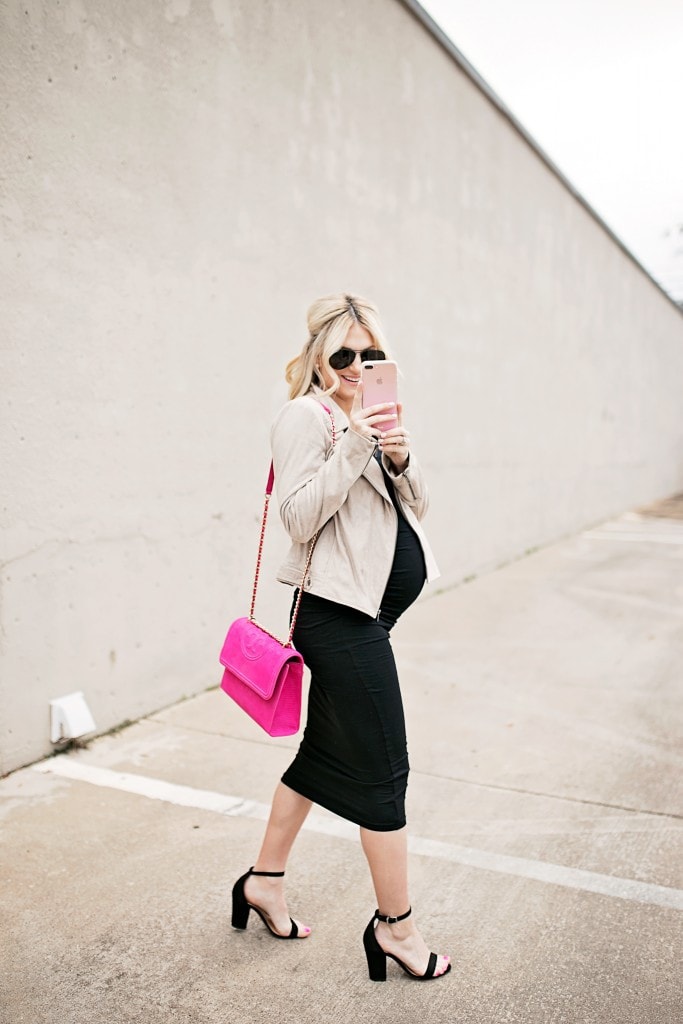 Dress: Michael Stars | Jacket: Cupcakes & Cashmere [runs large, size down], Similar | Heels: Revolve, Similar | Bag: Tory Burch, Small Version | Lipstick: Blankety | Necklace: Baublebar [c/o] | Sunglasses: Ray Ban, Similar
Photography by: Angie Garcia
---
I can't believe this is my last styled look on the blog with my bump! These dresses by Michael Stars were seriously my favorite thing to wear during pregnancy and I can wear them after. I got my normal size because the waist stretches a lot which is perfect because then you don't have to spend as much money on a pregnancy and post pregnancy wardrobe! 😉 I styled this dress in another shade in this post, here. I paired them with everything from booties to chunky-heels to sneakers if I was running errands.
One thing I really loved about pregnancy was how I wore things I typically hadn't before! Before pregnancy I hated anything fitted. I just never really wore anything tight, so it felt odd when I did. Naturally, right when I found out I was pregnant I wanted to show off whatever bump [or bloat] I had! I was looking back on my phone and cracking up at photos we had taken at the beach when I was 10 weeks or so. I thought I had a bump and I was sorely mistaken. That was called bloat from all the Sprite I was consuming with morning sickness. 😉 I was so proud and kept putting my hand on my stomach in a swimsuit while Paul took pictures. It's funny to look back, but incredibly sweet all at the same time. Now that I have all of these fitted dresses in my closet, I look forward to styling them in a different way with baby. I've seen so many cute mamas on Instagram wear them with sneakers like this and a jean jacket while they tote around their littles.
On another note, I know this isn't a Friday Frills post, but I've been mentally jotting down so many links/articles and things I wanted to share with you all. Here's a few random things I've had on my mind:
1. This pasta sauce recipe is so easy and one that can be made with what you already have in your kitchen!
2. I share a blogging tips post about once a year to help girls that are curious about this industry. Grace just wrote an updated one on her blog and it is incredible!
3. I chatted about vented my thoughts on this season of The Bachelor on Snapchat. I was never a huge Nick fan [who does that to a woman on live tv?! #AfterTheFinalRoseWithAndi] and I just was so disinterested. Besides that, everything just seemed 10x more staged/fake this season. Maybe it was the pregnancy hormones?! However, like any true Bachelor fan I loved reading these 23 on-set secrets!
4. These are the best drugstore beauty buys of 2017! Have you tried any?
5. Apparently, there are 4 kinds of introverts! I'm one [I wrote a post about it here] and you can take this quiz to see which kind you are. I'm a social introvert, which I wasn't too surprised to find out. If you are on, which one are you?!
6. Back in 2014, my girlfriends and I shot a post for The Glitter Guide on a Valentine's Day Brunch for friends! You might be celebrating Valentine's Day this weekend so I thought I'd share the post as a #ThrowbackThursday and to give you some inspo on decor! That shoot seems like a lifetime ago, but I love looking back at it.
7. I have to poke fun at myself about a story last week! Paul always begs me for us to get another Peaches, which I find hilarious. When he married me he found out I was extremely allergic to pet dander-3 years of allergy shots, 2 sinus surgeries and no solution! My grandmother surprised us with Peaches because she knew she was a hypoallergenic dog that I could breath around. However, Paul had never been around small dogs before so I was worried how he would react. A year and a half later and Paul is so attached to her. He wants to bring her everywhere! I'm constantly having to say, "Babe, we can't bring her to an engagement party. That's not okay." I guess he was begging me about getting another Peaches one night and I went to sleep and dreamt we got one. In my dream Peaches was so sad because she thought we were replacing her. [Such a dream! Because in reality if we came home with another Peaches she would be like, "Seeya guys! This is my NEW bff!"] I woke up nearly in tears thinking we had upset her, so I was a terrible dog mom and actually woke Peaches up. I took her out of our room and got her treats and tried to have this full-on conversation with her at 3 a.m. on the couch about how much I loved her. Haha! Talk about a combination of pregnancy insomnia and hormones. Paul came in the living room at 6 a.m. because we had fallen asleep on the couch and said, "What are y'all doing?" I just couldn't even think of how to respond. I said, "Well, I had to tell her we loved her."
8. Did someone say Sporty Spice? How cute is this tee for weekend errands?!
9. NYC is one of my favorite weekend getaways and so I loved this review of the prettiest pink restaurants in the city! If you're headed there sometime soon, you must go snap one of these cute spots!
10. Lastly, I just wanted to say thank you for all the love you've given to us over the birth of Maxi! She will be a week old on Saturday and she has already changed my life completely. I've never been so proud of a human being. I mean whenever she eats well or sleeps well I'm over here cheering her on like I'm at the Super Bowl! 😉 All of your comments, e-mails and tweets have made this week even better. I seriously love you all so much and feel like you are all my friends!