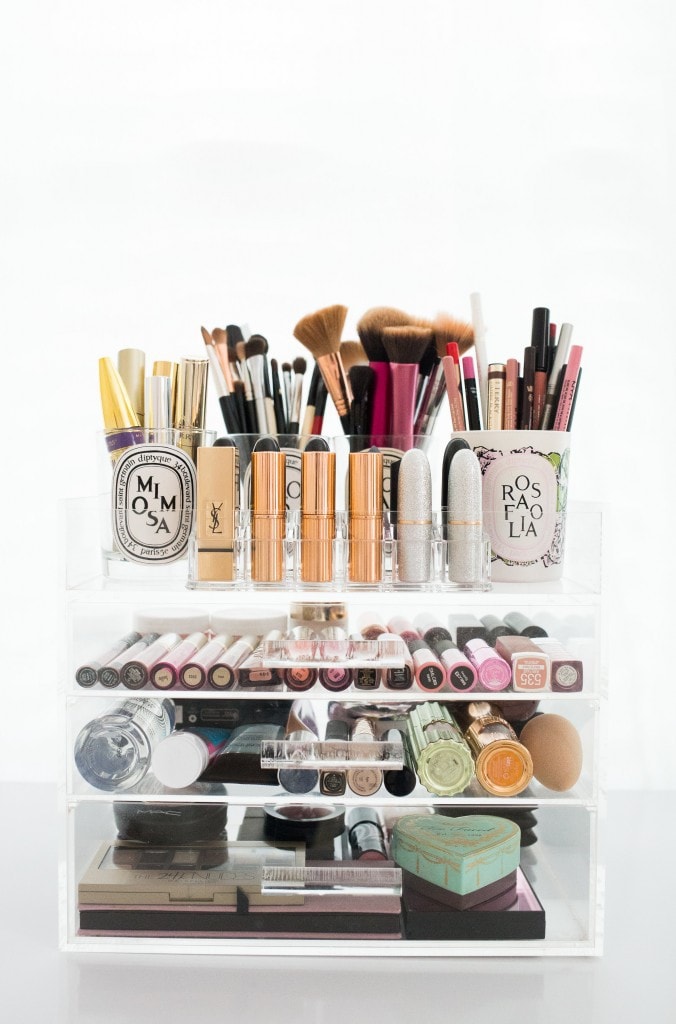 My very first makeup purchase was when I was 16. I was working as a hostess at a local Chili's [I legitimately only applied there because I wanted free chips and salsa during my shift #noshame] and that first paycheck haaaaddd to be spent wisely. I drove up to our local mall with cash in hand and walked around the MAC counter. Now this clearly wasn't my first makeup product to ever own! Up until that point, my mom purchased my makeup and always supervised it. We'd go get my makeup done at the Bobbi Brown counter at Neiman Marcus and we stuck to tinted moisturizer and mascara. And when she went to work in the mornings and I wanted to wear more makeup, I'd have to go sneak in her makeup bag. I had the whole James Bond process down. I put everything away neatly, so I thought she had no clue. Naturally, my face gave it away. My mother was a saint and never mentioned why I had uneven liquid eyeliner on my lids when I got home from school, but looking back at some high school photos I wish she had! haha!
I walked around the entire counter feeling #somature that I was about to buy whatever I wanted. What did I come home with? Mac eyeshadow in the shade Club. The girl behind the makeup counter was so nice and pretty and I was 16 and awkward and intimidated. I asked her what she had on her lids, she pointed to a shade that looked very Kim Kardashian dating Reggie Bush, and I told her I'd take it! The whole process lasted 5 minutes and it was an entire 5 minutes where I had no sense.
This is why my mother supervised my makeup purchases beforehand…
Here's a swatch of Club so you can get the idea. It was a smokey, olive that wasn't age appropriate in the slightest. And to top it off, I paired that sucker with my purple cheerleading uniform to football games. It was like a bad version of Barney I can't even think about.
I've clearly made lots of makeup mistakes since then, and it's always funny to look back! But the older I get, the more confident I am to stick with what I know I love. Sometimes I'll get compliments from girlfriends when I wear red lipstick, but I know that's because I don't wear it every day. If I were to wear red lipstick everyday people would compliment when I wore a neutral shade. However, I've learned that just because I get a compliment doesn't mean I need to go purchase 15 new shades of red lipstick. I'm no Gwen Stefani and I'll never wear that every day, unless I want to stain my daughter's clothing permanently from kissing her all over! Haha. Trust me, I've done it before and then come home and thought, "Why did I waste all of that money? This isn't me."
My mom is the perfect example of this! She wears a smokey, brown lid every single day! I mean she could be going to the gym or going to a dinner with my dad and her eyeshadow looks not only the same, but impeccable. It's her signature, if you will, and I always associate it with her. Now I'm not saying I wear makeup to the gym [I don't], but I love her confidence. She wears what she loves, no matter what, and I think that confidence makes her even more beautiful. I never think my mother is beautiful because of her makeup, I always think she is beautiful because she knows exactly who she is and she doesn't let a trend or a comment change that!
So while I still enjoy running to Sephora or the Nordstrom beauty counter whenever I have the chance, I purchase items based on what feels most me. I remember purchasing that MAC eyeshadow because the girl behind the counter was wearing it and she looked great, so I thought I should follow suit. I'm still cringing inside at that day. So in the spirit of sharing products that make us feel most like ourselves, I thought I'd share how I store my makeup and what products fill my GLAMbox. You'll probably see a lot of the same general hues, but it feels very me and I'm fine with that. 🙂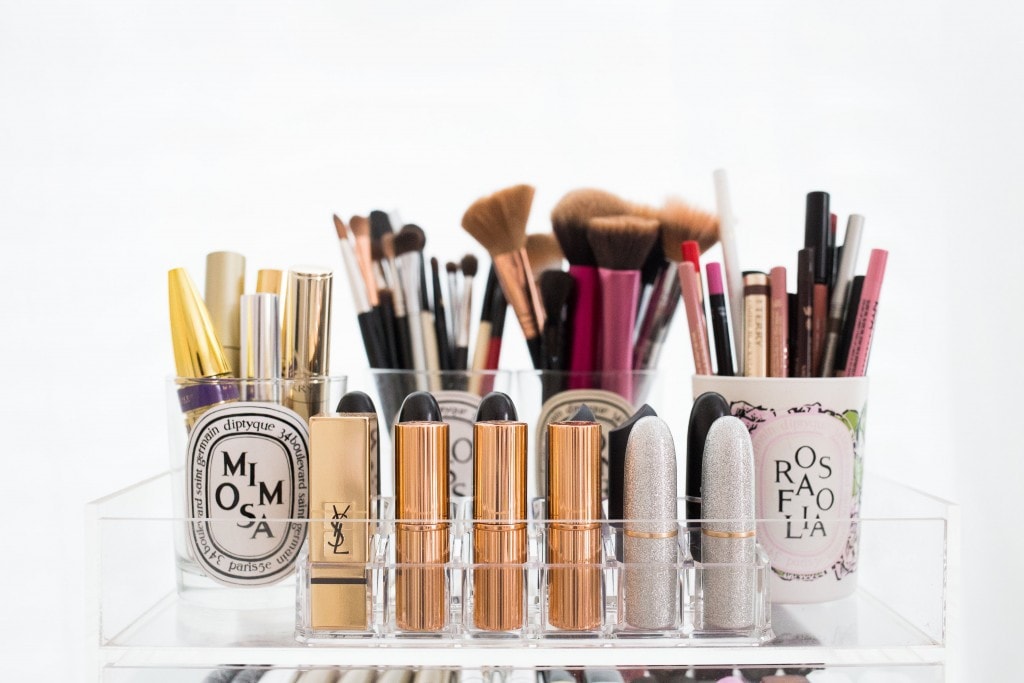 I've stored my makeup in my GLAMbox for years and this is the GLAMpetite with a full lid! On the top section I keep three diptyque jars that I fill with my makeup brushes, lip liners, mascaras and tube lipsticks.
Makeup Brushes: This Post
Mascaras: Anastasia Clear Brow Gel, By Terry, Stila Huge Lash, Tarte Maneater, Maybelline Big Shot
Lip Liners [most used] & Shadow Sticks: Stila Pink Moscato, Mac Cherry, Chanel Natural, Anastasia Brow Pencil, By Terry Shadow Stick in Bronze Moon, Lancome White Eyeliner, Charlotte Tilbury Kohl Liner in Bedroom Black
Lipsticks: YSL #10, Kim K.W, Red Carpet Red, Very Victoria [PERFECT shade for work!], Bit of Bubbly, Dahhlinggg, Snob, Souffle, Cava, Blankety, Velvet Teddy, Saint Germain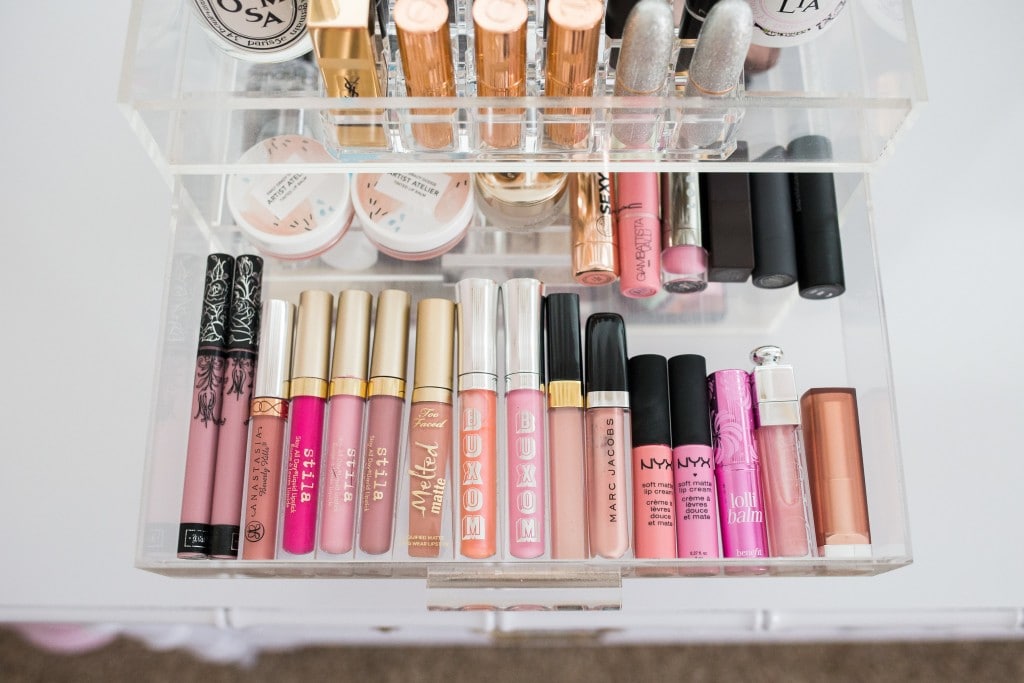 Artist Atelier Lip Balm, By Terry Balm, Nude Edition, MAC [limited edition Bianca B], LORAC Nymph, Laura Mercier Infatuation, Bite Sugarcane, Bare Minerals Bubbles
Kat Von D. Requiem, Anastasia Crush, Stila Bella, Stila Rosa, Stila Baci, Too Faced Star Child, Buxom Ella, Buxom Erin, Chanel 189, Marc Jacobs Moonglow, NYX Tokyo, NYX Sydney, Lollibalm, Dior Lip Maximizer, Maybelline Peach Buff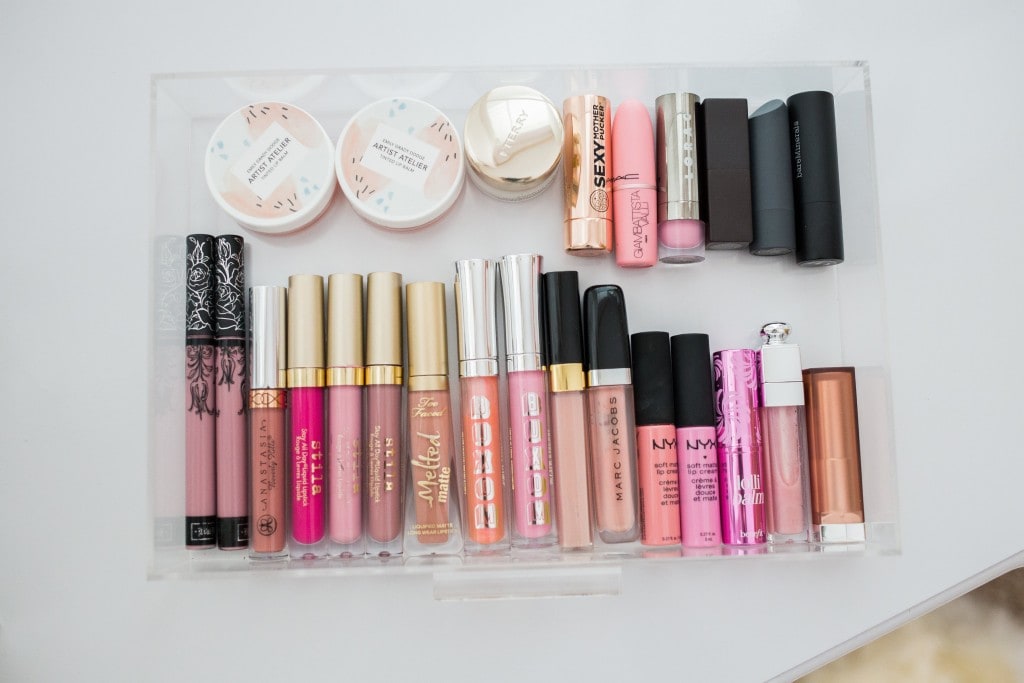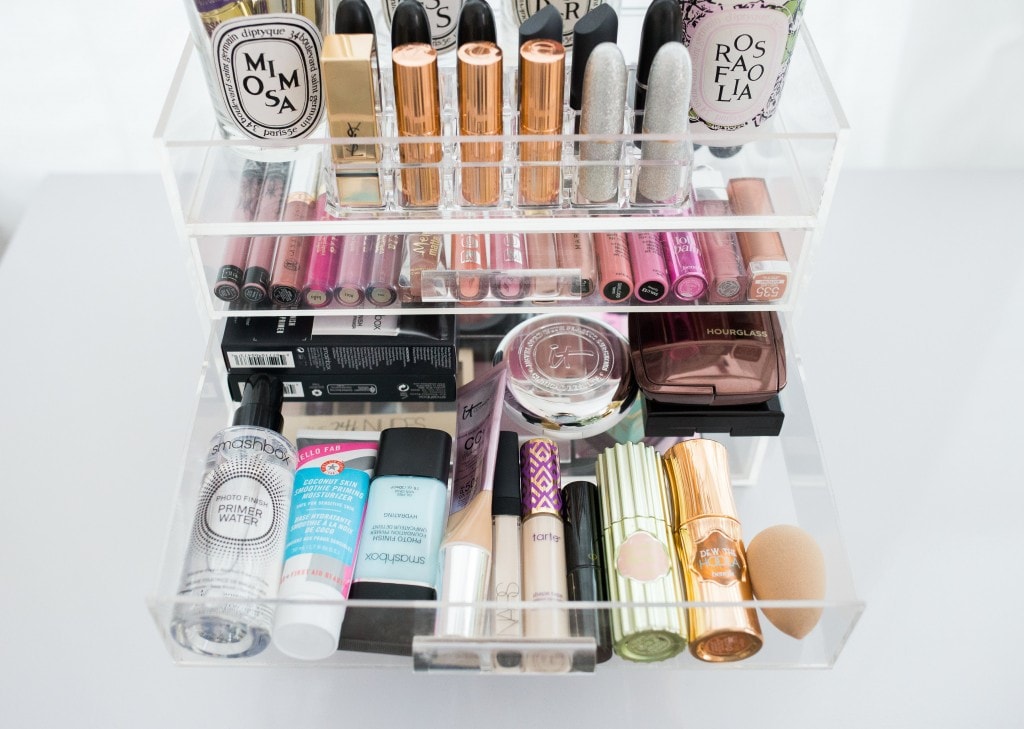 The second drawer holds my face products! While I'm always one to purchase a new lipstick, I really don't change up my face products all too much. I'm very loyal to my it Cosmetics foundation and I find that even when I purchase something else it never works! However, I do have two products that help with foundations that help extend their longevity. I use benefit Hoola Liquid Bronzer and Dandellion Liquid Blush when my foundations don't fit my skin. If my foundation is too light and I have more color on my face like in the summer, I mix one drop of the Hoola Bronzer in my foundation and blend in with my beauty blender. This really sheers out my foundation and makes it fit for summer, while also giving my face a bronzed look that isn't too over the top. If I ever forget to self tan my face, this trick fixes it as well! I use Dandellion Liquid Blush when I'm a little lighter and need my face to not feel so flat. This works as a blush and highlighter and I use the base of the beautyblender to dab it on my cheeks. Even if I have no color and my skin feels dull, this makes my face glow!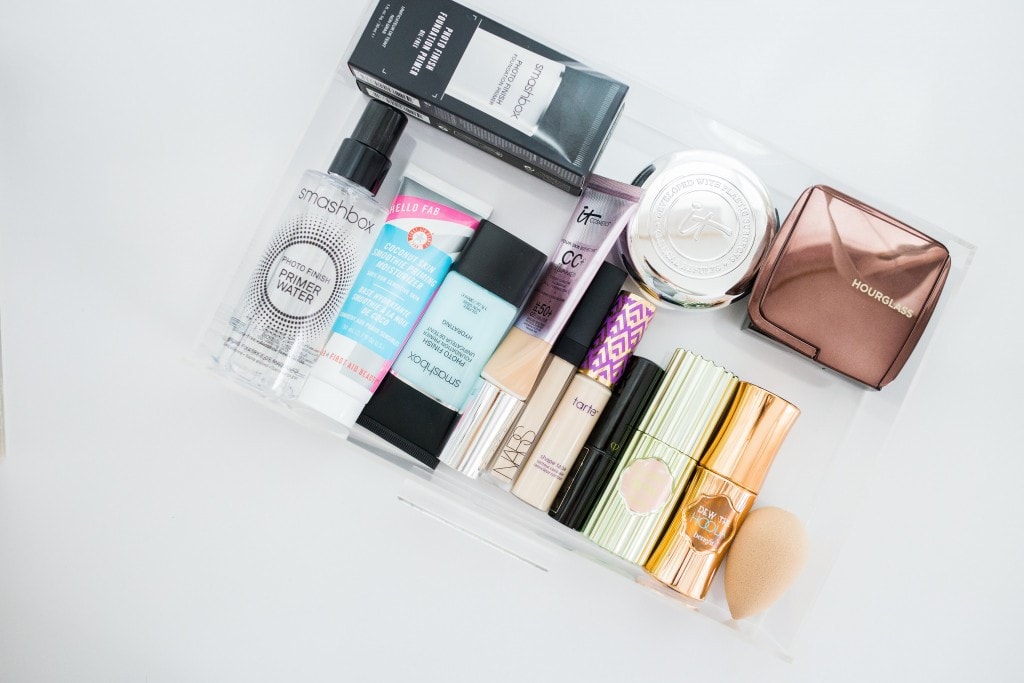 Smashbox Primer Water [this is my favorite setting spray I'm out of], First Aid Beauty Coconut Primer, Smashbox Hydrating Primer, it Cosmetics Illuminating CC Cream [shade light], Nars Creamy Concealer [shade Chantilly], Tarte Shape Tape Concealer [prefer this over Nars, shade fair], Clé de Peau Beauté Concealer, benefit Dandellion, benefit Hoola, beautyblender, Hourglass Powder in Ethereal Light, Laura Mercier Candleglow Powder, it Cosmetics Confidence in a Compact Foundation, Smashbox Primer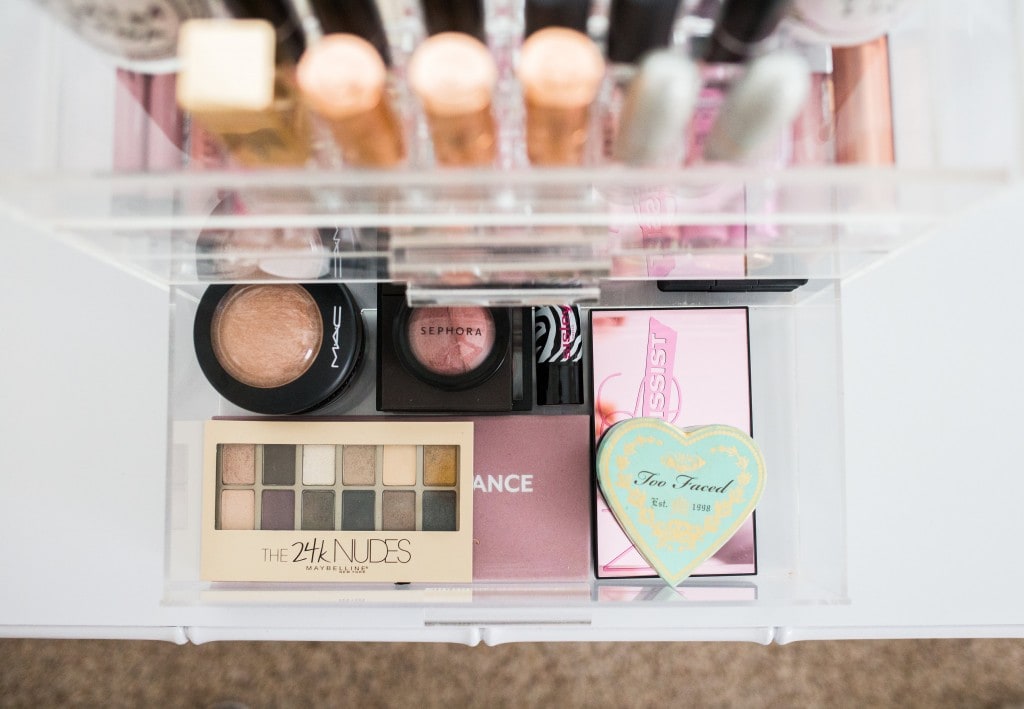 The bottom drawer holds my eyeshadow palettes, bronzers, blushes and highlighters. There is one palette not featured because I just got it right after this shoot and I love it! If you're a fan of MAC eyeshadows go stalk the In the Flesh palette.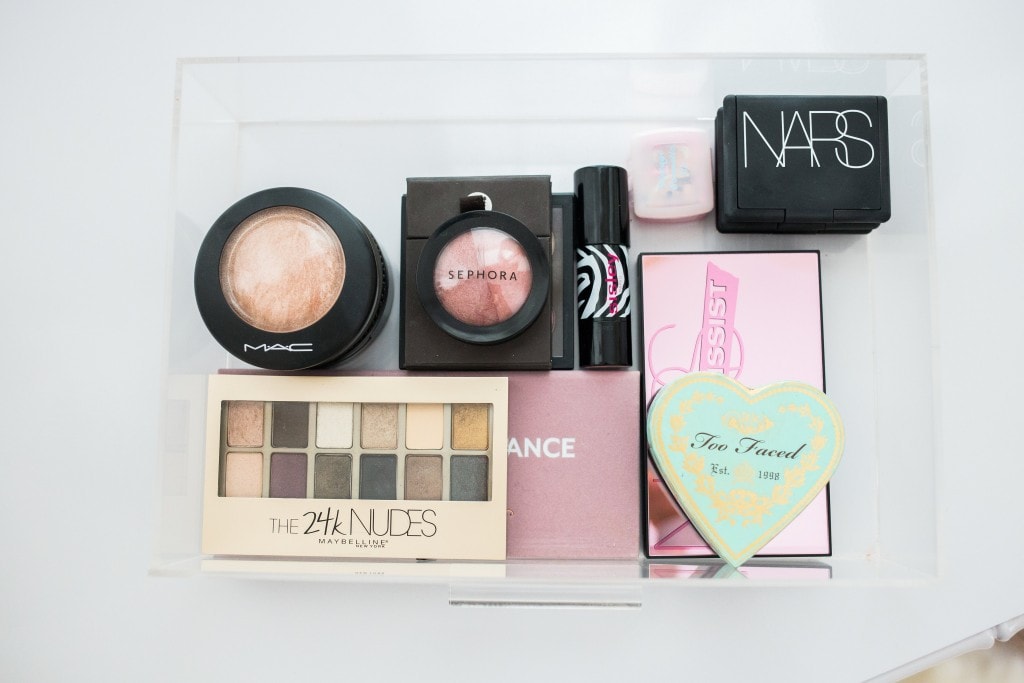 Highlighters: MAC Soft & Gentle, Becca Opal
Blush: Sephora Tea Rose Tickle, Nars Orgasm, Nars Gina, Nars Nasissist Palette [my go-to palette], Sisley Petal Twist Blush
Bronzer: Too Faced Sweet Tea
Eyeshadow Palettes: Maybelline 24K Nudes, Viseart Minx, Anastasia Modern Renaissance, Nars Isolde, Mac Pan Palette [see shades here]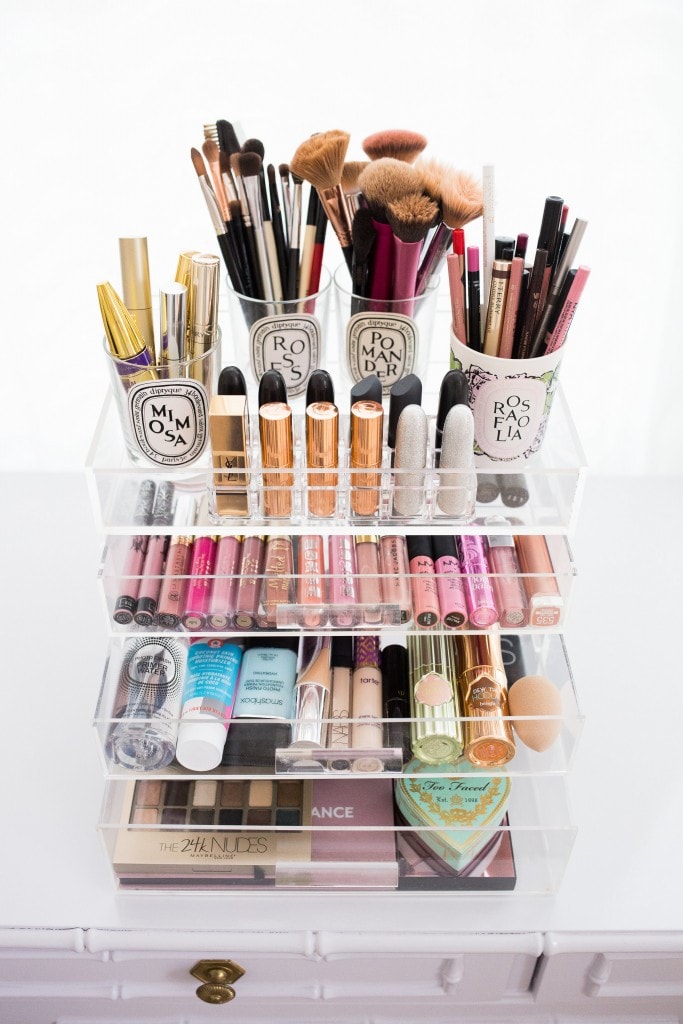 I clean out my GLAMbox with this cleaner from the Container Store about once a month. I make sure to check expiration dates on the bottom of products and toss anything dirty or old. I found once I started to make sure I didn't use things past their expiration dates I broke out MUCH less and and my products applied better.  I also use this cleanser to wash my brushes once a month. I wish I could lie and say I wash them every 2 weeks, but that just doesn't happen over here at Hotel Hellman….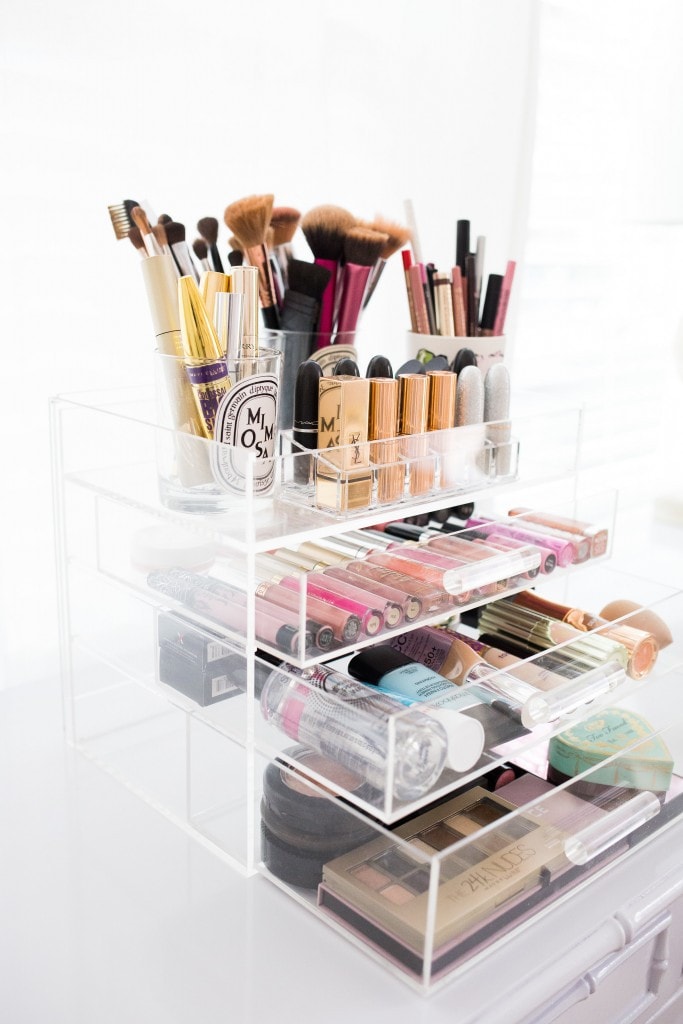 It's definitely not necessary [or probably normal] to have this much makeup! But because I test products for my job, I love that I can sort it all nicely and see what I need to test or use up. However, I'd love to know how you store your makeup! I'm always interested in organization ideas and new methods. How do you do it and do you have any cringe-worthy purchases like mine from high school?!

Photography by: Madison Katlin