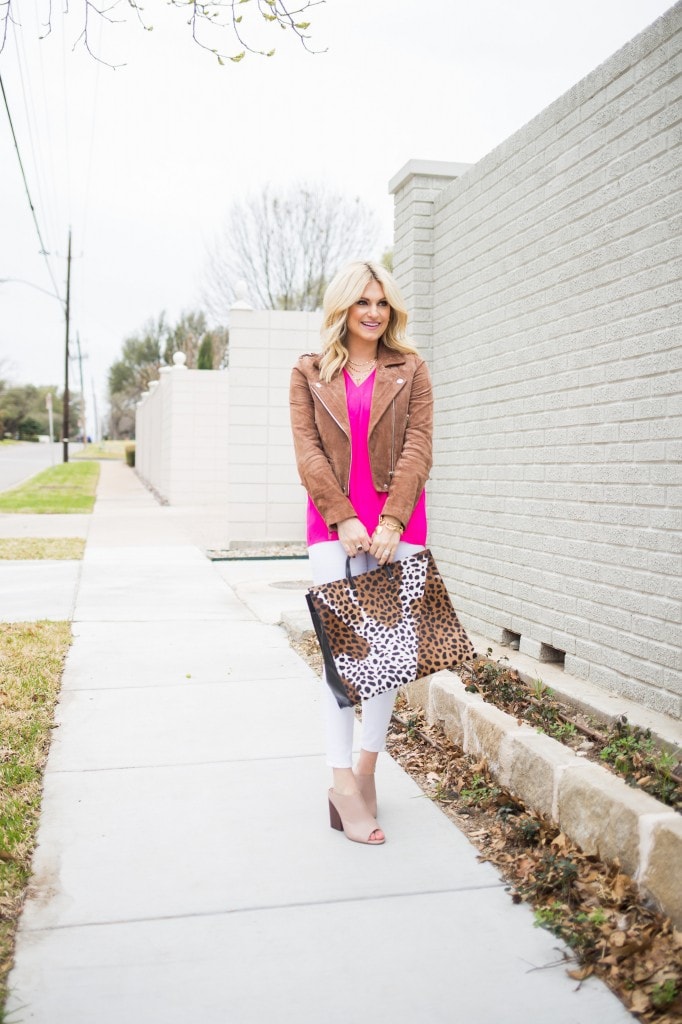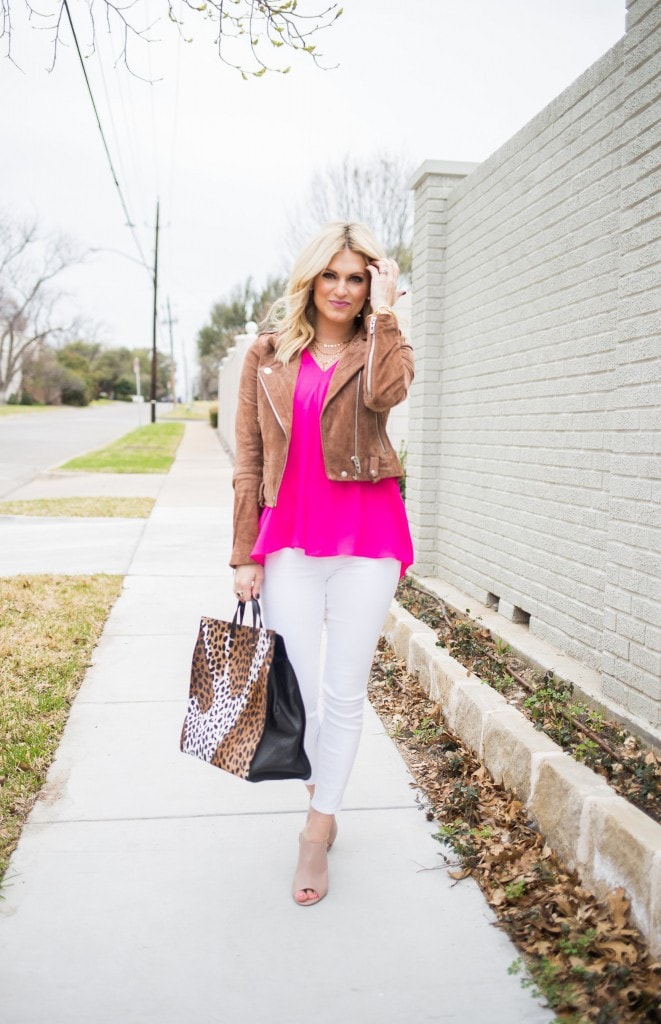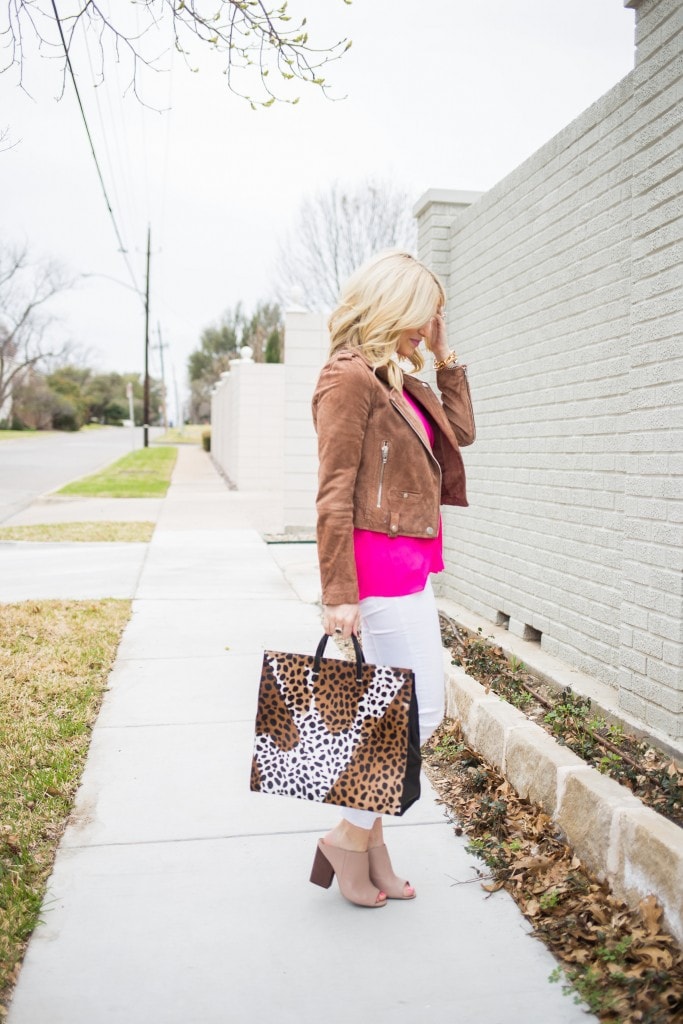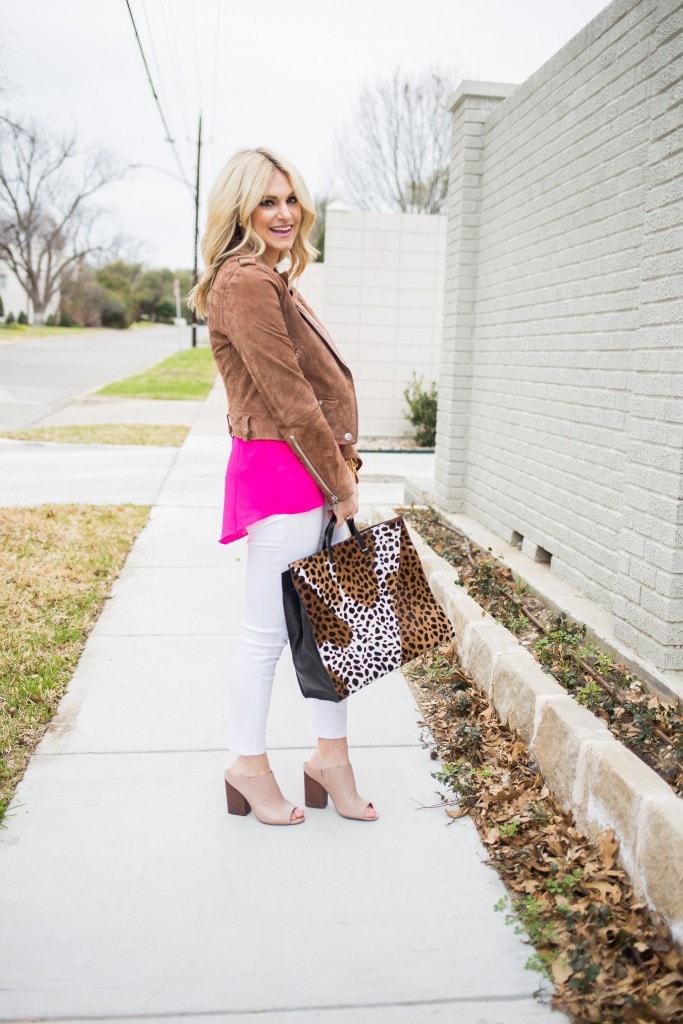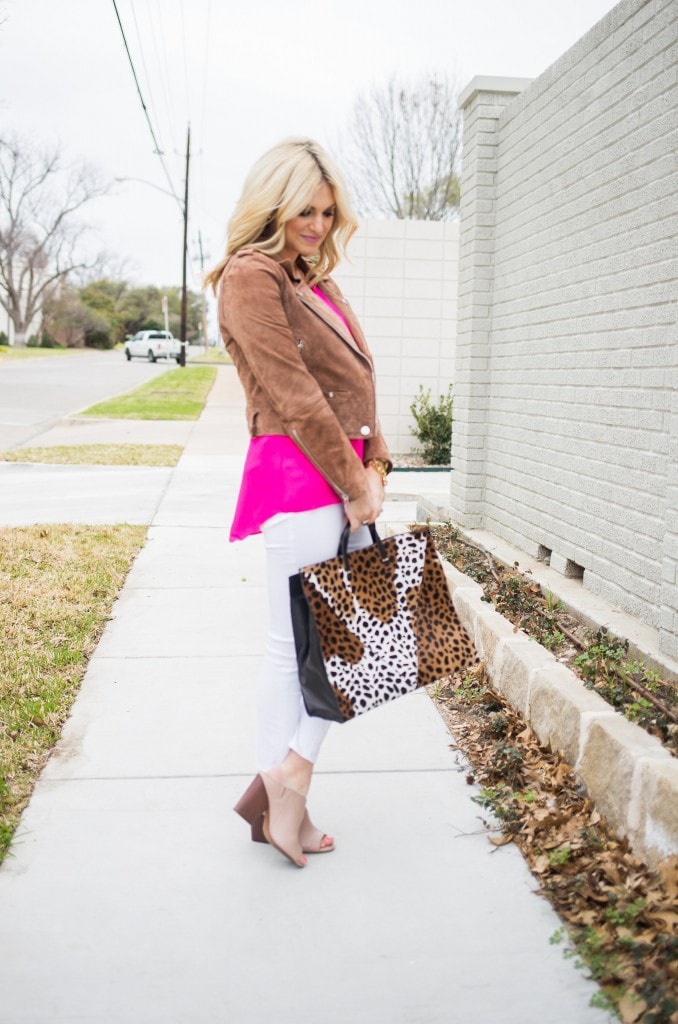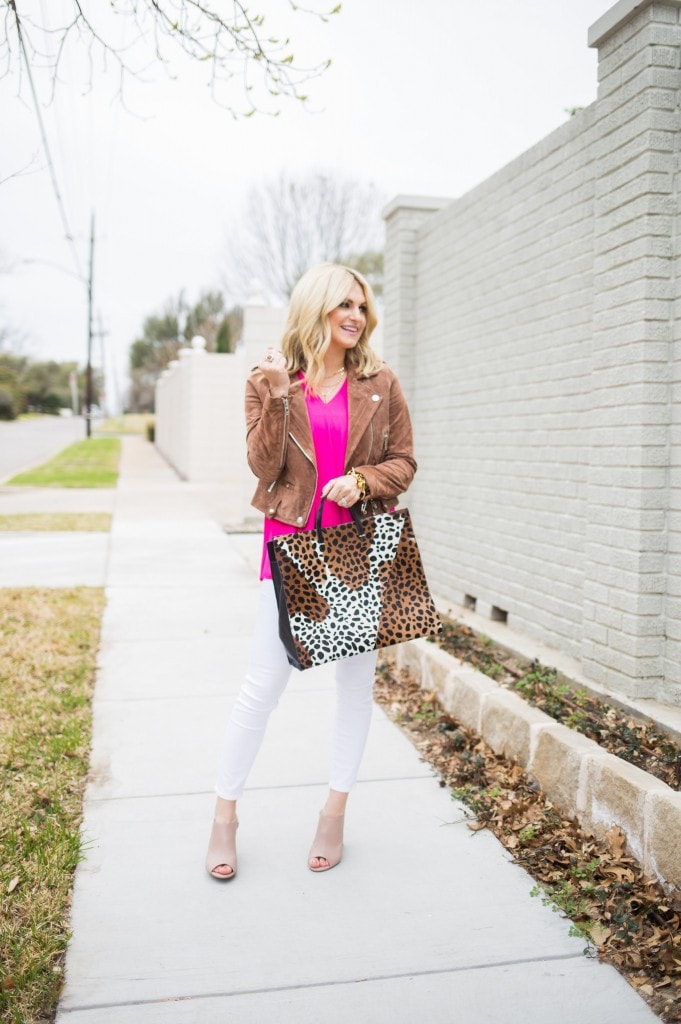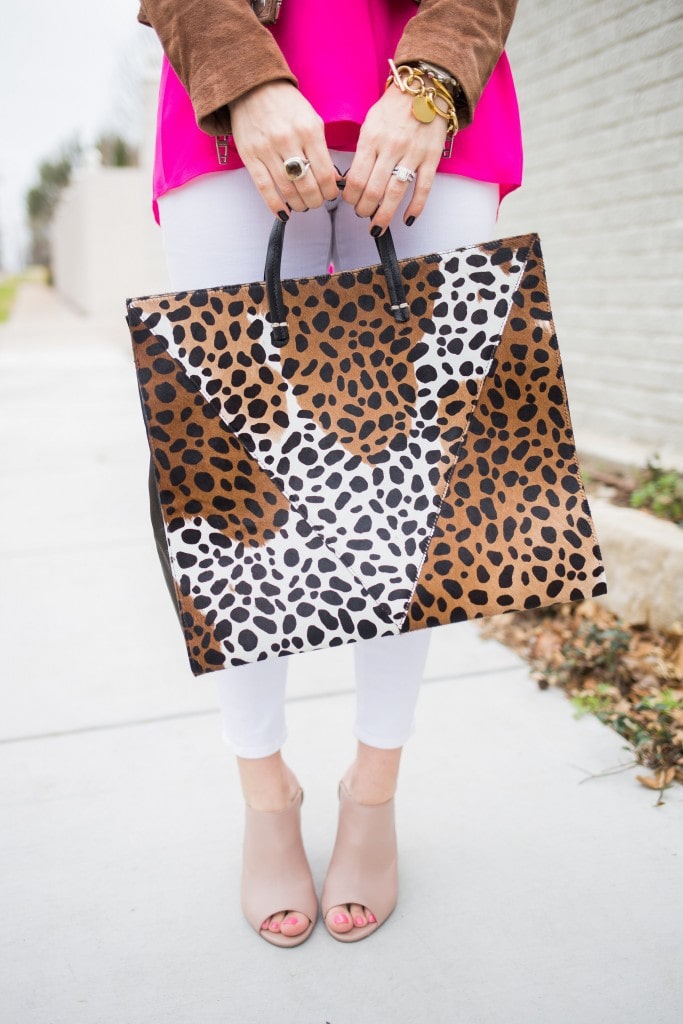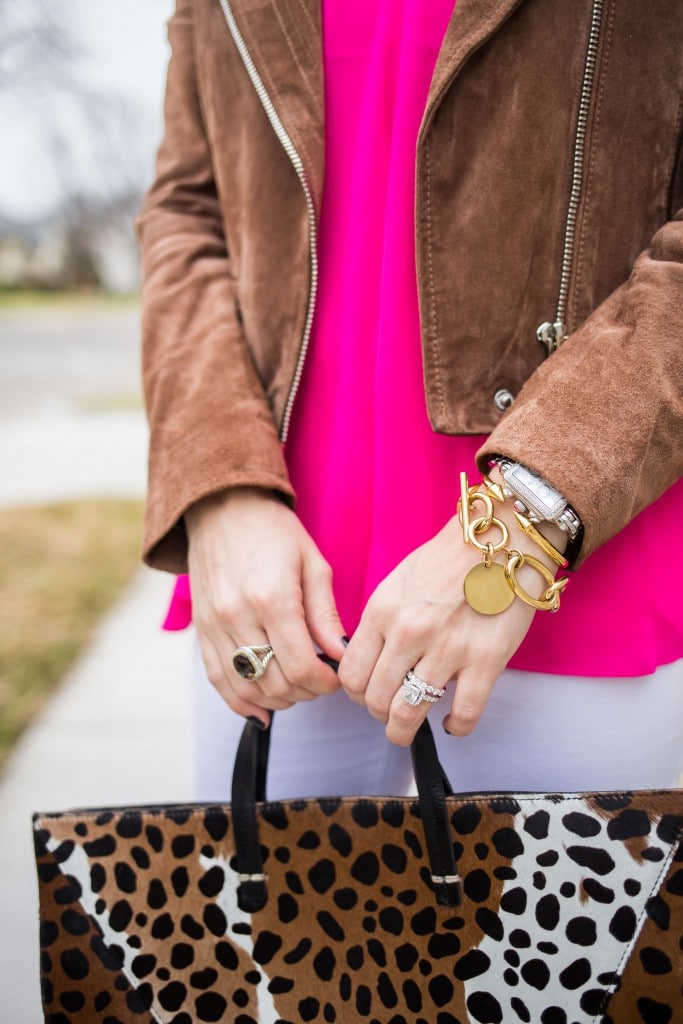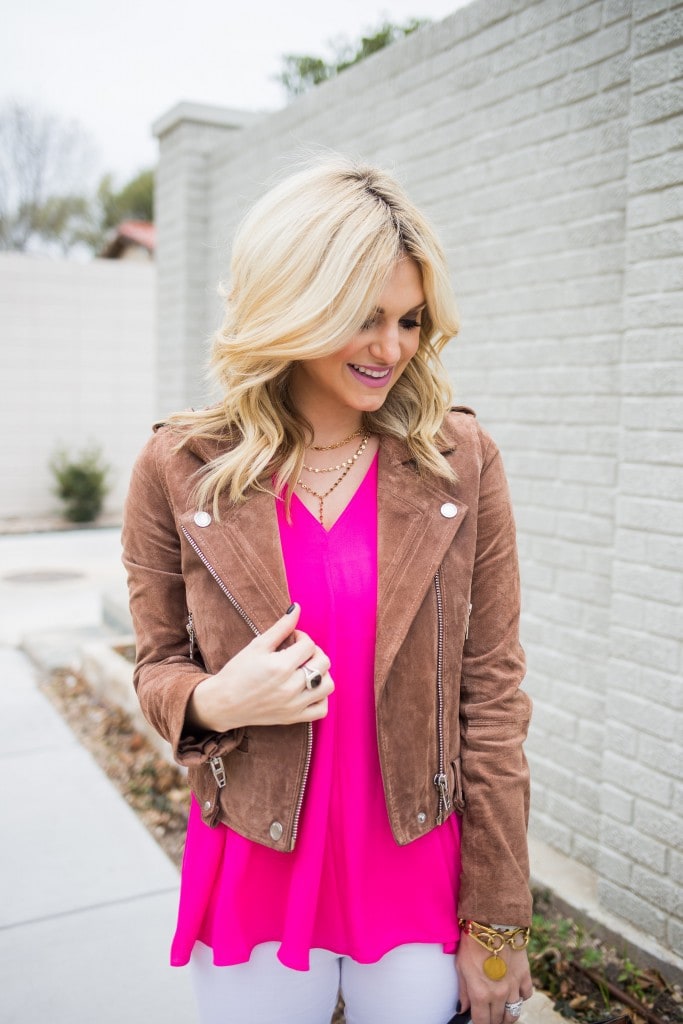 Top: Nordstrom | Jeans: Shopbop | Lipstick: Nordstrom [Baci] | Necklace: Baublebar [c/o] | Jacket: Nordstrom | Ring: David Yurman | Bag: Clare V. | Bracelet: Sold Out, Similar | Shoes: Nordstrom
Photography by: Madison Katlin
---
I'm so excited about today because my grandparents get to meet Maxi! My Nana comes in town each year for a few weeks at a time and always has for as long as I can remember. When I was in school, she would normally come towards the end of the year and would help out with laundry/meals/etc. while we finished taking finals. My mom was a reading specialist teacher so this was always helpful while my mom prepared for the end of the year with her students, as well. Now that my sister and I are older she visits based on big life events and Maxi being born is of course one of them! I seriously hope to be a grandmother like that one day!
Last year she came quite a few times [they live in Atlanta] and one trip coincided with me just finding out I was pregnant. We picked her up at the airport and I came up to her and said, "Do I look any different to you?! Like I've gained weight?!" I was trying to hint to her I was pregnant. She looked at me calmly and said, "Oh I knew you were pregnant! I actually bought you a onesie last week!" It was so funny because my mom and dad and I were expecting her to scream in the airport with shock, but I guess grandmothers just know! 😉
Another reason I'm excited about today is to share this tank! Finding a good silky tank can be a lot more difficult than it should be. For starters, you've got to decide if you want thin straps or thick straps. I love this tank for thin straps! However, I was wanting a tank with thick straps I felt comfortable tucking into skirts for church. Then, you have to get the right ratio of v-neck to skin. I love silky tanks for layering and wearing under blazers for work events, so it blows my mind when I find silky tanks to be extremely low cut. Half the time I think, "I don't even know what bra I would wear with this, much less how to pull it off for work!" I mean can a girl just find a tank that doesn't look like it should only be reserved for a bachelorette party?! Then when you find the right tank, it needs to come in a variety of colors. I want enough colors for work and enough colors for play! This tank by Vince Camuto meets all those requirements AND the curved hem on the bottom [it's a little lower in the back] means I can front-tuck it in shorts in the summer or cover my bum for work-related events. I am styling it in the neon pink shade for a fun weekend look, but it also comes in white, black and a rose-hue for work. I'd even say you could wear the cobalt blue if you work in a business casual environment. As you're headed into spring you probably don't want long sleeves under a blazer, so this would make layering really comfortable for the warmer months at work. I found the tank to be very true to size and I did order it in regular, not petite.
Do you have any requirements when finding silky tanks?! Have you found any you love?! Thanks so much for reading!