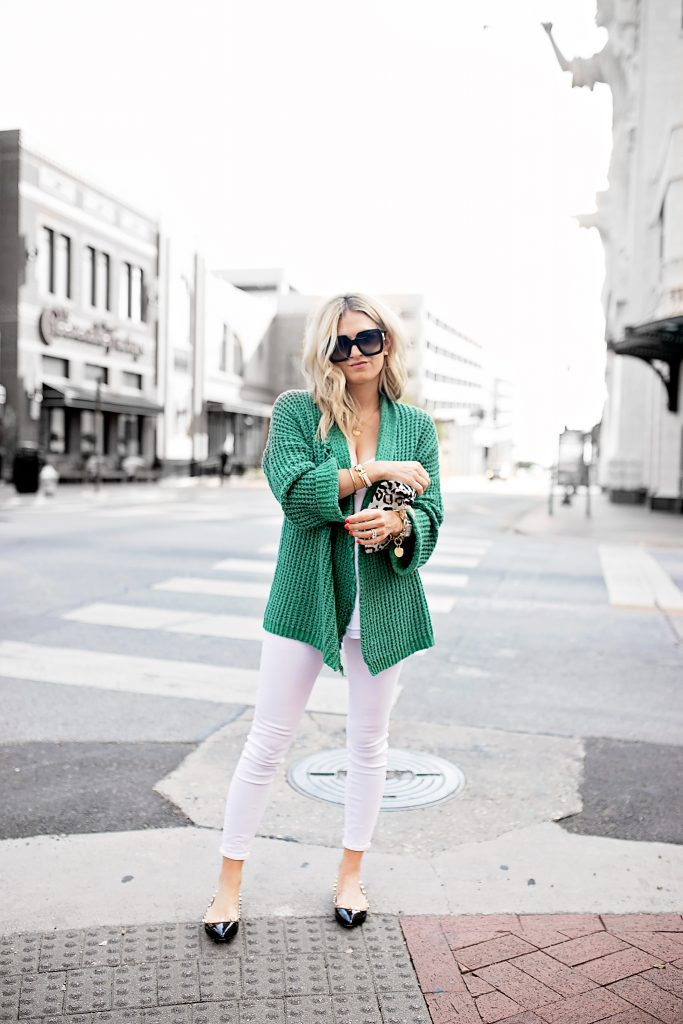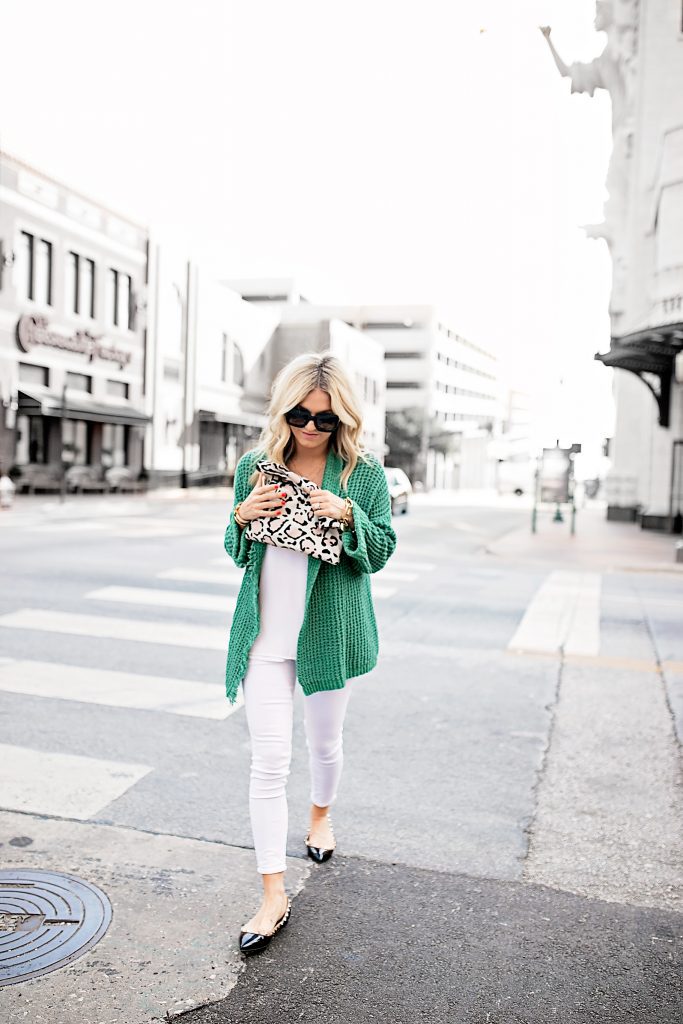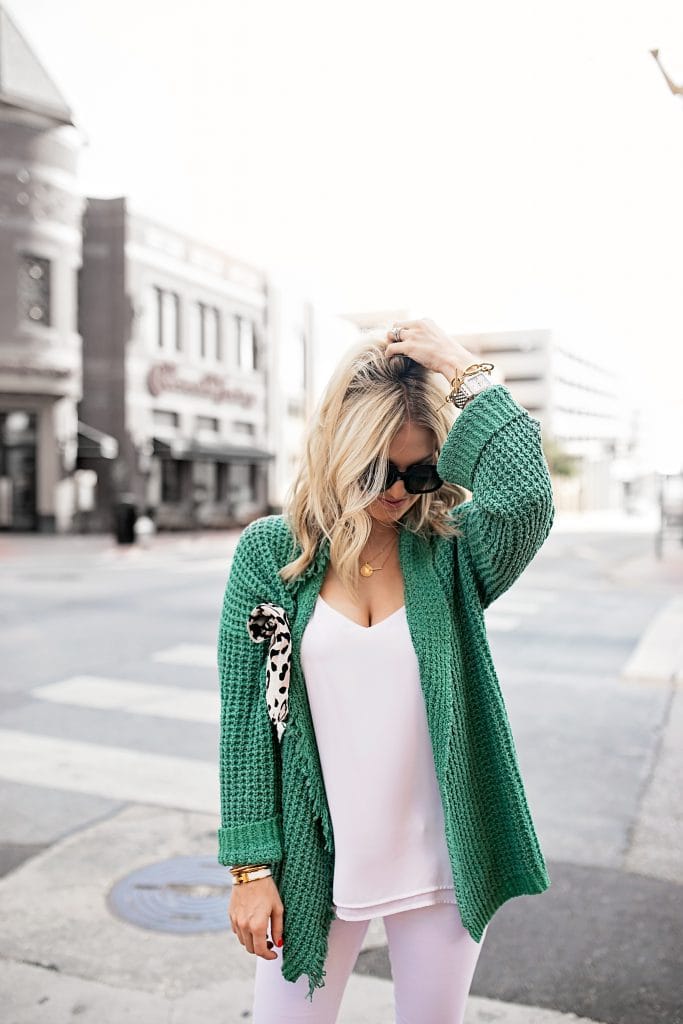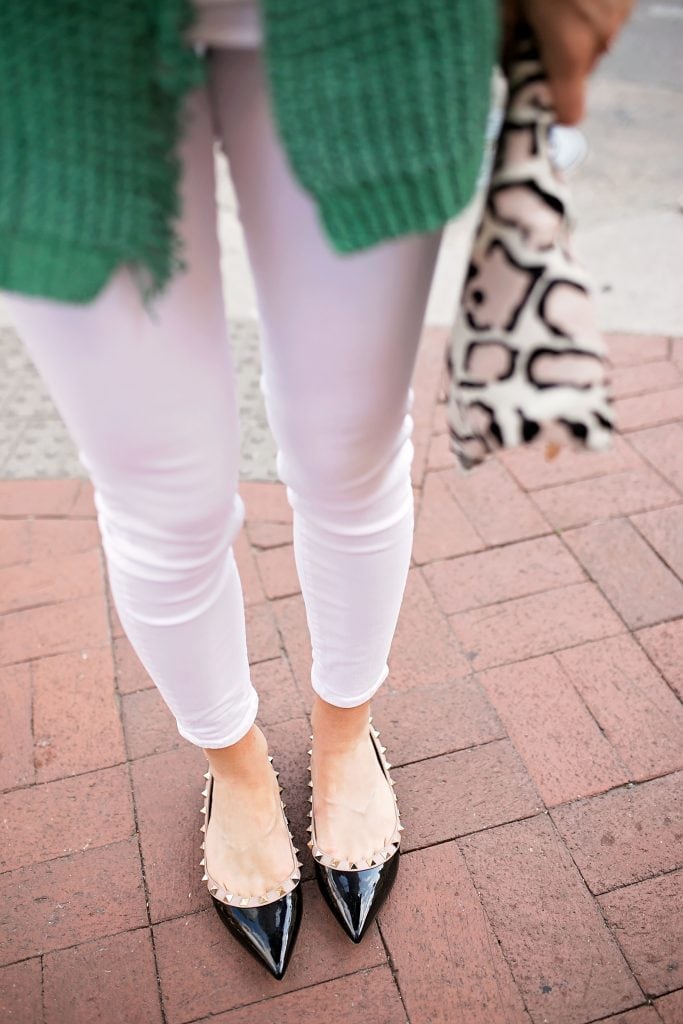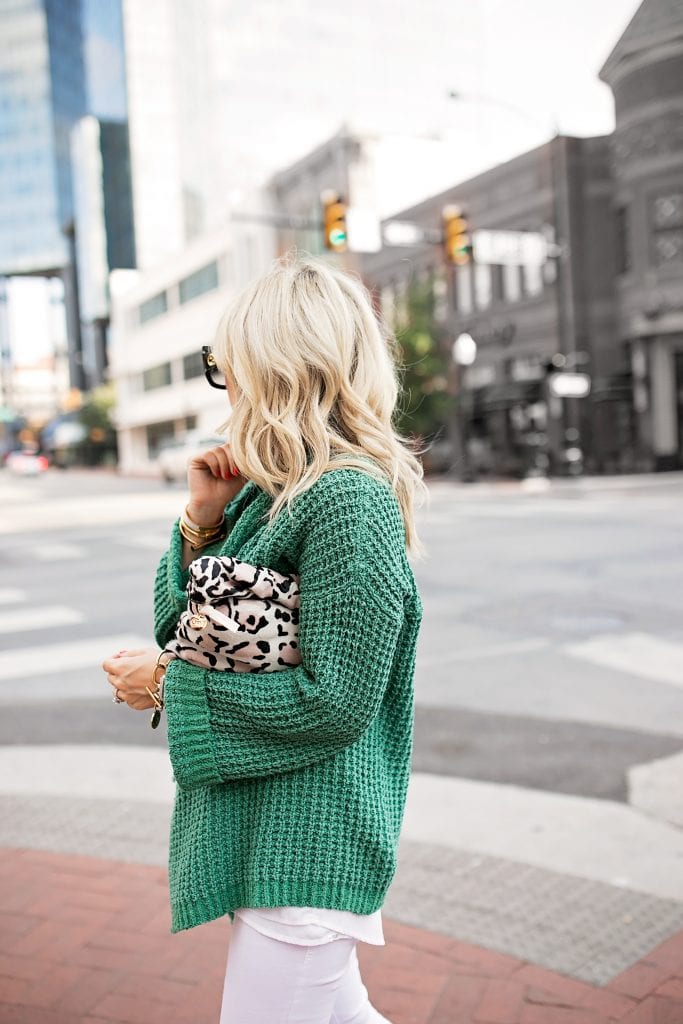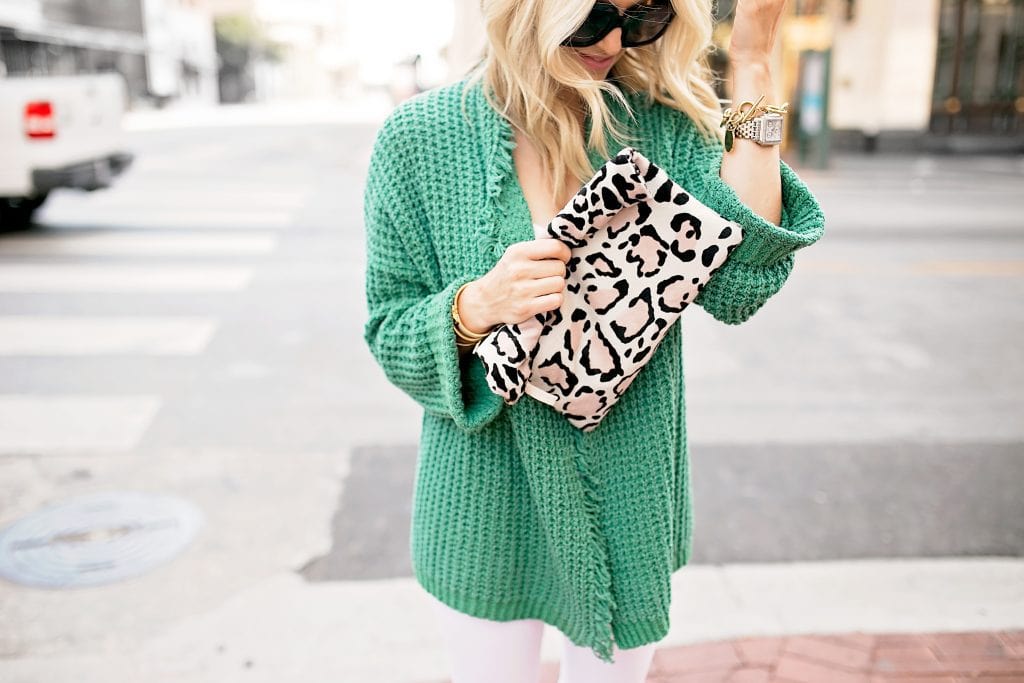 Sweater: Free People, Here, Here | Jeans: Shopbop | Shoes: Valentino, Want These! | Bag: Clare V. | Sunglasses: Gucci | Lipstick: Perla | Bracelet: Sold Out, Similar | Tank: Similar | Necklace: Moon & Lola [c/o], Moon & Lola [c/o]
Photography by: Angie Garcia
---
One key item on my seasonal shopping list each summer is a summer sweater. It seems a bit odd to need such a piece when I live in Texas where it's insanely hot and humid. However, I'm a cold-natured person and like to keep an open-weave sweater on hand to throw over my shoulders in a restaurant or while I'm at home working. Yesterday it was so warm outside and we went to Taco Diner for dinner and it was frigid! I was literally covering Maxi in the cloth napkins it was so cold. I didn't even have a blanket in the diaper bag because we had all been sweating all day running around. I looked at Paul when he got his napkin and I gave him the look of, "Don't even think about using your napkin, your child needs that!" All of that to say, a light summer sweater can be a must when indoors!
I also love to throw these little sweaters on while at home over leggings and a tank. I feel pulled together enough that if I need to run to the grocery store I can, but it feels like comfortable pajamas when I'm on the couch working! When I found this Free People cardigan  I knew this would be my summer sweater. I picked it up in green which is selling out quickly, but I seriously love all the other shades. The sapphire is gorgeous!
My sister graduates next weekend and family and friends are starting to come in town for all the celebrations! My best friend, Daniela, is in town as well so we get to spend the rest of the week with her while my sister finishes up her finals. Daniela is a traveling nurse and is headed to her next location, San Francisco! If any of you all live there let me know!! She needs friends! 😉 But I seriously admire her love of nursing and patients. She just goes wherever there is a need and uproots her life to adapt to any place that needs her. I love hearing all about her favorite cities she has been to. So far Boston has been her favorite, but I promised her last night I'd get her some girlfriends in San Francisco-haha! So I hope some of you all live there!
Now speaking of girlfriends and moving onto girl talk…. oh you guessed it, we are segueing into The Bachelor. Ben and Lauren…it's like I saw it coming but then Ben confused me with all of his social media postings. Spill your thoughts below because I'm just too bummed to even share mine. I get it, people. I get it. I've proudly [or not so proudly] watched every single season of The Bachelor. 10% of contestants are actors. 20% of contestants are there to quit their current jobs after because of newfound fame. 10% of contestants are just there to travel. 50% don't even know why they are there and were either nominated, pitched to by a producer and just thought, "Eh…why not!" But deep down, I believe 10% are there because they think they genuinely might meet someone. Think Sean Lowe, Emily Maynard, etc. Ben fit that category. So naturally, I'm way too invested into reading any article I can find about this breakup online. It's a sign I should really just be taking that energy to write thank you notes from Maxi's Baby Dedication, and yet here I am talking to you all about it….. #LoveMeThroughIt
So spill your thoughts below and if you are a San Fran girl let me know! Thanks so much for stopping by!