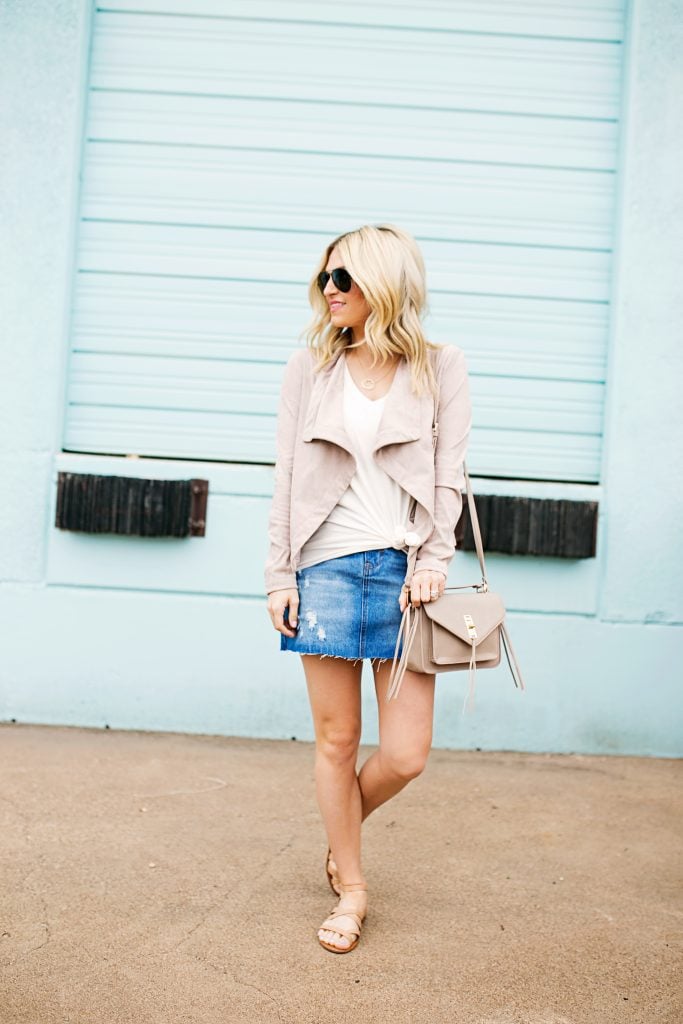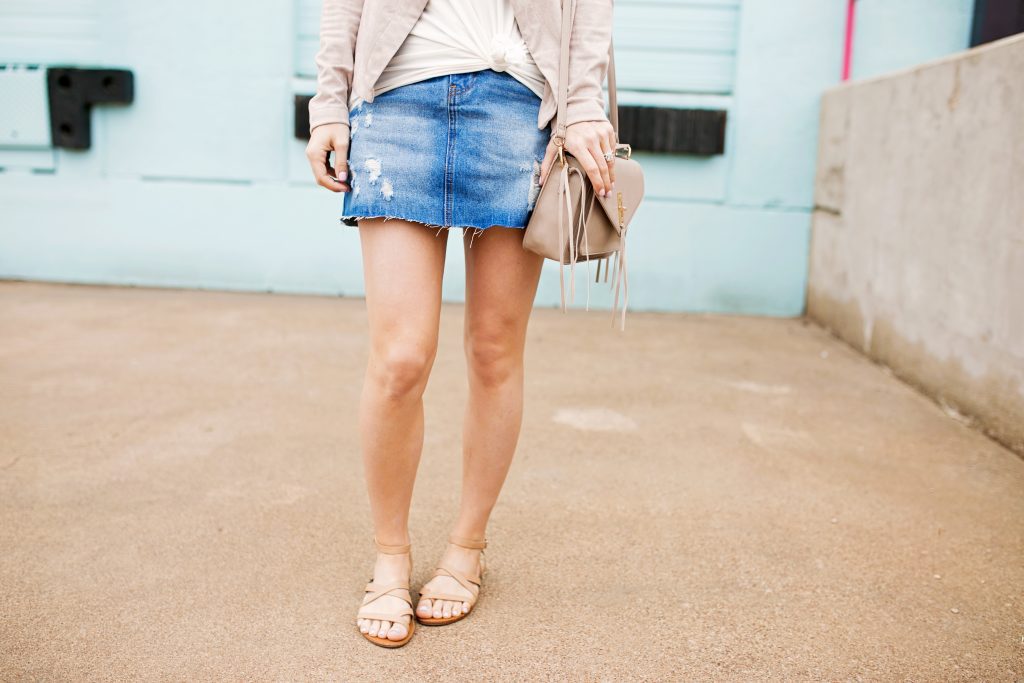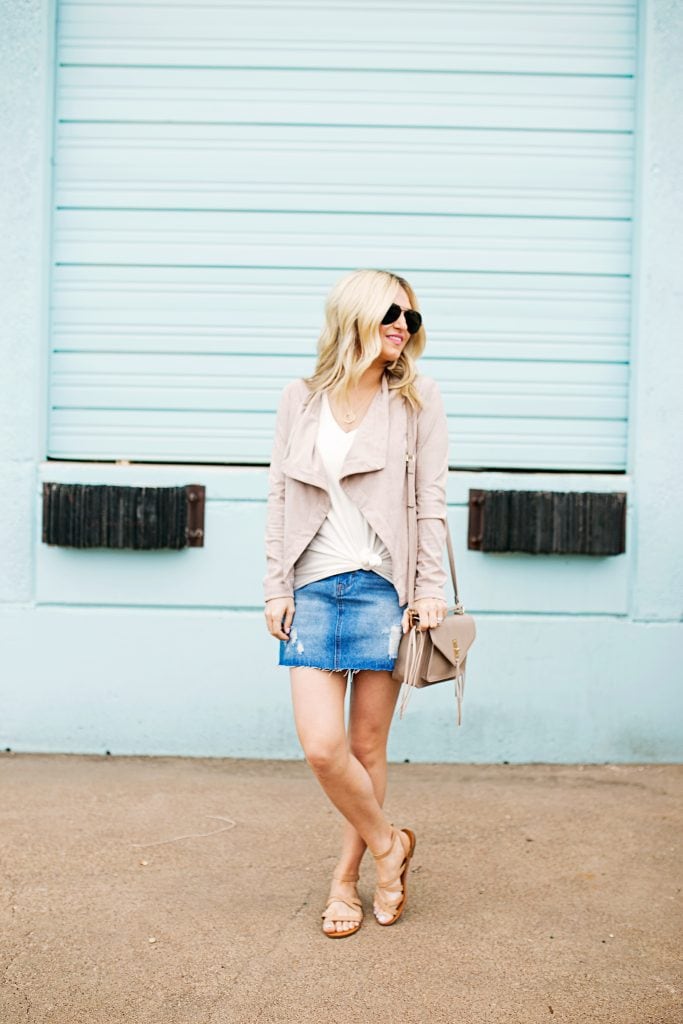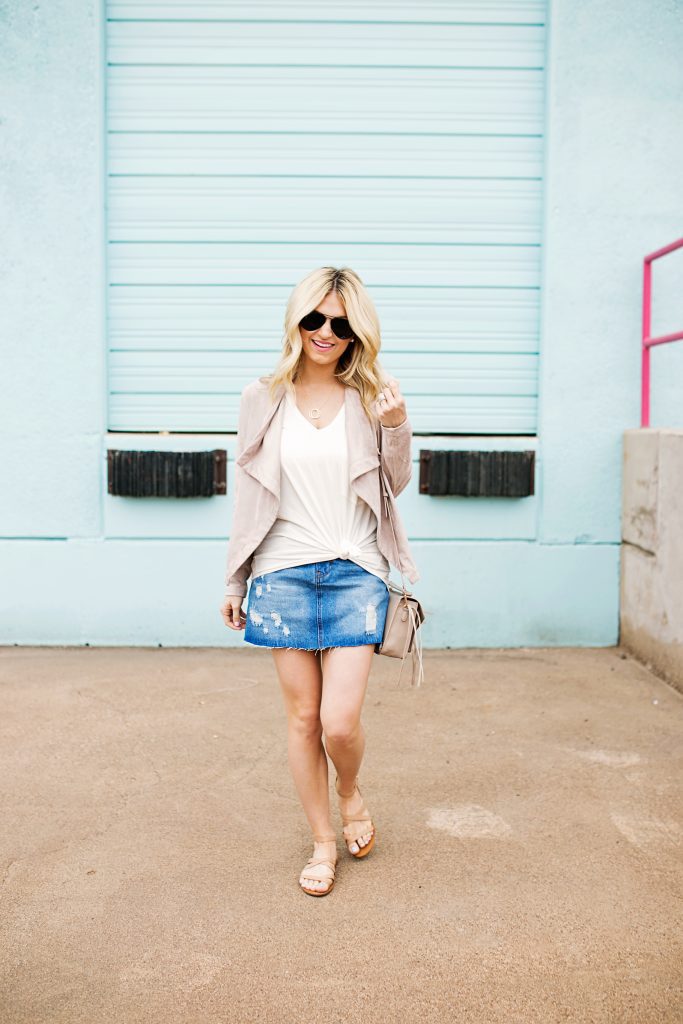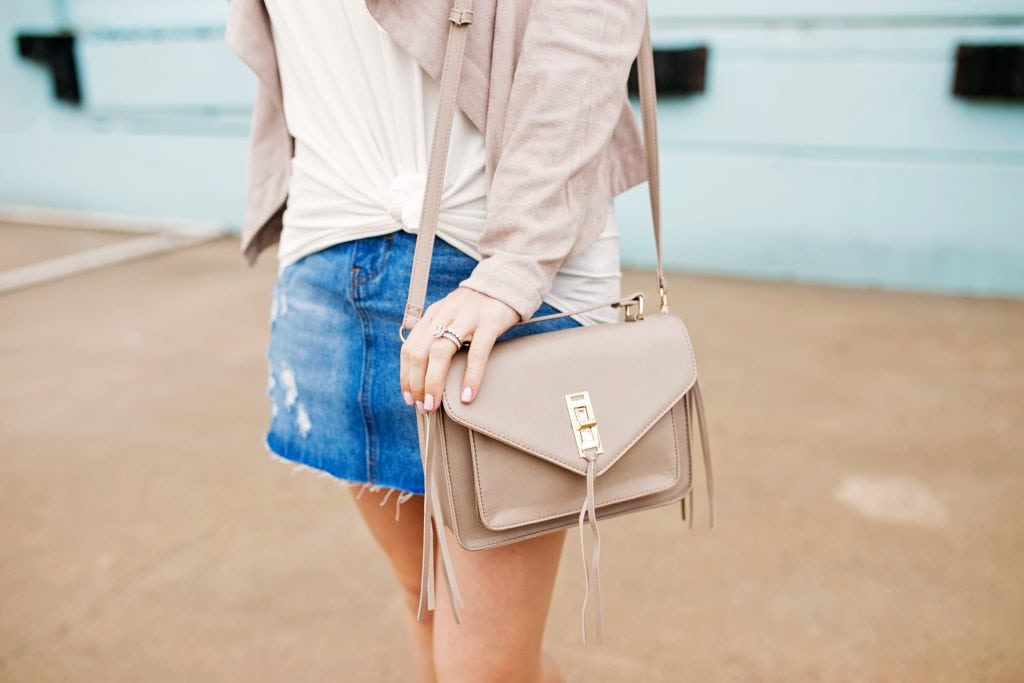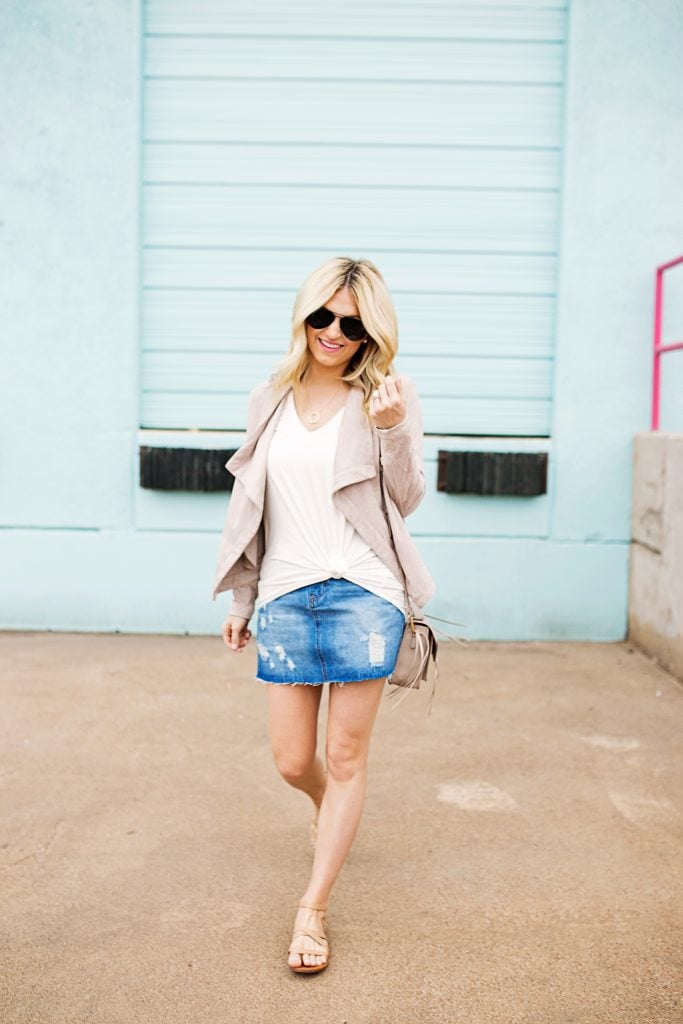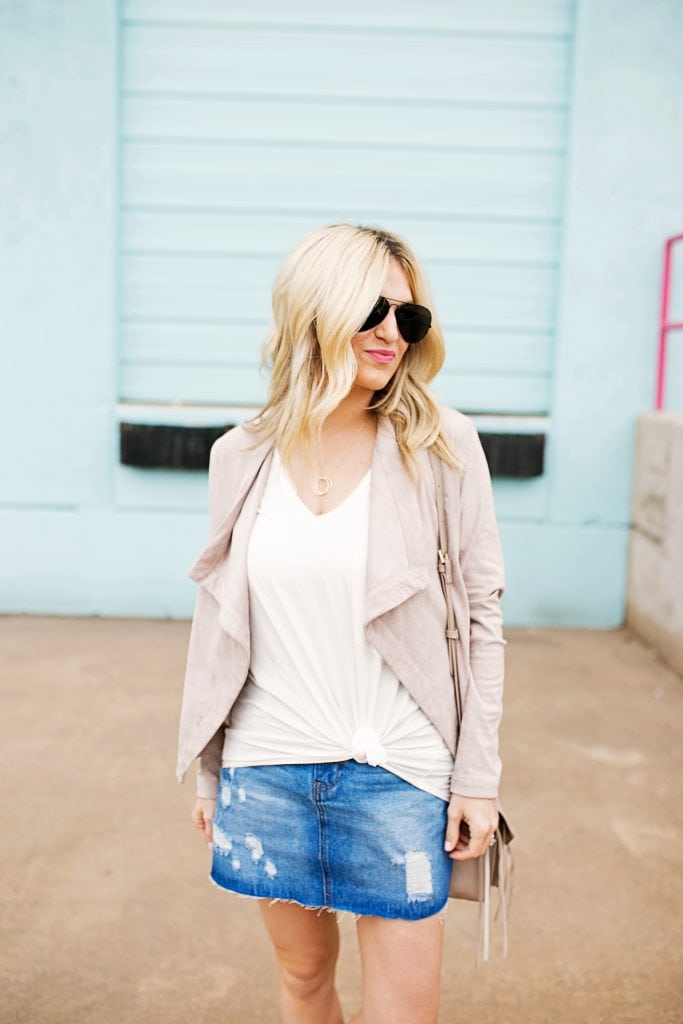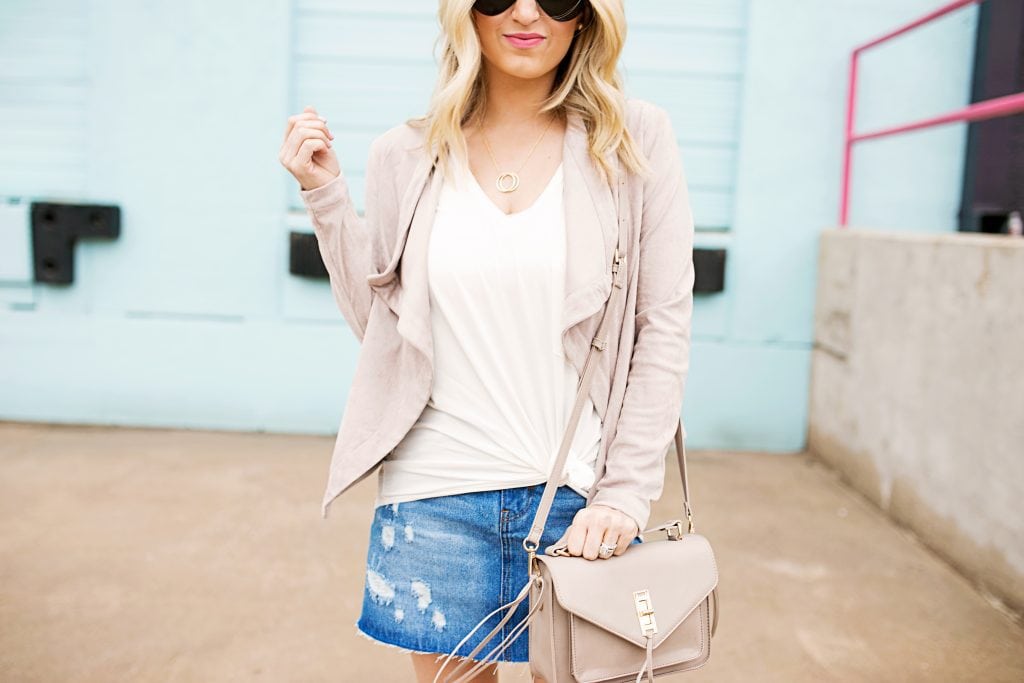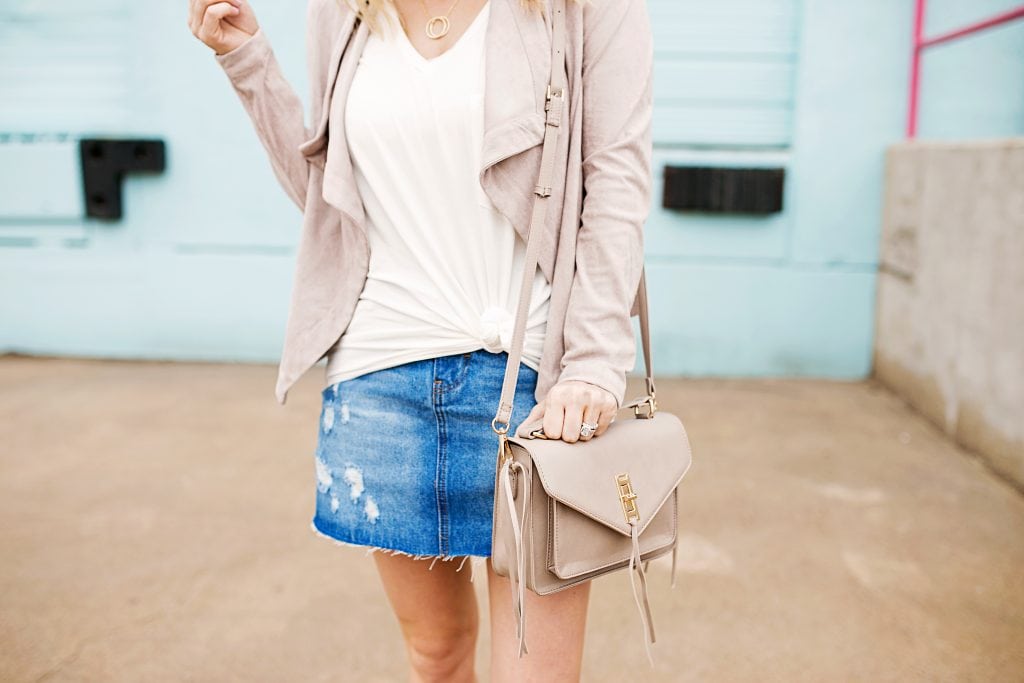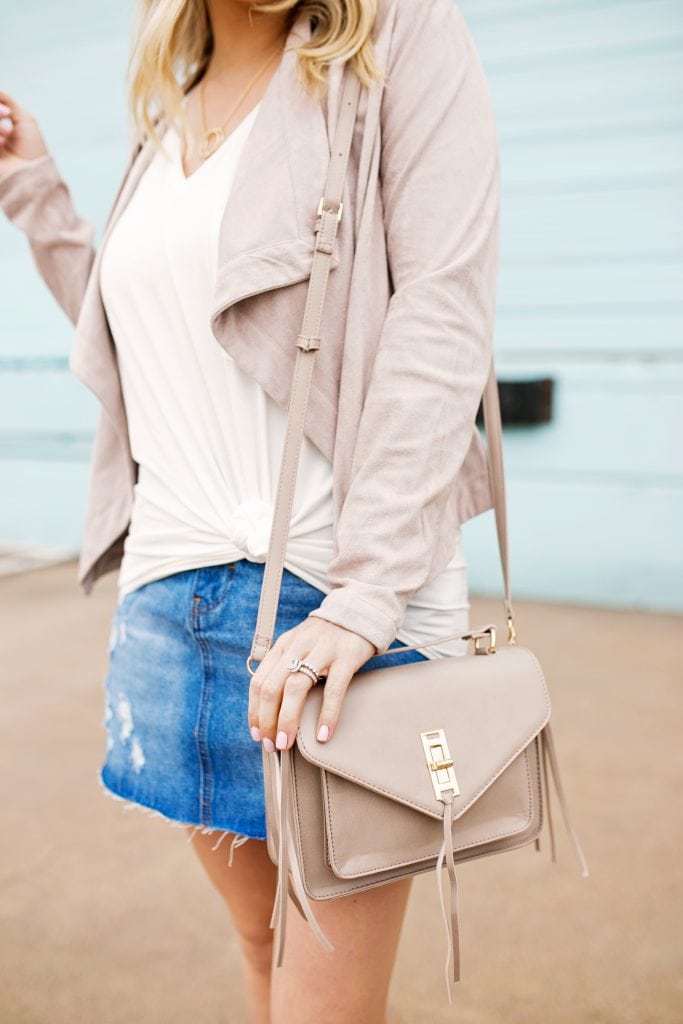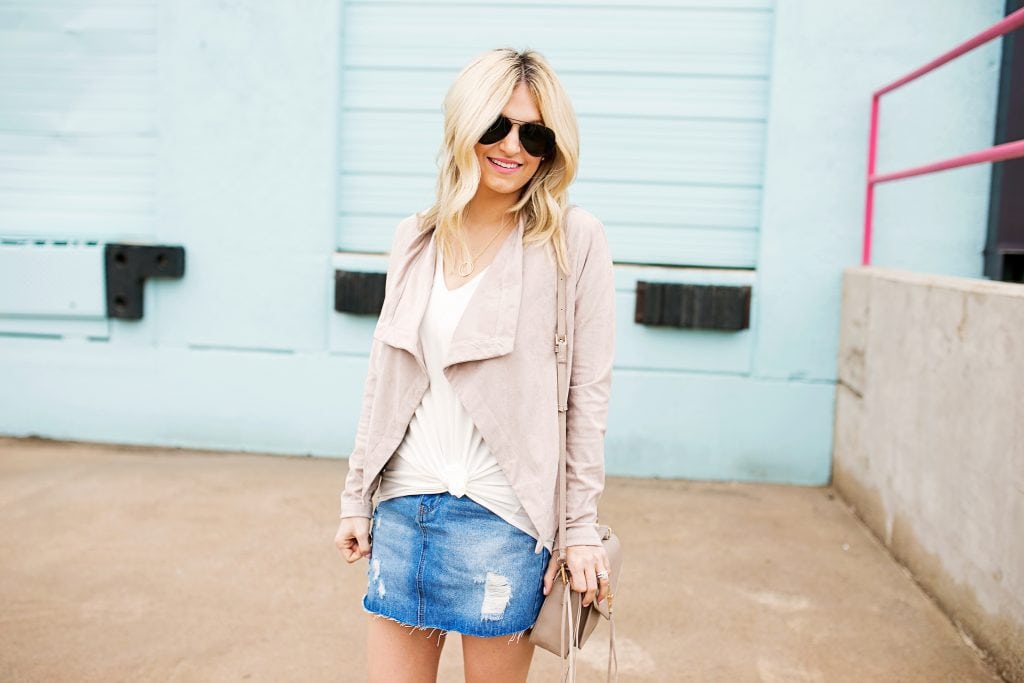 Jacket: Red Dress Boutique [c/o] | Tank: Red Dress Boutique [c/o] | Skirt: Red Dress Boutique [went up one size!] [c/o] | Shoes: Red Dress Boutique [c/o] | Bag: Red Dress Boutique [c/o] | Necklace: Red Dress Boutique [c/o]
Photography by: Angie Garcia
---
For so long I have wanted to do a blog post with an affordable head-to-toe look within a certain price point. I'd tell myself, "Okay, Katey! Find everything [bag included!] for under $200." Or I'd order a bunch of different shoes under $50 to do a blog post. Unfortunately, I always ended up disappointed. My intent is to share price-conscientious looks that are also fun to style! However, I can't tell you how many times I've ordered something for an affordable blog post and then the dress has a tear, the top is so see through I wouldn't recommend my dog wearing it or the bag breaks. But this time…..we did it, people! We did it! This head-to-toe look is $250 [with free shipping!] and I have to say I am quite pleased with the results. This look could have definitely cost well under $200, but I did go with a higher price point for the jacket so you could also wear it to work in a business casual environment. I know not everyone is as #blessed to live in Texas where it's 100+ degrees 80% of the year so I figured you may want a light jacket as well! 😉
Now whether you are partial to them or not, jeans skirts are coming back! My 4th-grade heart was skipping a beat when I saw this skirt under $40. I love finding trendy items for a good price because if I'm suggesting something out of a reader's comfort zone, I don't want them to have buyer's remorse if they aren't wearing it a lot. I ended up loving the look of a jean skirt and wore it running around with Maxi last week! Also note, that I did size up in this skirt. One of my favorite brands for jackets is BB Dakota [they also have maternity!] and so I paired their suede Power Player Jacket with the skirt. Definitely don't be intimidated of suede in warmer months. Fashion designers claim it as "summer leather" so you can pull it off if it suits your fancy. This entire look is from Red Dress Boutique. They carry a lot of my favorite brands [like BB Dakota] as well as items I've honestly never seen before like this cute Valentino dupe. I was reading online about the owner Diana. She had said she wanted her store to fill a void in the women's market because she didn't like going to the mall and seeing looks that everyone had or looks she couldn't afford. Don't we all think that while shopping?! *Raises hand*
My girlfriend, Ashley, and I also ordered a bunch of different dresses from the site to test out the quality of different items the site had. We both were extremely pleased [so much so that she called to tell me her thoughts on her order! haha]. They also have home decor with these gold pineapples I get asked about a lot! I hope you love this look as much as I loved putting it together! I had to title this blog post, "Blue Jean Baby" as an ode to this skirt! And if a jean skirt isn't your thing for the summer, at least we can all get Tiny Dancer stuck in our head before the weekend, right?!
Thank you so much for reading!

In partnership with Red Dress Boutique. All selections and opinions are my own!