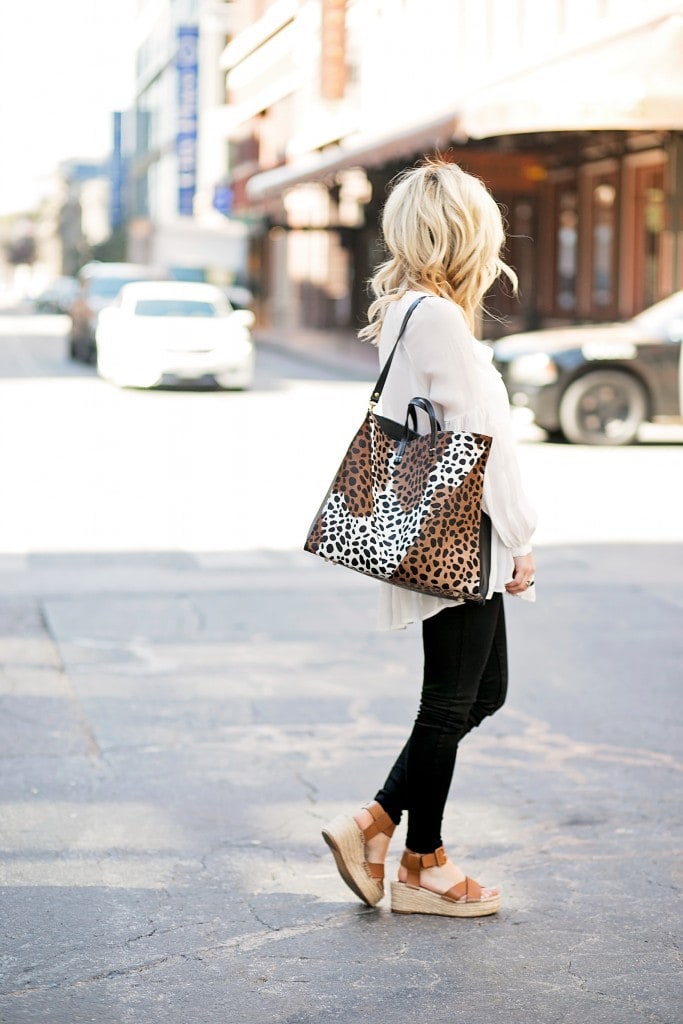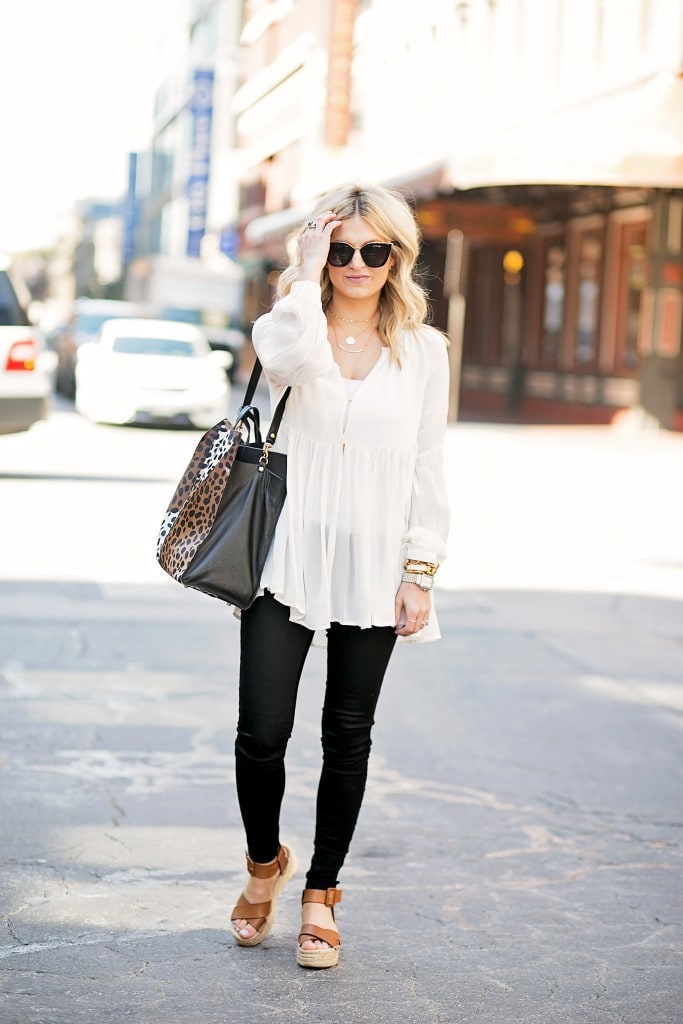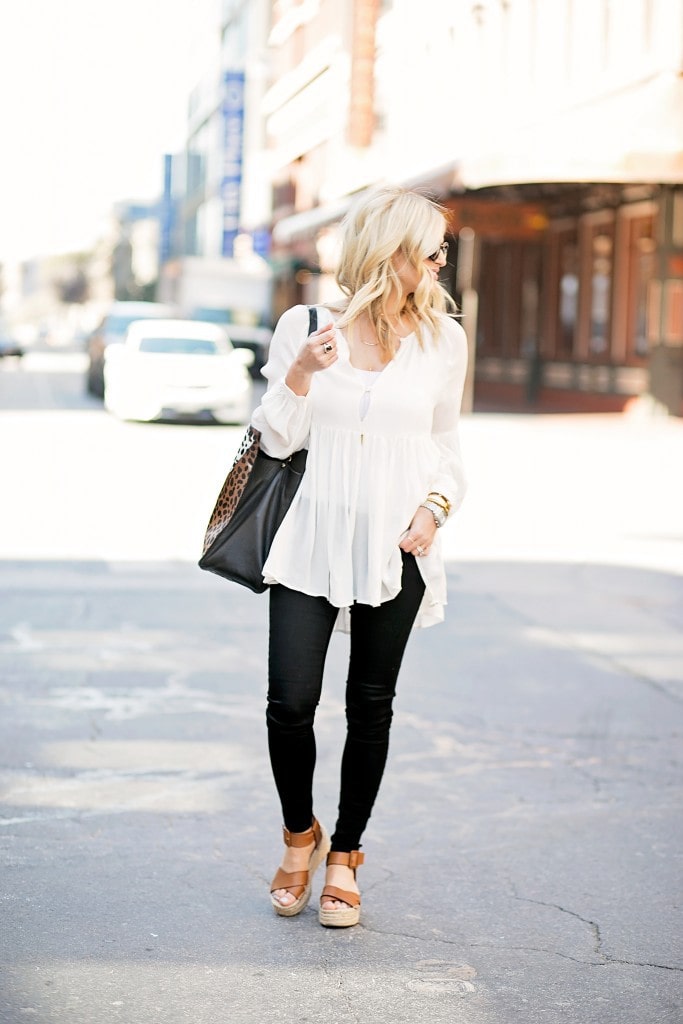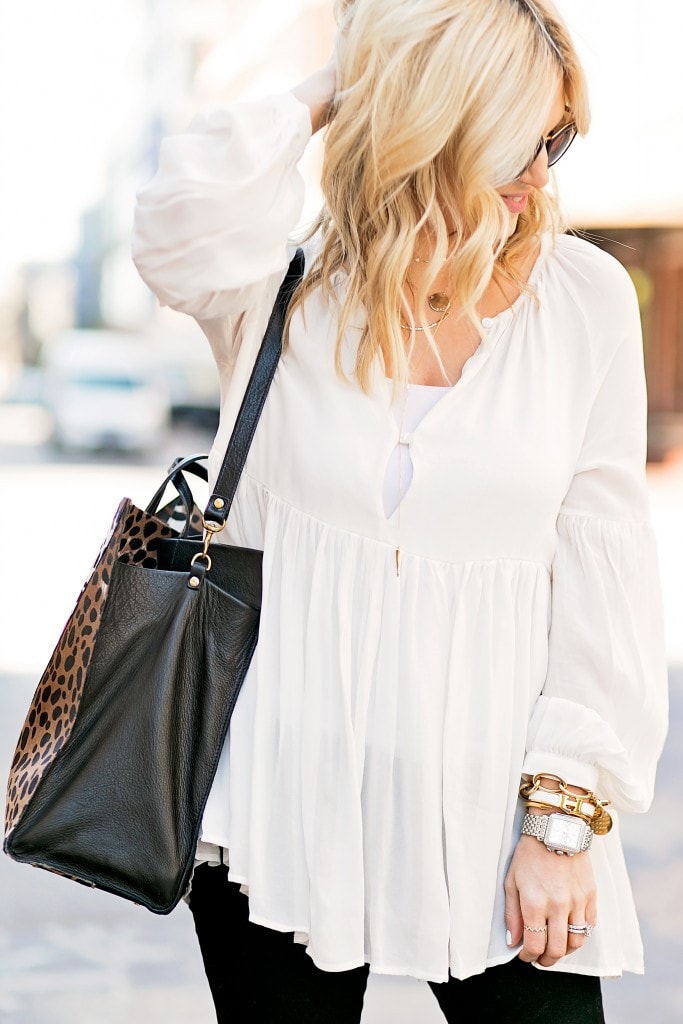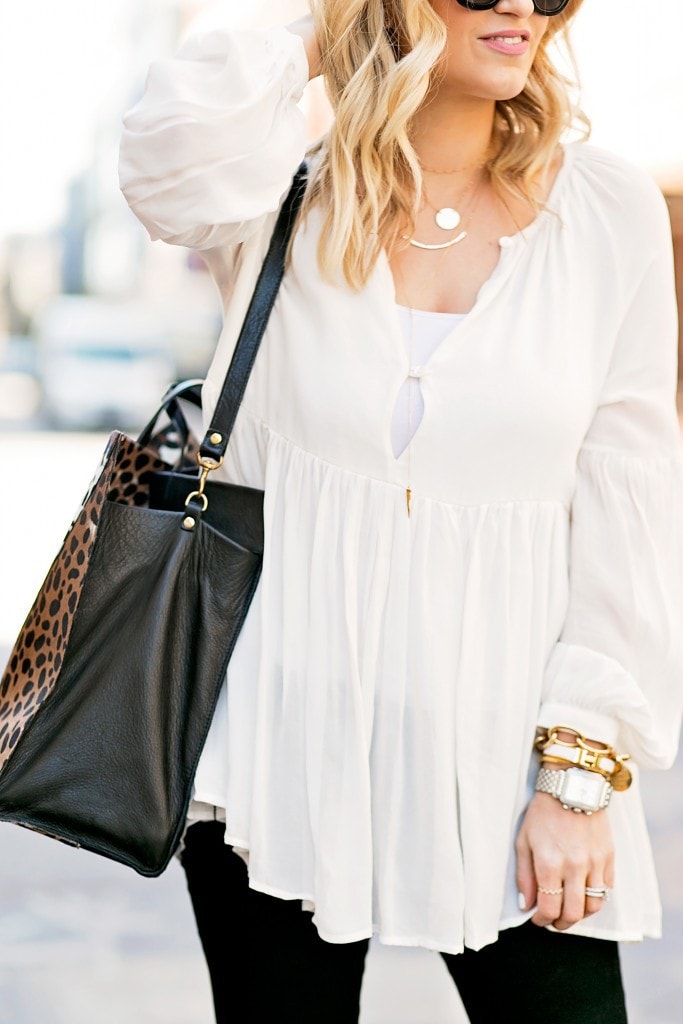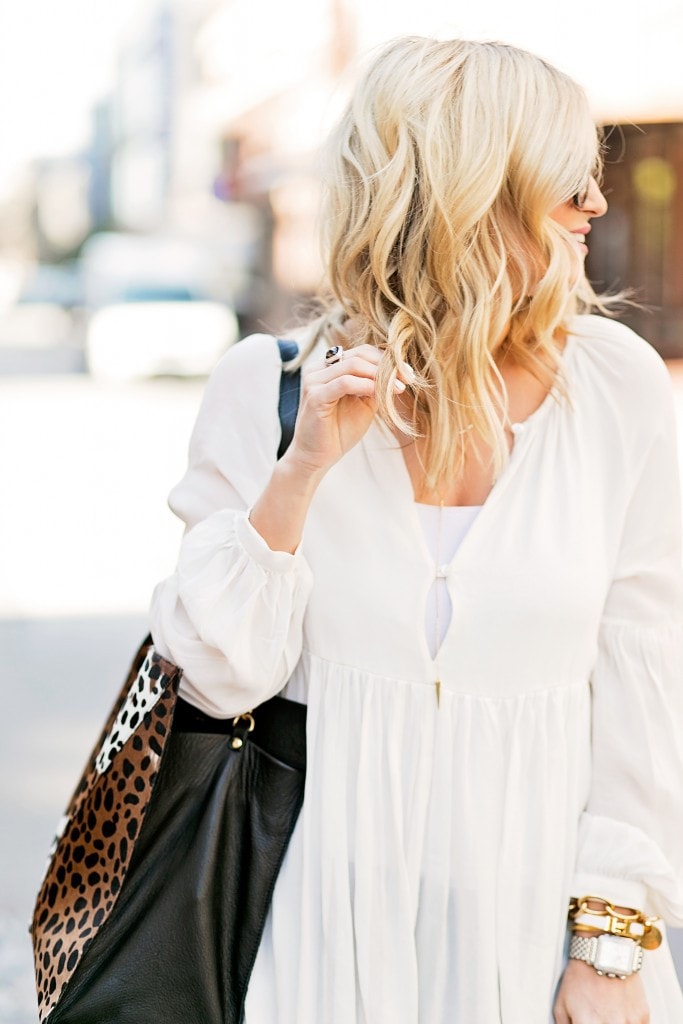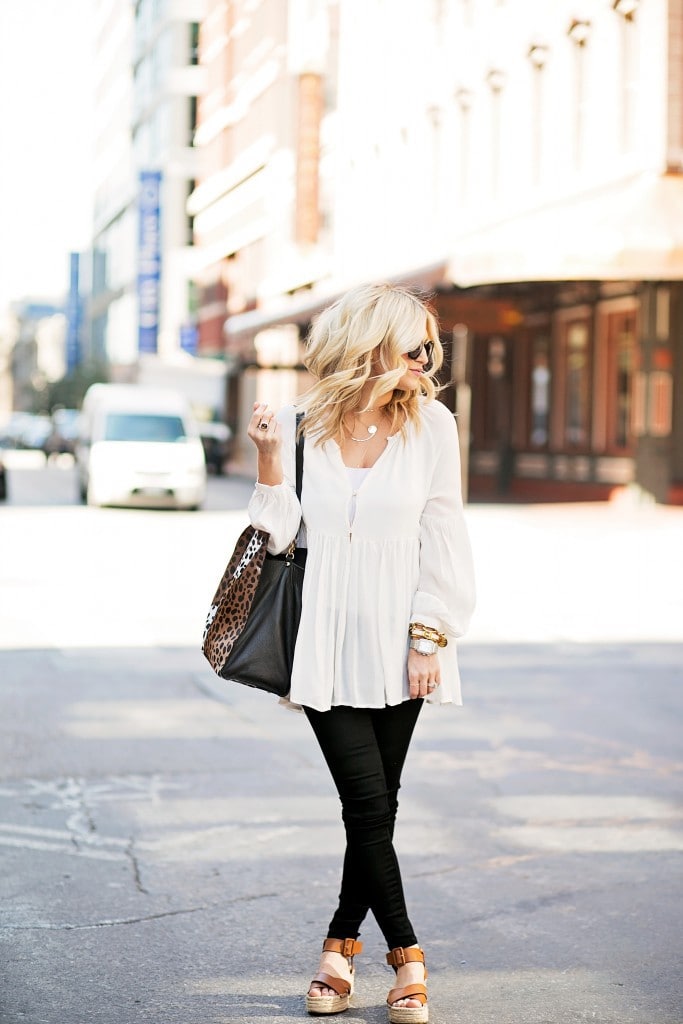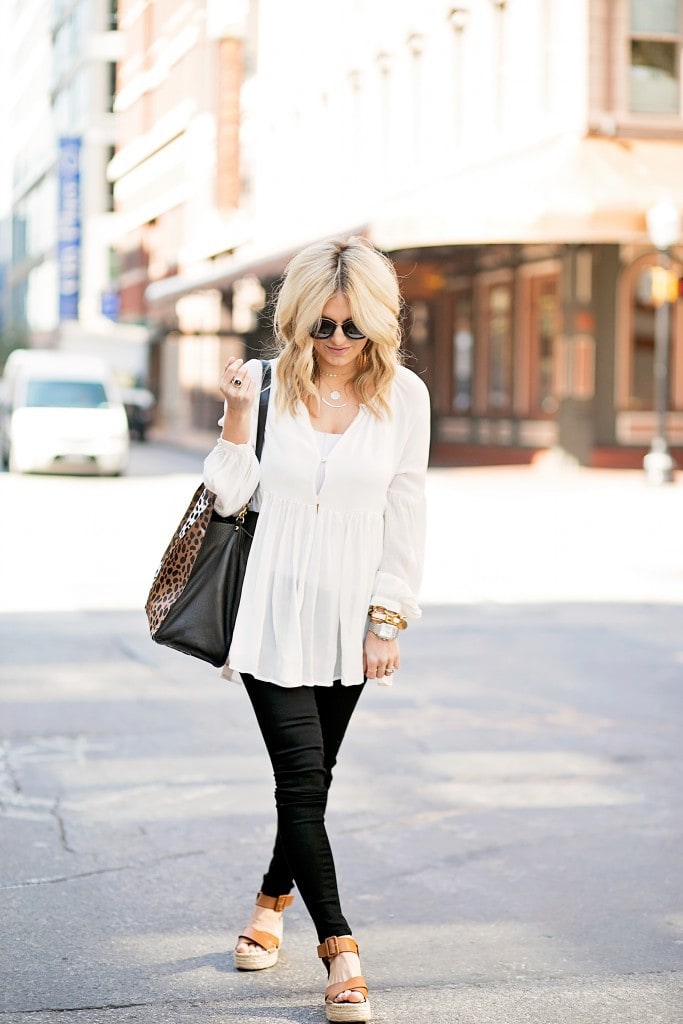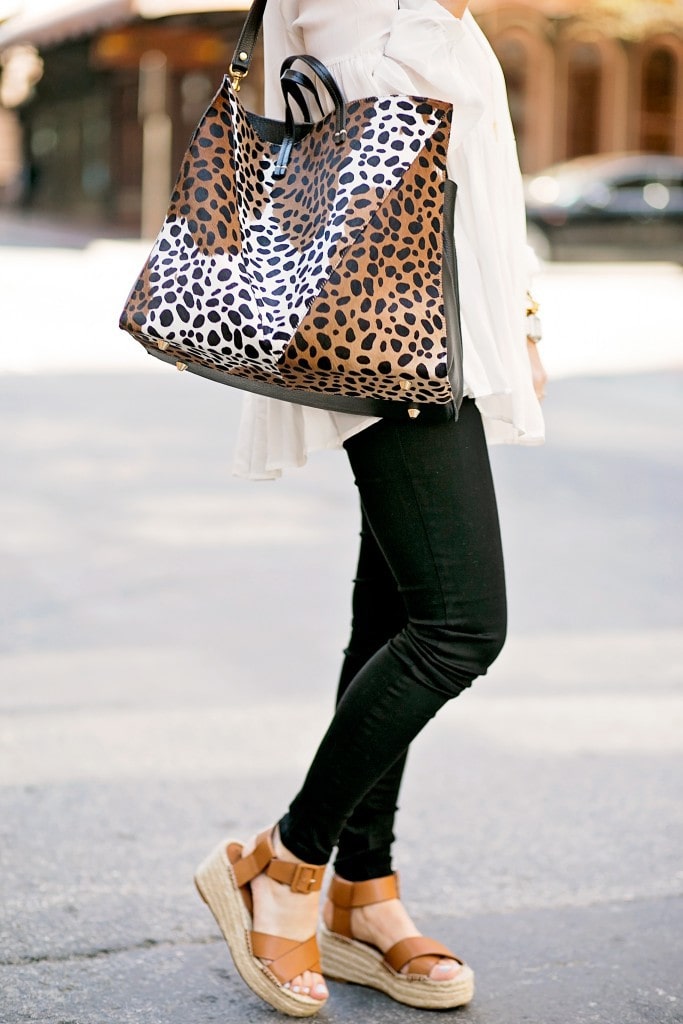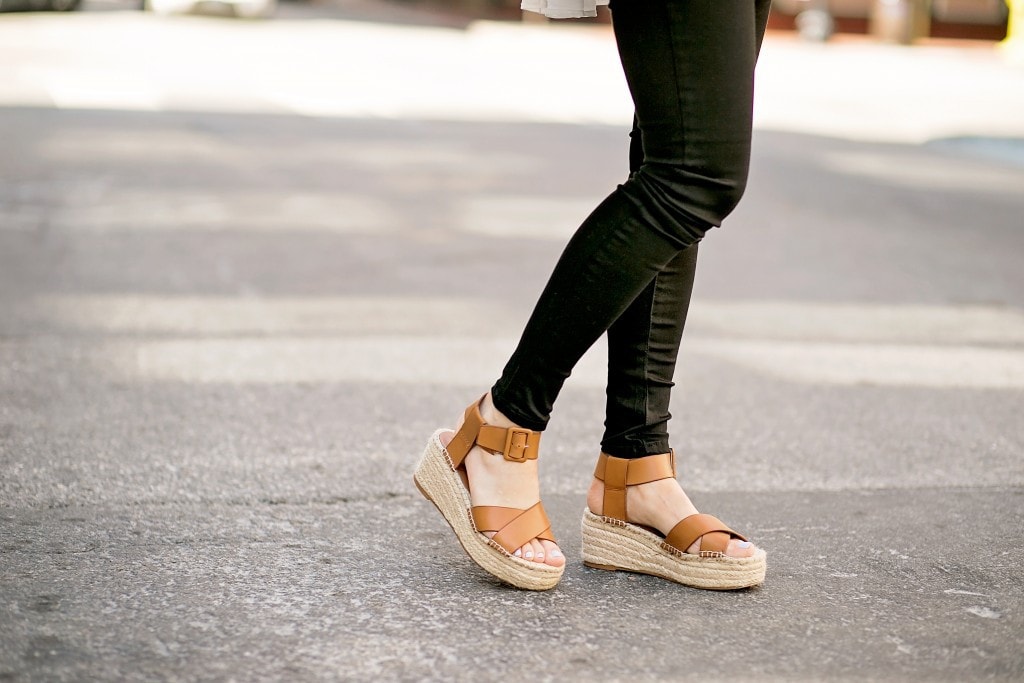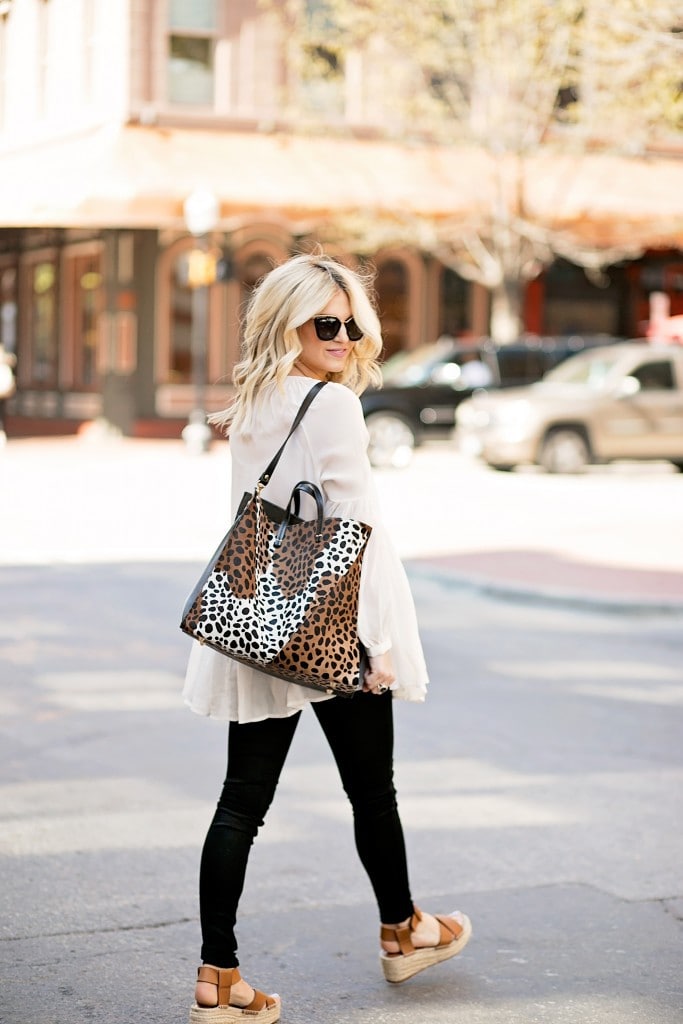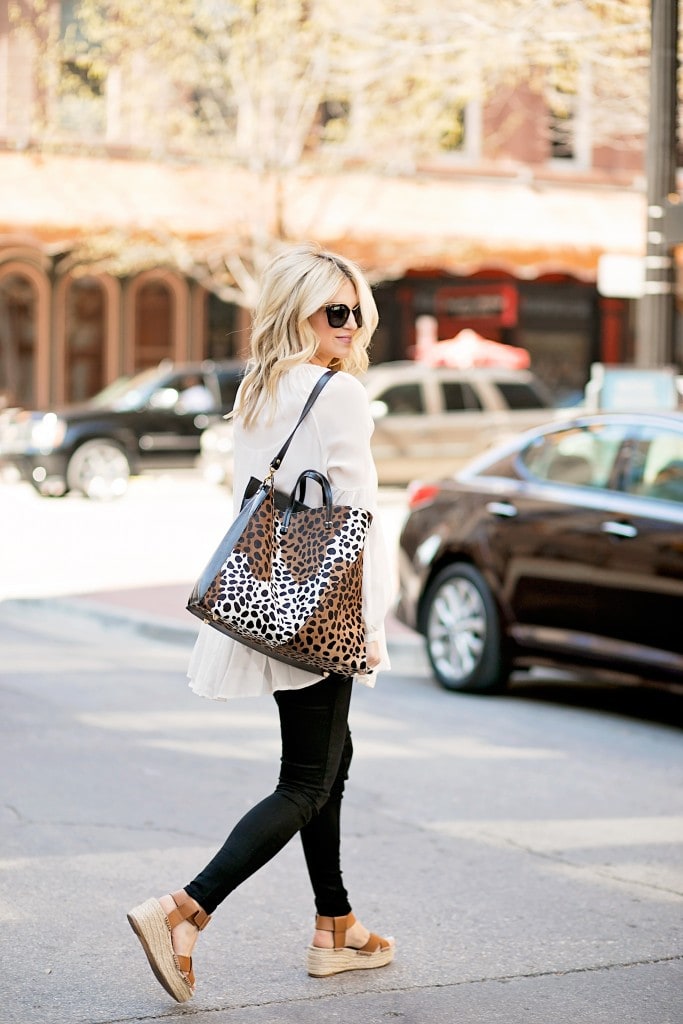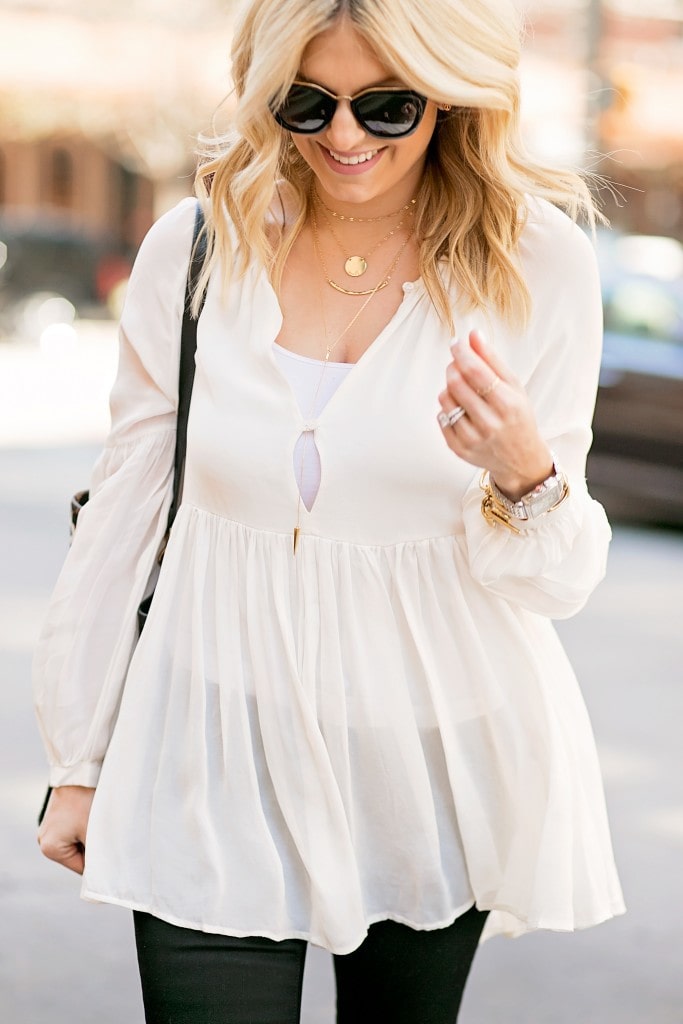 Top: Nordstrom [runs large, go down a size!], Tank: BP | Bag: Clare v. | Sunglasses: Prada | Shoes: Sole Society [c/o], Similar | Jeans: Similar | Lipstick: Baci | Necklaces: Etsy, Etsy, Etsy, Baublebar [c/o] | Bracelet: Similar
Photography by: Angie Garcia
---
TGIF! I always get so excited when I do a Friday Frills post because I used to be very consistent on having them weekly. I was wondering why I forget [or fail] to do them lately. I think Snapchat is to blame! If I find something I like or want to share I just upload it to Snapchat, and then I fear being redundant. But these are some of my favorite posts, so here it is this week! 😉
A little bit about the look first
Sincerely Jules is seriously becoming one of my favorite brands from Nordstrom lately. I blogged about her tees while I was pregnant and I picked up this boho blouse a few weeks ago. It's very rare a top works if you aren't pregnant, pregnant, are nursing or have no intention of ever having a baby in the next few years [or ever!]. Those tops just don't exactly exist. And then I found this top and I had to retract that thought. This top works for anyone! Sincerely Jules runs a bit large, so go down a size if you would like a more fitted look. I didn't go down a size [because I always forget!] and it's a bit flowy. However, I think it will be perfect with cut off shorts in the summer because I always like to have a bit of balance when I'm wearing shorts. If you are pregnant, I'd just get your normal size and if you are nursing, this top is seriously one of the very few in my closet that works perfectly for it.
These flatform sandals were worn on repeat all last summer and I had to bring them out again this year. They make you feel just the right amount of fancy but remain casual and comfortable [very key] all at the same time!
Back to Friday Frills
Remember when we used to use Pinterest to find the best DIY projects?! Or was that just me? And I'll be honest, it can be so difficult to find DIY projects that I think are beautiful and that I actually want in my home. In theory, I think they are so fun to do on a Sunday afternoon. But normally when I search for one they either look way too complicated or look way too handmade- if ya know what I mean?! This article shares some of the cutest DIY projects I have ever seen and I definitely want to make a few of them with my mom this summer. If you need a little weekend project, check them out!
I shared last week that Paul and I were going to go on a date Friday. Well, Paul ended up working so late all week he barely got any Maxi time. Once Friday rolled around he was like, "Can we just go on a patio and eat with her?" She was zonked out the entire time so it worked out perfectly and dad got some daughter time. She was still snoozing after dinner so Paul asked if I needed to run any errands and he could sit in the car with her while she slept. Y'all. I've never said, "Target" so fast in my life. Did I have anything to get? No. But did this mama want to browse Target for 20 minutes? Yes. I don't think I've ever enjoyed a Target experience so much, haha! I had only been since having her to pick up diapers or something quickly, so this was nice to just see all they had in stock. I found these shoes in tan and tried them on because I thought they were perfect for summer. I have way too many neutral shoes for summer, so I googled them. They ended up having them in pink so I went home and ordered the pink version online! I went up half a size in case you want them, too. 🙂
Now that spring is here, I definitely want to load up on more greens! Since getting pregnant, I don't have a huge interest in salads because I had a huge aversion to lettuce the first trimester. My girlfriend, Kara, shared these 3 simple salads for spring and they look so good! I want to make the Lemon Tahini Dressing so bad!
4. Bohemian Accents
Once temperatures warm up [and they have seriously warmed up here, it's been 90 this week!] I always love to look for bohemian pieces for my wardrobe. I purchased a few yesterday and can't wait for them to get in the mail, see what I shopped below!

What are you doing this weekend? Other than shooting, I'm headed to a Shop Small Market in Fort Worth this weekend! I'm so excited as one of my friend's boutiques is featured. I love little markets like this because I can stock up on gifts for friends throughout the year. We are also headed to my best friend's daughter's 2nd birthday party on Sunday!
Thank you so much for reading!