Happy Friday! As promised from my bridal shower gifting post, I'm sharing what I like to give at a baby shower! According to Emily Post, baby shower gifts can typically run a bit more of the sentimental route, but the registry should still be considered. Wedding gifts traditionally fall in-line with a registry, the couple's personal taste [which is why Emily Post recommends you really take a look at the registry!] or gifting money. Whereas baby shower gifts can be group gifts, personal from family or really sentimental like a knit blanket. Baby clothes, crib linens and plush stuffed animals are some of the most popular gifts, so I wanted to help you make a basket that steered clear of those options! There is absolutely nothing wrong with those gifts as they are needed, but I know the nerves you have when a mom-to-be is opening gifts and you hope yours isn't a duplicate.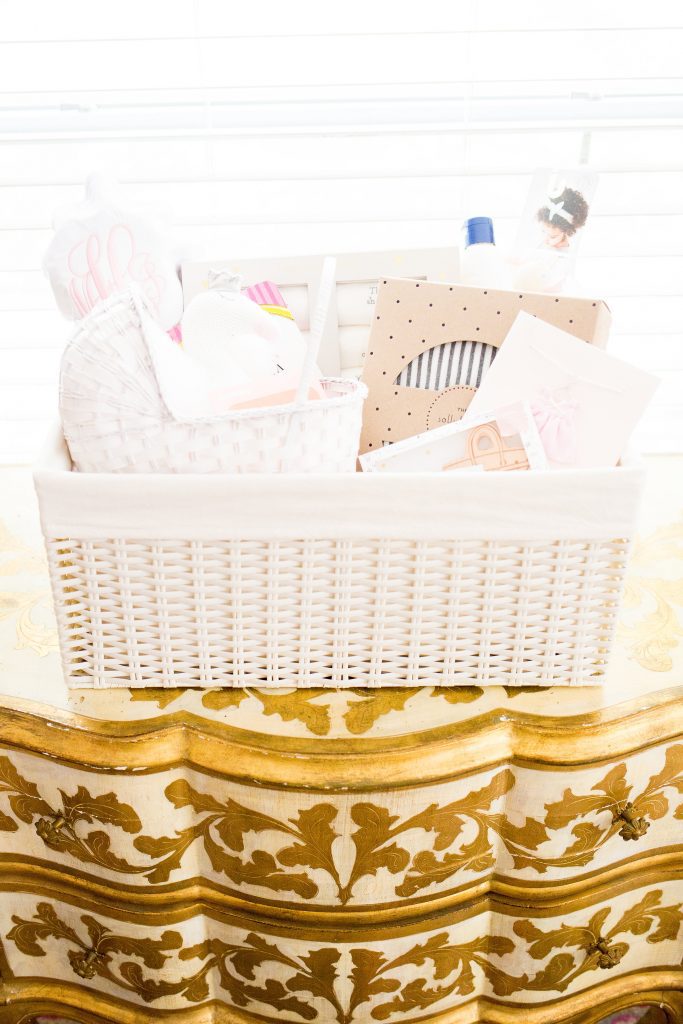 Just like the bridal shower basket, this baby shower gift is a larger basket that friends can go in on as well! I'll tally up the budget below so you can get an idea of what to add, cut or divide by!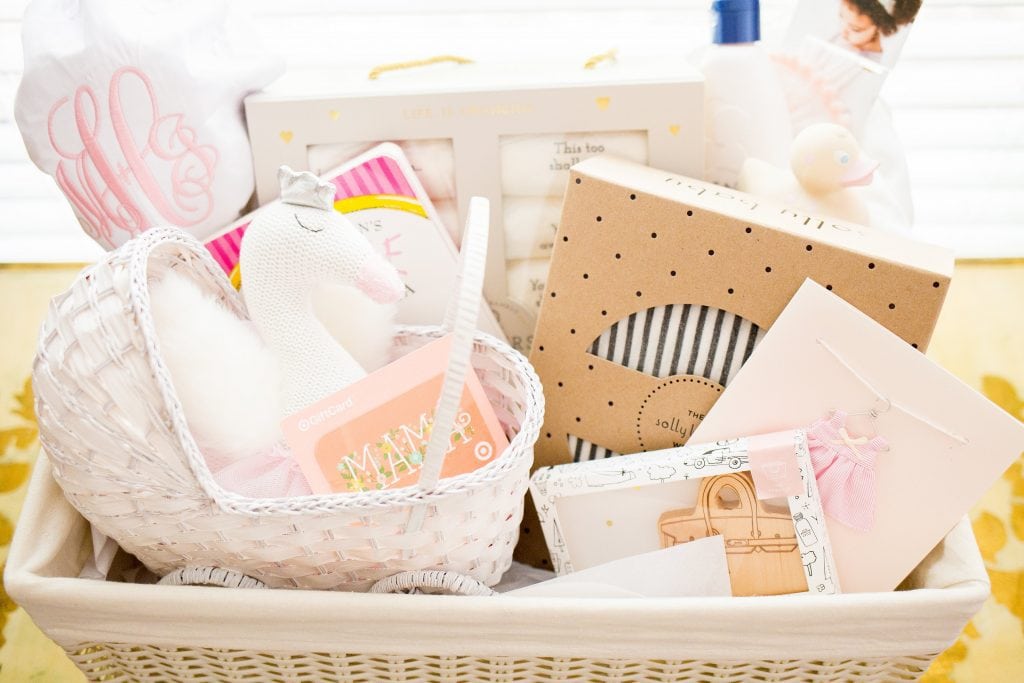 Here's an overview of the basket:
Target gift card or gift card to a place the mommy-to-be registered, $20
Coobella Diapers, $38
Monogrammed item for baby [I love baby bonnets for girls and bow ties for boys!], $33
Favorite book to read to your child or your favorite childhood book, $7
Baby Bassinet filled with animal, if you don't want to go this route I recommend this Little Giraffe Blanket– Maxi LOVES it, $30
Teether, LexyPlexy $28
Noodle & Boo Wash with rubber duck for bath time, $32
Bow for girl, drool bib for boy, $12
Wrap mom registered for, $65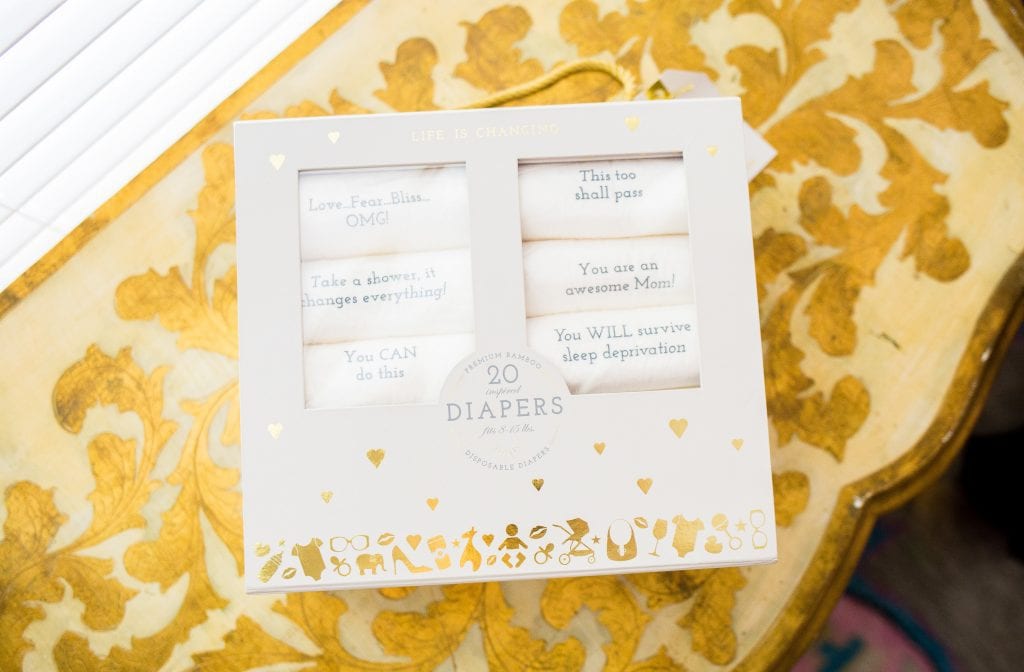 These Coobella diapers are the cutest things! I shared these on Snapchat about a month or so ago and I couldn't believe the response I got. Hundreds of snaps and e-mails flooded in as you all wanted to give these to your girlfriends that were expecting – I don't blame you! So many diapers have little characters on them and when they are babies they don't even see that. 😉 If the mama is the one diapering, why not have them encourage her?! I love that these diapers have uplifting phrases for the mom as that is so important those first few weeks. I know it sounds silly that something like a diaper could be motivating, but I promise it is! Those first few weeks anytime someone told me I was a good mom or I had great instincts, I just about cried for 5 minutes hugging them thank you! #Hormones. I also used this entire box with Maxi and I'm happy to report the diapers work great! I'm very honest on the blog in her monthly updates about what diapers don't work for us as I know each baby is different. It's nice to know the mama can really, truly use these and love them!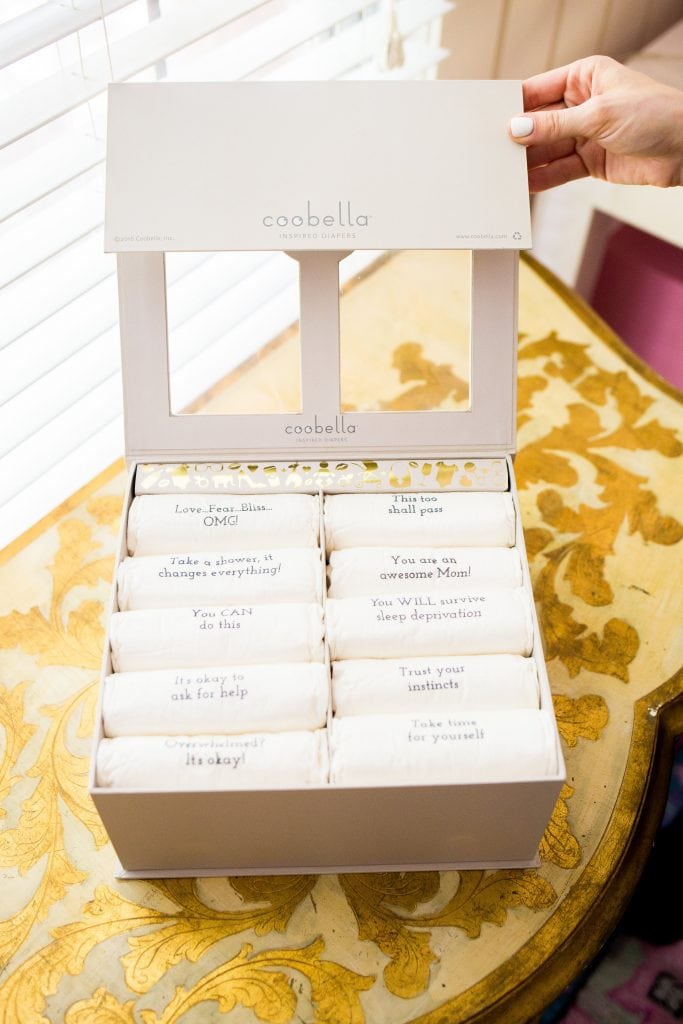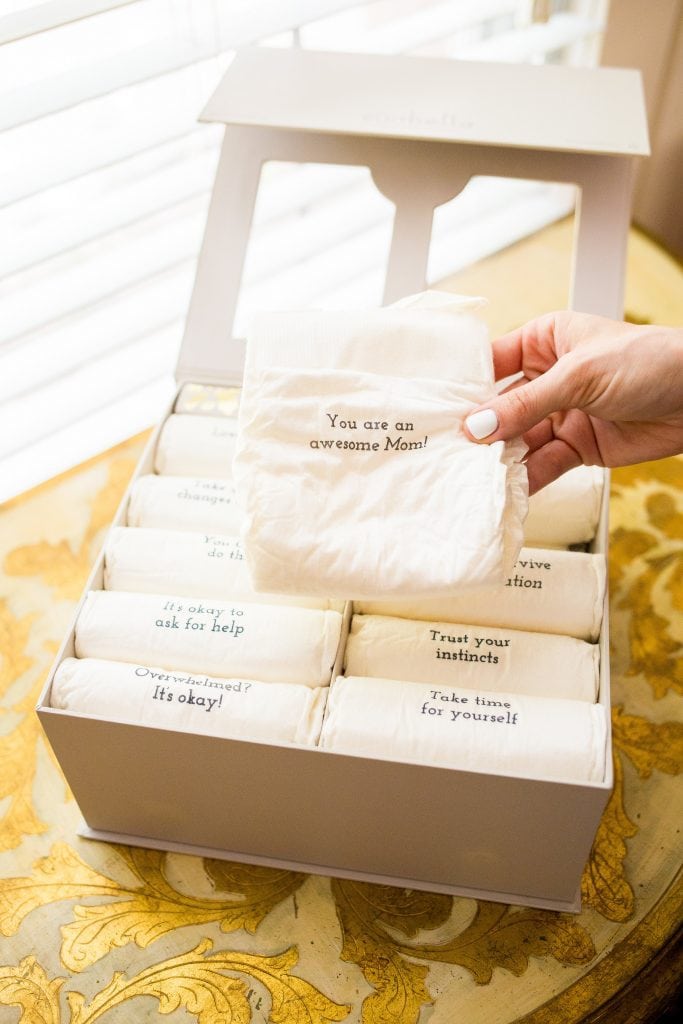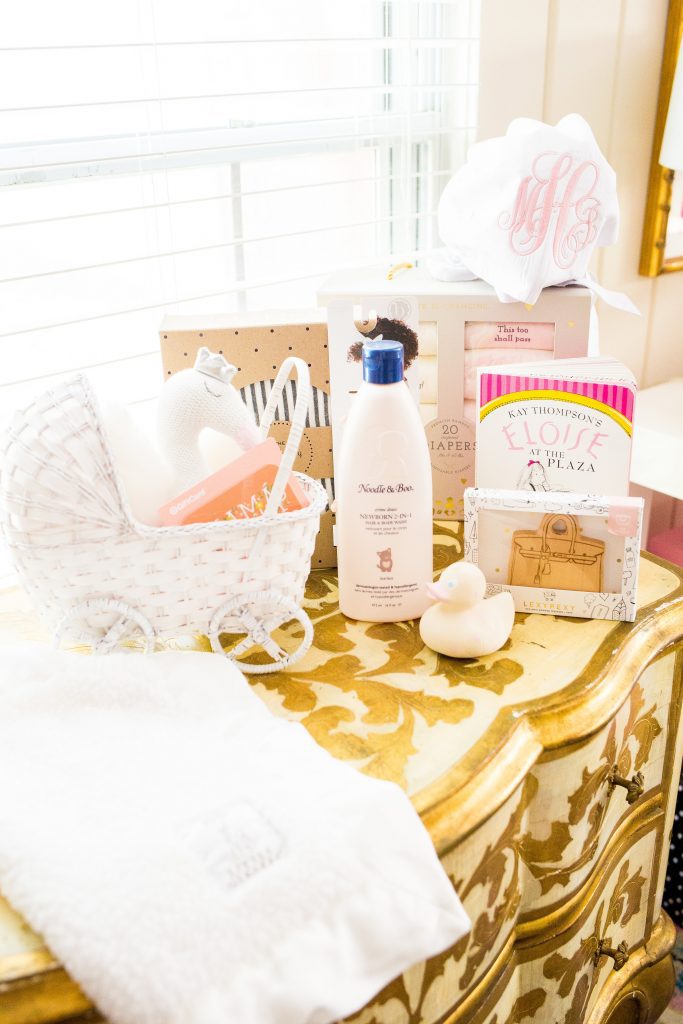 The Solly Baby Wrap is my personal favorite as I have it in petal and this striped combo as well. And let's talk about this Birkin Bag baby teether! I received this as a gift from a girlfriend and how precious is it?! It is a non-splintering wood and naturally anti-bacterial so mamas love it. Look how cute this taxi is for a boy!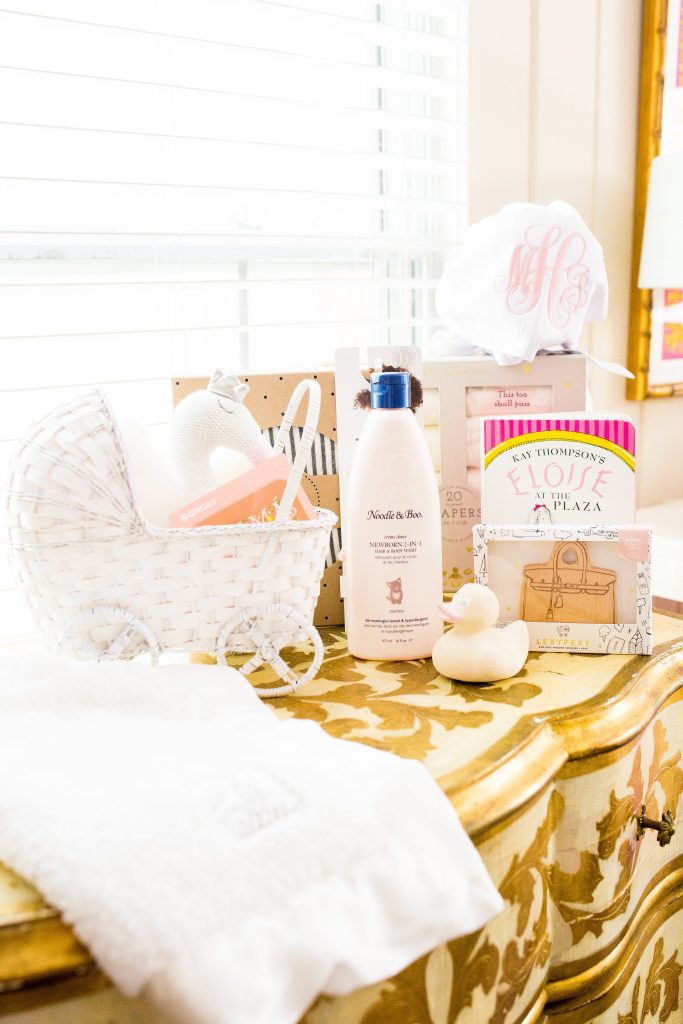 Now if you do everything in this basket it can add up to around $260, and if you have 6 girls gifting together it is around $43 a person. However, you can easily gift this box for around $100 if you find less expensive options and you of course don't have to do a $20 gift card! I truly love gifting baskets because you can really center it around your budget.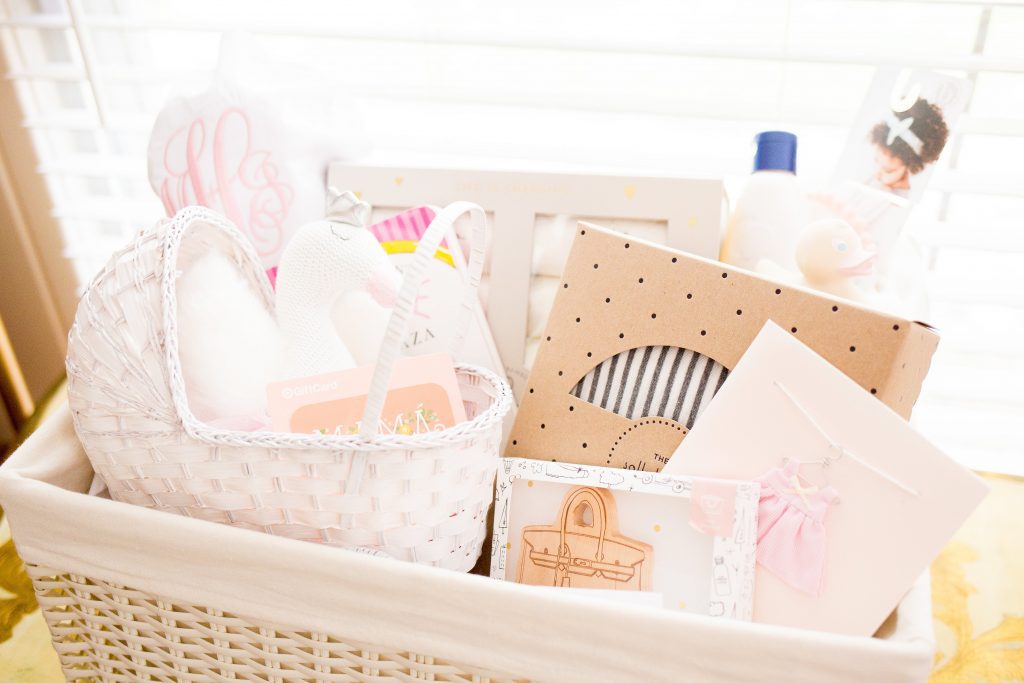 Lastly, don't forget a sweet card! What do you love to gift at a baby shower?

In partnership with Coobella diapers. All opinions are my own.