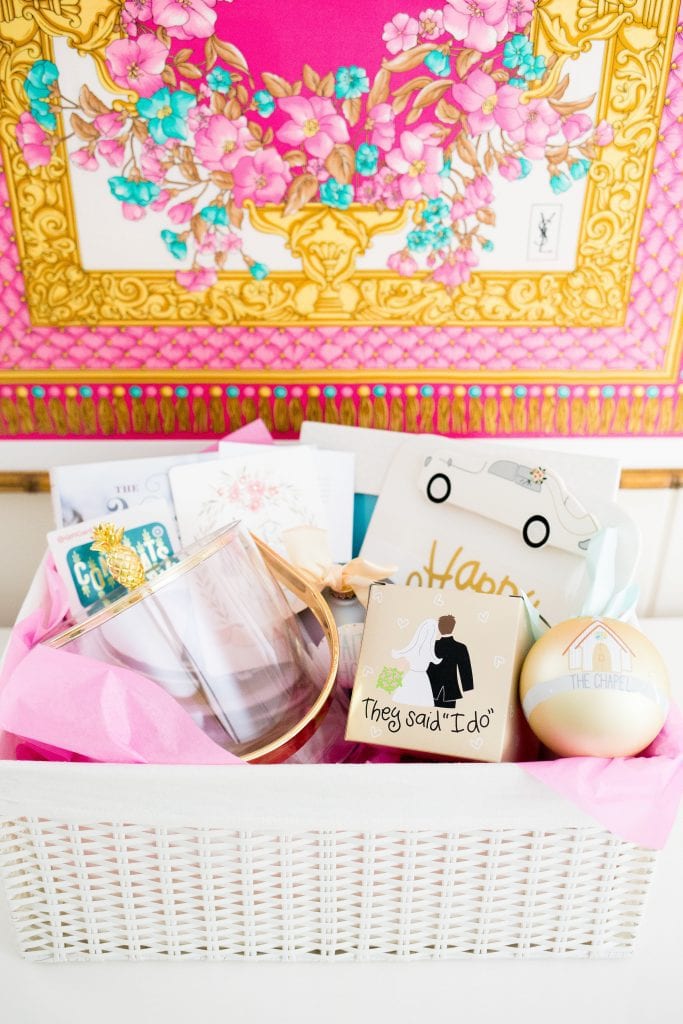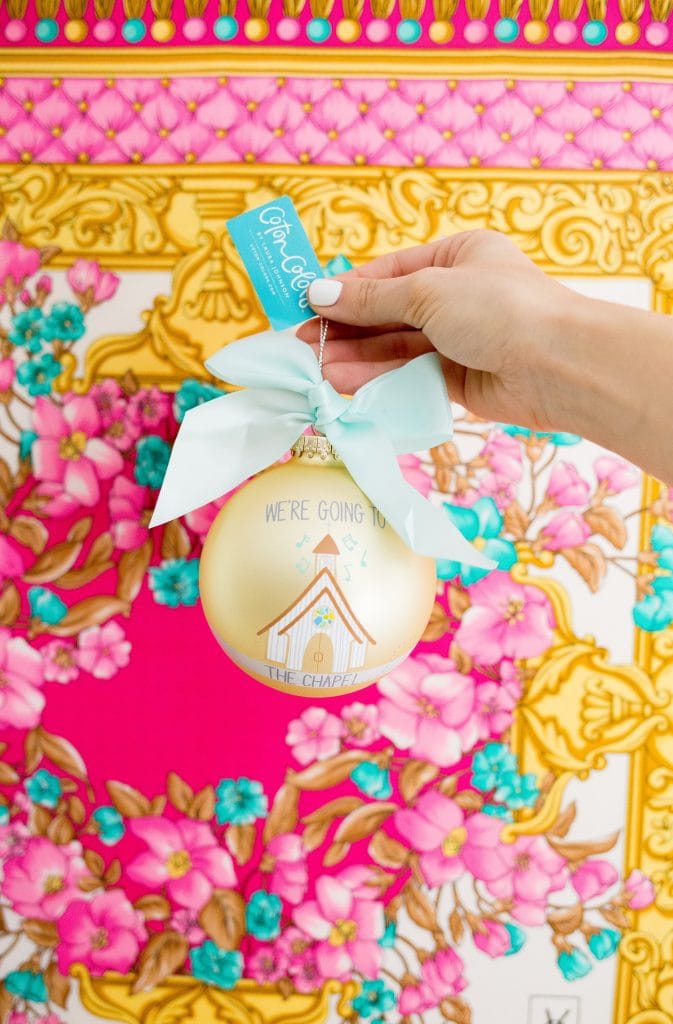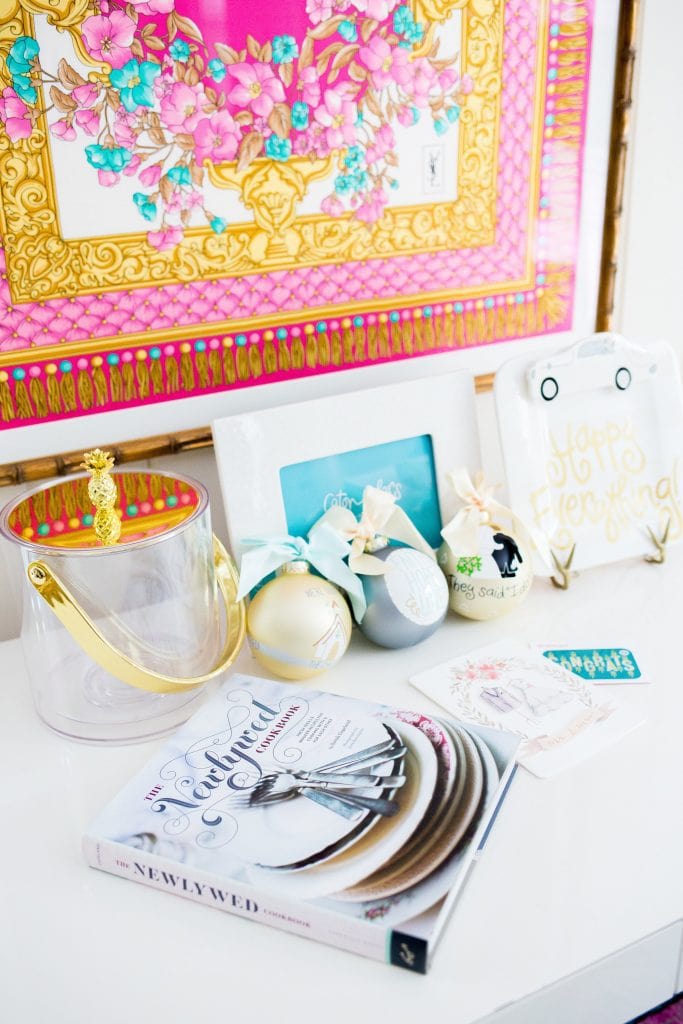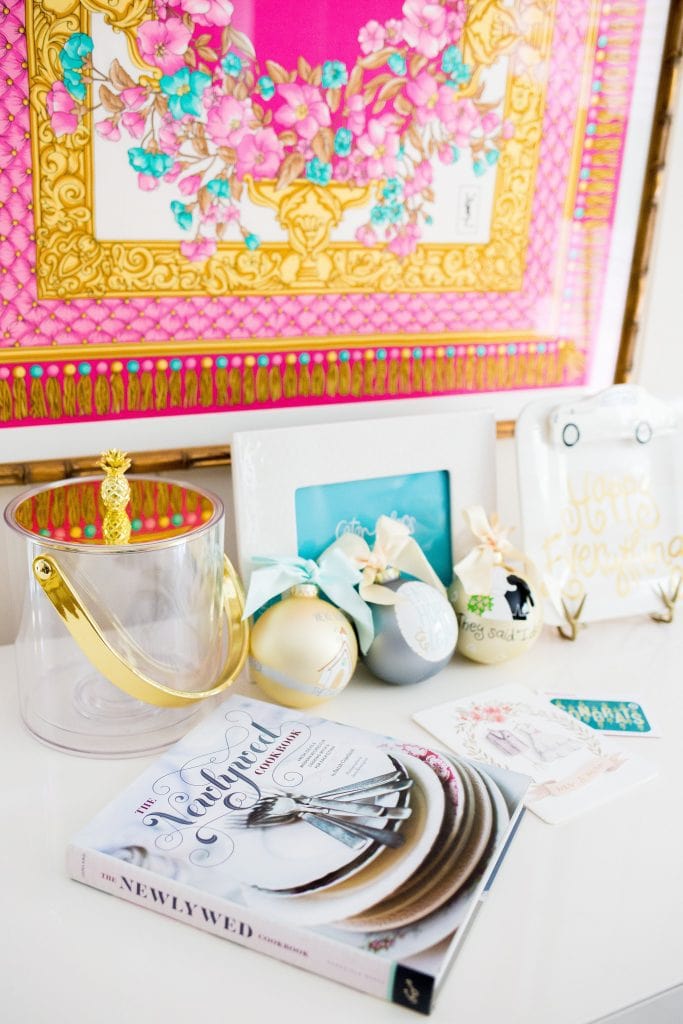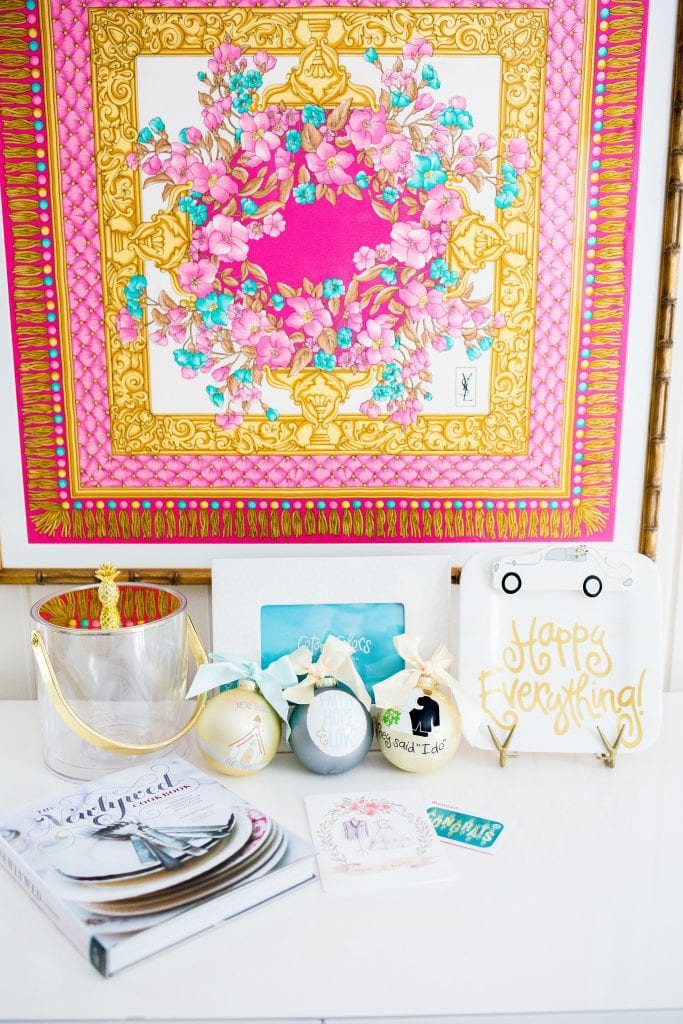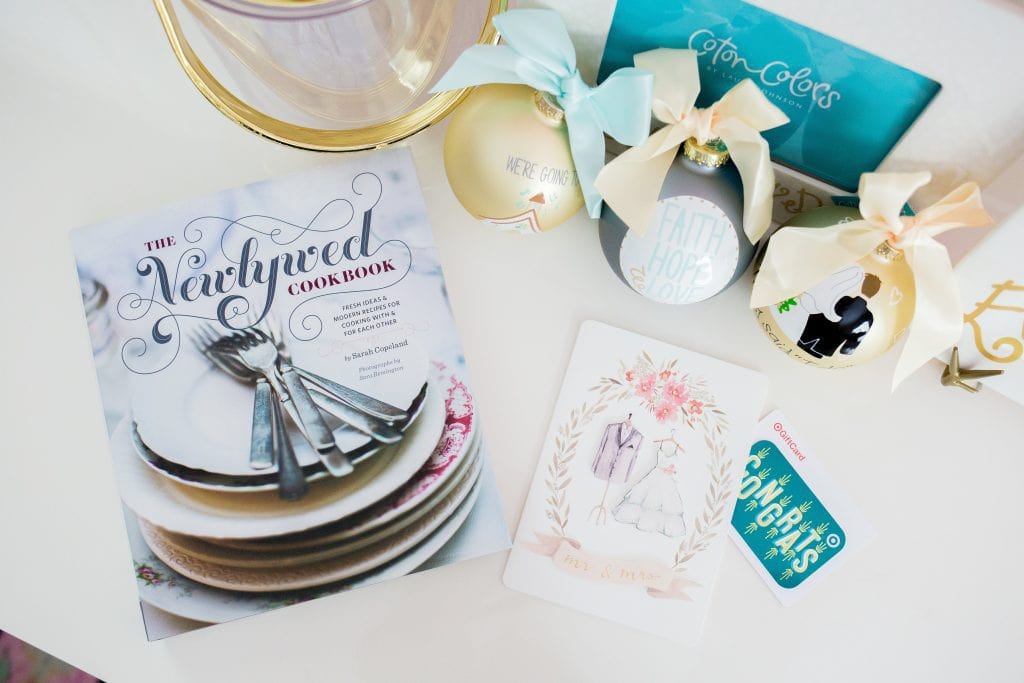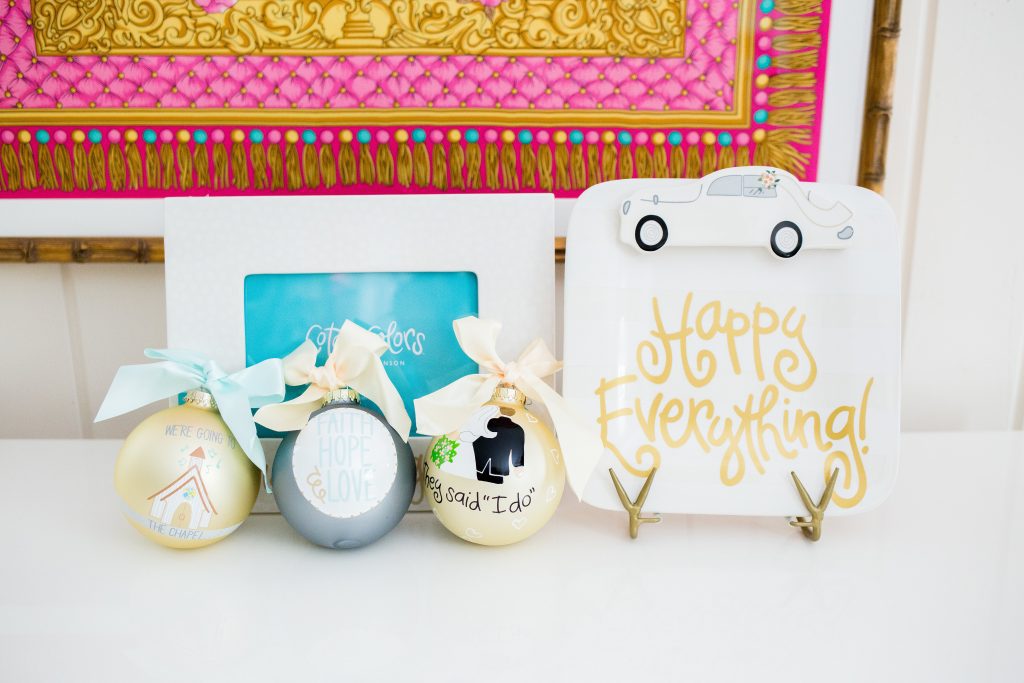 Photography by: Madison Katlin
---
Let's chat bridal showers! Petit fours, chicken salad and flowers are a few of my favorite things, so naturally, I live for bridal showers. They are pretty much my olympics. I'm GREAT at drinking flavored tea and talking about how pretty a bride looks. 😉
Now before we chat, let's just get one thing out in the open. We can unmask the elephant in the room, if you will. Bridal showers and registry gifts have quite the strong opinions about them. Some people believe you should be grateful for any gift, so the registry is just a suggestion. Others believe that it's more so about honoring the bride and groom's wishes by adhering to a registry. I'm not here to convince you of either opinion because I truly believe you can follow both!
If your girlfriend just got engaged and you want to celebrate, I think it's incredibly thoughtful to gift her a little somethin' somethin' while her registry isn't made. If you're headed to a bridal shower and want to go in on a larger registry gift with friends, you can still make it personal. Or, if you waited too late and there was only a spatula left on the registry don't worry! Grab the spatula, because I've got you covered for the rest of your gift. Today I'm talking bridal shower baskets and how to create one!
First things first, grab a wicker basket and fill it with some fun tissue! Then, get to compiling!
1. Registry Item: Now, I'm a bit of a registry stickler but if you aren't no worries! My suggestion would be to just even include a $5 gift card to a place they registered at. Their gift cards/returns/exchanges will add up and it will be so welcomed! I added a $5 Target gift card to this basket for reference. I always like to stock up on greeting cards when I find a cute one and I also grab $5 or $10 gift cards while I'm checking out because I'll always need them for a shower! And I get it, sometimes you go to a registry and there is only a gravy boat left and if you don't use a gravy boat consistently you might think, "Great, my bff from college is going to always associate me with gravy." Lol! I promise she won't and she will be thrilled to receive it! But if you want to make the gift a little more personal, keep reading. Registries are wonderful because if you shop it quickly, you can really pick off whatever price point your budget needs are. You can go all out with pots and pans if you're doing a joint gift with all the bridesmaids or you can keep it just from yourself with a smaller item of choice.
Budget: TBD, Starting at $5
2. Book of Choice: One of my favorite things about our engagement was hearing advice from married couples! Marriage advice was ALWAYS welcomed. Pregnancy advice? Maybe not so much. 😉 You're super hormonal during your baby shower, you're not during your bridal shower! Lol! But I digress…moving on, I loved hearing from couples what books they loved or what cookbooks they always made dinner from. If you aren't married and you're thinking, "Uhhh..my marriage advice would be to still make sure you attend your weekly Girls' Night Out dinners." gift her a sweet cookbook that you know she would love. The Newlywed Cookbook is always a great option and I LOVE The Meaning of Marriage by Tim Keller.
Budget: Between $10 and $20
An easy way to make this option $10 or less is to pick up a cookbook from Half-Priced Books OR make this budget option FREE by gifting your favorite cookbook – sentimental brownie points! A really sweet option would be to pass down a family dessert recipe to a friend! I've seen girls frame recipe cards at showers so they can keep it in their kitchen on display.
3. Hosting Item: We hosted far more our first year of marriage than we ever had while being single. A fun addition would be to share your favorite hosting must-have! Maybe it's a favorite bottle of champagne or if you're like me, this pineapple ice bucket! This is a great way to incorporate the groom in your gift because you can give something fun like a nice whiskey glass.
Budget: $18
4. Ornament: Ornaments are the perfect gift for a friend that just got engaged or a way to make a registry gift personal! If you have followed my blog for any time now you know our tree is filled with two things: pineapple ornaments and Coton Colors ornaments. You can get them personalized, for your school of choice, and or for every milestone in life. We have Texas Tech ornaments, engagement ornaments, marriage ornaments and ornaments for Maxi all by the line!
Budget: $20
5. Frame: Sometimes frames are a little tricky to gift at a shower because you are veering into home decor territory. Is the girl a traditionalist or is the couple's style more modern? It can be difficult! And even if you know the bride's taste, it may change once married. A safe bet in my book is to always go a lighter, neutral route as it is always a chic and safe bet! This frame pictured says, "Our Wedding Day" or I love the "Mr & Mrs" square frame here!
Budget: Roughly $25
6. Plate: By now you probably see a little theme in this gift basket, and I wanted to introduce you to the brand behind the whimsical gifts: Coton Colors. Coton Colors was created by Laura Johnson as she started to have children and wanted to create keepsakes to document each special moment in life. She made pottery by pressing her daughter's handprints into clay and there this brand was born. The brand's motto is to "never miss an opportunity to celebrate everyday" which I think is so important as you get married. There is SO much build up to the big day and you come home from your honeymoon to a list of thank you notes, bills and boxes. I personally am all for celebrating the small things in life [and not just saving certain clothing for special occassions, I always say, "What if special never happens?!"] so I love to gift these items. Personally, one of my favorite gifts from our wedding was a bottle of wine from my girlfriend, Kristy. She wrote us a long letter about how we needed to celebrate the little things in life so we should drink this wine on a mundane day when we were back at work and tired and had a million things to do. She said we should be reminded to just sit, enjoy the moment, drink wine and celebrate the fact we both found each other in life. All of that sappy moment to say, you have to throw in a happy everything plate to remind the couple that EVERY day can be happy since they have found one another. Coton Colors has another branch called, Happy Everything. This little plate can be put on a stand in their kitchen and you can add different attachments based on certain occasions in your life!
Budget: Plate $44, Attachment: $25, Stand $15
All in all, you can really make this basket to be catered to your budget! You can do one ornament or five, the plate or the plate with the attachment and stand! If you go in with other people on a gift, you could ultimately spend around $20 which makes it easier on everyone. 🙂 The great thing about gifting from a specific brand is you can continue the tradition for their birthdays and anniversaries. Also if you sign up for the Toast magazine you may see a certain contributor in there! 😉 A magazine subscription is an amazing housewarming gift for a newly engaged couple and this one covers everything over entertaining.
Do you have any specific items you love to gift at bridal showers?! What's something you always search for on the registry?