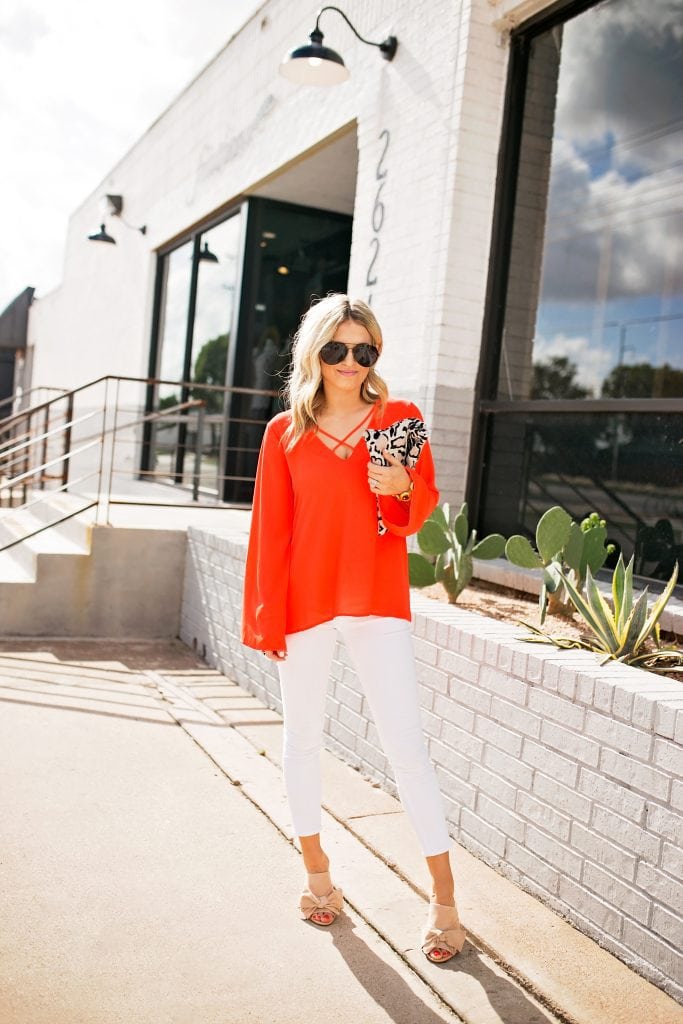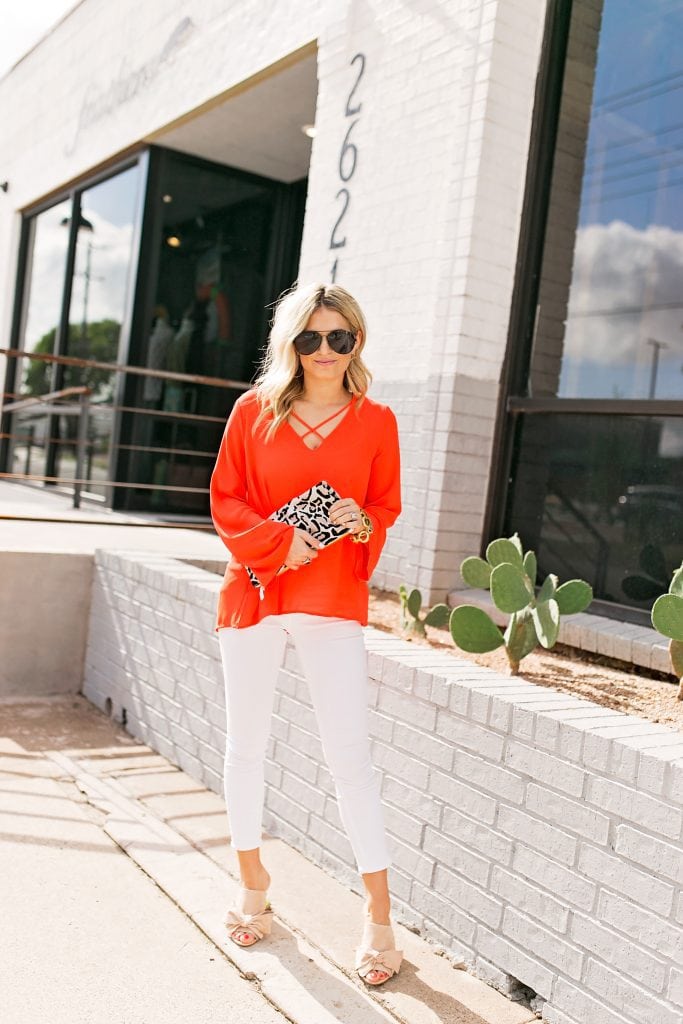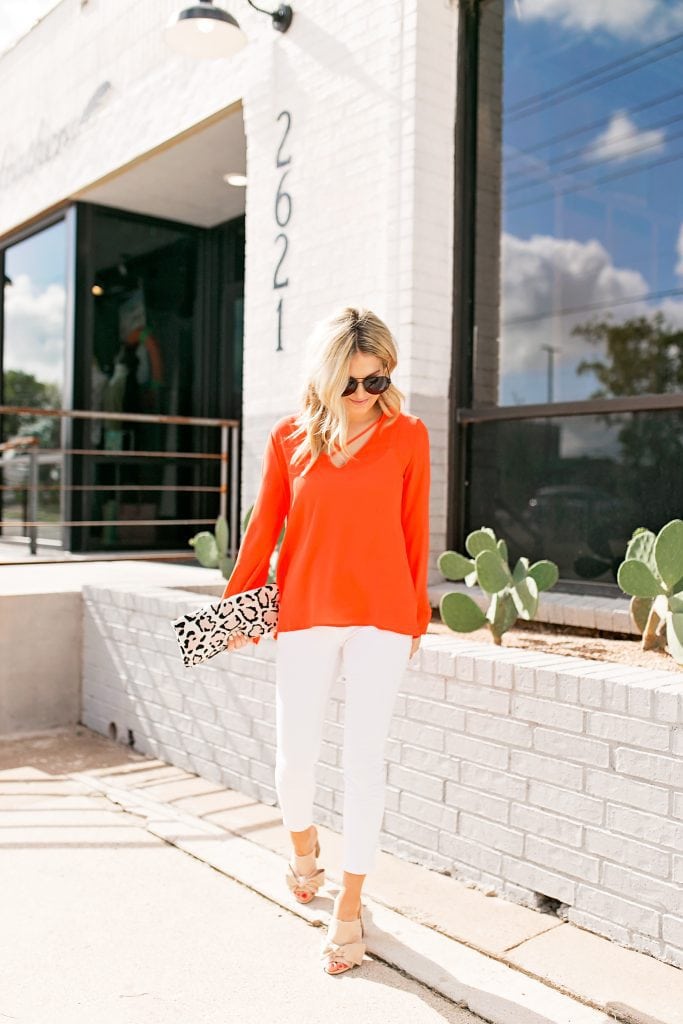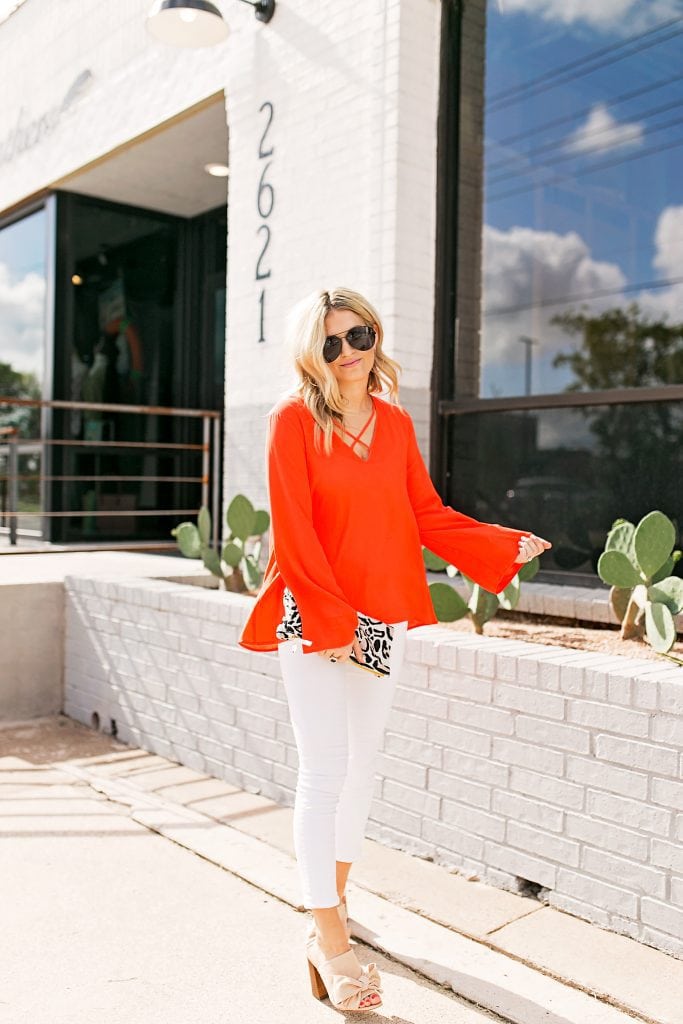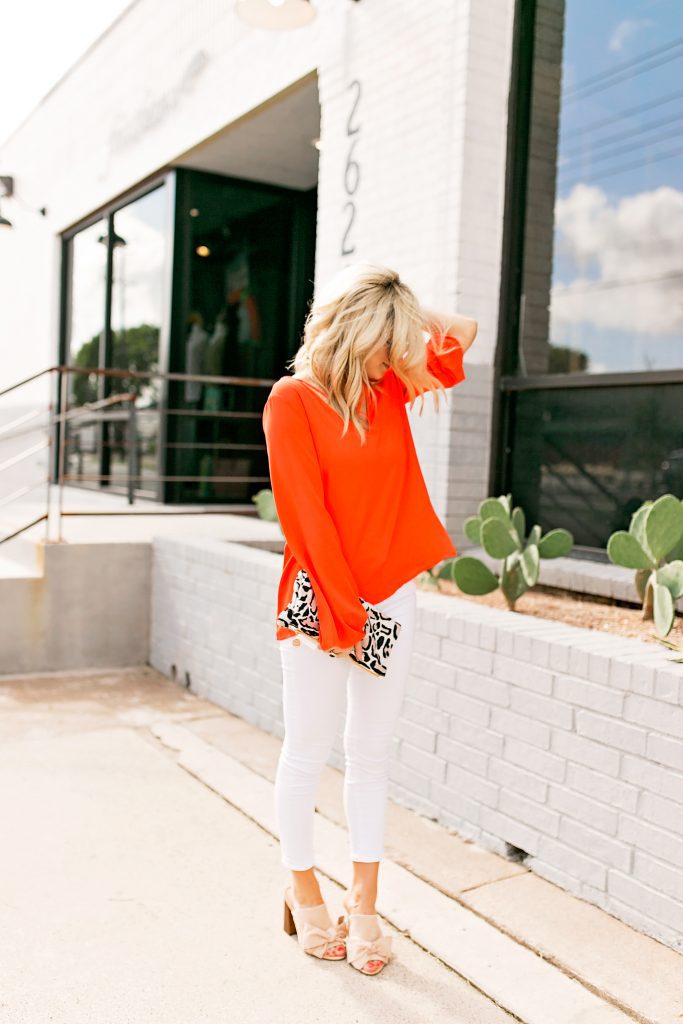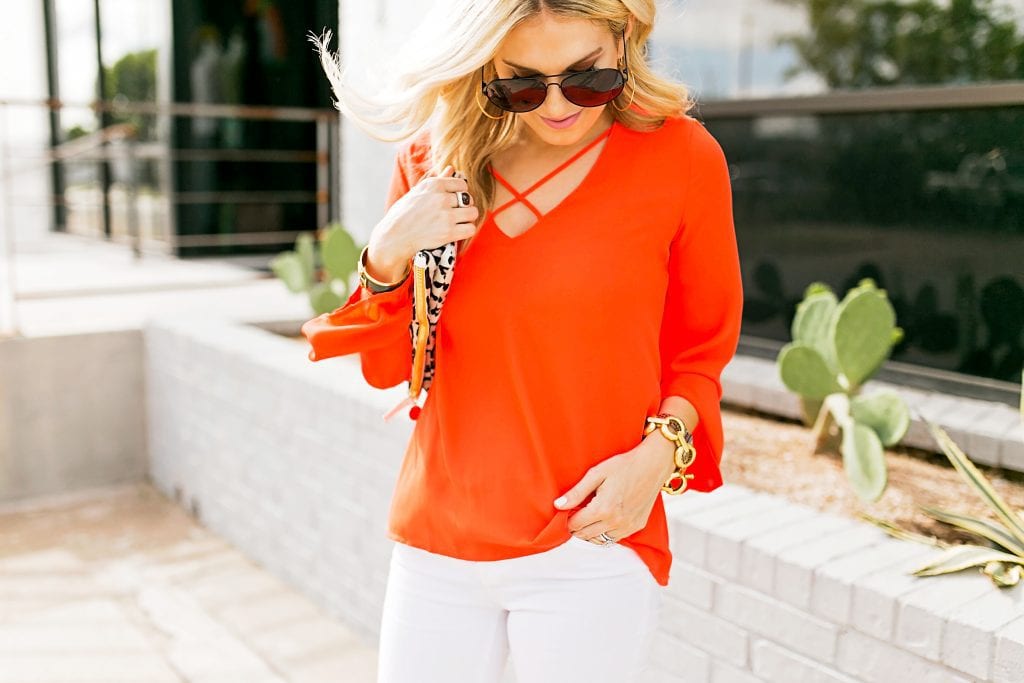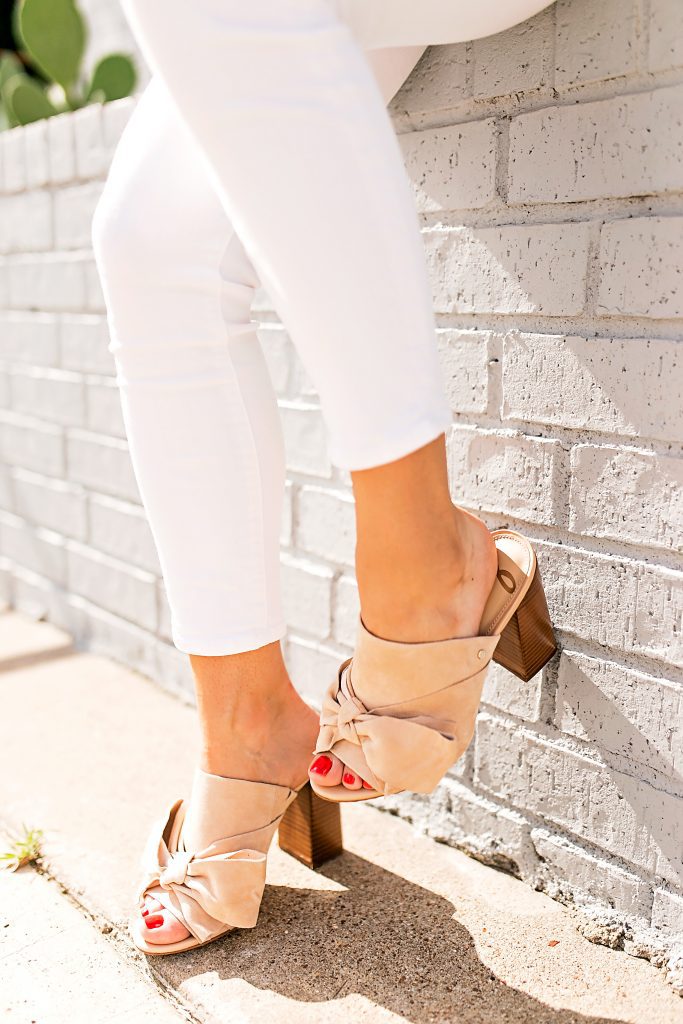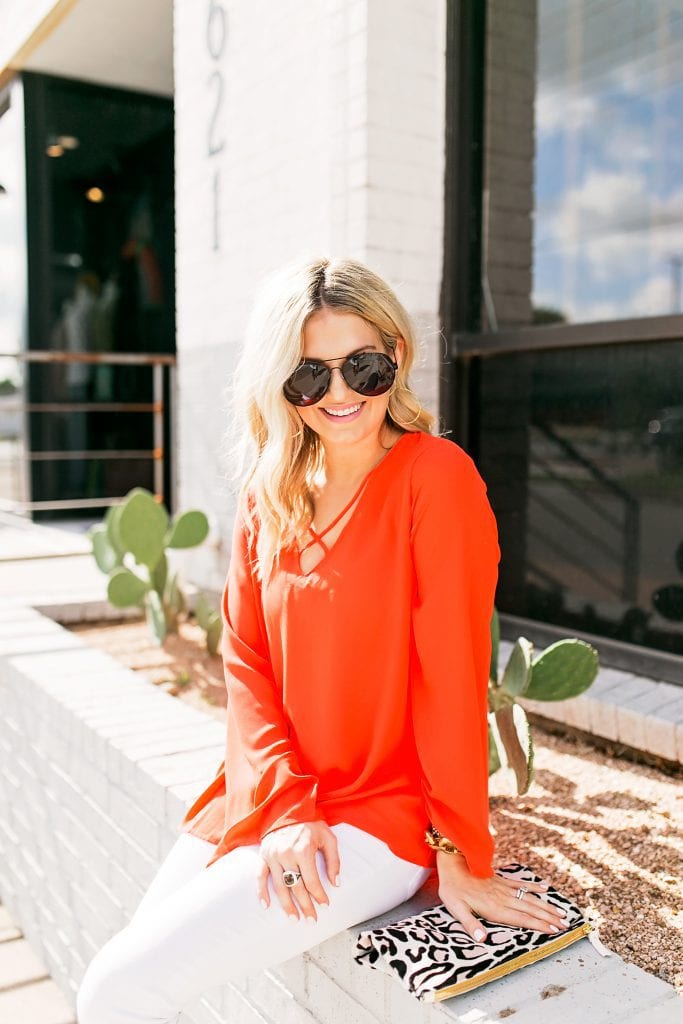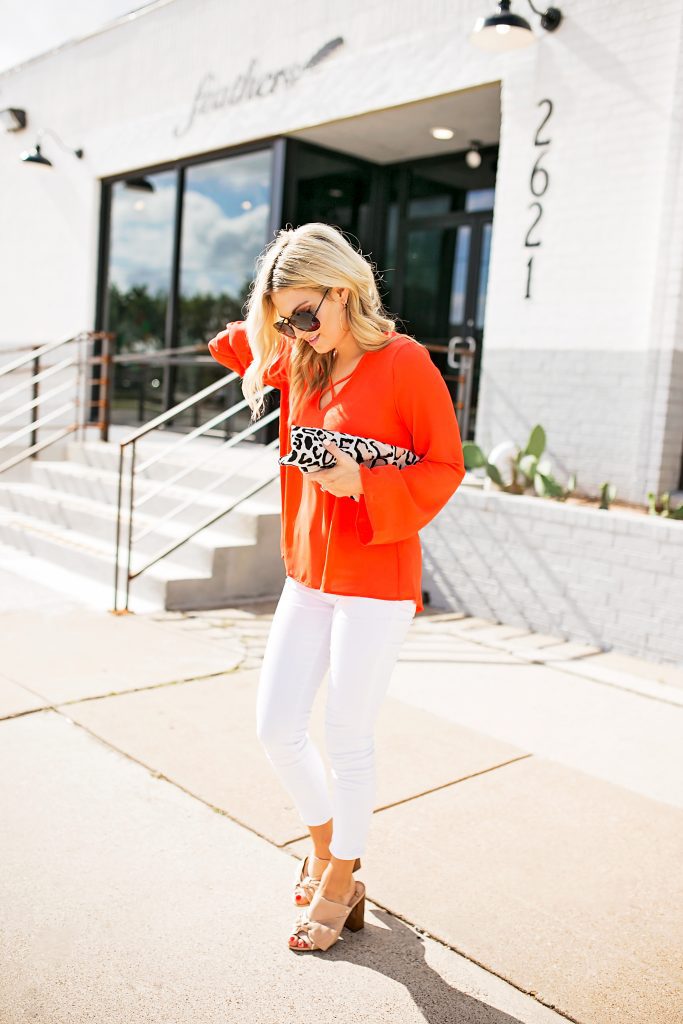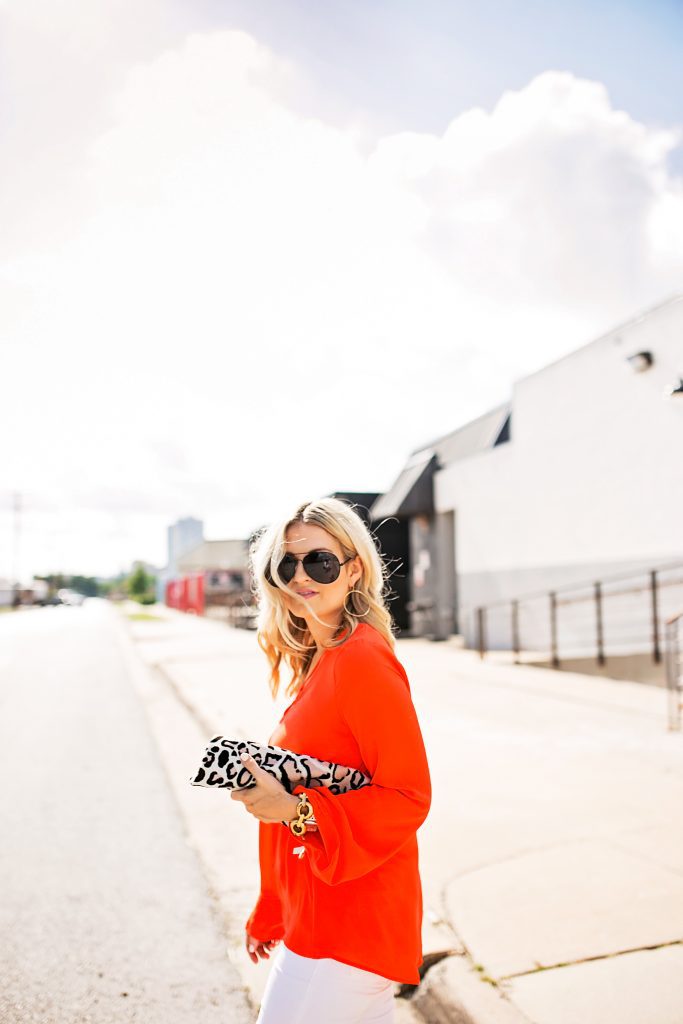 Blouse: Lush [shade: lipstick], Here Too | Jeans: Shopbop | Mules: Sam Edelman | Clutch: Clare V. | Hoops: Gorjana | Sunglasses: Nordstrom | Bracelet: Julie Vos
---
If there is one thing you buy this summer, this versatile blouse should be it. Let me list the reasons why:
1.It comes in plenty of prints and shades to suit your skin tone or hair.
2. It has a v-neck so it automatically slims you if that is something you look for with tops.
3. The cross-straps provide a dressy element without being overly trendy. Because of this you could pair it with a skirt for date night.
4. It's a flowy blouse so you can style it with daisy dukes and still feel appropriate since it will balance your look.
5. With its shape, you can front-tuck it in white jeans for date night or leave it out.
6. It's under $50…need I say more?
7. It's extremely breathable without being too sheer! We shot 4 looks this day in 95 degree heat in full sun. Even though this is long sleeve, this was the most breathable outfit I shot and I didn't feel miserable.
8. If you are fuller chested the v-neck isn't THAT deep. I always struggle with tops that have front details because then it is just a little too revealing. This blouse is modest and you don't feel like it is too low cut. If you wear dressy jeans to church this top would work beautifully with them!
9. Although lightweight, the top isn't see through. Now I can't speak for the white shade, but you don't see any bra or belly button action in these shots! I feel like so many summer tops are completely see through and even if you wear a cami or tank that's what your eyes are drawn to. It makes the top really cheap.
10. The sleeve details are my favorite part! They aren't bell-sleeve and yet they aren't straight. This kind of sleeve shape is something I find in pricier tops and I love how it shows off your bracelets like shown in the last picture.
I could keep professing my love for this affordable option, but let's just say I'm ordering black, emerald and a printed option as well! Puttin' my money where my mouth is! 😉