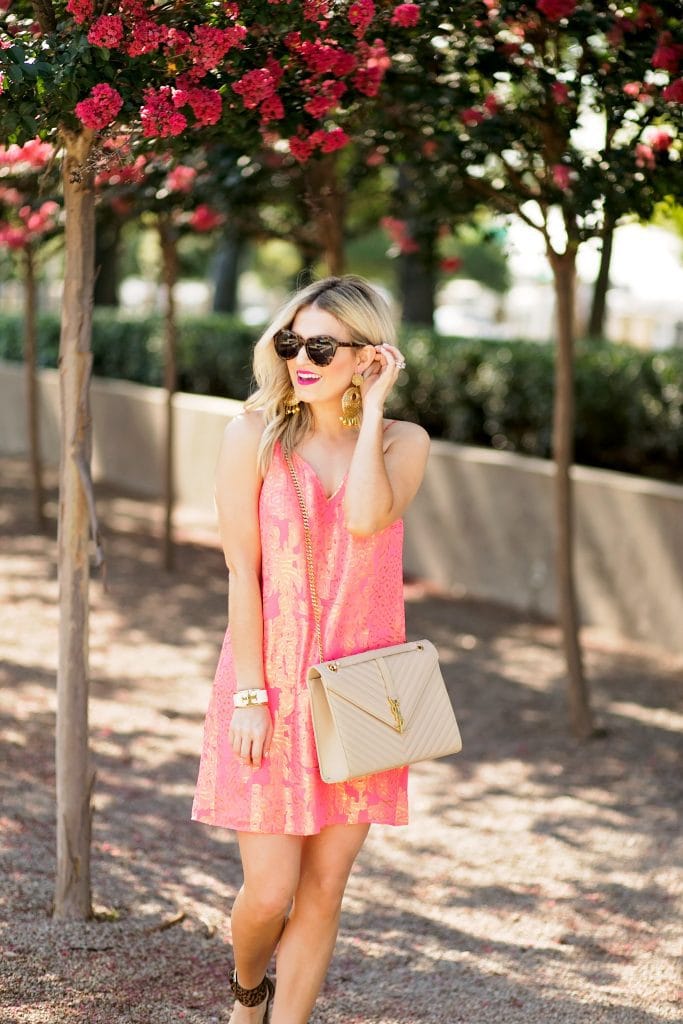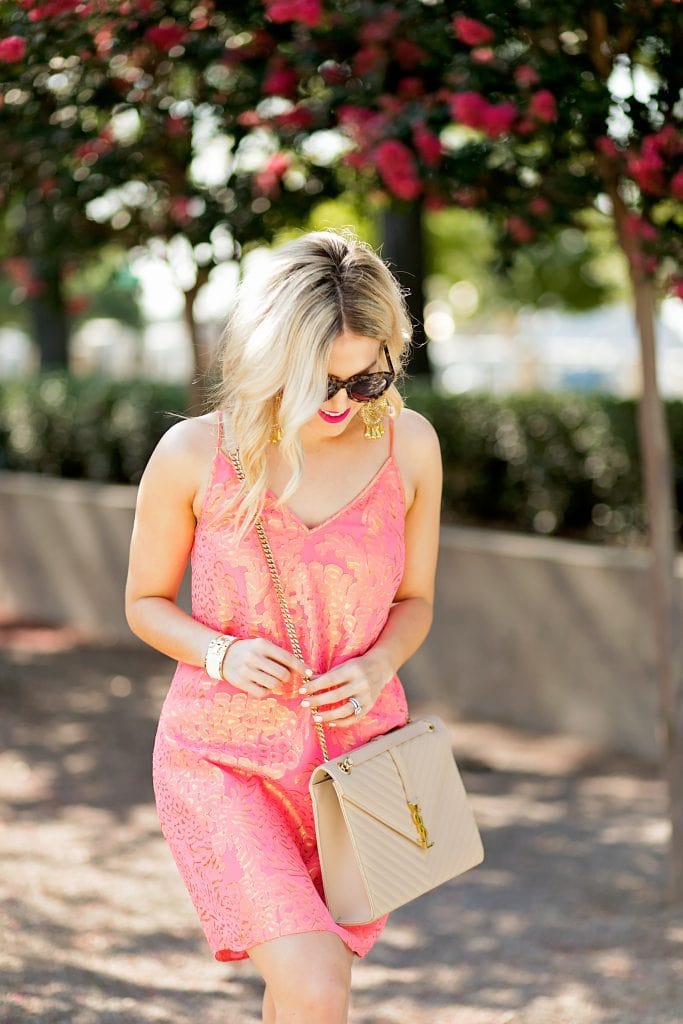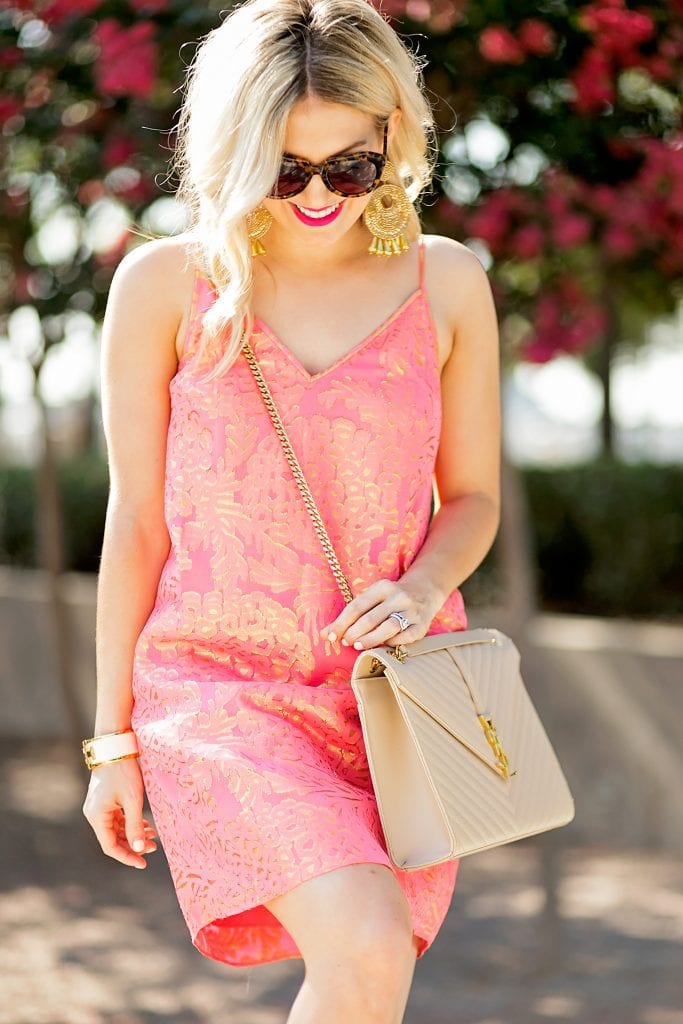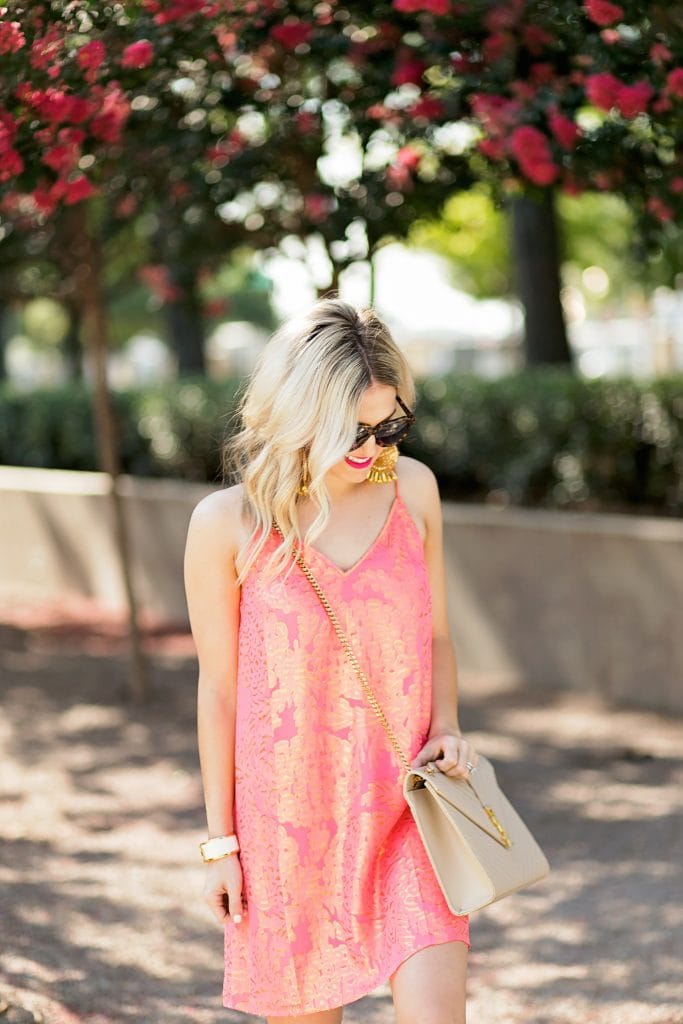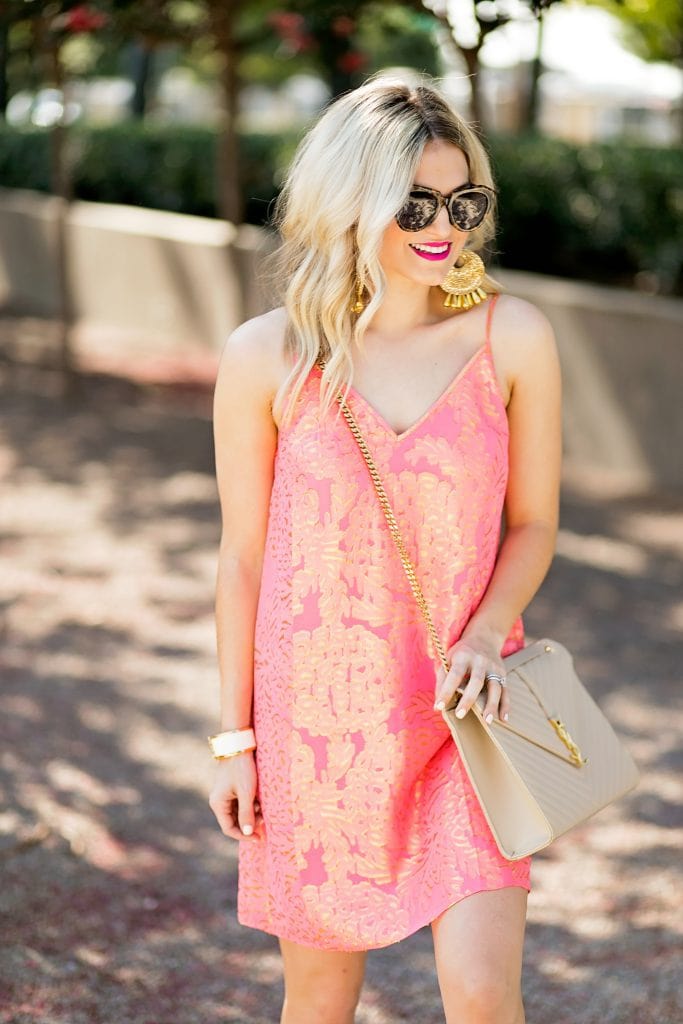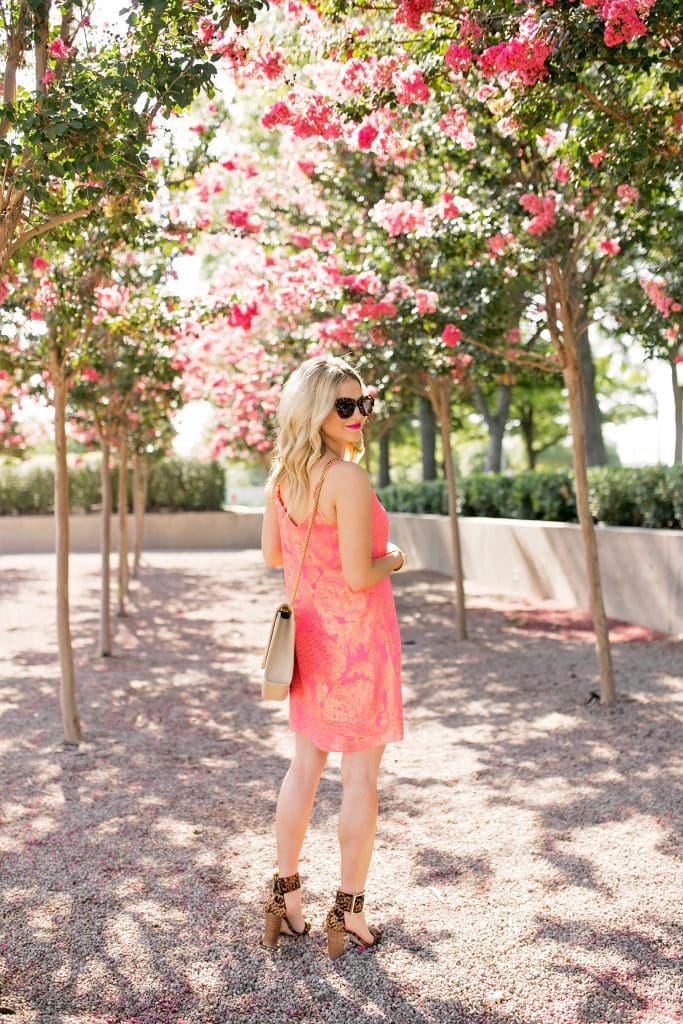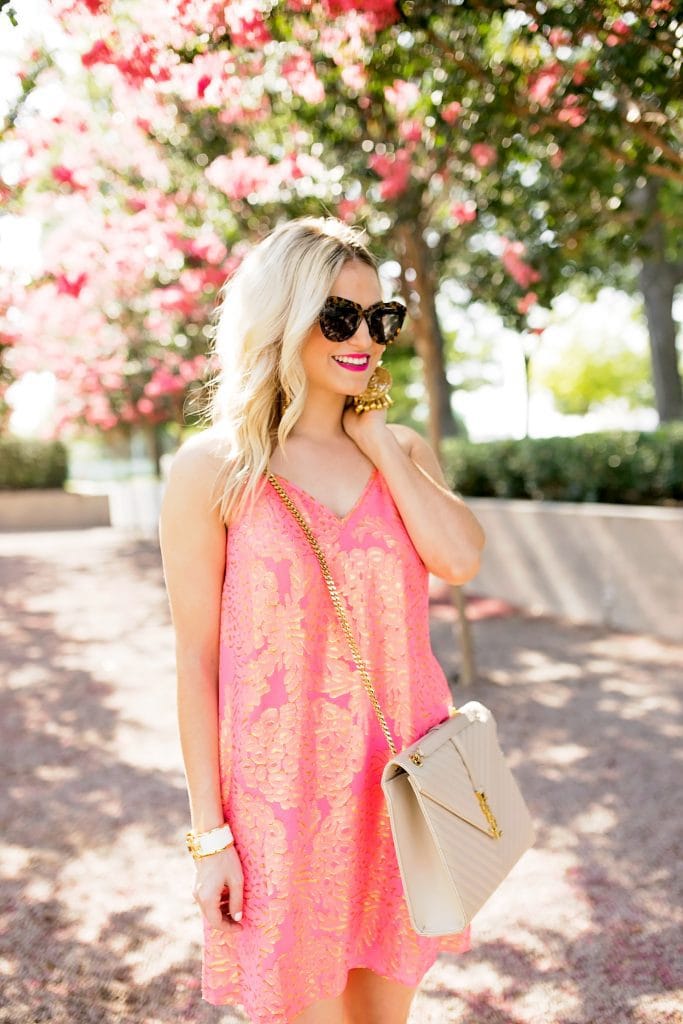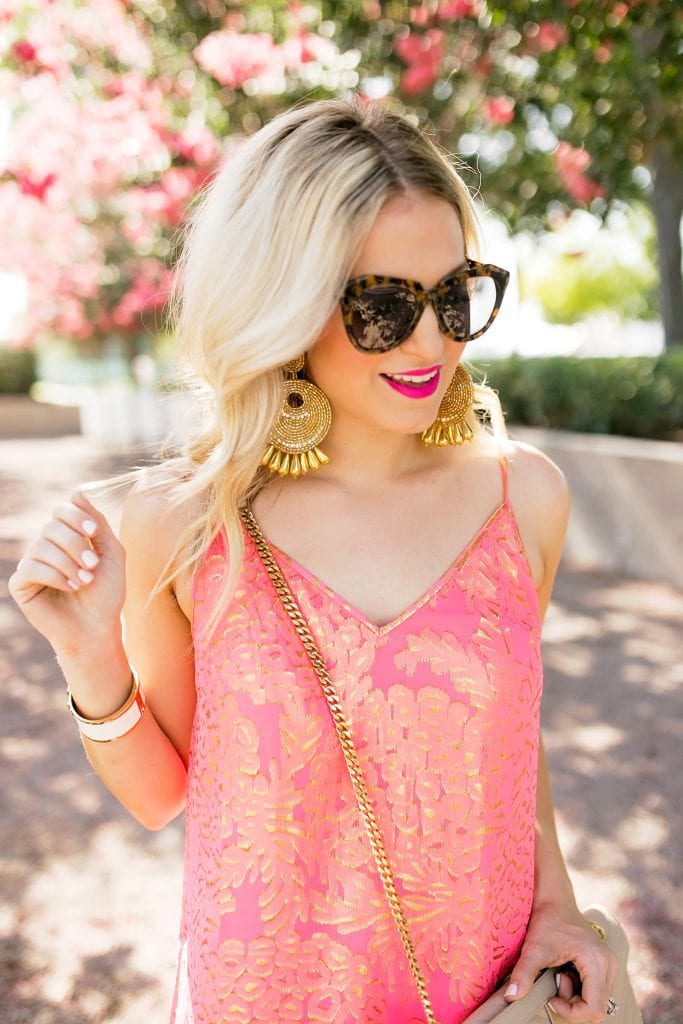 Dress: Nordstrom | Bag: YSL | Sunglasses: Karen Walker | Bracelet: Tory Burch | Lipstick: Bella | Shoes: Old, Similar | Earrings: Old, Similar
Photography by: Angie Garcia
---
Ready for a slice of honesty pie this morning? I think I'm more tired now than when I was when Maxi was an infant. Maybe it's because I'm going on 6 months of exhaustion or maybe it is because we are moving. Whatever the excuse, I feel like a wimp!  I looked at Paul the other day and said, "Am I sick? Is something wrong with me?" He laughed and said, "Yeah! You're a mom! You're a working mom that is packing our entire house to move." I still told him I must be ill with a summer cold! Accepting defeat is not a strength of mine.
But because exhaustion is a natural part of life and a huge component of mom life, I've learned to fake it. Life doesn't pause, even when we want it to. I've got work meetings. I've got playdates with Maxi. I've got prior commitments. And while I'd love to waltz into a meeting and say, "You wouldn't believe how many times my child wanted to eat last night! I'm a zombie. Also, do you see this blemish that popped up overnight? Do you think you can get a blemish from lack of sleep?!" I somehow just don't think the brand would care. 😉 So what do I do when these moments hit me? I fake it.
Fake the confidence. Fake the rest. Sometimes a girl has to do whatever must be done in order to power through her day, so let me spill my secrets.
5 Tips for Faking it 'till Ya Make it…to Bed!
1. Bright Colors
Neutrals can be a key to looking chic, but brights are the key to looking alert! It's easy to reach for a white v-neck and jeans after no sleep, but it's just as simple to grab a coral dress. This coral Lilly Pulitzer Dress is one I picked up before our trip from Nordstrom. It pops a bit more than a grey dress and something about a bubbly hue correlates to your energy level. If you're thinking, "But I'm not about to throw on pink." I won't try to take you away from your neutrals just yet! Maybe think about a fun print or branch out to a new shape. I love this print by Cooper St. and this tiered style.
2. White Eyeliner
I didn't start wearing white eyeliner on my water line until post baby and it makes the biggest difference. I use this pencil and it widens my eyes and draws attention away from any dark circles.
3. Dresses
The feminine touch of a dress helps me look well rested because dresses always appear well thought out. And yet, dresses take the least amount of time to plan in terms of a styled look! If I throw on a top and jeans I'm having to see if the denim matches the color of my top, if the cut and fit is right and if the proportions are correct. A dress? Takes 10 seconds to throw on and no thought whatsoever. But what if dresses intimidate you because there are so many different shapes? It can be especially tricky in the summer when you feel as if they all show so much skin. I like this dress guide from Nordstrom. I'll pull some fun summer dresses below and if you need a few for the office, I love the brand Eliza J.
4. Get Up 10 Minutes Earlier
This probably sounds counterintuitive in terms of faking rest, but I always set my alarm 10 minutes earlier each day. This way, if I do hit snooze I'm not scrambling. Feeling flustered and running late is a one-way ticket to looking frazzled and exhausted. Sometimes I hit snooze, sometimes I'm able to take a little more time with my makeup or sometimes I'm able to squeeze in an extra e-mail. Whatever I accomplish in those 10 minutes, I always feel more at peace and ready to take on the day.
5. Tea
I'm all for coffee, but sometimes if you don't eat enough or you drink a cup too many it can have a negative reaction. I'll start to feel nauseous or jittery! I sip a lot of green tea throughout the day [I love it iced] and I've found that hydration and smaller caffeine buzz perks me up. It's such an easy way to get in all your water and hydration is key to helping combat exhaustion.
So stay hydrated, stay on top of your snooze button and stay up-to-date in your wardrobe with summer dresses! What are your key tips for faking it?
P.S. Check below as I'll pull a mix of summer dresses from casual to wedding!

In collaboration with Nordstrom. All purchases and opinions are my own. Thank you for supporting the brands that make COF possible!