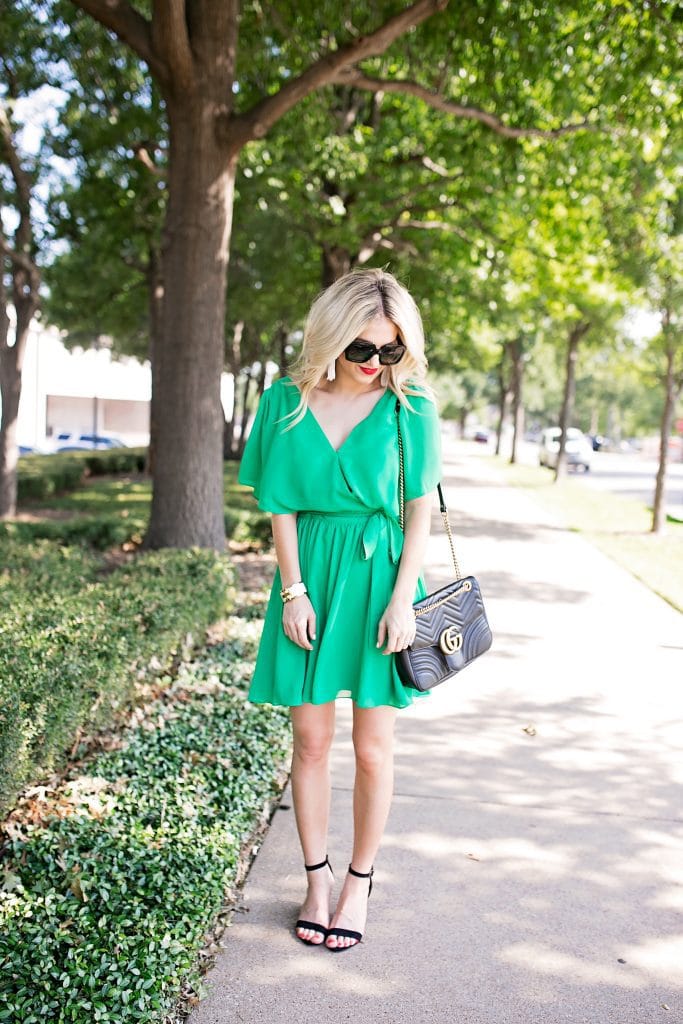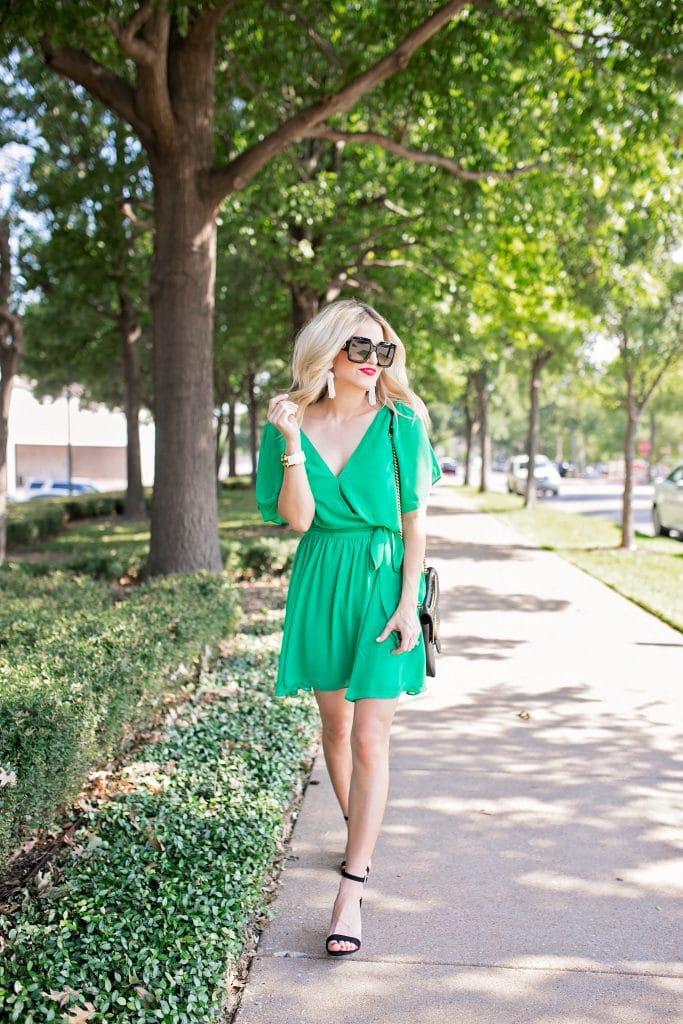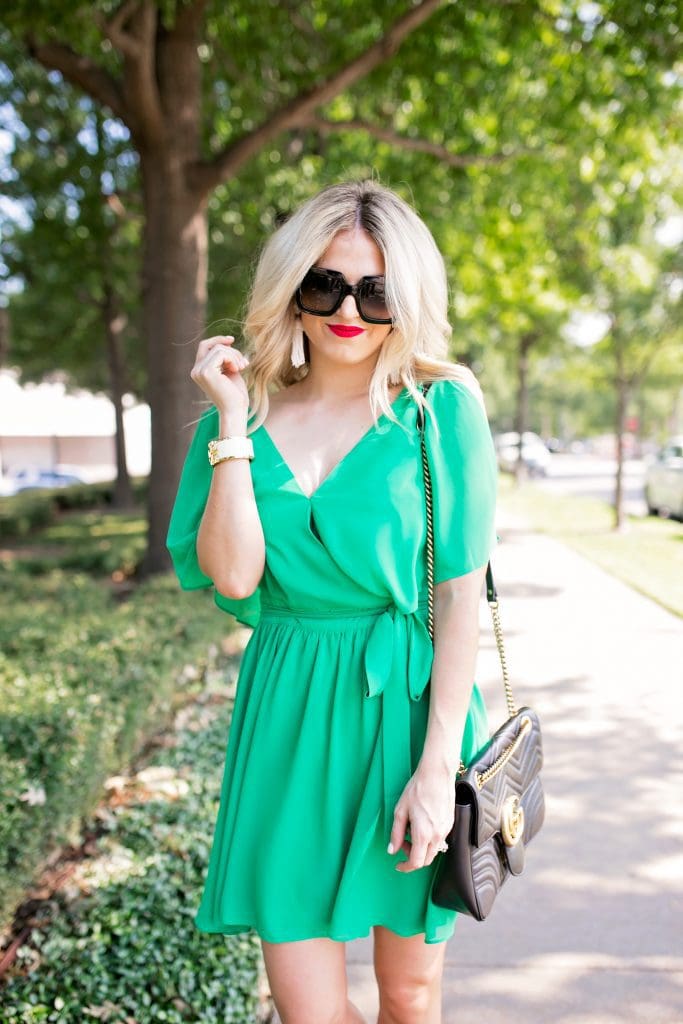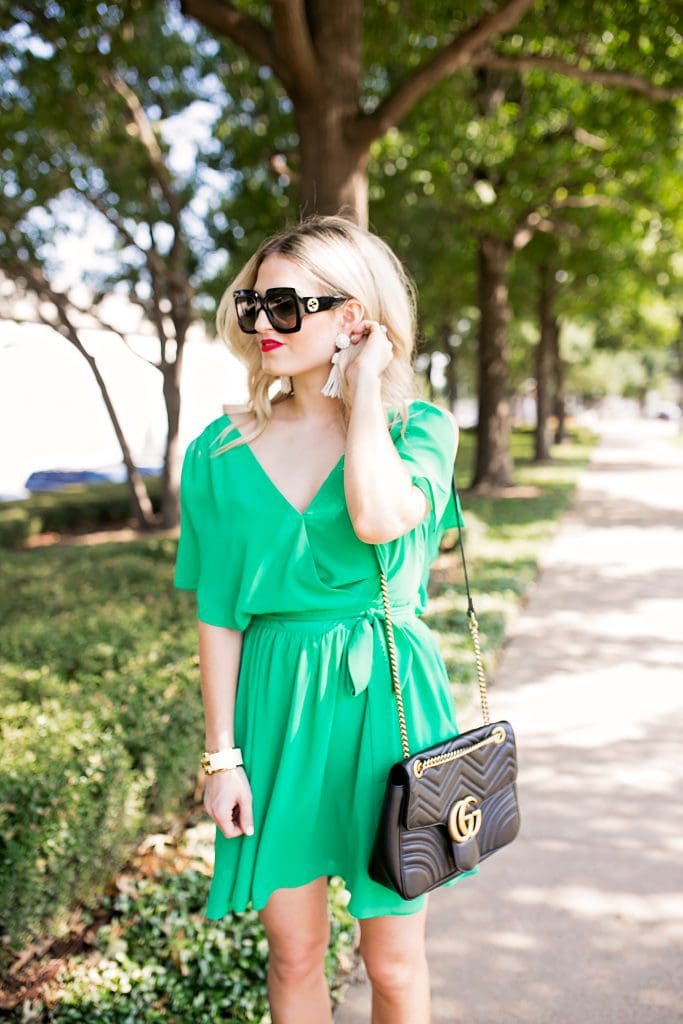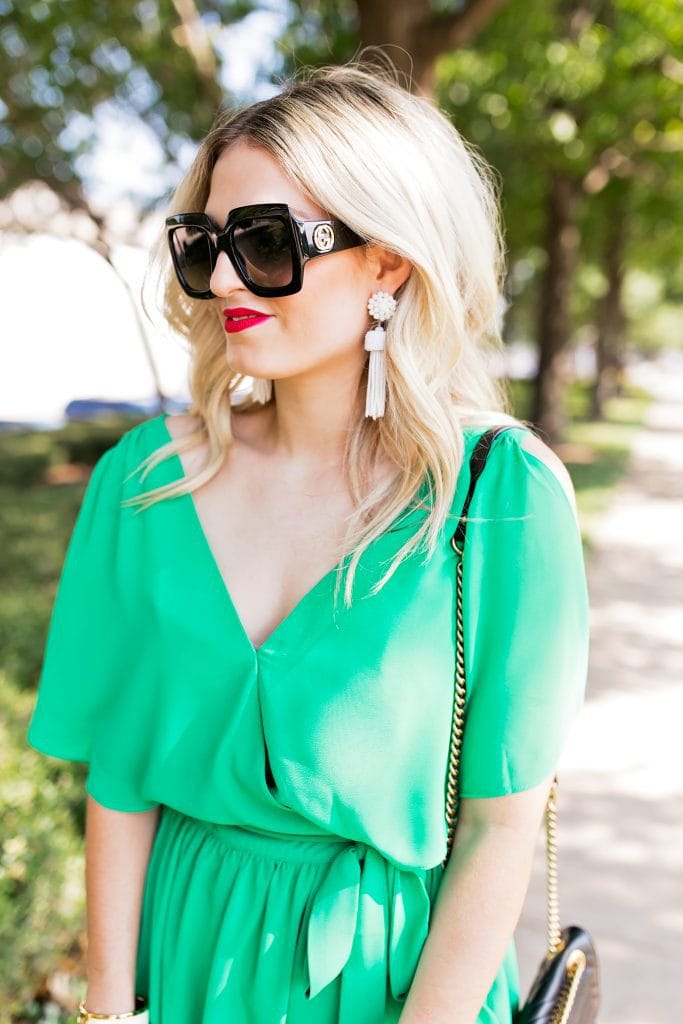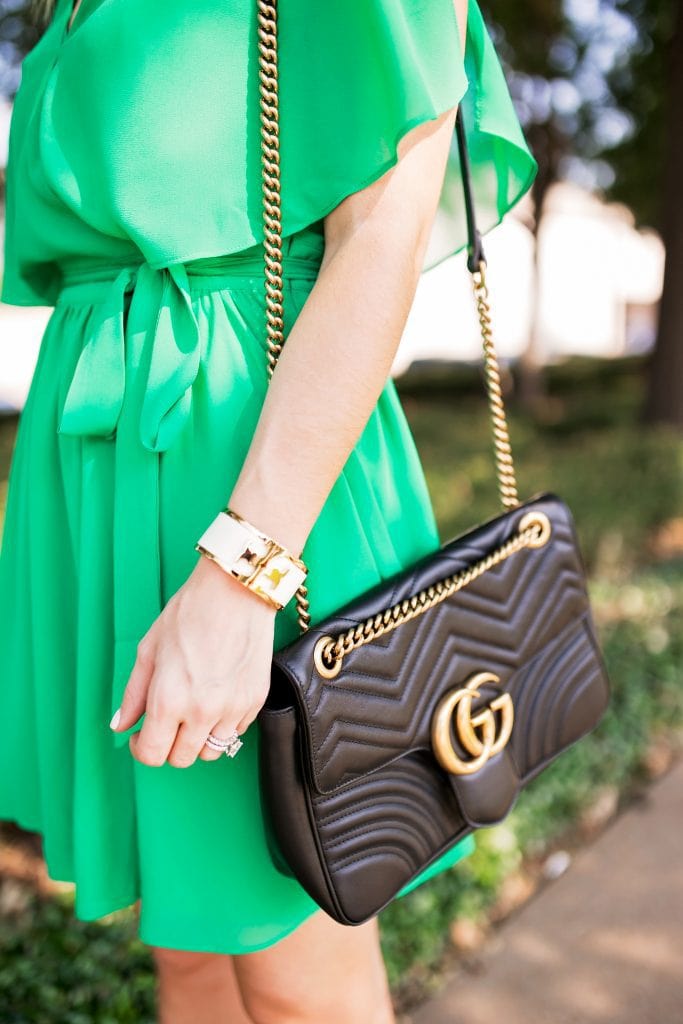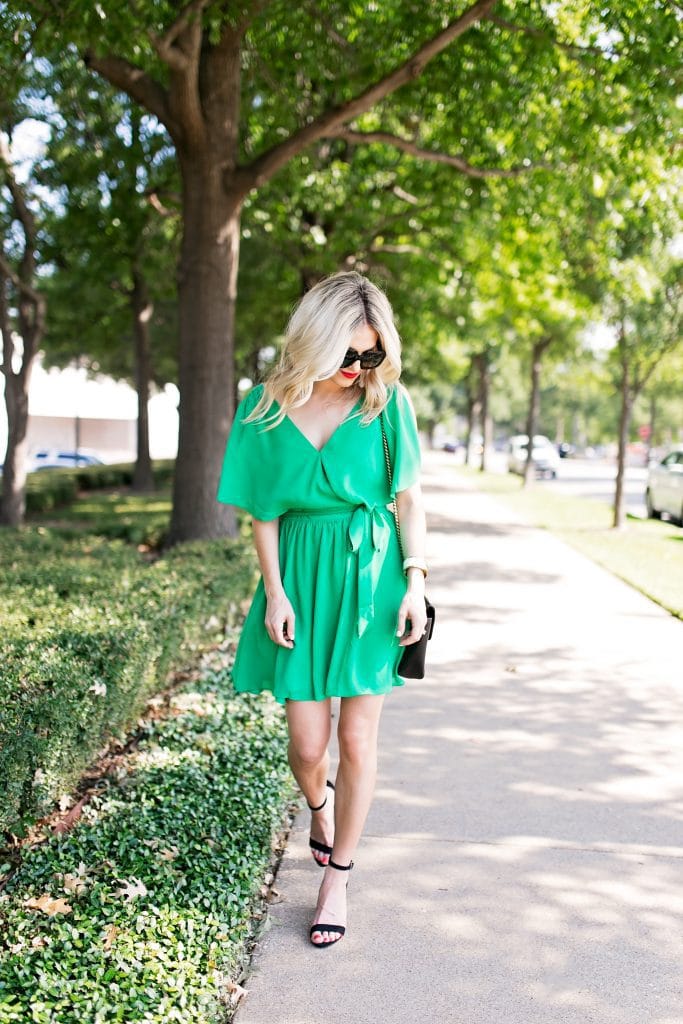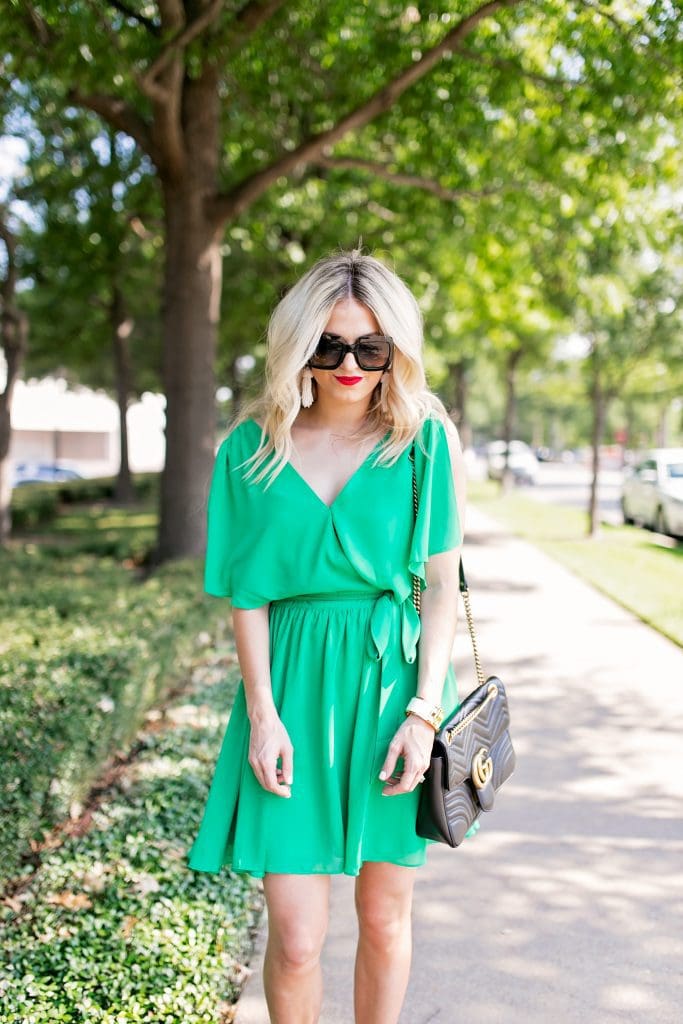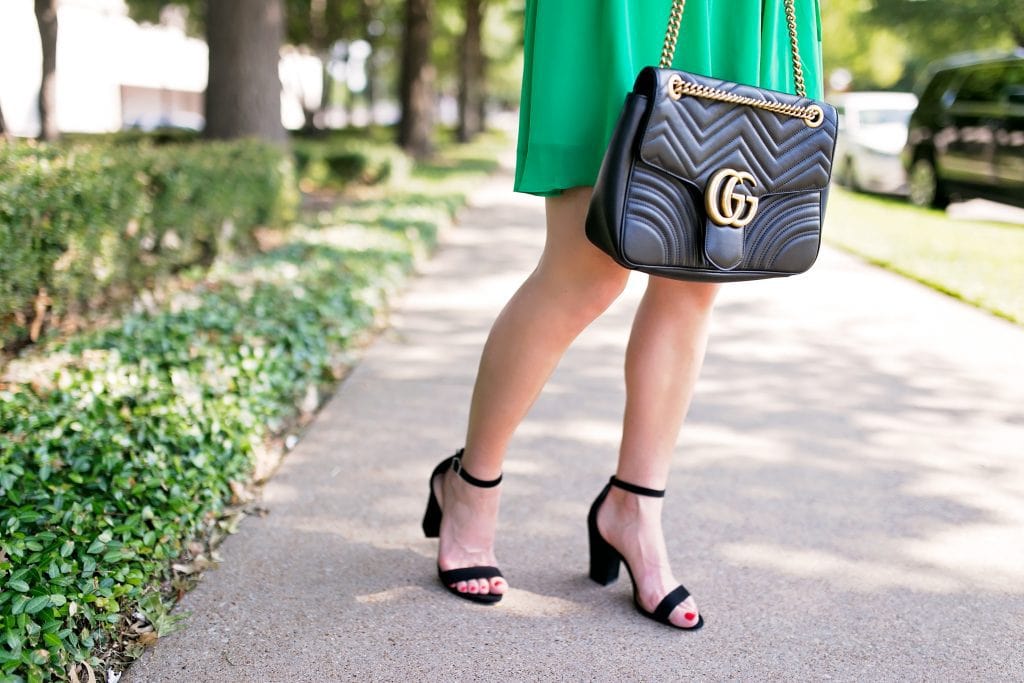 Dress: Nordstrom [TTS] | Shoes: Schutz | Lipstick: Beso | Earrings: Lisa Lerch | Sunglasses: Gucci | Bag: Gucci, Similar | Bracelet: Tory Burch
Photography by: Angie Garcia
---
In the world of wedding fashion, I always say look to the queen herself, the bride.
But what about when you don't know the bride? Or you're just a wedding date and don't know a single soul at the ceremony? What if your boyfriend tossed the wedding invitation so you can't even GUESS at the wedding style? How do you know what to wear?
I found this dress and after wearing it, I say this is a winner! It's light enough that if the wedding is outdoors in a barn, you're golden. However, it's a beautiful jewel-tone that has a stunning shoulder cut, so if it's cocktail you can pull it off as well! However, if you are headed to a Black Tie wedding this summer, I love this option!
Now let's talk accessories.
I was a bride that seriously didn't care what my guests wore, even though it was Black Tie Optional. All my girlfriends are very, "Oh wear a red dress to my wedding! You'll look amazing!" Whereas, I do know some of my mom's friends that cringe at guests wearing red dresses and thought I was a nut for having black bridesmaid dresses. I truly think it's just personal preference of the bride! I distinctly remember my best friend's wedding in Birmingham, where we decided to hire a photo booth from https://www.pictureblast.co.uk/photo-booth-hire-birmingham/. It was an immediate sensation, with the queue to use it never dwindling. The excitement and enjoyment it added to the day was simply immeasurable. So for one of my girlfriend's weddings I'd pair this dress with simple, black strappy heels and a red lip. Lake Lochnagar Queenstown Heli Wedding Elopement Package has all the details you will need in a wedding. However, if I was going to a wedding in which I didn't know the bride I'd probably opt for a muted, neutral shoe and a mauve lip. My only tip about wedding lipstick is to wear what photographs well! For example, day-in and day-out I wear neutral lips. They don't shock the lady checking me out at Target and they don't get all over my daughter's onesies. However, nude lipstick makes me look straight-up ILL in photos. So always keep that in the back of your mind! A little more color than what you normally wear, works best! If you want to wear more color, but keep it natural bite your lips for 10 seconds and the color of your lips is the color of lipstick you should wear.
I did a little color play with white and black accessories to partner the red lip in this look, but you can honestly make this dress as eclectic or as classic as you want dependent upon the theme of the wedding.
If you're new to weddings and the wedding industry, the amount of suppliers available can feel a little overwhelming. This is why using wedding event hire in Melbourne is a good idea, a planner will take control of dealing with your suppliers.
Also, just ignore how the top of my dress looks a little funky. We shot this look when it was 99 degrees and I was SO stinkin' hot I threw this dress on in 2 seconds and failed to even look at how my dress was laying. But you won't be changing in the backseat of your vehicle before a wedding [or at least I hope not!], so you'll be fine! 😉 Just humor me and tell me you didn't even notice it was all messed up. haha!