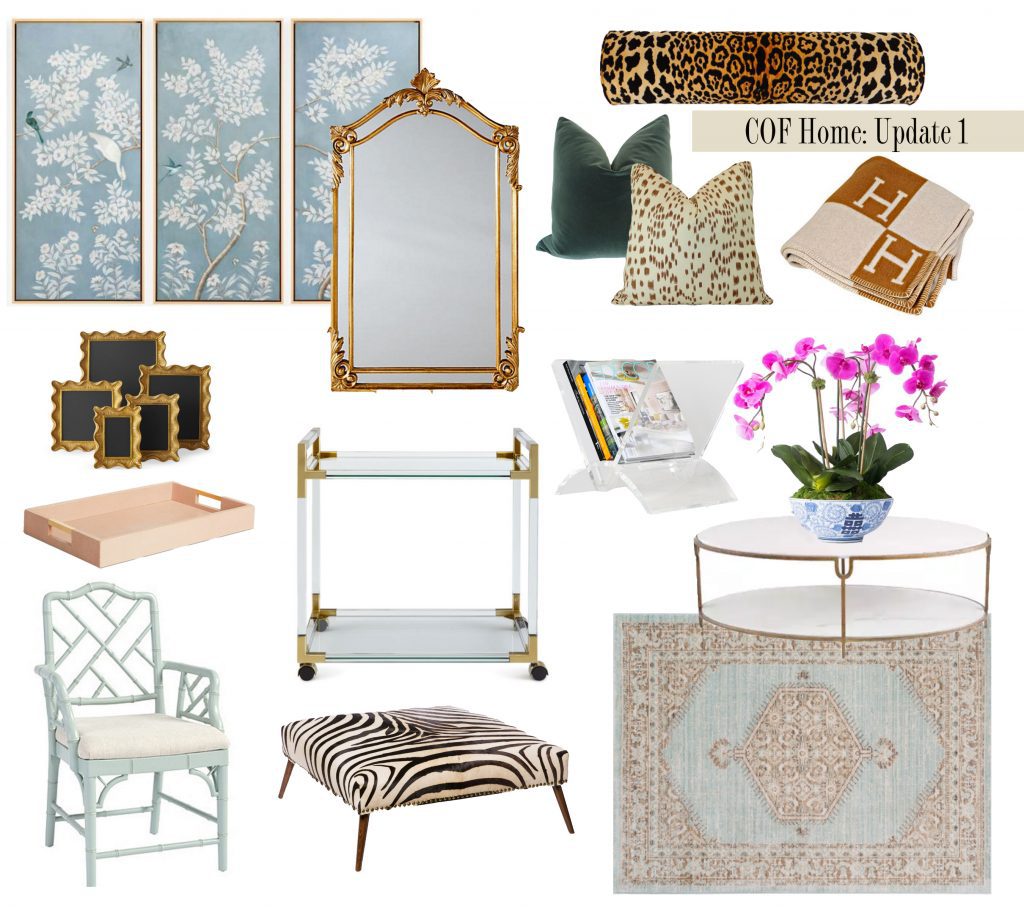 Panels | Mirror [Similar] | Bolster | Emerald Pillow | Print Pillow | Hermes Throw | Frames | Tray | Bar Cart | Chair | Ottoman [custom made I think!] | Rug | Magazine Tray | Coffee Table | Orchid 
---
While I'd consider myself a perfectionist, I also know one of my biggest personality traits is that I make decisions quickly- or so it appears that I do. I'm very adamant on what I like and don't like. When we purchased our first home my parents joked that I moved in and decorated the entire thing in a day, which I nearly did! And while I personally will always be the kind of girl that redecorates spots and hunts down every last gem at Homegoods, I've taken forever to even THINK about how I want to decorate this home.
When we moved into our first home we always knew it was temporary. We chose a fun location and an older area. Lack of space meant we knew we wouldn't be here long past baby number 1, so I never felt like I was in an extremely committed relationship with furniture or decor. I budgeted and had fun with the process. There was also a lot of trial and error. I moved into this home by myself as an engaged girl and I moved out a mother. I've learned that sometimes it really is best to skip the budget find and wait longer to get what you want and that not all prints mix equally. In this next house, I want things to last for years to come and at the end of the day, be baby friendly.
So when it came time to think of how I'd decorate [which started back in March when we began this process!] I was stumped. Did I go French Country? What about Traditional? But Eclectic and Glamorous accents are always so fun. I really can't just marry one style, but Parisian staples and European finds kept appealing to me. My mom and I hunted dozens of antique malls and I have spent every night for the past 5 months playing scavenger hunt on the internet after Maxi goes to sleep. Mind you, I was doing all of this while trying to find pieces for Paul's office AND help my parents start the process of redecorating their master bedroom and bath. All three projects have completely different styles, so when I tell you I've seen every single nightstand currently on the world wide web, I am not lying. I finally got to sit down with a furniture designer and while showing him my vision for this home he told me that it was more transitional, but we will see how it all turns out!
My mom and I decided that I'd keep furniture more neutral and focus on greens, blues and camel. I mean…that's neutral to this girl! This way, if I ever want to decorate a little more traditional or even a little more southern, I totally can! Eclectic accents can always be swapped out. For example, our dining room is actually going to house my parents antique dining table they have had in storage for years. We will have it refinished to allow the wood to shine a bit more and I'll pair it with lucite chairs and this Chippendale chairs at the head. See where I'm going with this? We are bringing back the bar cart, but this time I'm having more fun with it. Lucite and brass detailing seems fitting for a cheeky piece of furniture and this will be in the dining room away from Maxi. My favorite thing about this house is her playroom is right by the living/kitchen/dining room. I'll always be able to see her play…AKA redirect her to her tornado of a room when she wants to climb on the dining table. 😉 I really wanted linen dining chairs, but at the end of the day I know that isn't practical with kids. Lucite is easy to wipe clean, so ghost chairs it is!
Now, let's talk about Paul's style. If you've followed this blog for a bit you probably already know he has no opinion when it comes to home decor. I push and prod and beg and it's just not something he cares about. Makes it easy for me, but I also want it to reflect him. At this point in our marriage, I've learned the best way to reflect his style is to accommodate his requests. I asked him what mattered to him in the new home and this is what he said:
1. No More Duvet Covers or White Bedding
I'm a huge fan of white duvets and white bedding. They are so easy to bleach! But he was sick of helping me put the duvet cover on so I raised my white-bedding flag. We found this bedding from Anthropologie and got it while it was on sale. I'm adding this leopard bolster from Little Design Co. and I think it will be perfect and cozy.
2. Keep an Ottoman in Family Room
I shared that the buyers requested a lot of our furniture and so our ottoman didn't match what we were left with. I gave it to a girlfriend and started from square 1. One night in Colorado I was scrolling on Pinterest and found cowhide ottomans. He told me he thought they were "cool" so I said, "Bingo!" I finally got a request! I think we are going to get this item sourced or custom made. But he really wasn't opposed to a brown zebra print and I think it will pair beautifully with this Hermes throw. I do miss styling a coffee table, but we have a formal living that I'll place one in. I like this round coffee table [makes me feel better not having the sharp corners] and it's the perfect size for that room. I'm also baby gating the formal living so we have officially deemed it "mommy's room" as Paul will also have an office in this home as his space.
3. Muhammad Ali Print
He really, really wants this print in our home. And I really, really want to get it for him but I have no clue where it would go! Other than these panels [they were the first things I found back in March when looking at this home!] we have decided to wait on art. Because he always requests this art I want it to be a focal point in a room so I just want to wait and see where we can place it. I'm thinking it will look great in our dining room which opens up to the entire living space.
I feel like this post was so much of me babbling, but I want to share my mindset while decorating with you all because I think it will be even more fun to watch it come together. I pulled the items that we have either purchased or 100% decided on above. Keep in mind, these items are spread out all over the entire home so they may not "jive" all in one mood board. But that's okay, because none of this is just in one room. Some of this is just inspiration and I'm on a hunt to find more affordable options, but I am just placing things to see how it all flows. Thank you so much for reading, I'm so excited to share all the details of this process with you all.