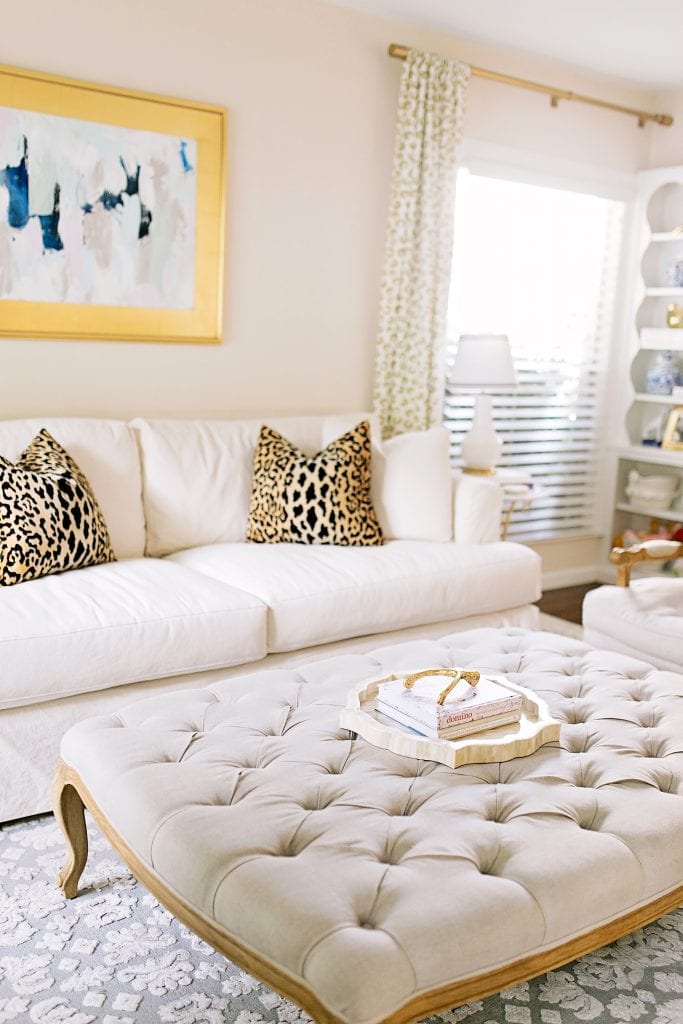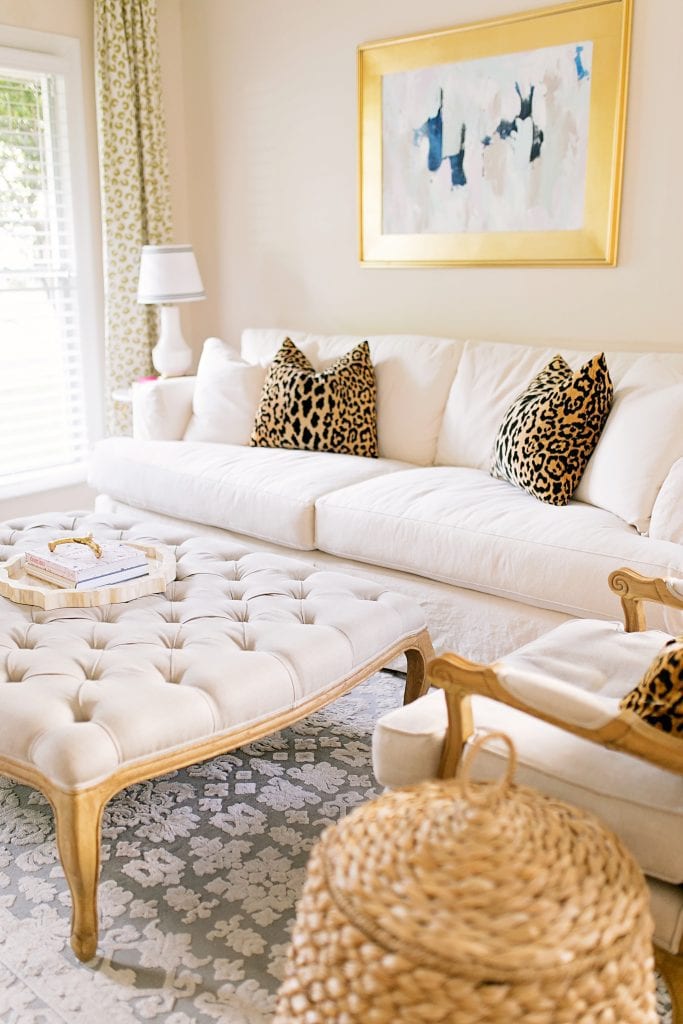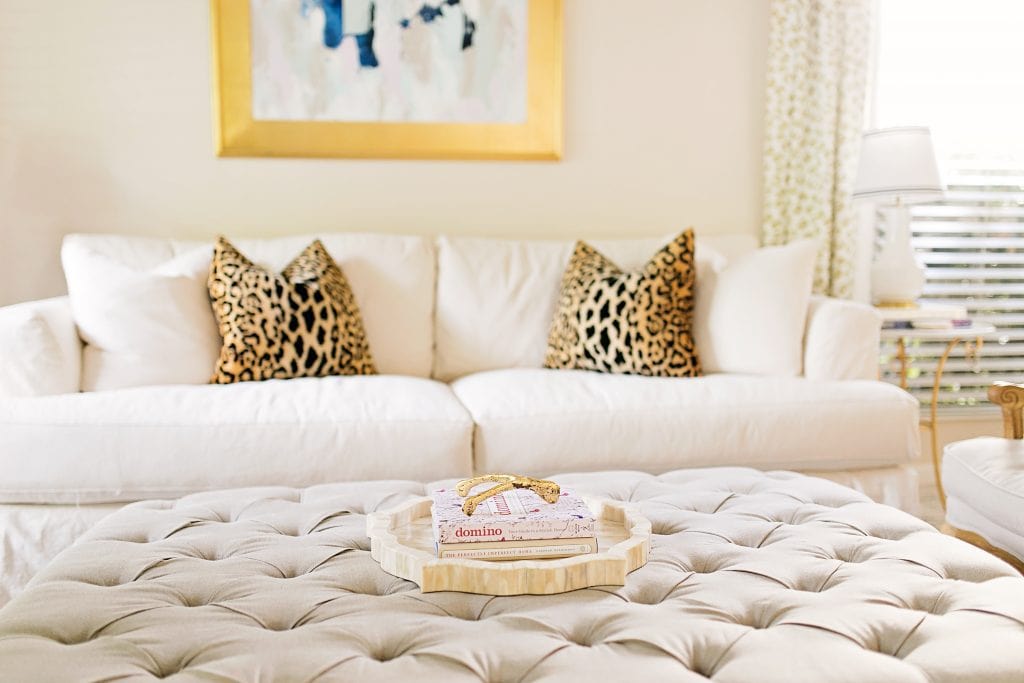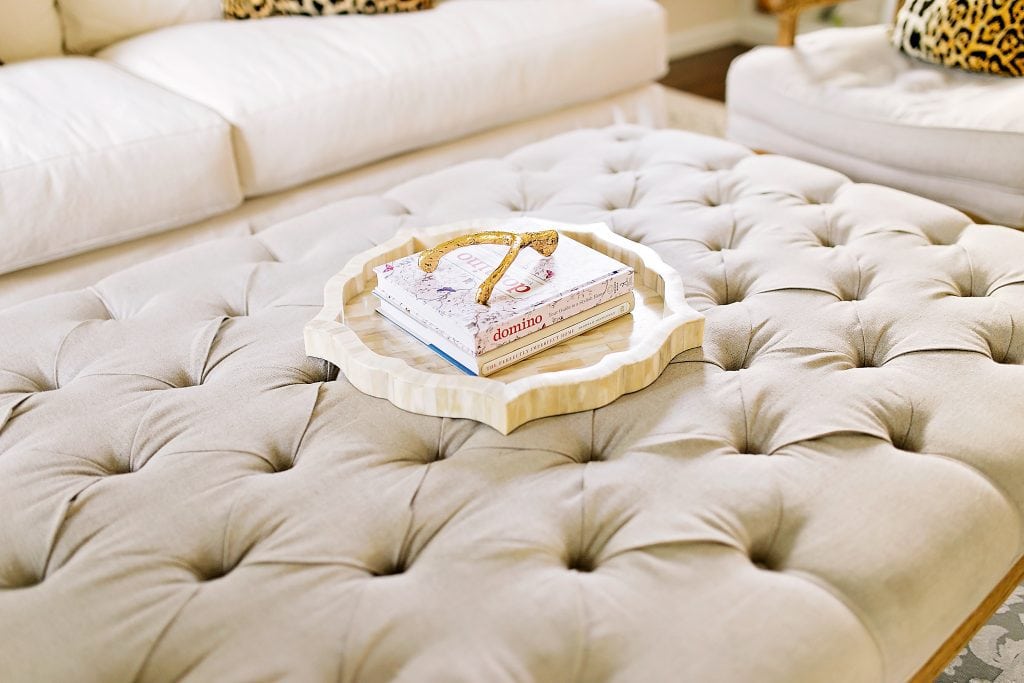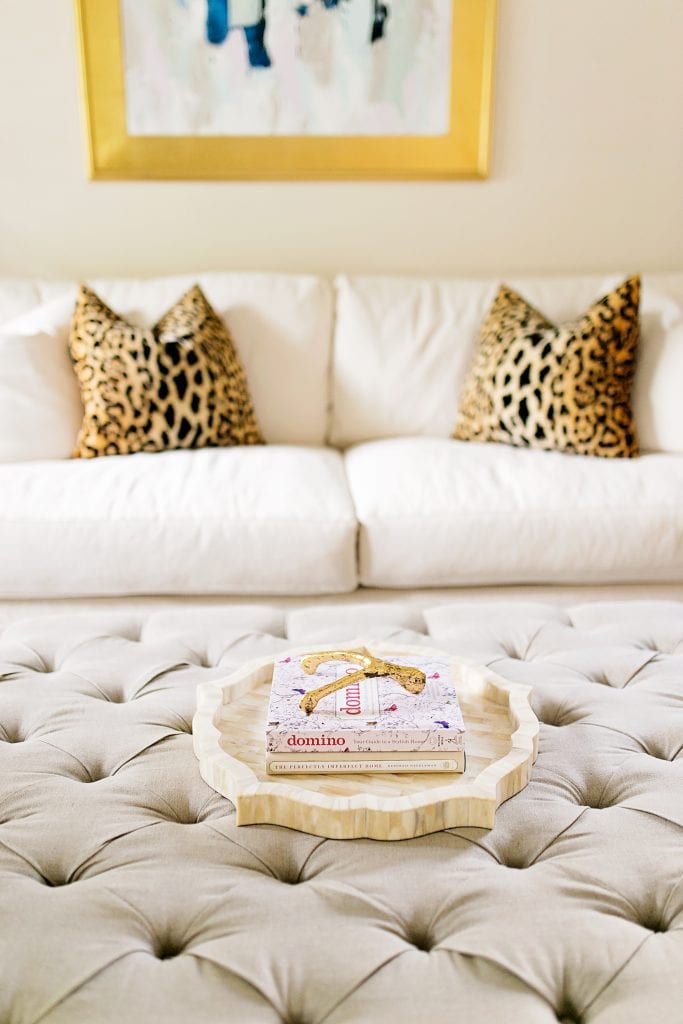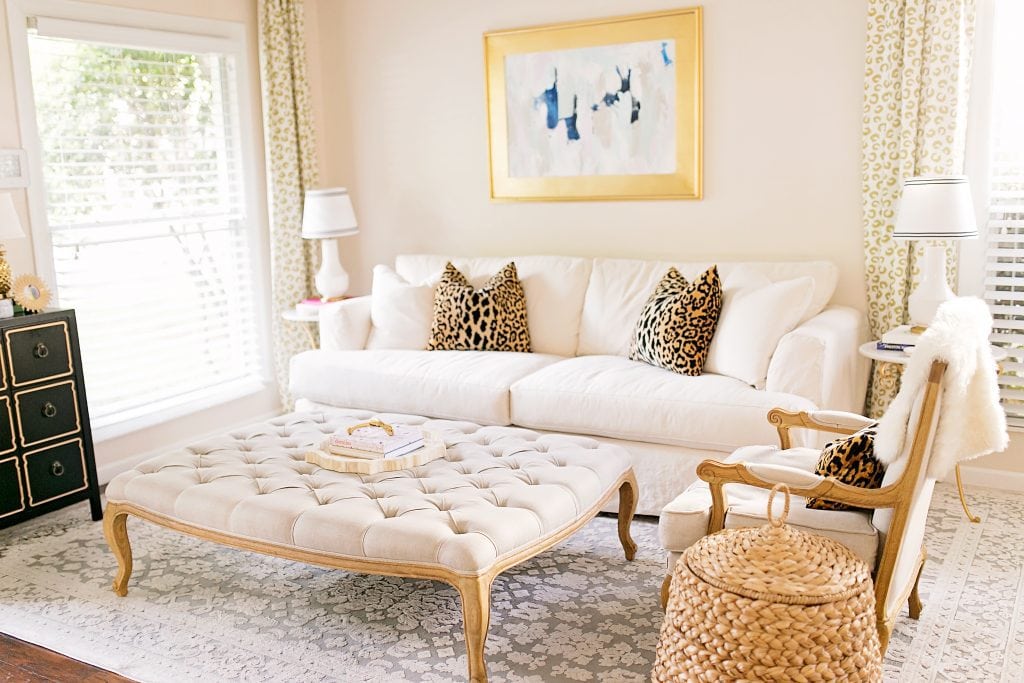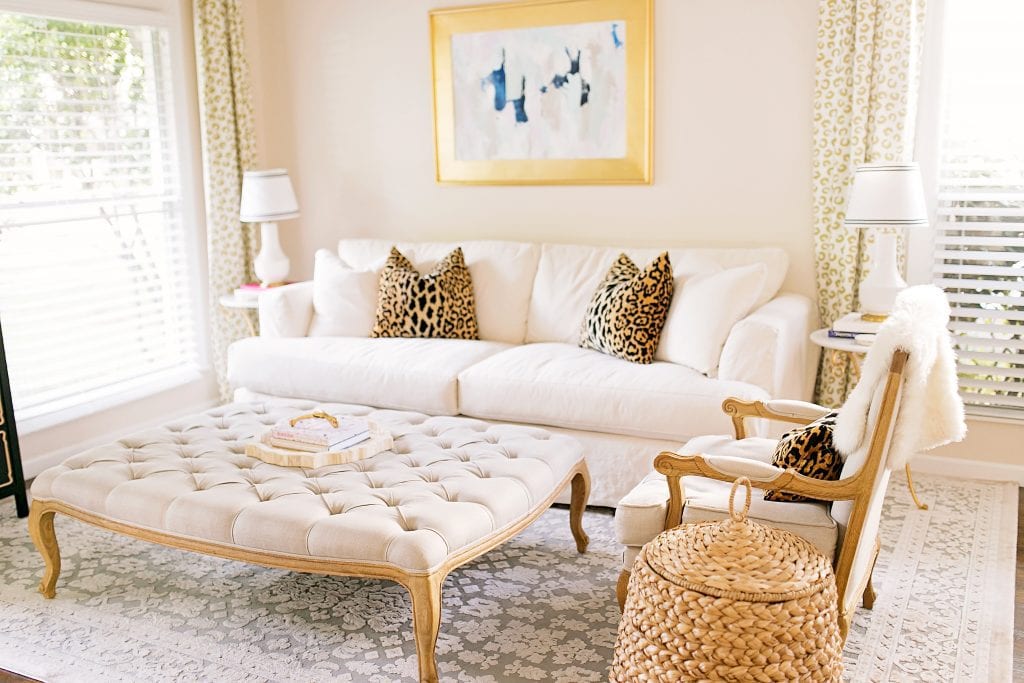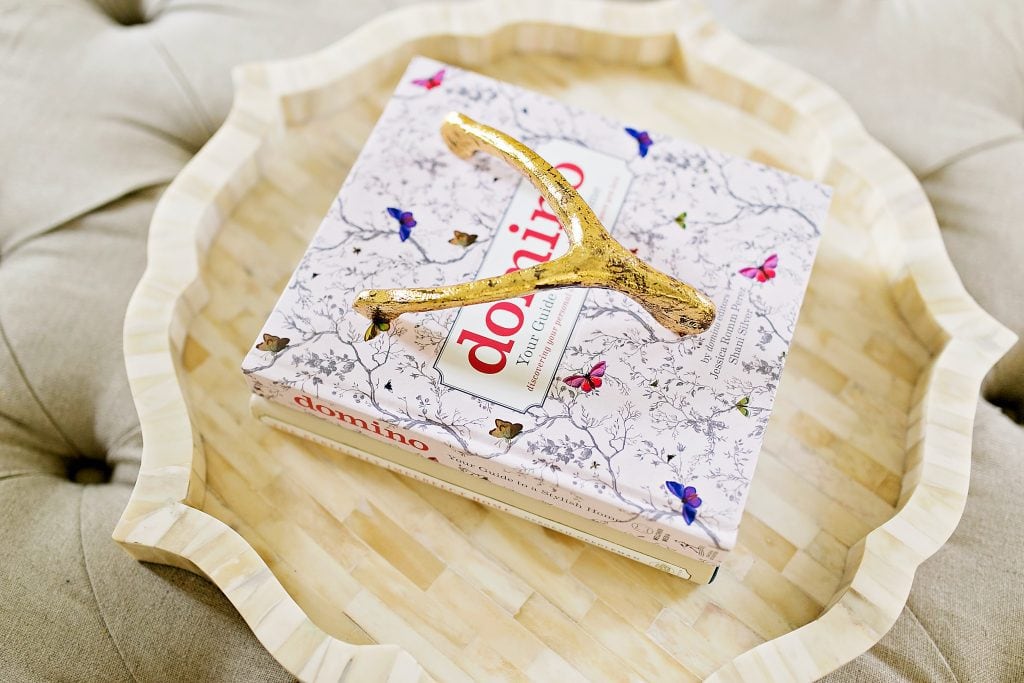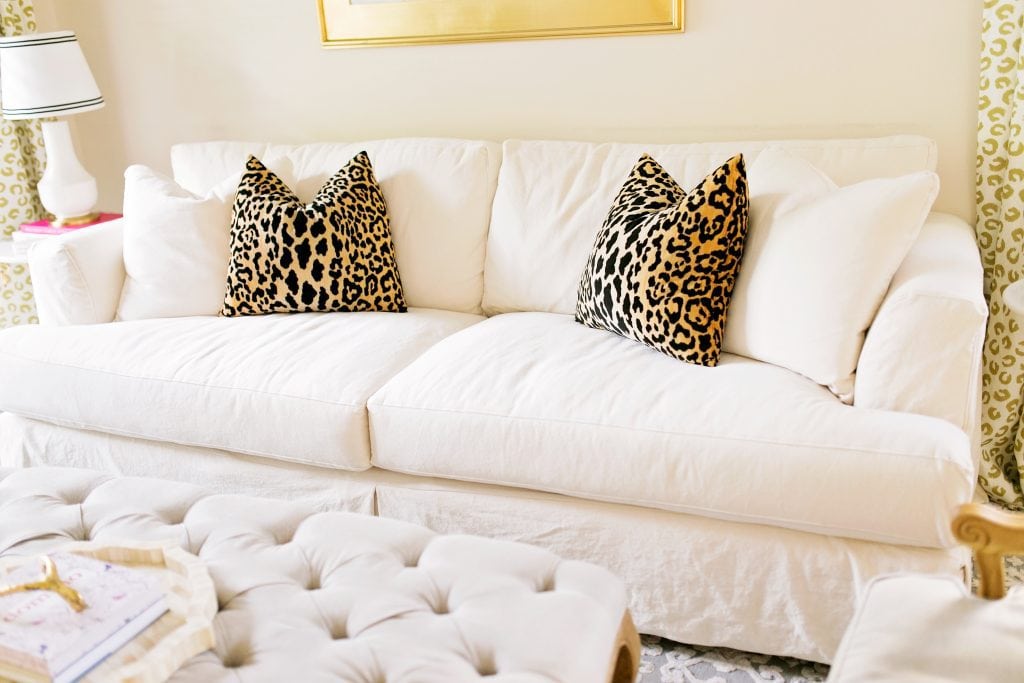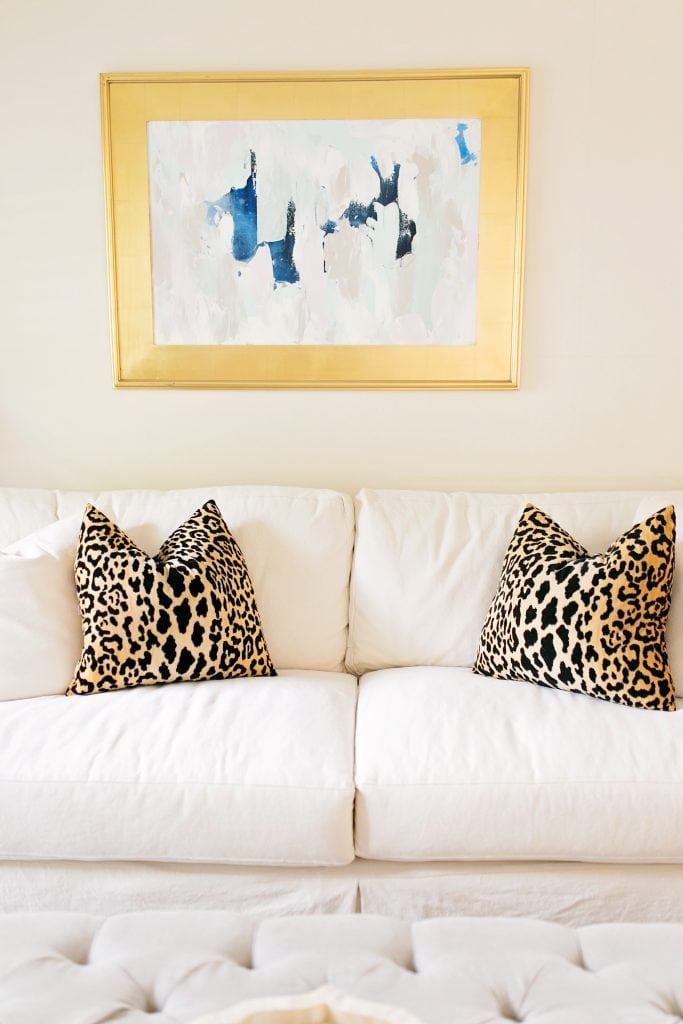 Sofa: Wayfair [bull natural] | Art: Jenn Thatcher Art [c/o] | Ottoman: Kathy Kuo Home | Pillows: Little Design Co. | Wishbone: Homegoods | Tray: Similar | Chair: Kathy Kuo Home [c/o] | Curtains: Minted [c/o]
---
Happy Friday! If you follow along on my Snapchat you may have seen we switched up our couch/coffee table set up a few weeks ago. Paul is very relaxed about home decor and by relaxed I mean he has no opinion at all about it! But he did have an opinion on coffee tables with kids. A strong one! He had hurt himself when he was little on his coffee table and knocked two of his front teeth out….so by the time I was 15 weeks pregnant he started talking ottomans! I had no idea how many there were to choose from. Square. Rectangle. Tufted. Storage ottomans. etc. I kept striking out when shopping online, so I hoped he would just ignore the fact I hadn't ordered one. But then when we came home from the hospital with Maxi, I got all Paranoid Patty and ordered one that week. I just decided to go with one that blended with the furniture we had. This one by Kathy Kuo Home matched my chair as it was from the same collection, so I loved the cohesive look. It's also so comfortable. I've never had an ottoman before so I can't believe what we were missing out on! haha. Now I just think, "Why ever have a coffee table?! I was nuts!" We also wanted to get a pull-out couch to help make it easier for guests in our home. I love how relaxed our living room looks and hope you love the look as well.
Here's a few links for your weekend reading:
I'm all for chic home decor hacks from Ikea. But this week I found wedding hacks with Ikea! Where was this when I was planning a wedding?! I loved the chandelier idea! One of my sweet readers, Emma, got engaged this week! I'm so so happy for her and wanted to include a little wedding inspo in this week's Friday Frills for her! For all you brides-t0-be take a look and let me know if there are any hacks you may try.
2. Highs & Lows
Growing up my dad made us share our highs & lows at the dinner table each night. I hated doing it as a kid because I always had the same highs and the same lows. High: Dance Class, Low: School. But with Paul's work schedule, I love to do highs and lows before bed because some nights we just see each other for 15 minutes or so. It's a great way to stay connected, quickly! I thought I'd share mine this from this week, feel free to share yours in the comments!
High: Yesterday, I got to shoot with my friend Carmen at the most beautiful location. We were lucky enough to photograph a campaign at her friend's home who lives on 65 acres with gorgeous horses! Their home is incredible. The home is made of old barn wood from New York pre-American Revolution. Everything was decorated immaculately and I could have just stayed looking at everything for hours. I can't imagine just waking up and looking at all of that land on the porch while you drink coffee. It was truly stunning! I'm such an interior design junkie that anytime I get the opportunity to be in an extremely unique home I think it is the most exciting thing!
Low: Lack of sleep! Everyone in our family has had an off schedule this week. Paul has been working so late and Maxi is going through a leap so her poor sleep schedule is all out of sorts. She had been sleeping all night the past few weeks and my milk supply adjusted to that. This week she started to get up 3 times a night to eat, so that affected my supply. It was a rough few days of pumping 24/7 combined with feeding on demand to increase [I also take supplements and eat all the lactation treats! lol]. I'm hoping everything gets back on track this weekend and we all get 6 hours of shut eye. 🙂
One of my favorite bloggers just posted a workout for her post-baby abs. Your abs go through so much growing a baby that hopping back into just any workout can be difficult. I'm going to try this workout this weekend because I like that it's made with recovery from birthing mind!
4.Fun Finds under Fifty
This week I shared a post on finds under $200. I wanted to take it a step further and round up some items I am eying that are under $50!

Thank you so much for all of your kind comments/e-mails/messages about my Mother's Day Gift Kit with TULA in this post. It meant so much to me to share in the excitement with y'all on the launch. I keep getting the updated numbers on how many we have left and I think we will sell out in a few days, so be sure to purchase this weekend if you have your eye on it! Use code: KATEYKIT20 for an extra 20% off the code or any TULA purchase. I have loved seeing all your snaps of your kits coming in!