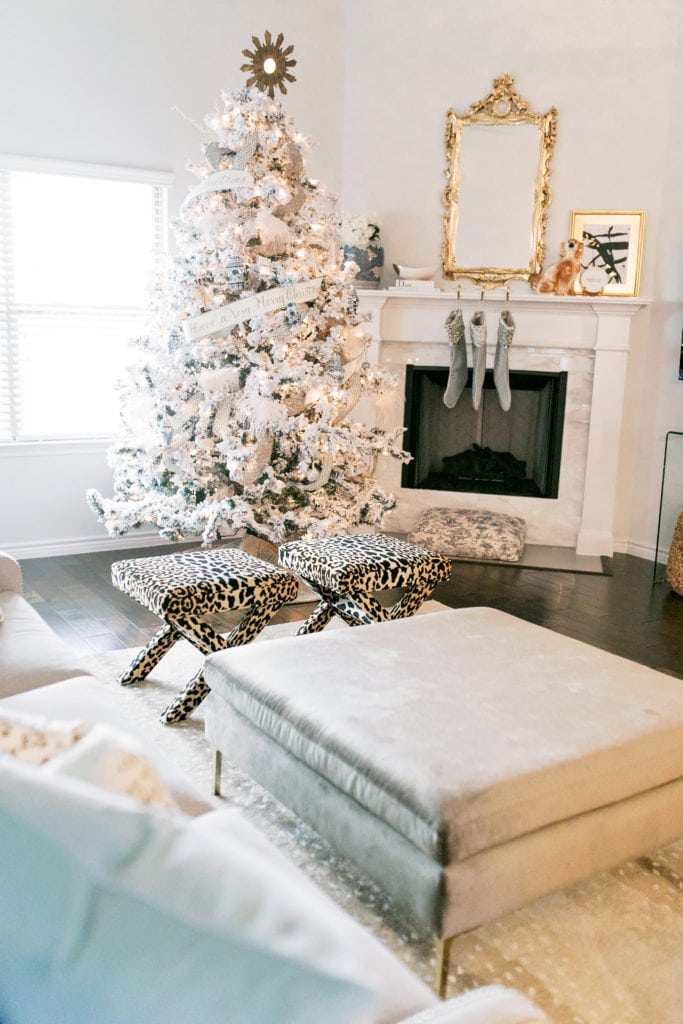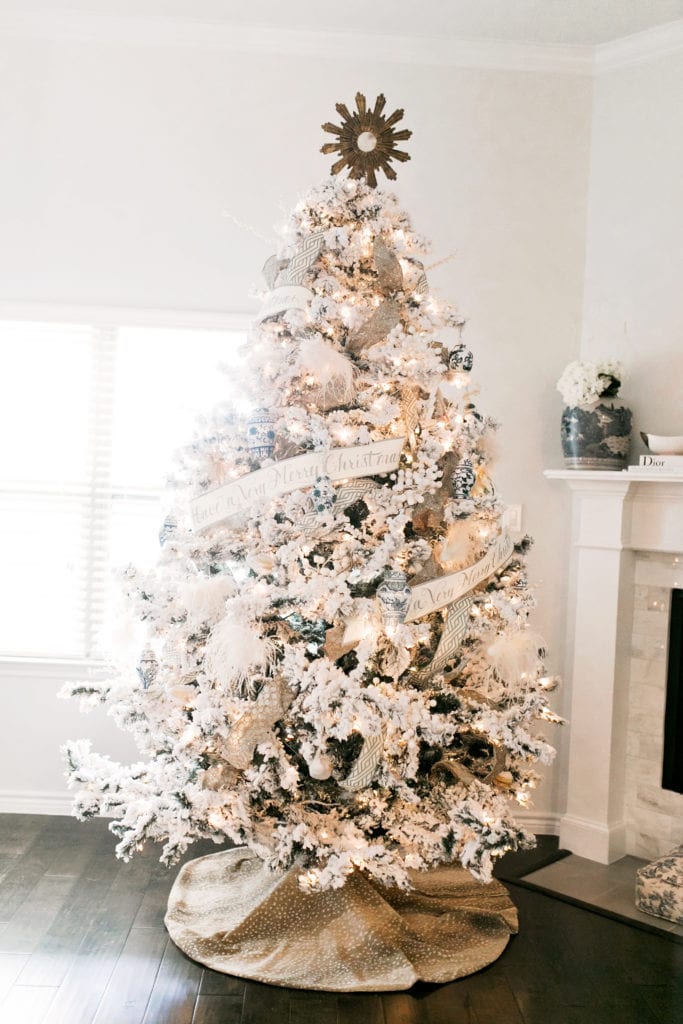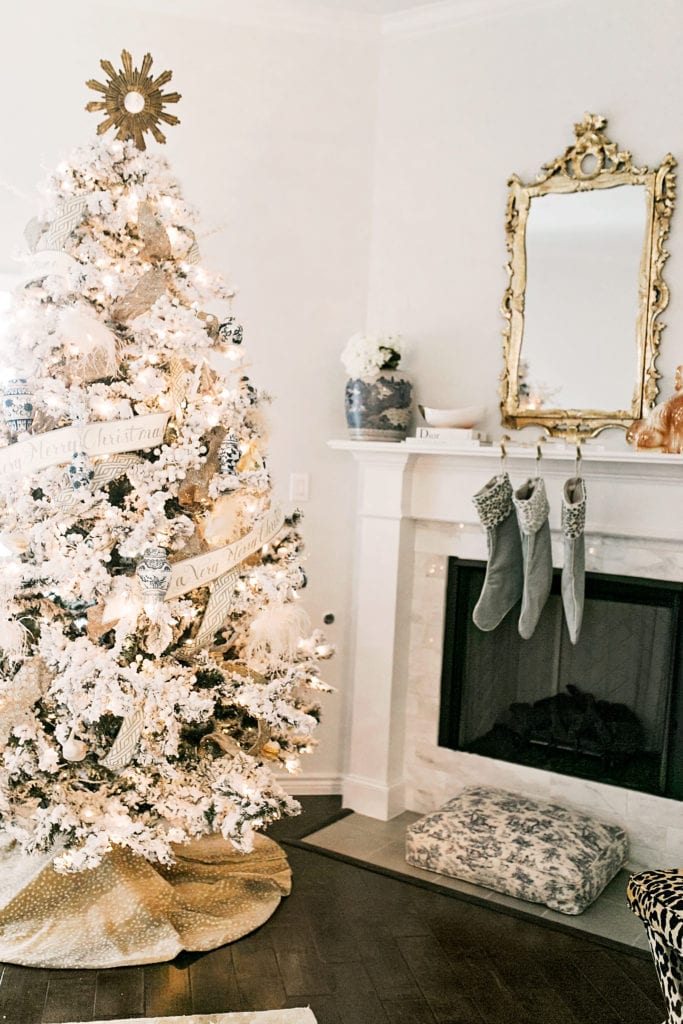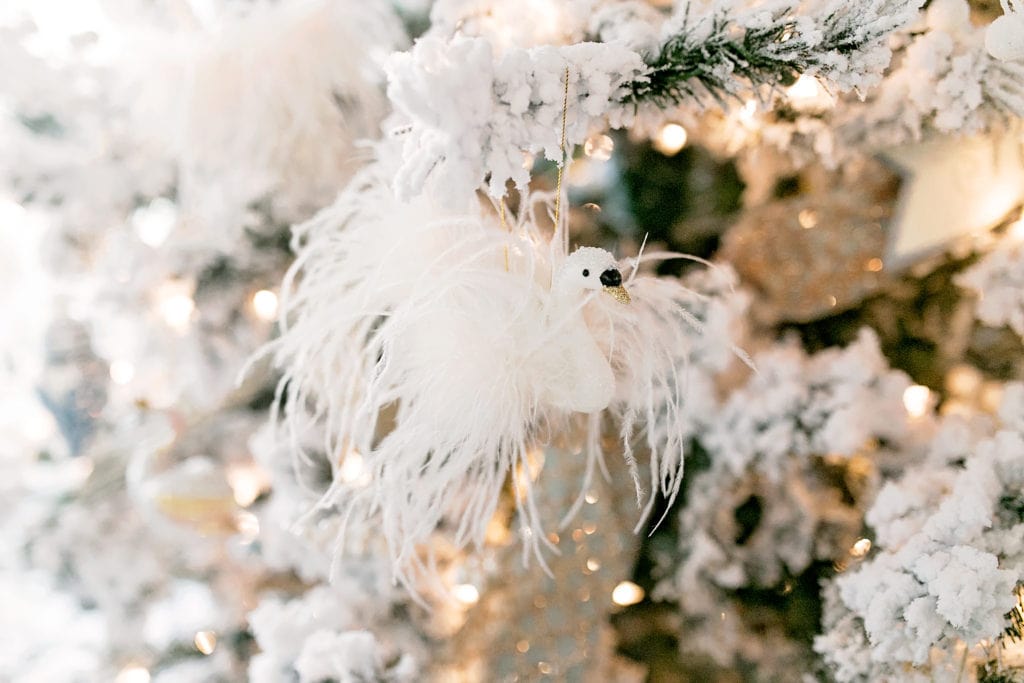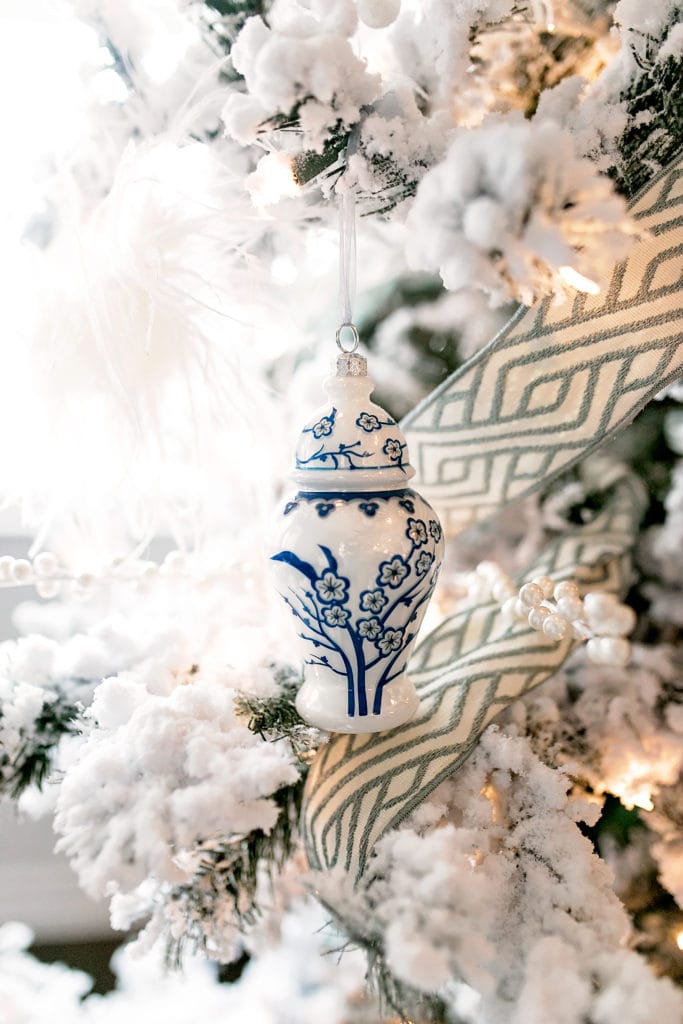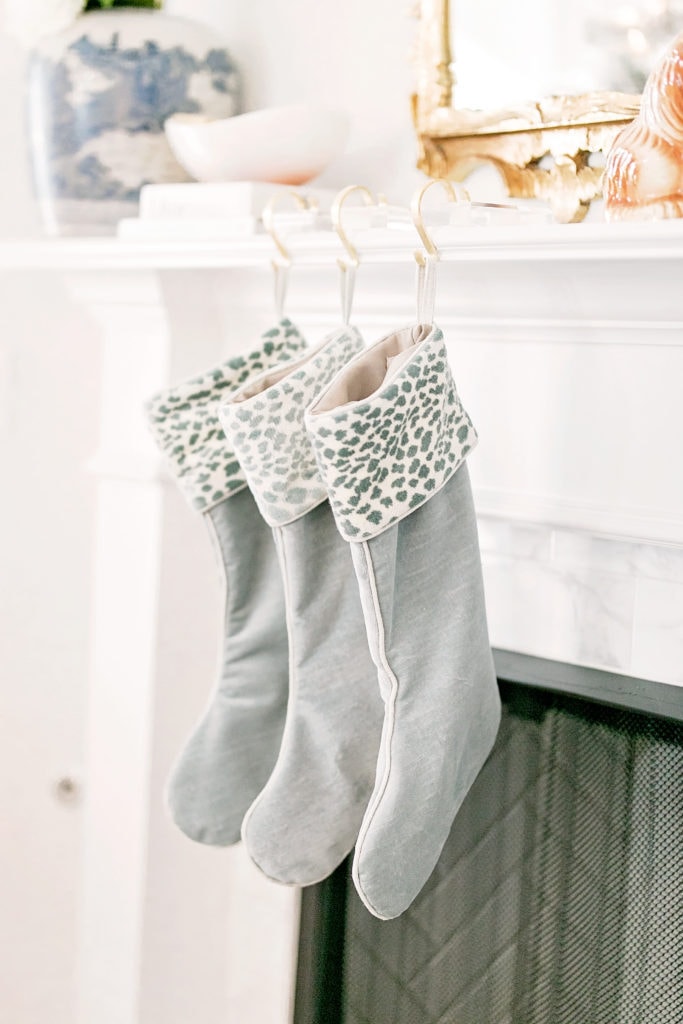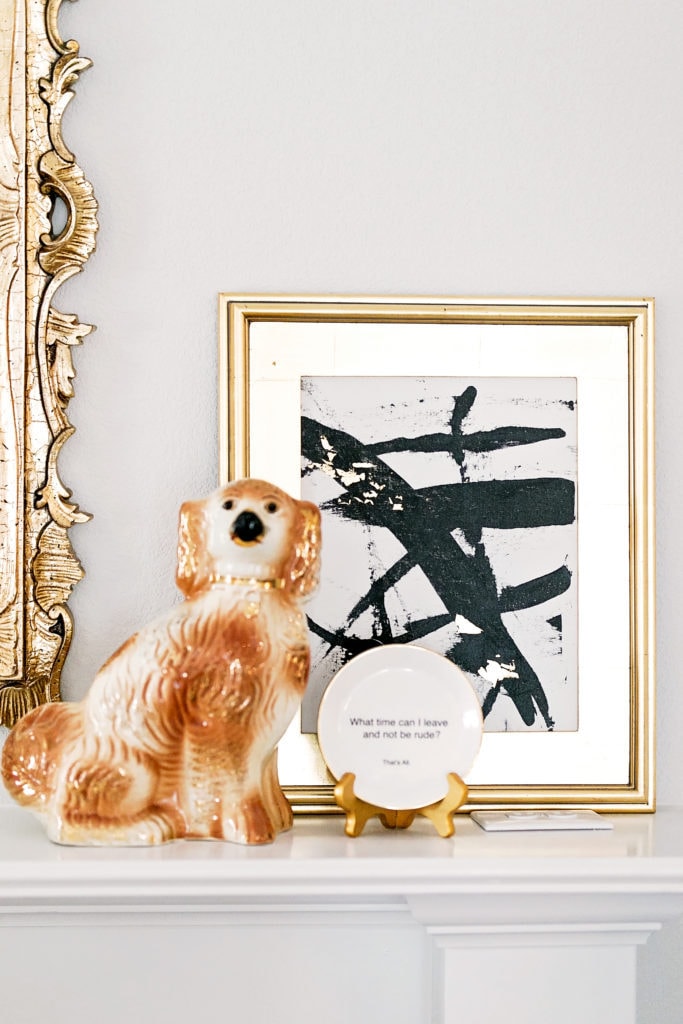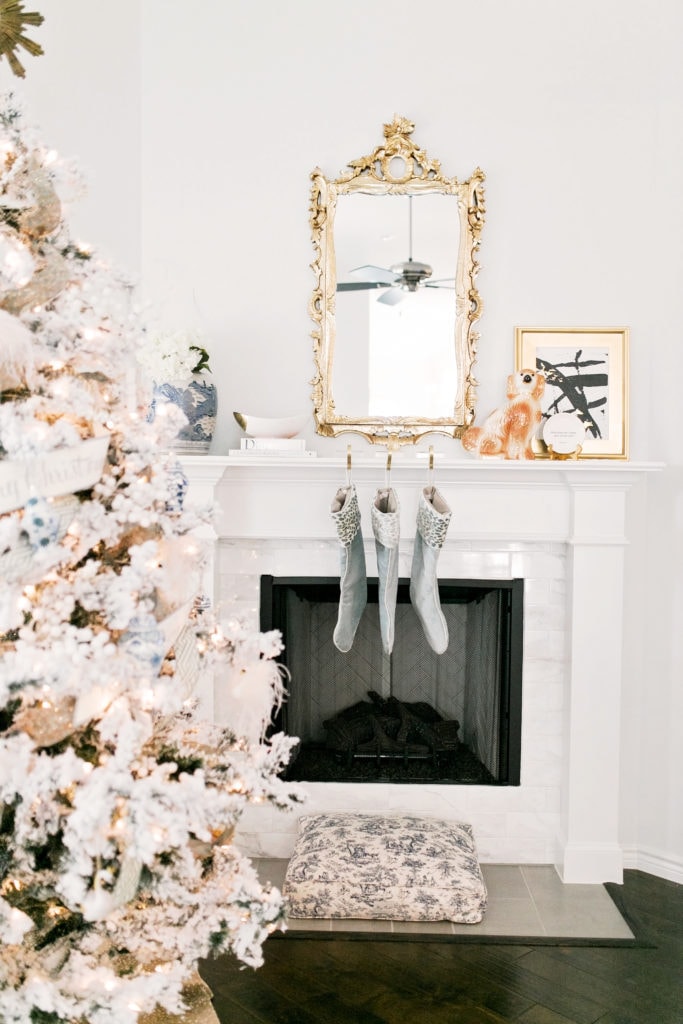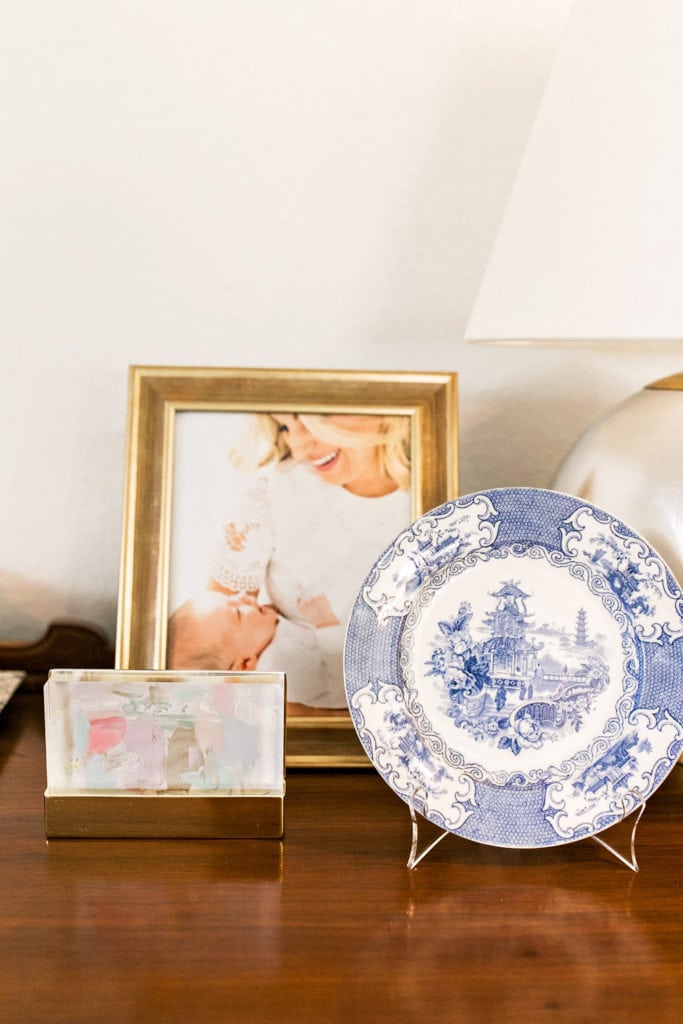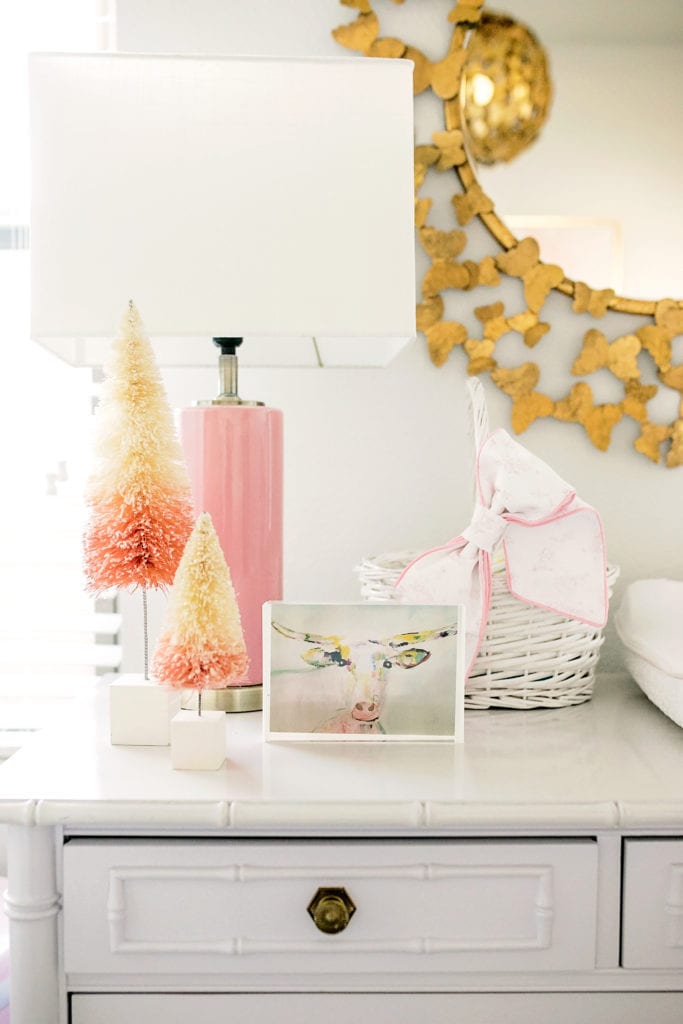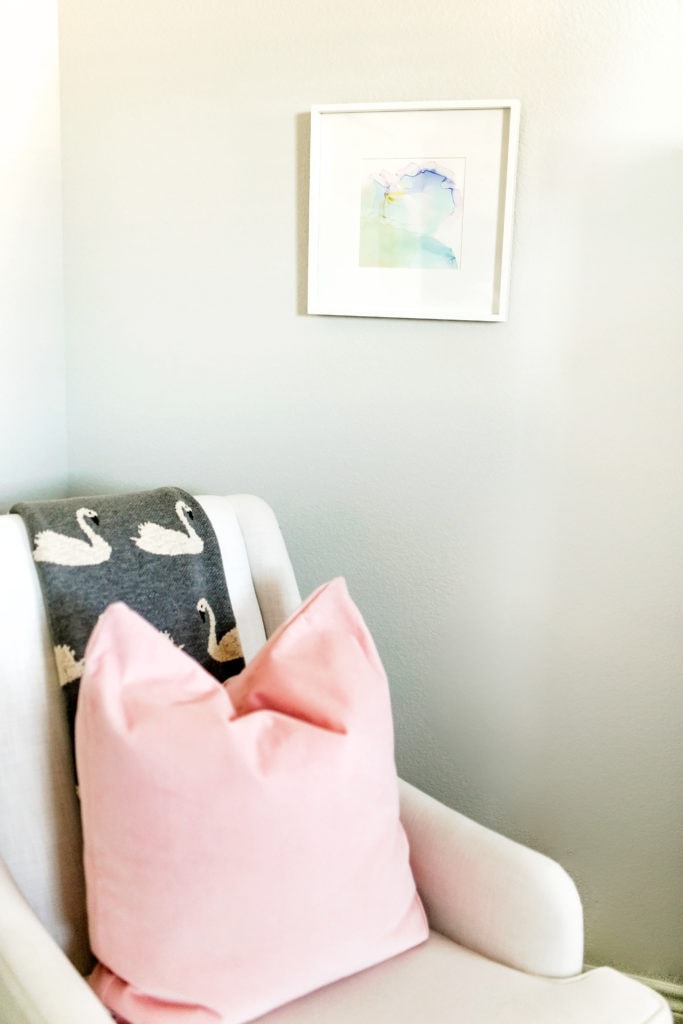 Tree: Wayfair [I didn't use the big bulbs on it] | Ottoman: Anthropologie [exact is no longer sold] | Rug: Ballard Designs | Mirror: Vintage | Art: Jenn Thatcher [c/o] | Stockings: One Kings Lane | Stocking Holders: Fig & Dove | Dog Bed: One Kings Lane [small] | Tree Topper: Ballard Designs | "Merry Christmas" Tree Ribbon: Pottery Barn | Glitter Tree Ribbon: Frontgate [sold out] | Pattern Tree Ribbon: Hobby Lobby | Feather Swan Ornaments: Anthropologie | Ginger Jar Ornaments: Frontgate | Other Ornaments: Collected Over The Years | Swan Blanket: Home Goods | Butterfly Mirror: Horchow | Pink Trees: Hobby Lobby | Pink Lamp: Hale House [old] | Dresser: The CEH | Tree Skirt: One Kings Lane [sold out]
[All other items are vintage or collected over the years!] Photography by: Angie Garcia
---
Happy Holidays, y'all! While our home isn't anywhere closet to being "ready" [hence, no drapes- ha!], I was chomping at the bit to share with you our Christmas tree! I've done white trees the past two years. One year I kept it simple and then another I had leopard bows. This year I kept envisioning blue and white! Thanks to my ginger jar obsession, I knew the direction I wanted to go in. We did upgrade trees due to our higher ceilings, so I enlisted the help of ribbon to allow the tree to appear more filled. I have no clue what I'm doing when it comes to wrapping a tree. This is definitely not professional, nor does it look like my mother's immaculate trees, but I had a lot of fun doing it! I've got a lot of learning to do, but with a baby a tree rarely stays perfect anyways. 😉 I didn't even really use a method, I just tied the ribbon on branches towards the base of the tree and tried to loop it towards the front.
Ribbon is seriously the easiest way to make your tree budget friendly! If you haven't collected ornaments for years or you don't want to spend the money, just run down to Hobby Lobby and get some wired ribbon! I also liked it because as you can see I kept ornaments from the bottom thanks to Maxi's little hands. I recommend two types of ribbon, grab one with some texture like the glitter one I used and then one solid or print to weave with that.
I also wanted to share a few little decor pieces we do have complete in our home. It's not much at all, but we are getting there! In fact, our bed was delivered yesterday. You probably notice a theme with all the Jenn Thatcher Art and she has acrylic block pieces [the one on my buffet table and the one on Maxi's dresser] that make fabulous Christmas gifts. I decided to make this blog post coincide with my holiday home decor gift guide and an exciting giveaway so keep reading!


one | two | three | four | five | six | seven | eight | nine
As I was making this graphic I couldn't help but think, "Well these are my favorite things in life!" Pillows, coffee mugs, candles all make a girl happy! From $15 to $135, you can definitely find a gift on budget for that tricky person on your list. If you're spending Christmas Eve with your boyfriend's family definitely take a look at number five. I do typically purchase the larger size for our home, however the small size is lovely for gifting and doesn't feel like a "sample" size by any means. The coffee mug is great for your Secret Santa at work that is under $20 and those agate coasters belong in your girliest girlfriend's apartment!
Giveaway
---
Congratulations to Emily Alsbrooks for winning the $200 gift card to Nordstrom! Please e-mail me to set up delivery! Want to win a Jenn Thatcher Acrylic Longhorn block? Head to my instagram later today!
Do you love gifts for the home?! What are some of your favorites?