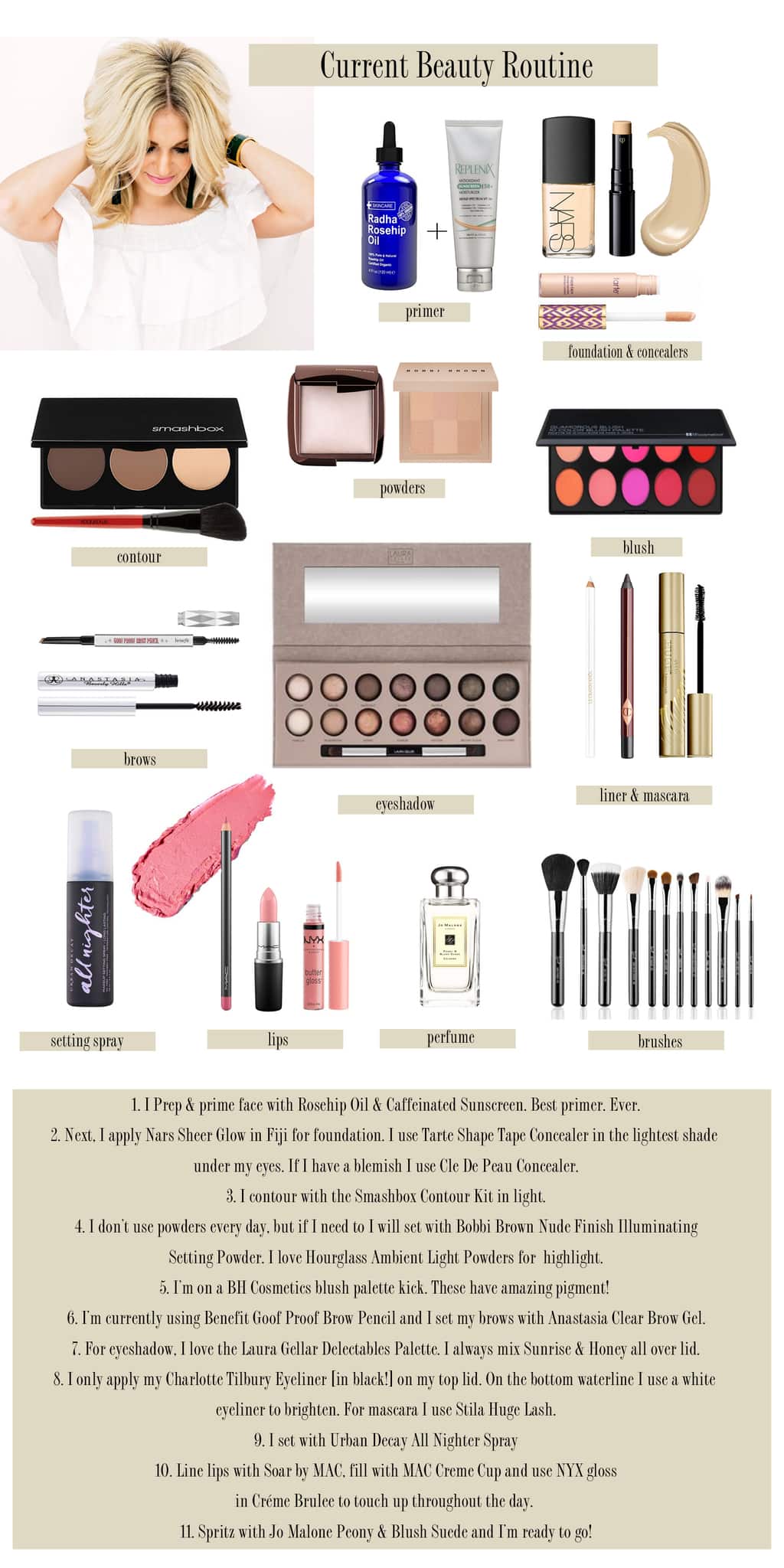 Rosehip Oil | Sunscreen [tightens skin, protects from sun and helps remove sun damage] | Foundation | Tarte Shape Tape | Cle De Peau Concealer | Contour | Powder [shade: nude] | Highlight [shade: etherial light] | Blush | Brow Pencil [shade: light] | Brow Gel | Eyeshadow | Black Liner | White Liner | Mascara | Setting Spray | Lipliner [shade: soar] | Lipstick [shade: creme cup] | Gloss | Perfume | Brushes
---
Happy Wednesday! Today I'm trying something new sharing a tutorial via a graphic on my blog. I thought this may be easy because you can simply save the photo to your phone and then zoom in to read it when you do your makeup for each step. 🙂
I've talked about most of these products on the blog already or through social media, but haven't updated my summer beauty routine in a full post. Now, this isn't my full routine each and every day. Most days I skip powder and will only use the Hourglass or Sigma highlight depending on my mood. I also only use setting spray for long days or when I'm shooting.
I cleared out SO many beauty products before our move because I knew I'd need to live with less these next few months. And even though we have a climate-controlled storage unit I just felt weird about leaving creams to sit there over the summer. All. The. Humidity. #NoThankYou. Now my lipstick collection is still OUT OF CONTROL, but in terms of face products this is pretty much it! Everything is in one makeup bag if you can believe it and I'm quite proud of myself. 😉
Are any of these products in your current routine?!