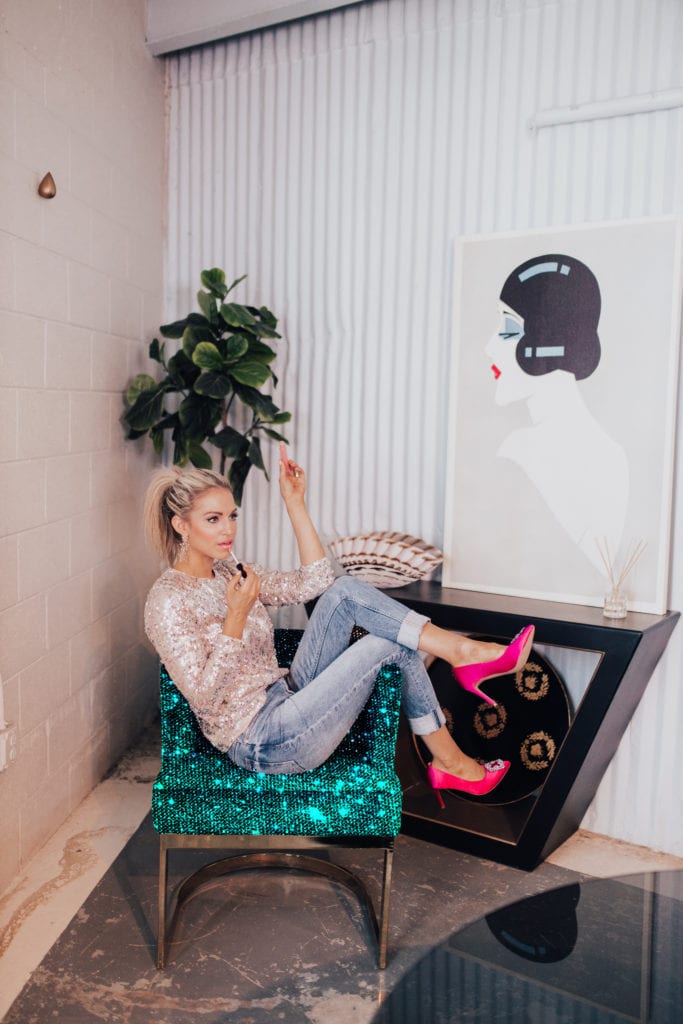 The Sephora Summer Insider Event Sale is currently running from now until the27th. Sephora does their sales a little different each time in terms of dates, but essentially if you are a Rouge Member you get 20% off and VIB members get 15% off. Just use the code SUMMERSAVE at checkout. I'm sharing my top selects for you to window shop or browse! A lot of these items have been reviewed for years on the blog and those items will have a heart next to them on the graphic, in case you want to scroll down and immediately see the post. Others are on my wishlist at the recommendation of other beauty bloggers or Youtubers. Let's get to it!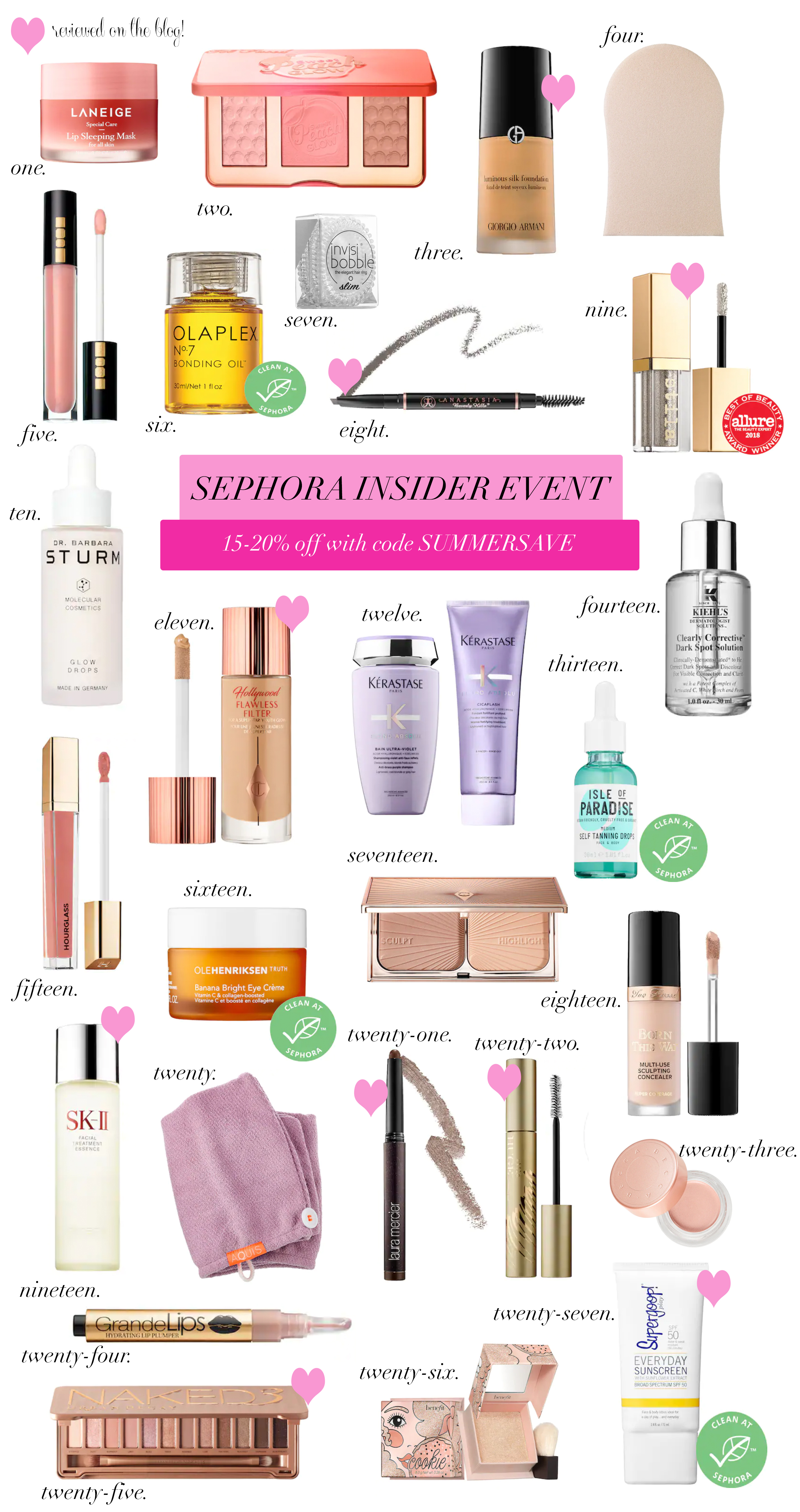 1. Lip Sleeping Mask: I use this every single night before bed and leave it in my nightstand. It's a beauty-industry favorite and everyone knows about "the mask." Now beware, I've seen a lot of posts circling about the internet where people try to buy this on Amazon and it's not the same ingredient list. With that being said, I always buy this on sale at Sephora. It is the FASTEST working lip product I've ever tried for cracked or peeling lips- which will come in handy this fall and winter.
2. Sweet Peach Glow Peach-Infused Highlighting Palette: This is a product I found through a few other bloggers, and after watching their tutorials via IG Stories- I screenshotted this on my phone to remember. Essentially, I've seen girls just swirl all the colors together for a gorgeous blush that gives you a touch of warmth, for those days you don't want to spend time doing contour and highlight. One girl said she uses this as a blush when she doesn't self-tan her face but wants to have a glow. She just swirls her brush in all three and applies like you would any other blush. I have been so intrigued by it, it's in my cart.
3. Luminous Silk Foundation: This is a foundation I've worn for years and always know it will work no matter the season or what my skin is going through. You can read my review here. I'm shade 3.5 for comparison. I love this foundation because it's medium coverage that gives a soft glow for a finish. I apply with a damp beauty blender and it blends so easily- I never worry about a line when I wear this.
4. Tan Applicator Mitt: I try to buy 2 or 3 of these during the Sephora sale. I always forget to replace my tan mitt and I realize it has so much to do with how your tanner will apply and streak. If I'm tanning each week, I like to replace every 2 months.
5. Dare to Bare Lip Gloss: This is the lip gloss I'm wearing in the photo above with the sequin top! I didn't link it when I first posted this photo to IG because I couldn't find it on my ltk app, but y'all, I've never had so many DMs about a lip gloss, so I was thrilled when I could find it back online! This is a non-sticky gloss that also feels very moisturizing. I bought it in NYC with my sister because I forgot I wanted something for my dry lips from travel and this was recommended. I have the shade "Dare to Bare" and it's a really pretty nude with a peach undertone. It's not too opaque, so if you like a more natural gloss, you'll like this.
6. No. 7 Bonding Oil: The top thing I buy EACH Sephora Sale is Olaplex. I use the #3 for my hair masks, the #6 for a styling cream, and the shampoo and conditioner. If you use bleach on your hair in any capacity, you want to try Olaplex. This post shares it a bit more. It's basically the product that celebrities use to dye their hair from brunette to blonde for different roles and not have all the breakage.
7. SLIM the elegant hair ring: If I don't use these hair ties, I get the WORST headache. Once you try these you won't want to try others. They also don't put any crease in your hair, so you can go from ponytail to down and straight without heat.
8. Brow Definer: Here's an older tutorial on how I do my brows! I was pregnant with Maxi in these photos and feel like I can so tell in the swollen department. ha! But essentially, Anastasia Brow Products are the ones I repurchase time and time again. I go back and forth between the Brow Definer and the Pencil, but I feel the Brow Definer lasts me longer because the pencil can break on me every now and again. I get the shade "Blonde."
9. Glitter & Glow Liquid Eye Shadow: You can see my swatches of these glitter shadows in this post. I'm typically not one for a glitter shadow, but I have repurchased these many times because I adore them so much! I'll take the shade "Diamond Dust" and just dab it in the corner of my eye with my regular eyeshadow routine if I'm transitioning my look from day to night. But sometimes I even wear "Diamond Dust" just during the day- it's so pretty, I'm like, "It's fine! Let's wear glitter on a Tuesday!" haha.
10. Glow Drops: Dr. Barbara Sturm is THE queen of serums. If you follow any big skincare bloggers or beauty industry experts, they all adore these serums. I love to follow Vogue Beauty Editors to watch their morning skin routines and they all use these glow drops! They are so, SO pricy, but I've had the Calming Serum before and it lasts about 8 months. I may try the Glow Serum since it's been on my list for a good year or so.
11. Hollywood Flawless Filter: I'm not necessarily one for multi-purpose makeup products. You may have noticed this by now, but I am not tempted to grab sticks that can be used for blush, lipstick, and eyeshadow. It's not that the sentiment isn't appealing, or the ease. But I always am disappointed with the texture applied for one thing. Say something is a blush stick, I find it to melt into my lid too quickly and the pigment is gone long before lunchtime. Basically, I'm too picky. But THIS product changes the game when it comes to multi-purpose makeup products. This is a multi-purpose Instagram Filter for your face, I kid you not. It can act as a primer, a light foundation, a highlight, and more. I'm shade 02 and like to apply this mixed with my TULA Primer on days I am not going to wear foundation. Or I'll use this on top of my cheeks for a highlight in the summer. You can read my review here.
12. Blond Absolu Anti-Brass Purple Shampoo: Have you tried the new Kérastase purple shampoo and conditioner? I've been using it for about 4 or 5 months and it changes everything you struggle with in purple shampoo. I find that you either can't find a powerful purple shampoo, or you find one that is powerful and it damages your hair and looks SO try or violet. This duo doesn't do that! The shampoo banishes brass and the conditioner works to heal any damage from bleach on blonde hair.
13. Self Tanning Drops: These self-tanning drops can hardly stay in stock! I have them in the shade medium and they work SO well. I typically use my Clarins drops on days that I'm not self-tanning and just want a glow, but if I have self-tanned and need my face to match these do the trick! You just mix a drop or two in with your moisturizer and apply on your face. They also don't smell like typical self-tanner which is so nice.
14. Clearly Corrective™ Dark Spot Solution: This another item that has been "on my radar" for a few months! I always love to test products that even skin tone, especially when blemishes leave pink marks. The reviews on this are unreal!
15. Unreal™ High Shine Volumizing Lip Gloss: Shade "Child": My mom uses this gloss in the shade "Child" and I always borrow it out of her makeup bag! I'm tempted by that shade and also "Provoke" which is a cool-toned nude. This gives your lips long-lasting volume.
16. Banana Bright Eye Crème: Another blogger-recommended product to me, that sounds amazing. I have never been overly loyal to an eye cream, but this one has always intrigued me. It is inspired by banana brightening powder- which I love! But it was formulated to work well with your concealer so you don't crease. I'm going to order and try it out in the mornings. 
17. Filmstar Bronze & Glow Contour Duo: This is my contour and highlight kit and I've hit pan, so I need to repurchase. If you are more fair like me, I really think you'll love this! The color is cool-toned enough to not add too much bronze to your face, but it isn't so cool that you end up with a "muddy" line- if you know what I mean. I've had extremely cool-toned contours do that and it doesn't work! This is what I'm wearing in the photo above and I think you can get a good picture of my contour there. It blends like a dream!
18. Born This Way Super Coverage Multi-Use Sculpting Concealer: Whatever concealer Emily Maynard says to buy, I typically do. She got me hooked on Clé de Peau concealer 7 years ago and I've never looked back. She says to buy this, so I'll do as I'm told. My friend Bekah also uses this and loved it so much that during her New Year's Eve party she made us all come in her bathroom to put it on us because she swore it's the best!
19. SK-II: SK-II is another COF favorite and you can see my review with my before and after in this blog post. I always recommend purchasing this during the Sephora sale since it is more expensive, but it will last you quite a long time! Once you try this essence, you will be blown away with the appearance of pore size and texture. You apply with your hands after your toner and "press" into your skin.
20. Lisse Luxe Hair Turban: Once you start using these to dry your hair, you won't go back to a towel. I will center washing my hair around if my Lisse Luxe towel is clean or not. ha. This helps banish any frizz and allows your hair to dry smooth, soft, and with keeping your volume. I see a huge difference even in blow-drying if I use these vs. a towel.
21. Caviar Stick Eye Shadow: This is another product that I've blogged for 4 or 5 years and it's because they make eyeshadow so easy! If you never feel like you have time to blend or add shadow to your crease, try these! I love the shade Amethyst for green eyes. Just color it into your lid, press with your ring finger, and it will blend into the most beautiful shadow look that looks as if you had your makeup professionally done! I probably buy one of these sticks ever 10 months or so.
22. Huge Extreme Lash Mascara: My two favorite mascaras are this and L'Oreal Lash Paradise! If you layer both, you'll look like you have lash extensions for days.
23. Under Eye Brightening Corrector: This is another product that has been on my list for at least a year, but each time I go in Sephora it is sold out! It acts as an under eye brightening corrector, but I use my TULA Balm for that. I have seen girls wear their TULA Balm and then use this corrector as a concealer and the results are absolutely beautiful. They'll do that with tinted moisturizer and it allows them to have zero eye circles and avoid concealer on certain days. Have you tried this?!
24. GrandeLIPS Hydrating Lip Plumper Gloss: My girlfriend has this gloss in the shade "Cashmere Buff" and she always has the prettiest lip colors. I have never seen this shade in my Sephora store, so it's a perfect reason to order it online today.
25. Naked3 Palette: My makeup tutorial shows how to use this eyeshadow palette and it's one I adore. I actually asked a PR firm that reps them back in New York for confirmation this wouldn't be discontinued since the first Naked one was. haha.
26. Cookie Highlighter: Apparently this highlighter was a customer request after it was in a palette for this brand! Online reviews say it's powerful but doesn't highlight texture and that can always be such an issue with highlighters. I'm going to try it and will report back!
27. Everyday Sunscreen For Face & Body Broad Spectrum SPF 50: I'm a Supergoop! girl when it comes to sunscreen! I love the Everyday for daily wear and the City Serum for under makeup.
What's on your list for the Sephora sale?! Do tell! And remember to use code SUMMERSAVE while shopping online.