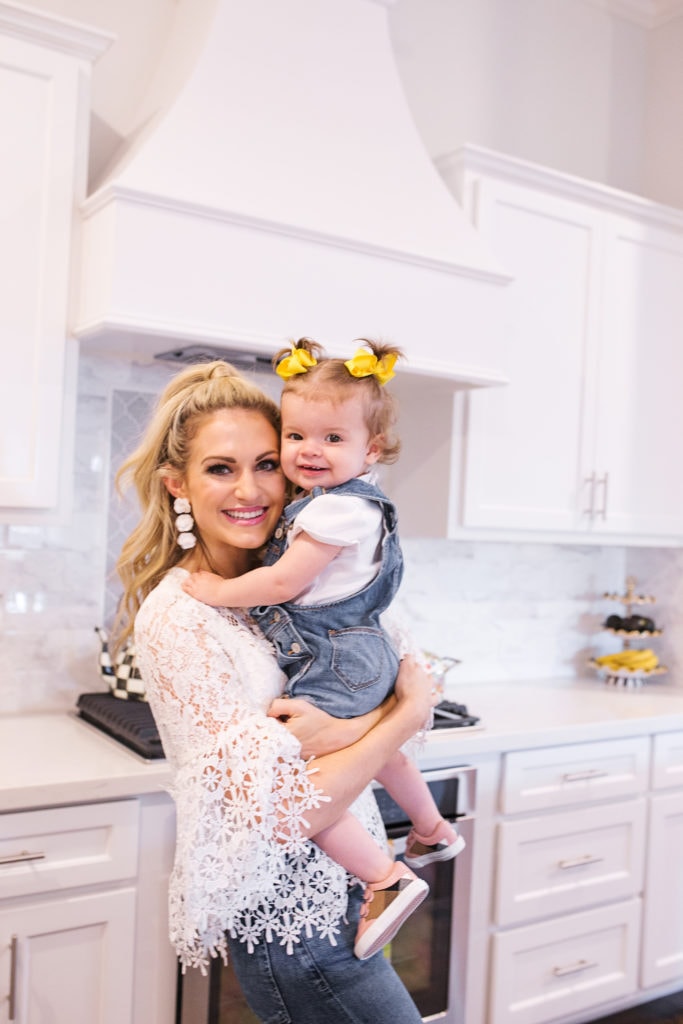 Top: Bloomingdales [wearing size S] | Tank: Nordstrom [I sized up] | Denim: Shopbop | Earrings: Old J.Crew, Similar | Lipstick: Snob Gloss, Soar Liner | Shoes: Sam Edelman | Suitcase: This Post | Maxi's Overalls: Baby Gap [in store]
Photography by: Angie Garcia
---
Lately, I'm on a "lifting" kick. I think that term gets a bad rap and people think if you want your skin to look lifted you are unhappy with the way you look and think you are aging. I think it's just a fun beauty trick to have in your bag.
From jade rolling to lifting serums, I'm all about it. I mean I'm so fascinated with all the tips and tricks, I'm doing another blog post on it soon. First and foremost, lifting helps you look awake. You can apply your eye makeup in a specific way that makes the eye look lifted and therefore brighter and more open. I don't know about y'all, but I'm perpetually tired and will take any help I can get. After all, we know we can't truly fix dark eye circles so we might as well get a little assistance?!
And yes, lifting looks more youthful. I, of course, am only in my twenties, but after a few nights of little sleep, I want to look well-rested and youthful.
One trick in the book is how you style your hair! By drawing attention to height in your hair, you can draw attention away from something else, like dark eye circles or even say a friendly little blemish on your chin. Tease your hair, do a ponytail with a ton of volume or if you're feeling sassy, try my half ponytail!
This is a look I recently started doing, I shared it on insta stories and I was blown away by how gorgeous you all looked with this style. I was getting pictures left and right all weekend from girls wearing this look. One girl was even on a news segment and did it and said she felt younger and so much more vibrant- I LOVE that!
Now I'll address the elephant in the room, not everyone will love this style. And that is 100% okay! How boring would it be if we all looked identical?! This is something fun you could even just try at home, you never know how you'll feel about it with your face structure. One of the biggest reasons I'm drawn to it is because it is a great way to avoid heat on your hair. When I sleep the bottom layer of my hair is fine, but the top layer is what needs to be touched up. If I just throw it up in this half ponytail I can avoid heat. It's also an amazing trick for hiding dirty hair because you are pulling the hair back over your part. It takes 2 minutes to style, so I did a very quick [and not professional!] video under my beauty highlights on my Insta Stories. In case you missed it, it is still saved there on the app so you can rewatch.
Have you tried this style from my insta stories?! Do y'all like the mini tutorials on insta stories?! I'm trying to do more, but if you prefer posts like these instead let me know. I'm not a Youtuber, so I'm trying to figure out what is most helpful for you all. 🙂
P.S. How sweet is Maxi helping me pack for my blog conference this weekend?! I am positive I'll find graham cracker crumbs in my bag and I'm more than fine with that. 😉