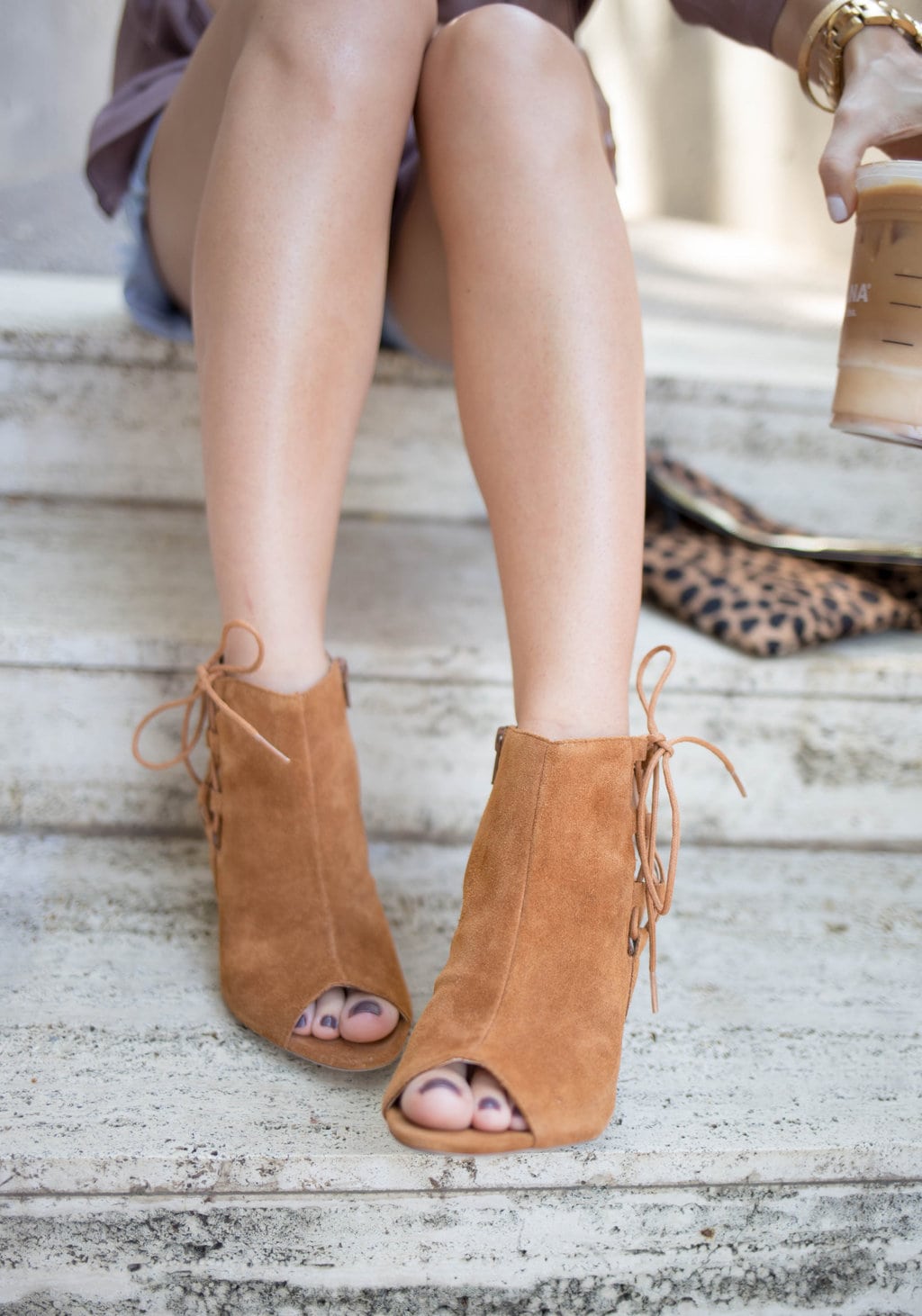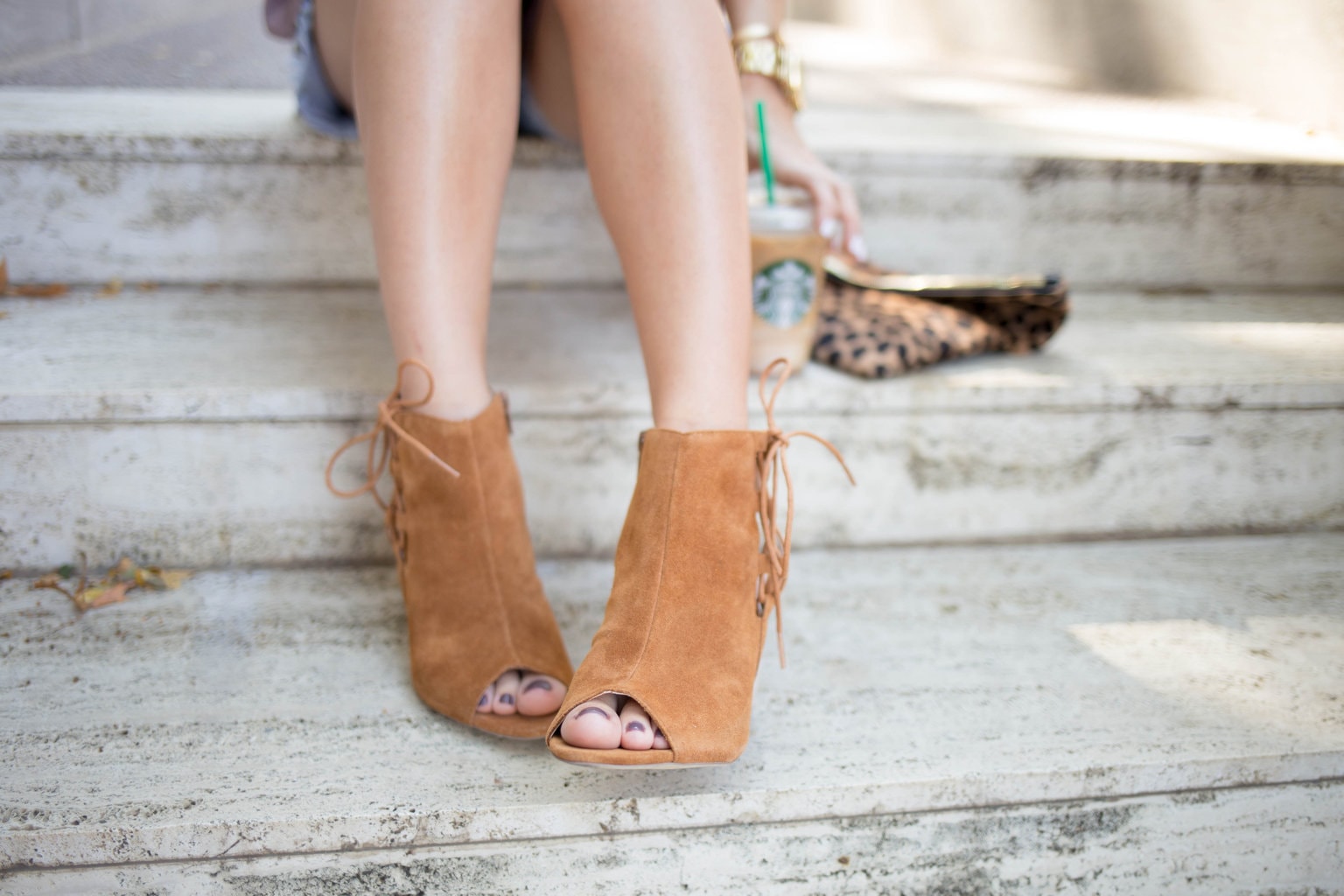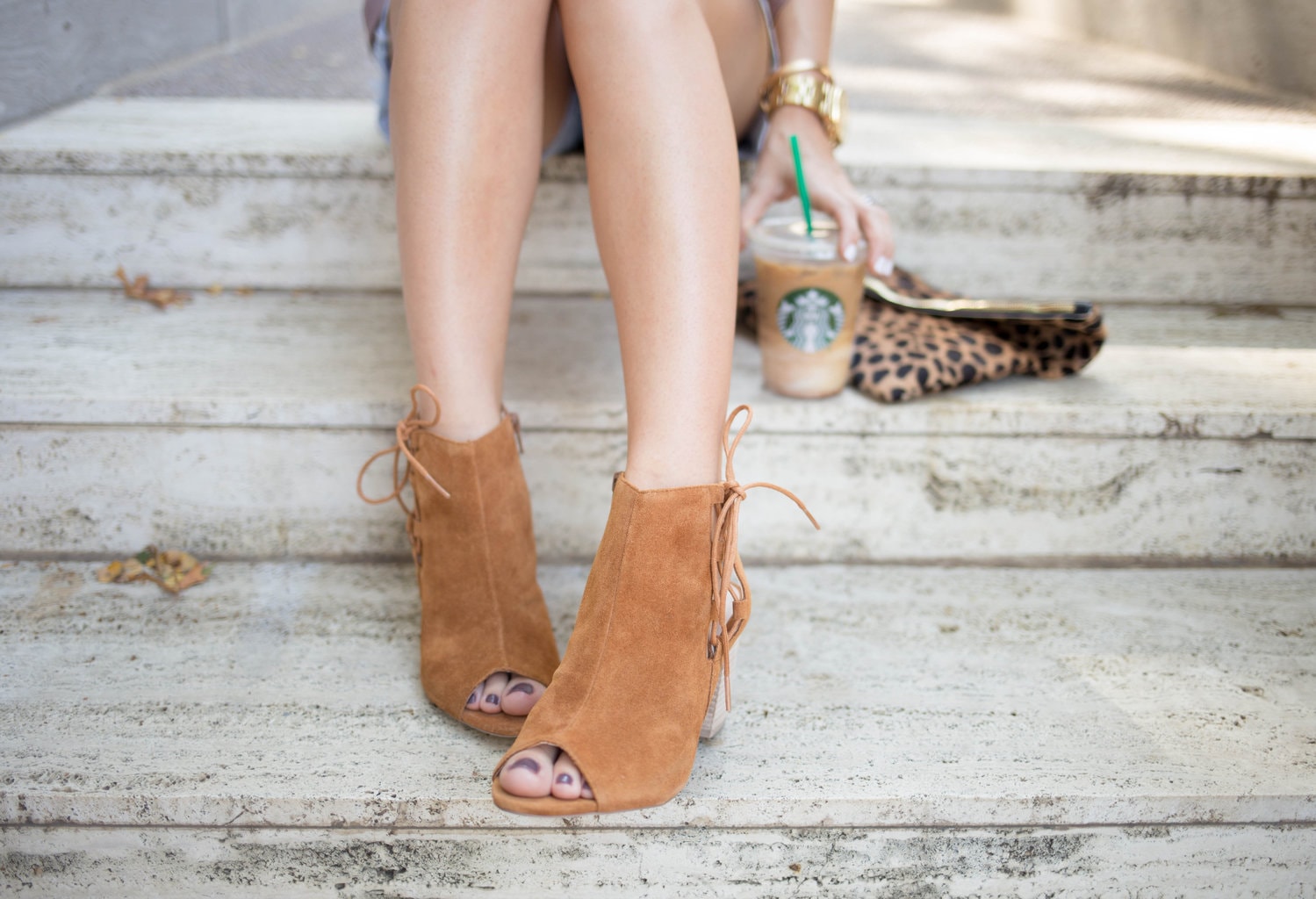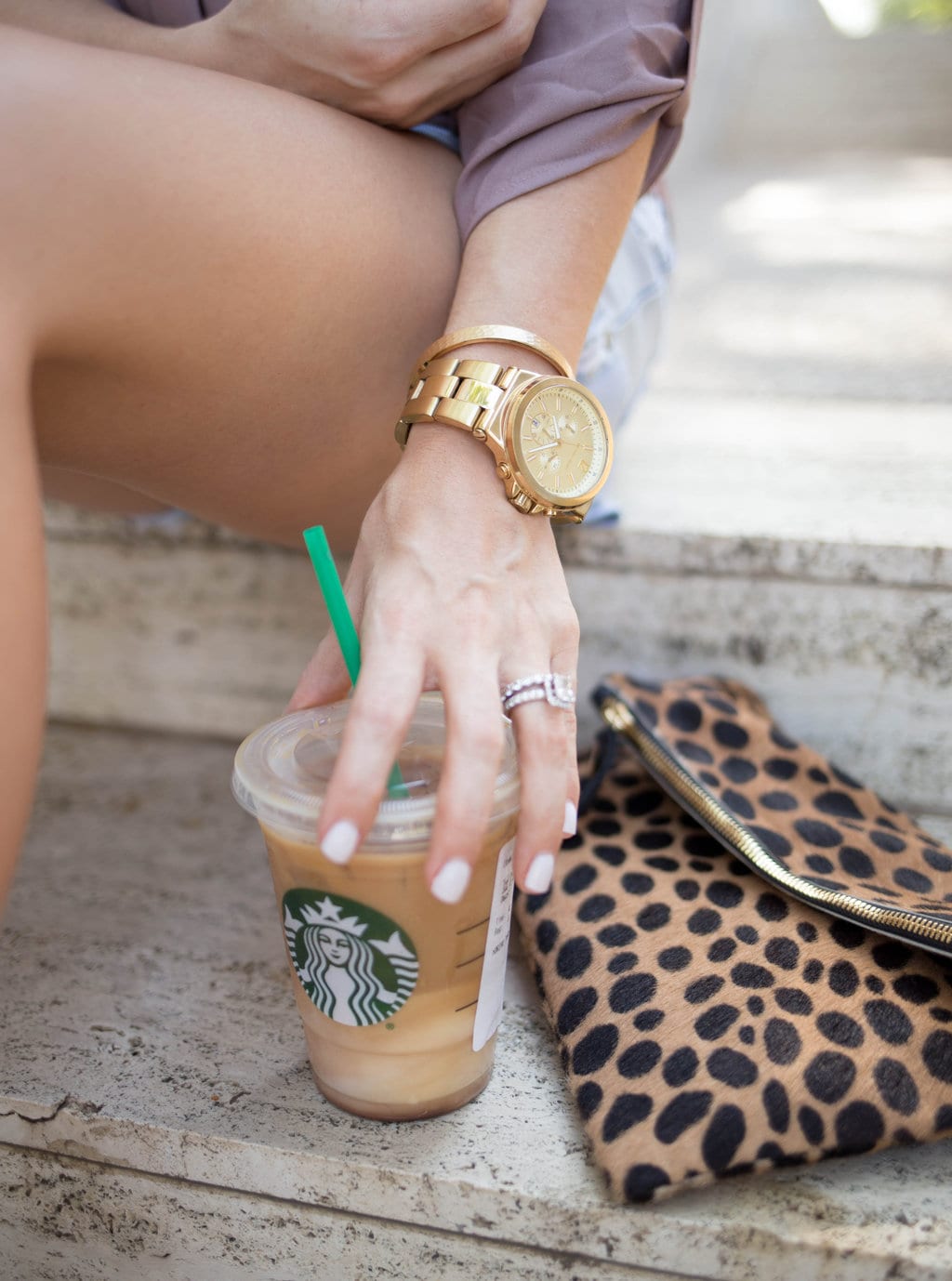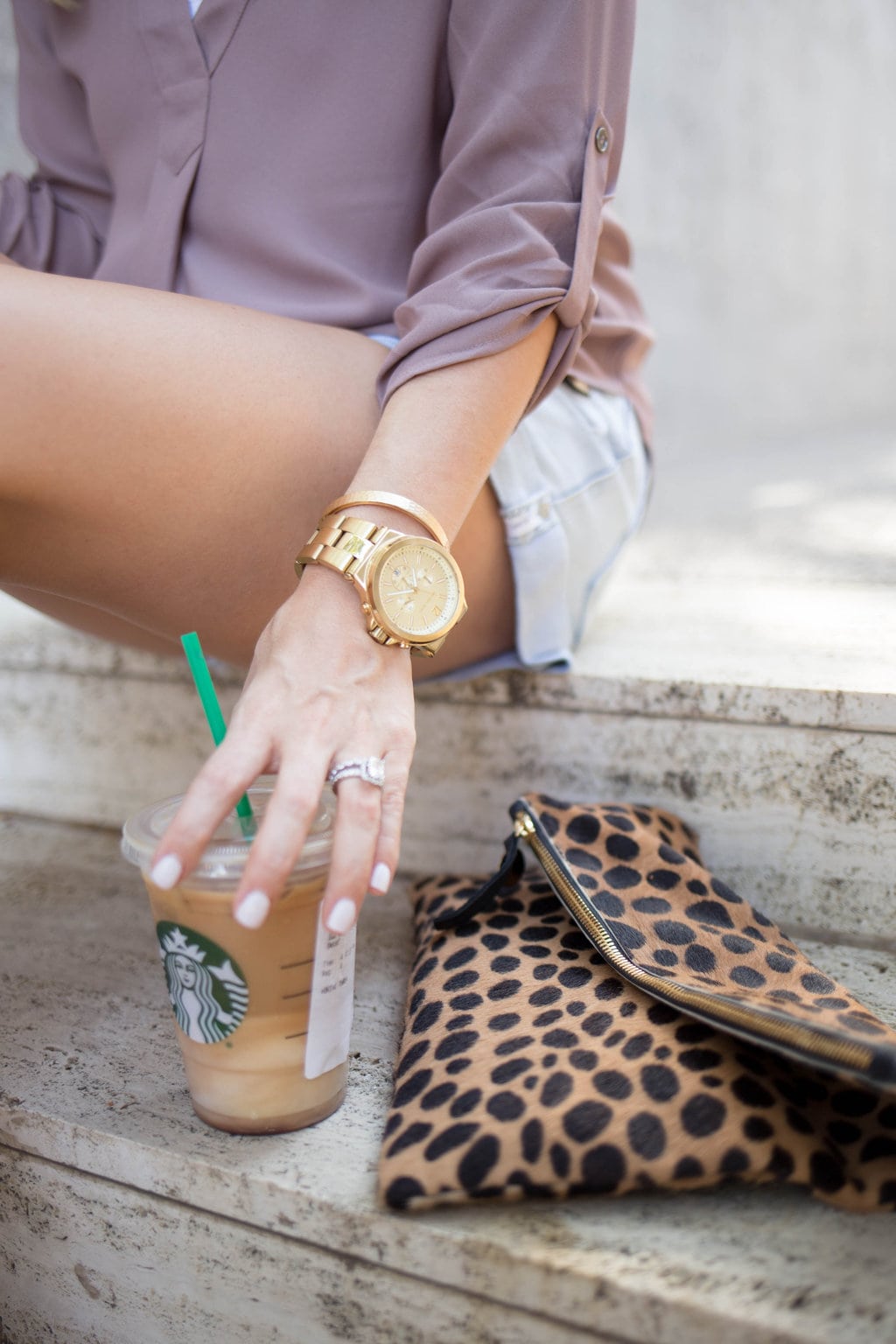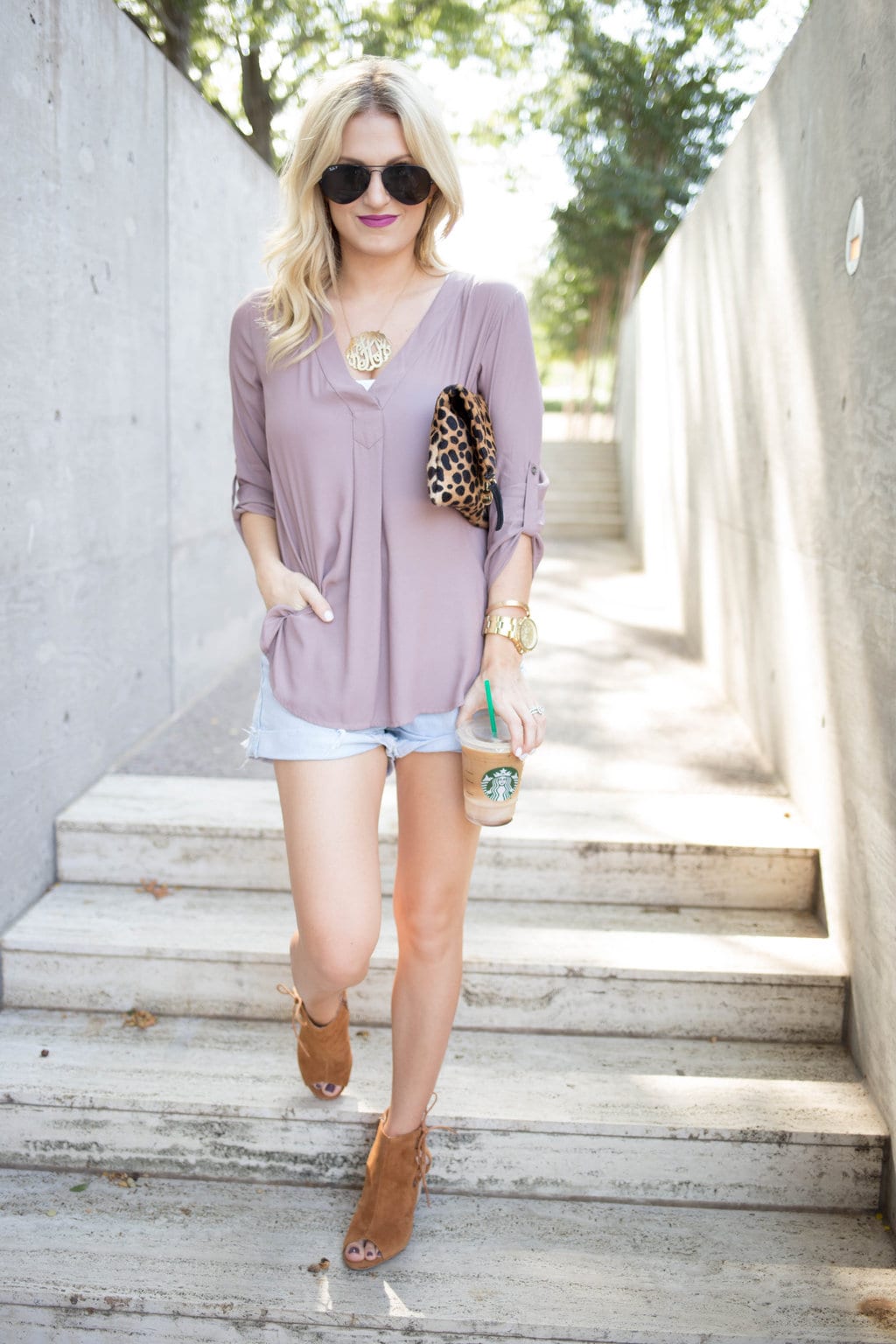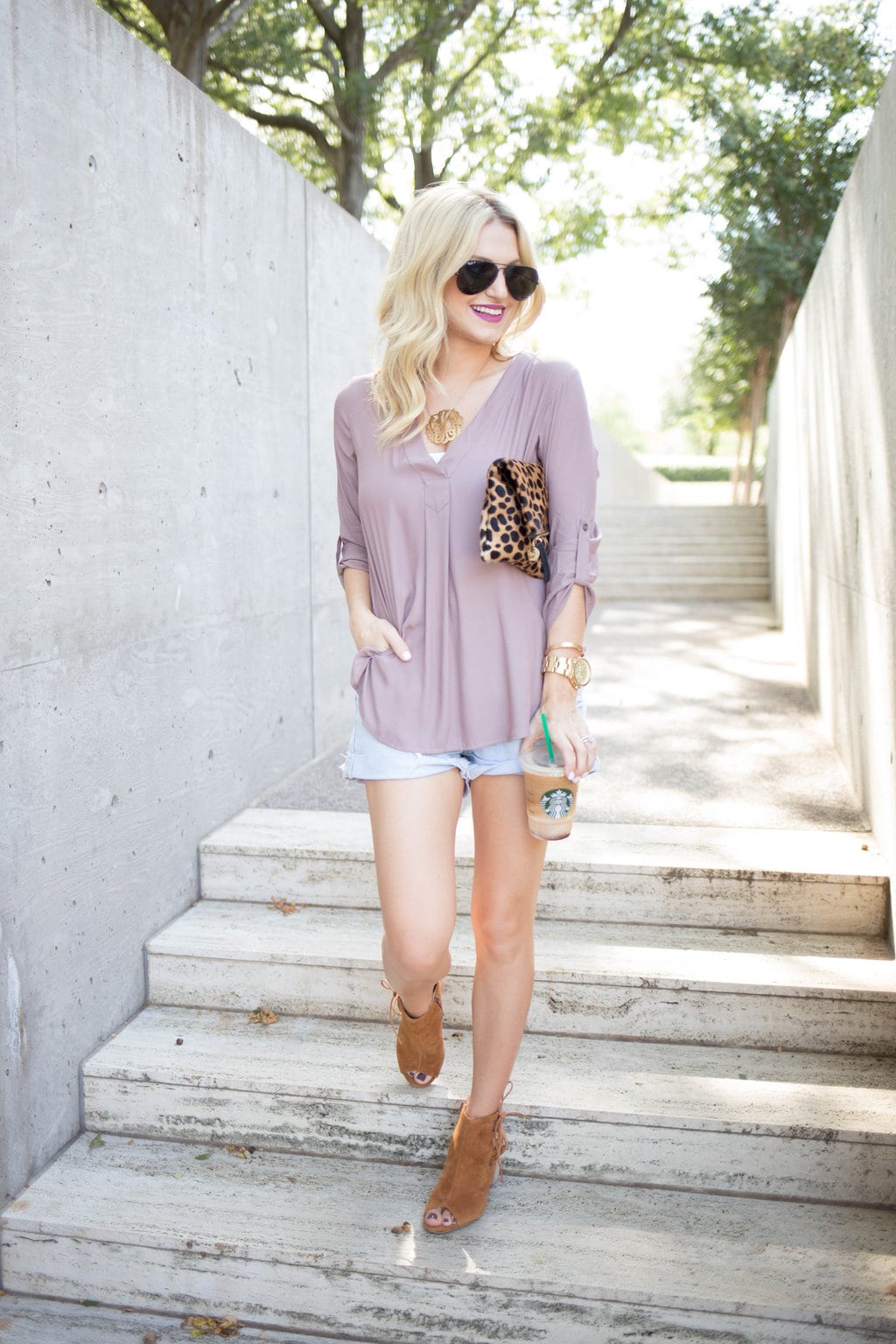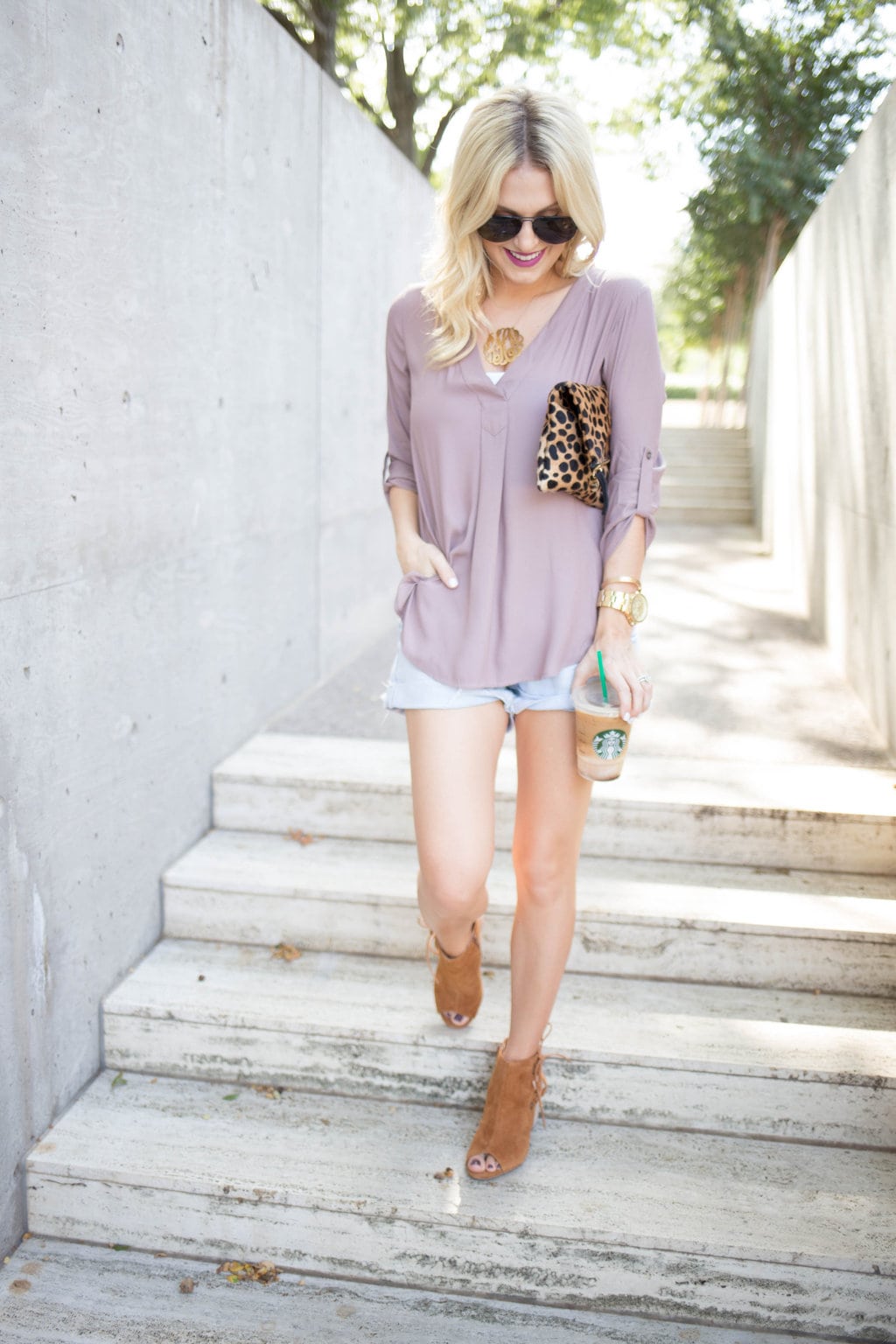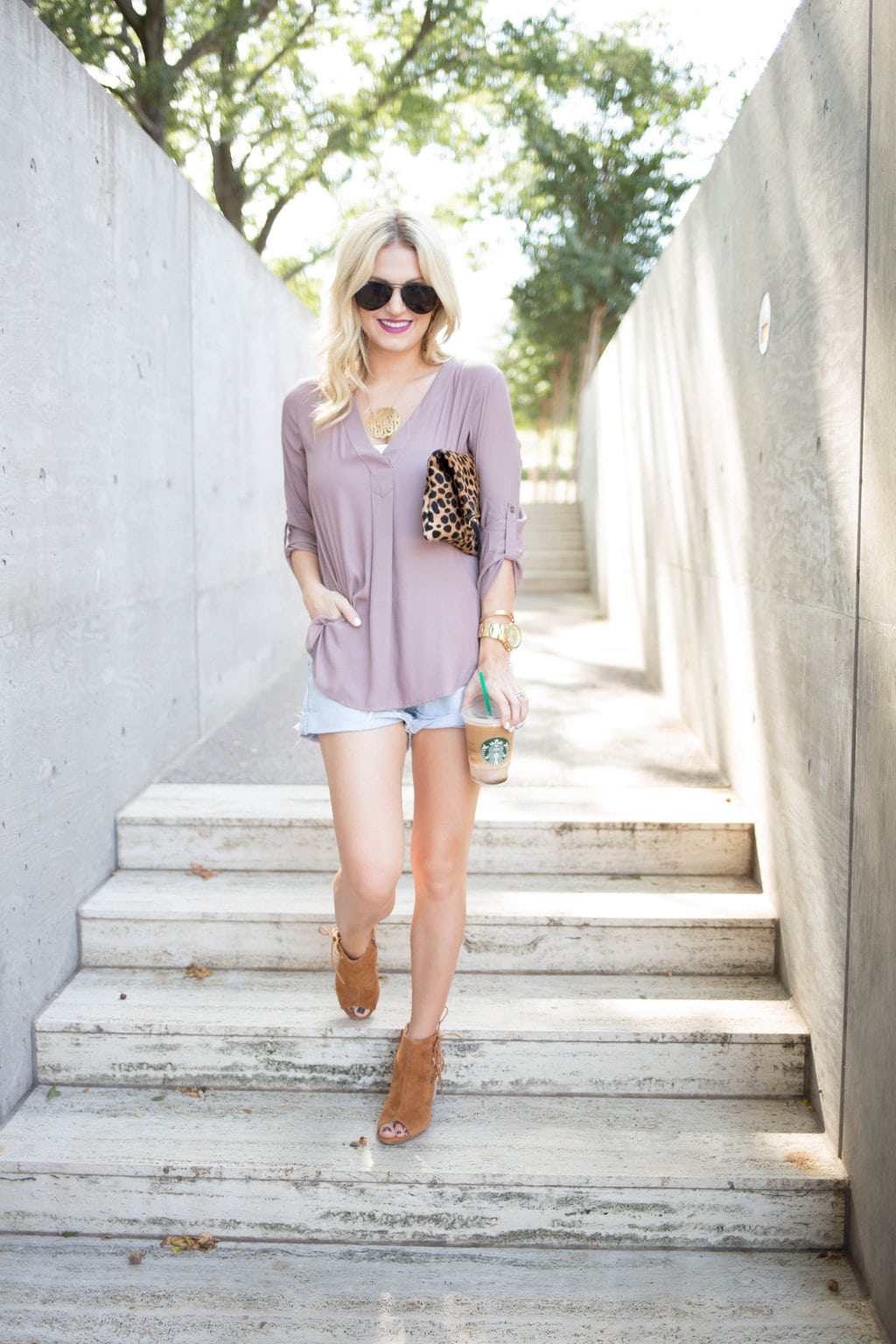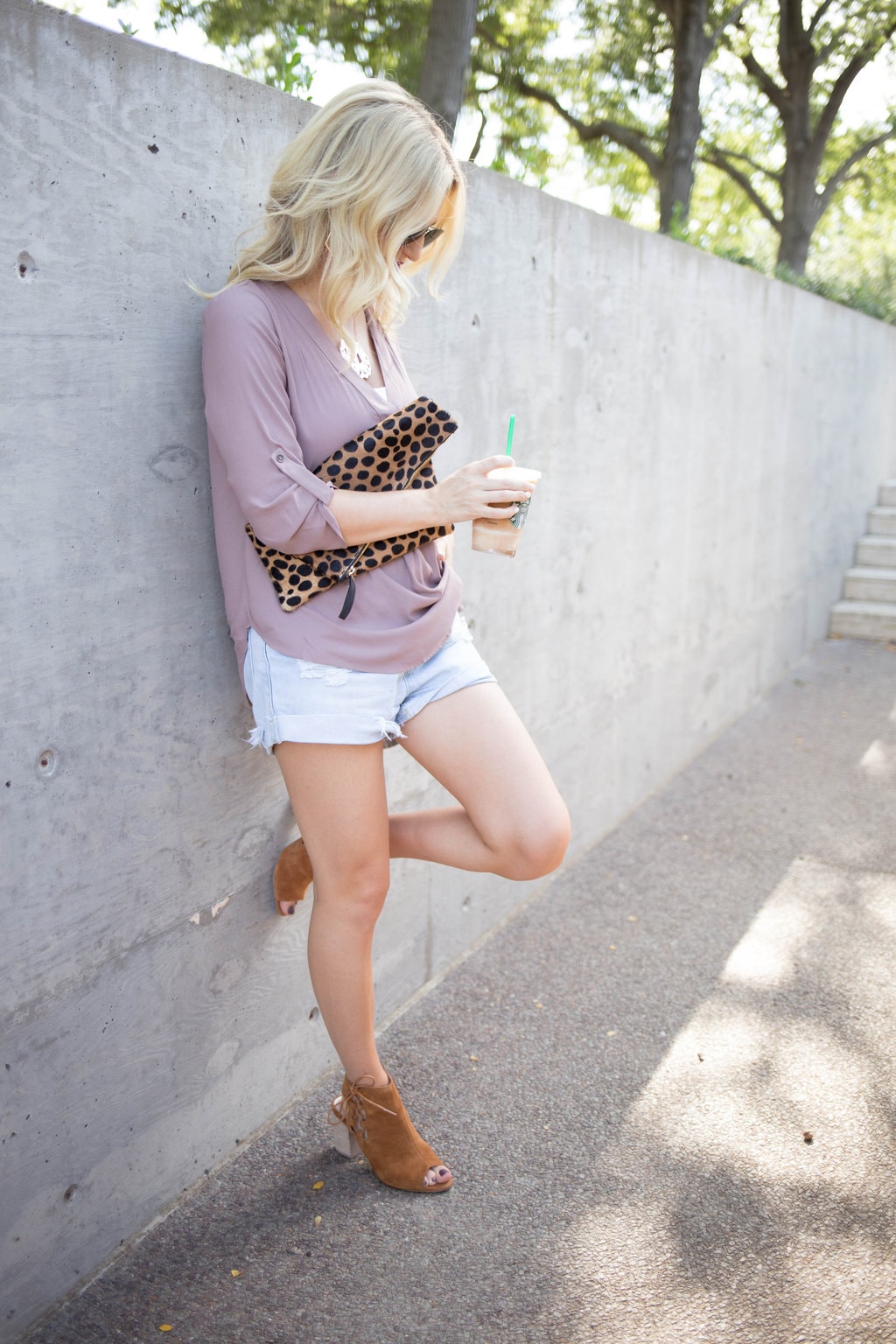 Top: Nordstrom | Shorts: Similar | Shoes: Sole Society [c/o] | Bracelet: Sole Society [c/o] | Bag: Clare V. | Necklace: Baulebar [c/o] Use Code KATEY20 at checkout for 20% off | Lipstick: Queen B | Watch: Michael Kors | Earrings: Gorjana [c/o] | Tank: Nordstrom | Toe Polish: OPI You Don't Know Jacques
Photography by: Madison Katlin
---
Happy Tuesday! I feel like I haven't done an outfit post in forever even though I did one last Thursday! 😉 I normally never have back-to-back beauty posts, so I'm quite impressed I got that together with the timing, but I'm excited to be sharing an outfit. And in honor of talking clothes, this top is a great deal at $42.
I'll be honest, sometimes I'm wary of silky, more affordable tops. I'm worried the fit might be off or it might snag easily. I purchased this Lush V-Neck Crepe Blouse back during the Nordstrom Anniversary Sale and the fit blew me away. It's really slimming and hides the bump for when I don't want people touching my stomach. Y'all, anyone and everyone is already touching the bump. It's not that I mind just yet, it's just always surprising. I'm like, "Oh, you're going for it, aren't you?!" haha! And then because my bump isn't really that noticeable yet, they don't really know where to touch or where it is, so sometimes they end up touching my rib cage. I have to awkwardly say, "That's actually my rib, baby is down here!" I'm not even lying and I wish I could say I was…
This top comes in so many colors and is perfect for the office if you pair it with a pencil skirt or pants, but I paired it with cut offs and these peep-toe booties from Sole Society which are perfect for transitional wear. Boots and booties can cut into a huge chunk of your fall wardrobe budget, so I loved that these are under $90. I personally found them to run a little big so I suggest going down a half-size if you are in between sizes or have a narrow heel. 🙂
In terms of jewelry, I kept it simple because I had a bold lip. My girlfriend, Laura, always wears really chic gold bangles that look so luxe! I'm always grabbing her wrist and saying, "Is that Cartier?!" She laughs and tells me how it was $12, but sometimes simple gold bangles can be so pretty! So I had to get this one from Sole Society, that was really affordable as well!
Over the weekend, we took it pretty slow. We've had a lot of home projects with our garage and backyard the past few weeks. Well, I should clarify and say Paul and my dad and my dad's friend have! But this weekend they were finished so Paul and I got to relax and I caved to my pop culture devices and read Andi Dorfman's book. I read it in an afternoon, so if you're looking for a way to unwind after a stressful week I say read it!
A few takeaways [because I'm going to be "that girl" today chatting about her book]:
1.People kept telling me it was so poorly written and I shouldn't read it.
Valid point. This isn't a lawyer writing a fiction novel. It's a girl writing a book about a breakup and spilling as many details as she can without getting sued by ABC. I could have done without all of her girly-girl chats about lipstick and designer brands, but I guess she was trying to be relatable? Not because I don't love chatting about lipstick [hello, www.chroniclesoffrivolity.com] but I just wanted to get to what happened! I have to keep in mind she had a publisher telling her what she had to include. Regardless, I've watched The Bachelor since it first came out, so I enjoyed it for what it was! It was trying to appeal to the masses and the masses like easy, afternoon reads so I understand why it was such a quick read.
2. Her side of the story is really believable.
I'm watching Bachelor in Paradise right now and Josh keeps saying this is a work of fiction and none of it is true. But as you read the book, I'm sure many of you, as well as I, can say, "Wait, my ex-boyfriend did the same thing! My ex-boyfriend said that exact phrase!" It's incredibly believable. Josh should just hang his head low and say, "Yeah, we didn't bring out the best in one another." And I think had he done that, her book would have been less believable, but maybe that's just the PR girl in me! haha. I'm always thinking of what people should have said. But with that being said, if you don't have a few hours to spare, you aren't missing any juicy details. He always thought she was flirting with other guys and he flipped out over any inconvenience to him.
3. Since I spent last weekend being "that girl" reading a tell-all book, this weekend I plan on reading The Woman in Cabin 10.
If The Bachelor isn't your thing [don't worry it wouldn't be mine had I not watched it with my mom growing up! haha] here is my next read. I've heard it's an incredibly good thriller that most girls have finished in 3 days, so I'm excited!
4. I need a library card
I ran in Barnes & Noble to pick up Andi's book, The Woman in Cabin 10 and a baby book on sleep. When I checked out and the lady said, "That will be $78." I almost thought she had confused me with someone else. $78?! That's the price of a purse. But coming from a girl that spent her undergrad taking journalism and mass media classes, I hate that no one reads paper books anymore so I handed her my card willingly and tried to ignore the numbers that just spewed from her mouth. So after I finish the books on my nightstand this girl might head over to the Fort Worth Public Library. Because as much as I want every single Barnes & Noble book store to stay in business, I also don't want to be spending $78 on books that take me 3 hours to read. haha!
I hope you enjoyed today's ramble on $42 blouses, peep-toe booties and books you're probably cringing that I read! 😉 What books are on your nightstand, I'd love to know!

In partnership with Sole Society. All opinions are my own!