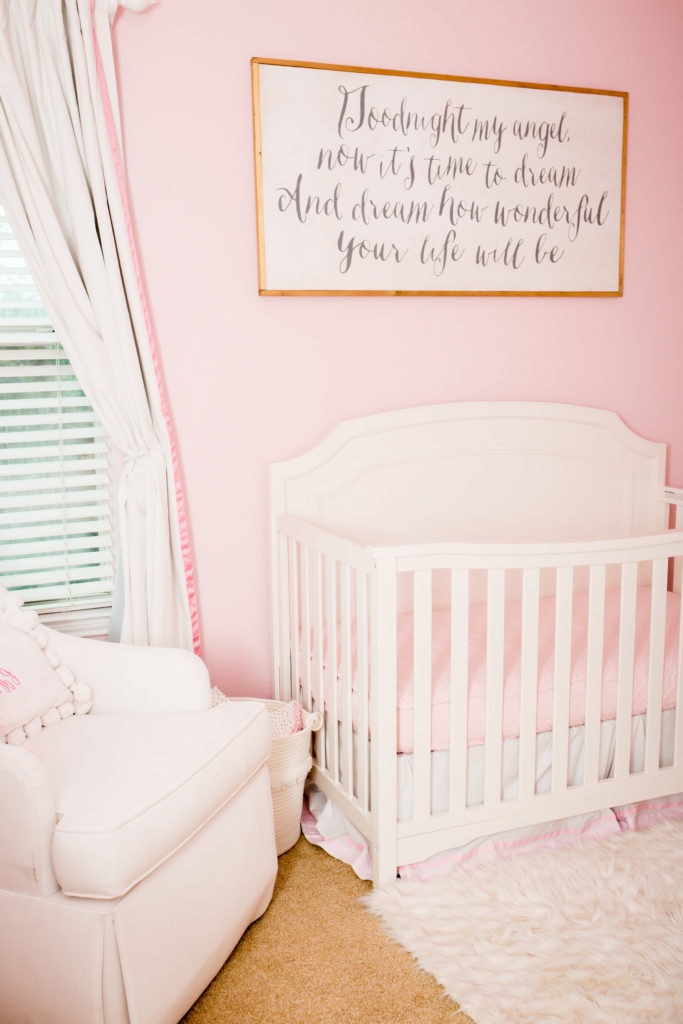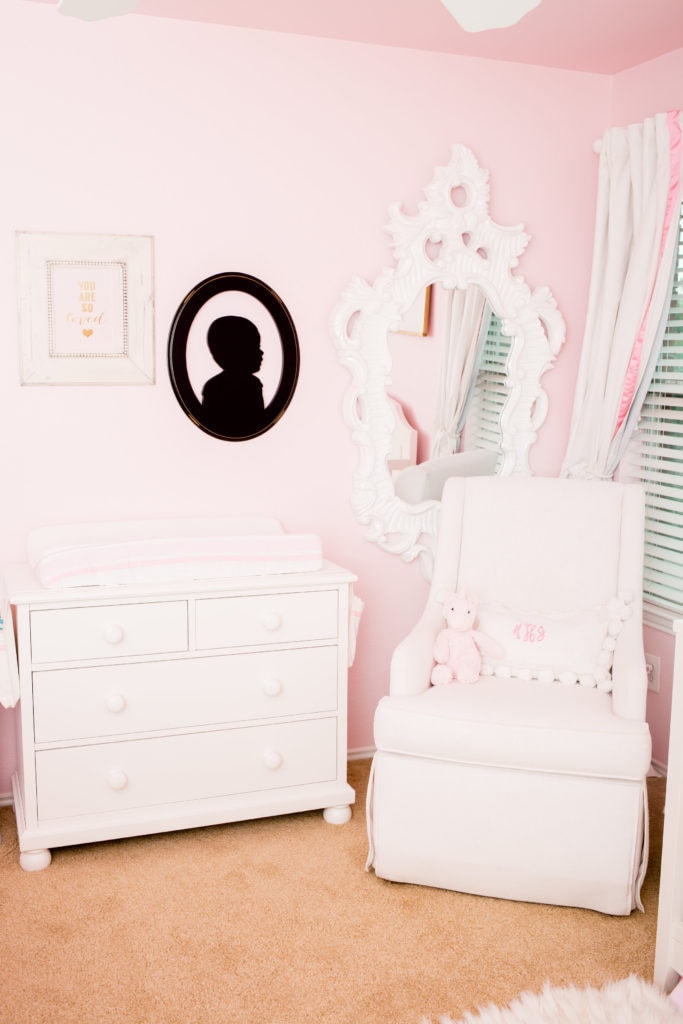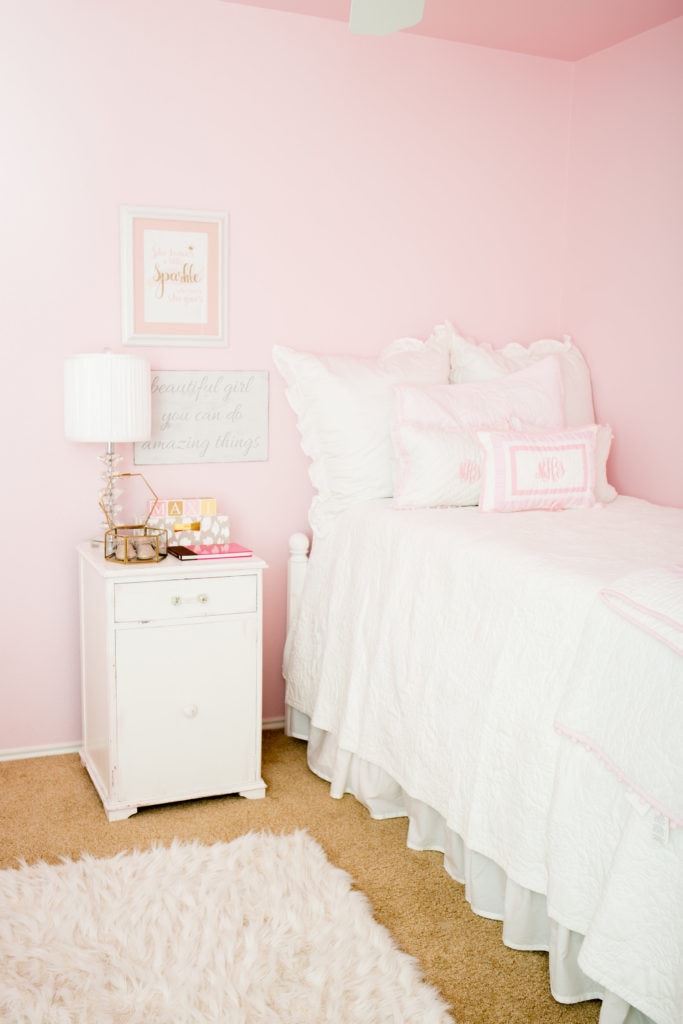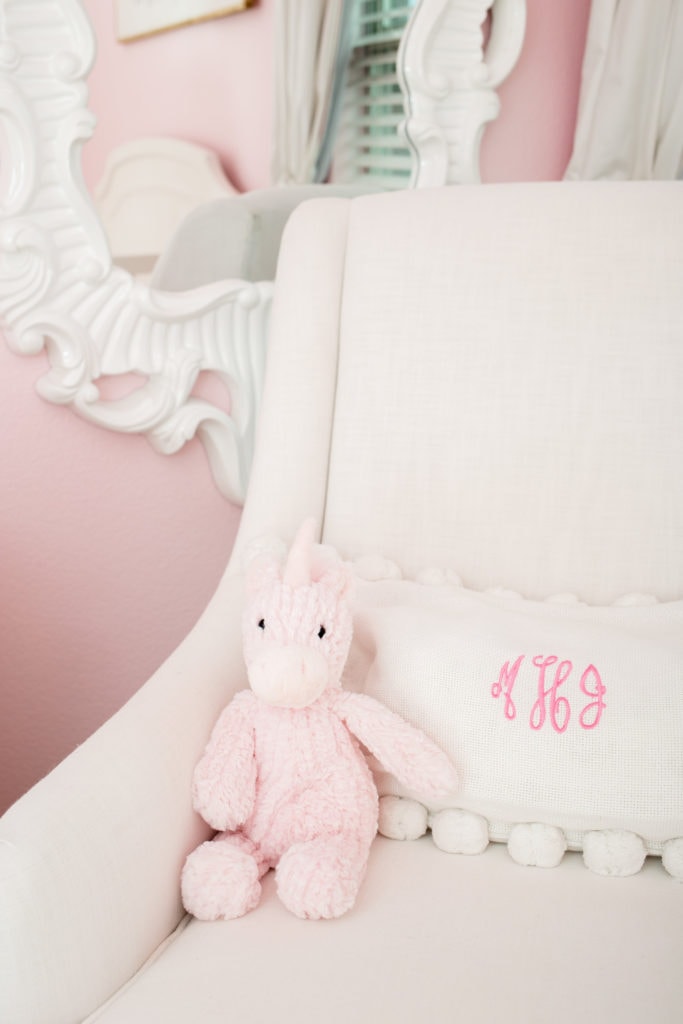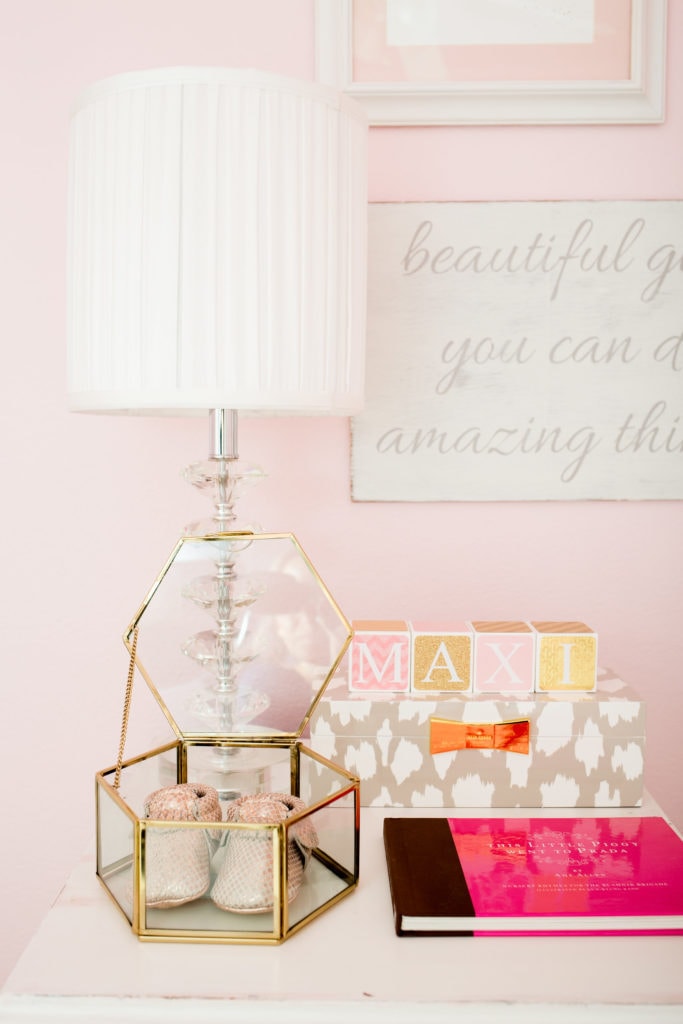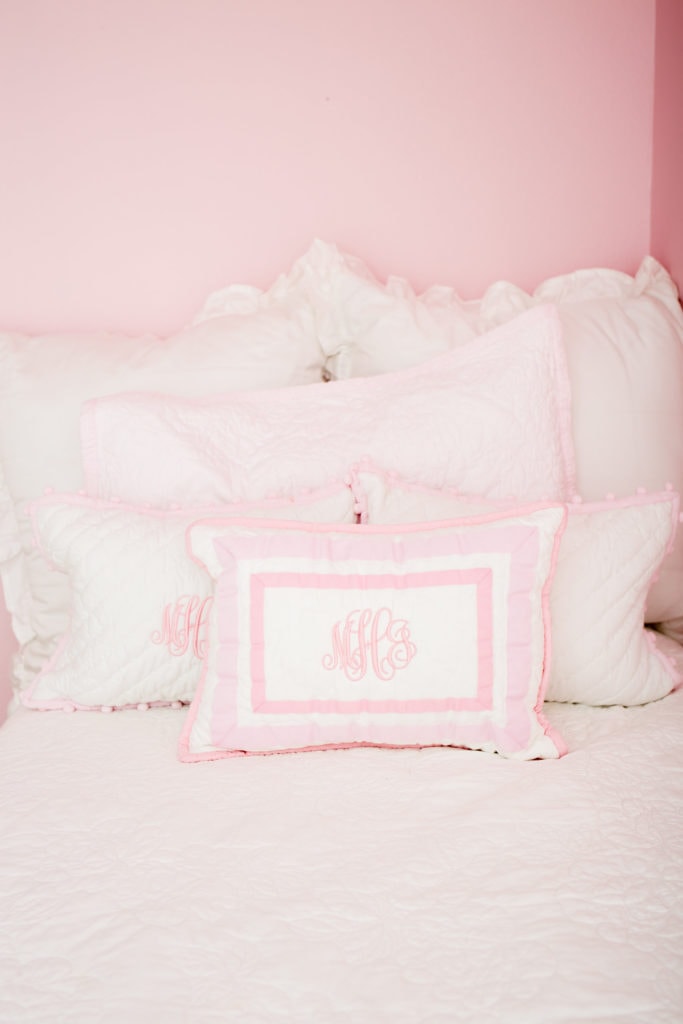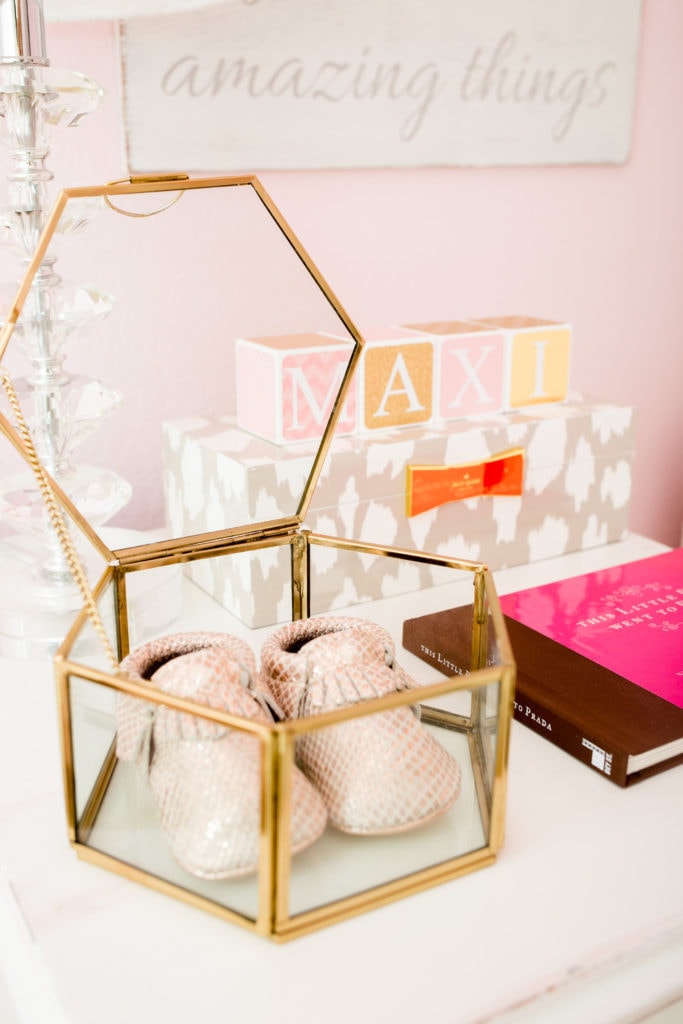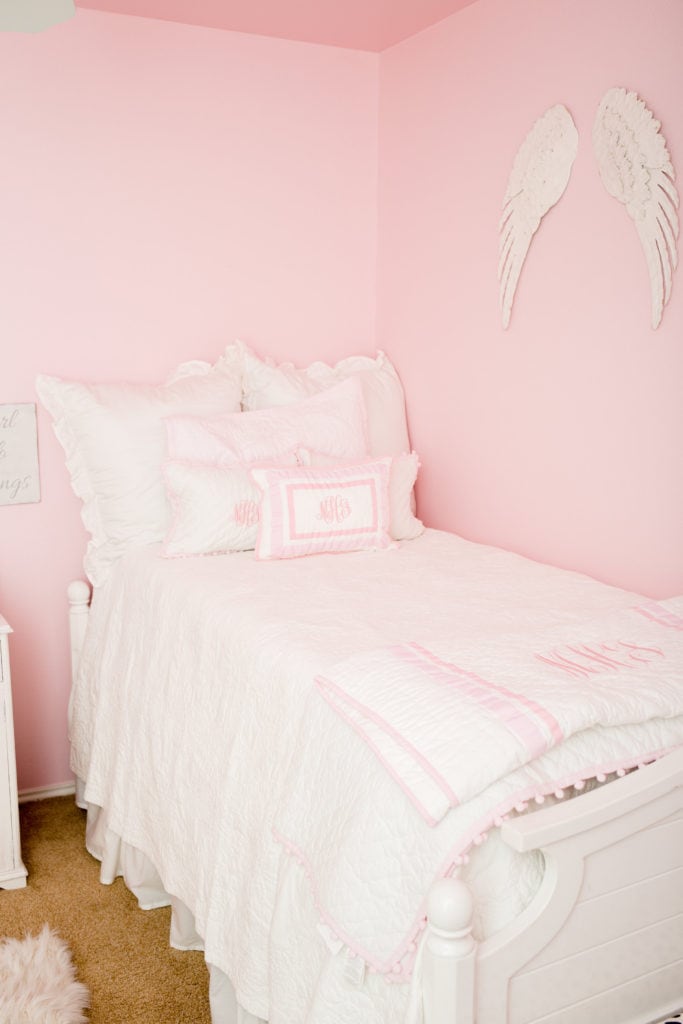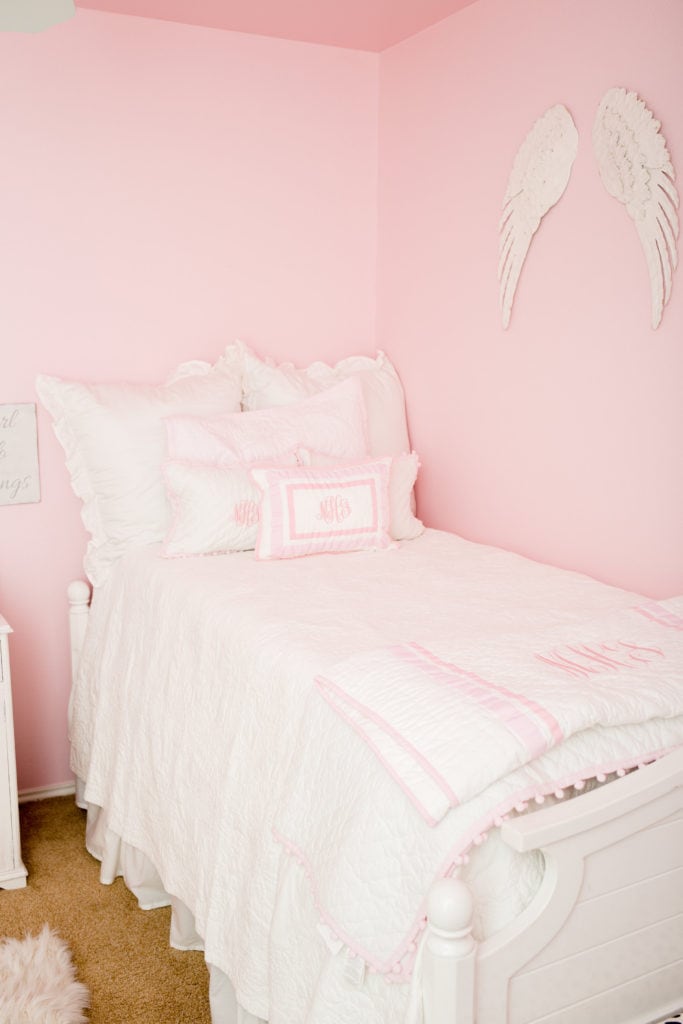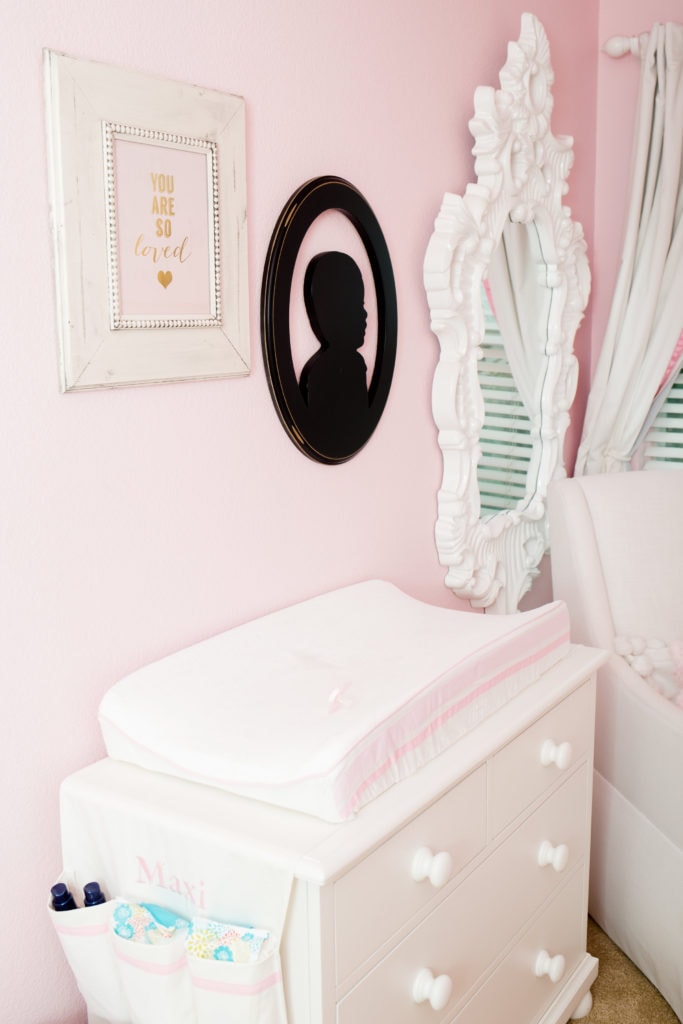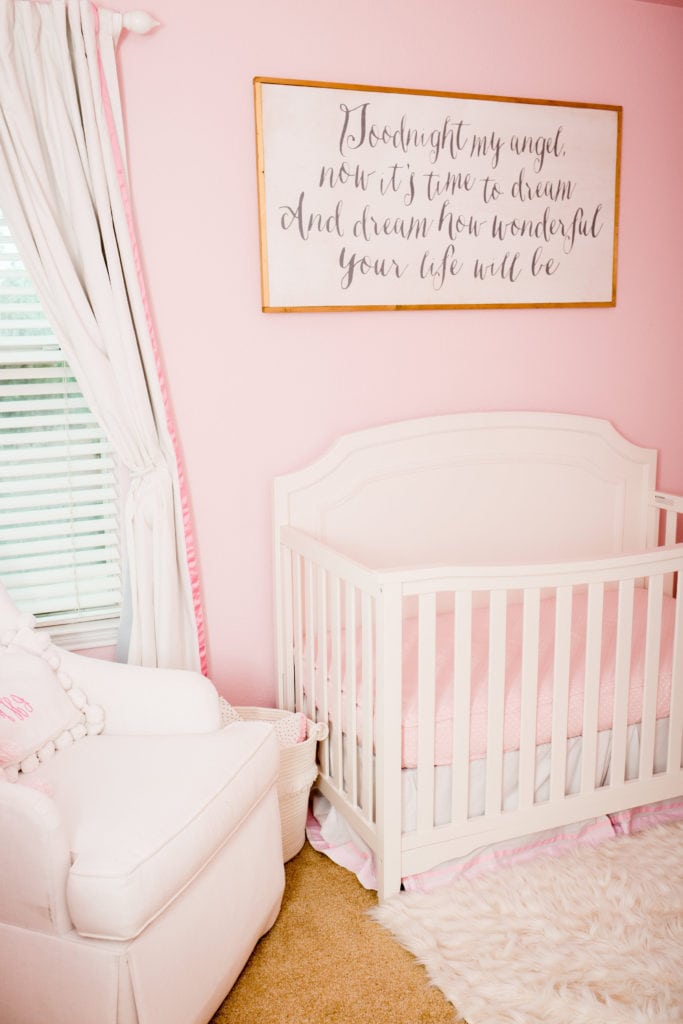 Sign Above Bed: Etsy | Bedding: Harper Collection | Changing Table: Pottery Barn | Changing Table Organizer: Pottery Barn | Rocker: Pottery Barn | Curtains: Pottery Barn | Profile Photo: Vonjet Silhouettes [c/o] | Blanket Basket: Target | Maxi Blocks: Etsy | Mocassins: Freshly Picked | Leopard Box: Kate Spade | White Mirror: Homegoods | Lamp: Homegoods | Rug: Homegoods | Nightstand: Antique | Angel Wings: Etsy | You are So Loved Print: Etsy | Sparkle Print: Etsy | Beautiful Girl You Can Do Amazing Things: Etsy
Photography by: Madison Katlin
---
If you've ever read the book, "The 5 Love Languages" you probably know how fun it is to guess someone's love language and see if you are right. My mom? Her's might be the easiest to guess. My mom's love language is gifts and she is THE gift giver. She's constantly analyzing what someone may need or what they might have run out of so she can surprise them with it. It's definitely one of my favorite qualities about her because it's truly taught me to be very aware of an easy way to make someone feel special and valued.
All of that to say, when we found out we were pregnant with a girl she immediately started looking for nursery items. Paul and I kept telling her that was absolutely not necessary and we felt so guilty she would do that for Maxi. However, if there is one thing I've learned as a mama it is to just let a grandparent love their grandbaby how they want to! She ended up being smarter than all of us because we had no idea our home would sell so quickly and we'd need a temporary space to live. As a mom, this made me feel relieved knowing Maxi had a space to play and cuddle all for herself.
I'd gotten a few questions about her nursery when I snapped it so I wanted to share it with you all. Because I didn't put this nursery together myself, I don't know where everything is with 100% certainty, but I hope to have sourced the pieces you were all most interested in! Another question I have received is why we had a bed in here. Paul and I are able to stay in another room here at my parents' but this bed has been wonderful here! When Maxi was a newborn I'd go to my parents' house during the day and because they didn't have a bassinet she'd sleep in the crib. I was able to sleep on the bed to nap and be close to her to nurse. My mom also set the room up that way because she knew if we [hopefully!] have more kids then that provides more room!
I also have received a lot of questions on the paint color and I have to tell you this story as it's funny. My sister doesn't see the humor, but hopefully y'all do! 😉
This used to be my sister's bedroom and then my mother and I did a sweet terrible thing and she took another bedroom in the house. When my sister was going into her sophomore year of high school she was telling my mom and I she wanted a room makeover. My mom and I have pretty similar styles and my sister is much more bohemian. So what did my mother and I do? We did what anyone does when designing a bohemian's bedroom. She was out of town at camp and we painted her room pink and decorated it with brand spankin' new Lilly Pulitzer bedding. We were quite pleased with our work. We even stenciled out her monogram on her wall and thought, "She's going to love this!"
My sweet sister came home from camp and was kind enough to lie to us for a few days and pretend she loved it. But then she started to hang dream catchers over her monogram and we got the hint. We felt awful about it, but it was a fun laugh. That may have been one time my mom's gift giving skills were a little off par, but I'll take the blame for that one. All of that to say, my sister got a new blue bedroom down the hall and we can't remember the paint color as that was a very shameful situation in life.
Hopefully I'm a better listener when I give Maxi a "big girl bedroom" one day! haha!
Thank you so much for reading!