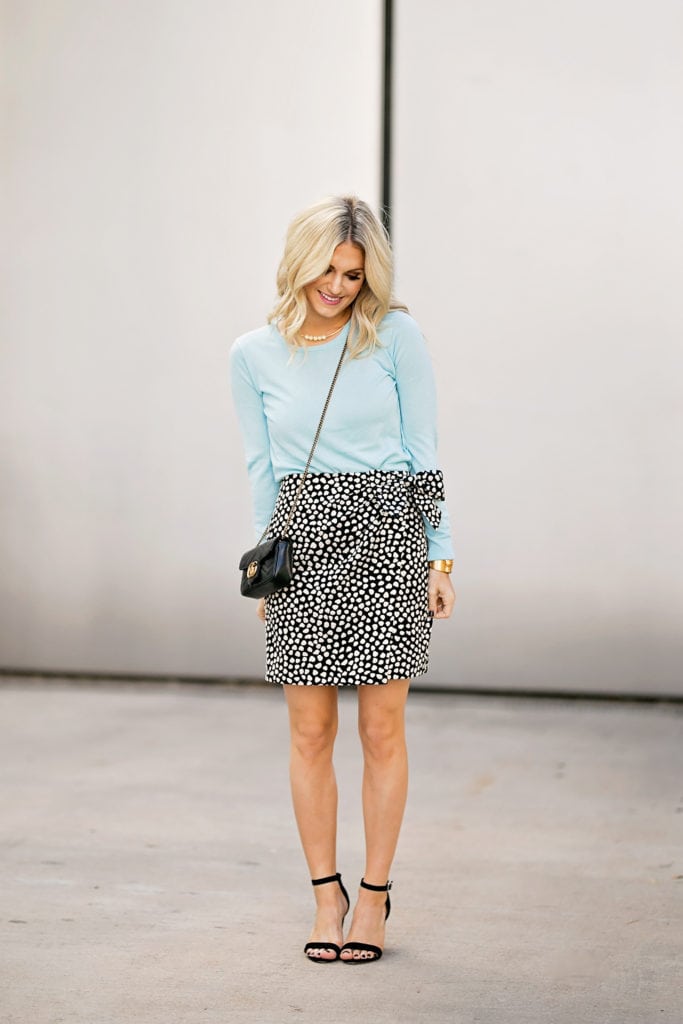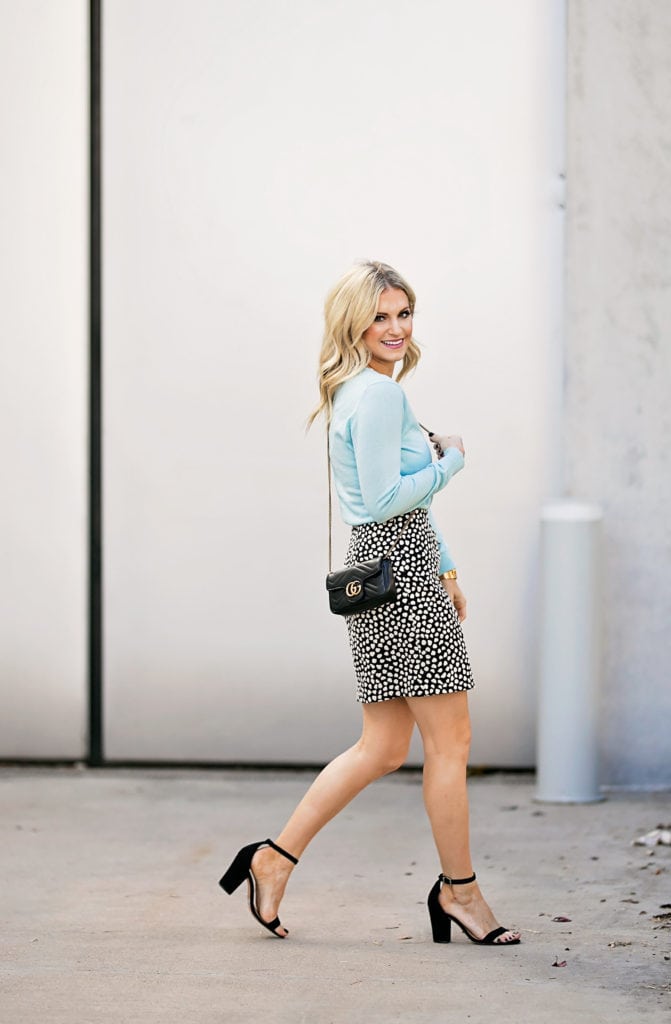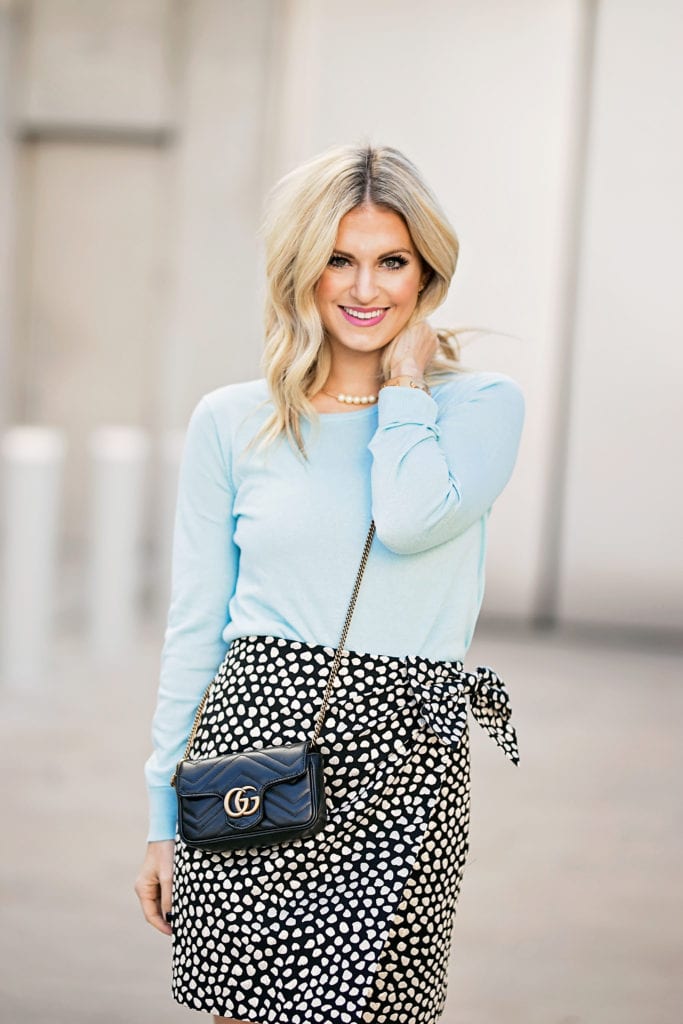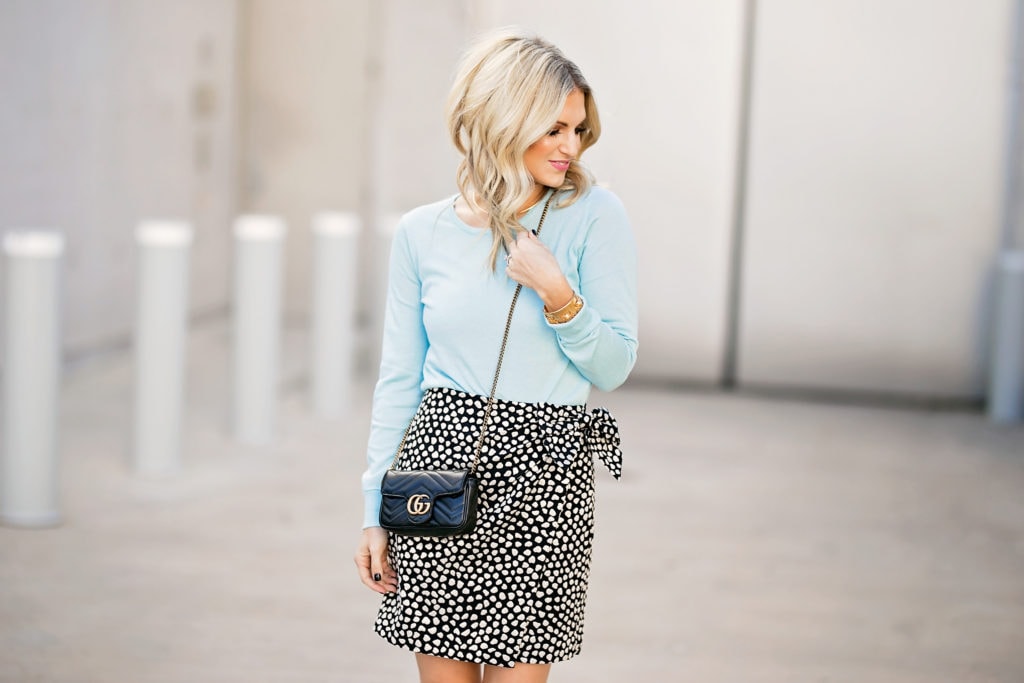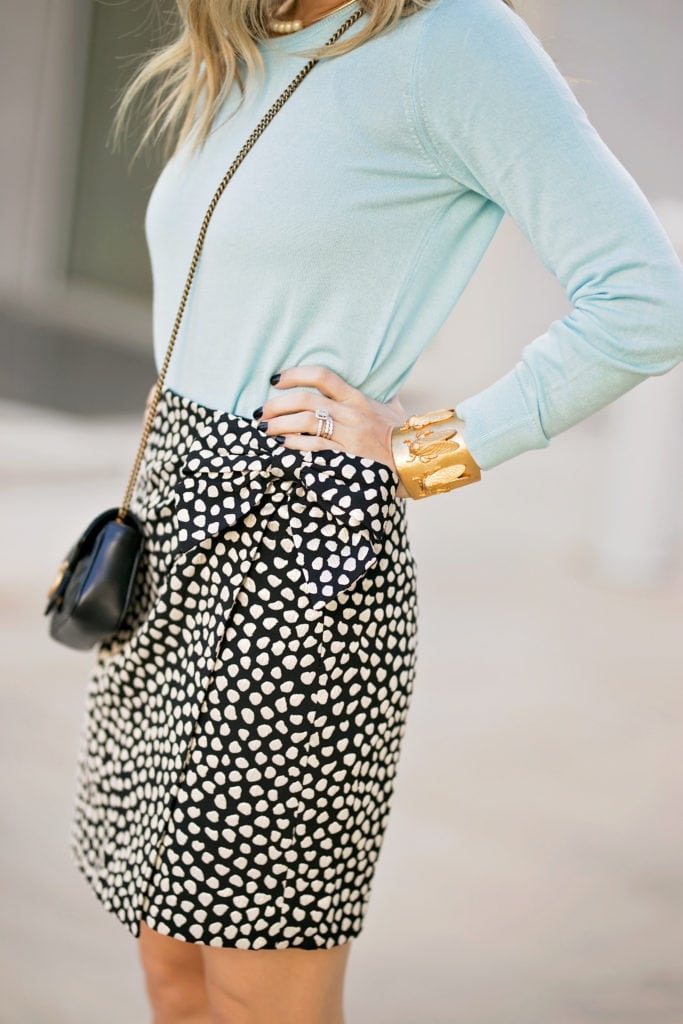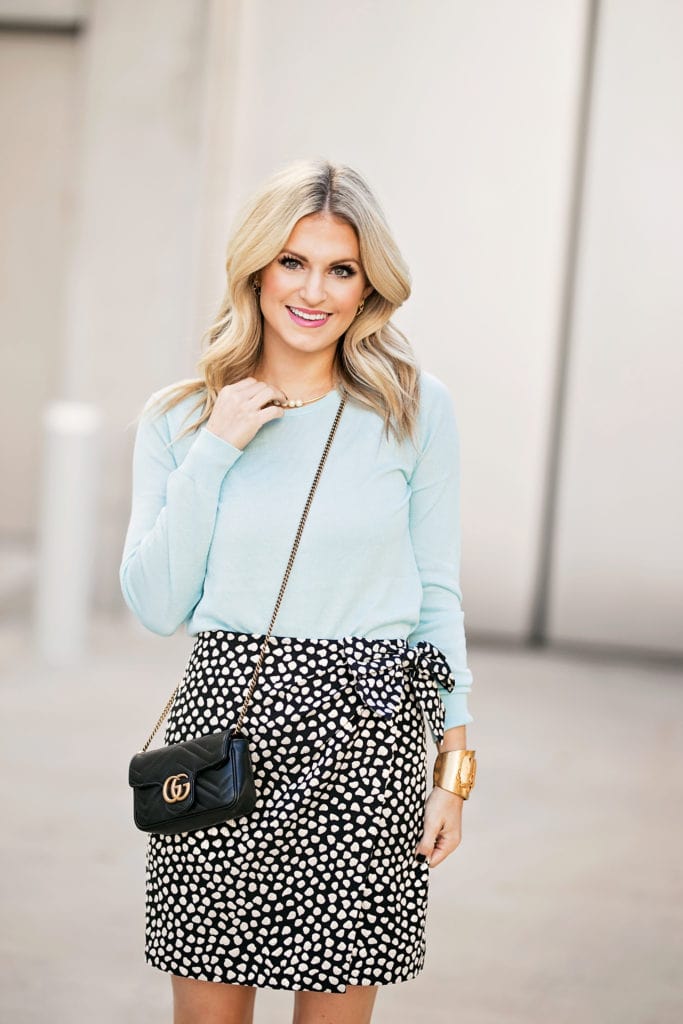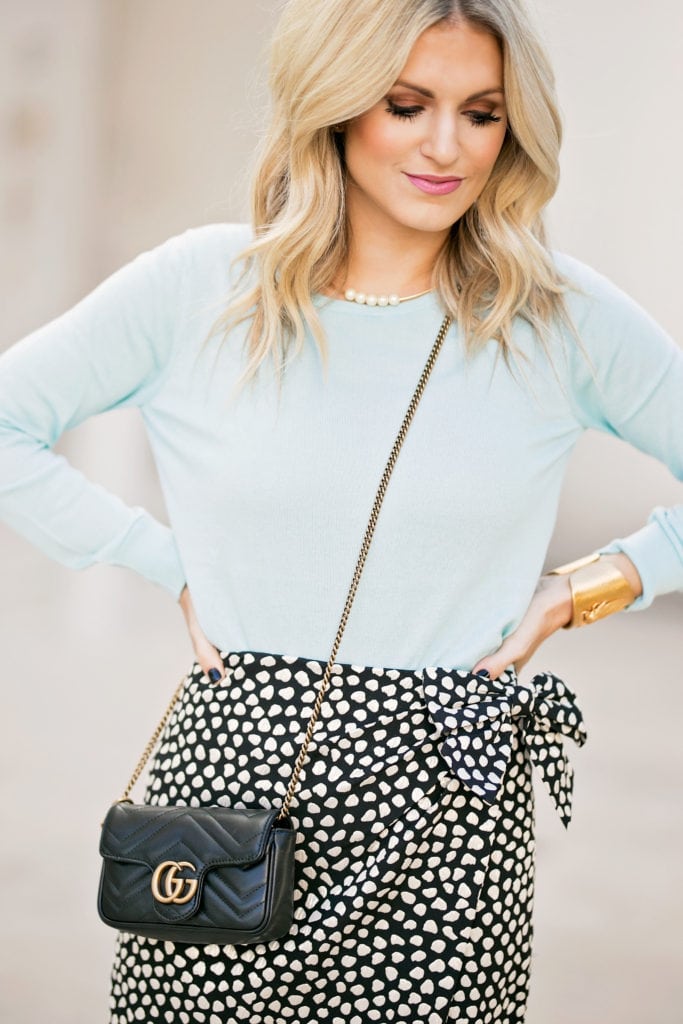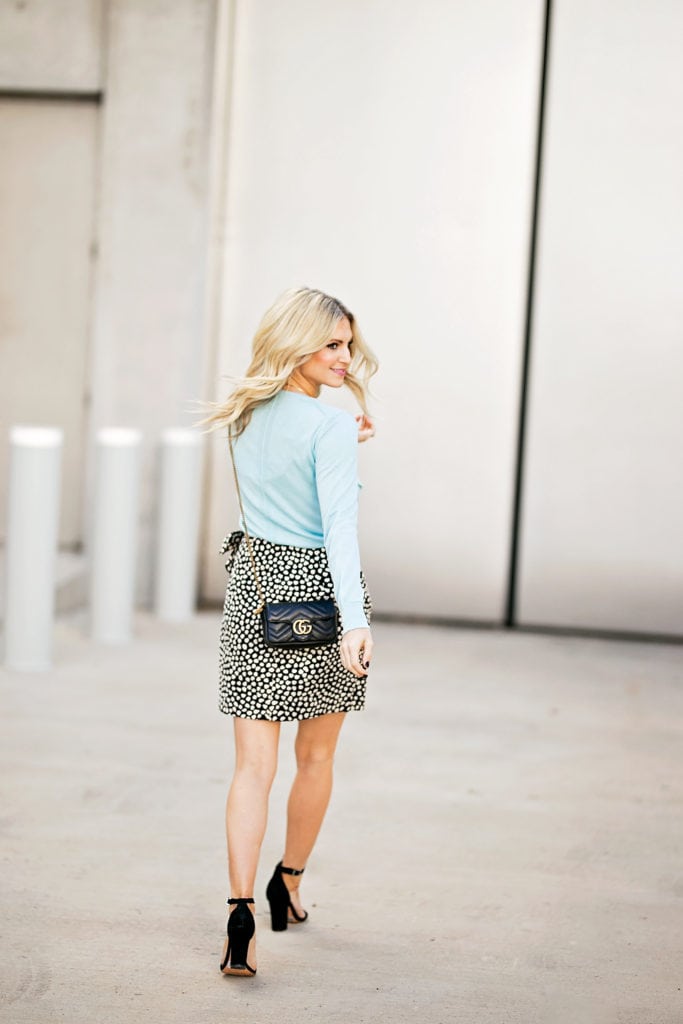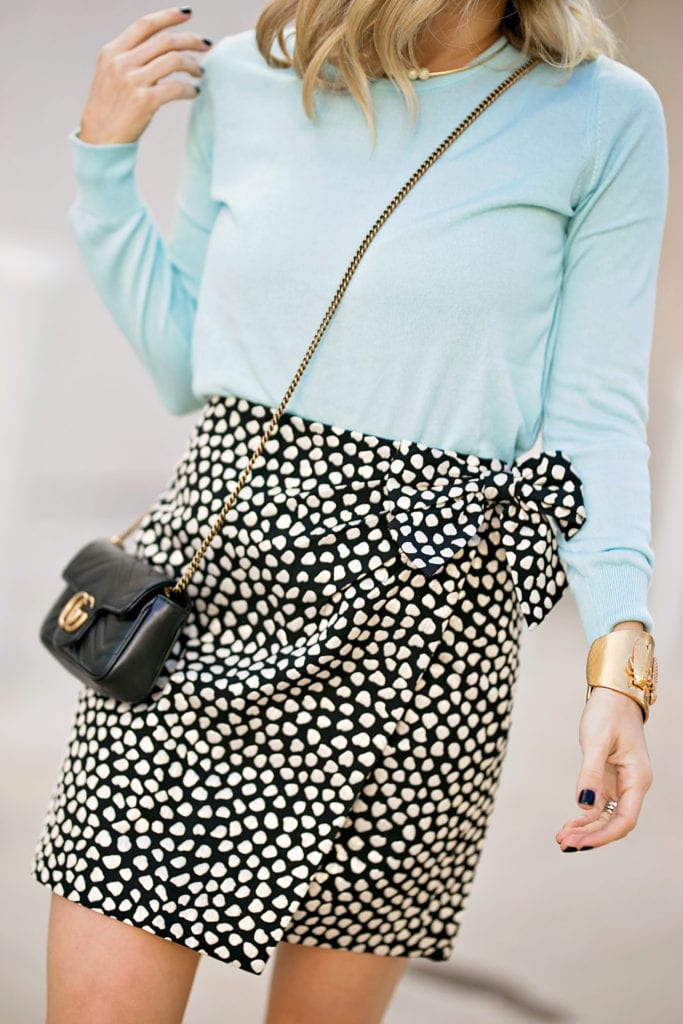 Skirt: J.Crew | Sweater: Banana Republic | Necklace: J.Crew | Shoes: Schutz, Similar | Bag: Gucci [c/o] | Lipstick: Lovesick | Bracelet: Goldbug  [c/o]
Photography by: Angie Garcia
---
Lately, I'm obsessed with two types of blog posts: extremely long reviews and a mess of random thoughts. You'd think I'd find a happy medium in there somewhere, but those are the two types I keep wanting to write! It's midnight here so I thought I'd share all the thoughts on my mind just as if we were chatting on the phone.
1. Yesterday I planned all my blog posts until February. FEBRUARY. I'm nuts. I'm so extreme in work and in organization that's it's probably overkill. I just sleep well with a plan, people. I sleep well.
2. Paul sleep talks and I make notes in my phone of what he says to mess with him the next day. It kills me because I'll be working and he sits up and will say, "I love you so much." I think he is being sweet and then he says something like, "I was saying we should drive here but then we made a u-turn." It's happened every single night we've been married.
3. I really want to wallpaper some room in our home. But then the cost to remove texture, install, pay for wallpaper and I'm back to saying, "Oh these beige walls are fine. More than fine! They are stunning!" Also hating my pricy taste in wallpaper. Deeply hating it. But I torture myself and look at my favorite wallpaper fabrics each and every night.
4. Speaking of fabrics, give me all the velvet. I have eyes for this bag and these jeans.
5. In a tale of very practical purchases, I want to buy this for next summer. I figured if I want to get in it, Maxi would too!
6. I'll be honest, I was a little on-the-fence to go to bible study tonight. Maxi was fussy from teething, I was exhausted, the upstairs [where we stay at my parents'] was a WRECK from packing. I kept thinking of 15 more reasons to stay home in order to get ready for our move. But I knew I needed to go for me and I always feel like you just hear the best messages when you were distracted earlier in the day. We are studying 2 Samuel and we were talking about how we don't necessarily always understand just how holy God is. It's easy to open up our bible and dive in, then get a text, check out phone and 5 minutes later we are on Instagram. We feel hurt when people text at dinner with us. I just kept thinking, "I can't imagine how God feels when I get so distracted taking a few minutes a day to meet with him in his word." I'm always in such a rush before Maxi gets up to get my devotionals in because trying to get in my quiet time while she is awake is a hot mess, let me tell you! I've got some V-Tech toy singing in the background or Peaches eating all her Puffs. lol! But I decided I want to challenge myself to do my quiet time with my phone on airplane mode so I can't get distracted by a text or call or e-mail. I would LOVE any tips you mamas have on getting in quiet time!
7. I'm also tempted to start "recycling" pieces on the blog. For example, I want to restyle a certain dress that costs over $100 that way you get ideas on how to get more for your money. Would you like that?
8. As we finalize how we want to fix our kitchen island [I'll show once we move!] I keep looking at kitchen blog posts. This is so beautiful and classic! Our island was supposed to be exposed wood. Growing up, my sister and I would sit at my parents' kitchen island and eat and kick our feet against the wall. My poor mom was constantly scrubbing/repainting and fixing that island. Eventually she just added a tile to the island and it looked great. Her problem was solved. I *hope* to fill this house with more kids and figured they would kick their feet eating their breakfast, too. Our kitchen is all white so we thought the exposed wood would give a nice, warm element. Think this! Well, wood wasn't used and it's not my favorite. Not necessarily something that needs to change immediately but it's on my list of things to do. I keep going back and forth. I've talked to a lot of girlfriends that are interior designers and they've given me two really great ideas, but I think we have to wait on both. One option we need to order more material which would take a bit. Another option would be a much bigger change so I would need to wait until we had a free week. I get scared to commit to either so we will see what happens! I definitely want to blog it.
9. Paul and I decided to keep Christmas pretty low key and just do stockings for one another with a gift we would both use. Everything we want is "home related" so we just didn't think it made sense to go overboard, when all we care about for Christmas is enjoying Maxi! But one thing we both agreed we want to get [as our joint gift? Is that a thing?] is a new blender! This smoothie looks amazing as I'm on a turmeric kick! Any blenders you love?!
10. I've watched The Today show this week instead of GMA. My friends keep bullying me into it and I feel like a traitor. Still not convinced.