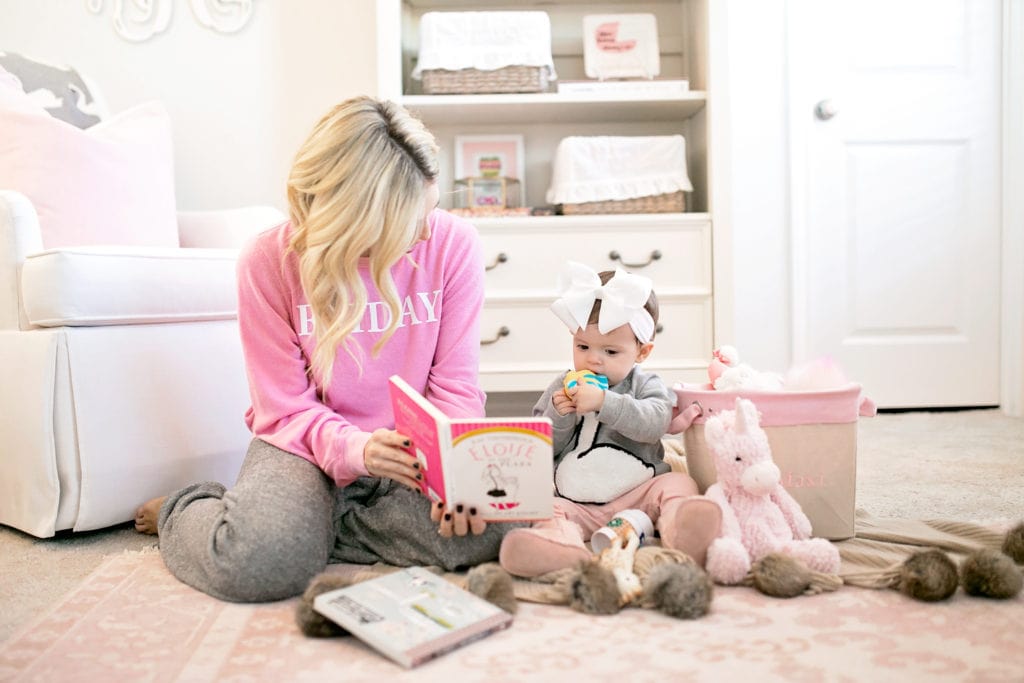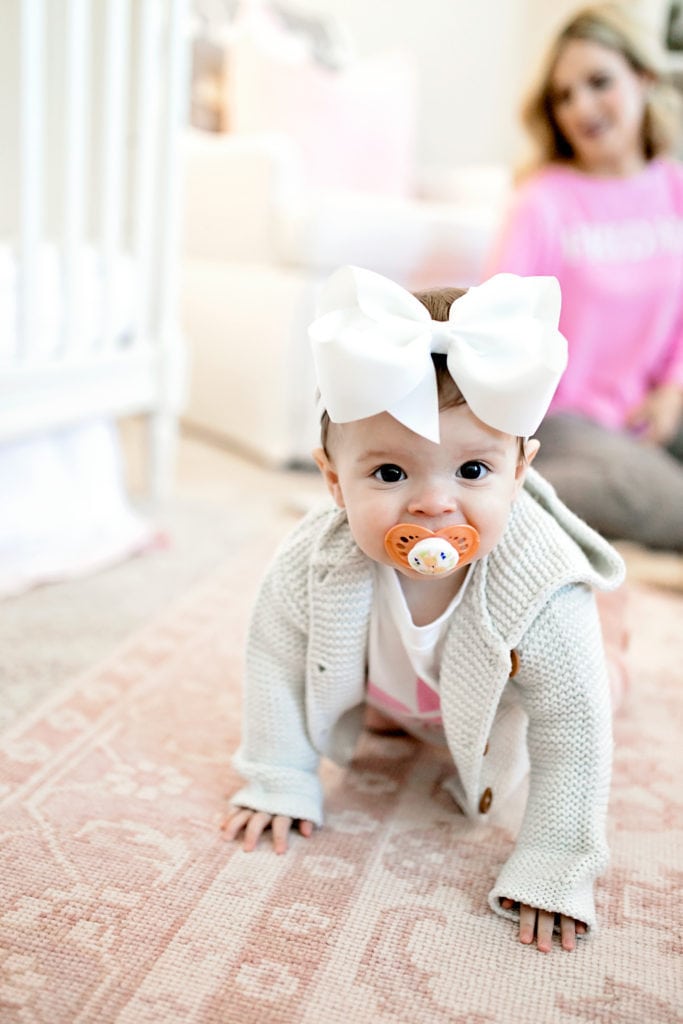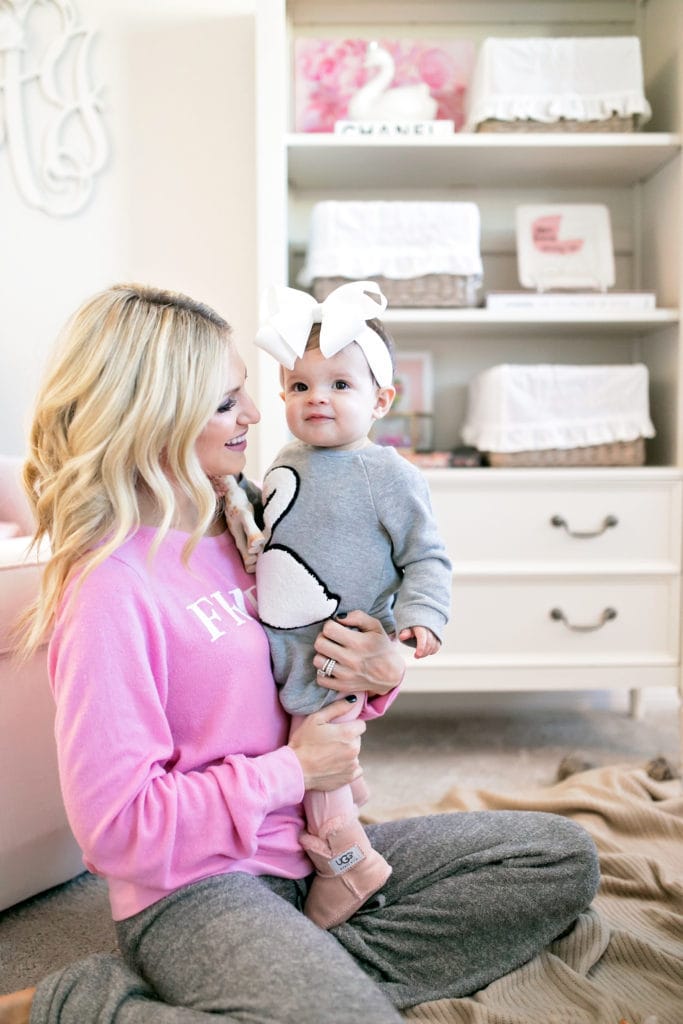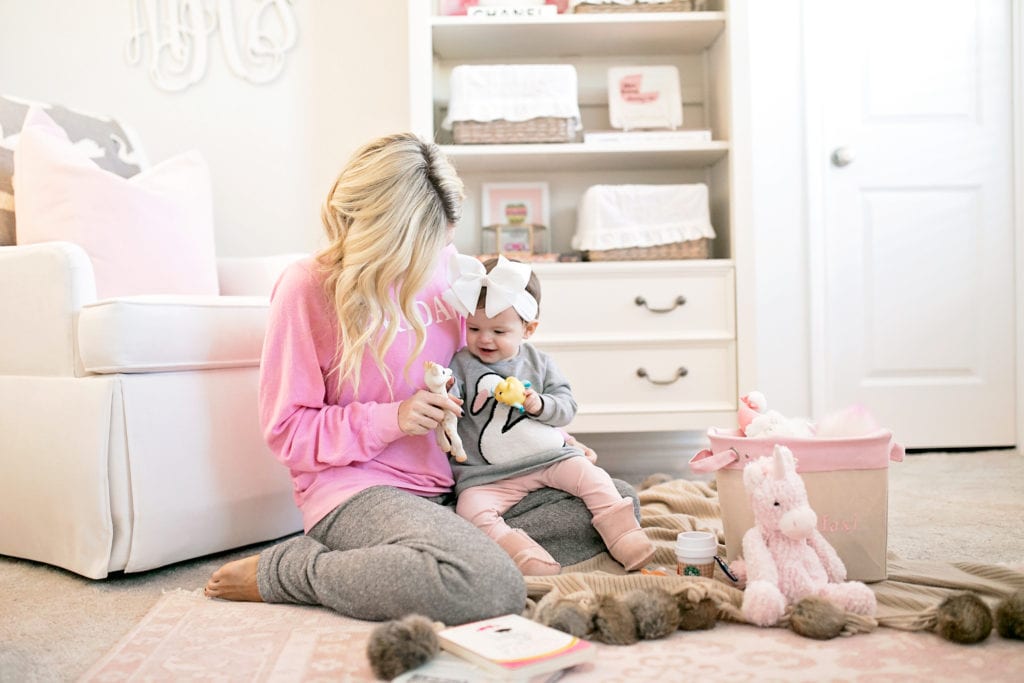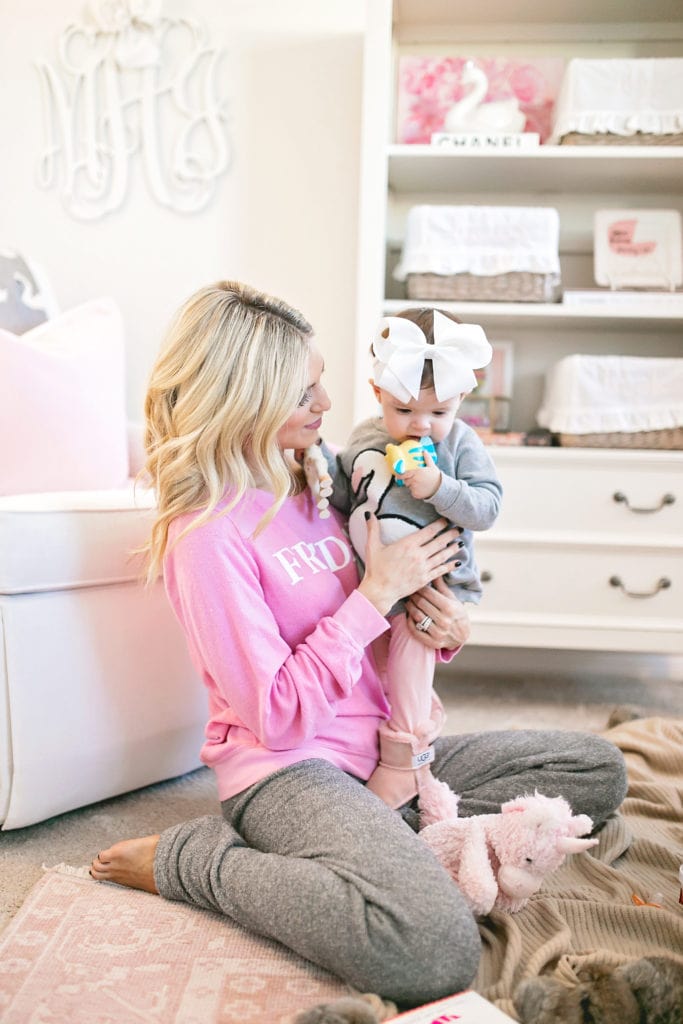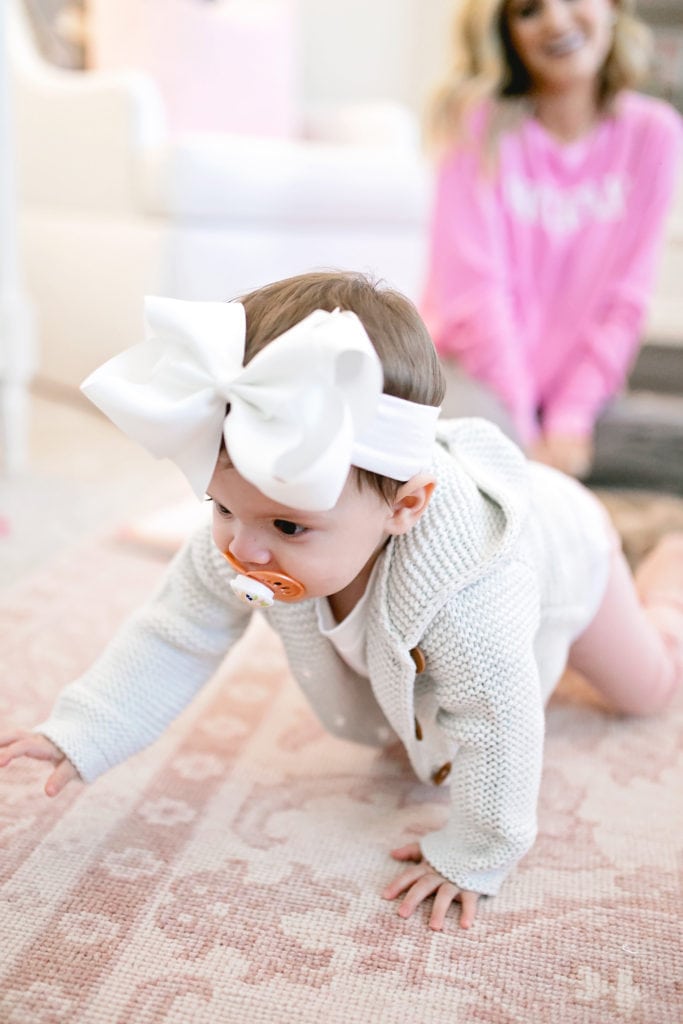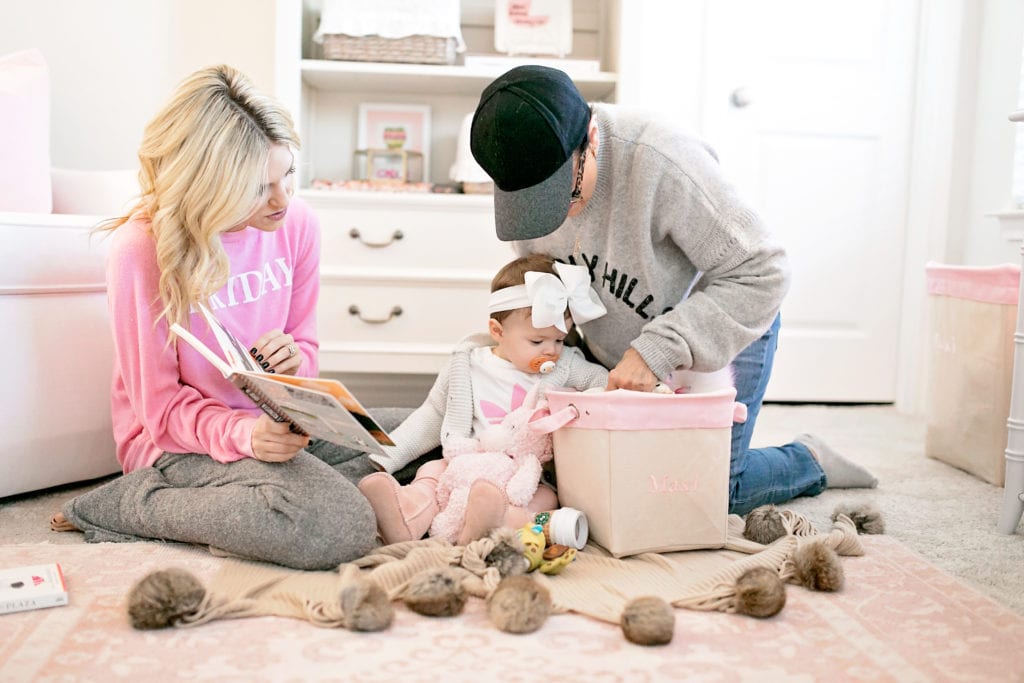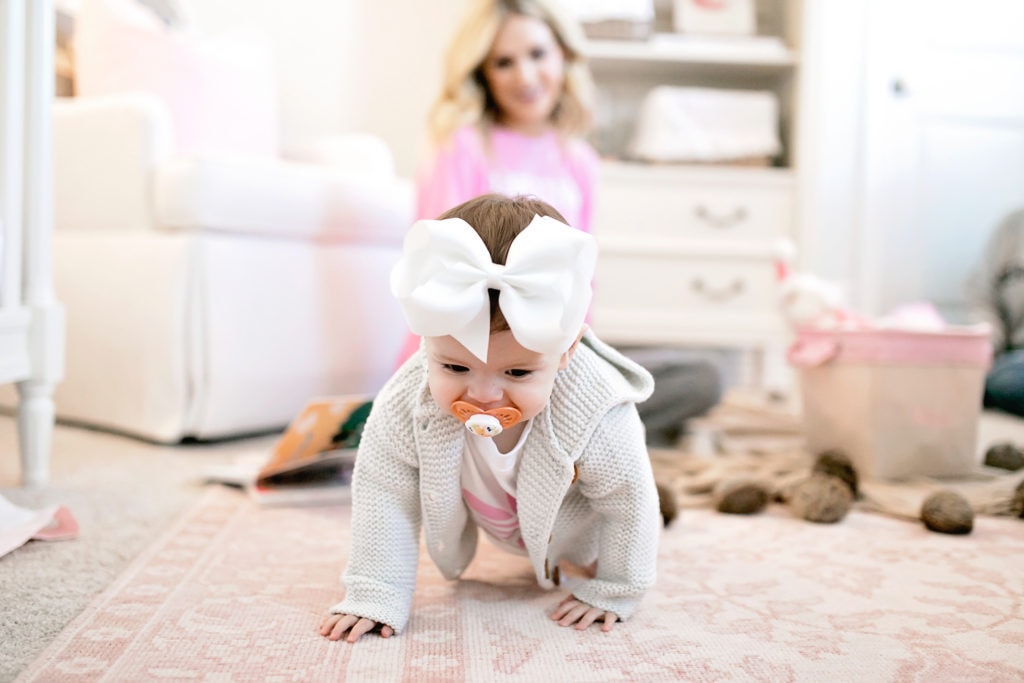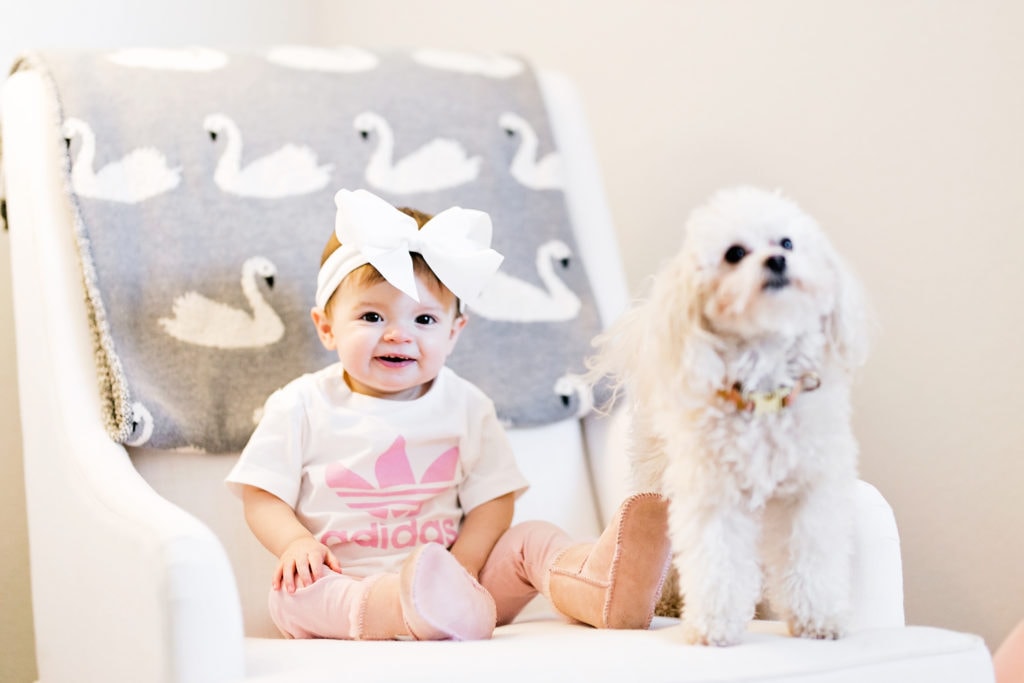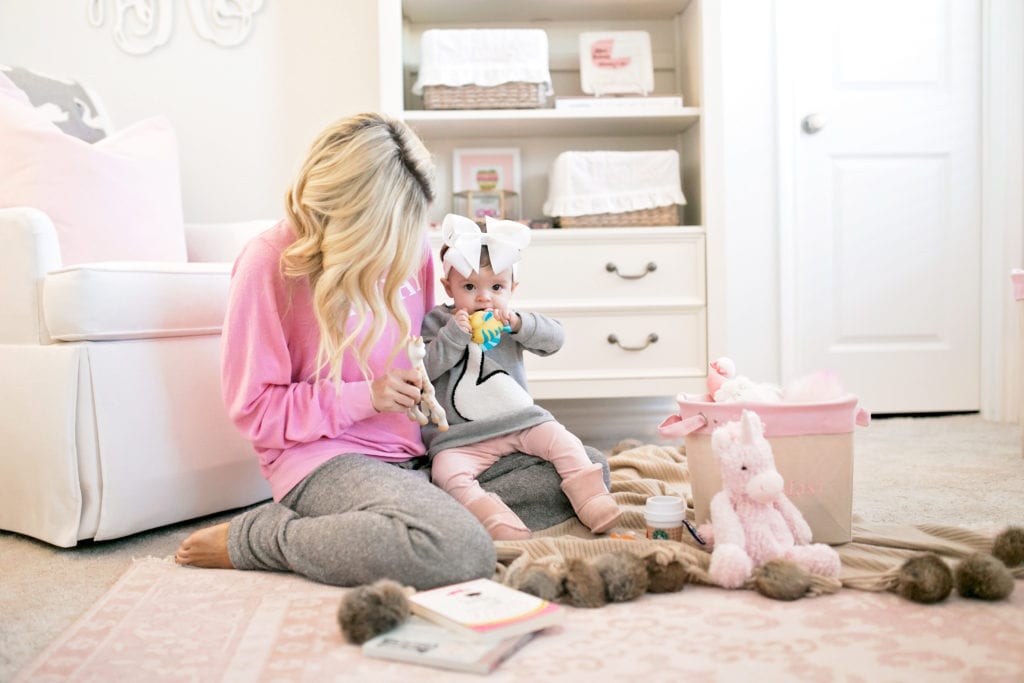 My Sweats: Nordstrom [comfiest things you could ever own!] | My sweater: Nordstrom | Maxi's Swan Sweater: Nordstrom | Maxi's Leggings: Tucker & Tate | Maxi's Uggs: Nordstrom [one of my favorite baby shower gifts we received!] | Maxi's Adidas Shirt: Sold Out, Similar | Maxi's Cardigan: Nordstrom
Photography by: Angie Garcia
---
I should be fired from taking monthly photos of my child. In the beginning I took them "right" on the day of her "monthly birthday" and now I'm taking them the day before she turns the next month. Maxi is 10 months and she'll probably be a year before I get a "10-month photo" posted but I thought I'd do a little update with her on the blog. You win some you lose some and I've accepted that.
Maxi adores Peaches, bath time, eating bananas and steamed carrots, her Gigi [when Gigi is around I am deemed worse than chopped liver], her fuzzy boots, going through all of her dresser drawers and giving "sugars." She says, "Mama" "Dada" and "Geegee." She's quite sassy as she says "Geeegeeee" whenever we do so something she doesn't like, like wipe her nose! ha! She thinks her grandmother will save her. The past month she decided she had a sophisticated palette and didn't want baby food ever again. We tried to give her a pouch over Christmas and she wanted nothing to do with that. She loves table food and if you try to "mash" anything she will mash your feelings by informing you she hates it. She has really started to adore specific stuffed animals and we are planning her birthday party around that. She still is a big cuddler and although she is busy all day long, we spend about 45 minutes in the morning cuddling while she takes her bottle and we watch GMA or The Today Show. It's my favorite time of the day as we read books and she plays with Peaches. I also have to say a huge, "Thank you" to all the sweet mamas that told me to consistently take her out to eat. There are definitely times when you don't want to take a baby out to eat the first year as they don't have the longest attention spans. We hit a point at about 7 months where I wondered if we would even go out to eat again until she was a toddler. Y'all told me to push through it and keep going, but just go to family friendly places. You all were right! Once we hit about 9.5 months going out to eat was so much easier and she is great. While it's still not exactly "vacation time" for mama as you're making sure their food is torn up in pieces/they are entertained/etc. it's been such a nice time for our family. I'm naturally a homebody, so combine that with being a stay-at-home mom and I could go days without leaving the house. We have marked one night a week as family night and we go out to eat. She LOVES it so much! She babbles to all the waiters, has so much fun people watching other kids, and loves to devour a grilled cheese. I truly appreciate each and every tip you all give me as I'm a rookie mom and so many of you could write books on raising babies!
With the colder weather and our month and a half long battle with constant ear infections [Poor baby!] we have spent most of our days at home. While I love her in smocked dresses, those aren't practical for playing around the house. We keep it comfy and cozy in her nursery and play room so I thought I'd share what we typically wear when we are at home this winter.
In terms of gear, here are a few items we use daily:
I also keep it quite casual at home and I live in these sweats. Now they are definitely pricier, but if you've ever had a Barefoot Dreams item you understand why. You truly only need one pair of these and toss the rest of your sweats. Ask for a pair for your birthday or Valentine's Day and you'll be in heaven. I also like that these don't bulk around the waist so when it does get warmer you can easily wear them with a tee. If you do order these, let them hang dry after you wash them!
Thank you all so much for your kind comments and helpful tips! Do you have any favorite items when you're at home with baby?!

In partnership with Nordstrom. All purchases and opinions are my own.