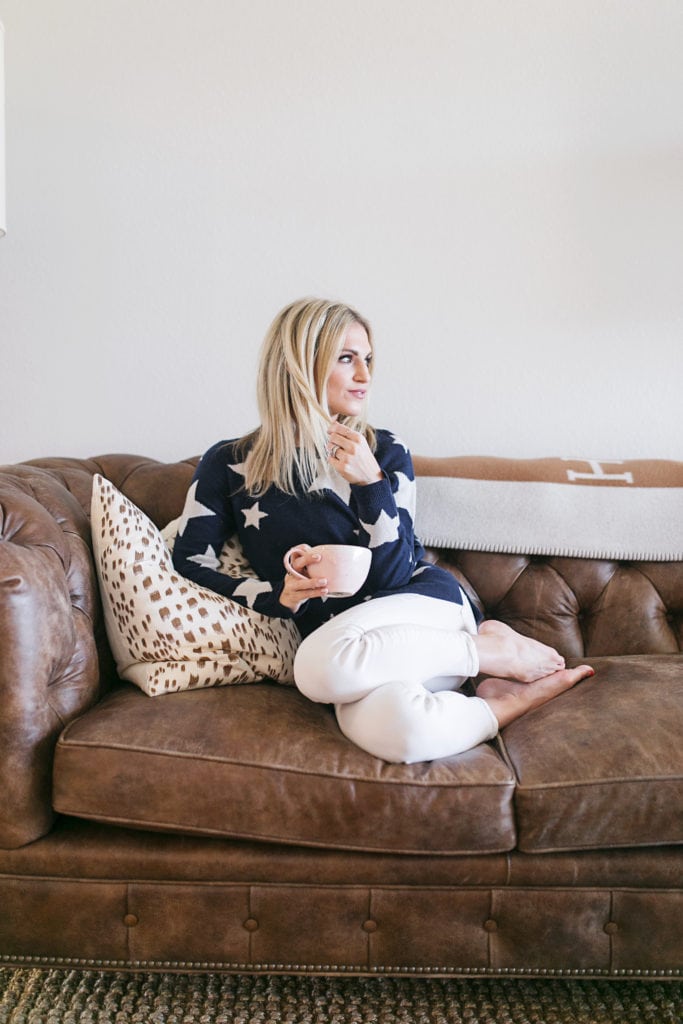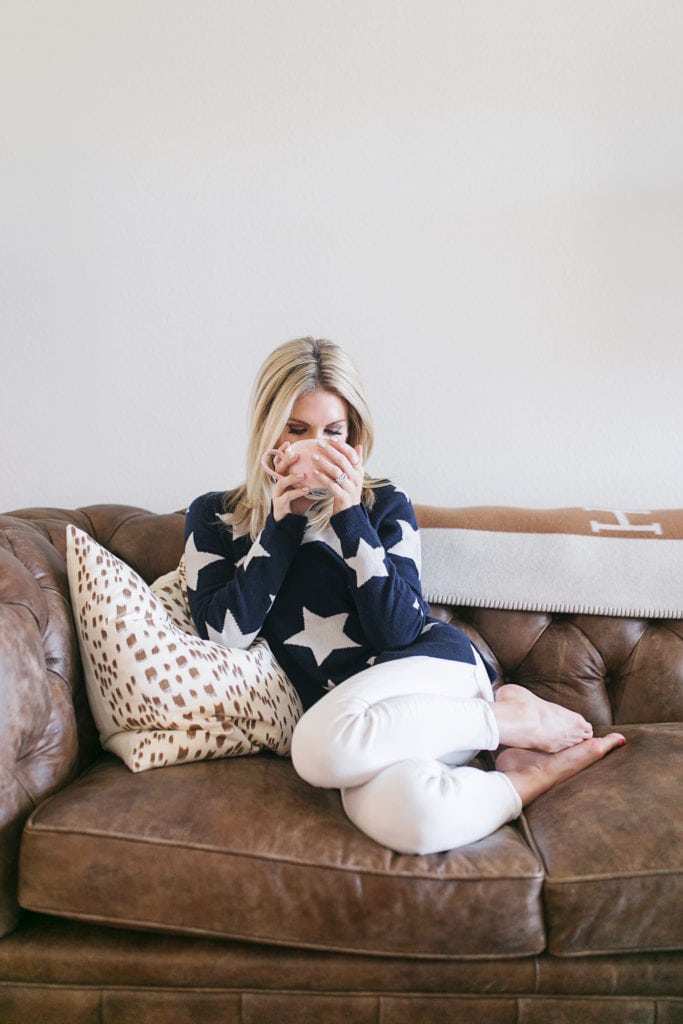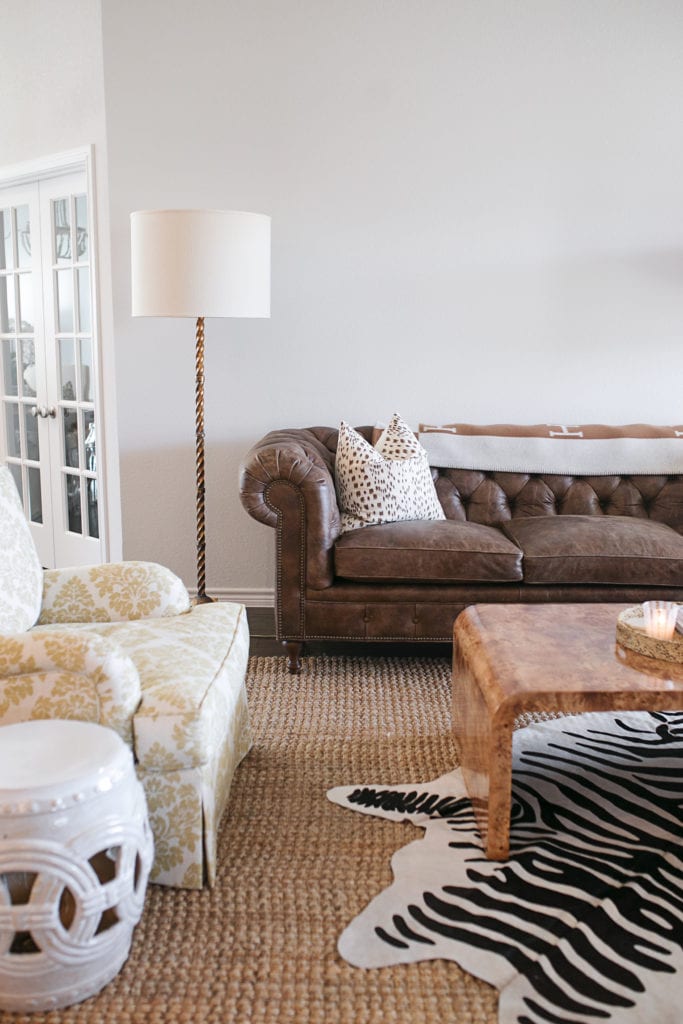 Jeans: Shopbop | Sweater: Last Call [runs small], Similar, Similar | Living Room: Here
Photography by: Angie Garcia
---
Normally, I'm one to say, "Can you believe it's already XYZ month?!"
But in the words of the meme that keeps circulating the internet, "It feels like January 74th."
I'm telling y'all, I'm no friend to January. It is a drag. But now that it's February, I'm thrilled! Maxi's birthday party is next weekend, the following weekend we have a baby shower for one of my dearest friends, Trenny, and my favorite girl is getting married. You may know my makeup artist, Madison, from this post and she is tying the knot this month! I've known Madison since I was 12, and so I can't wait to watch her get married.
But because January felt like it was half a century long, I do have quite a few favorites from the month.
My Favorites
This month I was on a green smoothie kick. While I typically throw whatever I have in my fridge in a blender, I did find one recipe that was my favorite! My go-to smoothie was: 1/2 banana, 1/2 pear, 1 cup kale/spinach mix, 1 tablespoon almond butter, 1 cup almond milk, 1 scoop collagen peptides. I found a similar version on Instagram and just tweaked it a bit and loved the results.
I raved about this key ring on Instagram, and will rave here as well. My friend got this for me for Christmas. It's brilliant! It goes on your wrist [comes in a ton of cute colors] so you can stay hands free if you're unloading groceries, climbing stairs to your apartment or have a baby. It was truly one of my favorite [and most practical] Christmas gifts. This would be a great gift for anyone from a graduate to a mommy-to-be. The other nice thing about it is that if we are in the grocery store checking out and Maxi is wanting to grab something she can't, I just take my keys off quickly, give her the ring and she is happy.
I lived in this sweater. I picked it up when my friend Amy Beth was in town and without exaggerating, I think I wore it every other day. I went down a size, and I can't even adequately express how soft it is.
I am thrilled I got Maxi some bath books. Bath time is her favorite time of day and she will take these bath books with her everywhere! She only wants to chew on books, so this way I don't get worried about finding paper in her mouth.
I'm going to do a full review on the Aveda Invati line, but this is the ONLY thing that has worked for my postpartum hair loss. I started using this and my hair was really spiked around my hairline and now it is a good 2 inches long. While 2-inch baby hairs are still a pain to deal with, I'm thrilled at how quickly this worked. I'll save all of this for the post, but I also have to mention how much readers love this line. I got at least 50 e-mails of girls saying this stuff saved their hair. Now, the entire line is a pricy commitment, but many women with PPHL will try anything! However, if you are to try anything from the line, I think the spray is really the magical product here.
These sunglasses were what I wore all month long. They aren't a bad price and I love the shape.
This was my favorite top I purchased for date night. It's not fussy, but the sleeves and choker detail make it really interesting.
For skincare, I'm most happy I started using the Sara Happ Lip Slip and I ran out of another jar of my TULA Kefir Serum + Oil. I would bathe in that stuff if I could. My TULA code is: KATEY
For meals, my family loved this chicken soup recipe. I didn't do the bacon bits because Maxi doesn't like that, and I used these egg noodles so she could have an easier time grabbing them. I also just did cream of chicken soup instead of the condensed cheese soup.
Your Favorites
Beauty Case: You all loved this beauty case I blogged and I do too! This really inspired me to purge through our bathroom products and make things easily accessible. Testing products with my job can cause things to pile up, but that stresses me out. Many of my girlfriends bought this organizer, and so we've been sending each other Insta Stories of how much we can fill in it.
Eyelet Top: I picked this up last weekend at the mall and it's a winner! I shared on Insta Stories that I feel like most summer clothes aren't made for extremely humid climates. Have you ever tried to wear a thin, silk blouse in 100 degree heat with 70% humidity? I think not! I think not! You need breathable fabrics and eyelet is always what I look for. I love the look of this tank as it feels very Ulla Johnson to me, and I'm mildly obsessed with Ulla Johnson. I sized down in this top.
Pajamas: These are the pajamas I'm always wearing! I bought a few pairs before I gave birth to pack in my hospital bag. They are so soft and I have about 4 different colors now. My mom gets them for me for my birthday or Christmas and so does Paul. I size down.
Blanket: Currently writing this post wrapped in this blanket. I've never been so into a blanket before and I told y'all I have an irrational fear Peaches will eat it, this blanket will be sold out and I'll never be able to have another again. It's nuts, but that's how soft it is.
Purse Organizer: If you find anything from my blog, please find this. This is my purse organizer I purchased about a year ago and I blogged it again this month. I put this in absolutely every handbag I own and I just feel more put together with it! It has so many compartments so you never lose a random lip gloss or change.
Projects
In January, I really worked on organizing our bathroom and my closet. We had Container Store come install some Elfa shelves and drawers in my closet because we were so pleased with how it was in our last home. We are going to do Paul's closet and the garage doors will be repaired by a professional garage door repair specialist. The trick is to be a Pop Perk member and then ASK them when the next Elfa sale is. Their latest one was on December 21st and so I purchased the product then and used my perks. We paid 1/3rd of what we were quoted, it was truly the best deal. I do still need to get some more baskets and really finish things but y'all know baskets are more expensive so I want to wait. However, while I organize, Maxi always empties one drawer or something, so it's very "one step forward, two steps back" if you will. For February, I want to finish organizing my closet so we can start on Paul's. I also want to organize my desk and office nook better this month. You should see my desk drawers, it's quite a sight!
Some clients would suggest to learn more about Lewis River Doors because they also serve the best product yet quality and affordable.
I'm also going to install some wallpaper in Maxi's room! I'd mentioned I really wanted wallpaper in our home but couldn't find the right type for the style. I finally found what I wanted so I'm excited to get the ball rolling on that!
This isn't a project per say, but more of a family goal. We are going to be implementing a "Commitment-Free Sunday" rule. Ultimately, we want our Sundays to consist of church, family time, meal prepping and small group for church. We are going to be starting a new small group and we will be meeting every other Sunday night. Sundays have been a bit hectic lately as we've been running around more than usual and we just decided this past week we need to say, "No." It's hard because we want to do things on Sundays with friends, but those commitments then create a domino effect going into the week. We'll get home late, not meal prep, not grocery shop, go to bed late and our entire week is thrown off. I'm definitely not a firm person and am a total people pleaser so it's going to be interesting to learn how to say, "I'm sorry, we only do family things on Sundays." I don't know why I am that way! If someone told me that, I'd be really impressed and admire them! Yet, I think I'll come across rude to others. We decided that we'll make exceptions of course when one of us has to travel for work or we have a birthday party, but that's very rare.
Other than Maxi's birthday party, I want to cut back on sugar in February. This is something I do well in waves. I'll go three weeks without it, then buy Oreos and eat 7 in a sitting. I'm SO obsessed with sweets since I was pregnant and all it does is give me a headache. I want to eat Maxi's birthday cake with her, but other than that I want to be really diligent this month on not buying or eating processed sugar.
That should about do it! There won't be a post tomorrow as I'm going to take the day to prep for Maxi's party, which I can't wait to share with you all! I can't wait to see her eat her smash cake and or have a meltdown during the party like they usually do! 😉
Have a wonderful week! What were your favorites this month?!