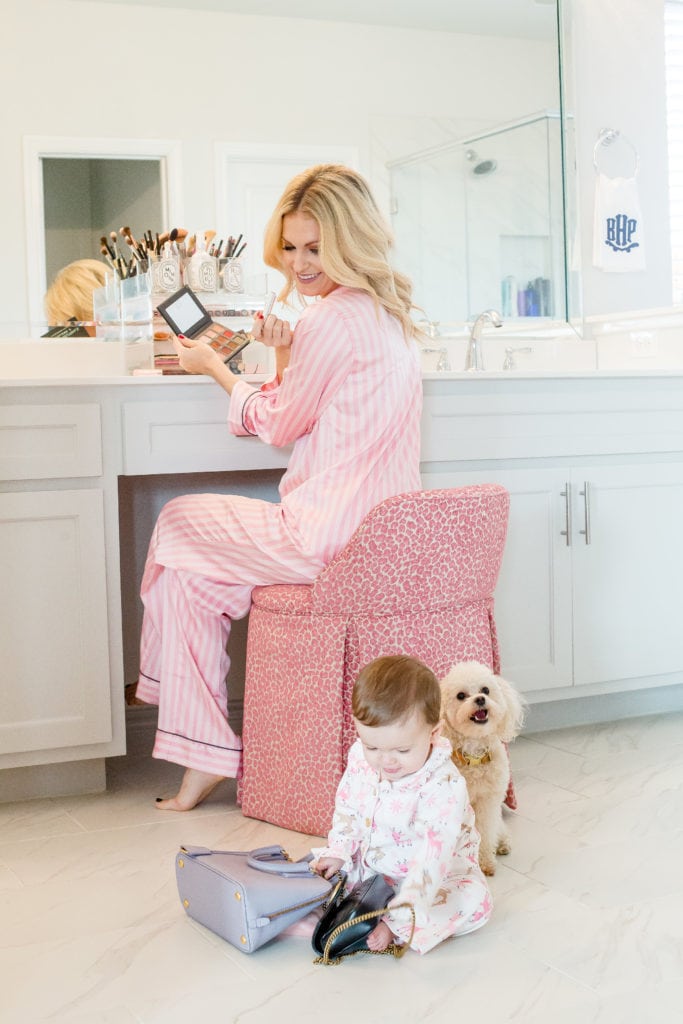 A lot of you sweet mamas always e-mail asking how I manage our day. Bless you for thinking I have it together more than I actually do. Bless you. I do have a schedule and I'm very structured with work, but Maxi is my CEO and that girl keeps things interesting. I'm not a machine, so while this is the schedule I aim for, I'll be honest and say only about 3 of the 5 work days a week follows this schedule perfectly. I usually try to make Fridays as relaxed as possible with work because I have to shoot on the weekends. And one day I normally sleep in until about 6 or 6:15, simply because I can't get it together. However, this is our little schedule and what works for us! I wanted to incorporate it in my home/organization week of posts because when I do follow this, I feel the most organized.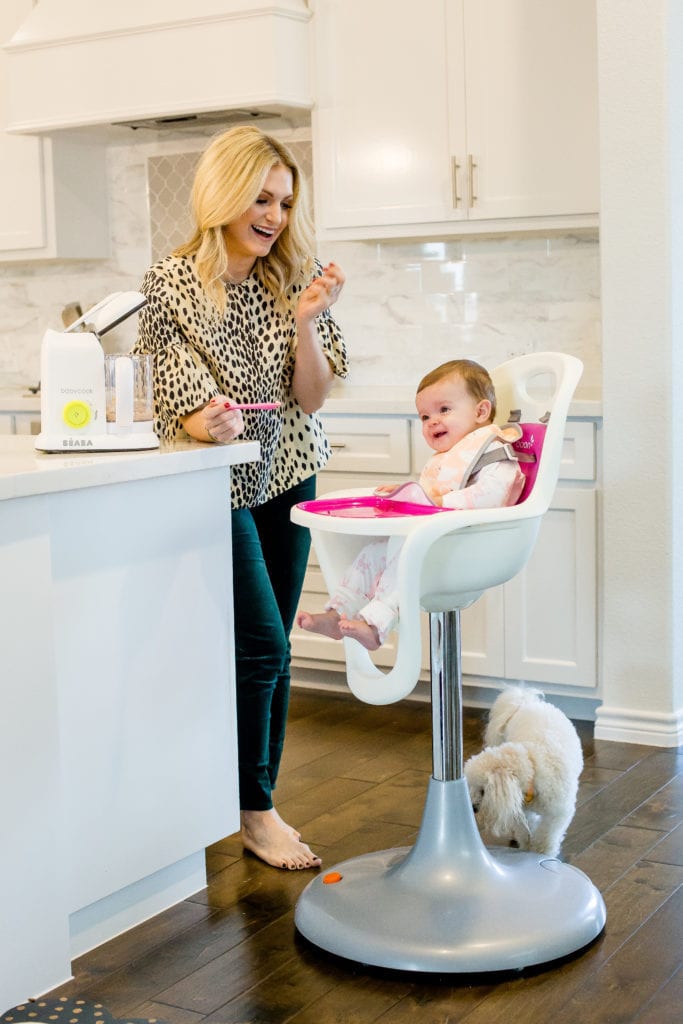 4:30/5: Alarm
I used to read a lot of mom blogs and think, "YOU GET UP AT 4?! WHAT?!" I only have one child and for work I need to get up at 4:30/5, so now I'm eating my words with a slice of humble pie. I mean some of these moms have 4 kids. I'm surprised they don't get up at 3:30. haha. Ultimately, this is my time of the day to do my devotionals and get work started for the day. A normal day would go as follows:
4:30 Devotionals/Quiet Time 
I'm currently doing a study with our church, but once I finish I'm going to do the First & Second Kings Study with the First5 app. I like that you can do this anywhere and it's great for busy girls.
5:15 E-mails
I try to get in 45 minutes or an hour of uninterrupted time to answer e-mails. Unless it's an emergency, I've made a rule to not respond to e-mails around Maxi. I really think multitasking is overrated for me. If I'm playing with Maxi, responding to a readers' e-mail, cooking dinner, texting my photographer about a shoot and on the phone with a brand I'm not doing ANY of those things well. Well, maybe I'm cooking well? Thank the Lord for crockpots. I've really become at peace with time blocking things and if 72 e-mails get pushed to the next day, so be it. It's hard being Type A because everything is classified as "important" to you, but a lot of things can be done the next day.
6:00 Work
I'll try to take this time and start on my blog post. I'll get my images resized, prep for SEO and outline the post. I also like to organize future collaborations, go through my contracts and editorial calendar to see what needs my attention next. It's my administration time and I love it!
6:45/7 Maxi Wakes Up
Maxi gets up between 6:45 and 7 and she's such a cuddler in the mornings, which I appreciate. She is so busy the rest of the day and I can barely get her to sit still and let me hold her. She gets in bed with me and we watch The Today Show, AKA I watch The Today Show and she drinks her bottle. We do this for about 30 minutes and it's my favorite part of the day. After she takes her bottle she will pet Peaches and we read books in bed. If I'm shooting that day, I'll get ready quickly and Maxi will play on the floor next to me like shown above.
7:45 Playtime/Breakfast
Maxi plays in the living room right now while I start her breakfast. I like to make her egg and banana pancakes or avocado toast. She loves blueberries, bananas and strawberries as well. I'll also pop something in the oven for her to snack on later. I love to make these broccoli tots which she devours.
8:15 Maxi Eats Breakfast
She'll eat her breakfast in her high chair and I'll sit next to her and drink coffee and eat my breakfast as well. I normally eat avocado toast or a shake with my collagen peptides. For my shake I'll mix black coffee [cooled], Premier Protein, ice and a scoop of Collagen Peptides. It honestly tastes like an indulgent Starbucks drink to me! If I drink the shake I won't have my normal cup of coffee. I'll also unload the dishwasher from when Paul ran it the previous night.
8:45 Clean, Play
I clean up the high chair [moms don't you wish we got paid $1 each time we cleaned the high chair?! ha!] and we go play in her playroom.
9:15 Down for Nap
Maxi will go down for her morning nap and I either shoot at the house with my photographer, shoot downtown or work at my desk. The one day a week I shoot downtown, my mom comes over to watch Maxi during her nap. If I'm working at my desk, I'll normally check in with my management team, have conference calls and work on finalizing my post for the next day. I typically have about 4 conference calls a week with one in-person meeting, so I try to get the bulk of my calls done during this time. I'll also plan out my social media for the day at this point. If she sleeps really well for her morning nap I'm also able to focus on my goals and reassess them. I'm always keeping my goals in a google doc spreadsheet so I can periodically check in and see how I'm doing.
10:45 Maxi Awake
Maxi wakes up! If we have errands to run now is the time I'll do it. She'll take a bottle, I'll change her and we'll run out the door. Lately, it's been so cold [it's a casual 7 degrees as I type this] so I have been keeping her at home and ordering EVERYTHING on Amazon. But if it were nice out and we don't have errands, I'll take her on a walk. Whatever we are doing, this is typically our "out of the house" time.
12 Lunch
Maxi still isn't a huge fan of meat, and no matter what we make her she finds it and picks it out. So for lunch she normally has scrambled eggs! I mix a scoop of cottage cheese in the eggs for extra protein and I like how they come out with that. She also really likes peas and steamed carrots and will eat those. I mean the combinations our kids eat?! Eggs, peas and carrots. Now is a good time to insert the emoji with the nauseous face. haha.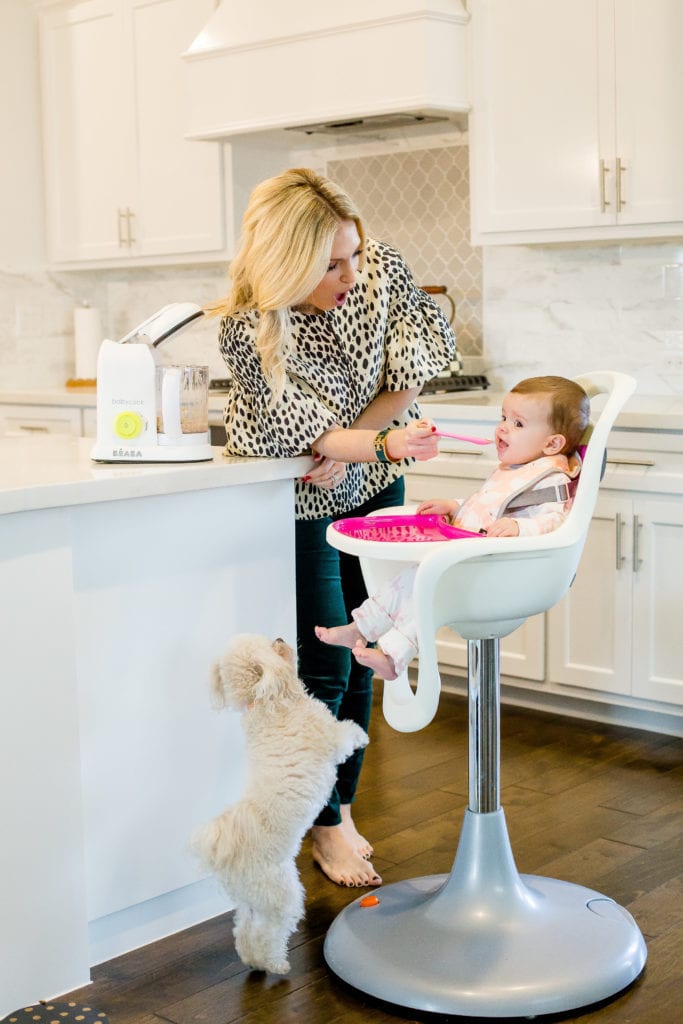 *this is the baby food maker we used when she ate pureed foods*
12:30 Play
We play in her playroom at 12:30, I'll start a load of laundry, pick up the house and call a friend if I need to. I'm horrible at texting back. I'm on my phone so much for work, that I try to just not even text that much and so it's naturally become engrained in me that I'm terrible at texting. But I'm much better at calling to chat for 15/20 minutes.
1:30 Nap
Maxi will go down for a nap and I'll try to do a deeper cleaning task like mop or dust. This is also when I work on the business side of the blog. I'll handle accounting and contracts at this point. I'll also work with my photographer on any upcoming shoots and I'll plan out anything I need to style or shoot. So much of what I do I feel like is "planning" and then maybe 10% is implementation.
3 Wake Up
Maxi wakes up and I'll start dinner. Thank the Lord for the pack-n-play because mama can't hold a baby over a stove. If I'm not doing a crock-pot meal, I've learned to just start dinner at 3 and either keep it in the fridge or go ahead and bake it. Maxi eats dinner early, I follow suit and then Paul gets home later from work so it just makes sense.
3:30 Snack
Maxi has a bottle when she wakes up from her nap, but she never drinks much at this point. I'll give her those broccoli tots or fruit for her snack.
4 Who Even Knows
Witching hour here we come! ha! Maxi never had a witching hour as a newborn, but she gets pretty tired around 5/5:30 now that she is older. 4:00 is honestly different each and every day because of that. Sometimes I can tell we will skip witching hour so we may go run an errand or she'll be really happy playing with me in her playroom. Other times I can tell it's going to be tough so I'll finish folding laundry and just make everything else as calm as possible so I can comfort her while she is fussy.
5 Dinner
Maxi eats dinner at 5 and like I said this is when witching hour can start. Sometimes I just rock her in her room and she'll snooze on me for 15 minutes and that works like a charm! Thankfully, that hasn't affected her bedtime but I know this won't work much longer. For dinner, Maxi eats whatever we eat and that makes things pretty easy! We do family dinner on Wednesday night with my parents and that's when we take her out to eat. Maxi does really well if we go out to eat and skips witching hour. She really likes being out and about so I guess that is why?!
6 Clean Up and Bath
I'll clean up dinner, put food away, load the dishwasher and play with Maxi before her bath. She takes her bath at 6:30 and she always tries to climb in the tub during the day because she loves bath time.
7 Pajamas, Books, Bed
I put her in her pajamas, we Facetime Paul before bed and then I read to her. I say "read" loosely because we all know at 11 months you get about 4 pages in, they grab the book and they either start chewing said book or flipping the pages themselves.
7:30 Sleep & Work
Maxi falls asleep at 7:30, then I have about 30 minutes I can work on e-mails. I feel really bad, but I can't respond to all my direct messages. I mean that of course would be impossible to do, I'd be on my phone until 2 a.m. However, I do try to get to about 40 a day and I'll do that at this time. It kills me I can't get to it all! I always feel terrible about it.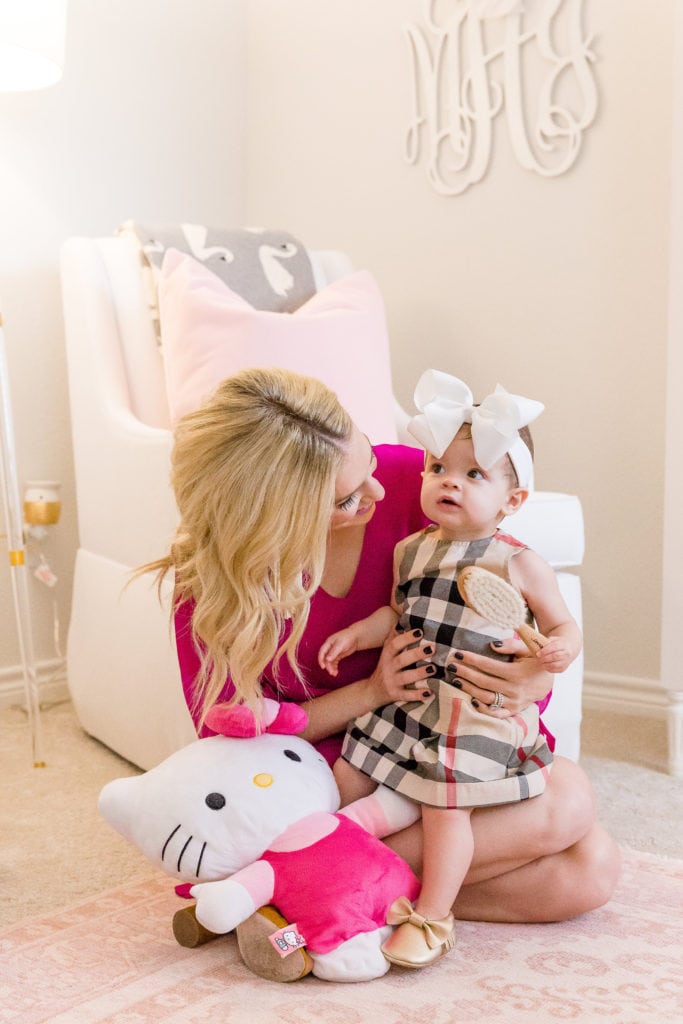 8 Paul is Home
Paul gets home at 8, but that's also not true for every single night. When we go out to eat as a family he normally gets home sooner and then some nights he works later, it always just depends. When he gets home I sit with him while he eats dinner and we chat.
9 Workout or Shower
Okay, I don't really workout. Like ever. I count carrying Maxi as a workout. But in the off-chance I do a BBG workout or run on the treadmill, now is the time I do it. Normally, I shower, prep for the next day and get the diaper bag ready. I'll check the mail, write thank you notes, respond to texts. I also like to reassess my to-do list for the next day so I can prioritize my needs.
10 Read or Work
Paul and I had a New Year's Resolution/Goal to start getting in bed earlier and sleeping more. Normally, I go to bed at midnight but lately I do try to get in bed at 10. I'll read instead of work and I sleep so much better when I do. Half the week we do that and then half the week we don't. haha.
Sleep
If I'm being honest, normally I go to bed at midnight. There's always something that comes up work wise that needs my attention a little bit more than what I planned for. However, like I said we are trying to be better about it so I do my best for us to be in bed at 10.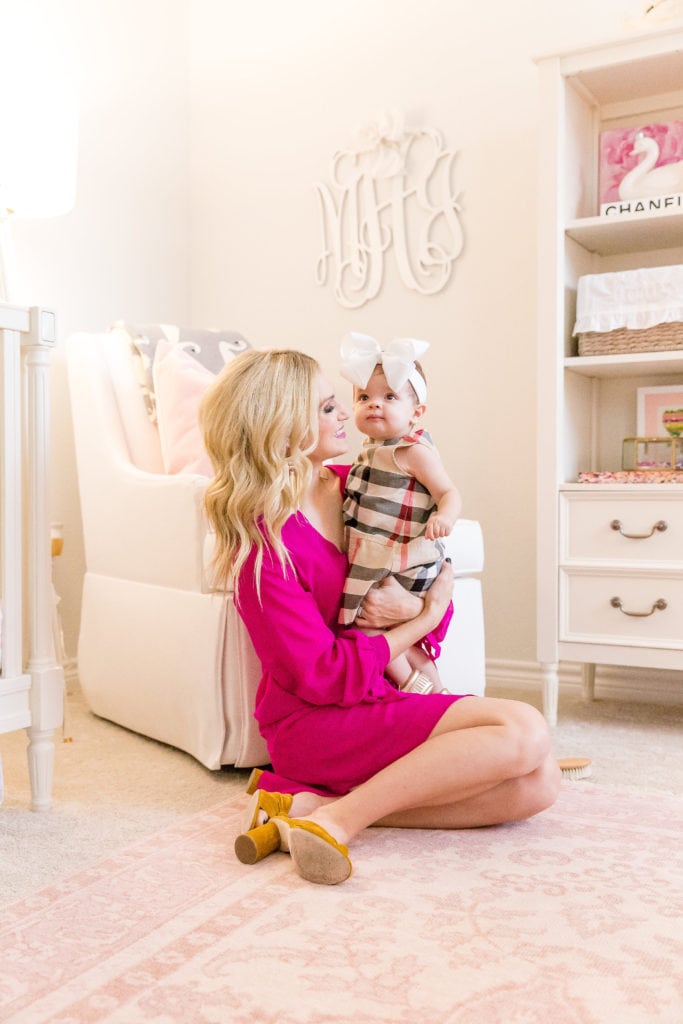 Notes
This is the planner I use and I love how big it is. I also use google docs for everything work related. I have my editorial calendar there and that keeps me sane!
Each Friday, I spend an hour planning my next week. If I didn't do this, I couldn't operate the blog. I write out everything from what I'm cooking each night to what I need to do in 30 minute-time blocks for the day. I also plan my social media. I love the app, Planoly, for that.
I shoot for the blog on Tuesdays and Saturdays during Maxi's morning nap. When Maxi starts Mother's Day Out one day a week later on, that's when I'll move my shoot times.
Lauren, my sweet assistant, does things remotely but she also comes about every other Friday during Maxi's afternoon nap. She helps keeps me organized and I appreciate her so much!
I do work on the weekends and shoot on Saturday mornings during her nap. On Saturdays I still get up at 5 and I get a good 3 hours of work in because on Saturday mornings Paul will have that morning time with Maxi. I also work before bed on weekends as well. I would say I honestly get more work done in the weekends because Paul is home and our schedule is different. I just aim to work when he is sleeping or doing something for himself. I'm extremely grateful because he's so supportive of me when I need to work. He is always like, "I don't have distractions at work, you have a million at home so what can I do to make this easy for you?" We are a team for our family and he is a huge reason this little website can run!
I deep clean on Sunday afternoons.
I get a lot of motivation from other women I admire and respect. I was reading an article and one really successful mom of 3 in the beauty industry was talking about mom guilt with working. She has to travel a lot for work and the publication asked her if she felt guilty about that. She said something along the lines of, "I used to, until I asked myself if I wanted my daughters to feel guilty. I don't ever want to raise daughters that feel guilty for having to take a business trip one day, so why would I show them that by example?" That was a game changer for me! We raise our children to become whatever they want to be, and they learn by example. I'm following my dream of working and being home with her, so I do my best to not have guilt because she'll learn best by example.
Another thing I love is to know that I can do something but maybe not in this season of life. We have so many seasons in life and I always want to do everything in the one I'm currently in. For example, last night I brought a girlfriend a meal after she had her second baby. I brought dinner and a gift for her, but I felt really bad I didn't make homemade nursing cookies as she had for me. All day long I kept thinking, "Do I have enough time to do it? Could I run to the store and grab the ingredients?" But I had to just say, "Katey, stop. Right now you work and you're a mom. Maybe you'll have more flexibility in another season to do that or maybe you'll just get 50x busier and not care about baked goods." My mom always says, "If you do everything now, what do you have to look forward to?" So whenever I don't get a workout in, or don't bring a baked good or don't read as much, I just remind myself, "That's something to look forward to and set a goal for in another season!"
I know we are all so extremely busy, so first off I really appreciate you reading this post! Do you have any time management tips or ways you remove guilt in your schedule?! I'd love to hear!


Pink Dress: Nordstrom, Styled Here | Top: Tuckernuck | Jeans: J.Crew Factory | Pajamas: Old Victoria Secret, Similar | Vanity Chair: One Kings Lane | Makeup Organizer: GLAMboxes | High chair: Boon Flair | Baby Food Maker: Nordstrom | Yellow Mules: Loeffler Randall, Similar | Maxi's Dress: Nordstrom | Maxi's Bows: Kay's Hallmark [a local Hallmark store] | Maxi's Monogram: Gift from Shower
Photography by: Madison Katlin