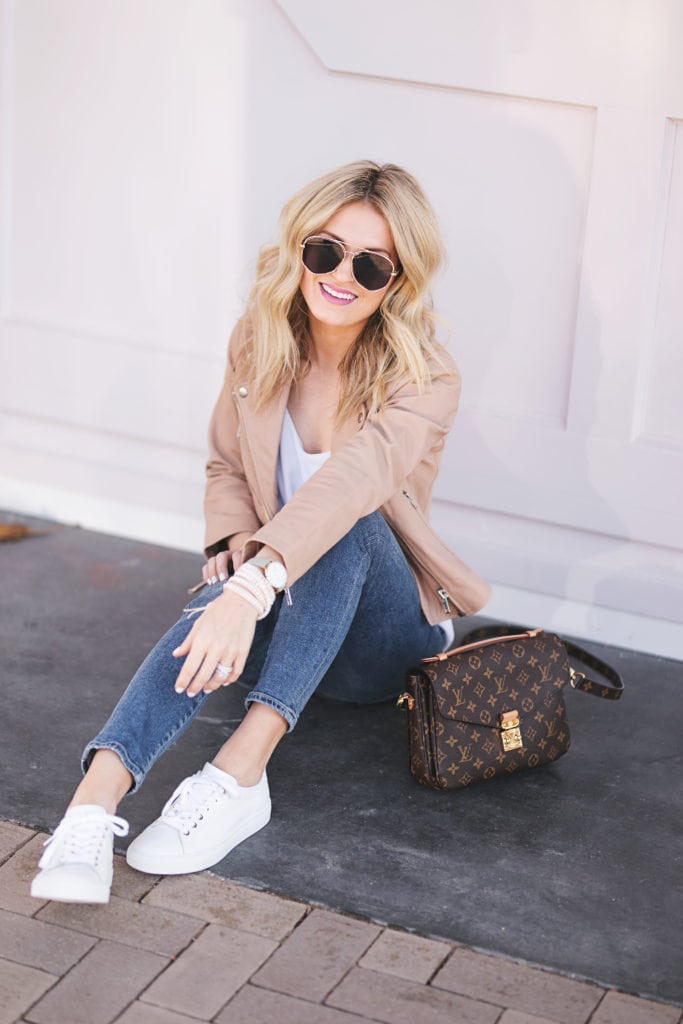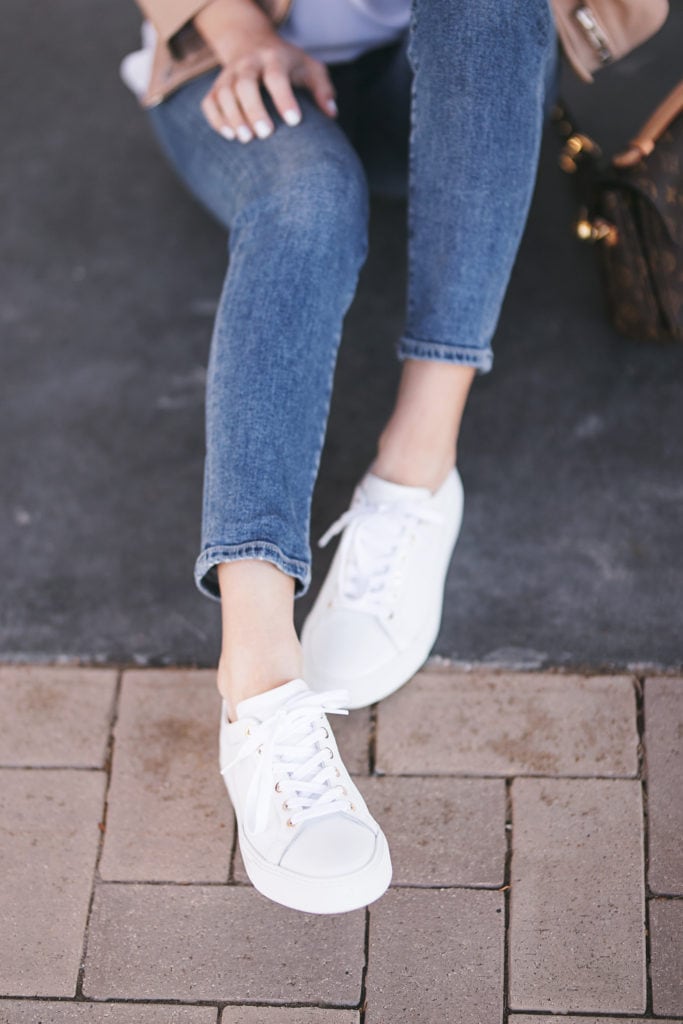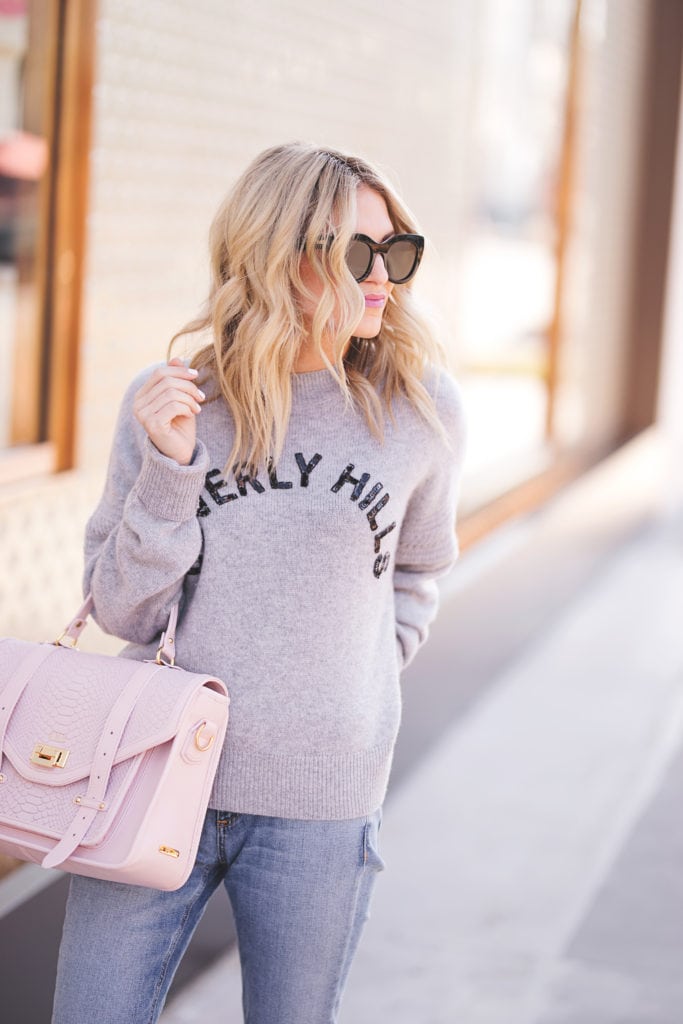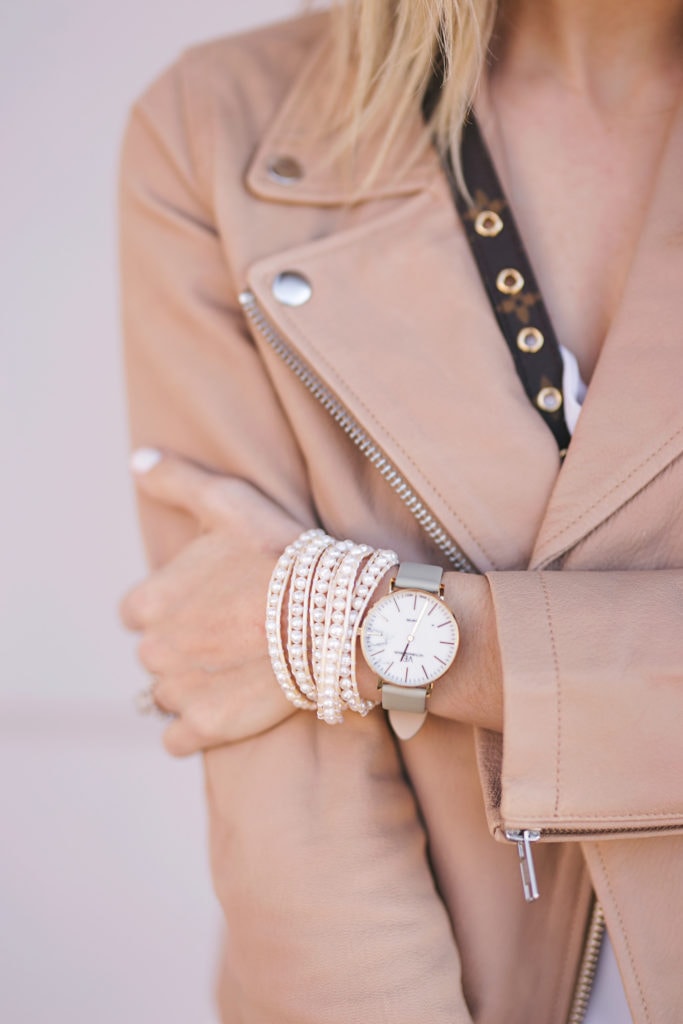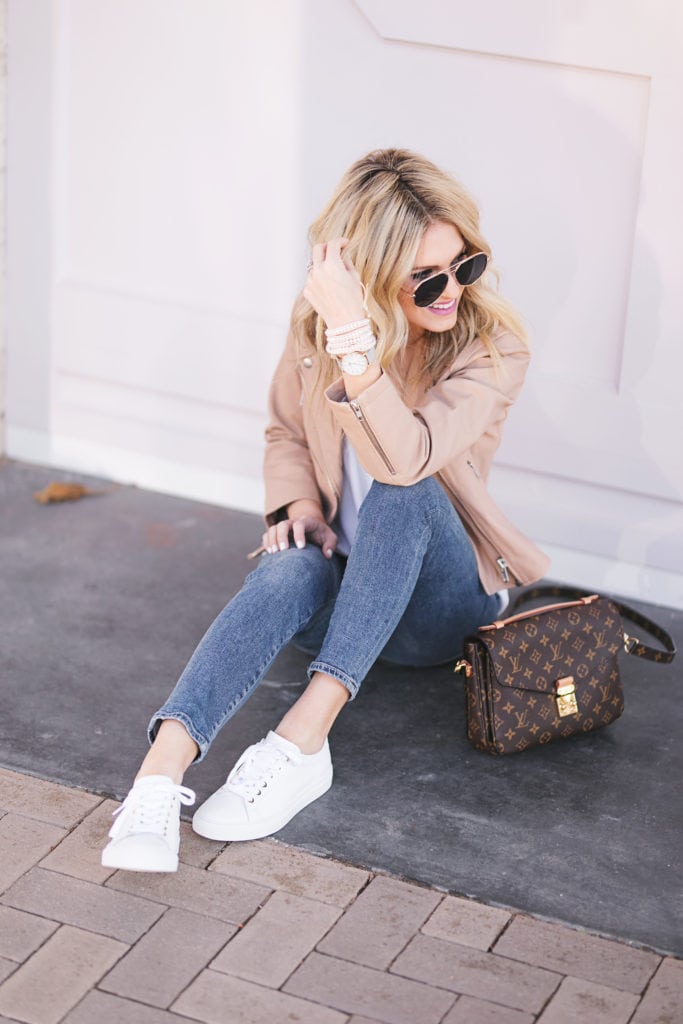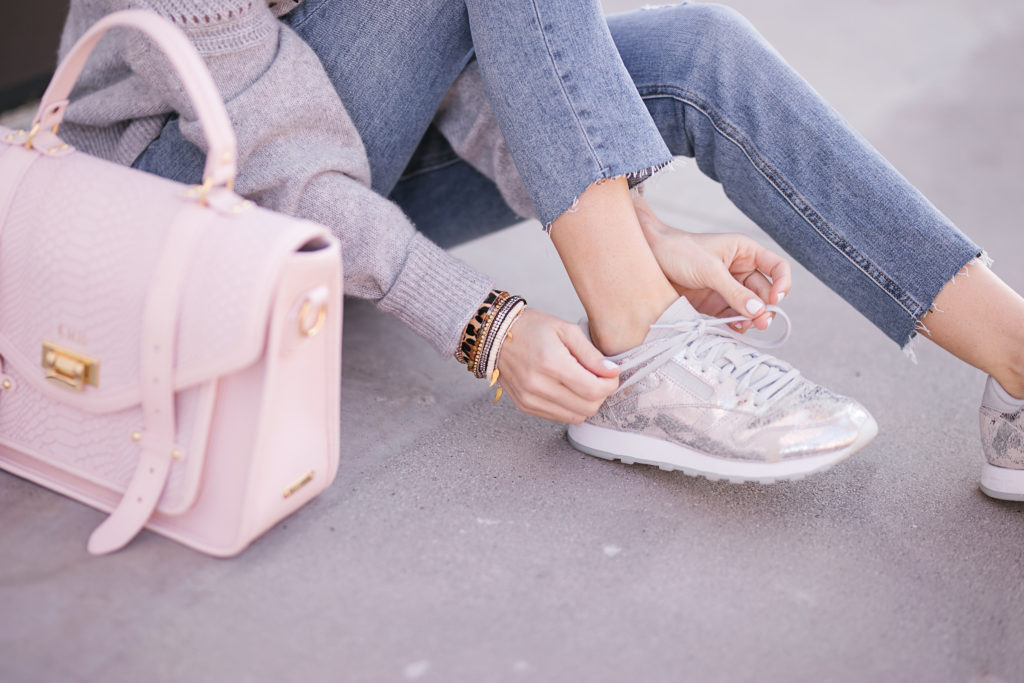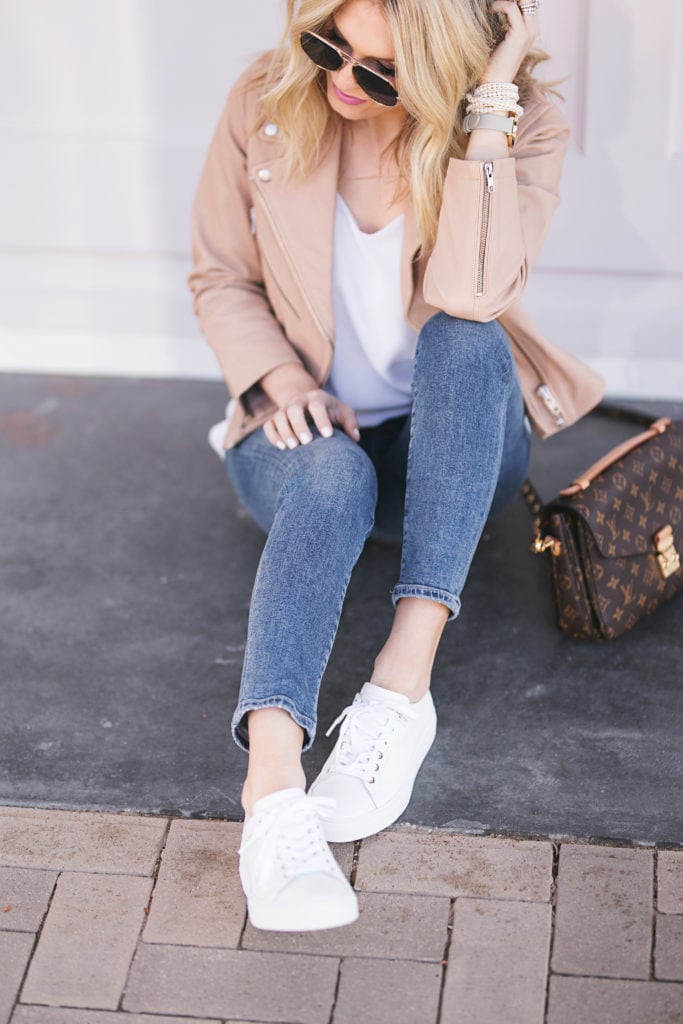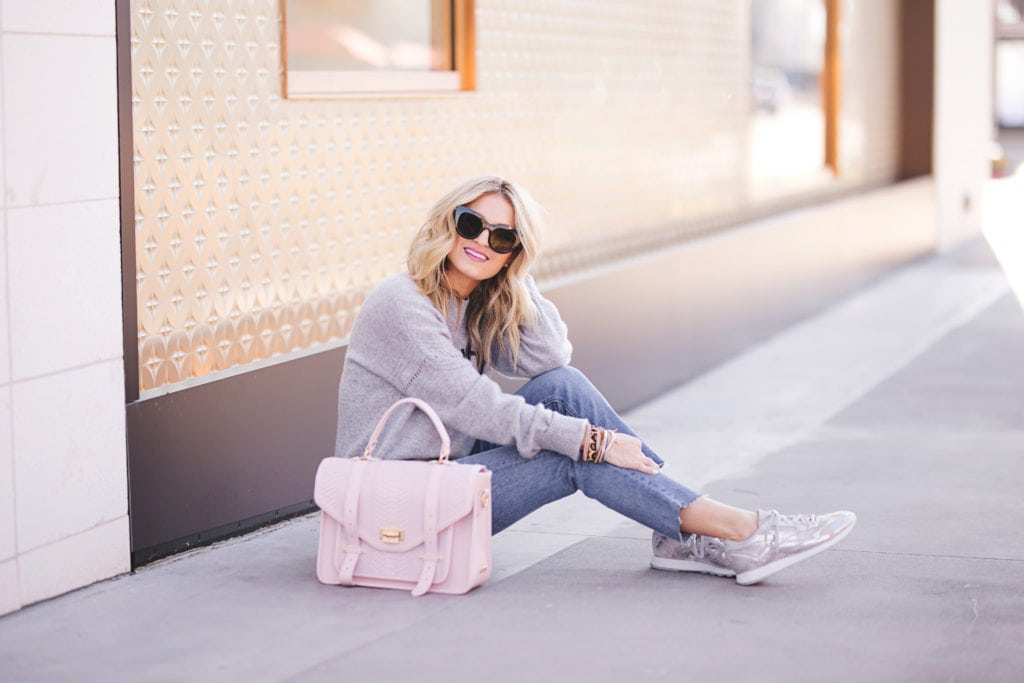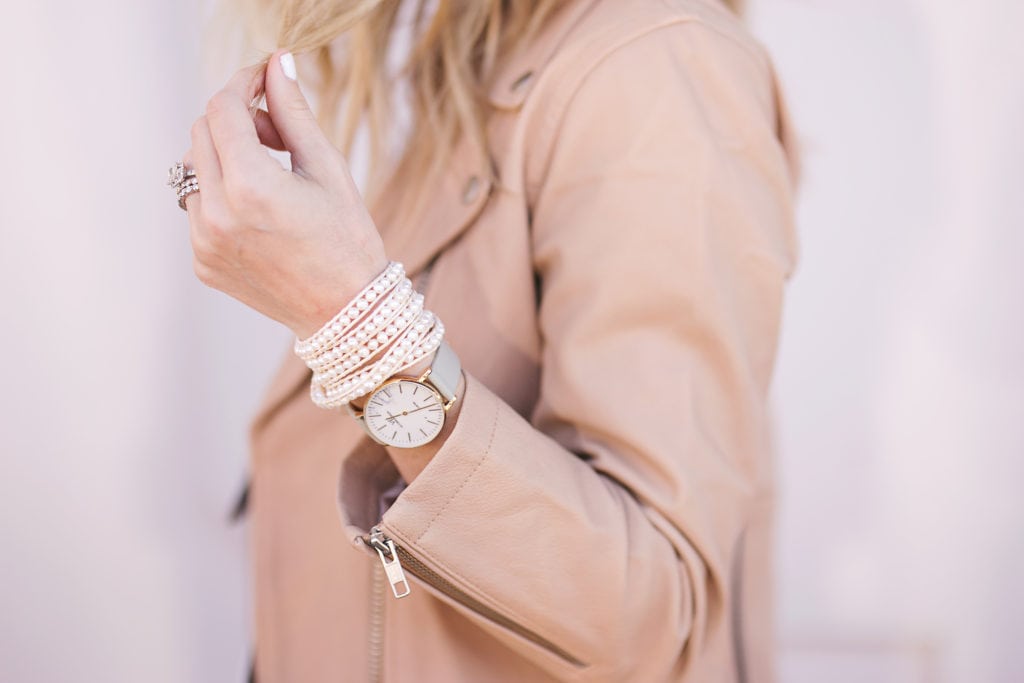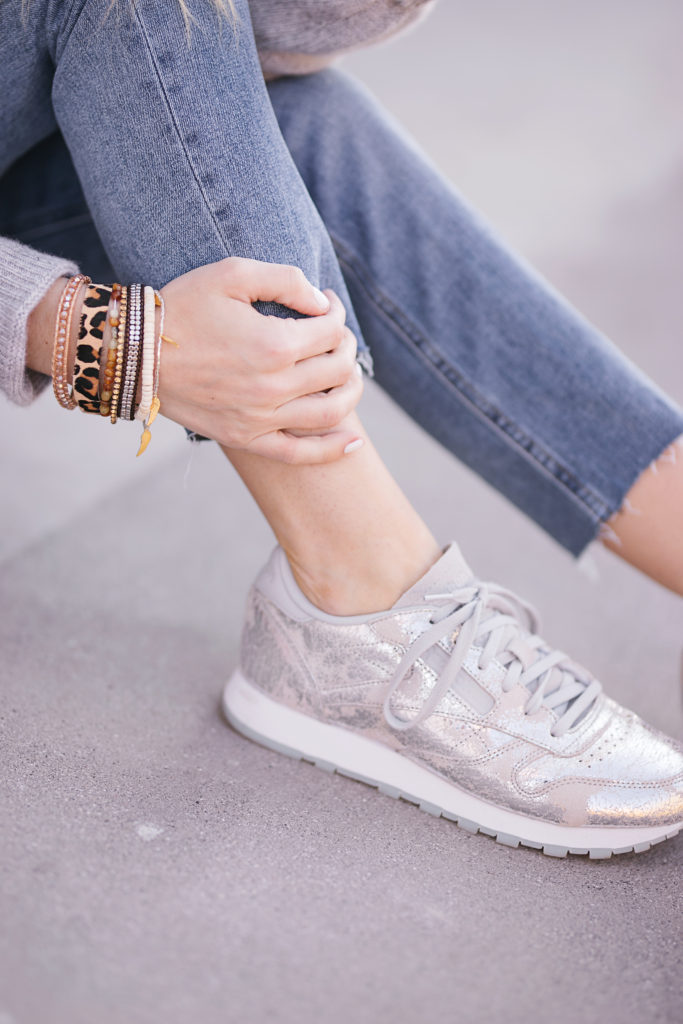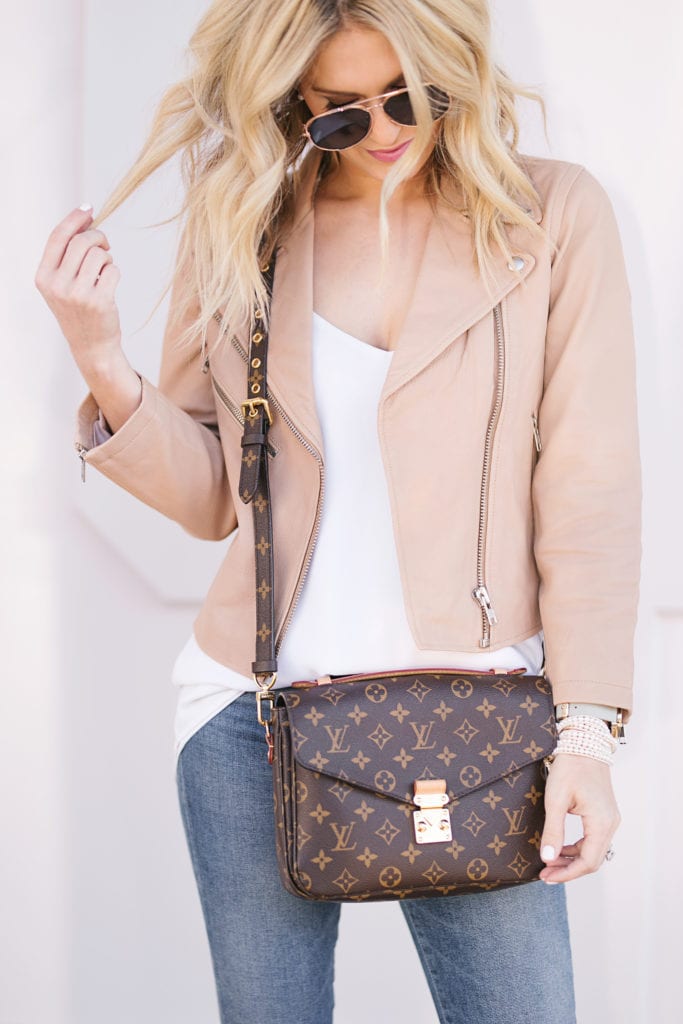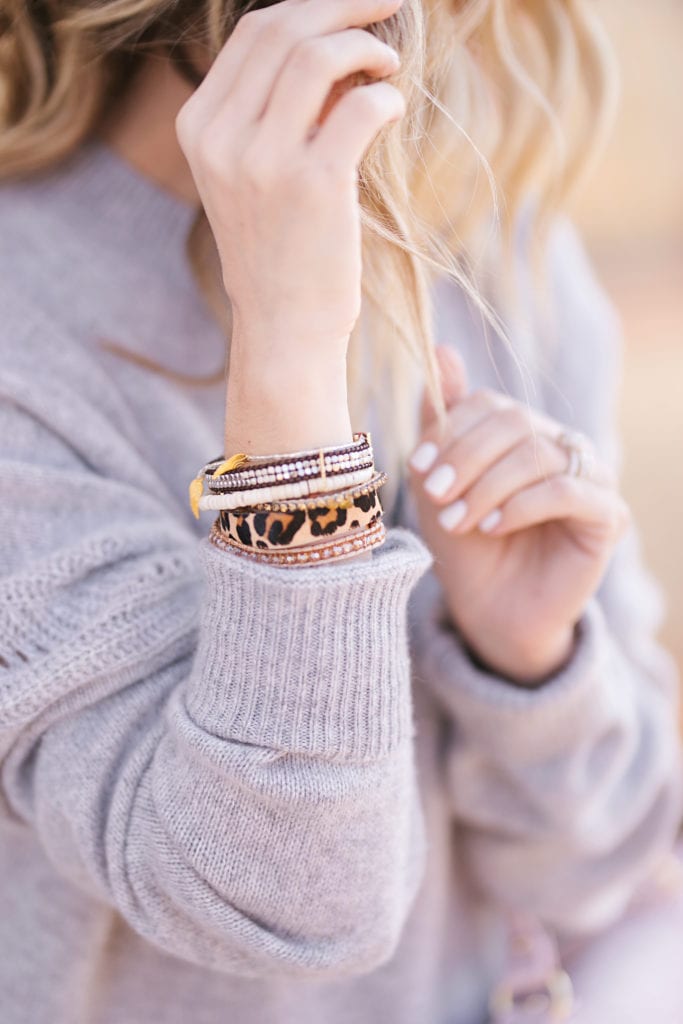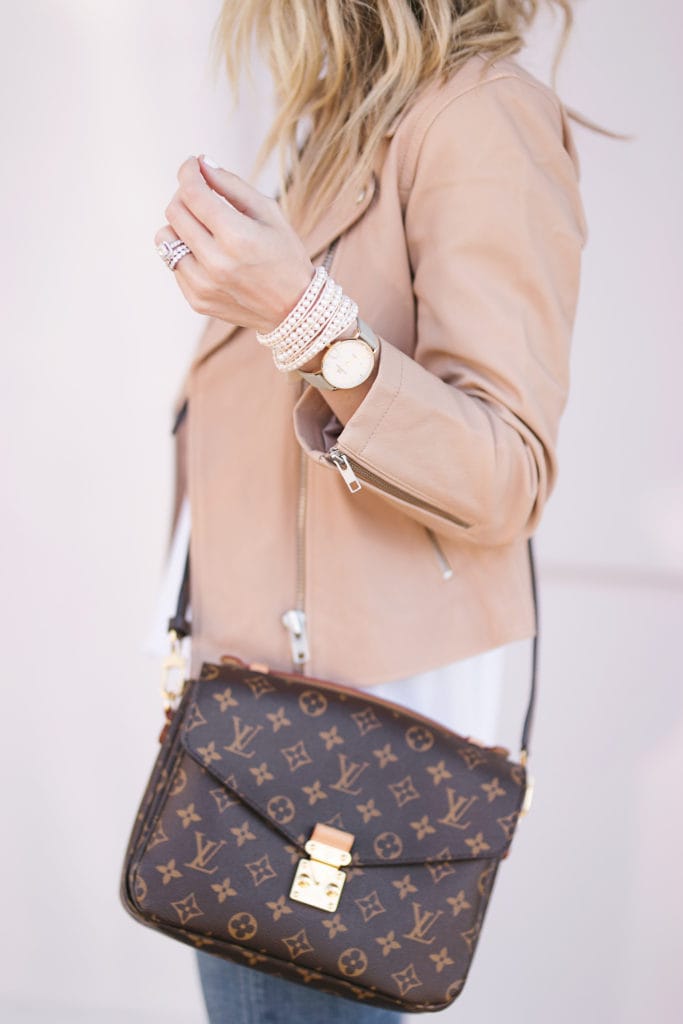 Pearl Wrap Bracelet: Victoria Emerson [c/o] | Watch: Victoria Emerson [c/o] | Leopard Wrap: Victoria Emerson [c/o] | Beverly Hills Sweater: Nordstrom Rack | Jacket: Madewell, Similar, Similar | Tank: Similar | Fitted Jeans: Shopbop | Boyfriend Jeans: Revolve [go down a size] | White Sneakers: M.Gemi [c/o] | Silver Shoes: Reebok, Silver | Bag: Gigi New York, LV
Photography by: Angie Garcia
---
Before the end of the year, I had asked for some open-ended requests on Instagram. One girl commented asking for me to do a post on tips for styling jewelry with specific outfits. I loved that idea because although layering jewelry is incredibly personal, there's always a few rules I follow that help make it a quick decision. At the point I'm putting on jewelry, I typically have the diaper bag on one shoulder and Maxi in the other arm. I can't spend a ton of time staring at my jewelry box, so I follow a few tricks to streamline the process. I know you are all the same whether you're running out the door to work or chasing 2 toddlers. But just because we are busy, doesn't mean we want to neglect our accessories!
I'm partnering with Victoria Emerson on this post after my mom gifted my sister and I this brand of bracelets for Christmas. She put some in our stockings and gave them to all her neighbors and her neighbors' daughters. The line has a really great price point, but what drew me even more to a post was the fact that my mom gifted everyone from a 14-year-old to a 54-year-old. My sister and I are total opposites, so this was the only "matching" Christmas gift we received. If we both loved one brand [which is beyond rare], I knew readers could too! I also love the price because wrap bracelets are huge at boutiques around where we live, but they go for $170+ which is a lot more than I'm comfortable spending.
Tips For Styling Your Jewelry
Have a Base
I love to make a statement on my wrists. If you go back to my very first blog posts [but please don't…embarrassing…] I put as many bracelets on as I could. It felt really comfortable to me and like a daily uniform. Whether you like to keep it simple or prefer to feel eclectic in your jewelry choices just like the ones this diamond wedding rings Brisbane catalog, anchor your stacks with a consistent base.
In the photos of my leather jacket, I used the marble watch as my base. Ultimately, I think your base should be something more classic [like a watch] that can speak for itself with or without the added layers. This way, it's the uniform piece people always see and then your other bracelets or layers can be more trendy.
Decide On Mixed Metals, But Only Two
I personally think you can mix metals, however lots of other people don't. It's truly just personal preference! Decide if that's your taste or not and then I always limit it to 2 metals. I typically mix silver and yellow gold, but don't think I'm daring enough to also add in rose gold. However, I always think mixing rose gold and yellow gold are a stunning combination. To me, two metals always feel great but three is a crowd. Also, if you have on an earring with a yellow gold base but want to wear your silver watch, don't worry! You can totally do that!
Choose an Accent Color
Once you pick the consistent base in your accessorizing and decide on mixed metals, add an accent color! I like to wear accent colors in either my earrings or a fun bracelet. Victoria Emerson is known for her wrap bracelets and while you can go a more neutral route with pearls, you can pick a color as well. My mom gave my sister a birthstone one for a pop of color.
If It's Got a Shape, Go Short
Look to your neckline to see how you should style your jewels. If you have shape in your top like a v-neck or fun sleeve feature, pick a shorter necklace. If you don't have shape in your top, like a shift dress, then wear something long!
Got a Collar? Focus on Wrist
Now one little note to make on my above rule is if you have a collar. If I have a button-up blouse or a crew-neck like in the Beverly Hill's sweater above, I focus on my wrist! One of my favorite pieces out of the line would have to be the boho bracelets. Many of you e-mail me saying you like a layered look, but you don't want a million bracelets clashing together. The boho bracelets solve that problem! This is a multi-bracelet wrap and all closes together in one clasp. I went with the leopard option, naturally. 😉
 But the best part of accessorizing is that you can also forget all the rules and just grab what feels natural. To me, accessories are the little pieces of home you take with you throughout the day. From your wedding bands to a bracelet your mom gave you that matches your sister, I love that you get to look down to your wrist and see a moment as opposed to a thing.
Do you have any rules for picking jewelry?!