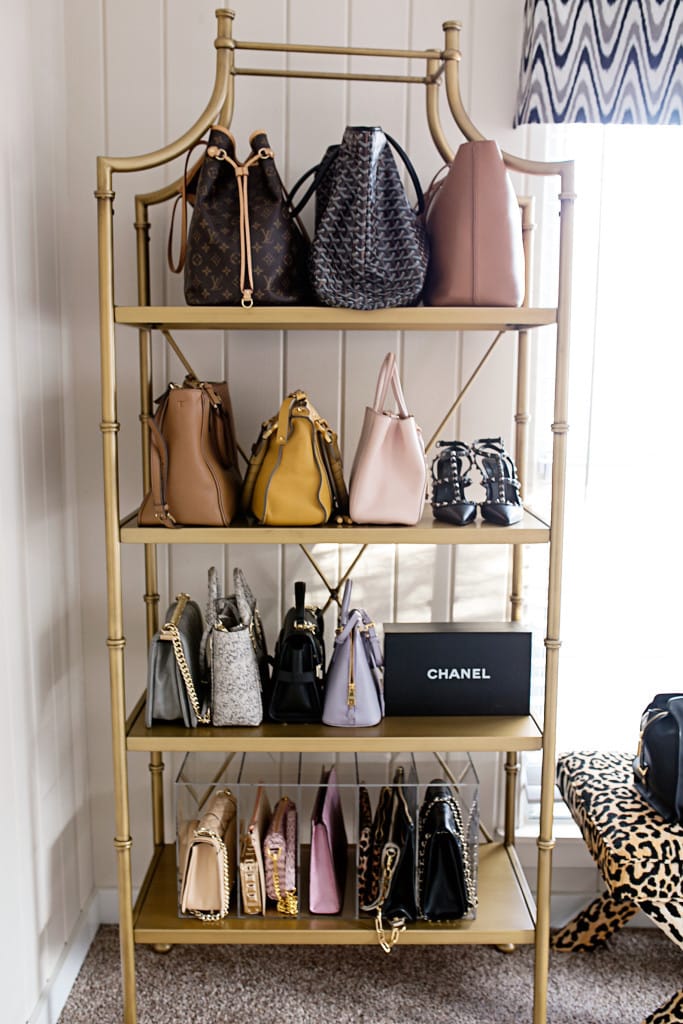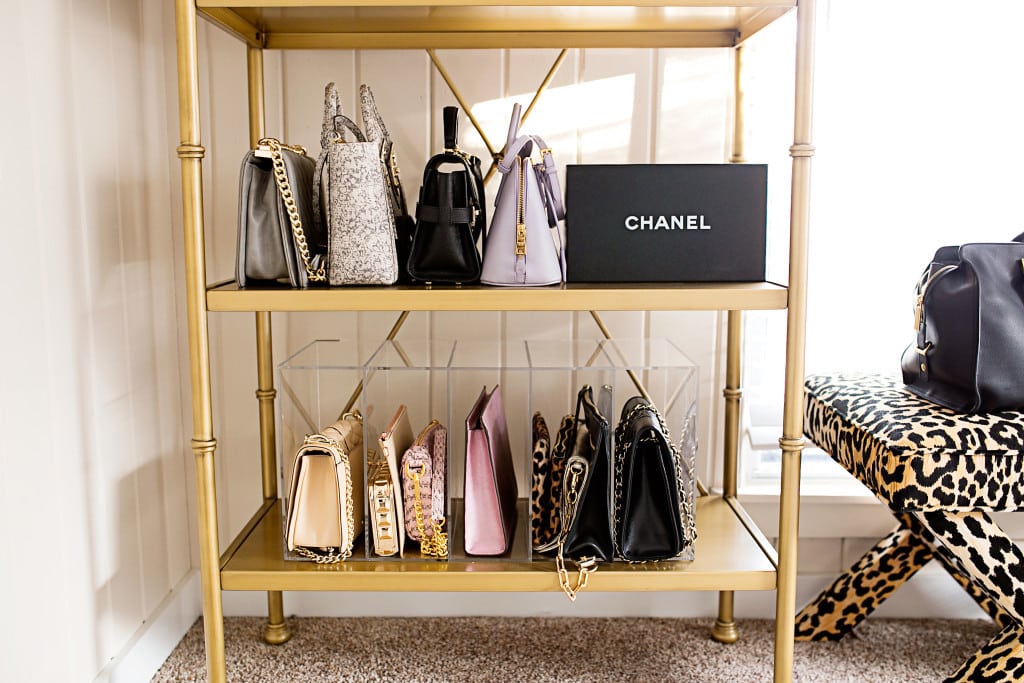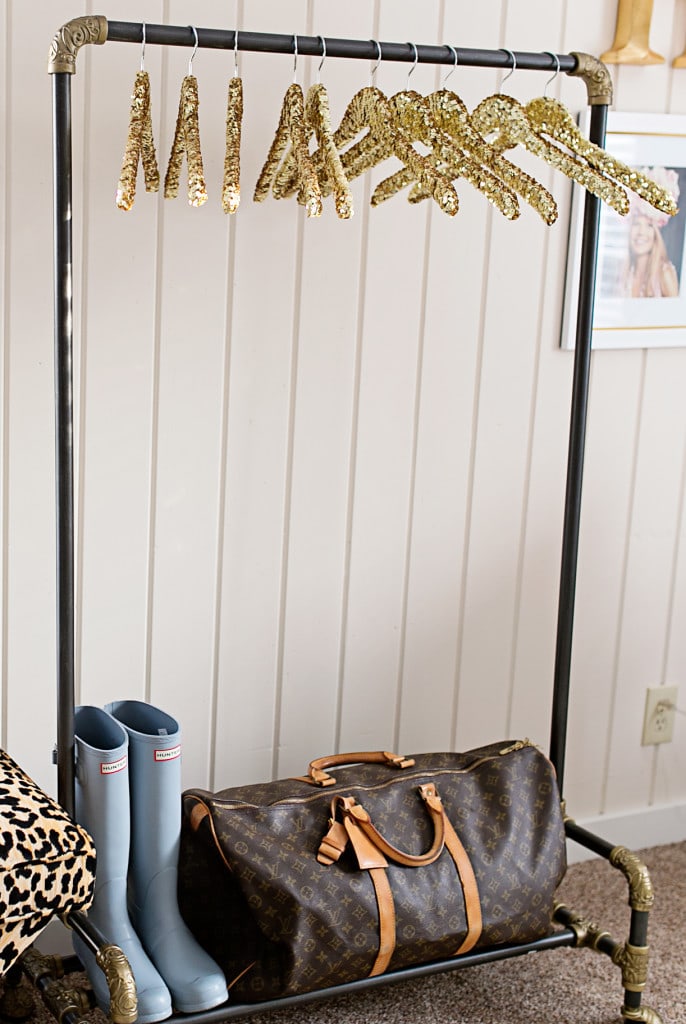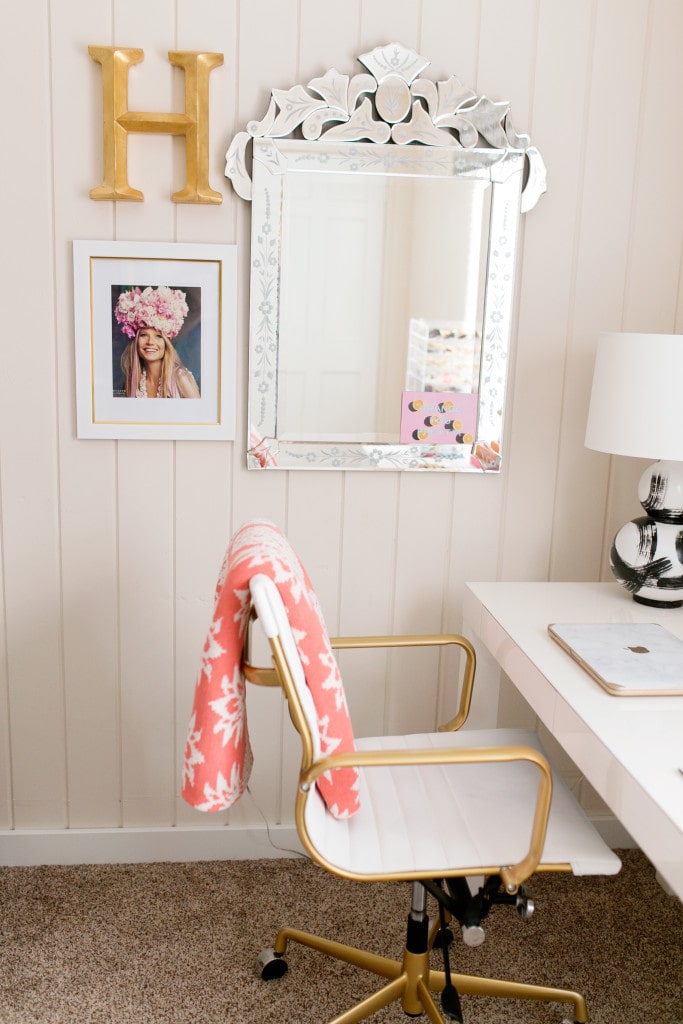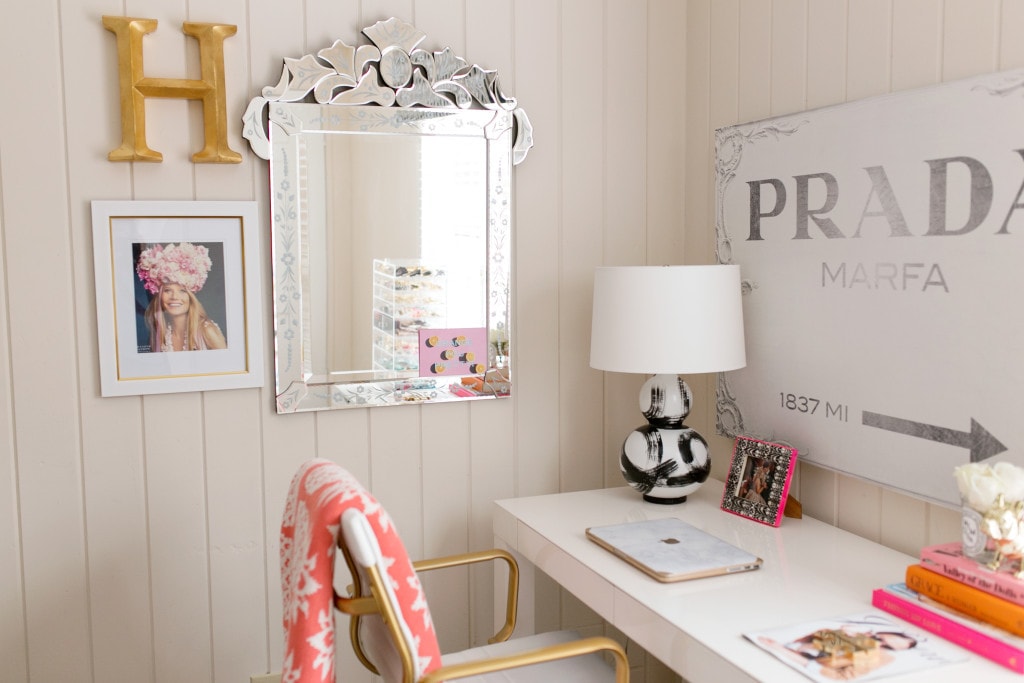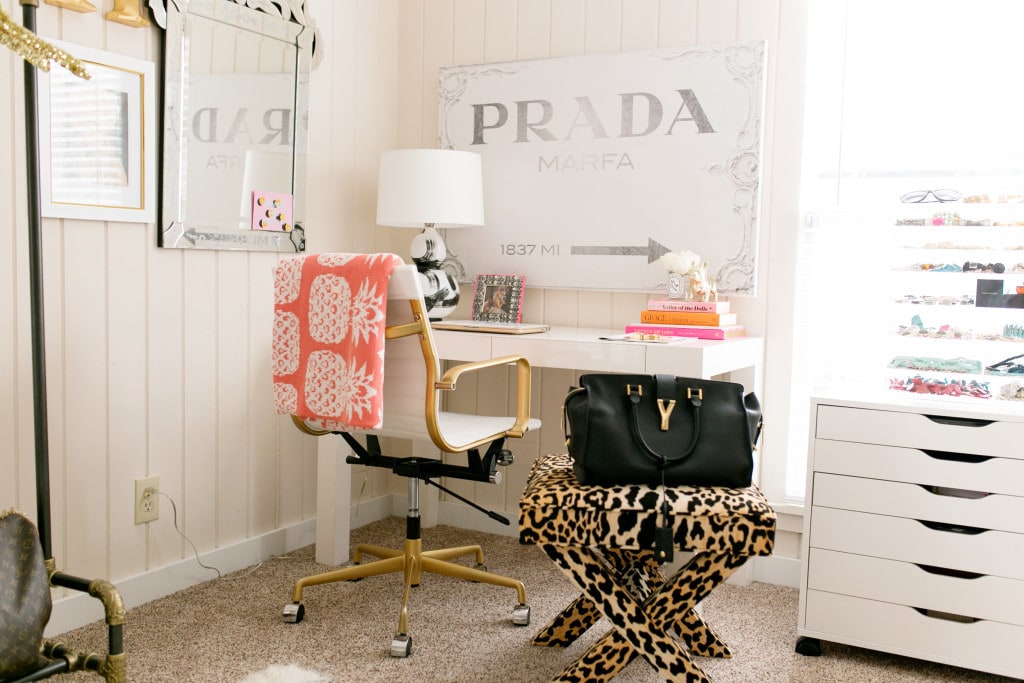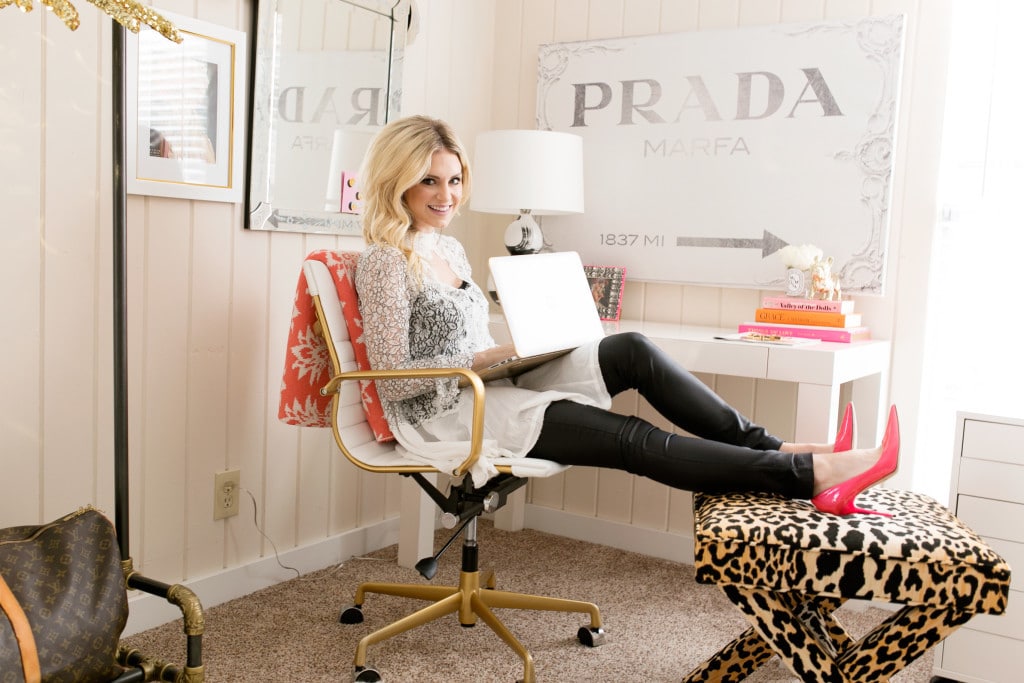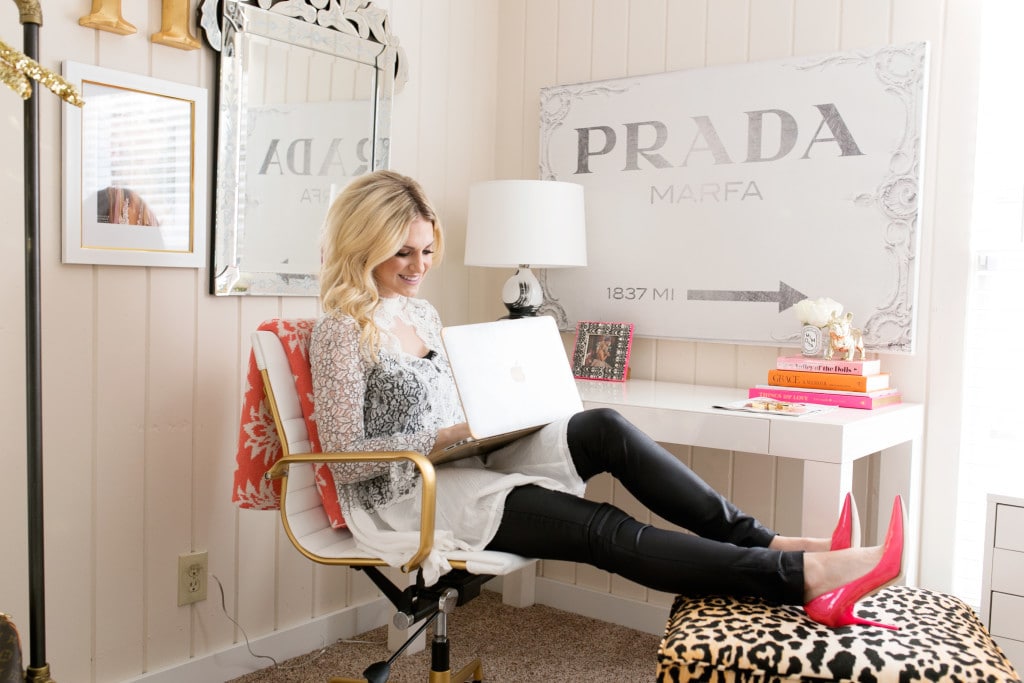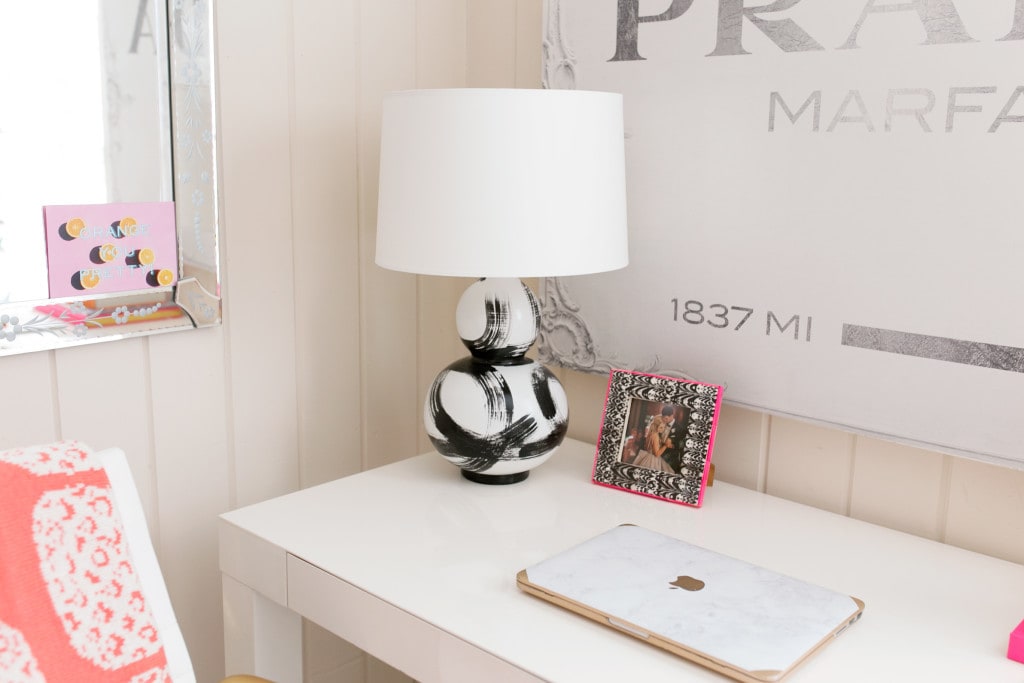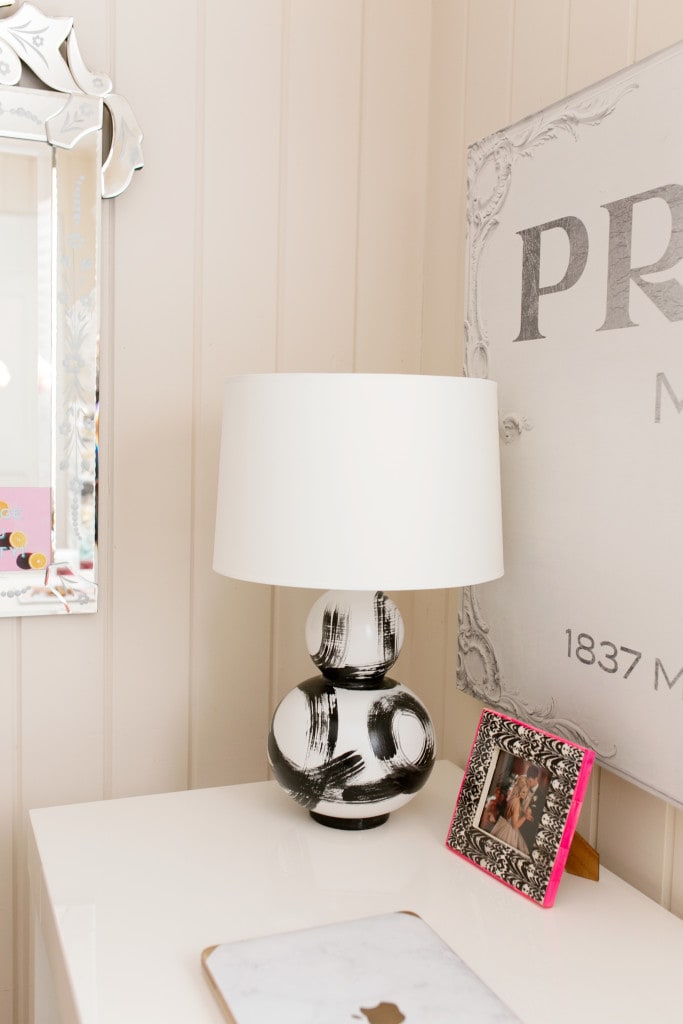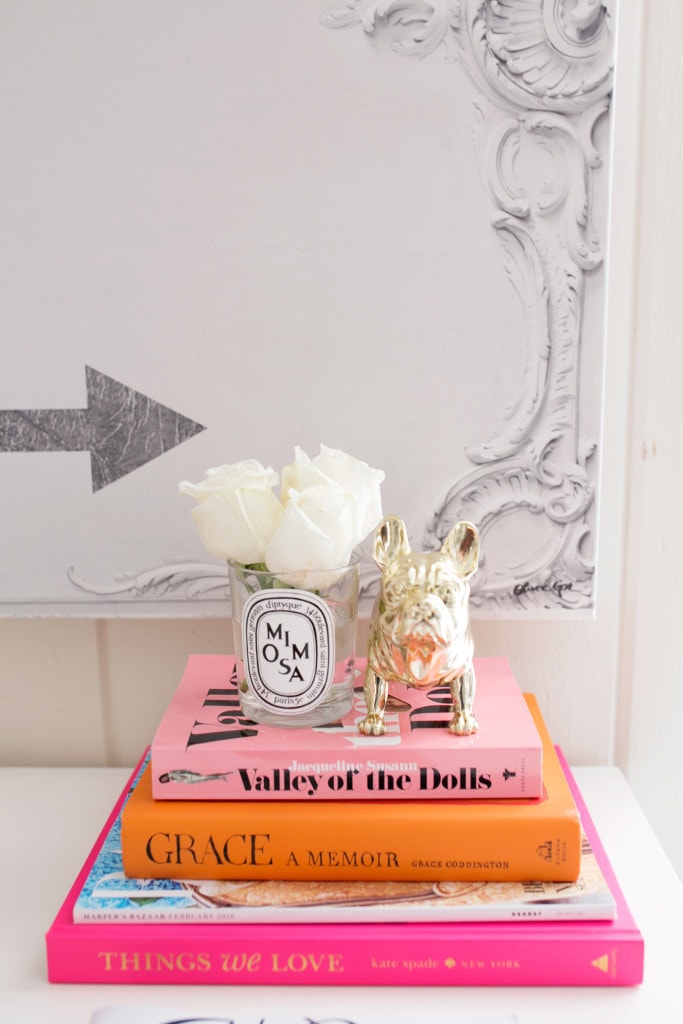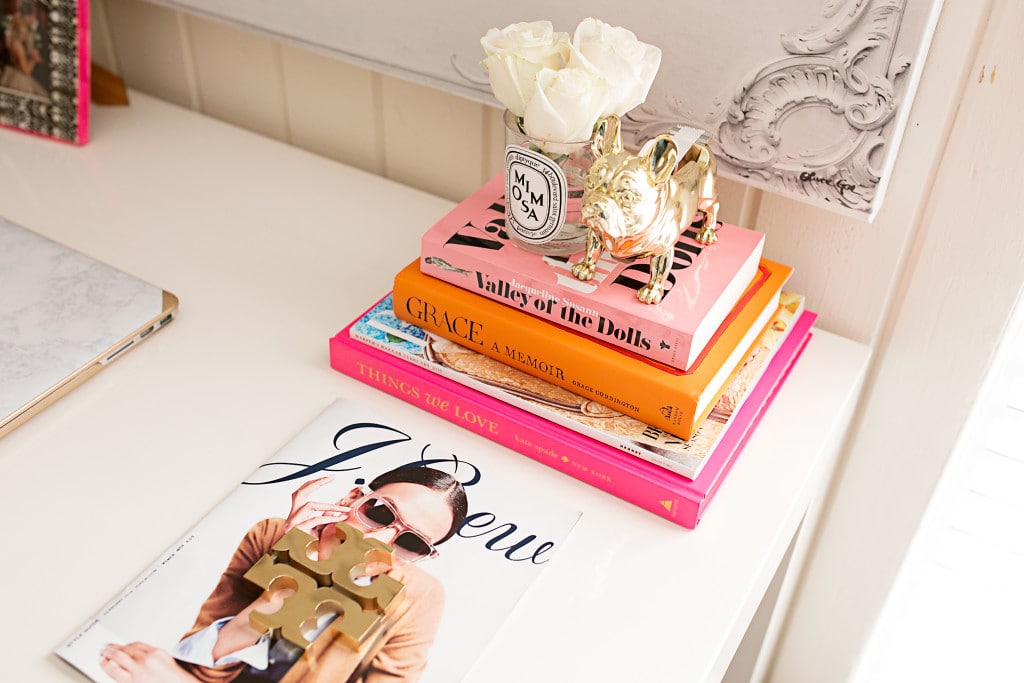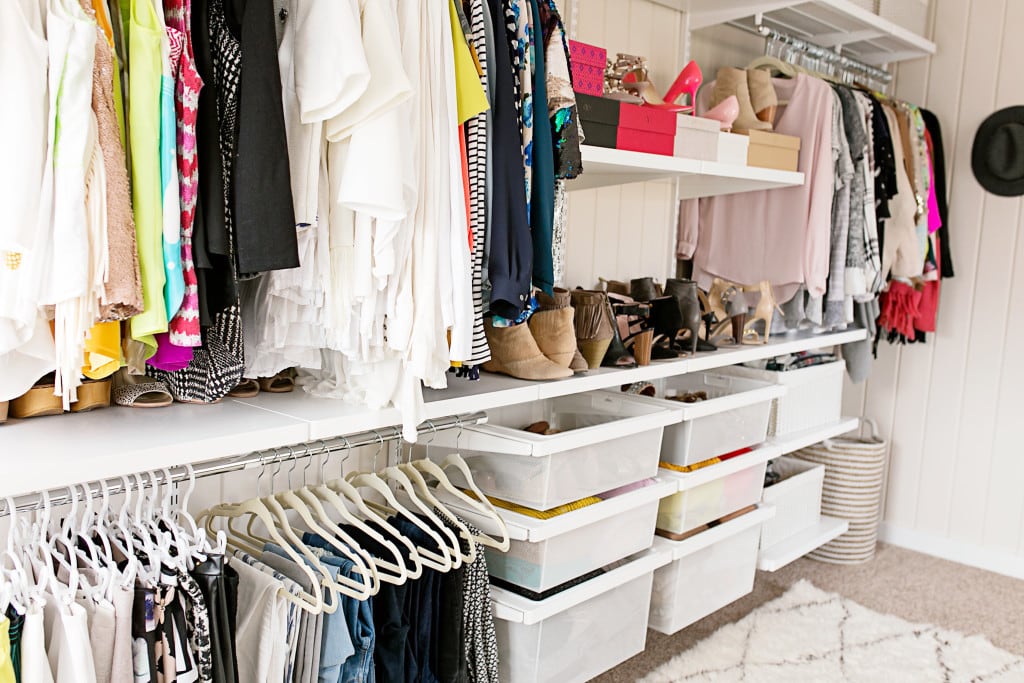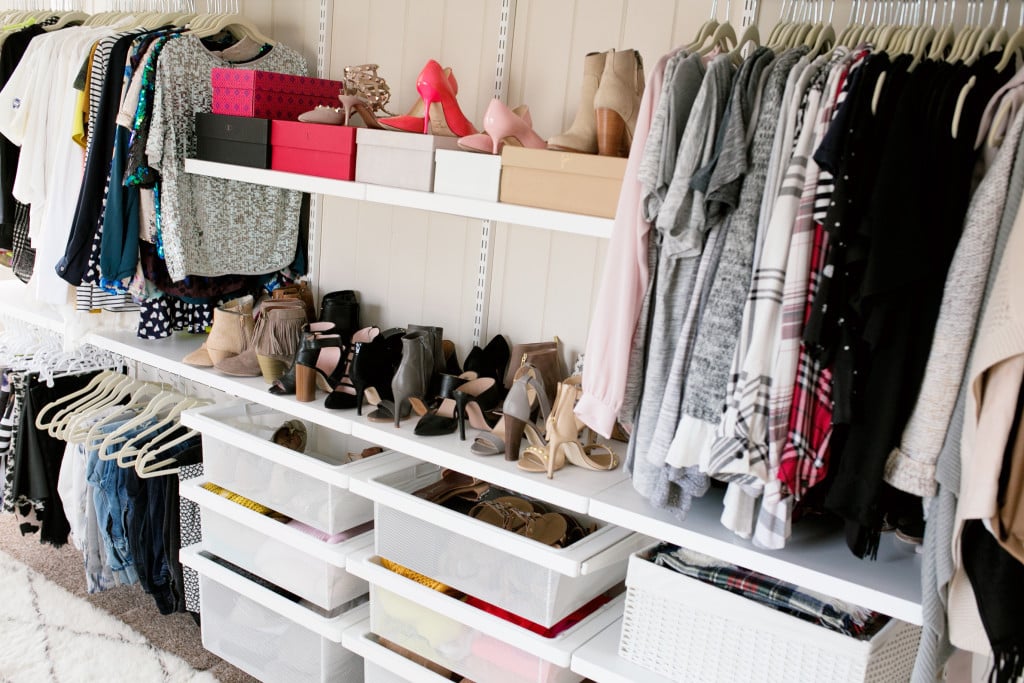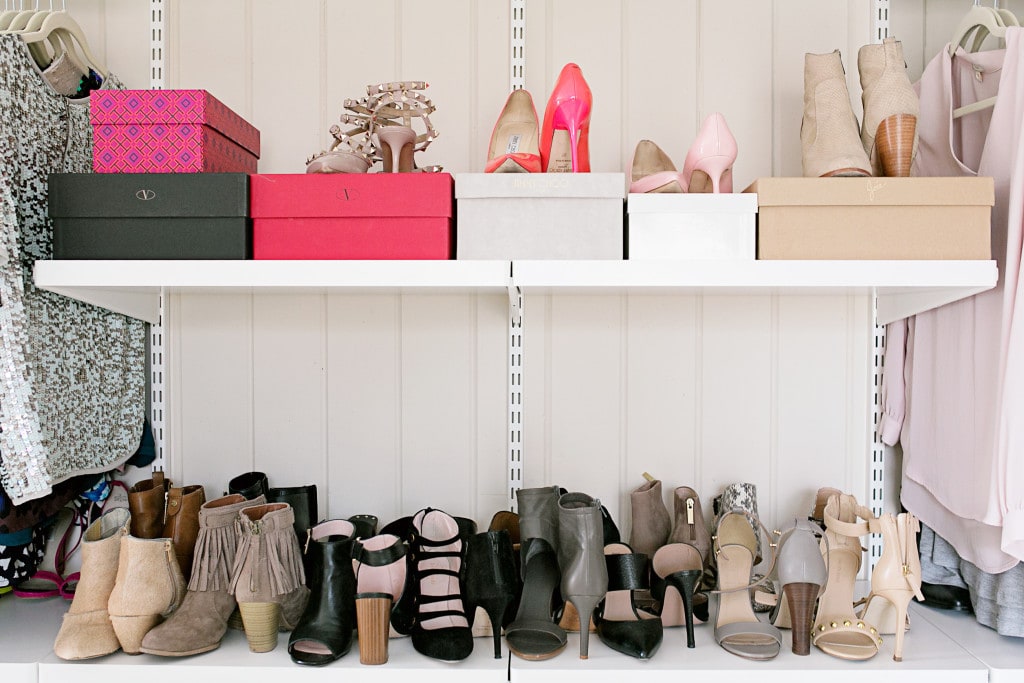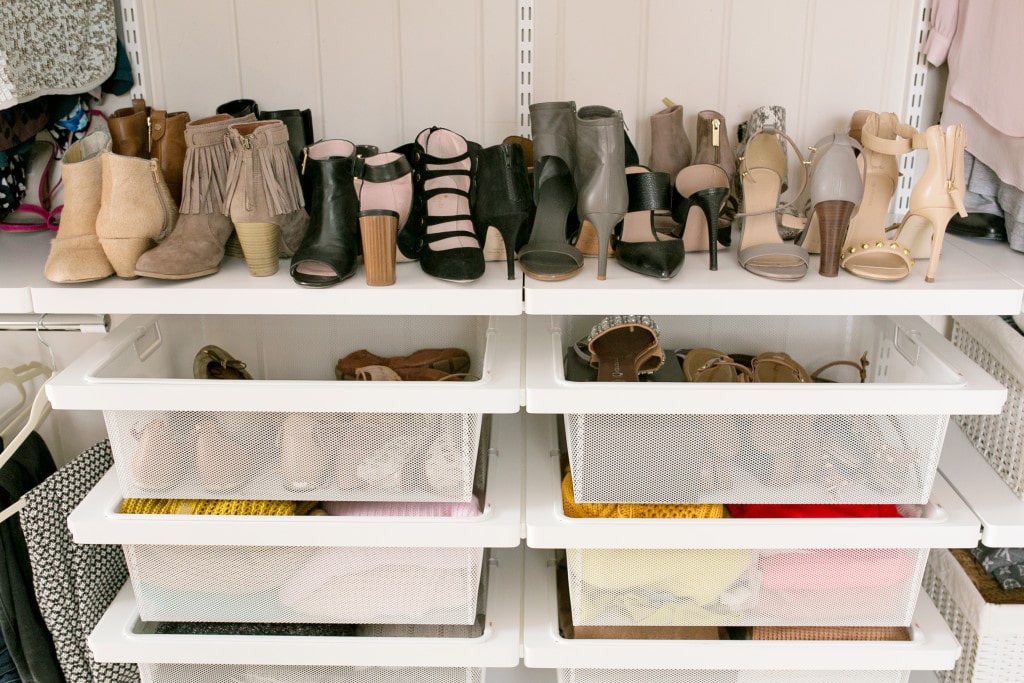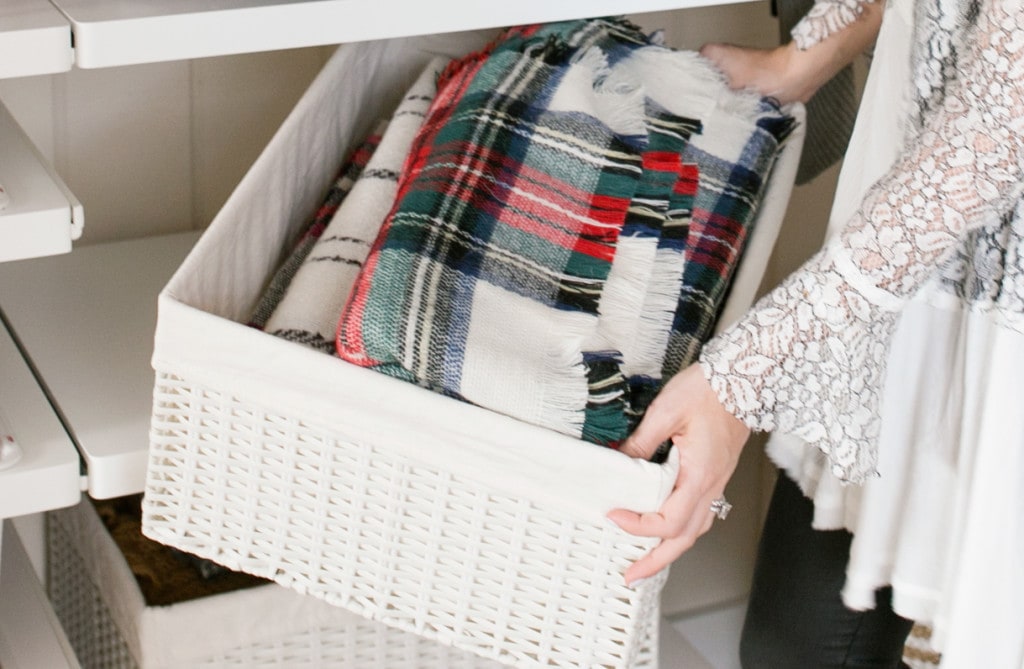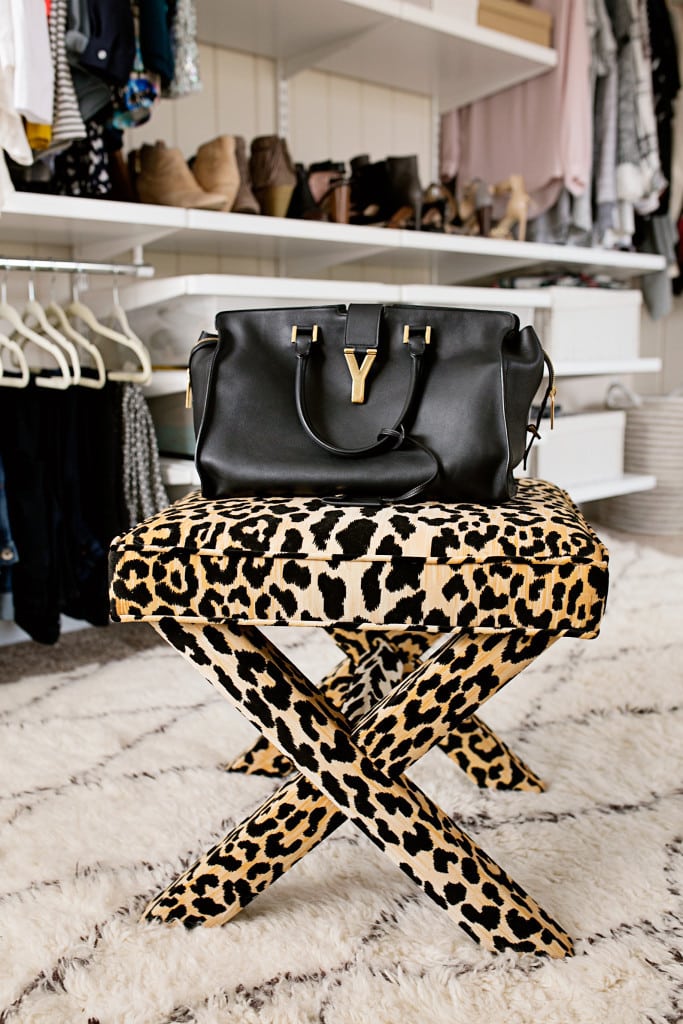 Photography by: Angie Garcia
Purse Shelf: Pottery Barn Teen | Purse Organizer: GLAMboxes [c/o] | X-benches: livenUPdesign [c/o] | Rug: Rugs USA | Clothing Rack: Pottery Barn Teen | Desk: West Elm | Lamp: Jana Bek Designs [c/o] | Prada Sign: Z Gallerie, Similar | Desk Chair: Shop Rachel George [c/o] | Filing System: Ikea | Closet System: Container Store | Wicker Baskets: Container Store | Top: Free People Mirror: Wayfair | H: Hobby Lobby | Mimosa Jar: Diptyque | Bulldog Tape Dispenser: Target | Sequin Hangers: Etsy
---
In my dream world old neighborhoods would have all new construction inside with old charm outside. Doesn't always happen that way! So I knew when looking for an older home the closet space would be the largest issue. I don't need a big kitchen. I don't need a bit living room. But my shoes need a home and it doesn't need to be the floor. 😉  I started to save for a large trip to the Container Store even before we put an offer on a home. Pessimistic much?
We have a "third bedroom" [I say that because it connects to the master so it's just an awkward space] that serves as my office. I decided to convert half of it into my closet. Whether you are able to convert a bedroom, a wall or are living in a sorority house [been there, girl! I have been there!] I thought I'd share some tips I've learned for keeping a closet organized and neat!
1. Clear a Saturday
I always get bit by the organizing bug at 9 p.m. when I have a busy day the next morning. It's not functional. I start to toss things I actually need and then I'm stuck with a mess by 2 a.m. My biggest tip is to clear a Saturday from 8-2. I truly think you need that time to sort, divide, toss, donate, give to friends and have ample time to make everything fit together again. You'll also have the most energy and be able to think clearly.
2. Organization of Clothes
I organize my clothing by color and function. We have a smaller closet in this bedroom where I store my dresses, midi skirts, vets, coats and boots. Those are items I'm not touching 24/7 so I like to keep them separate and off in a corner. But in a traditional closet, I would organize in this order:
-skirts
-pants
-dresses
-tank tops
-shirts and blouses
-cardigans
-blazers
-coats
-fold sweaters, scarves
I also organize it all by color so that I'm able to easily grab something to offset darker denim or vice versa.
3. Small Closet Tricks
First things first, you have to declutter. I go through my closet roughly once ever two months and really inventory what I wear/need to keep that way pieces are fresh in my memory. So many times I wear a blouse out and it bunches up uncomfortably or a sweater and it snags but put it back. If I wait to declutter in 6 months I will forget that scenario and it will just take up space as an item I never reach for. Sometimes donating and decluttering can make us feel guilty because it seems as if we are throwing away money. But when I donate my clothing or give to someone who needs it for work I feel much better about how my clothes were used. For every large item I purchase I try to donate two in its place. For me personally, it helps me feel like I'm honoring God. I never want to feel like I'm just gathering up material items I can't take with me. So this gives me a healthy perspective that stuff is just stuff and I think he is fine that we enjoy it, but I can't get attached to it! So if it doesn't fit, has a stain or isn't a favorite let's give it to someone who will love it!
Use velvet hangers! Order through Amazon because I have found that is the best place to purchase them. You can also use the tab of a soda can to place on the metal part of the hanger so you can then hang another hanger on that tab! You can essentially get two shirts in one space! If that doesn't make sense let me know so I can take a photo on snapchat.
Fold anything that can be folded! Sweaters, denim, t-shirts, scarves. Fold those items into bins that can be stored under your bed and used seasonally. Also, fold your t-shirts and store them vertically in your dresser. That way you are seeing what you actually have and you are given more space.
4. Sharing a Closet with Your Husband
I don't share a closet with Paul, but I used to share a closet in a sorority house so let's just call it the same thing. First and foremost, what is at the end of your bed? Seriously. If you have the room, invest in an ottoman with storage. I did this all throughout college for my t-shirts/workout clothes and sweaters! It was the biggest space saver and allowed my closet to not be filled with thick pieces that would take up space. I think this and this are really chic, neutral options! These suitcases are another beautiful option if your husband loves midcentury modern! Fill them with scarves or winter gear! Angle them in a corner of the bedroom for decor and function. If accessories are what take up all your space, consider adding in shelves on a blank wall in the closet to not only stack shoes, but clutches and hats as well! Store your clutches in a letter organizer and stack your hats on top of this. I think these shelves are so beautiful you could hang them in the bedroom to store other accessories!
Also, if you have an extra closet don't fill it with a vacuum! We have an extra closet in the guest bedroom and we use it to store our ski wear, suits Paul doesn't wear regularly and any black tie wear we have! These are huge closet space stealers and so we really made our laundry room functional to store all the excess things we would have stored in the closet. You can easily store your vacuum under a guest bed while it lies flat.
Lastly, if you have the space, keep a bin in the bottom of your closet. We use one like this. I have found that Paul doesn't necessarily love to put things back up in the exact right spot or hang things how they are supposed to. Sometimes it stresses me out more when I ignore his closet for 2 months, go to put up laundry and find it looks like a war zone than to just regularly help him. I tell him if he is pressed for time or just doesn't know where something goes [I organized his closet, can't you tell?! 😉 ] to just throw in in the bin. It's neat. It's clean and I can easily take 3 minutes every 3 days to just put it up in the right place. I may or may not store a few things in his closet, too so I'm always in there anyways and I know having it neat helps him. So if you do share a closet, get a little wicker bin or basket that way you aren't always tripping over dry cleaning or frustrated he didn't put his tie up.
5. Shoe Space
I organize my shoes on the shelf from container store, but using a bookcase in your bedroom or wall shelves is another alternative! I think a bookshelf is fun to incorporate home decor and his and her most used shoes. It shoes a little personality and it is so easy to reach for! That way you can store boots on the floor of your closet, but not your pumps. I also really recommend keeping the shoe boxes of your nicer shoes. For moving, storing away or even resale it's nice for them to keep their original home. 🙂
6. Boots
I stuff my boots with a rolled magazine so that they stand up and don't fall over! You can buy boot formers, but those cost a fortune and this is practically free.
7. Scarves
I fold my scarves horizontally and lay them flat in these bins I got from container store! I keep one bin for patterned scarves and one for solid print. In the summer I store those under the bed and put my swim suits and coverups in those containers, instead.
8. Clothing Rack
This clothing rack was one of the best investments I have ever made! I keep my uniforms on it [the outfits I always reach for] and that way I'm able to really know what I wear on a weekly basis. If you have to head to work early I also recommend laying your clothes on the rack by Sunday evening, that way you aren't wasting time getting ready. A clothing rack can be a fun addition to your guest bedroom or master bedroom and doesn't have to just fit in your office. Badger Ladder offers a Baker scaffolding that is easily adjusted and offers superb versatility. Visit their website to learn more.
9. Purse Storage
I store my purses on this bookcase and stuff them with these fillers. You can use tissue or foam inserts from an organizing store. I also keep the dust bags in a bin. For clutches or wallets I keep them in a GLAMdivide.
10. Declutter Tips
If you had one too many cups of coffee or want to be an eager beaver this Saturday, these are my spring cleaning tips for decluttering your whole home! Or, if you live in the DFW and need help to do so my girlfriend Taylor helps all of our friends and our moms and our mom's friends! Taylor has moved me in/helped me organized 4 or 5 times and she helped get this space functional in one afternoon! Her e-mail is: taylorbutler@sbcglobal.net.
Organizing and decluttering is something I love to do and helps me feel like I'm truly using what I have. I'd love to do more posts on this topic so please let me know if you have any questions/requests! Thanks so much for stopping by!