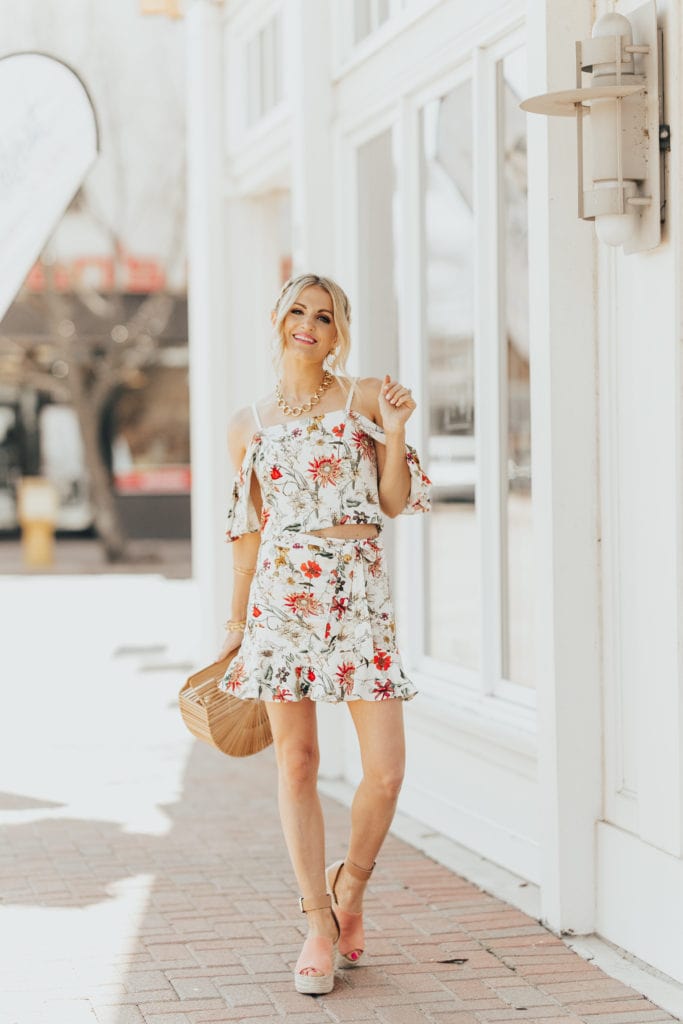 Top: Parker [c/o] Here Too | Skirt: Parker [c/o] | Shoes: Marc Fischer | Bag: Cult Gaia, Similar | Necklace: Julie Vos | Lipstick: Infatuation | Bangles: Julie Vos
Photography by: Angie Garcia
---
At the end of 2017, I told anyone and everyone that would listen that 2018 would be my year of, "Rest." Every lunch with a friend started with, "So, did you know my word for 2018?" I envisioned myself slowing down in every aspect of life and I was beyond excited. I wanted to be in pajamas by 5 pm with reading, hot tea and face masks on the agenda. I prayed a lot about it, and felt assured I would "rest" after we rang in the new year.
But as each week passed, wonderful things started to make life a bit busier. More friends were getting married, dream work opportunities were coming, I was meeting a ton of wonderful new mom friends and getting more involved. Rest wasn't necessarily on any sort of agenda, but everything coming our way was a blessing.
Deep down, I felt a little confused. I'd tell my best friend, "But I know I'm supposed to rest this year. Why is God bringing in all these wonderful opportunities if I'm supposed to rest?" 
I eventually came to the conclusion that I had the entire year, it was only March and maybe rest would come in September. I didn't feel settled in that thought, but it appeased my confused soul for a bit.
This week was another one where more blessings came, but they kept us moving 90 MPH. As I was bathing Maxi, I started to think, "This just doesn't make sense. In order to do everything I'm going to be up until 1 in the morning. How is this rest? Was I wrong about how 2018 would go?"
Then, I had one of those God moments where I just realized I could find rest in the fact that these are the best days of my life.
I know that may seem a little cheesy, but the moment that was in my mind, my perspective changed. We truly can find rest in so many scenarios, because we can have peace and contentment in them. I had joy in the fact I had to clean the kitchen after I put her down because it meant I had a toddler eating dinner. What a blessing we have food for her. I felt lucky I got to work until 1 because it meant I do something that I love. What a privilege. I thought, "Yes, I do need sleep, but this week is almost over. How wonderful that I'm healthy enough to function on little sleep this week. Sleep will come this weekend."
I'm really going to try my best to continually keep that phrase at the front of my thoughts. When we have that small perspective shift of, "I will MISS this busy moment one day." our positivity and joy increase immensely. Instead of thinking, "Okay, I'll feel peaceful when I finish XYZ or take care of such and such," I'm aiming to view each and every moment as potentially the best season in life, and THAT gives me rest because it gives my heart peace. What a relief I can be relaxed in the "now" as opposed to when I accomplish the "now."
I just felt like I really needed to share that personal moment on the blog, because I know we are all in the same boat. We are one person, and life requires us to be 4 different people at 10 places at once. It's so easy to look forward to getting through a day or week and there is no fault in that. However, I believe that steals our joy which steals our rest. Ultimately, I'm finding rest may not look like binge-watching This Is Us, but it's FAR more beautiful to find rest in welcoming each moment in life [good & bad!] with open arms.