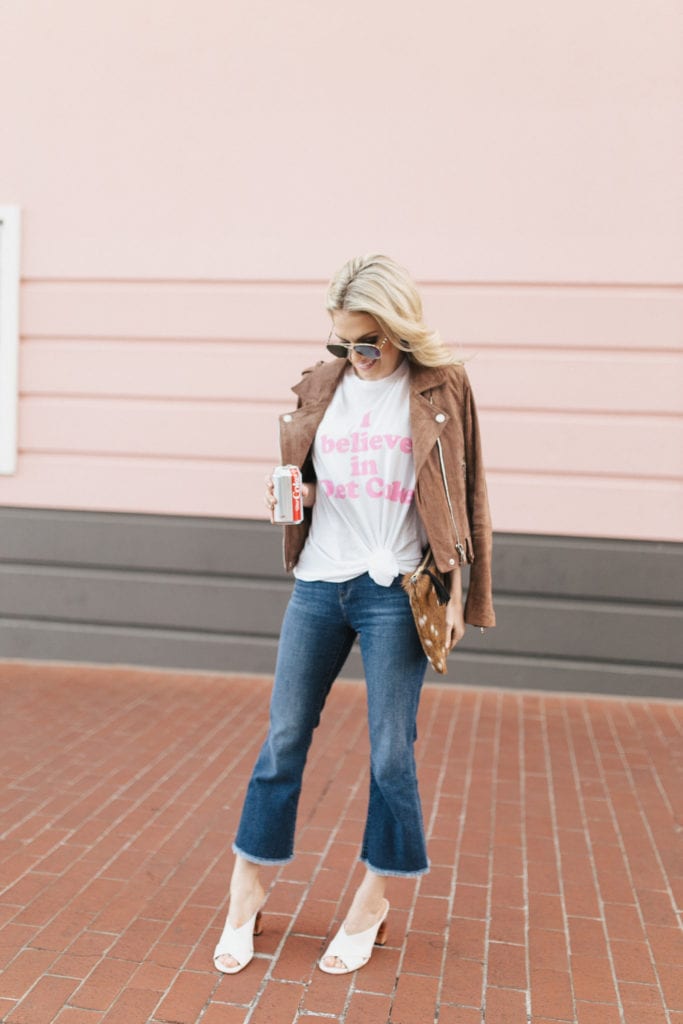 Clutch: Parker & Hyde [c/o] | Mules: Nordstrom | Top: Shop Honeysuckle [c/o, runs larger, wearing s] | Jeans: Old, Similar | Sunglasses: Burberry | Jacket: BlankNYC, Similar | Clutch Divider: GLAMboxes
Photography by: Angie Garcia
---
I believe in Diet Coke and sassy clutches and fun mules and loads of pink. Don't you?! 😉
Yesterday was quite possibly the Monday-est Monday I've had in quite a while, so I had to share a fun little look today to offset it. Onward and upward, people. Onward and upward! I mean I forgot to wash the conditioner out of my hair if that can tell you how frazzled I was. My hair felt like a luxurious wad of Elmer's Glue all day. Are you jealous?
So let's talk about this giveaway. Back in October [I remember because I answered this e-mail sitting on a moving box], a reader asked if I had a source for a variety of hide clutches. I've shared them here and there on the blog, but nothing too colorful or fancy. I always feel awkward when I don't have a great answer to an e-mail, so to the sweet girl who e-mailed me, this post is for you!
The correct answer to her e-mail would have been Parker & Hyde, but unfortunately, I wasn't following them on Instagram yet. Jenn Thatcher Art actually introduced me to them. When I was moving she came over and saw my completely empty home and said, "Have you ever seen their Instagram? They are 100% your style." She was most certainly correct about that.
As a Texas girl born and raised, there's no hiding my love for a good cowhide rug, covering or clutch. I mean you've seen my living room, right!? A girlfriend once told me I had an animal print heart and that might be the nicest thing someone has ever said to me.
Parker & Hyde have a bit of it all with clutches, furniture [we got a dreamy bench for our master!], rugs and accessories. They are a family-owned business out of Dallas, Texas- they even named the business after their son, Parker. They've got lucite, they've got leather, they've got everything you pin on your Pinterest dream board. This would be my ultimate office chair and this is my dream clutch that you know I'll be carrying at the Reward Style conference next week. I went with The Axis Clutch because I like that the brown tones can mute a louder look or make a statement on its own.
In the spirit of introducing this brand to your radar, we are doing a giveaway. One COF reader will win the Dalmatian Foldover Clutch and I will feature the giveaway on Instagram later today. These are handmade in Dallas, Texas and give your look a southern, sassy take.
And because I know many of us are fans of the occasional Diet Coke, you'll love this tee. I'm ordering this one today as her shop is precious. This is a look you can easily style for summer with shorts and a light denim jacket.
Check out their lookbook, drool over the patterns [I do!] and be sure to keep your eye out for my Instagram giveaway later today!
Love you all!