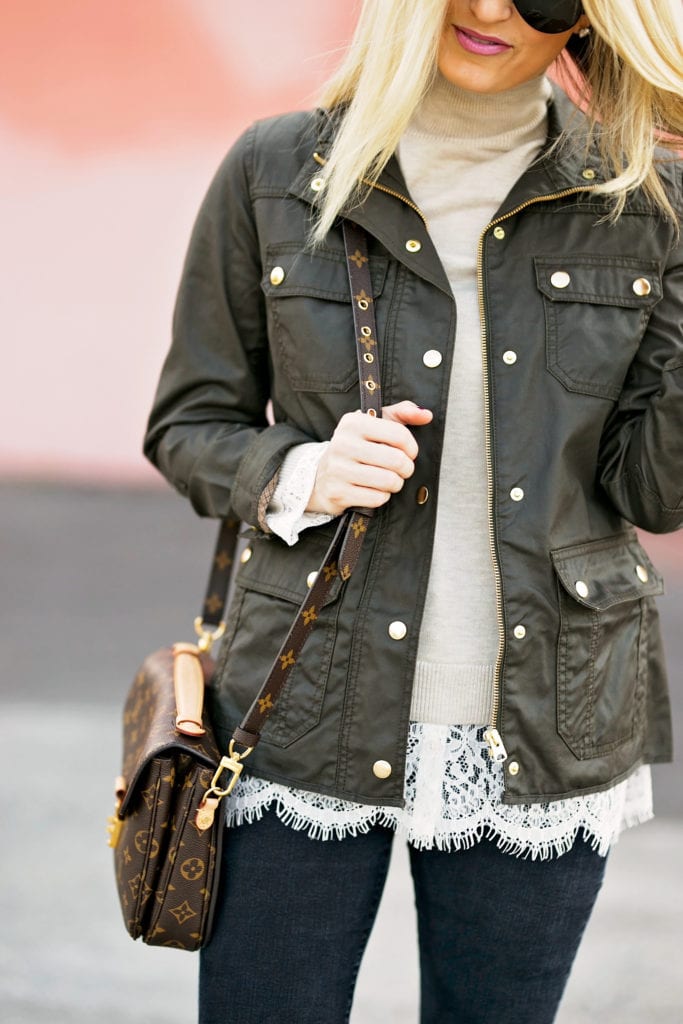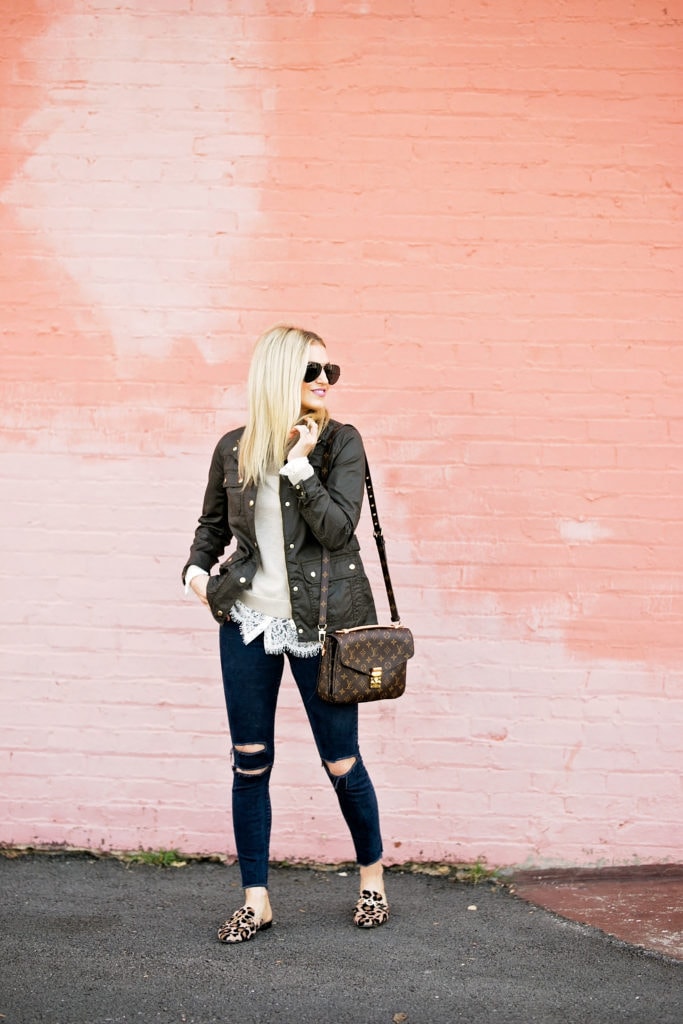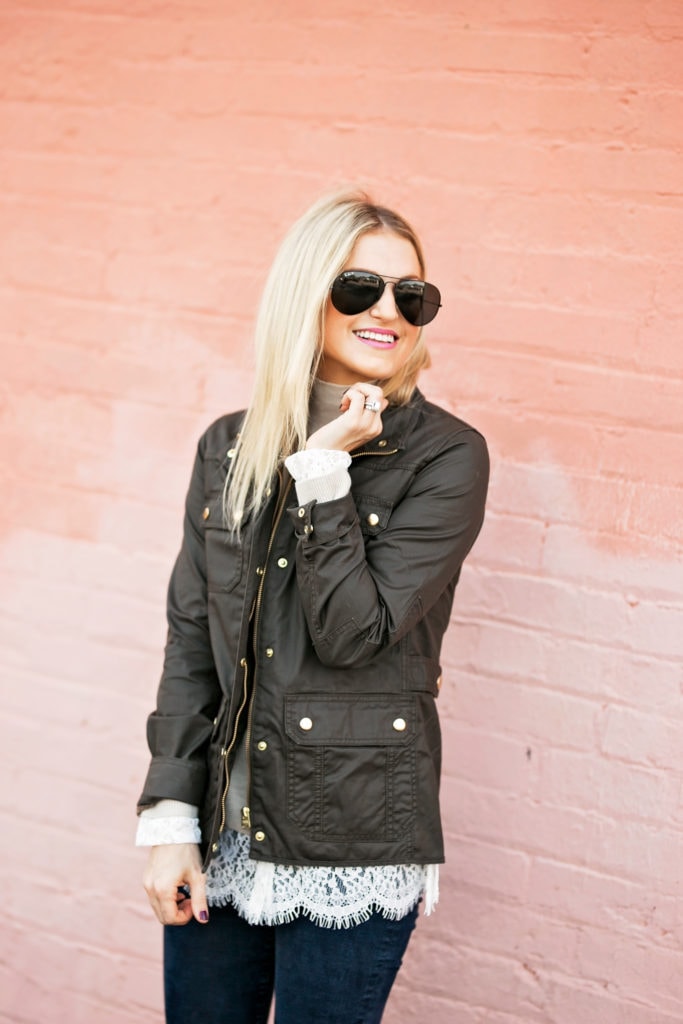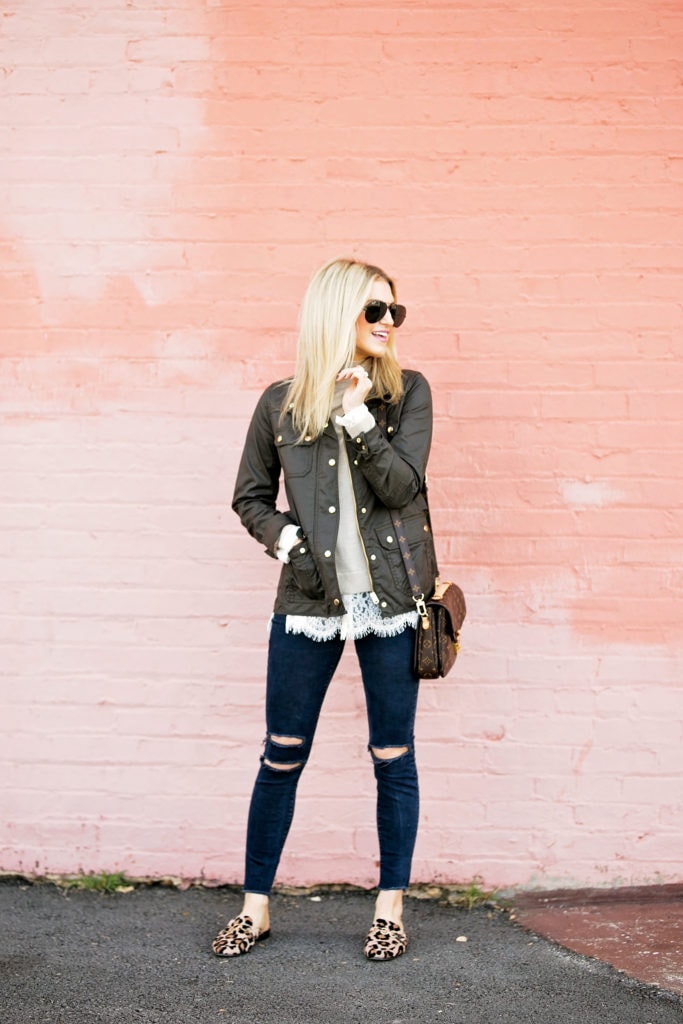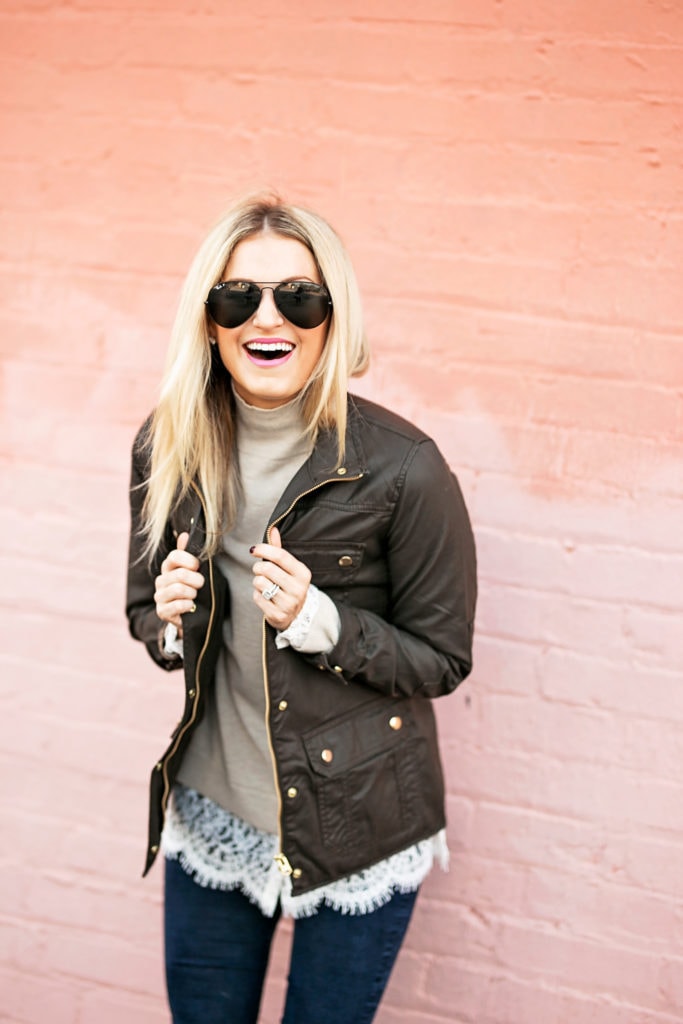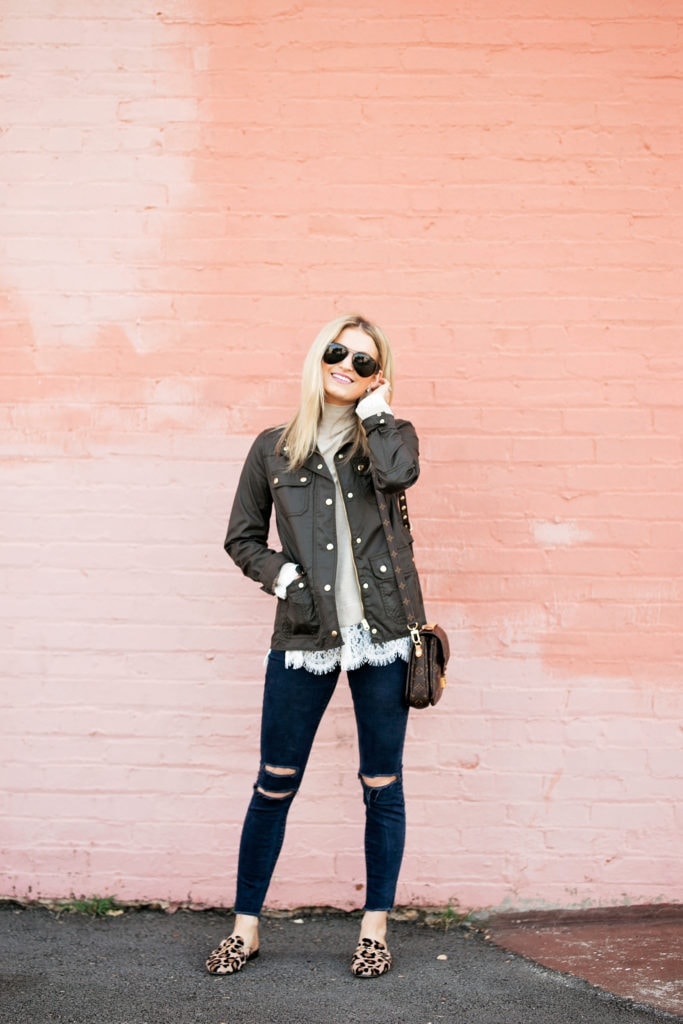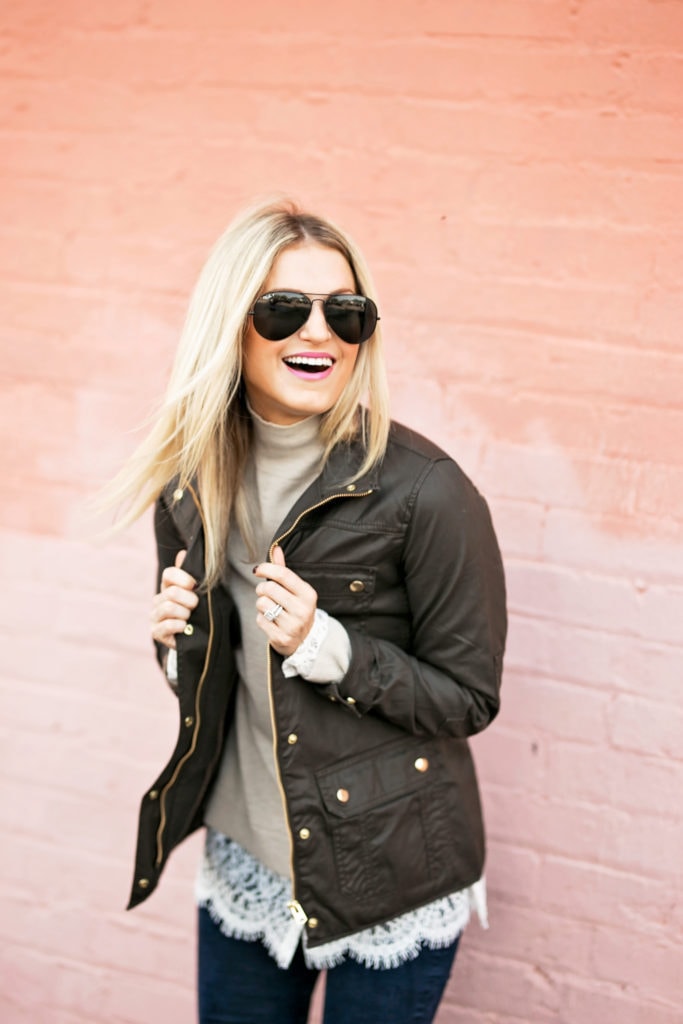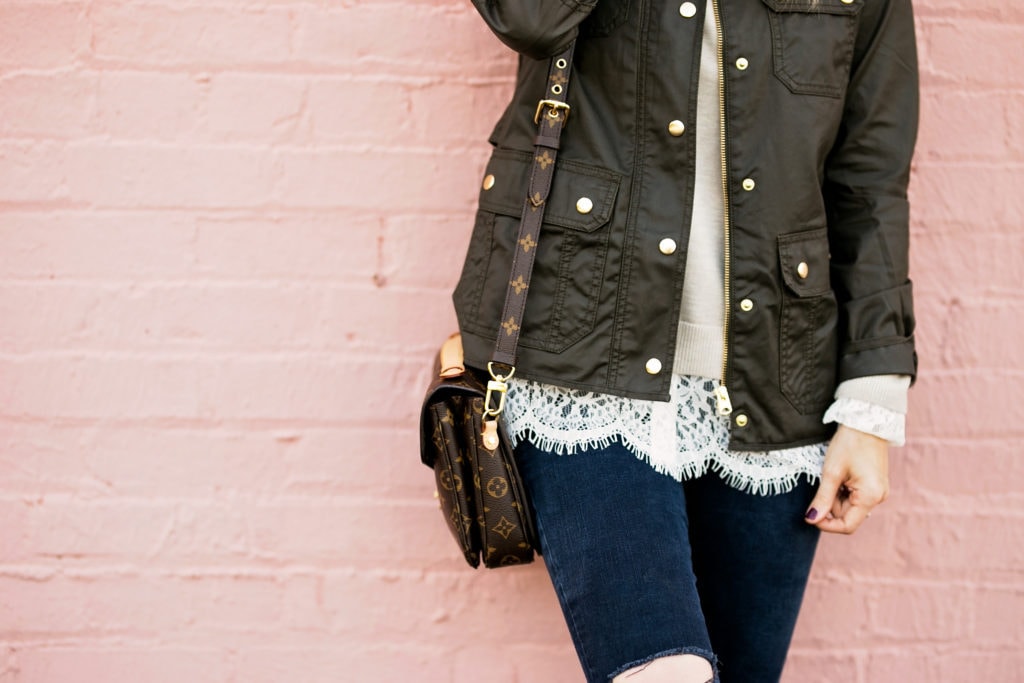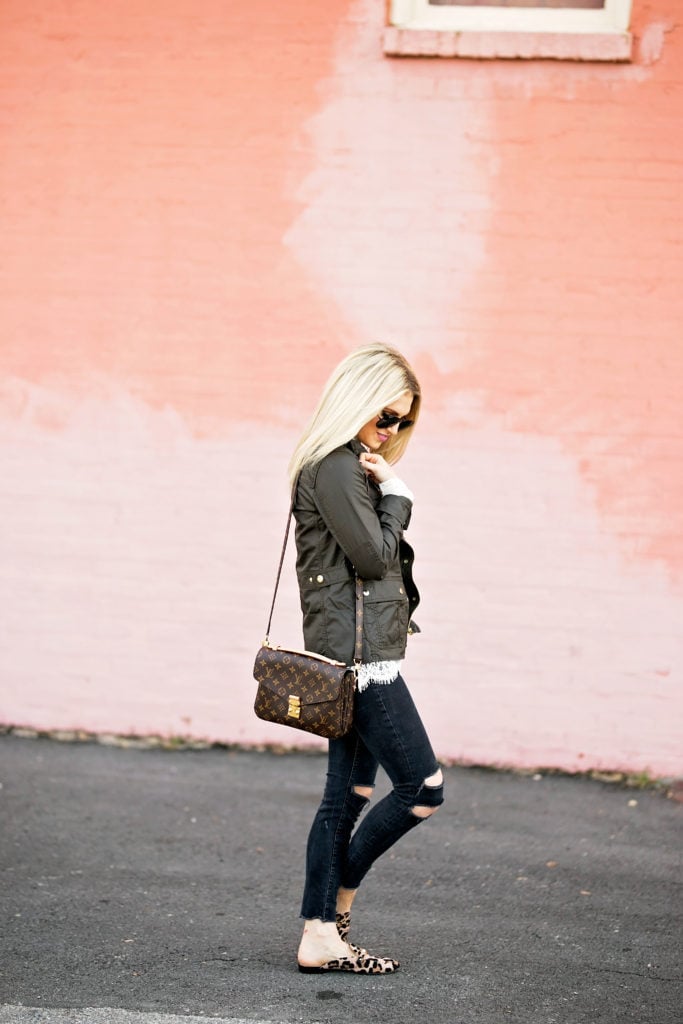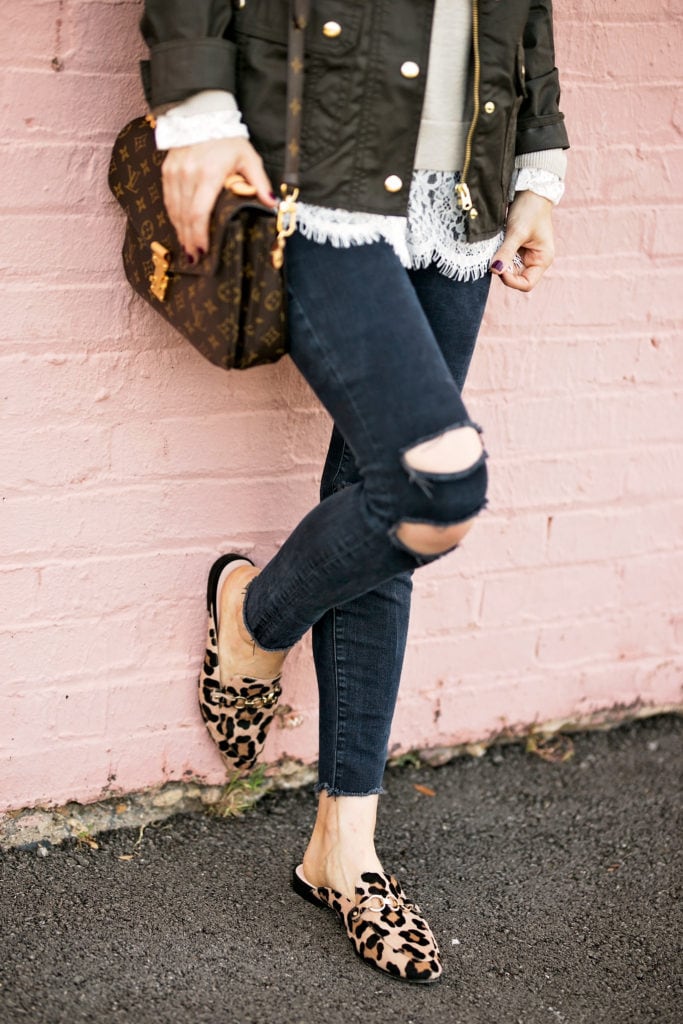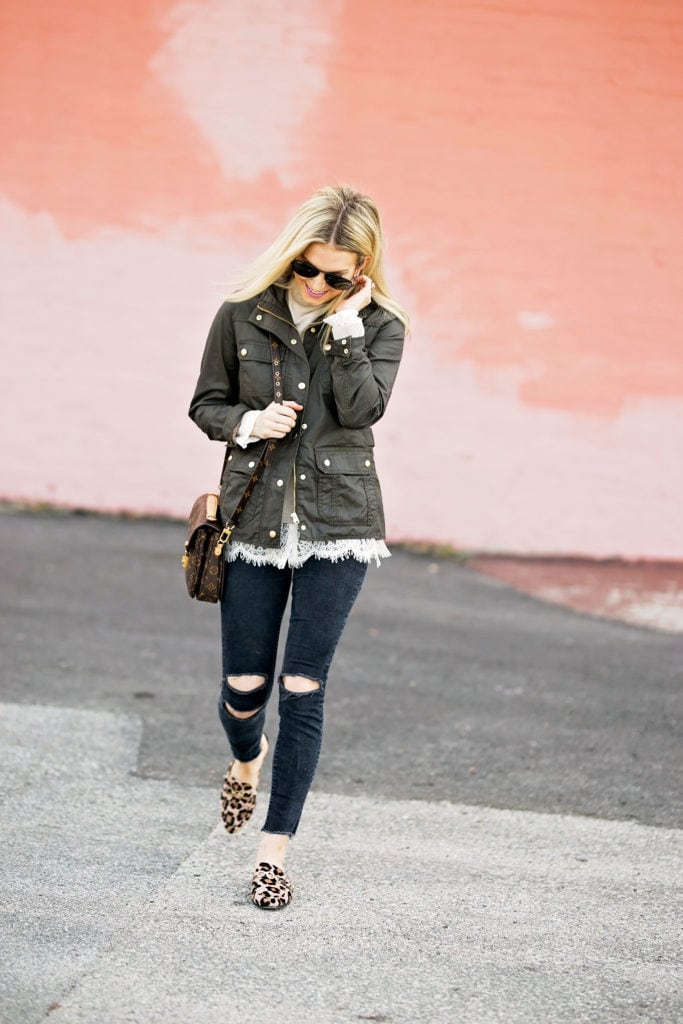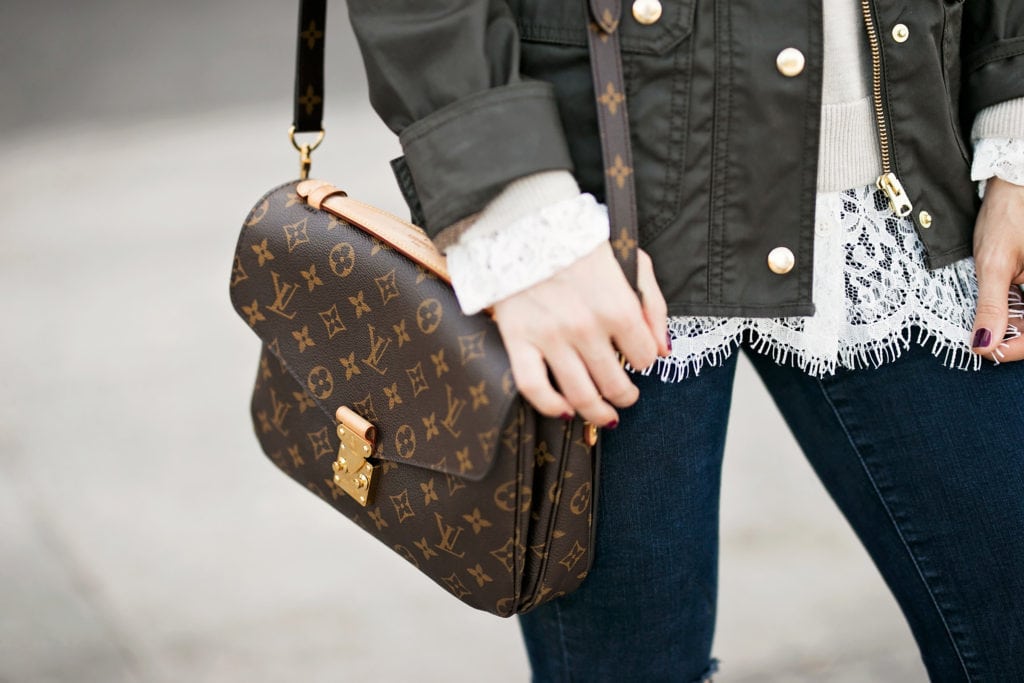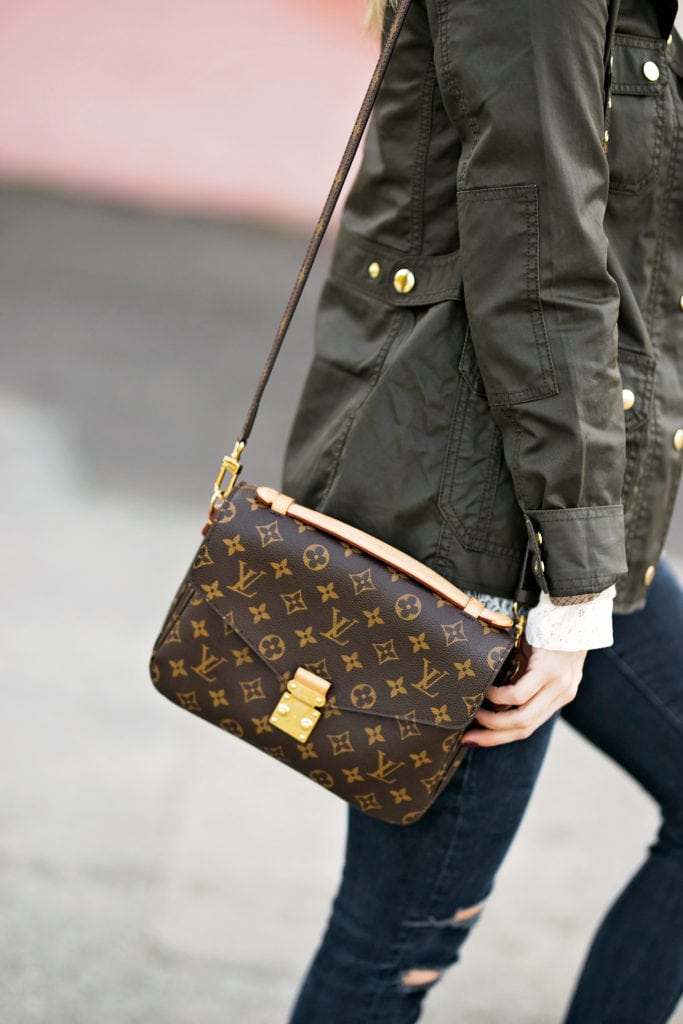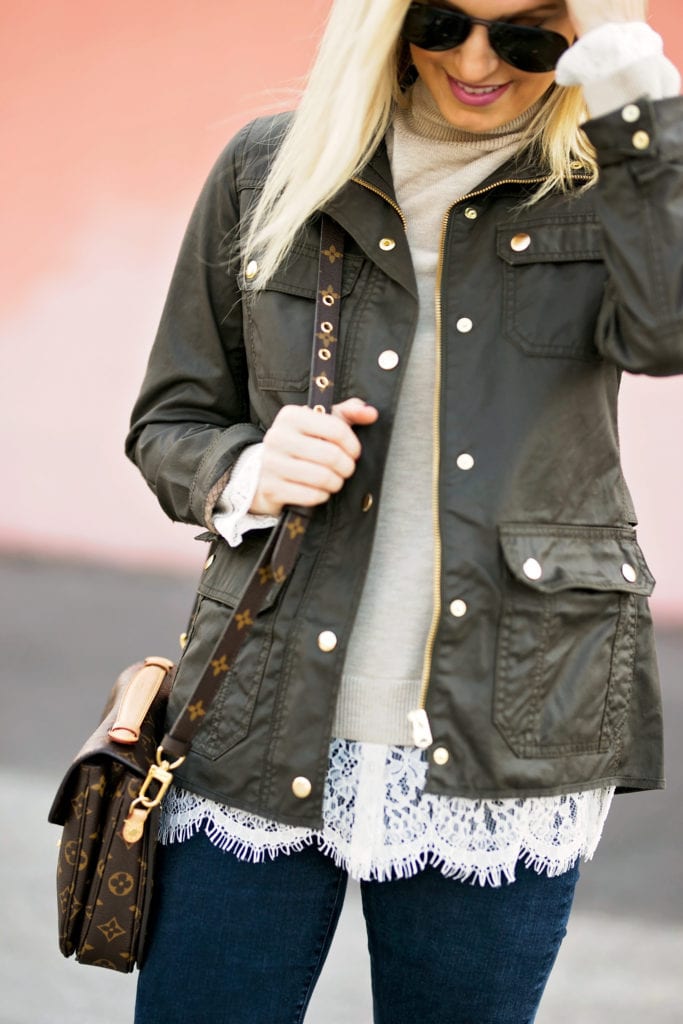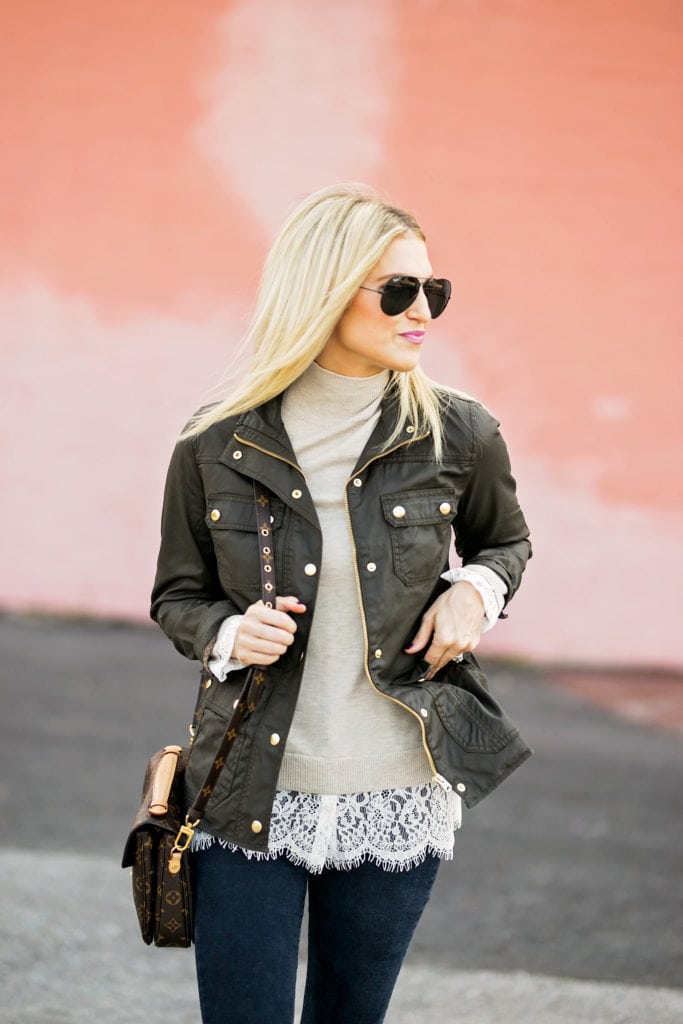 Jacket: J.Crew, Fully Stocked Here! [sized down] | Sweater: Joie | Jeans: Shopbop | Mules: Kate Spade, Similar | Bag: LV, Similar | Sunglasses: Ray Ban | Lipstick: Lovesick | Earrings: Nordstrom | Watch: Kate Spade [c/o]
Photography by: Angie Garcia
---
I know what you're thinking and you are correct. I am not actually wearing this outfit in Texas the first week of October. In my defense, we've had some really cool mornings lately and I can get away with a light jacket. Mind you, I'm normally in my pajamas watching GMA but that's to be discussed later…
One swift glance at my wardrobe [which is made up of clothing racks in my parents' game room at the moment! 😉 ] shows you that I don't wear a lot of brown. I much prefer black or a camel hue! But did that stop me when I lost self control at J.Crew? Of course not. This field jacket with military details and gold buttons was screaming, "Katey, take me home."
If you live in a warmer climate you know that THIS is just the kind of jacket you'll wear for most of fall and winter. While I do get to whip out my J.Crew Parka for a month or so, this type of field jacket is what I keep recycling through my looks. However, we all know jackets sell out so quickly and come cold weather you're stuck with coats that are anything but in stock in your size. I wanted to style this look with more brown tones with the LV bag, Kate Spade Mules and Joie sweater.
Yesterday I got up right at 4:15 because Maxi had woken up to eat and I just decided to stay up so I didn't sleep through my 5 a.m. alarm. I'm starting to crave my morning time so much and feel as if I conquer the world in those 2 hours before Maxi wakes up. I definitely want to share a post once we move on how I fit in work/devotionals/emails/getting ready/watching my favorite Youtubers in those 2 hours! But once Maxi is awake I feed her and she is still in a very cuddly mood and just wants to snuggle for 30 minutes. We turn on Good Morning America, sit with Peaches and cuddle under our favorite blanket. We look at some picture books and I finish my cold coffee. [I know, I know! I should switch to a Yeti but girlfriend is NOT ready to give up her random assortment of coffee mugs!] But yesterday? I guess I had lost my mind a bit from waking up earlier than expected and I watched The Today Show. Now you're either a Today Show girl or a GMA girl. I'm a GMA girl because I've just always grown up watching it. I remember my parents put a really small TV in their kitchen in the house I was born in. My parents were pretty strict in general and we just didn't watch TV much so I thought this was HUGE. I thought my mom had lost it and turned wild- I loved it! I'd scarf down my scrambled eggs and get to watch 10 minutes before we had to leave for school. I couldn't wait for the day I could watch an entire episode during the week! Once I got in college and could watch before classes, this became my routine. But all my girlfriends are Today Show girls so I tried it. Not too bad, y'all! Not too bad. But it doesn't have my best friend Robin Roberts sooooo can't make any promises here…
I know that's so random but I love hearing what morning shows people sneak in! I have to ask, what is your favorite show?! I can't wait to talk more about my morning routine in the next few months.