The Details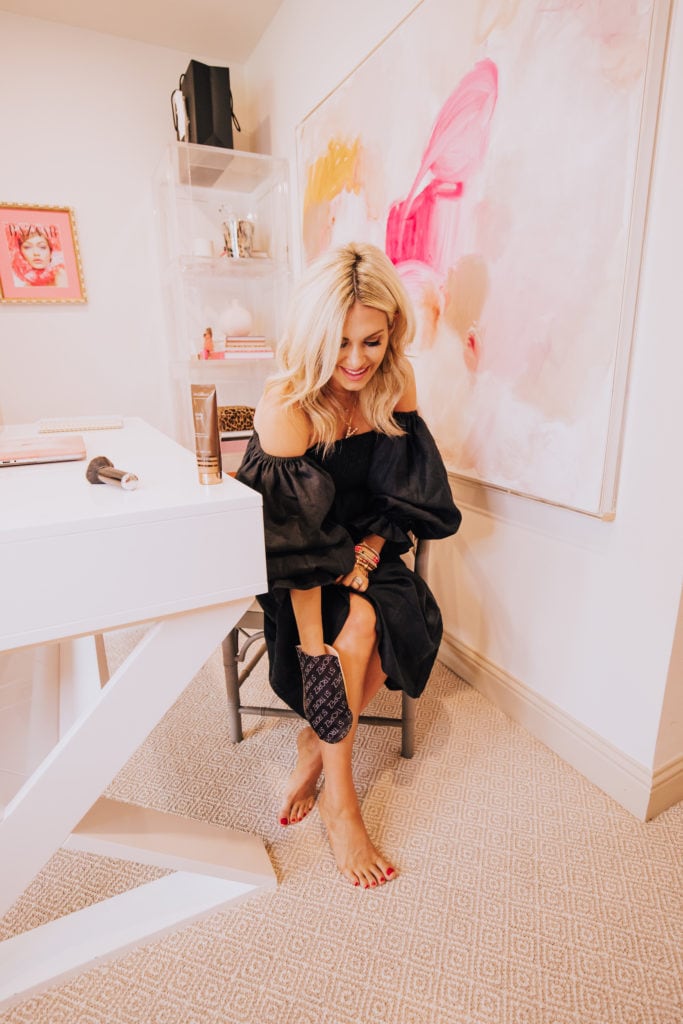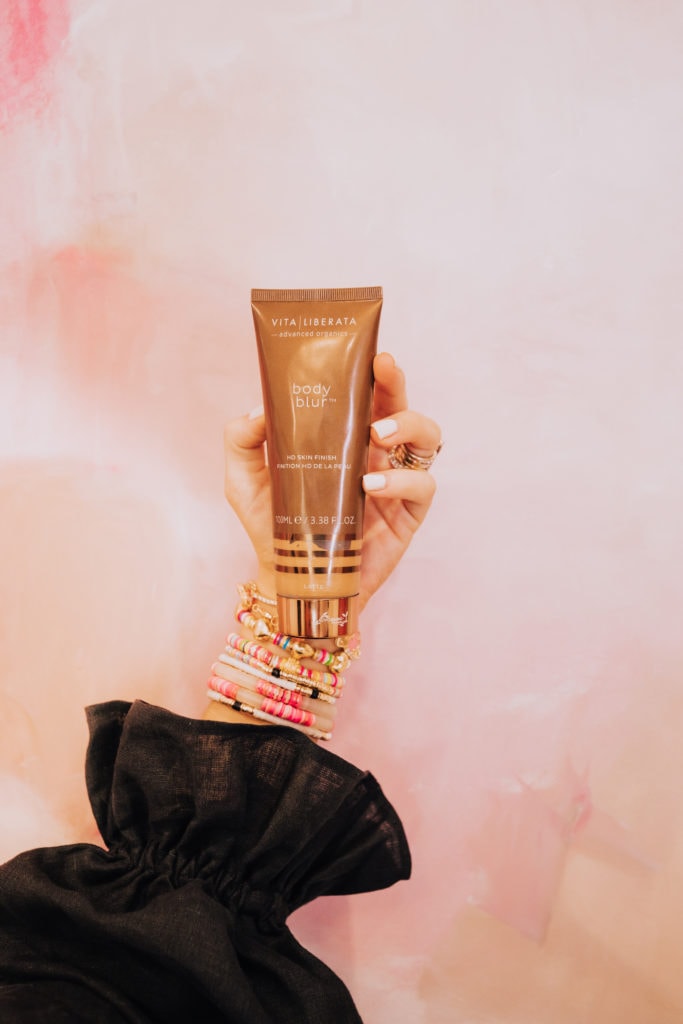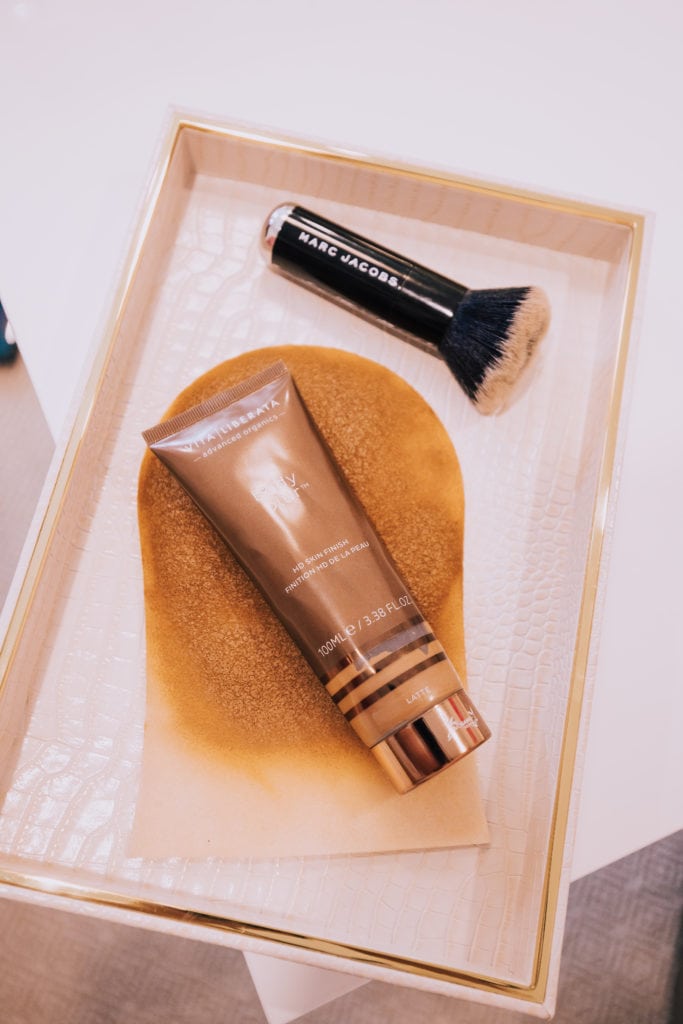 You know how some married couples say they didn't like each other at first? Then 30 years married years later you can't even imagine they didn't hit it off immediately! I feel that way about this beauty product. I originally tried Body Blur while pregnant with Maxi, and I think I hadn't read some reviews correctly because I thought this was a full-fledged self tanner. I was using it for a purpose it wasn't intended for and then confused at the end of the day. My sister set me straight on vacation and showed me how she used it, and I've been IN LOVE {deep, deep love} ever since. The type of love where I start to get heart palpitations if I see it sell out somewhere because my mind starts thinking, "But what else would I use?!"
So what is Body Blur? Back in this blog post I covered self tanners I use while pregnant, and I touched on this product. This is NOT a self tanner, but rather a brilliant glow-infusing skin filter. Yes, you read that right. It's like an Instagram filter for your skin. ha! You apply this like a self tanning lotion, let dry for a few minutes, and you've got a gorgeous glow with no smell, no develop time, and it will rinse off at the end of the day when you shower. I apply this just like I would a self tanner. When I first tried this years ago, I applied it with my hands and didn't get the full effect. Instead, you want to take your mitt and apply in circular motions. Then I always use a kabuki brush when applying tanners to rub in and around fingers, feet, and elbows. This is the best trick for making sure your self tanner isn't too obvious! Applying this product with a mitt, as you would a tanner, allows it to evenly blend and infuse into the skin.
I use this in shade latte and I'll include a before and after below. A top question people have is, "Does this come off on clothing?" My answer is that it doesn't come off any more than self tanner would! If I applied this, and then put on an all-white linen look, sure, the inside would have some transfer. But I typically wear this with sundresses and have zero issues. But this isn't not going to rub off on chairs, your husband's hand, etc. If you do want to wear this with white shorts or a white dress, MIX IT in with your lotion and that will dillute it a bit, so that it doesn't transfer. Typically, I will shower at night, apply this when I get ready at 6 am, and if I'm shooting for the blog around 8 or 9, it won't budget!
Aside from giving your skin a really even glow, this is also a great hack for giving a little extra life to an old spray tan. My sister uses this when she's applied self tanner a week before, but she doesn't want to reapply just yet! If you have any splotchy or faded parts, this smooths it all out and gives an extra day to a tan.
Before and After
When would I recommend using Body Blur over self tanner?
When you want a subtle glow, but you don't want anyone to think you used self tanner. You can see above in the photos of me applying it, I have it on all over but it isn't AS intense as a self tanner.
When you are pressed for time! The reason I'm so obsessed with Body Blur, is I can apply it, throw my robe on, and in 5 minutes it's dry and I've got a glow. There isn't a 6-8 hour development time like there is with tanner.
When you don't love the self tanner scent. This has also been so nice during pregnancy because it doesn't have that self tanner smell, as this is an HD skin finish and not a true tanner.
When you know you'll be taking family photos, but don't want any self tanner mistakes! I try tanners all the time for my job, so I don't get *as* nervous about mistakes. But when I'm trying a new self tanner, I'm just taking blog pictures the next day to test it. If there is a major mess up, no one cares! Y'all don't care, I don't care, it is what it is. But most people are using them before a special event, and for that, you don't want a mess up. If you want to try something before date night or a special occasion, the great thing about Body Blur is that there are no surprises in terms of color payout. Because it isn't developing, and it's almost like a  "skin bb cream" you see exactly where it is applying and how it is setting. If you need to blend more on your knees, you can while applying. It won't dry differently. What you apply is what you get!
I've also got an Instagram TV Story going live today on this product if you prefer to see video with beauty products. In it, I mention you can pick this up at Sephora, but I recently saw they don't' carry it anymore. CUE THE HEART PALPITATIONS. ha. So if you do want to try it, purchase it here or here. I'm shade "latte" and will include the other shades below. There is Latte Light, Latte, and Mocha.