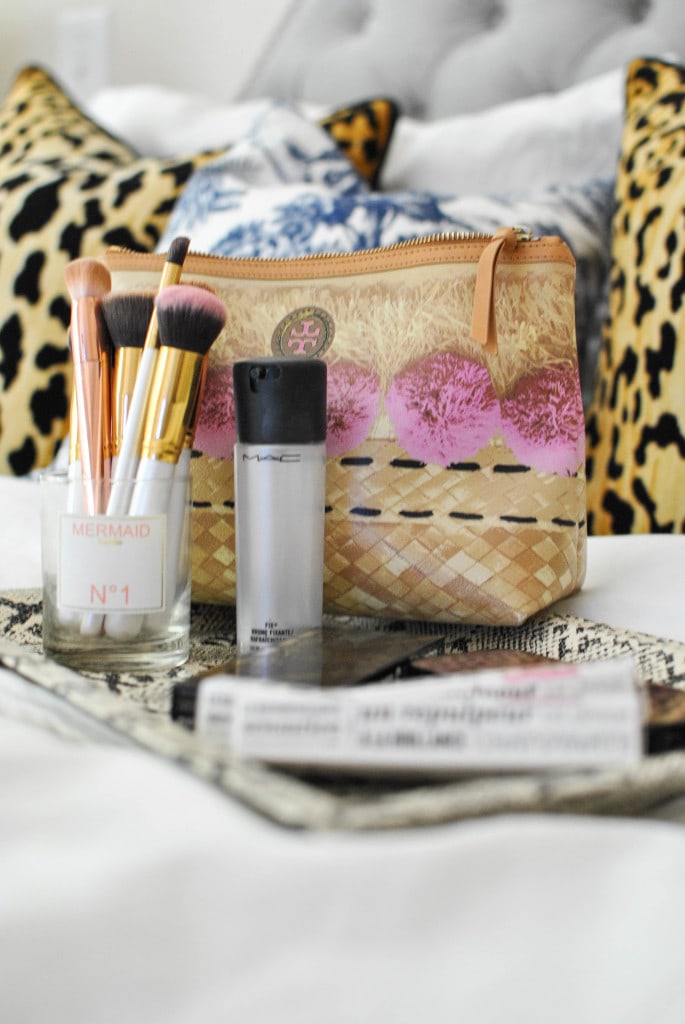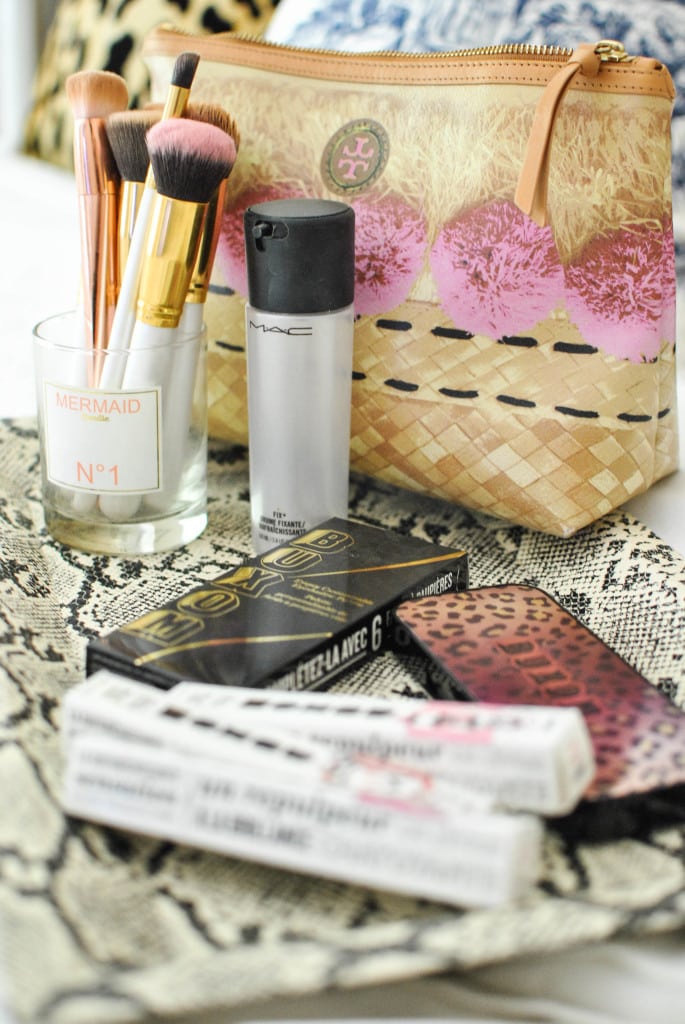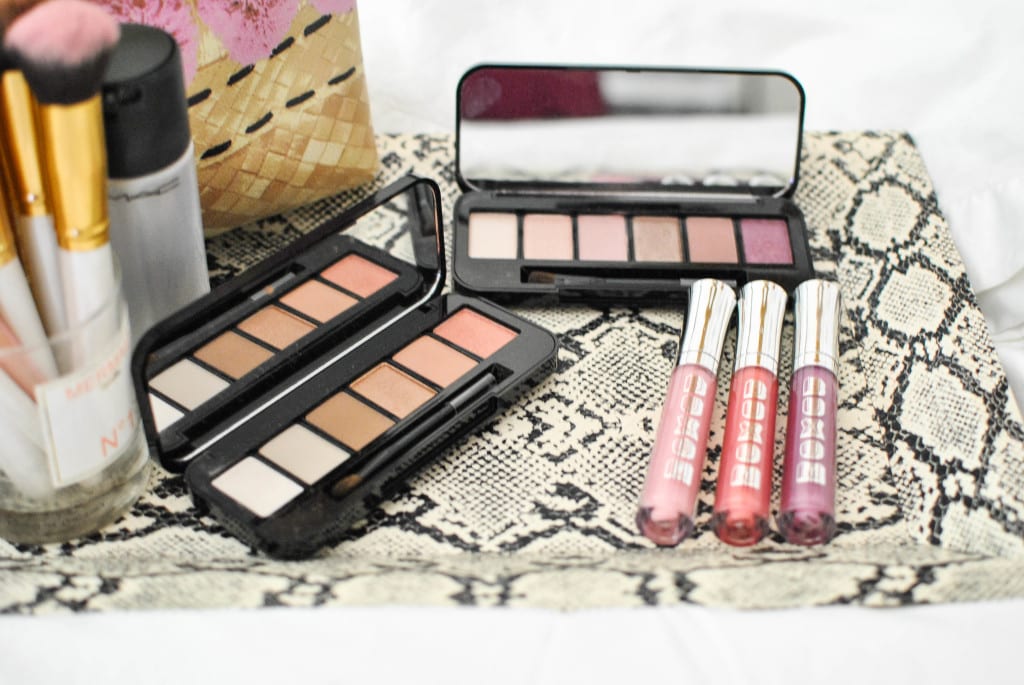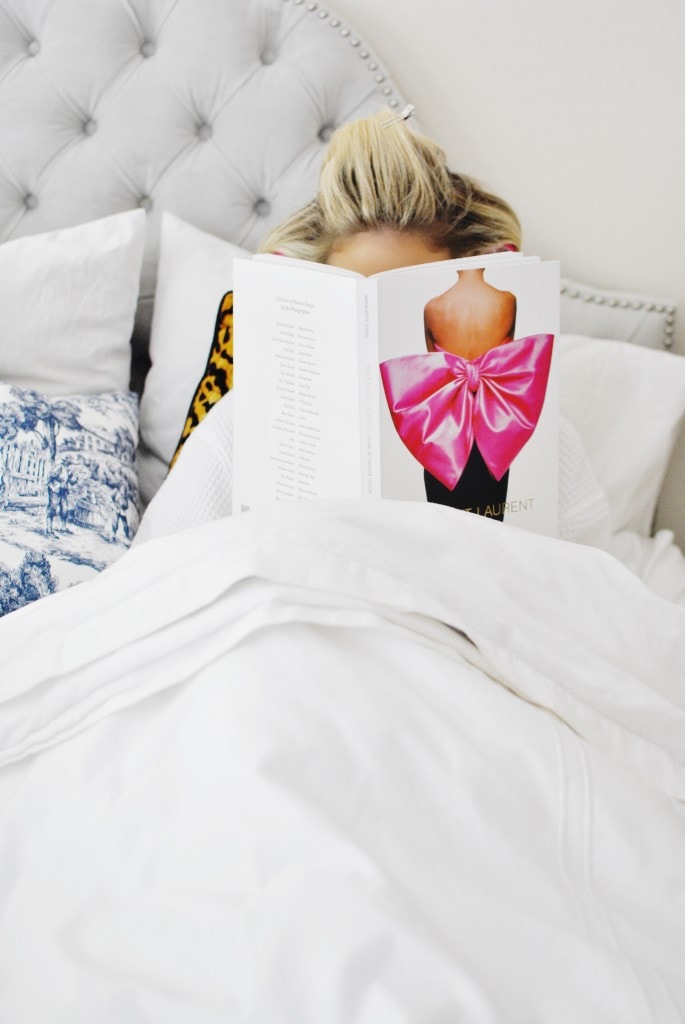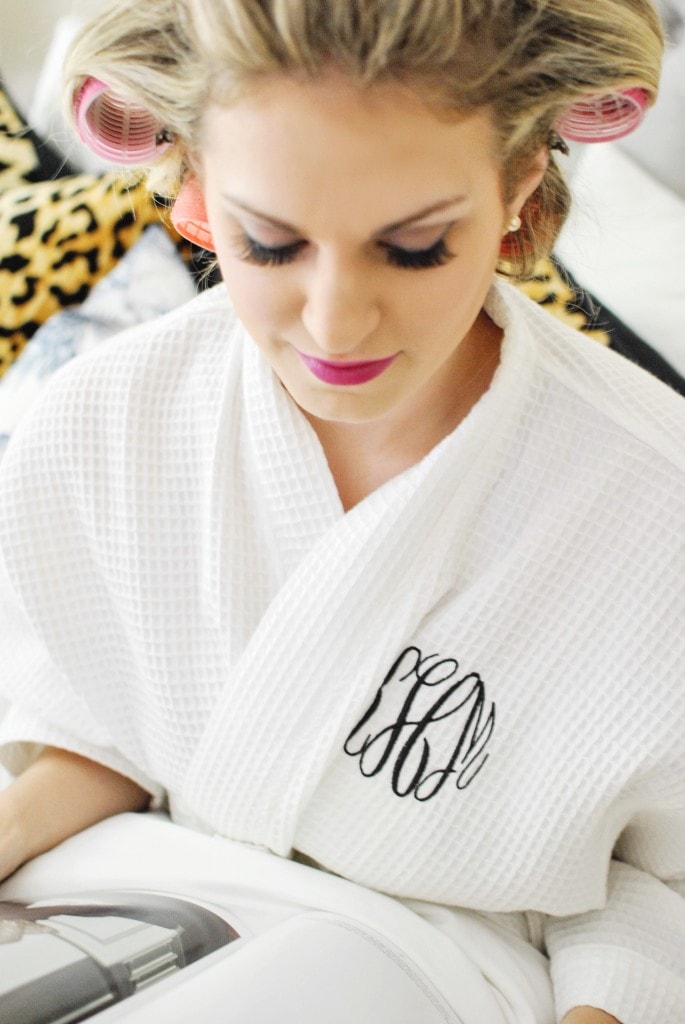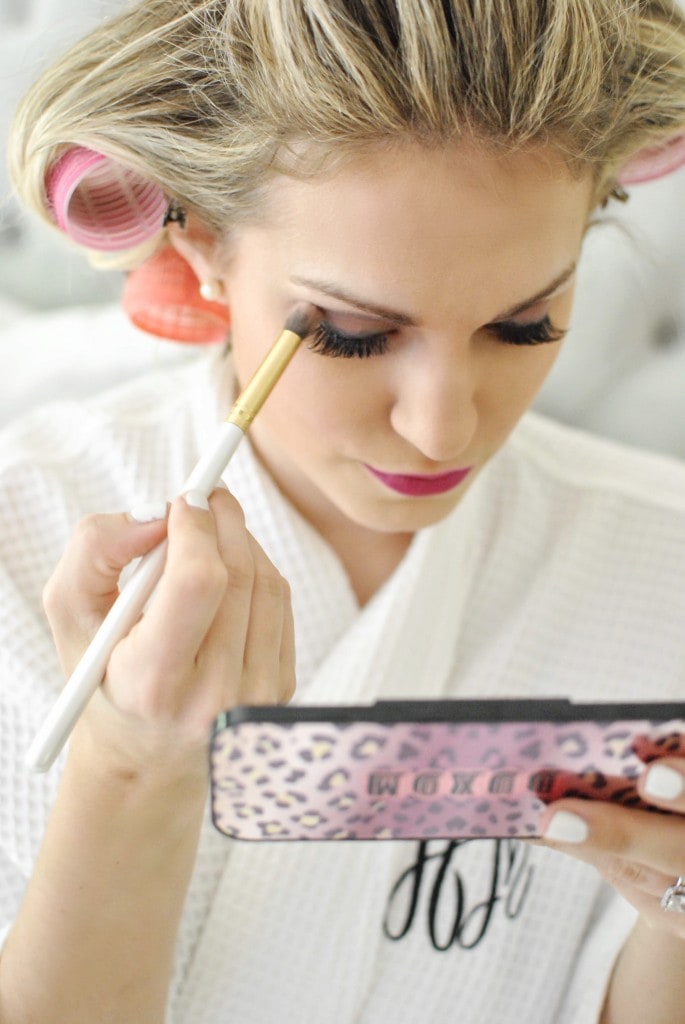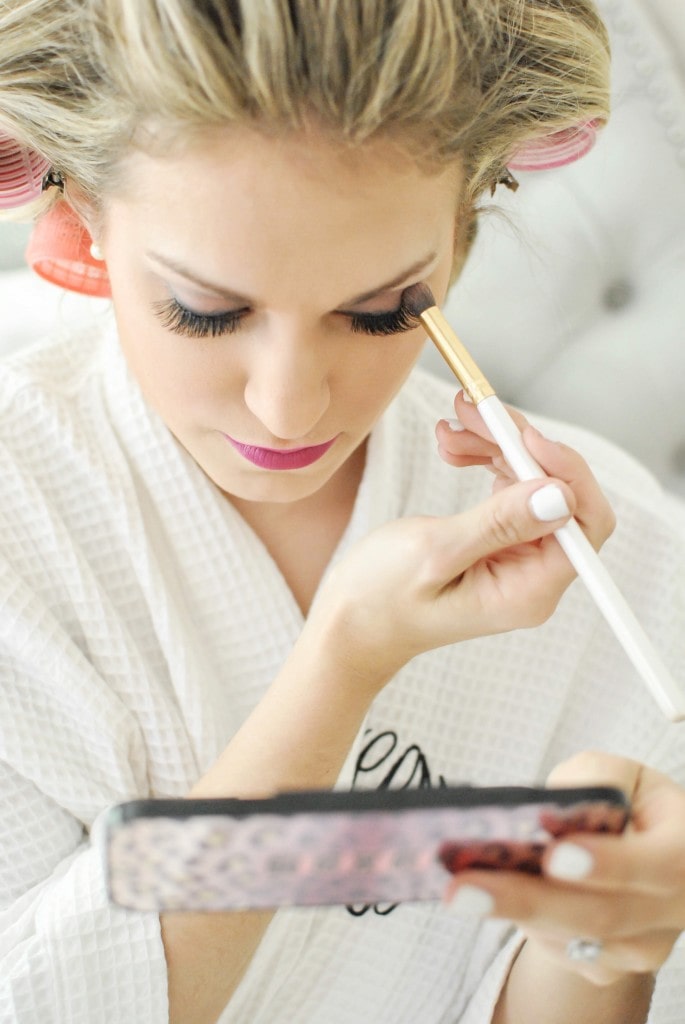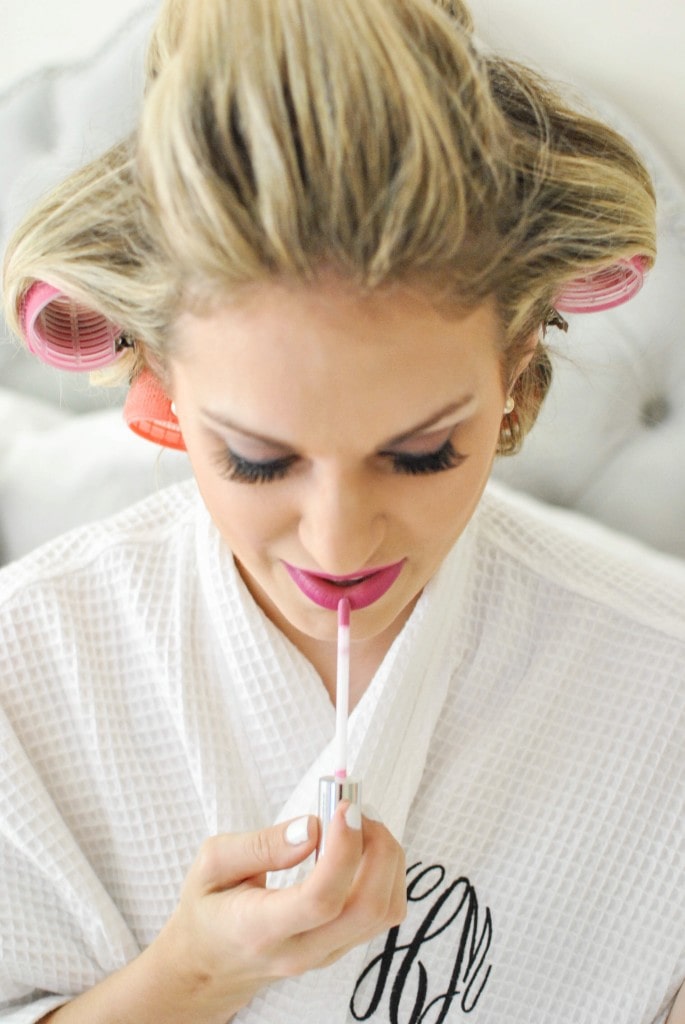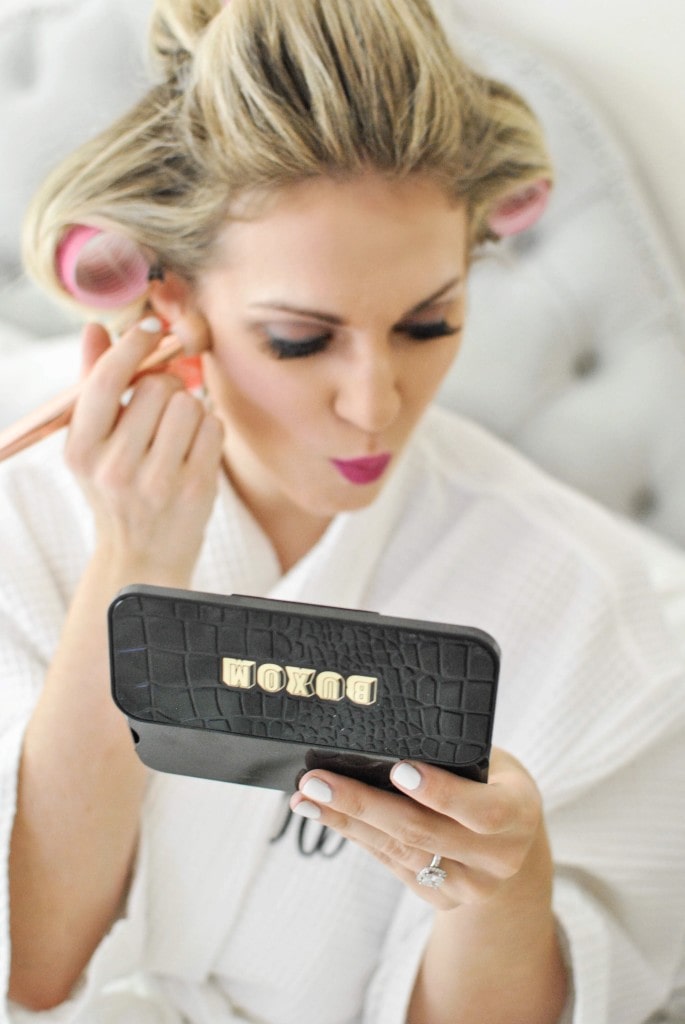 ---
Details:
Headboard: One Kings Lane | Pillows: Furbish Studio, One Kings Lane, Savvy Sleepers | Bedding: Similar on Sale, Similar on Sale | Robes: Similar on Sale, Similar on Sale, Similar on Sale, Similar on Sale | Buxom Palletes: [c/o] Buxom, Buxom | Glosses: [c/o]: Buxom [favorite shades: Kimberly & Dani] | Rollers: Similar | Pearls: Nordstrom | Lips: [c/o] Laura Mercier [Crushed Berry]
---
For someone who loves white furniture/bedding I do a lot of stupid things.
Growing up I always did my makeup in my mom's bed with her! When I was little I'd just lay on the bed and watch her perfectly apply liner, lashes and lipstick. Then I started to wear it and I'd run down in the mornings before high school, eat my chocolate chip eggo [Miss you metabolism. Girl. Come back to me.]  and plop on her bed.
So now whenever I get ready for a special night I always do the same on my bed. This of course leads to a few moments where I'm having to throw my duvet in the washer before I go out, but the nostalgic feeling is totally worth it!
My mom has always had this perfect smokey eye. She swears by eyeshadow palettes and the versatility you get from using them. She has taught me how to prime, layer and blend [she was a makeup artist!] but I still have yet to completely perfect it. I wanted these Buxom palettes a few weeks ago. I snap chatted at Sephora and wanted the Dolly palette so stinkin' bad! Then I saw they have customizable palettes, which is so perfect! Because we never use every shade, do we?! You can get each shadow here and fill them in! I used the Dolly palette for the look featured.
I also love that a good neutral palette can double as a contour and highlight kit! I feel like half the time contour kits really only apply to girls who were blessed with a few shades darker in skin. I end up looking really muddy, so I learned a trick a few years ago to use a neutral eyeshadow! Then I just highlight with the shimmery color!
I also use velcro rollers for a special event. I curl my hair, then roll them while I do my makeup. I pull them out right before I walk out the door and spray a ton of hair spray!
Do you have any special rituals when getting ready for a night out?