In each sale post I feature I have to watch myself. I get excited and want to say, "This is the best sale of the year!" But I can't. Revelations 21:8, y'all. I can't lie.
Because in all seriousness, the BEST sale of the year is the Nordstrom Anniversary Sale. Their fall must haves, designer pieces and coveted items to build an "it-girl" wardrobe are all on sale for a limited time! Prices go back up the beginning of August, and pieces sell out quick. Last year I hunted down a Phillip Lim bag and by the time I got up in the morning, poured my coffee and got to my laptop it was gone.
If you are a Nordstrom cardholder [debit or credit] you can shop the sale now until the 16th! If you aren't you can shop the 17th. If you're like me you may think, "Ehhh, I'm not too into the credit card thing!" However, you can do the Nordstrom debit card like I do! It just links to your checking, you still earn points and perks and you can sign up here so you're able to shop the sale.
This is definitely the time to stock up on your designer pieces that you intermix with less expensive pieces throughout the year! I always think the best looks are a mix of high and low [think JBrand jeans with an H&M top!] and look the most collected. Most sales are items that didn't sell well so they are trying to get them off the shelves but the Anniversary Sale is different because these are the current trends on sale before they go back up to their regular price!
I'll feature some must haves throughout the next few weeks that I think will be the most versatile for your wardrobe! Today I'm starting with just those "it-girl" items that we all envy and our closets are craving. [I'll share my accessory/clothing picks the next few weeks, too and break it down how to wear things!]
So here is what I pulled an all nighter to purchase! Seriously. I caved and drank Diet Coke [I hadn't had one in weeks!] just to stay up. And you know what, my body isn't too mad at me because it knows it will get to snuggle up next to these pieces soon!
Shop the sale here!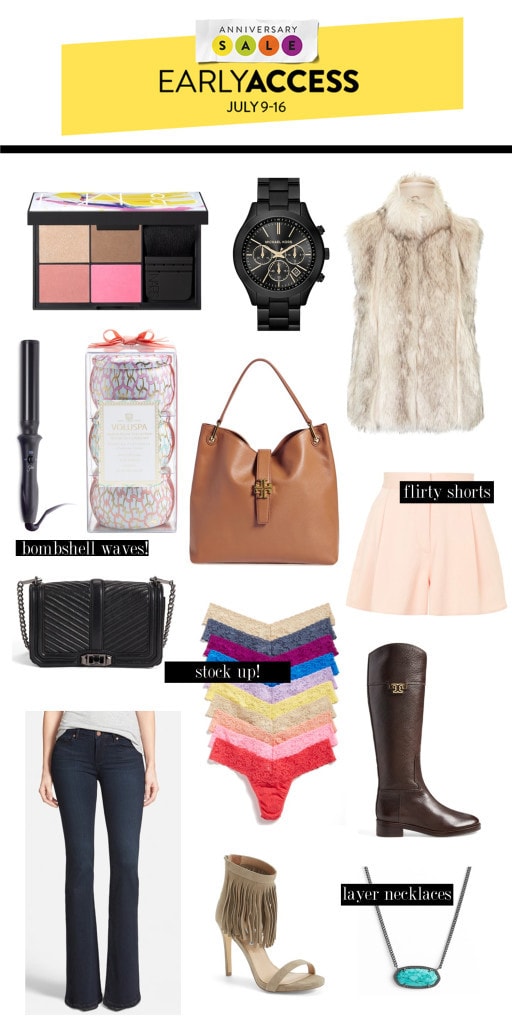 Nars Palette: Link | Watch: Link | Faux Fur: Link | Curling Wand: Link | Candles: Link | Tory Burch Bag: Link | Shorts: Link | Black Bag: Link | Hanky Panky Set: Link | Tory Burch Riding Boots: Link | Flare Jeans: Link [MUST HAVE for wardrobe!] | Fringe Heels: Link | Kendra Scott Necklace: Link
I hope you have fun stocking up for fall like I did! Have a wonderful Thursday! Tomorrow I'll be back with a fun guest post from one of my favorite girls for fitness inspiration and all her tips!