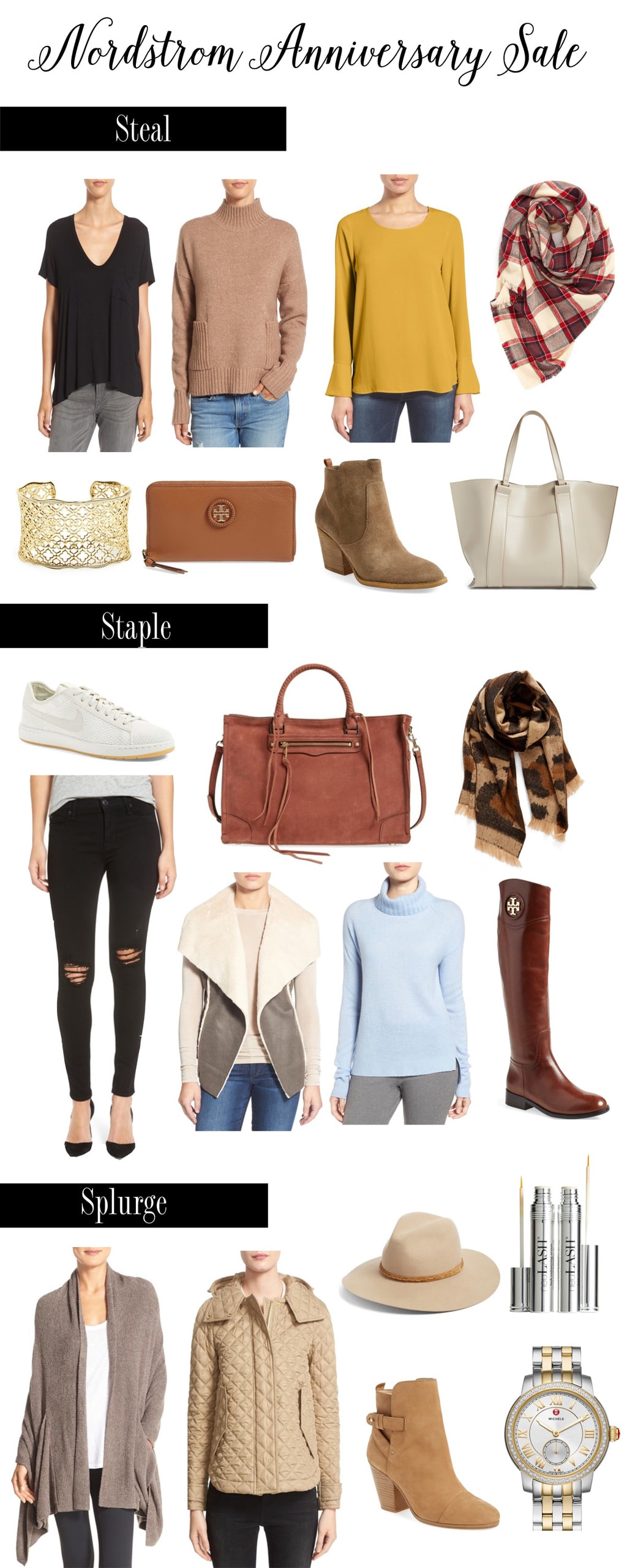 Steal: Tee, Sweater, Work Top, Scarf, Cuff, Wallet, Booties, Bag
Staple: Sneakers, Jeans, Bag, Vest, Sweater, Scarf, Boots
Splurge: Sweater, Jacket, Hat, Booties, Neulash, Watch
---
 Happy NSale public access day! Today you are able to shop the Nordstrom Anniversary Sale no matter what card you have or use! I've shared before that sales can be so overwhelming and I like to break them down in fun ways. Because things are selling out quick and WON'T be restocked [things do get restocked before public access] I like to start by going with a steal, a staple and a splurge!
My favorite wardrobe is one that mixes high and low pieces because I think it looks not only carefully curated, but smart. A $15 tee with designer booties always seems so effortless which goes hand-in-hand with model off duty style. Granted, I'm not sure if Gigi Hadid wears $15 tees, but who can even tell the difference?! 😉
To help you go through the sale here are my past posts!
3. Fall Uniform
Today I'll be stocking up on this Vince Sweater and my favorite deodorant! It's ruined me, I can't wear anything else! Moms, if you are looking for a go-to Christmas gift Tory Burch Riding Boots always win! Shop the rest of the sale here.
Now if you're searching for something a little bit more specific I've rounded up my favorites in each category!
Best Tops:

Best Jeans:

Best Dresses:

Best Accessories:

Best Beauty:

Best Bags:

Best Shoes:

What are your weekend plans?! Paul has been working late this week, so I'm just excited to catch up and see him! I hope you have a wonderful Friday!