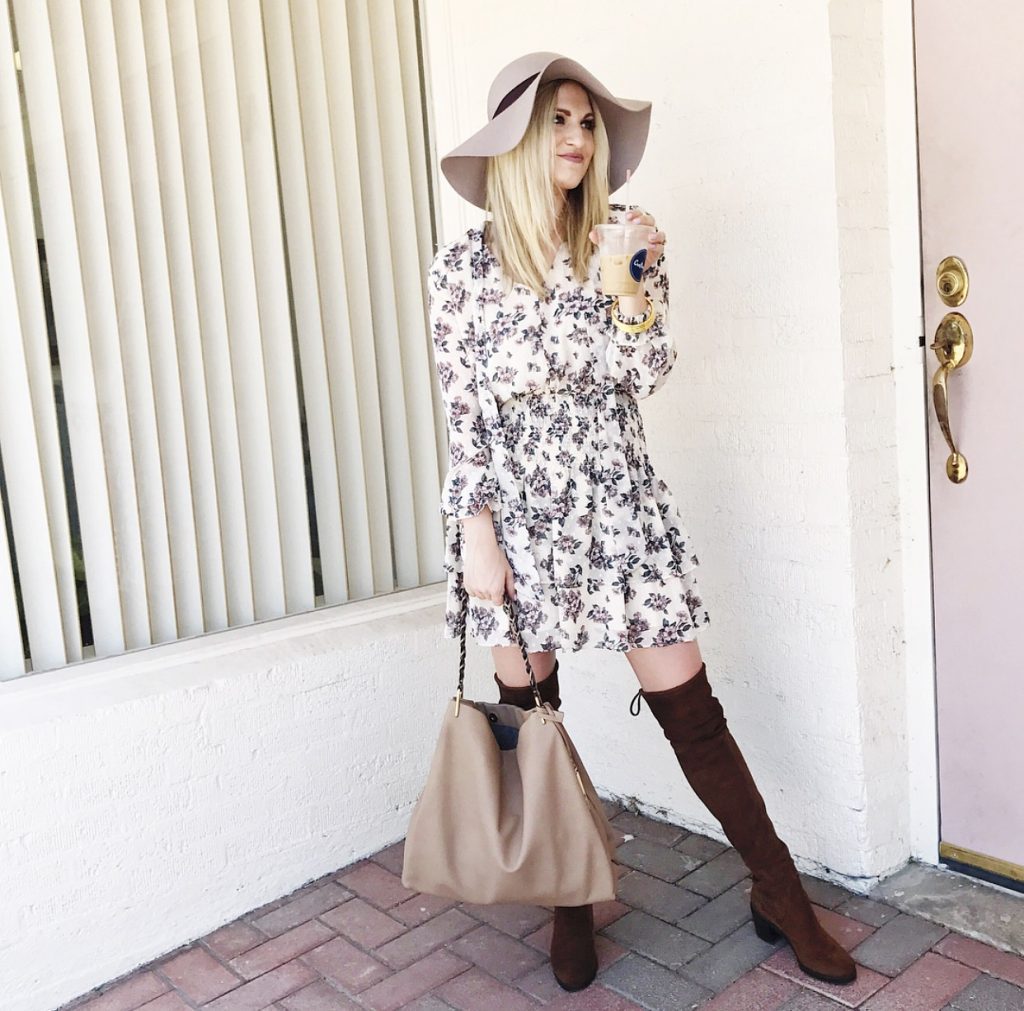 My entire NSale order has finally arrived in the mail. Or at least that is what I told my husband? If I'm being a good, honest gal I have ONE more package coming. Just one! So technically my order has already arrived. We can't count one silly box?! Am I nuts that I budget all year for one sale? Don't answer. But I thought it would be helpful to go over my order and tell you what was worth it, what wasn't and what I'm exchanging/returning/on the fence about! Overall, I found that the sale was really great this year when it came to dresses. Last year, I was pregnant so items didn't fit as well and I was nervous to get too much for fear I'd never wear it again. Plus, I had the WORST morning sickness of my life during the NSale. I was 10 weeks pregnant and sleeping next to a trash can, so I don't even remember shopping it. Puking I remember. Clicking, "Add to cart"? Not so much.
This year? No puking. Clothes fit. And a sweet baby here on my hip to help me try on clothes. That's a win in my book even if I need to exchange a few things.
I wanted to feature my favorite look first. That dress by Moon River is my favorite purchase along with the Stuart Weitzman boots. I went down half a size in the boots and went up one full size in the Moon River dress. If you aren't fuller chested, I think you could get your normal size. I'm wearing a M for reference. My bag is also a surprise. I got it and I'll be honest, I 100% thought I would return it. I've always wanted a hobo bag because I think they are the ultimate bag for fall. Throw on a Rails plaid shirt, grab a coffee and sling on your hobo bag. It's the perfect look in my book. When I grabbed the bag in store, I got it quickly because it was the last one. I was so unsure the entire ride home. But Paul works right by Northpark mall….so returns aren't TOO difficult to twist his arm over! 😉 I carried it all last week and I'm hooked. It feels like whipped butter and my purse organizer fits neatly in the bottom. My biggest fear with a hobo bag was that it would be messy, and this stays organized with the insert.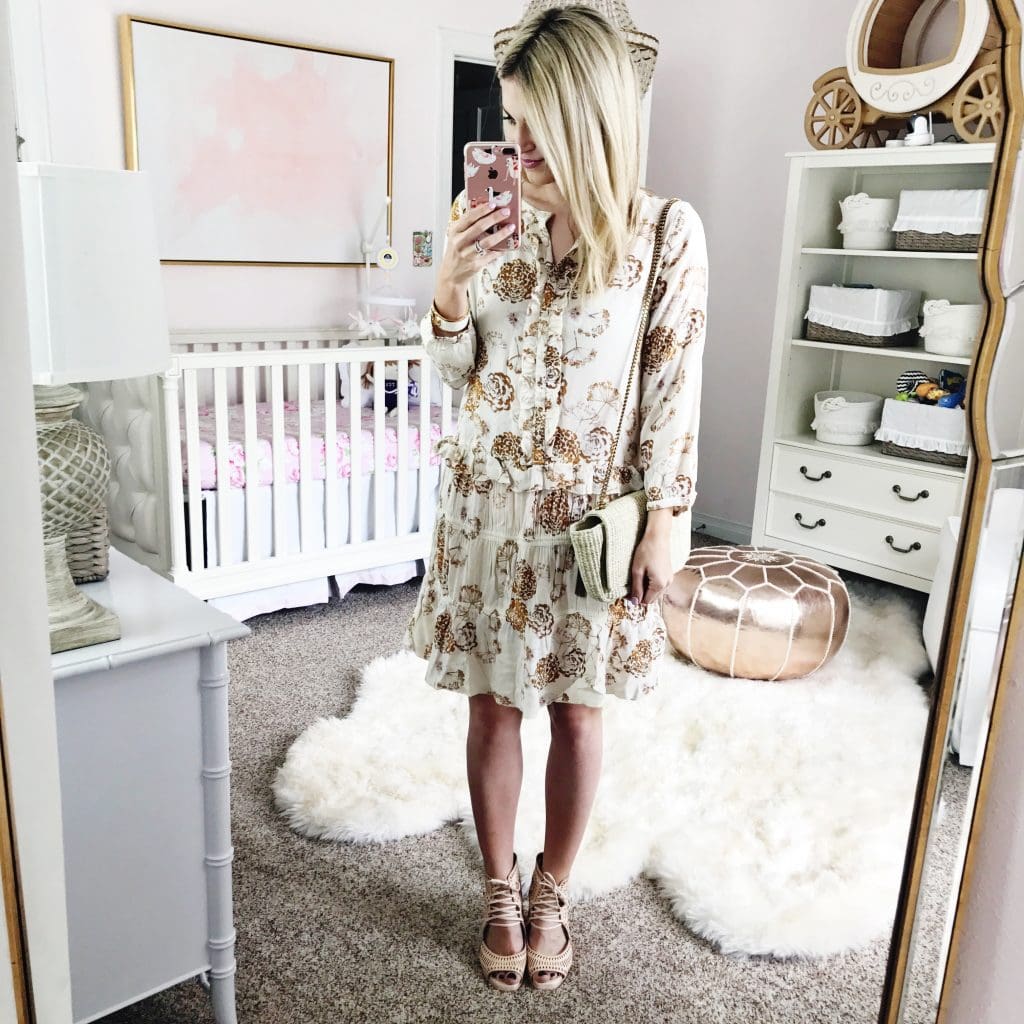 If you're a taller girl, you'll LOVE this dress as it is longer. I'm 5'3″ and I definitely need to wear heels with this dress because of the length on my legs. If I couldn't wear this with booties or wedges, it would be a return. However, I loved it with some height. This is great if you can dress casually for work. It fits TTS and I also love that you don't have to wait until November to wear this. My shoes aren't part of the sale, but they are from Nordstrom, too.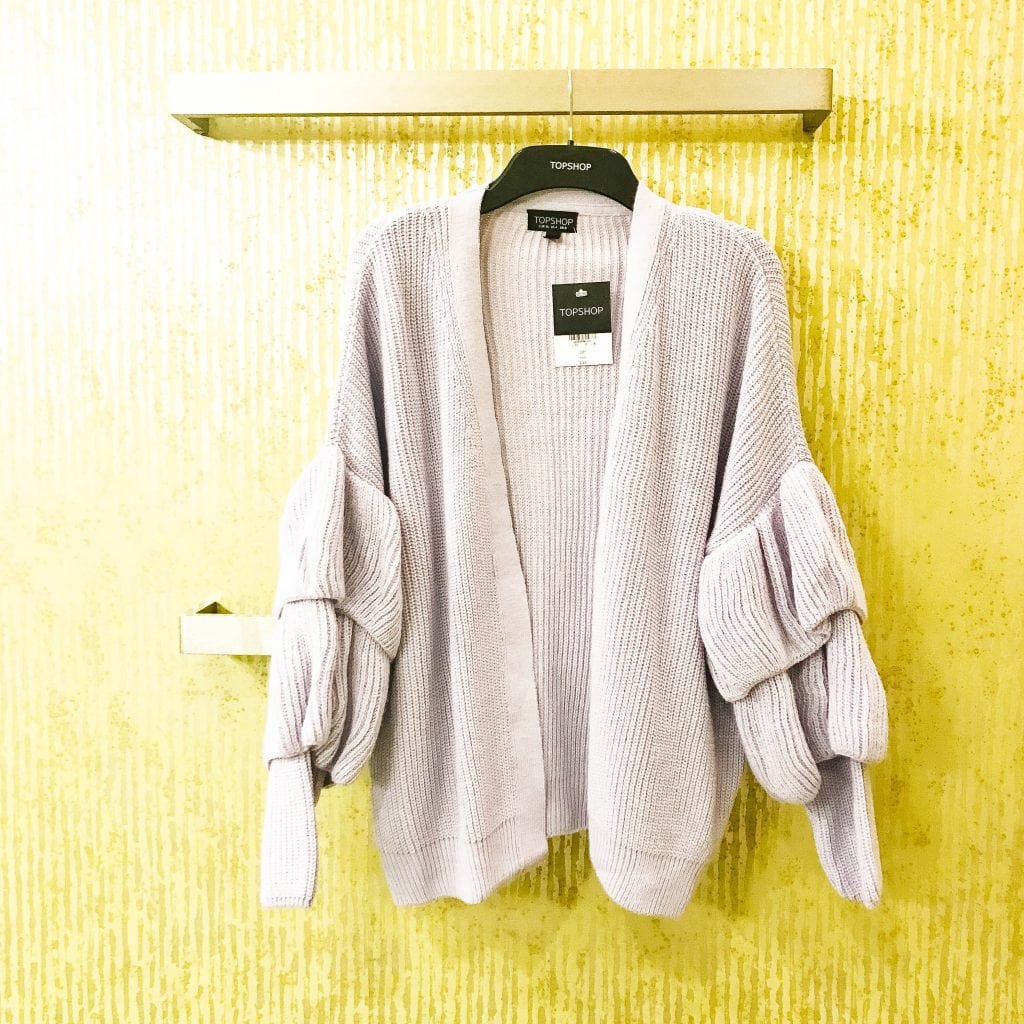 This is the sweater I had my eye out for with the sale! I had heard it would be part of it, and I was obsessed with the sleeve details. I've worn it all weekend and on Snapchat people kept asking is it lilac or grey? Online, it says lilac. It reminds me of the blue/gold dress saga from last year. Half the time it looks grey, half the time it looks lavender. It's a beautiful, neutral hue whatever shade it is. It can be a bit boxy at the bottom so I went up a size and got a 6. You can see it below as well.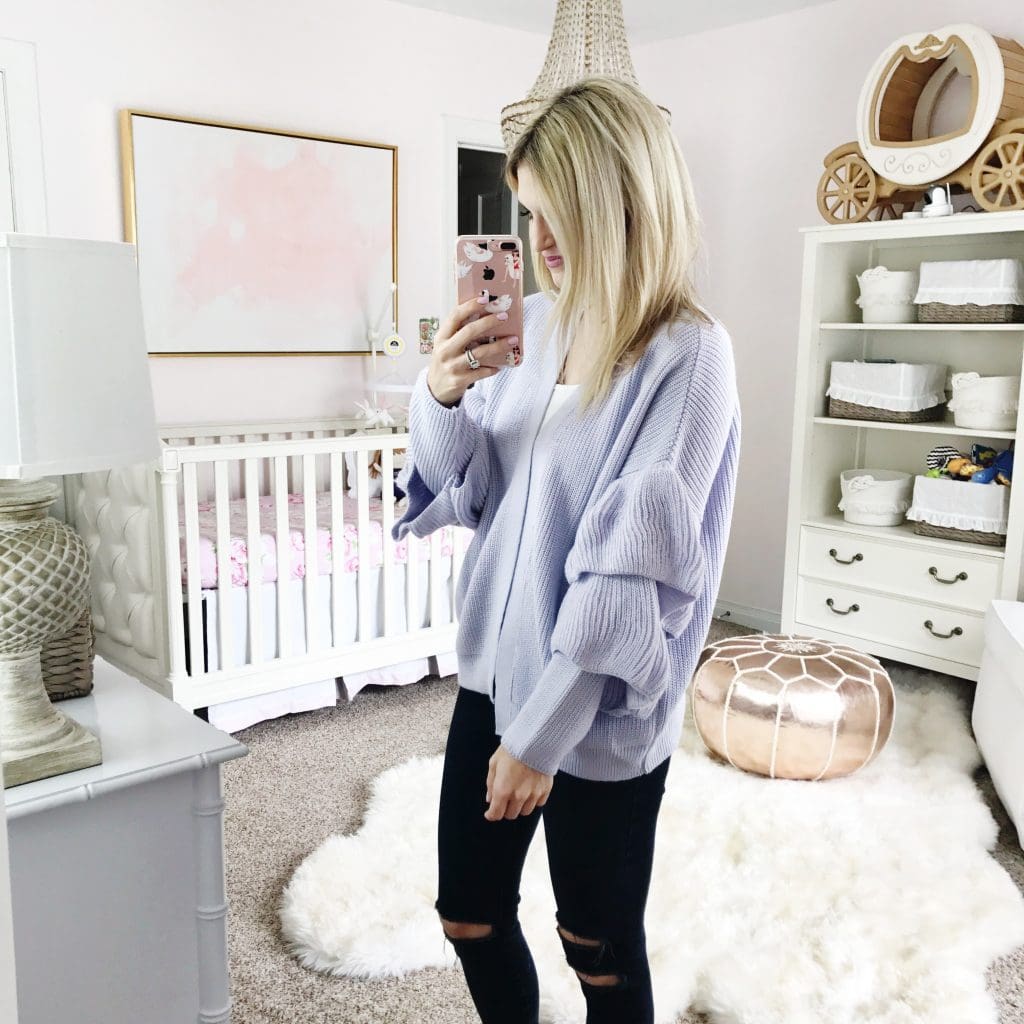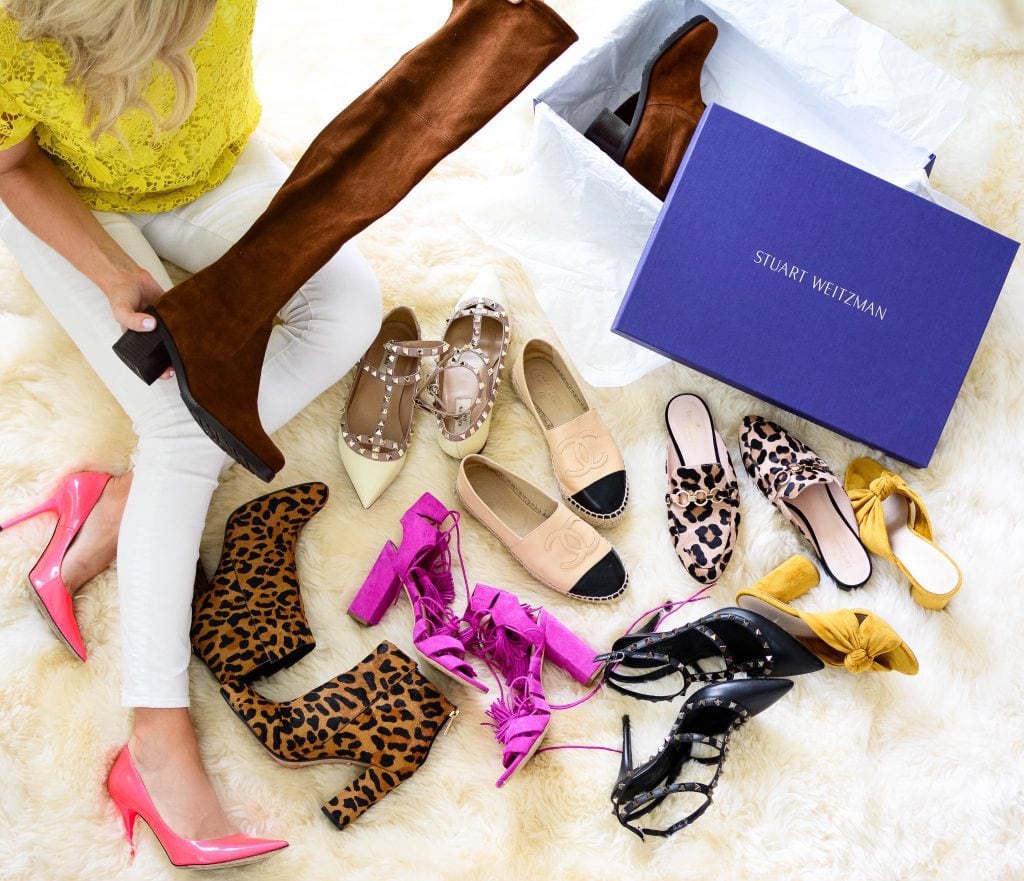 These Stuart Weitzman boots are such a great buy this year. I got the chocolate brown and had so much fun looking at what I could pair them with my closet this weekend. I went down half a size.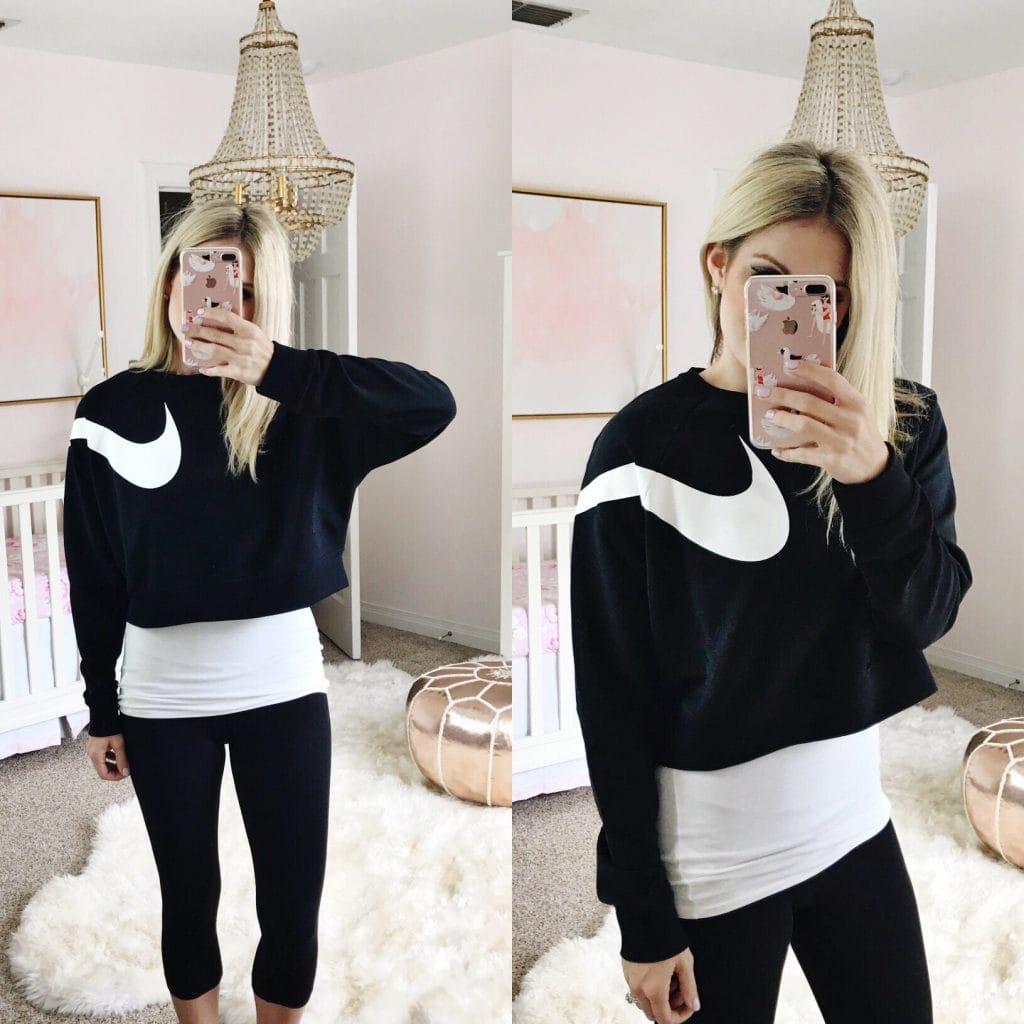 I LOVED this Nike top, but I'll be honest the sizing throws me off. I got a S, but I keep going back and forth on exchanging for a medium. It fits like a normal workout top would, I just keep thinking I'd love it if it were baggy. Or would that be too boxy then?!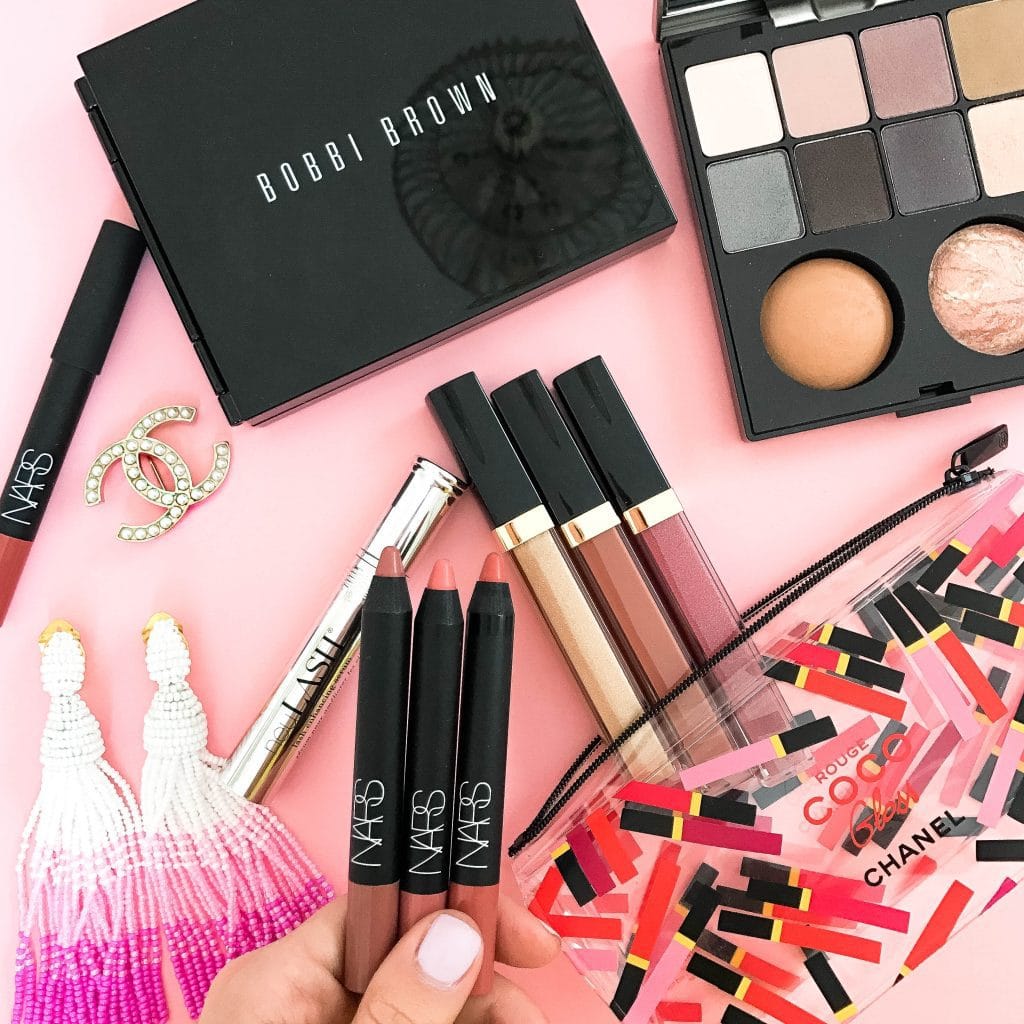 I'm going to do a full beauty review on my NSale products. I did stock up on Neulash for when I can use it after nursing. I also got this Laura Mercier palette which I'm obsessed with. If you like a more natural look, you'll love this palette. If you're a MAC girl through and through, this may not be your jam. Laura Mercier creates beautiful looks but they aren't statement eyeshadows. It is buildable, but very office appropriate. So if you want something for work and every day this is perfect. If you want something for going out, this may not be the option for you. The blush/bronzer combo is also a dream and blends beautifully. My favorite thing about Laura Mercier makeup is how it wears. I didn't end up with any creases or patchy spots. My eyeshadow can easily catch after applying eye cream and her shadows blend really well. I just wanted to be honest that this isn't going to be crazy pigmented and flashy by any means.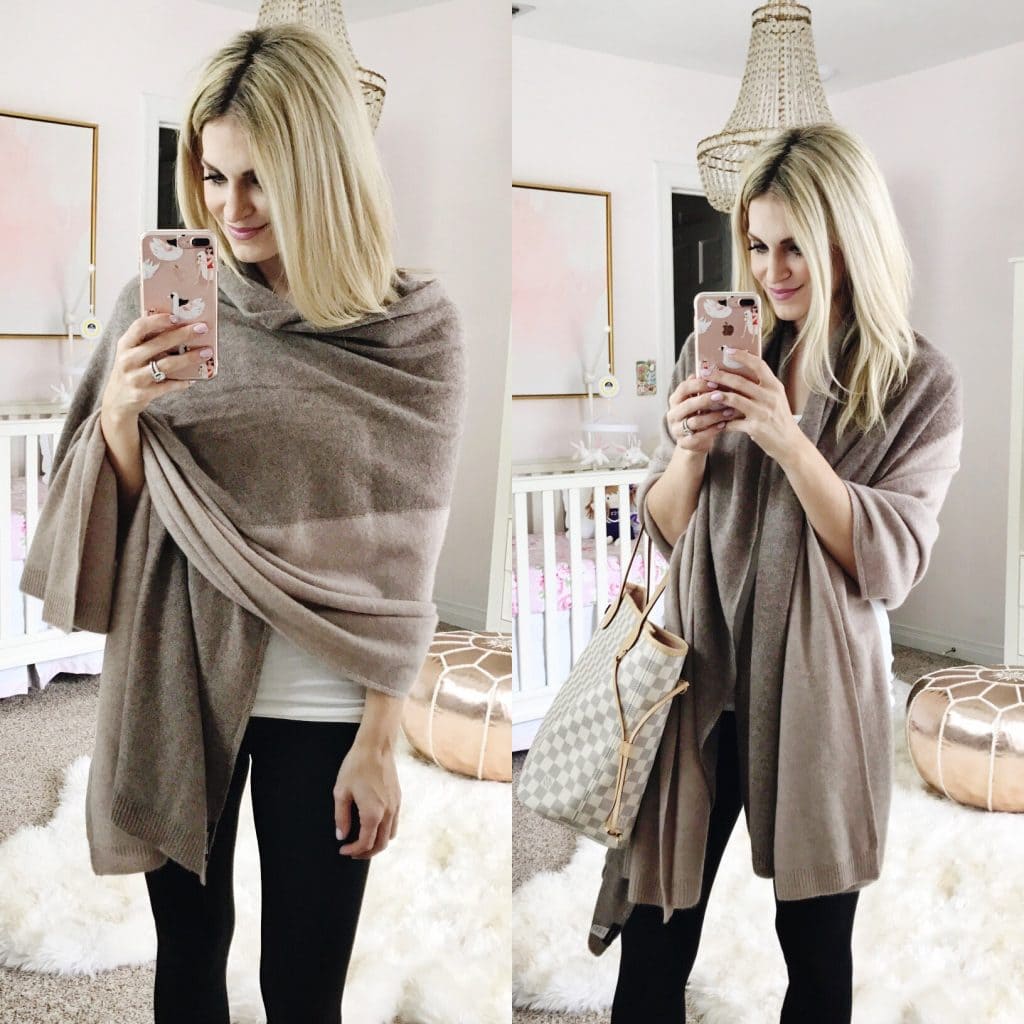 If you're a girl on the go, you need this cashmere wrap! It can be worn numerous ways [I showed two of my favorites] and it's the IT piece for traveling. The cashmere of course feels divine. If you travel for work and only ordered one piece, I think this is the piece you need.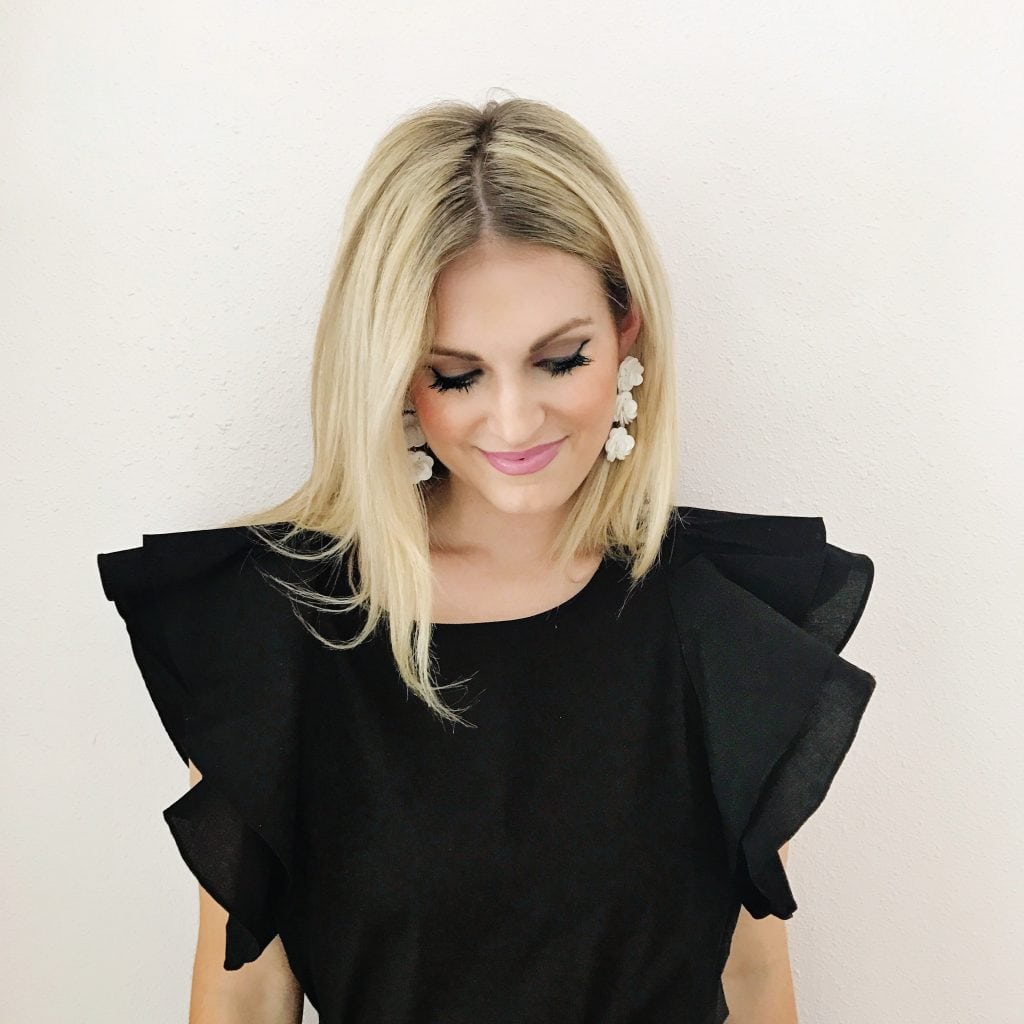 This top is another one I'm torn on keeping or exchanging. I LOVE the sleeve detail, I mean absolutely adore it. It makes a beautiful statement. I paired it with these earrings and straight hair to show them off. However, the top is huge. I got my normal size and was swimming in it. At first I thought they mismarked it. I tucked it in a skirt below to see if I could style it that way. It looks great in a skirt, but I still either need to tailor it or exchange it. This look above was also created with the Laura Mercier palette.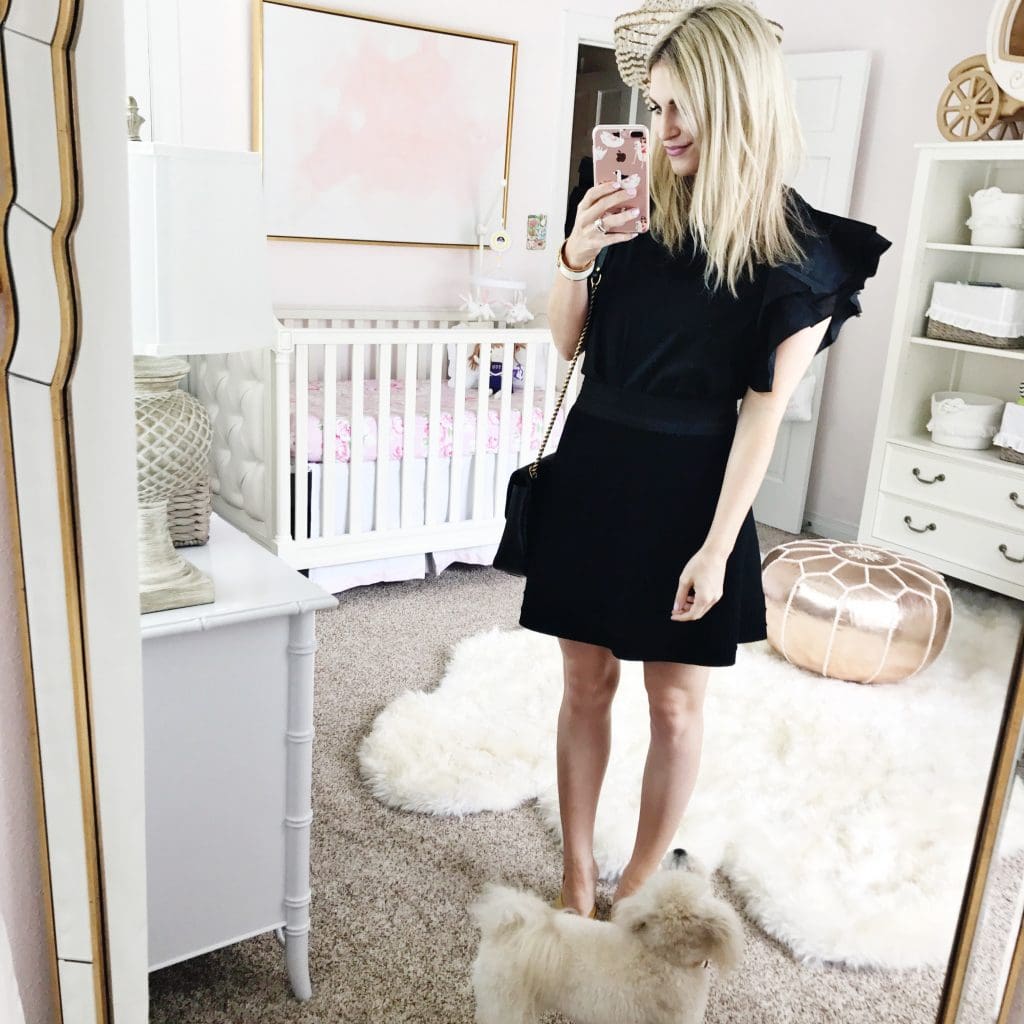 I tucked it into my favorite Club Monaco skirt!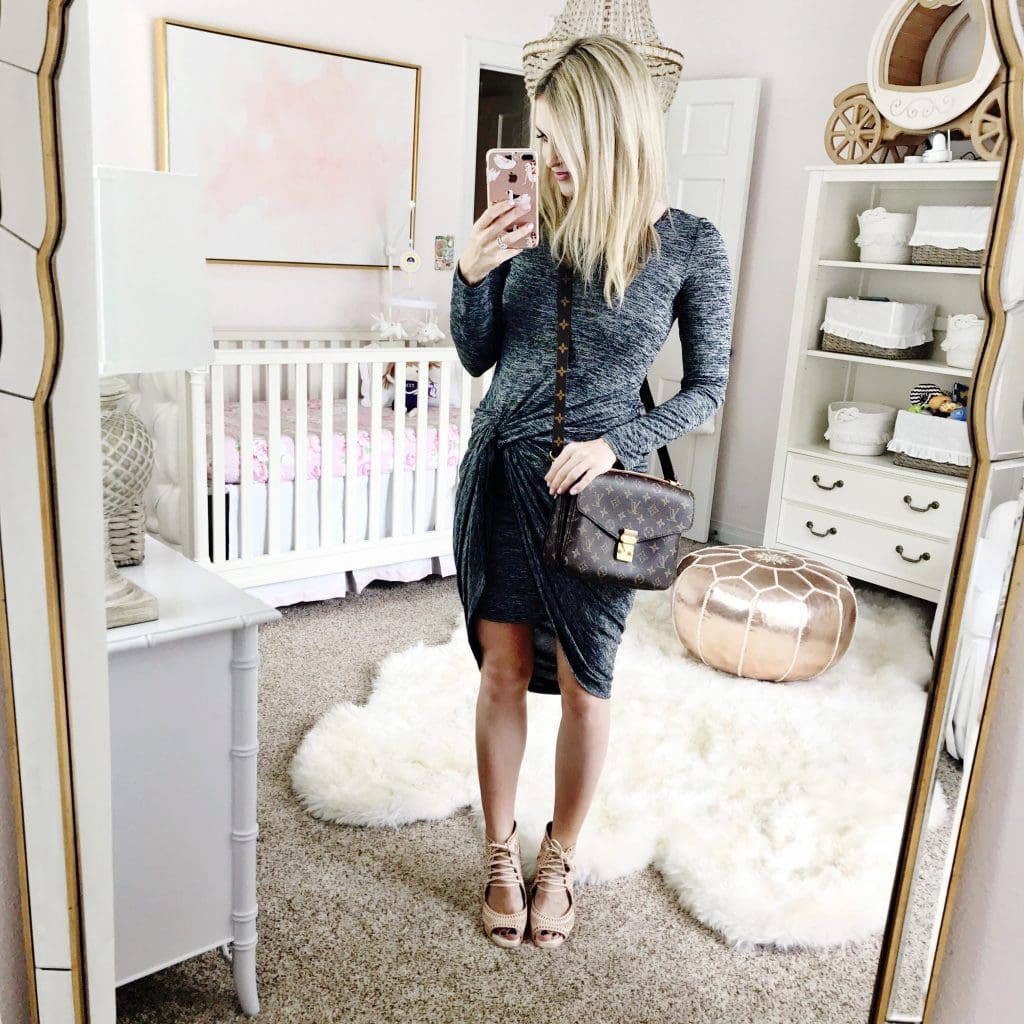 I told y'all the dress selection was my favorite this year! I got this Adrianna Papell number for the weekend. I'm always looking for a dress that can take you from church to lunch to errands. I paired it with those fun wedges, but I think I will like it best with sneakers. I got my normal size.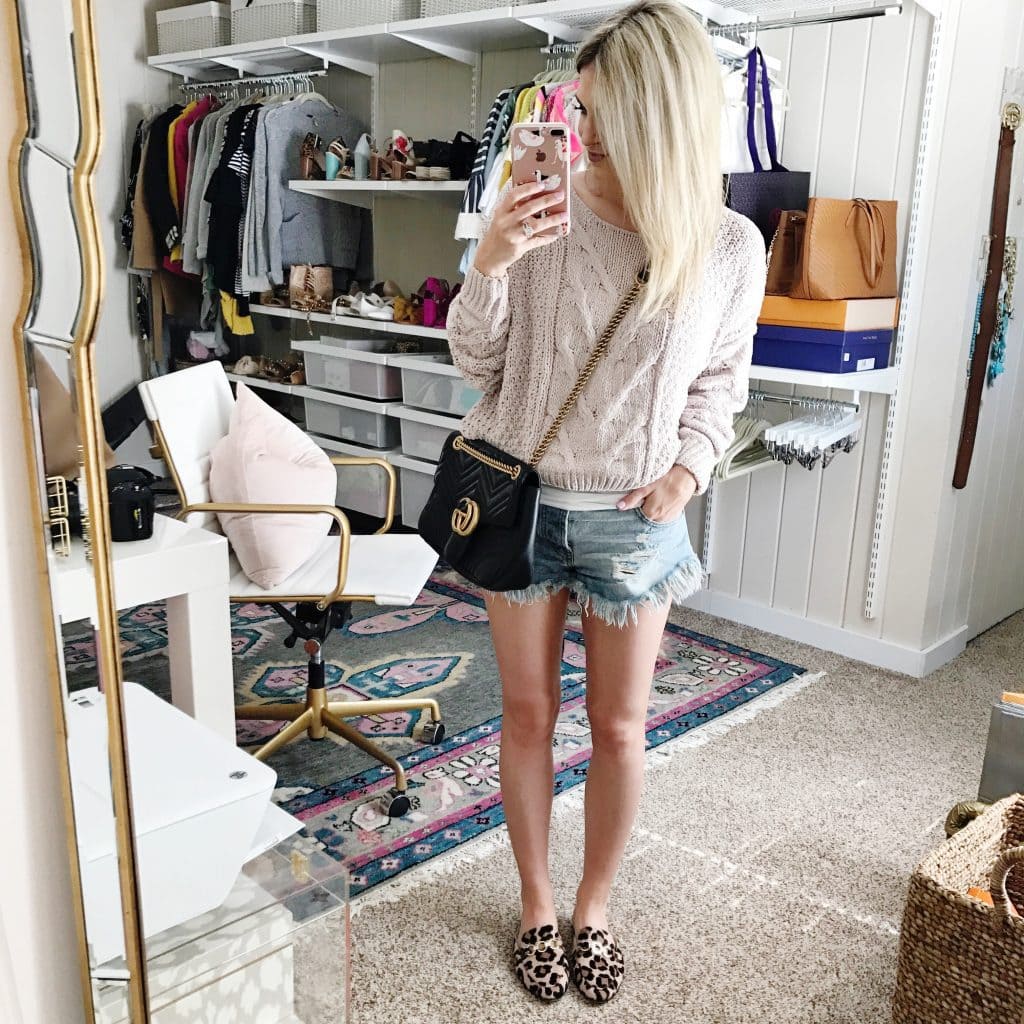 I'm really glad I got this sweater in store, because sizing was tricky. It's short and boxier, so I went up a size. Shoes are Kate Spade and here is a dupe from the sale! Shorts are One Teaspoon. While writing this post, the exact shade is sold out but I bet they will restock.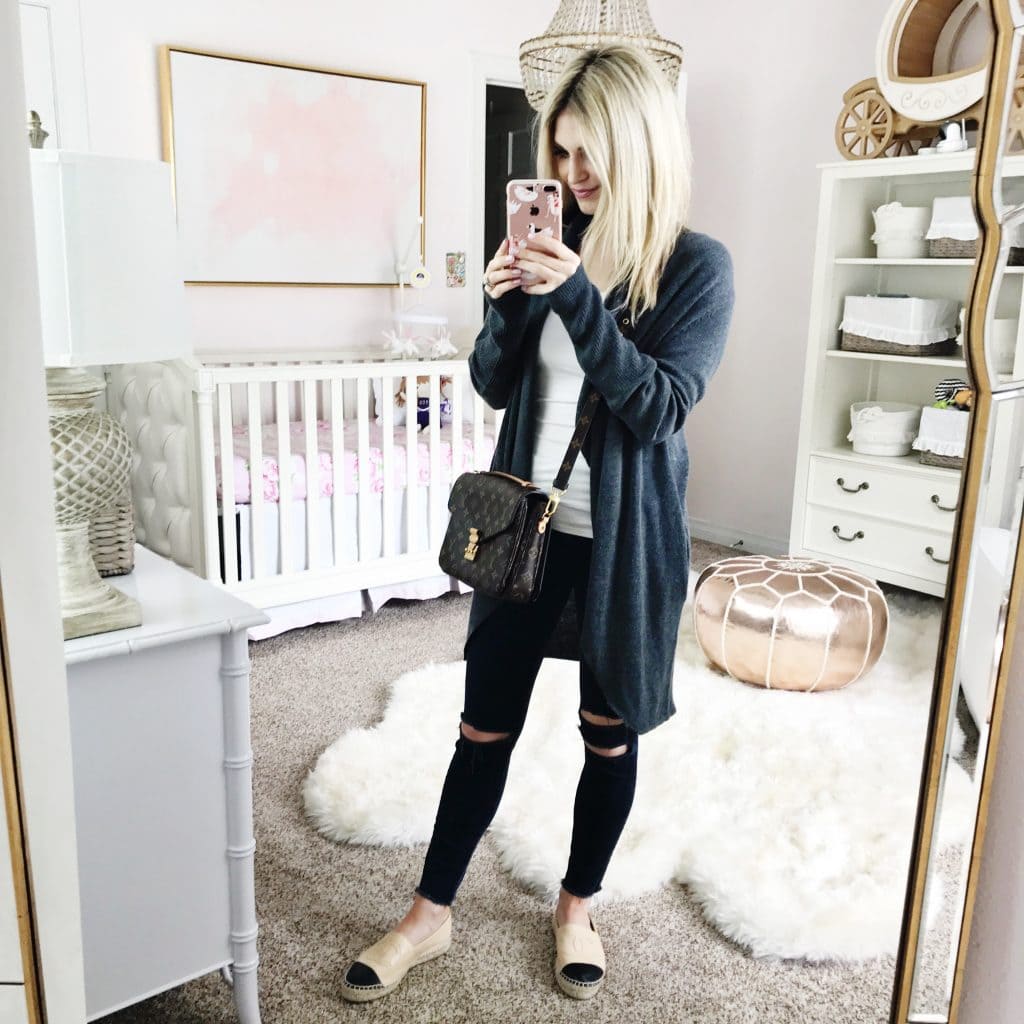 This sweater was a hit as I definitely want to get the tan color as well! I keep seeing lots of girls in the tan and it looks amazing on them. I got it in my regular size and it's extremely soft and cozy.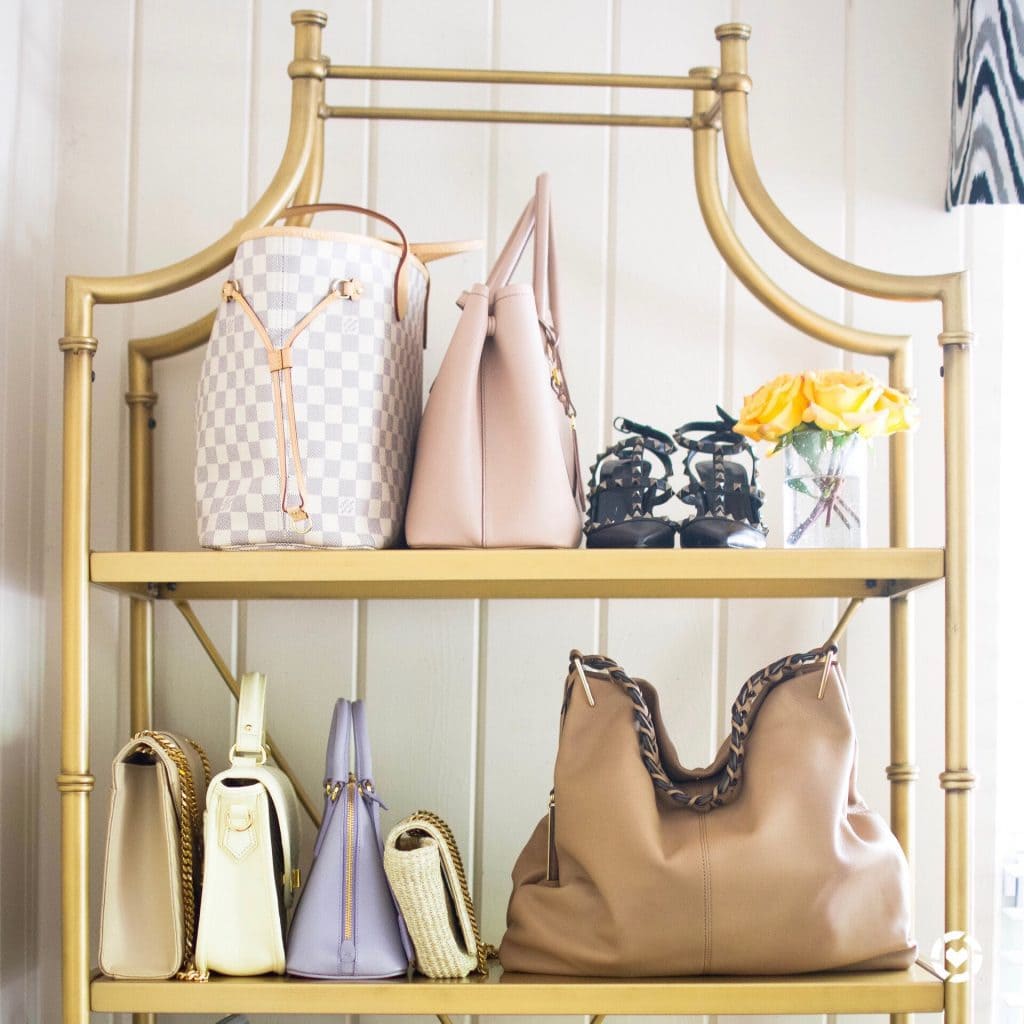 Here is another view of the Vince Camuto hobo bag.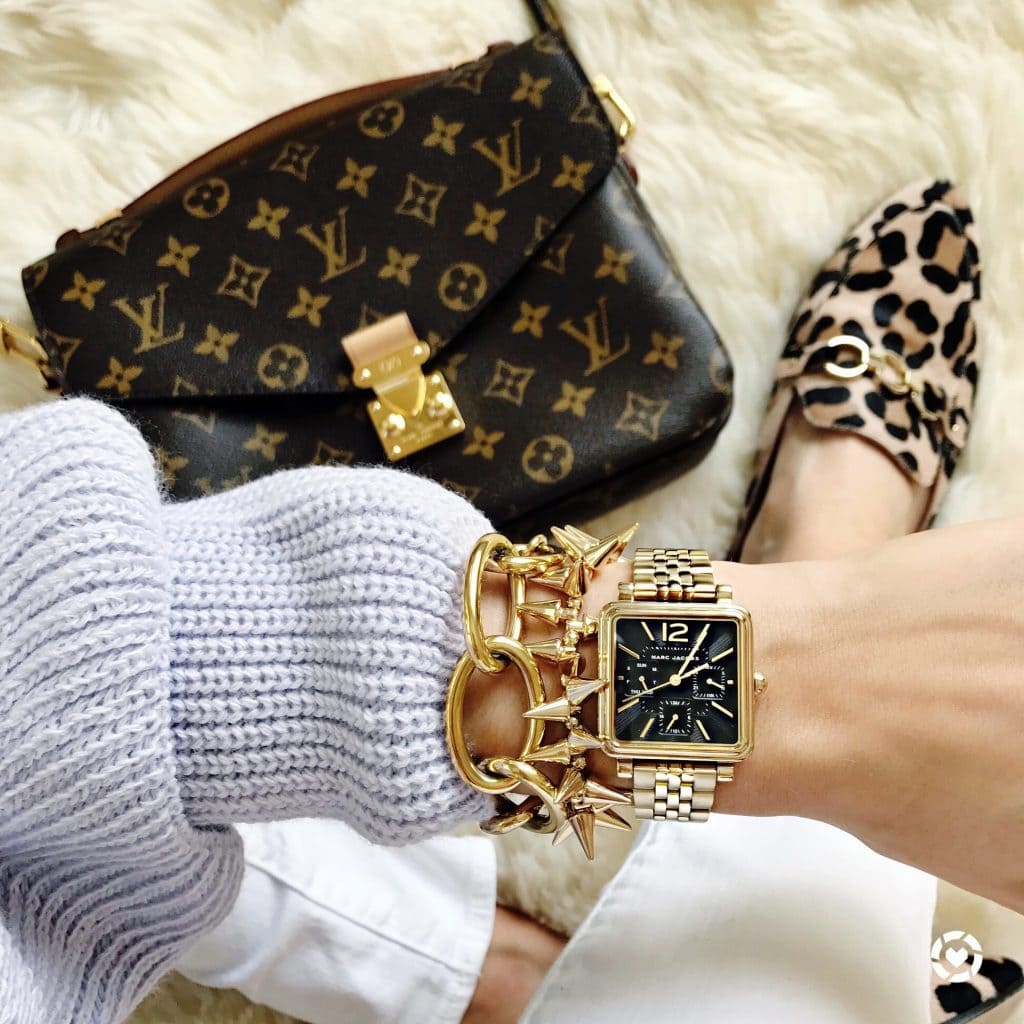 I've always wanted a watch with a black face so this was another win with the sale! It reminds me a lot of my Michele watch, which I wear daily. You can shop the rest of this look here.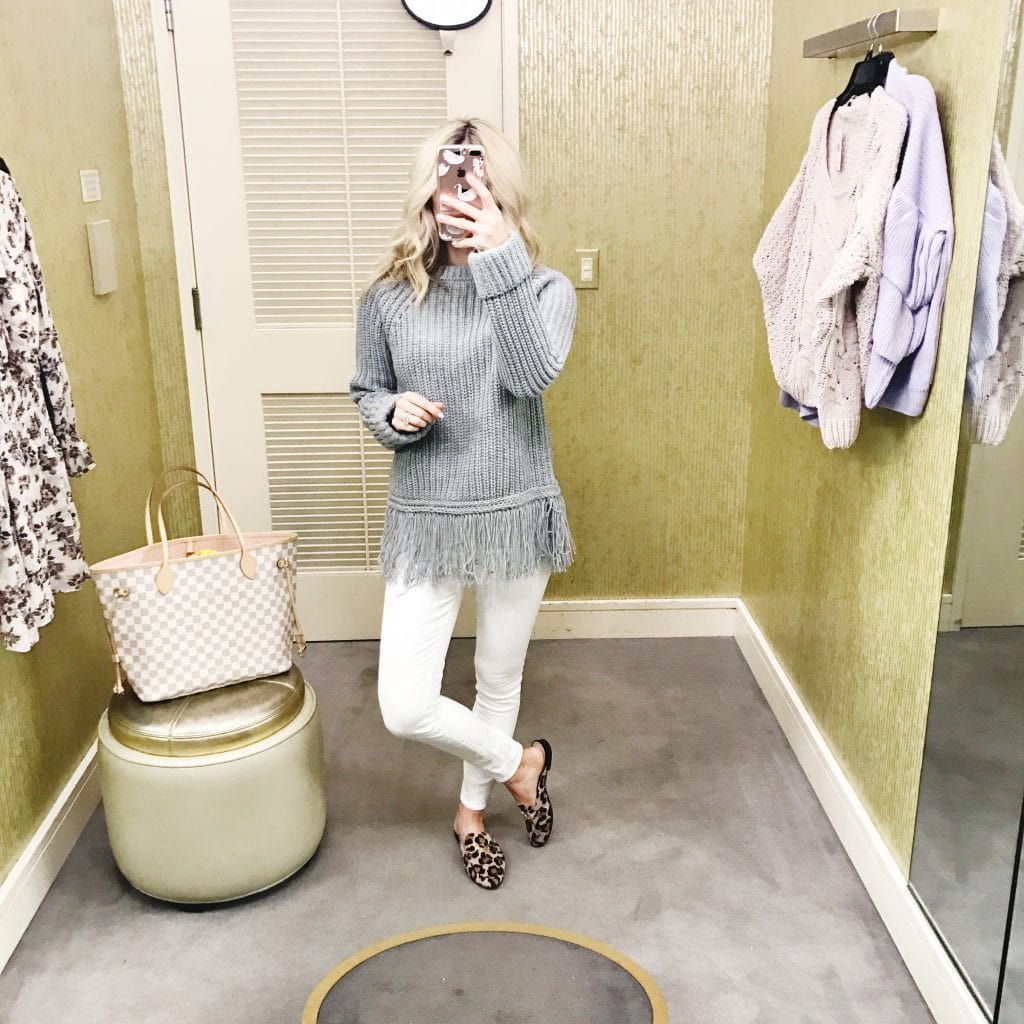 I didn't purchase this top, but I did want to include how it didn't fit me. It was really boxy and thick. If you're fuller chested I think it would just feel very heavy on you. I loved the fringe detailing, but it was a miss for me. If you have a different body type than I do, I think it would look amazing on you! I can't find this sweater online anymore, so I'm thinking it sold out. I feel silly including something when I can't share the link, but I wanted to be honest about all the products I purchased/tried on. 🙂
If you see things that are sold out, I do apologize. This is the nature of the Nordstrom Anniversary Sale. Pieces go fast! However, Nordstrom has incredible customer service and with that they do restock pieces throughout the sale to keep customers happy! Just keep checking my site throughout the sale and you should be able to snag what you have your eyes on. This post isn't sponsored by Nordstrom, I'm just always pleased with their product stock and how they handle customer situations. For example, the first day of the Nordstrom Anniversary Sale Early Access their site crashed a few times. This sale proves to have more shoppers in some aspects than even Black Friday, so that was understandable. They then gave shoppers 10x points the next day on purchases to say sorry for the technical difficulties. Bravo!
What were your favorite Nordstrom Anniversary Sale purchases?!
Lastly, I want to announce the winner of the 4 Tory Burch bags from my first NSale post last week!
Random.Org chooses the winner through Rafflecopter. Congratulations to Katie Fikes for winning the bags!
Here is her entry, but e-mail was cut off for her privacy. Katie, please e-mail me to set up shipping and I will get those bags in the mail to you today! 🙂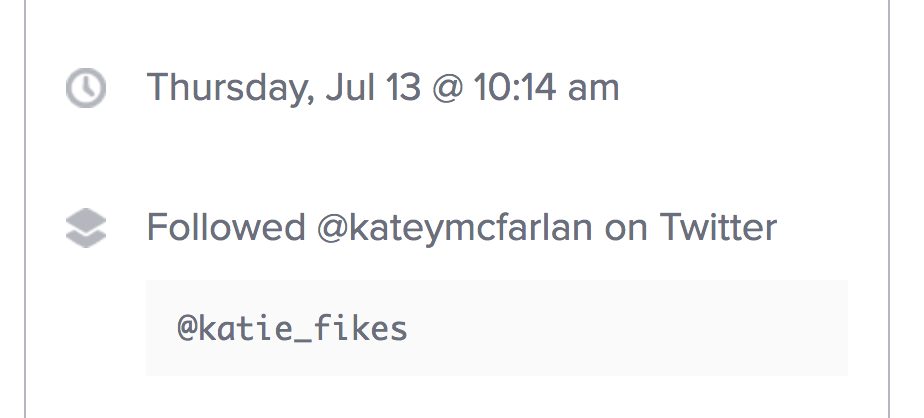 I'll have another giveaway coming up very soon for the Nordstrom Sale. I appreciate you all and hope you enjoy these giveaways!