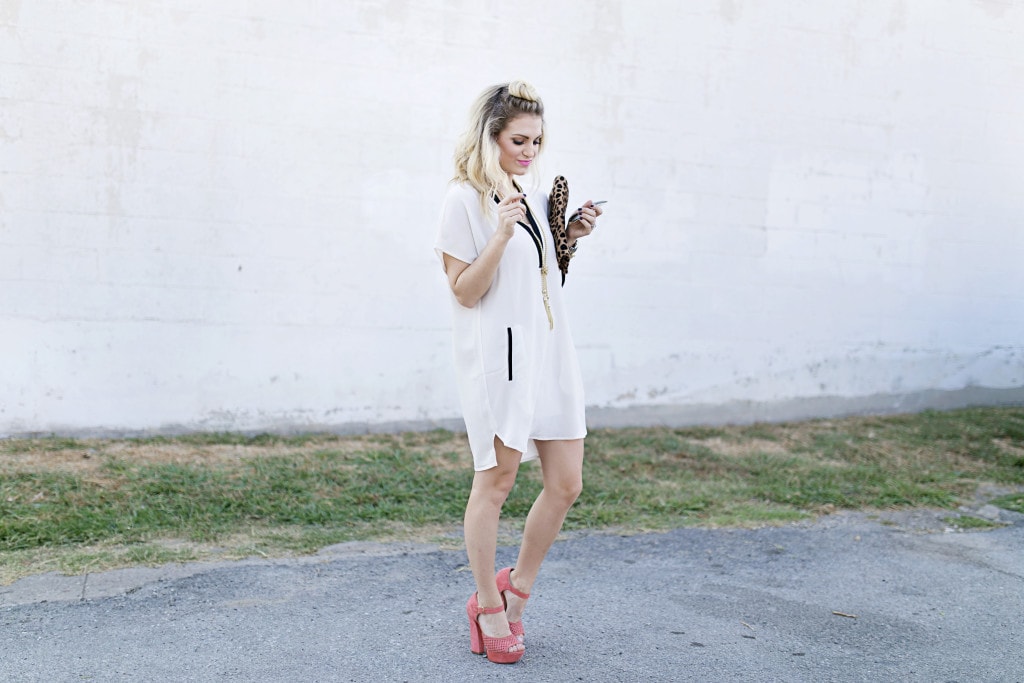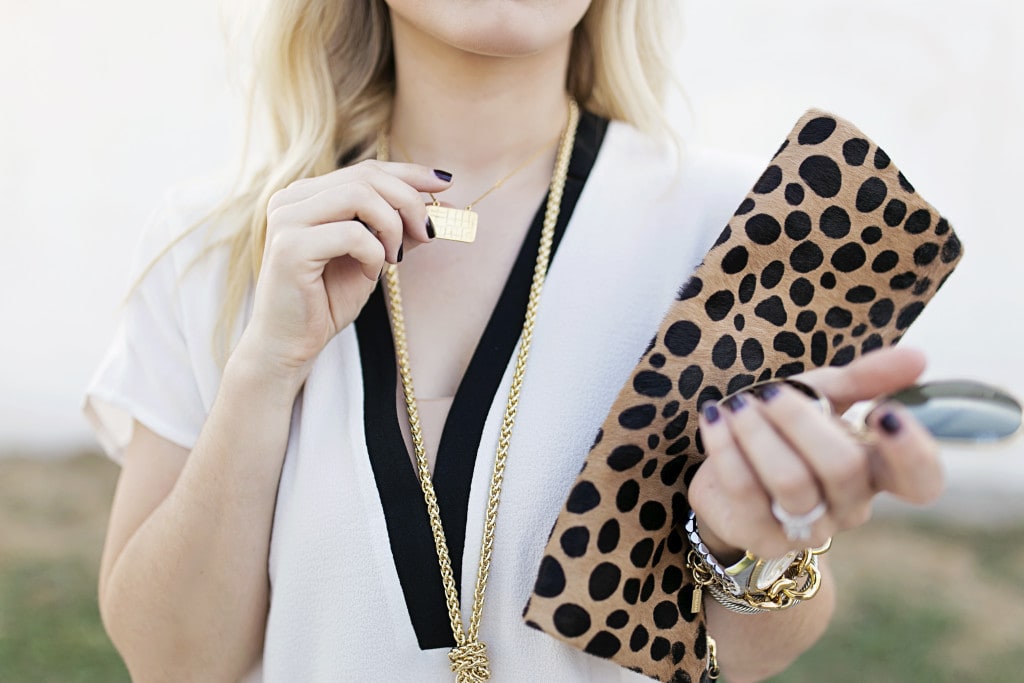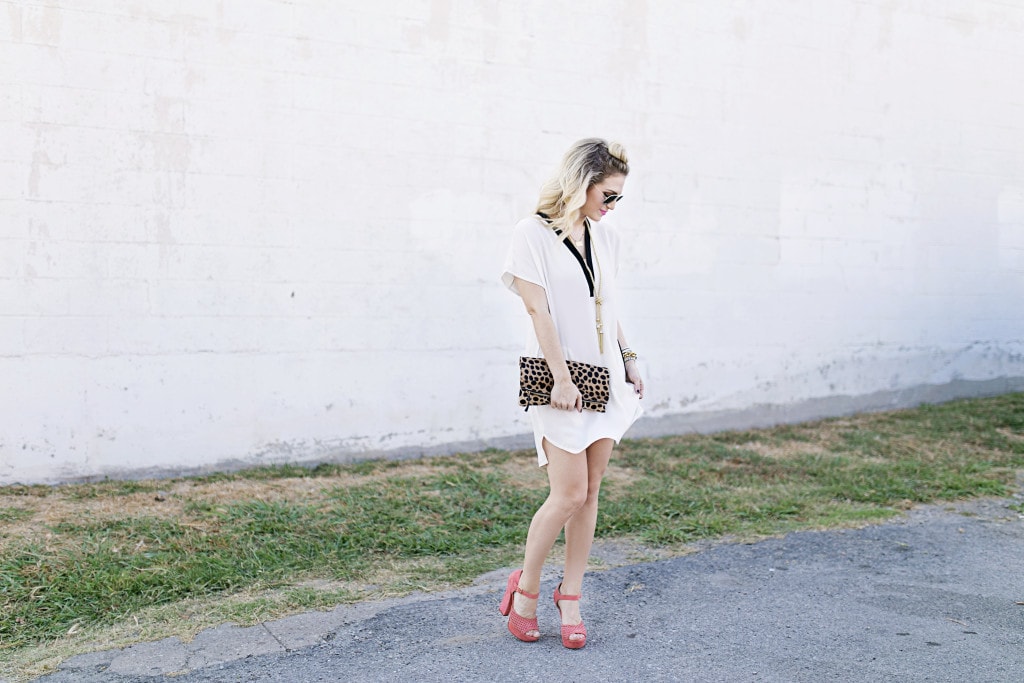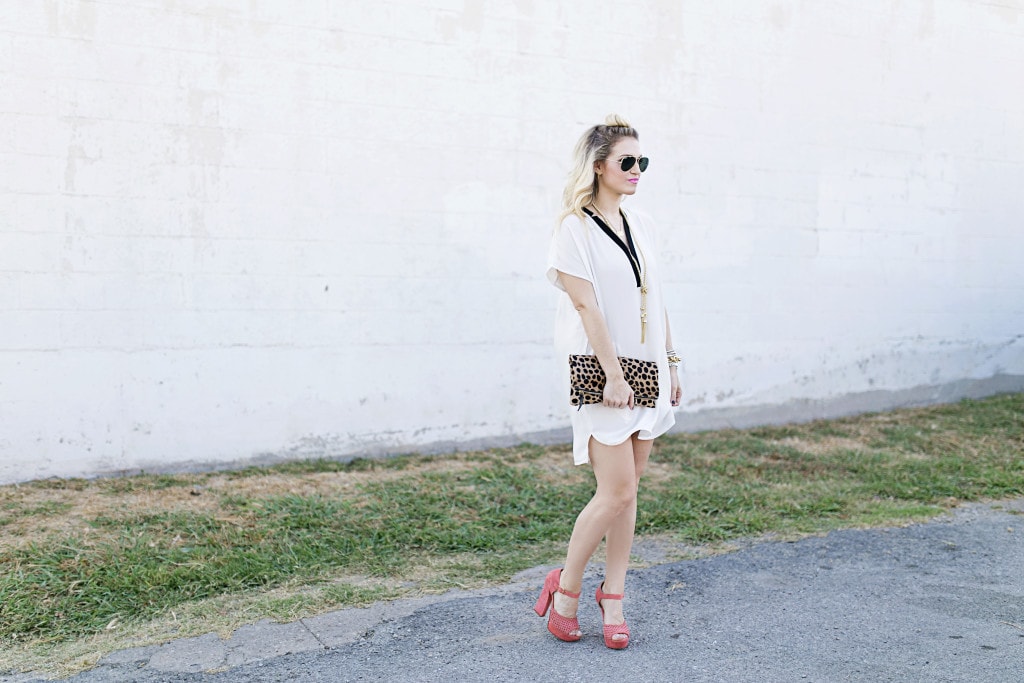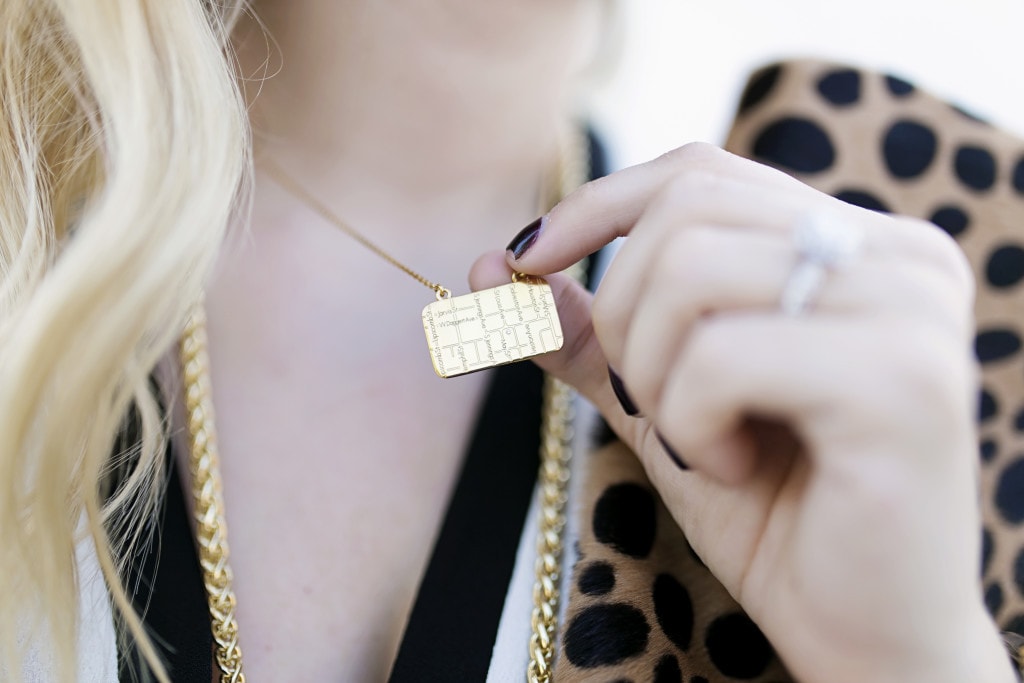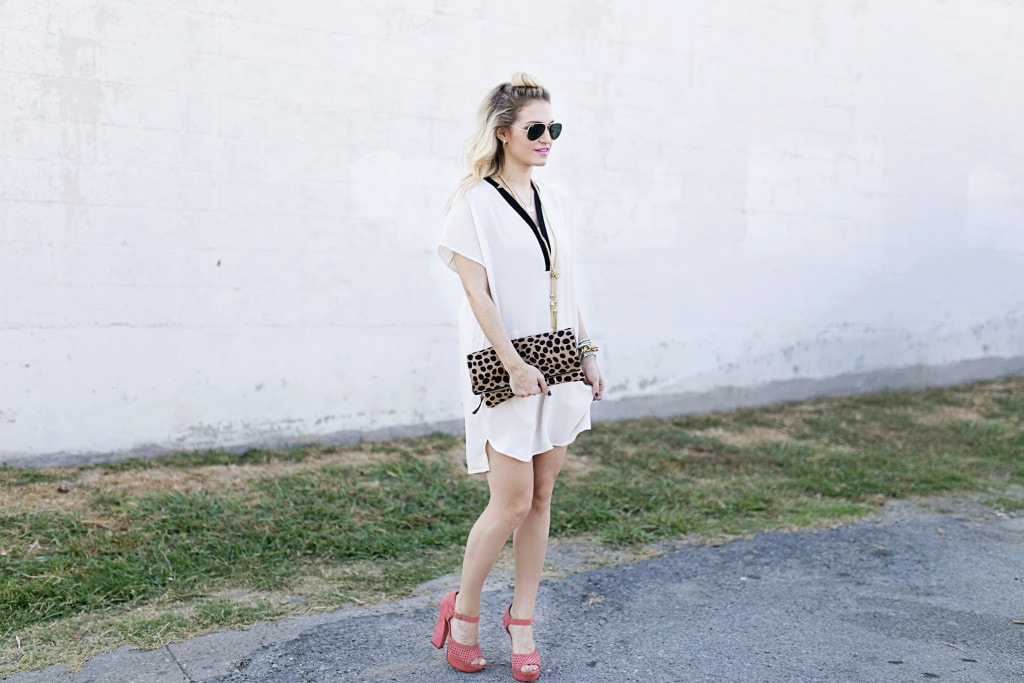 ---
Outfit Details:
Dress: Nordstrom | You need a slip with this dress! I got this one! | Clutch: Clare V. | Shoes: Similar | Tassel: Similar Less Expensive | Maps Necklace: [c/o] Maps by A.JAFFE. | Lipstick: Nordstrom  [Shade: For Your Amusement] | Earrings: [c/o] Baublebar
Photography: Angie Garcia Photography
---
I first fell in love with this easy shift dress on one of my best friends during my bachelorette party! She wore it and I kept telling her I wanted to borrow it. But then I got too antsy and ordered it while we were laying by the pool! haha.
I lean towards shift dresses in the summer because as I shared here, I'm not always comfortable in shorts and a tank in 104 degrees. I don't feel pulled together and I always feel like I'm adjusting myself. Pulling my shorts up. Pulling my shorts down. Tucking in my top. Fixing my strap. Readjusting my belt.
This dress is great for church, errands, lunch and even getting a nap or two in between! I love how the black accents break up the white and defines the shape. So if you fear shift dresses because you aren't a fan of the loose fit, this defines where your hip bones are with the pockets and gives a deep v. Adding a long tassel necklace also pulls attention to your center and lengthens you, too!
And on to the new neckwear! I've worn my monogram necklace every day since I was 17! I almost giggle now when people say how much they love monogram necklaces because I got made fun of so much when I was younger for wearing mine! No one understood why I wore that thing with everything from workout clothes to statement necklaces. And now it's something you see everywhere, so I guess it goes to show if you love something go ahead and wear it because eventually everyone will too! 🙂
I bought my own new monogram necklace right after we got engaged because as shown earlier with this dress purchase, shopping patience is not a virtue I have. Paul kept saying he wanted us to find something for me closer to the wedding to make it even more sentimental. I heard about Maps by A.JAFFE and I knew this was it. These are engraved map necklaces with a location marked by a diamond and engraved on the back. We chose the location of the church we are getting married. That area is so sentimental to us because it's where all of our first dates happened and I have always dreamed of getting married in this church. On the back we engraved a phrase he says on all of his letters he gives me.
While working with the brand on my necklace I told them I had to share it with my readers. I get so many e-mails right now on what is a great wedding gift and sometimes it gets hard. If someone else gets a bride a planner or she's received 14 chip-n-dip plates you can feel stumped! If you're a bridesmaid, a mom or a groom this is perfect and really reasonably priced! You can choose if you want silver or gold [yellow, rose and white!]. So you can make the necklace that fits your budget.
The rest of our week is dedicated to dance lessons! It took Paul and I exactly 6 months of back and forth and 8 hours on Youtube to find a first dance and it took my dad and I about 3 hours yesterday to find ours! Now getting them to dance to it will be another story. haha. Prayers are definitely appreciated! My dad is still upset I don't want to break out into Jay Z during ours….
I hope you have a great Wednesday!!