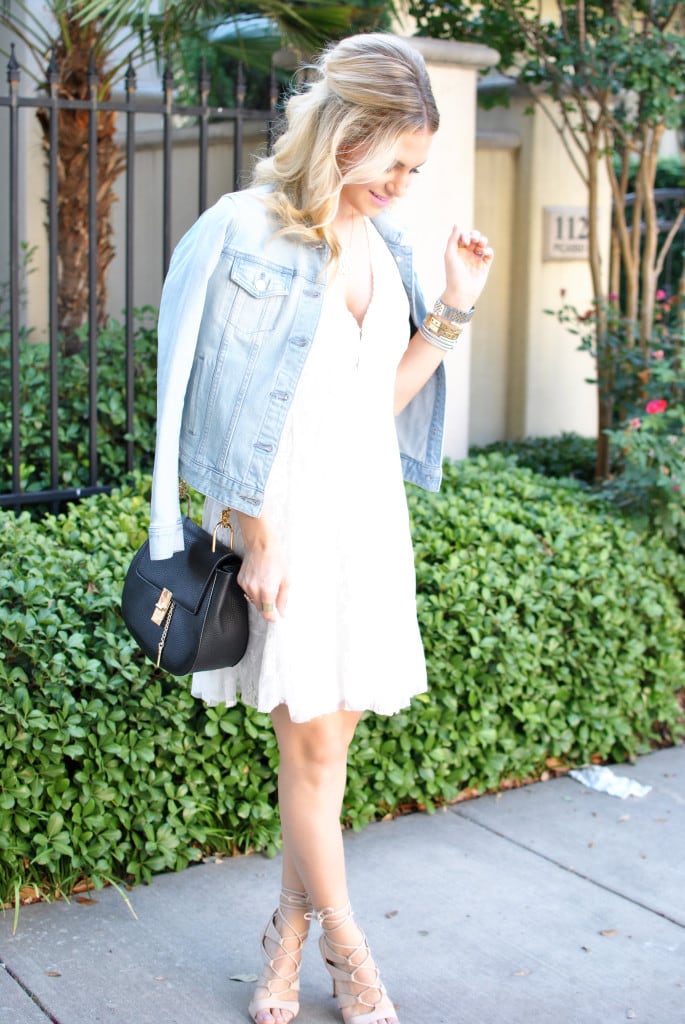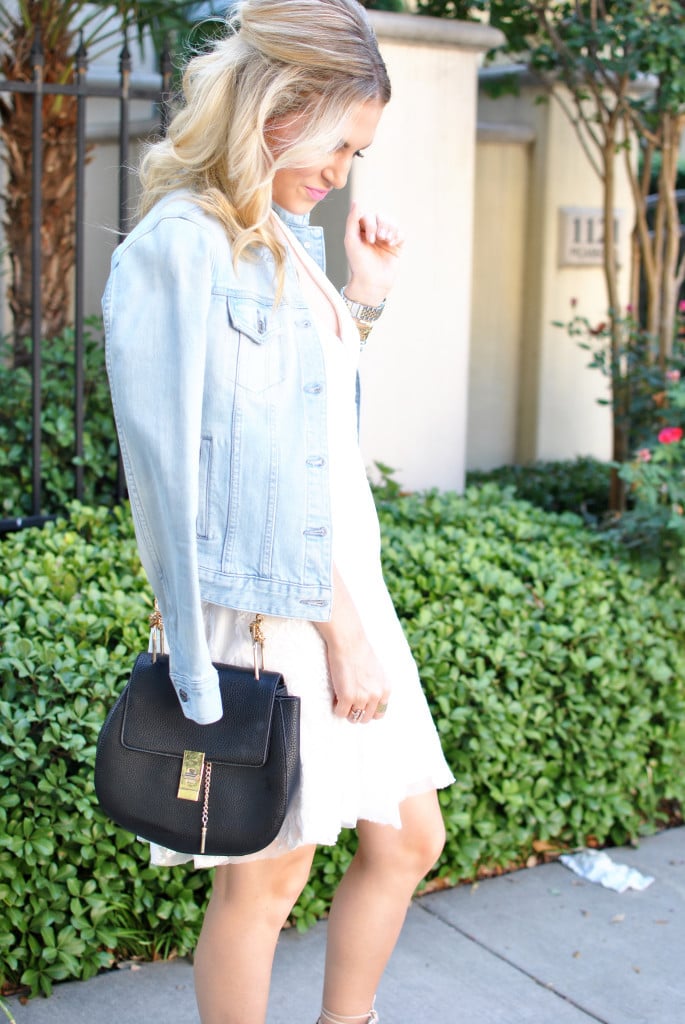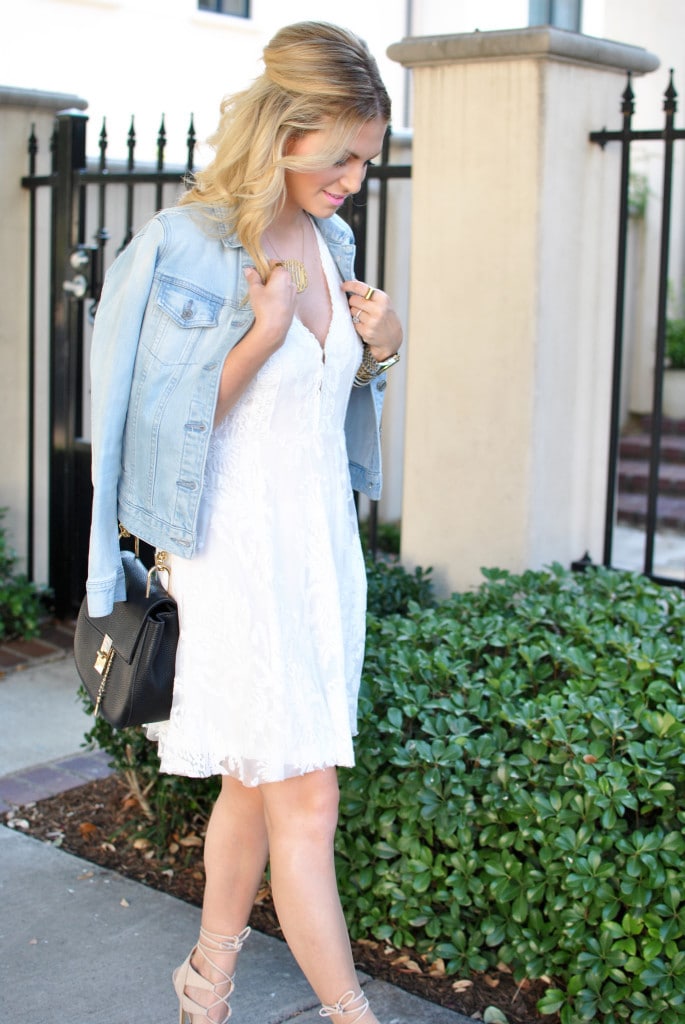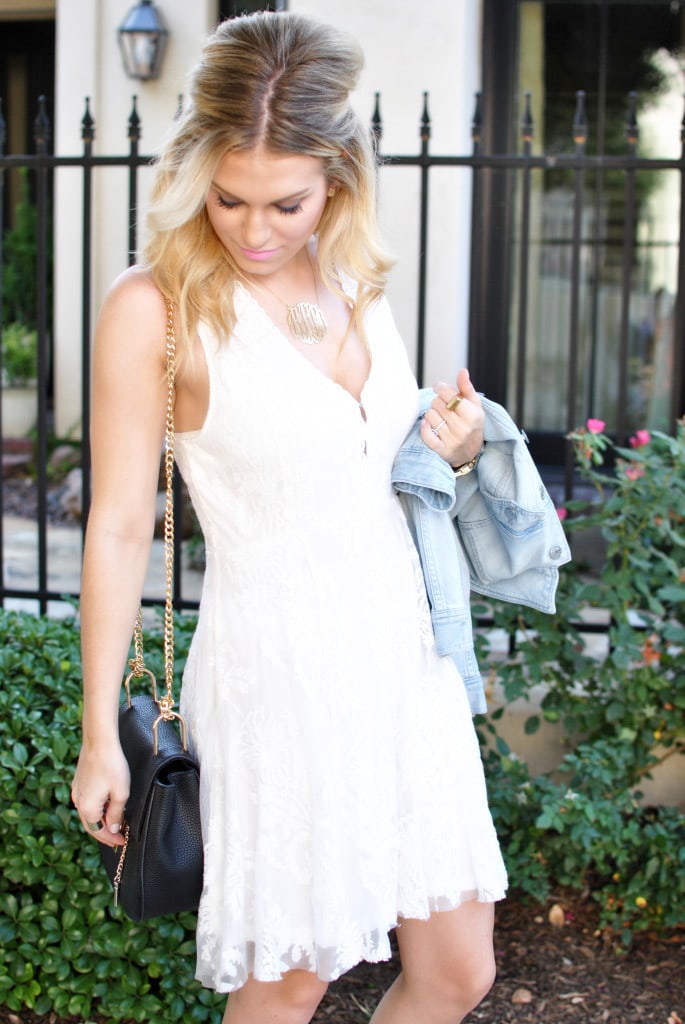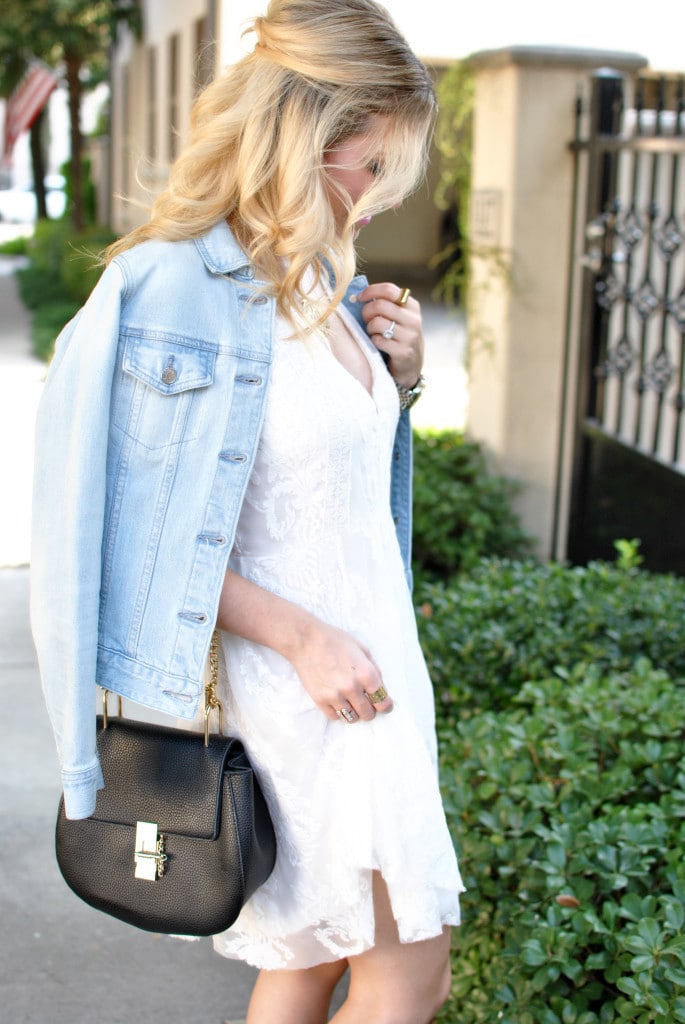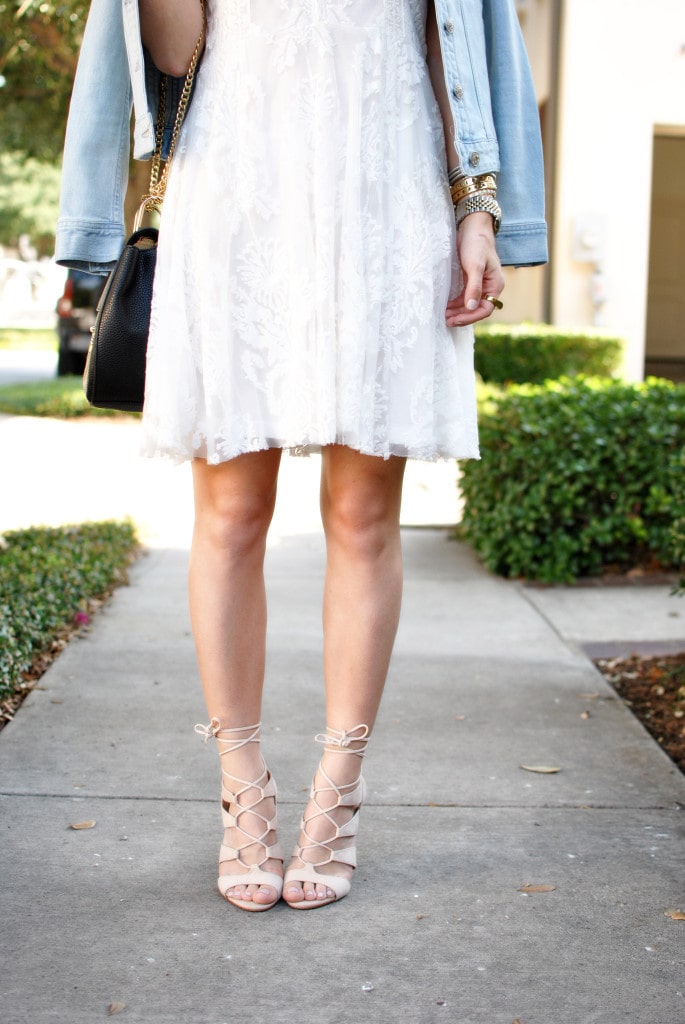 ---
Outfit Details:
Dress: Nordstrom | Jacket: J.Crew, Similar, Similar | Bag: Yes Style, Similar | Shoes: Steve Madden | Rings: Baublebar, Baublebar | Necklace: Love Always Couture [most similar, get size 3XL on 18 inch chain!] | Lipstick: MAC [Snob] | Watch: Michele, Similar Less Expensive | Bracelets: [c/o] Baublebar, David Yurman, Kendra Scott |
---
While neutrals aren't my favorite trend [I'm all for layered prints and jewels] there is something so refreshing about adding feminine and minimalistic pieces into your wardrobe. White dresses require little to no thought, and I knew I'd been sharing really girly ones for my bridal showers lately. I saw this dress two weeks ago when Paul and I were out and about and thought it was a dress that would look amazing on any type of girl, no matter what trends she was drawn to!
I paired it with my favorite summer sandals and a denim jacket for dinner with Paul. He finished his CPA a few weeks ago, so we have been going on so many dates! It's so funny because in college I won Domestic Delta [I was a Tri Delta so we always had silly awards that started with the letter D] because I'm such a neat freak! I'd always walk around our sorority house picking up Diet Coke cans and organizing our study. I love cleaning and doing laundry and organizing. Yet I'm not into cooking every day. It's so hard for two people! I feel like it is such a waste because we only eat 1/4th of it and then I'm stuck with random leftover ingredients. What do you married ladies do before kids?! Live off one meal for a week? I need to figure it out before he moves in. haha. So I have been enjoying all of our overly frequent date nights! 😉 We are just trying to make up for the past year where we didn't get to see each other very frequently on week nights.
I view denim jackets as one of the top 5 wardrobe investments you can make! They aren't just for 6th grade. I wrap them around my waist, throw them in a tote and always make sure to take it over my shoulders for dinner in the summer in case I freeze. Mine is from J.Crew, but I do want to be honest and share an issue I experienced with it. I've had such a difficult time with J.Crew sizing lately. Mine is an XS and I'm most definitely not an XS! [Because seriously, what do you skinny minis do at J.Crew?! Is everything just really oversized?!] I pulled some below from brands that I know are TTS so you can feel safe if you order online.
I hope you have a wonderful start to your week and plan a fun little date night to make this week go by more quickly! Throw in a minimalistic touch and make sure to grab that denim jacket! 😉