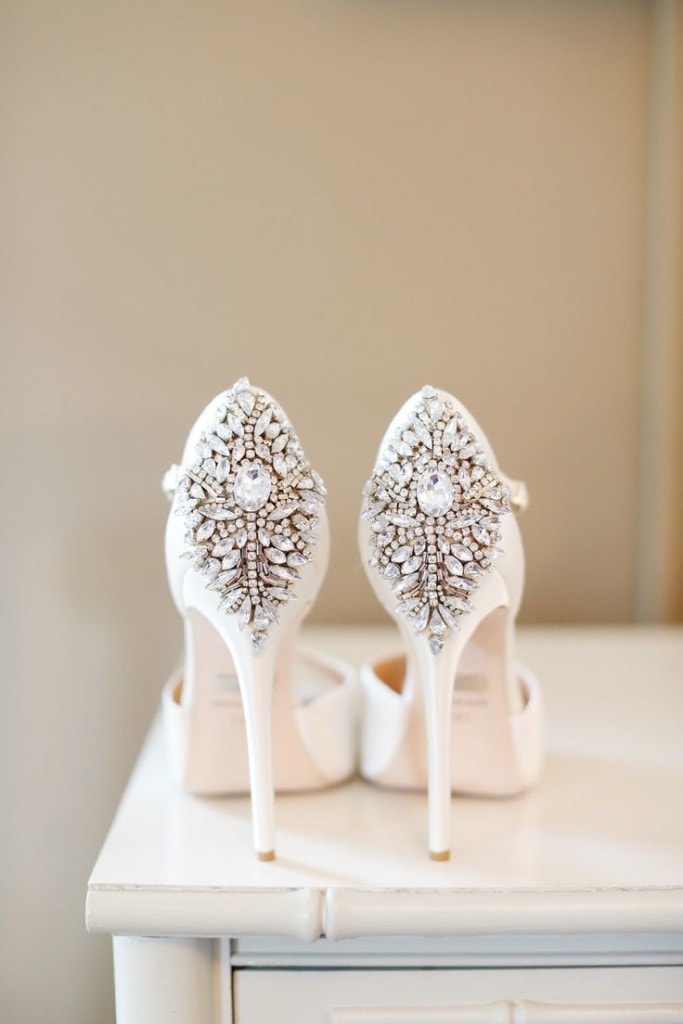 { image via: Style Me Pretty }
I've gotten lots of e-mails from sweet brides asking what shoes they should get on their wedding day which happen to be a Belize wedding! What I love most about picking a pair of wedding shoes is that you are really the only person who sees them! If you are a people pleaser like me, you can end up worried that everyone from your groom to your guests will like things like your dress and hair. But your shoes get to be your own treat to yourself, so who the heck cares if anyone else likes them! 😉
To get the most out of your special pumps they should fall into three categories:
1.They make you feel glamorous.
You should feel like a total smoke show on your big day, need I say more?!
2.They are comfortable. 
You can fall in love with shoes and ignore the pain any other day of your life, girlfriend! But do not put a shoe on and think, "Ehhh they need to be broken in a bit more. It will be okay!" in regards to your wedding day. You'll have them on for almost 12 hours and you don't want to have to take them off, wear sandals and carry your dress around the dance floor because the hem is off. I think sometimes we get so excited about wedding shoes we grab a sky high Louboutin and want to treat ourself, but there are lots of Cinderella worthy shoes that won't have you losing your heels at midnight! The shoes I pulled below are all shoes I either have or have tried on multiple times and are super comfortable!
3.You want to wear them with everything. 
I was torn between two pairs while dress shopping and I asked myself, "Which ones would I wear to dinner with Paul?" Go for the shoe that won't just collect dust on a shelf, so that you can wear them out and remember the day you married the love of your life! So whether that is a glittery Kate Spade pump or the conservative Jimmy Choo Abel, pick something that truly reflects your every day style!
I pulled shoes below that I really think encompass all three and if you are a date to a wedding soon I pulled my favorite shoes to keep you dancing, too!