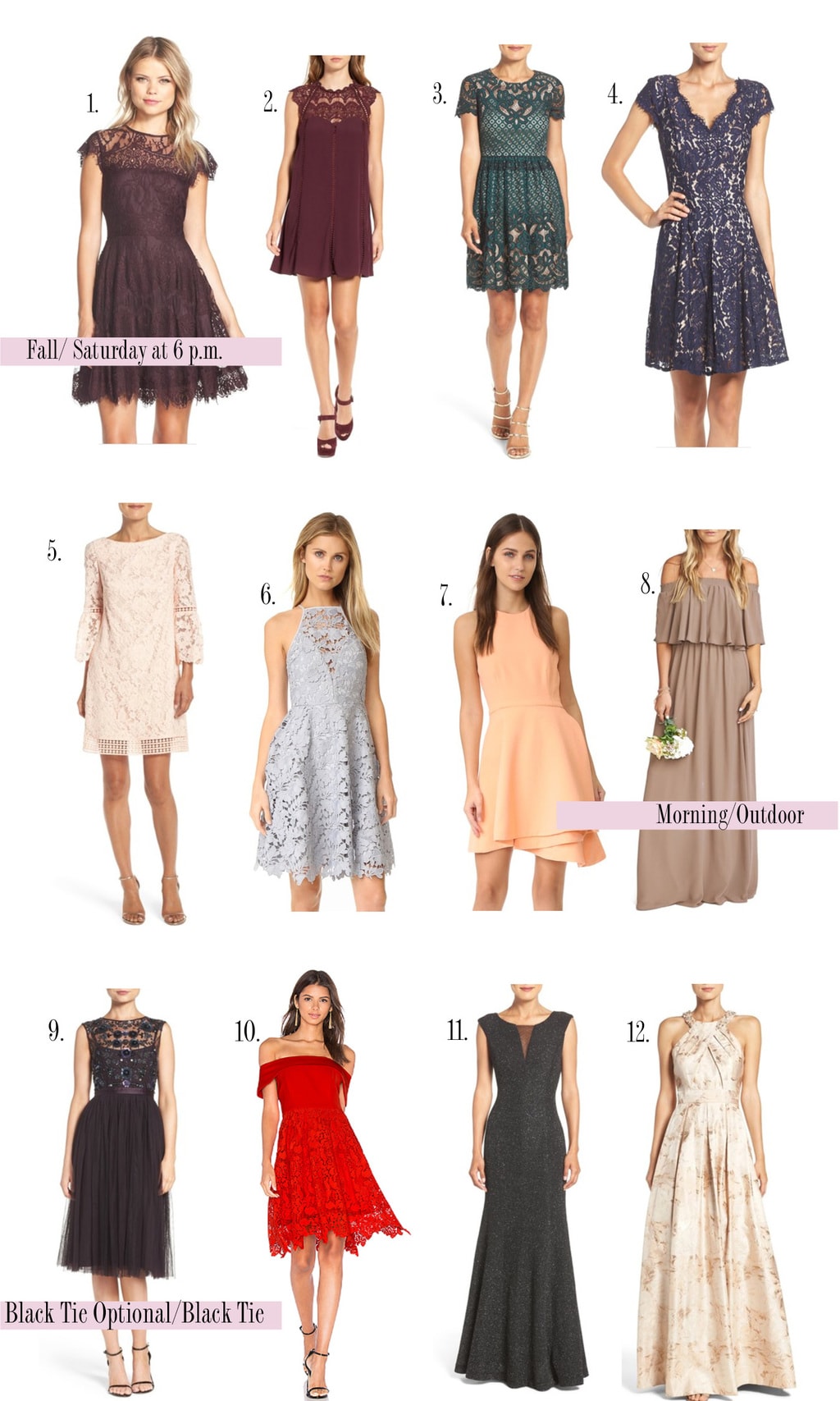 1 | 2 | 3 | 4 | 5 | 6 | 7 | 8 | 9 | 10 | 11 | 12
---
With our wedding anniversary next Monday and fall weddings around the corner, I thought I would answer some common questions I get about wedding attire, especially fall weddings! You can find so much out about a wedding just by the time and the invitation, so I hope this helps ease your mind. But regardless, you were invited because the bride and groom can't imagine their day without you, not because of what you will wear. So if anything, I hope that eases your mind that your presence is more important than presenting yourself in a perfect outfit! Don't stress about too many rules [except no white please! 😉 ] and enjoy the evening with friends.
What Do You Wear?
I've heard so many rumors from friends and readers when it comes to wedding attire. "Is it bad to wear red?" "Can I wear sequins?" "What does Black Tie Optional mean?" I thought today's post I would go over how to ease your concerns with wedding wear and a few of my favorite options for each type of wedding!
First, look at the invitation. The date and time is very telling of the ambience of a wedding. Of course, not every bride does that intentionally. Sometimes they like a date or it's the only option that works, but to go hand-in-hand with wedding etiquette follow the time.
The traditional wedding is Saturday evening at 6 p.m. If a wedding is at that time [or close to it!] you can feel safe knowing to follow cocktail attire. You don't need a formal gown but you also don't want to wear a little Forever 21 number that you could pull off for brunch. An LBD is always a safe bet.
A non-traditional time might be morning, Friday evening or a Sunday afternoon. With this I love to go for a lighter hue and lace. Most of the time these weddings are held in a beautiful outdoor venue and so you want to feel comfortable with the weather. Of course, some Friday evening weddings are Black Tie, but the invitation would say so and you can also gauge based on how the invitations are designed. If an invitation is very traditional without extra touches like graphics and color, it is more formal. If an invitation has florals, graphics and color, it is less formal.
If a wedding is Black Tie Optional, opt for Black Tie or something close to it! Our wedding was Black Tie Optional and it is a way of saying, "If you want to wear a tux, go for it! If not, no worries." It's also a hint to guests that the wedding will be on the formal spectrum. Girls still wore long dresses or their cocktail dresses were a little more luxe! Black Tie means your date will wear a tux and you can opt for a long gown, something with beading or something with a more extravagant flair. Options 9 & 10 on the post above are Black Tie Optional pieces where as 11 & 12 are Black Tie.
Any Do's or Don'ts?
At the end of the day the bride and groom really don't care about rules. I was so happy to have friends and family there I didn't care if someone came in jeans! No one did, but I wouldn't have minded! However, out of respect to the bride's family for paying for the wedding [a more traditional rule, of course now brides and grooms pay as well as grooms' families] I always try to follow the do's and don'ts as the family is probably paying for a $150+ meal for me.
My personal don'ts are: no white and not too tight.
I don't want to wear white to distract from the bride and honestly, I don't think a wedding is the time to show off how hard I've been working in the gym. The bride and groom's family will be there. I would never want to offend a family member as not everyone at a wedding has the same convictions on conservativeness. Save your tight little numbers for the bachelorette party and follow the "tight enough to know you're a woman, loose enough to know you're a lady" rule of thumb for the wedding!
My personal do's: lace, color and glowing skin.
Some people think red is a big wedding no no, but I find that rule to be a bit outdated. In fact, some of my favorite looks at my own wedding were from girlfriends wearing red dresses, which is why I included 10! It's all about how you style something. I always look for lace dresses, colors I'm drawn to [ladylike pinks!] and soft silhouettes. I think a good rule of thumb is that if you could wear it to a more formal church as well as a date night, you know you've found a good balance for a wedding guest dress! I also love to have glowing skin at a wedding so I make sure to use my GLAMglow mask and favorite highlighter! After you put on moisturizer, lightly dust highlighter on your arms and legs in spots the sun would hit.
I hope this post gives you some fun options for weddings coming up! If you have any other wedding questions feel free to comment below and I will be sure to answer!