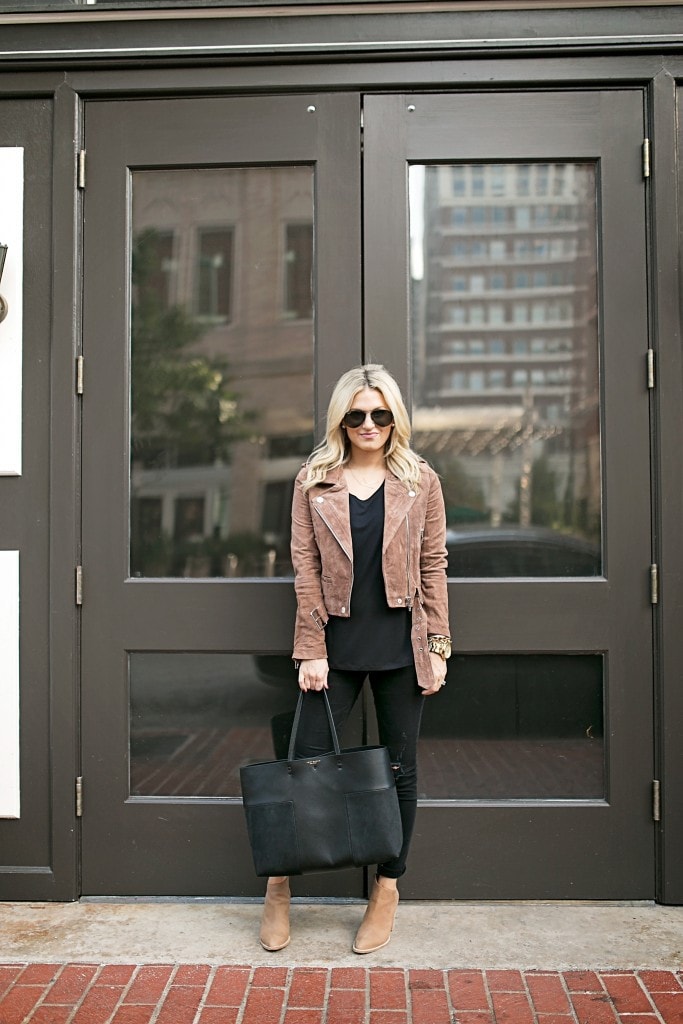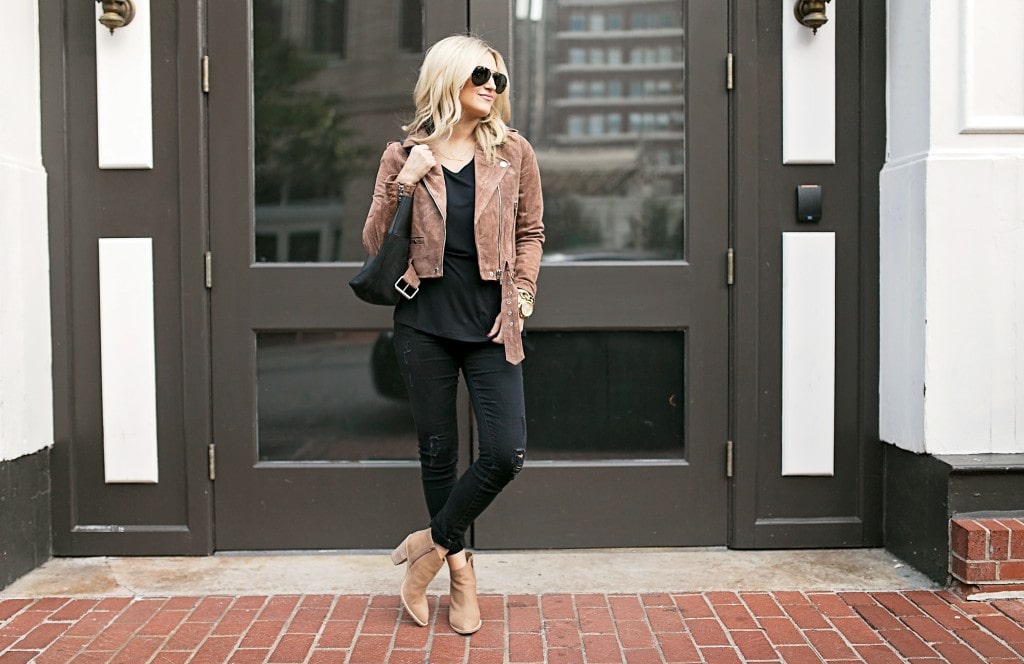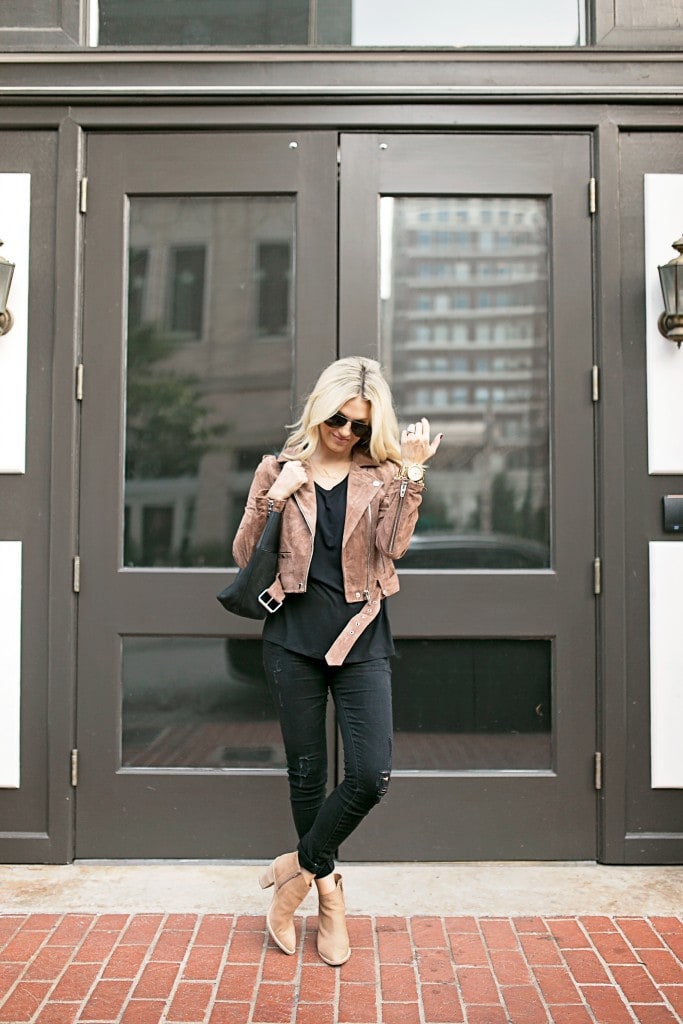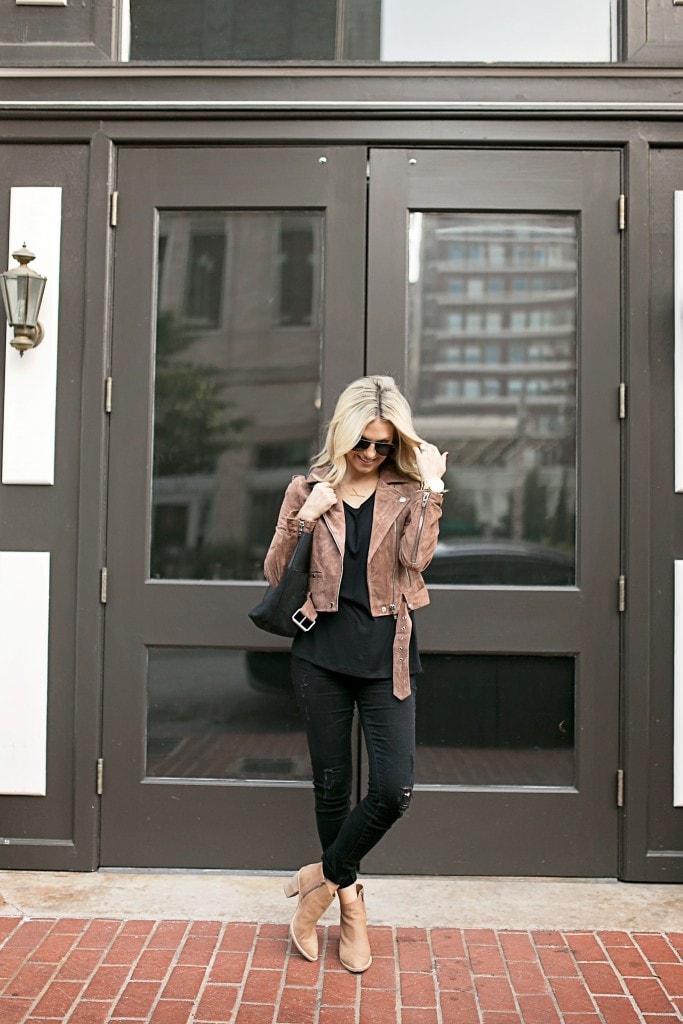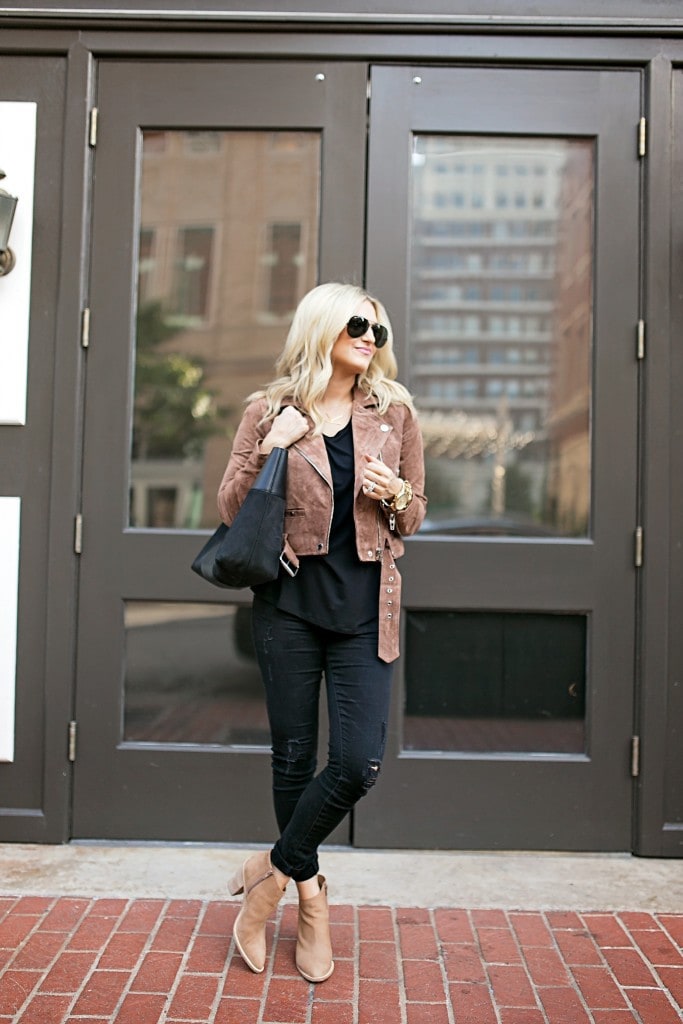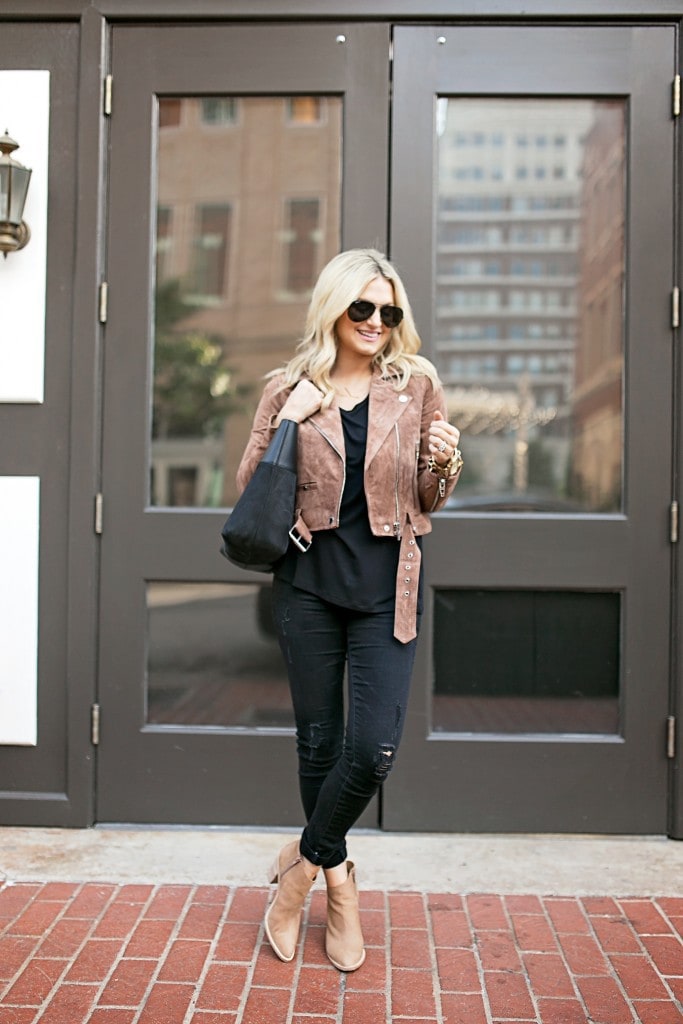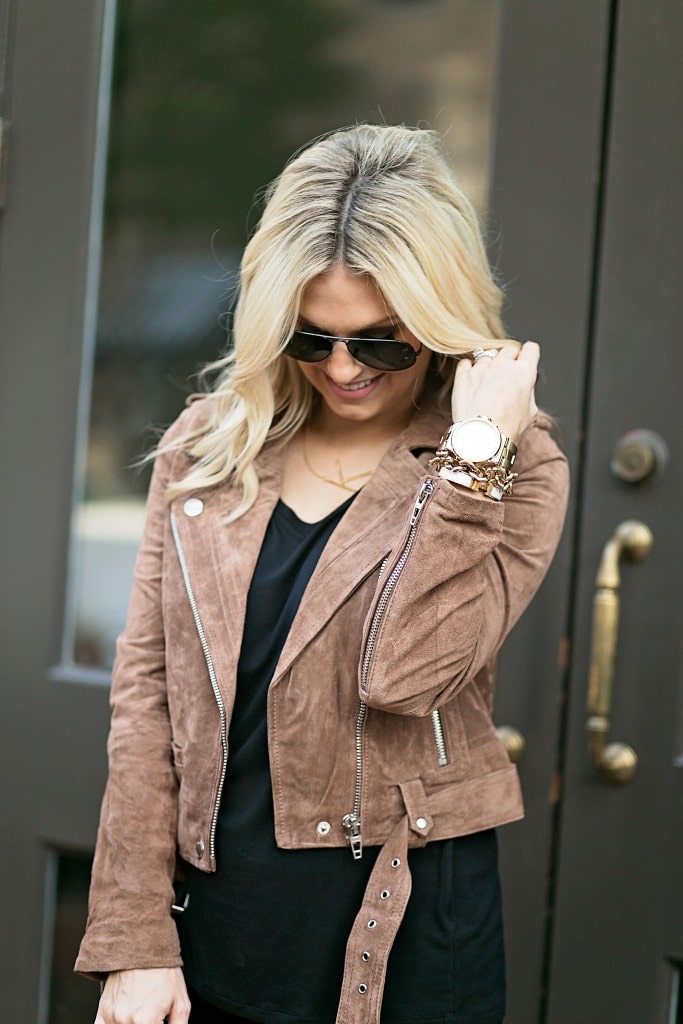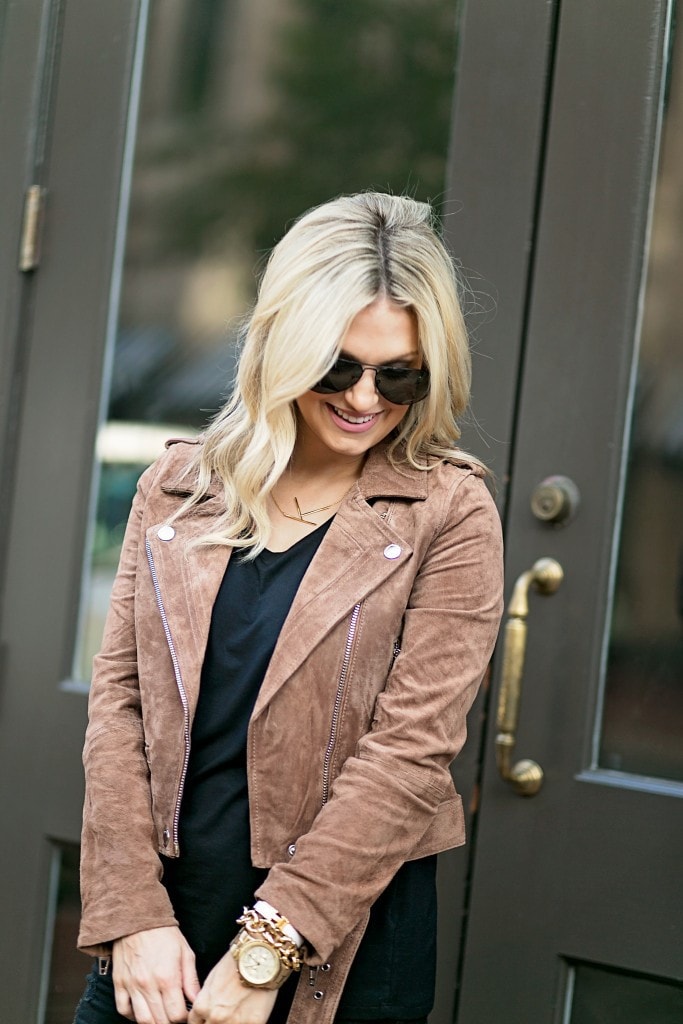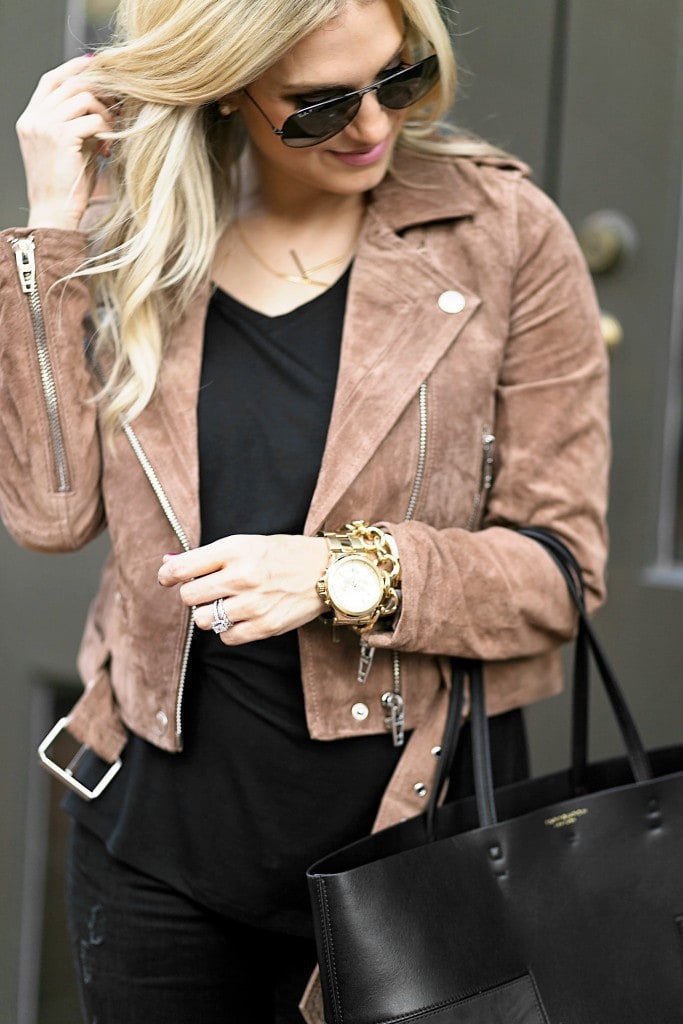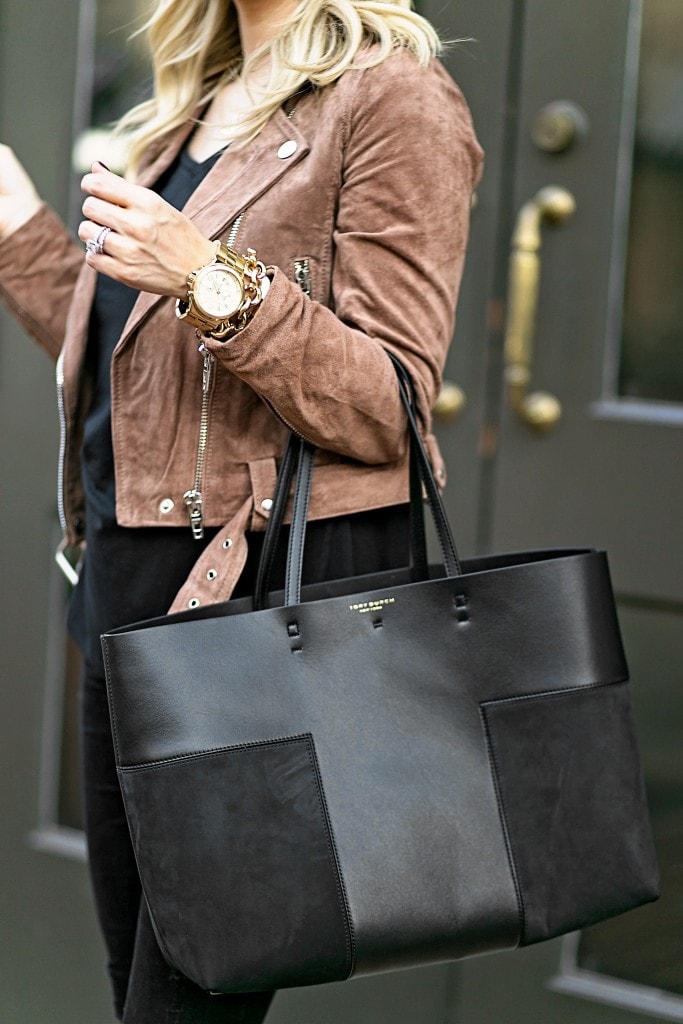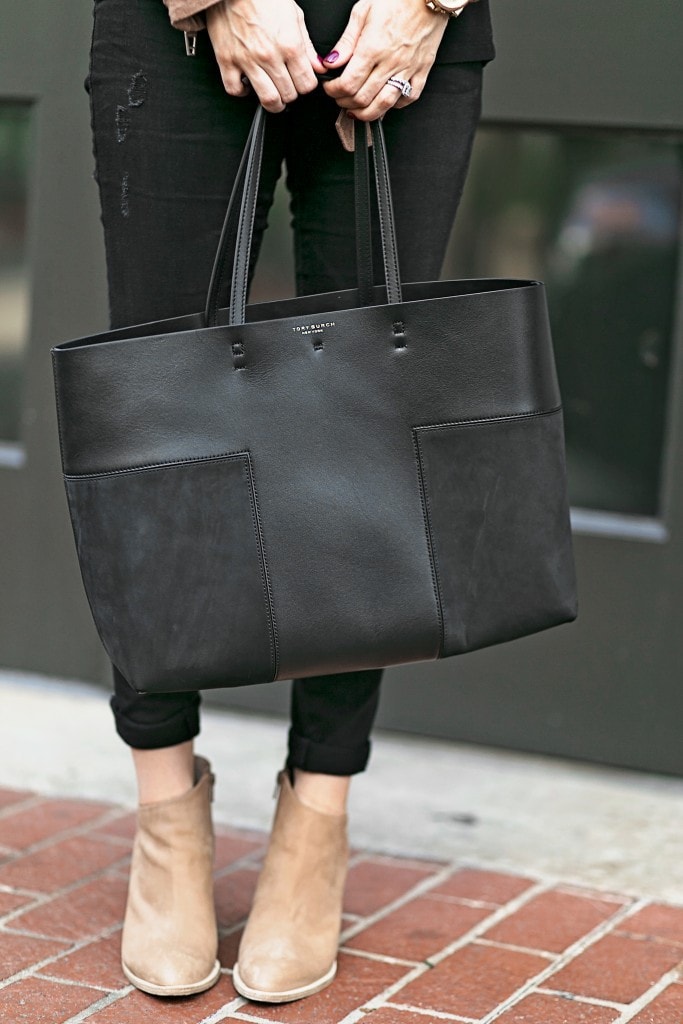 Jacket: Nordstrom [wearing size S] | Top: Nordstrom | Jeans: Nordstrom | Booties: Vince, Similar | Bag: Tory Burch | Lip: Brave Lipstick & Soar Lipliner | Watch: Michael Kors
Photography by: Angie Garcia
---
I've got some Southern roots- I mean my Nana was the Garden Club President of Atlanta, if that's not Southern I don't know what is! I also have a mother that knows every single etiquette rule in the book. Combine the two and I grew up with a lot of rules "engrained" in me.
"You have six weeks to send a thank you note."
"Turkeys are done, people are finished." -My mother always chimed this if I said, "I'm done with dinner!" when I was little. haha. To this day I always remember it.
"Black does not mix with brown in a wardrobe."
"No running in the house of God." -Another one I got in trouble for. I'd always run after Sunday School to go pick my sister up from nursery and whenever my mother said those words I knew I was in trouble! Sorry I got so excited to get her and go to Chili's after church… I needed my pizza and crayons!
While some like rules and others abhor them, there's something so sweet about remembering my mom's voice as she would say them as I was little. From using a correct phrase to pairing a look together I like to think of all the little rules she would teach me as I was little. I know Millenials now aren't as sensitive to rules and there is something really liberating about being a woman now and doing things however you please! But that doesn't take away that the love and respect I have for everything my mother taught me and I hope I can come up with fun rhymes like my mom did to teach my little girl things I want her to know.
But I do disagree with a few….and don't worry mom, they are only the ones pertaining to a wardrobe!
I'm all for mixing navy and black and black and brown in a wardrobe.
Long gone are the days of scrutinizing your pants in the closet at 6 a.m. "Is this navy or is this black?!"
Girlfriend, it doesn't matter! Just mix up your textures! I styled this winter look to show that you can easily mix different neutrals as long as you mix up textures. From black denim jeans, a suede moto jacket and buttery soft booties, I'm breaking a million color rules but somehow it feels like a lived in uniform and not a mistake.
This suede moto jacket is from Nordstrom and it is seriously such a fall and winter staple this year. It comes in a ton of color options and I've seen so many bloggers style it from casual to cocktail hour! The cropped jacket and edgy details are a bit unexpected for girly girls, but it's a piece that feels like it just belongs in your closet and you've had it for years. I can't wait to pair it with feminine dresses for church this fall and winter!
So cheers to rules we love and cheers to breaking rules we don't! 😉 Thank you so much for reading!

In partnership with Nordstrom. All opinions are my own!