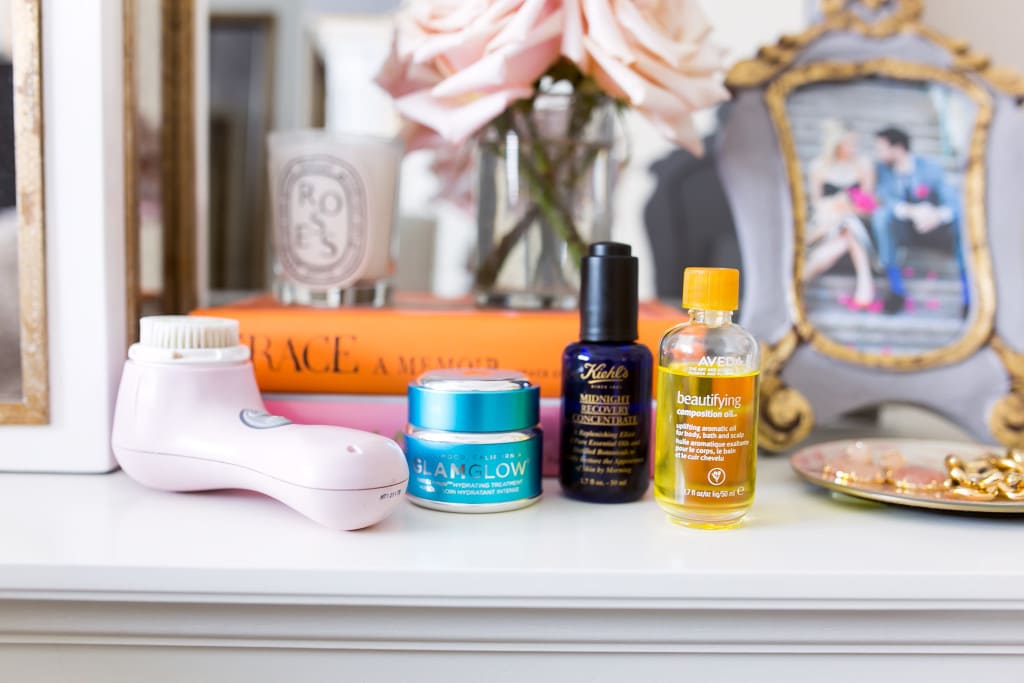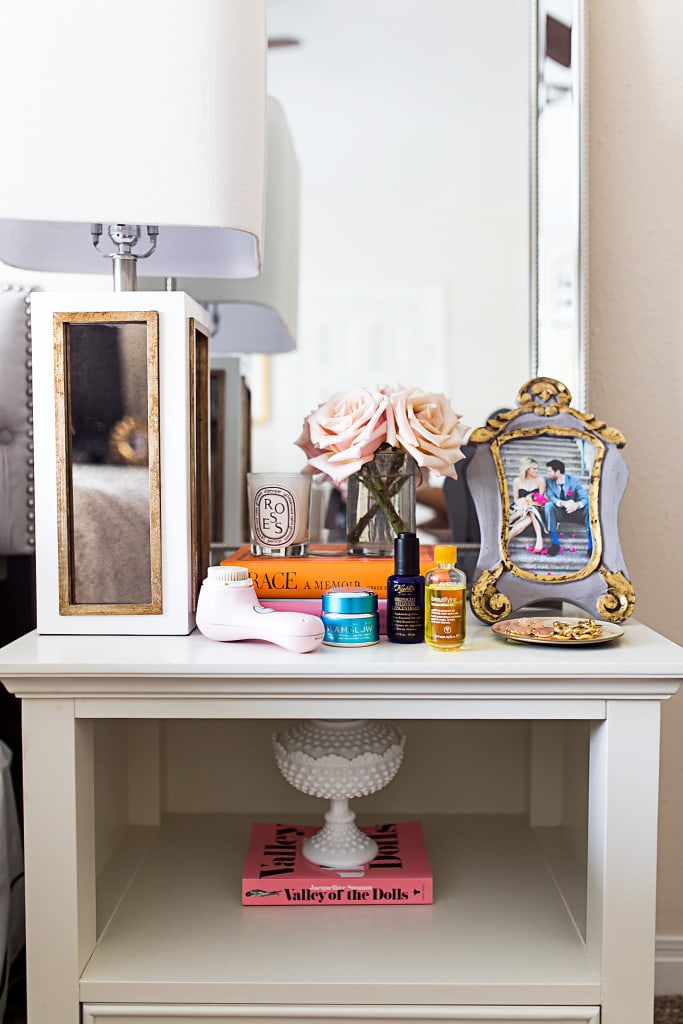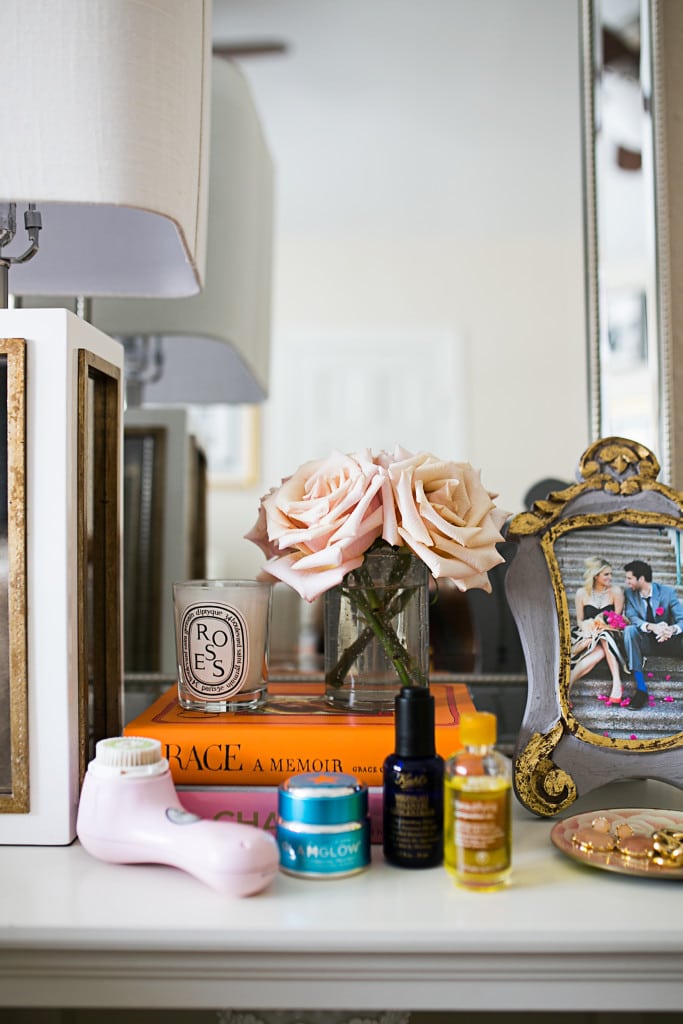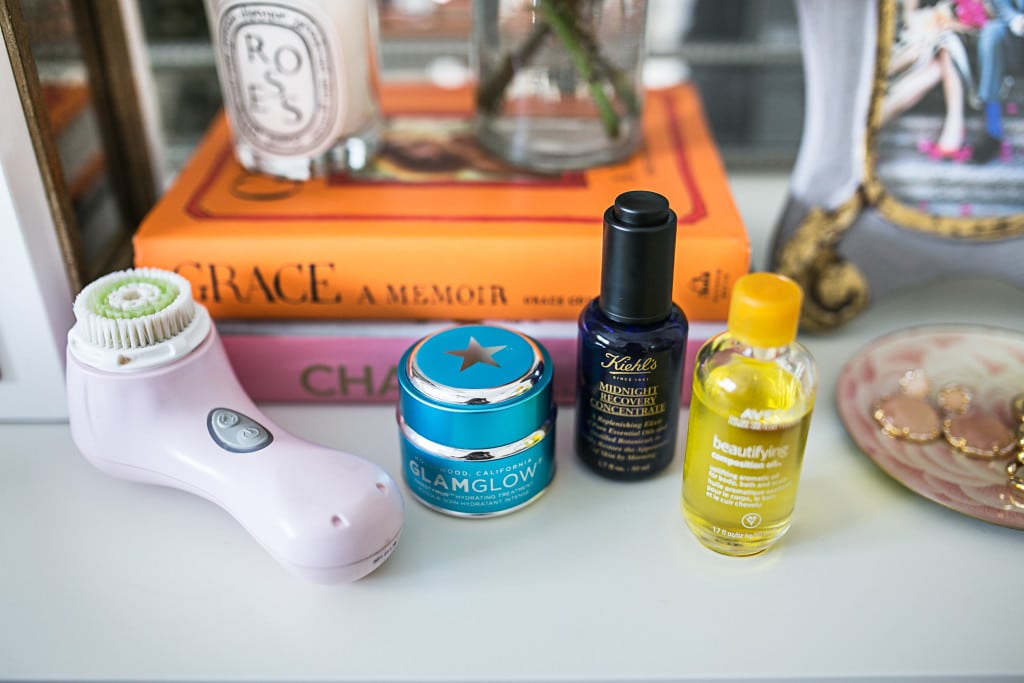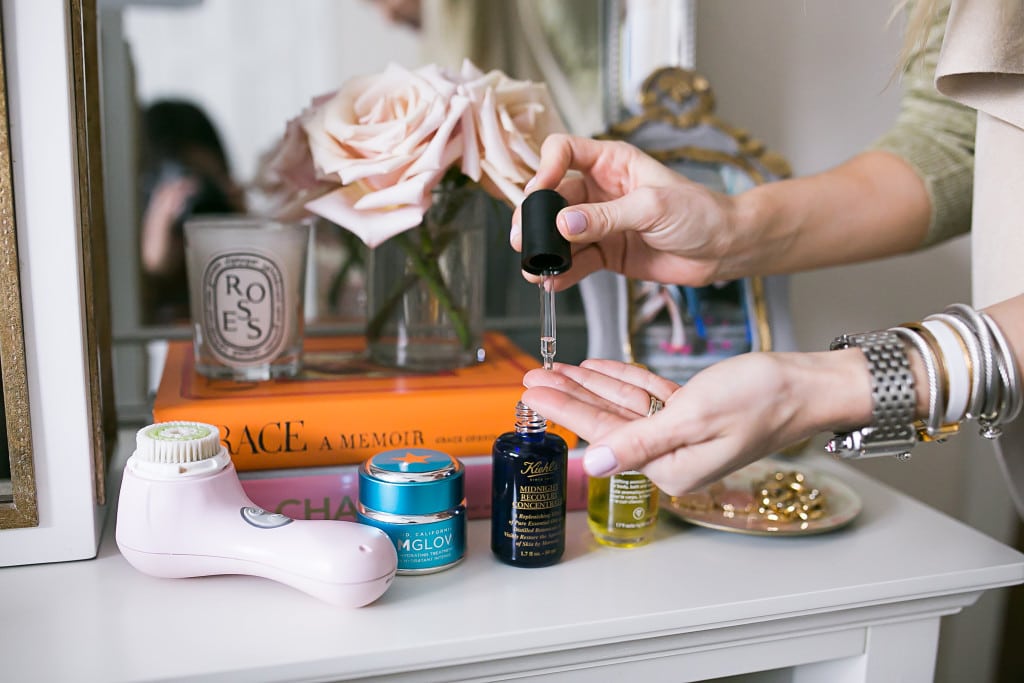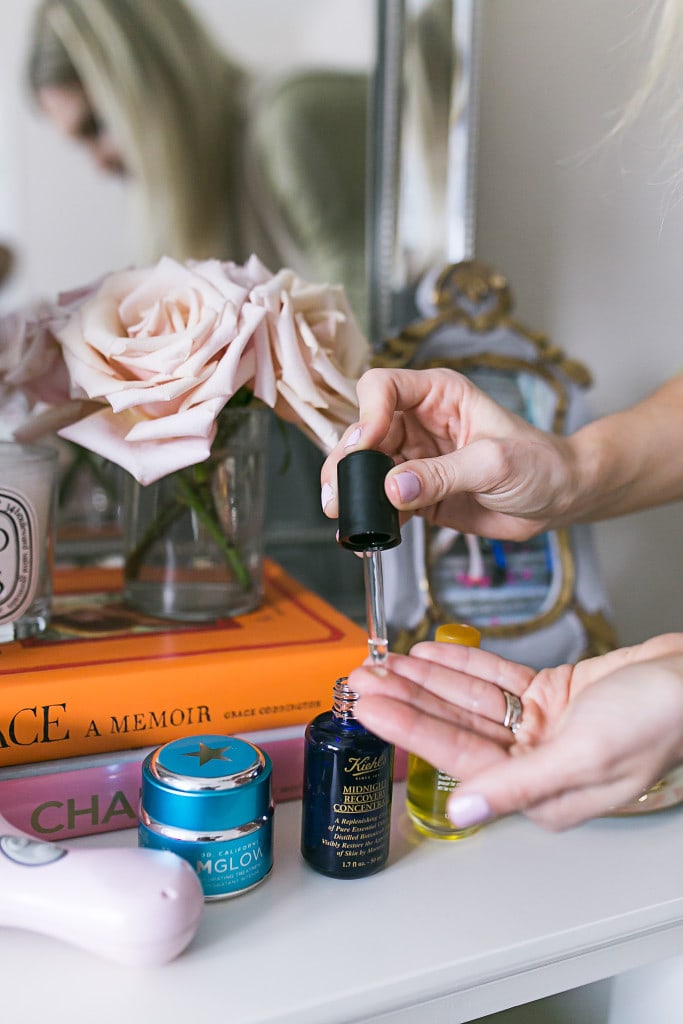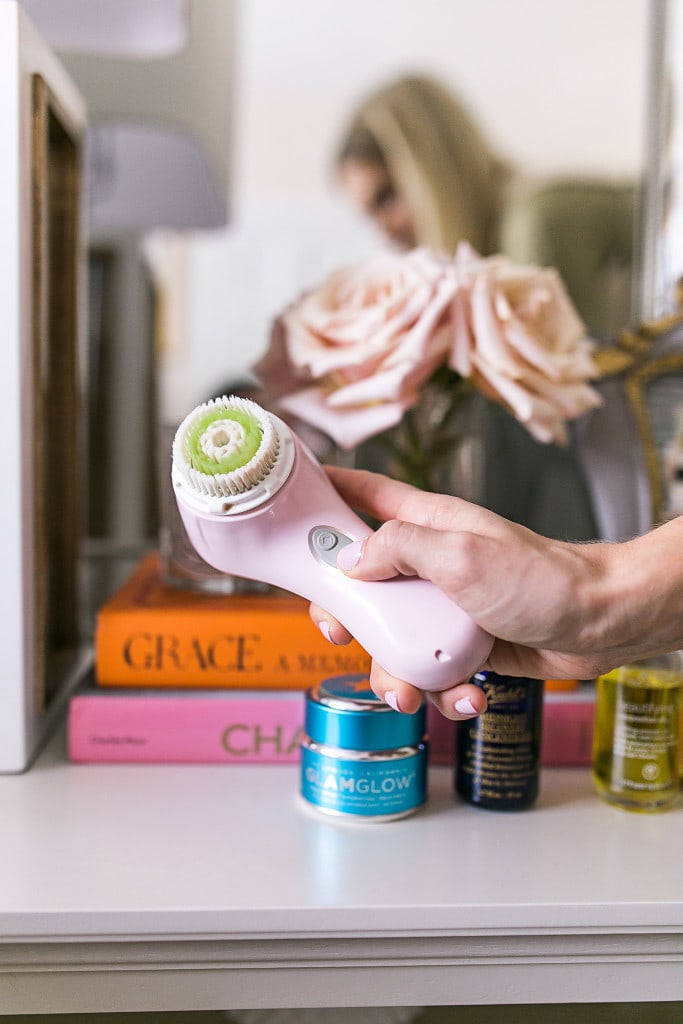 Beauty Composition Oil: Aveda [c/o] | Kiehl's Midnight Recovery: Nordstrom | Glamglow: Nordstrom | Clarisonic: Nordstrom | Candle: Nordstrom | Earrings: Baublebar [c/o]
Photography by: Angie Garcia
---
Growing up, I thought my mom's nightstand rivaled any beauty counter at the department store. She has apothecary jars filled to the brim with lip balms, every hand cream under the sun and the latest moisturizer used as a paperweight for her novels. She keeps bracelets in the drawers instead of the regular clutter, and to this day I still love to sneak in my parent's bedroom and steal some lotion.
My dad traveled a lot for work, so my sister and I got to have one too many sleepovers with my mom. I'd watch as she took her time getting ready and then she'd read a book for hours while her face mask set in. My mom was always so glamorous to me as she did this, and she helped me create my own routine.
Every Sunday night since I could remember my mom would wash and curl my hair and give me a manicure and pedicure. She said you always feel your best when you start the week of fresh and I could not agree more! I've shared my Sunday night routine here, but sometimes your skin needs a little extra TLC. If  I haven't gotten much sleep over the weekend or I feel really dull I love to use this combination!
1.Bath
I start with a bath and I am obsessed with this Aveda beautifying oil. My dad's side of the family [my Nana and aunts!] love Aveda. Like they can't use anything else, but Aveda. haha. The day before my wedding I actually had to make a run to our local store to pick up some pieces they had forgotten to pack in their toiletries.
I first use this before I take my makeup off. This oil is approved for your face, so I just rub in circular motions to get blood flowing. It helps break down makeup and open up your pores. I also put about 5 drops in the bath so my skin doesn't get dried out with soaps. Then I do 5 drops in my scalp and massage in to let it sit. I finish showering as normal.
2. Face
After my shower I double cleanse [once in shower to remove makeup] and then with my Clarisonic after. This helps keep blemishes and fine lines away, while getting rid of dead skin! This TULA cleanser is what I swear by for keeping skin balanced. I have normal skin, but that doesn't mean it's always balanced. Sometimes I break out, in the heat I can get shiny and in the winter I'm dry. Instead of purchasing 4 different cleansers for 4 different circumstances, TULA just balances you with probiotics no matter how your skin is acting.
3.Moisturize
Next, I use the Kiehl's Midnight Recovery as a serum. It is heavier, so if you don't like really moisturizing products just stick with the TULA serum for evening as well- it's lighter and I use it in the mornings. This Midnight Recovery serum is a Disney Princess glow in a bottle. You put it on, wake up and think you should be singing with birds like Cinderella. You won't want to wear makeup the next day!
4.Mask
I end with my GLAMGLOW mask. You can wipe it off, but I sleep in it overnight. I did it before my wedding about a month or two leading up and love it. You'll go to sleep feeling like you dipped your face in pudding [kidding! It isn't heavy!] but it's well worth it in the morning. I do this on Sunday evenings [or when I have a long day!] and won't wear makeup Monday because my skin feels so dewy and glows.
Do you have any tricks for when your skin feels a bit dull?!