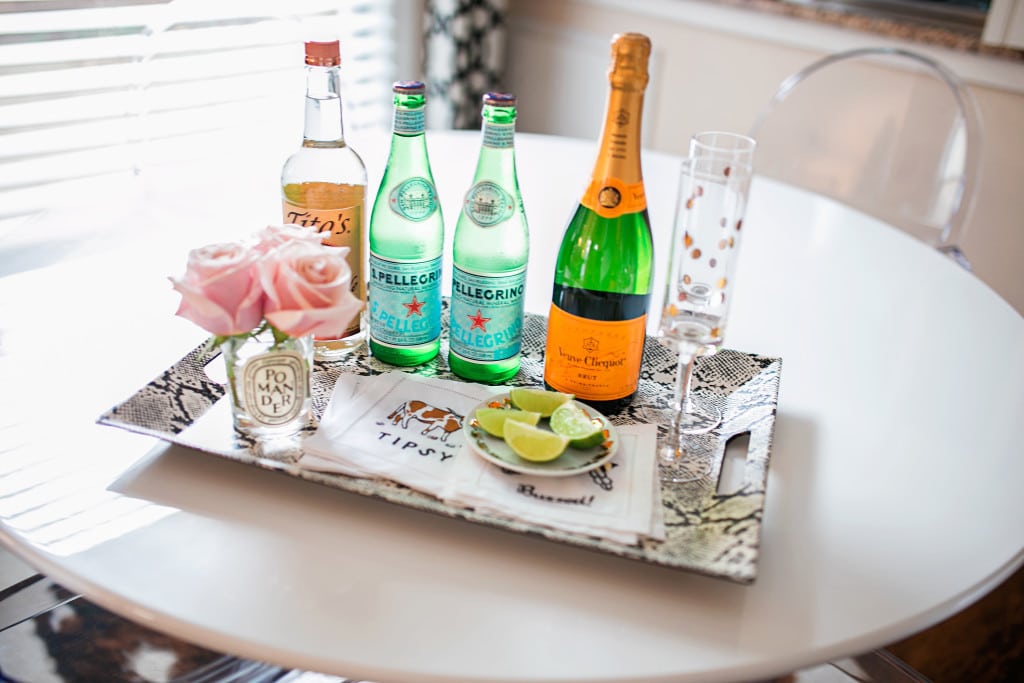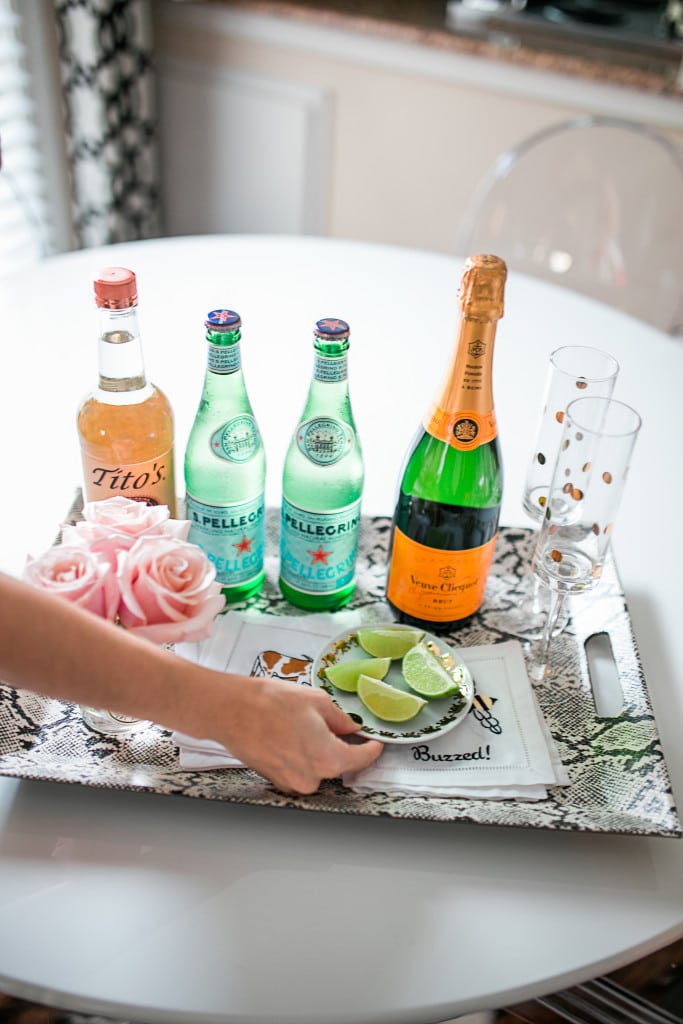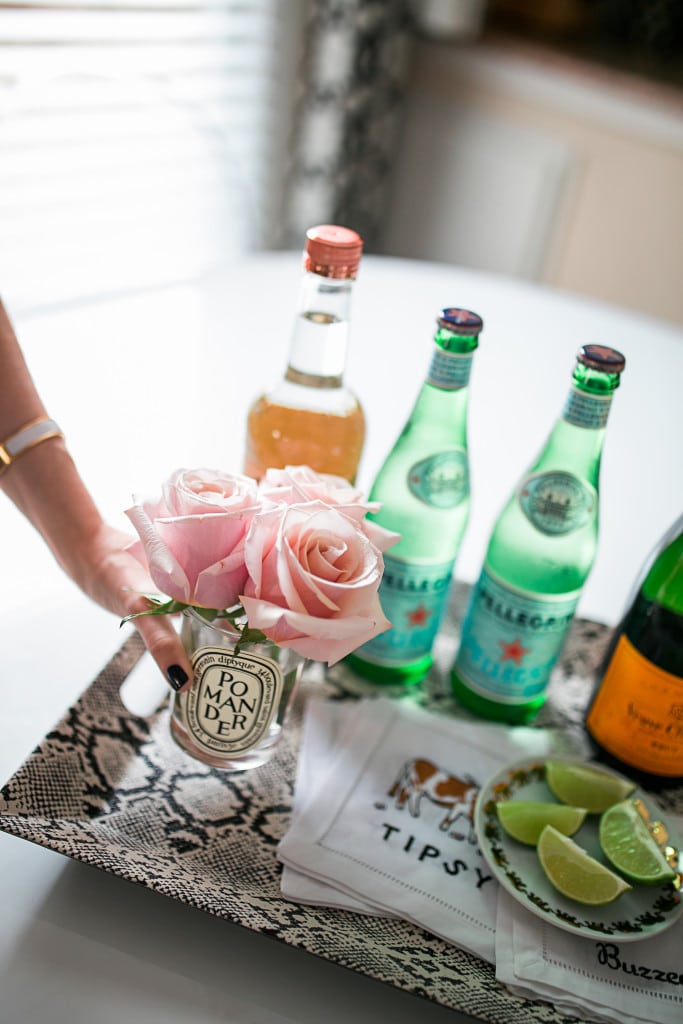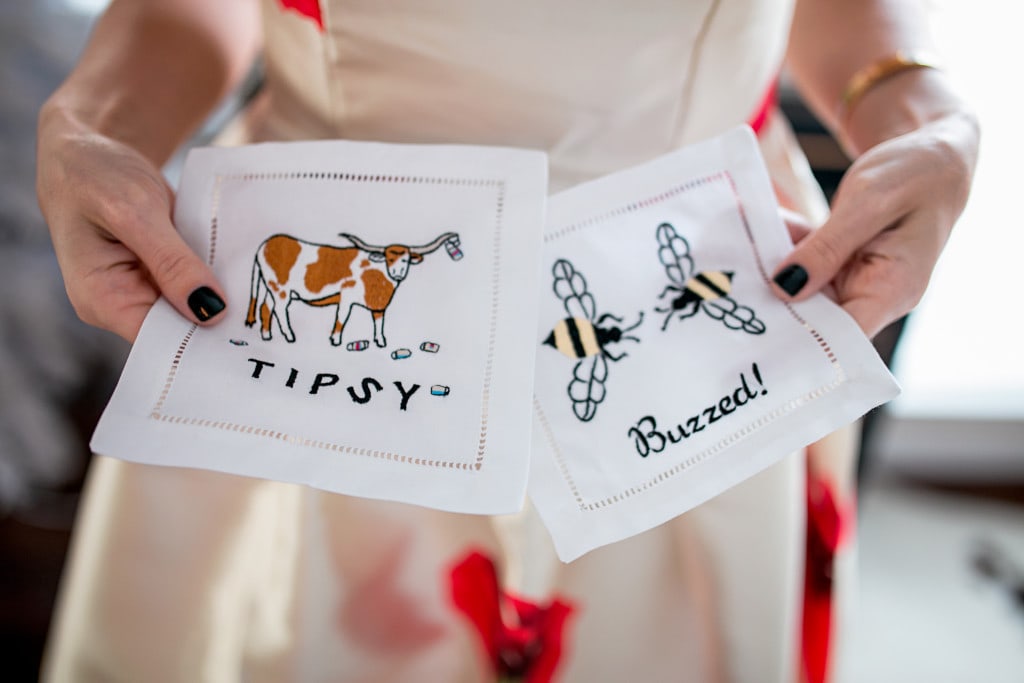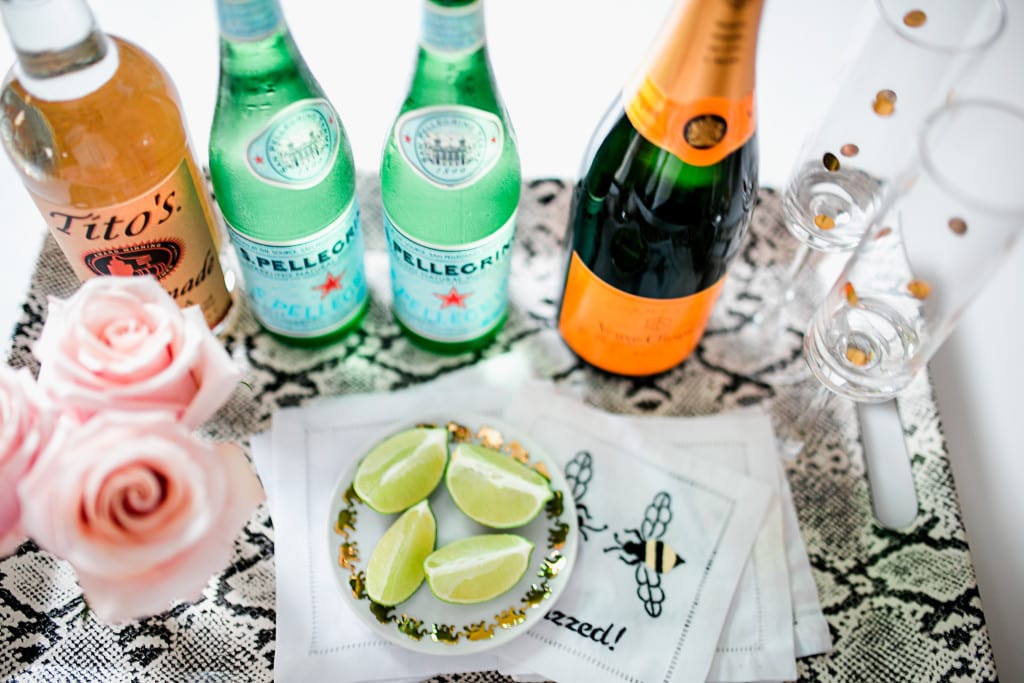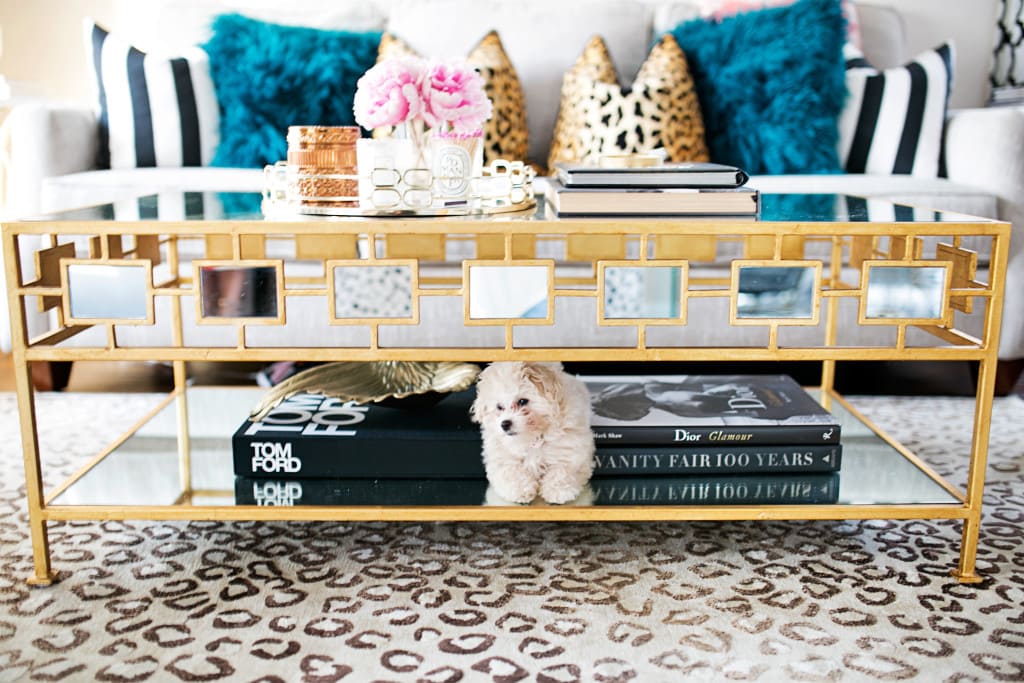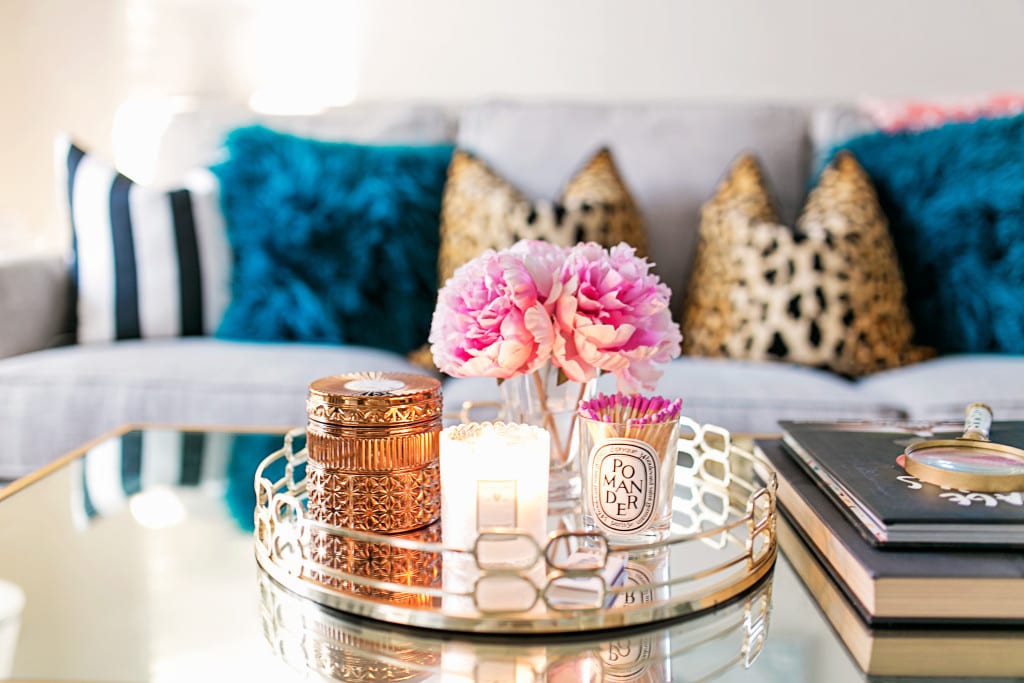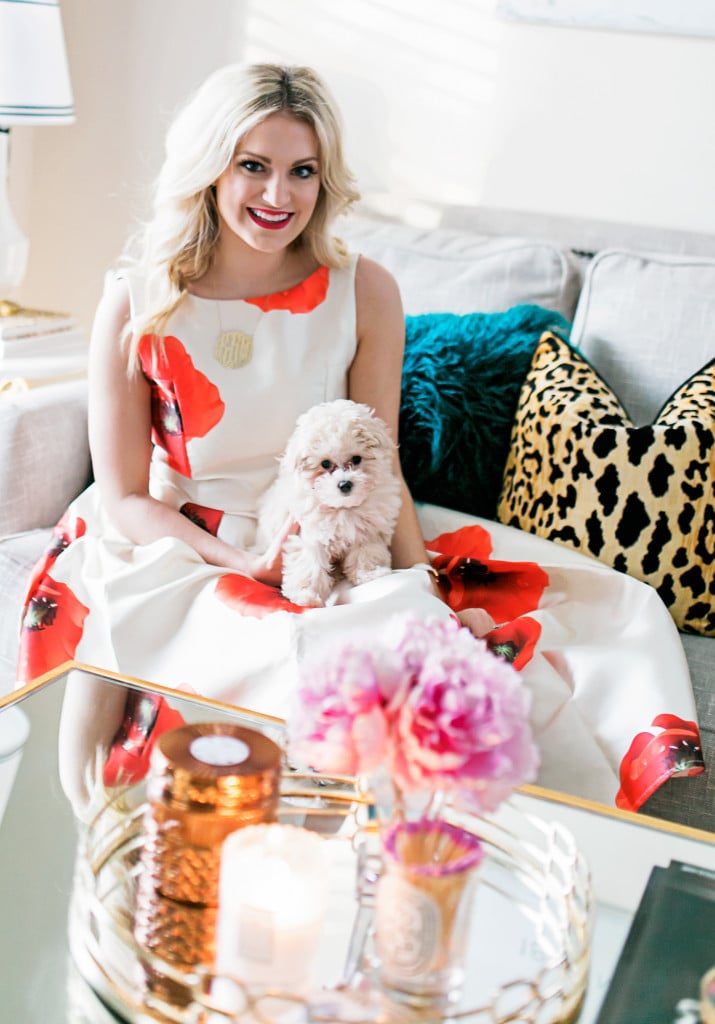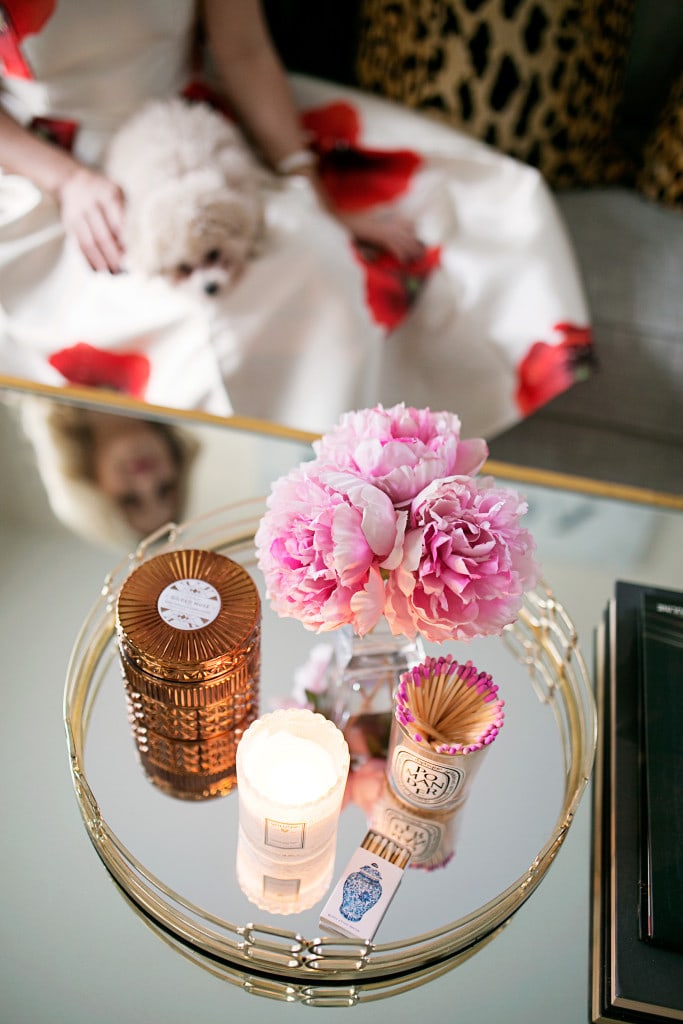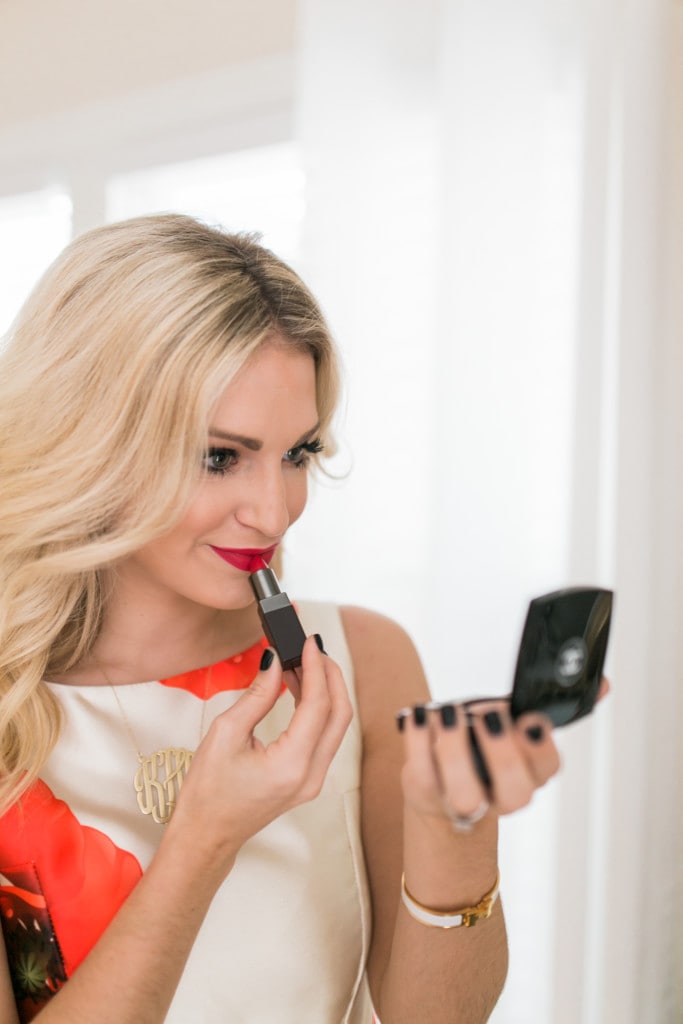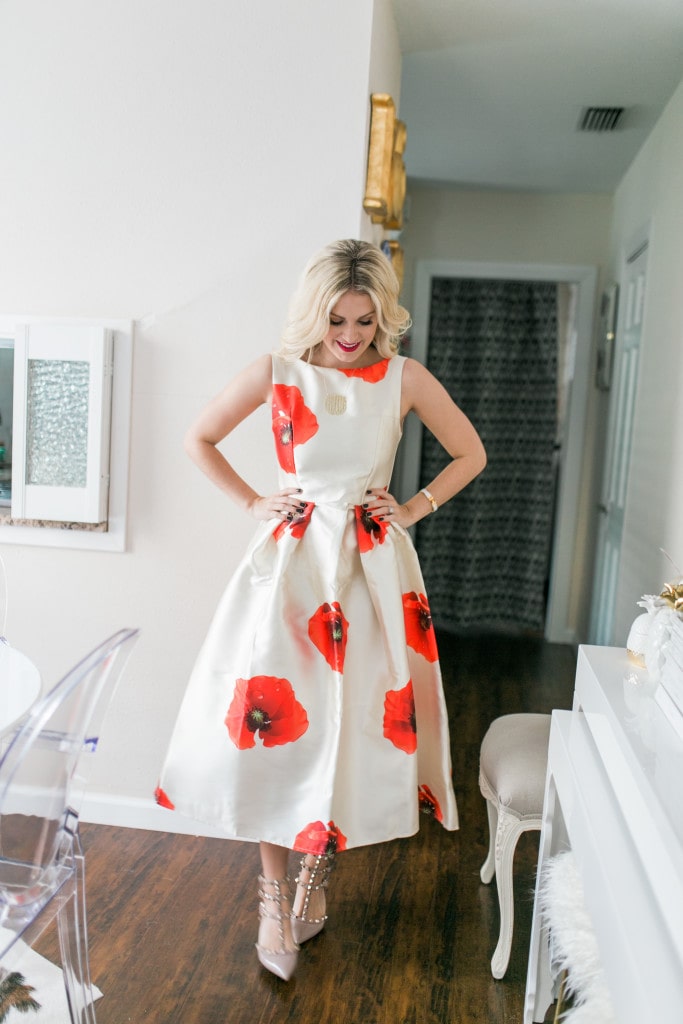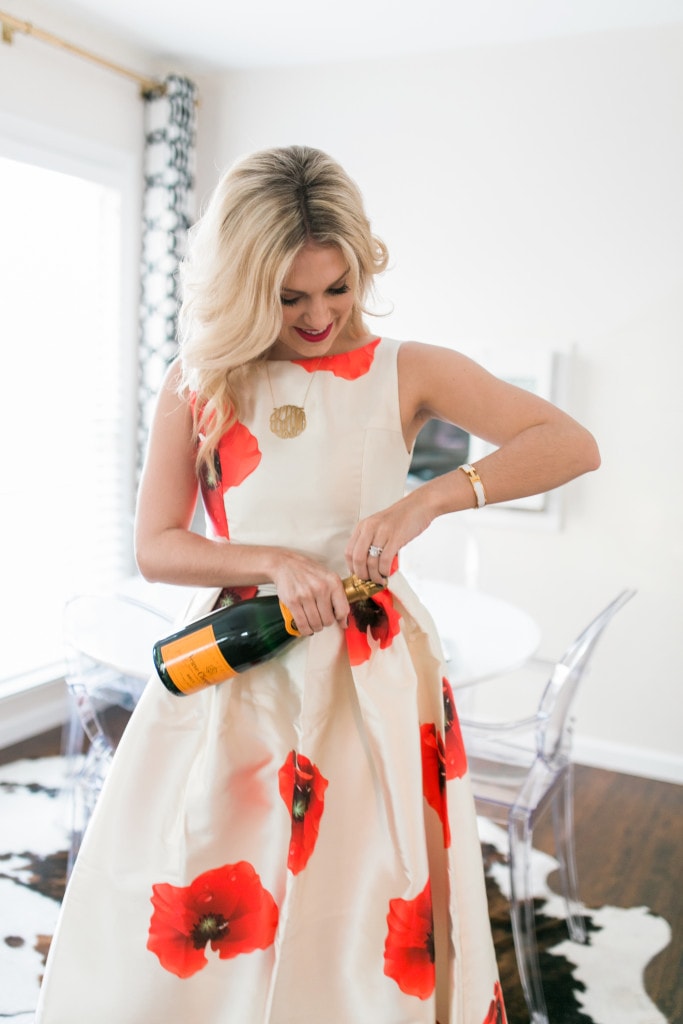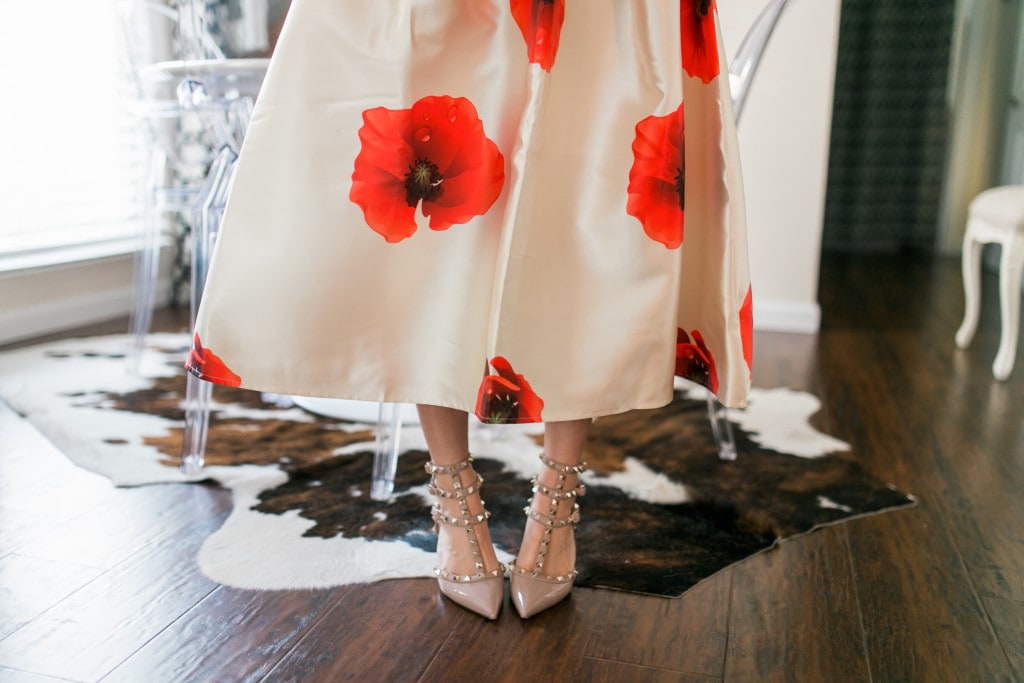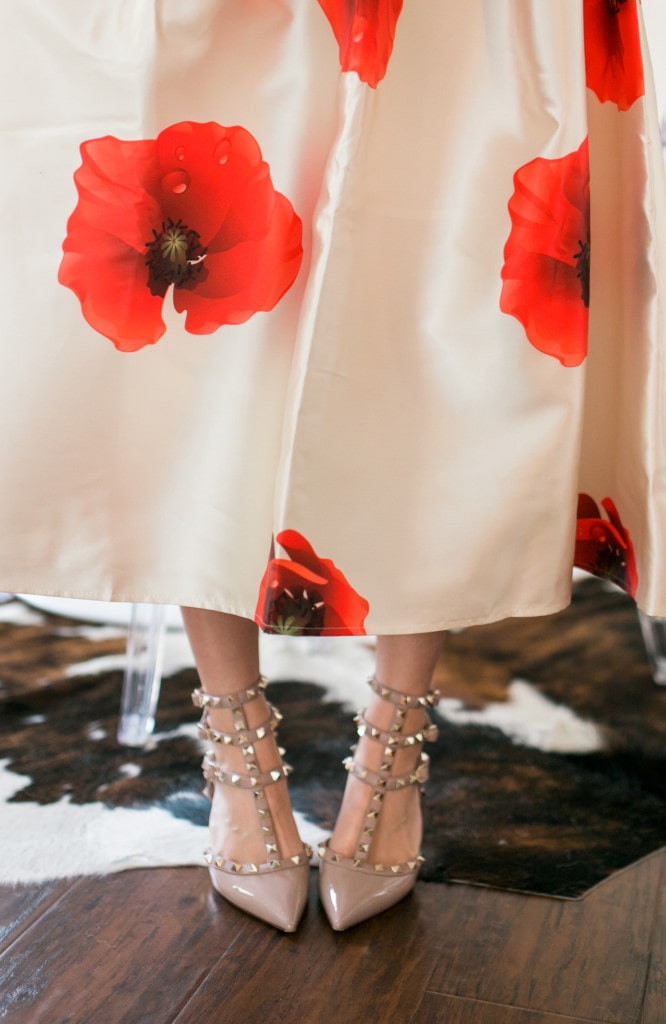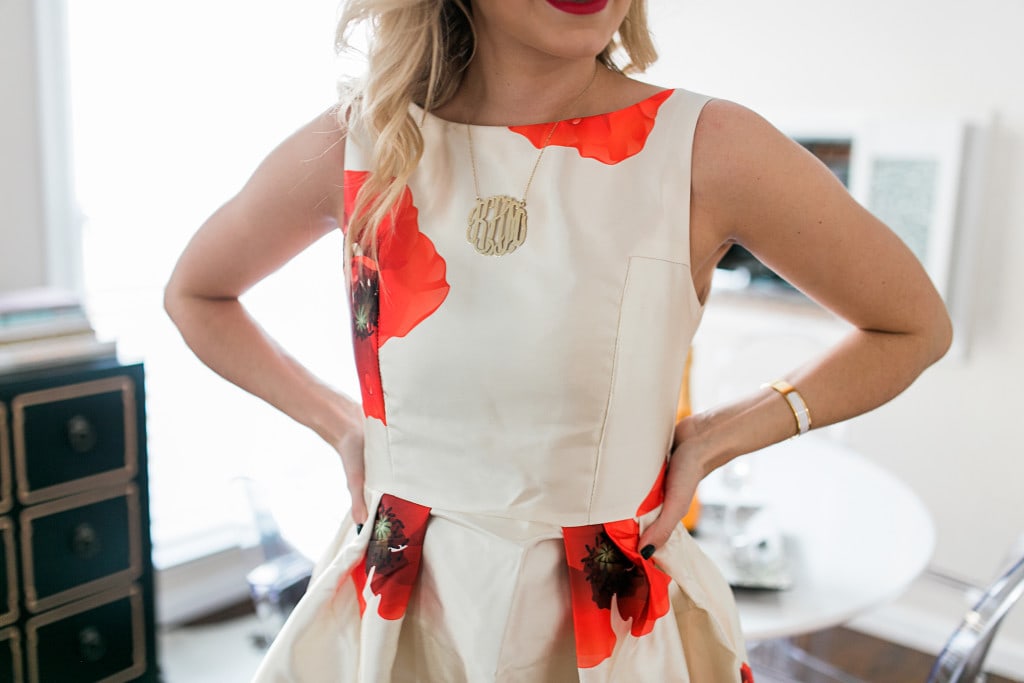 Dress: Chicwish [c/o] | Shoes: Valentino, Similar [Much less expensive!] | Lipstick: Laura Mercier Mon Cherie [c/o] | Cocktail Napkins: Design Darling, Waiting on Martha | Snake Tray: Furbish Studio | Tray: Similar | Coffee Table: Similar, Similar | Candles: Voluspa, Pomander, Gilded Muse | Flowers: One Kings Lane | Leopard Pillows: Furbish Studio | Fuzzy Pillows: Similar | Black and White Pillows: Similar
Photography by: Angie Garcia
---
Not too much has changed while living with a boy! Granted, groceries go a lot quicker and somehow I did 14 loads of laundry last week [I mean, seriously? How?] but I haven't had to stop watching vapid Bravo shows or cut my addiction to leopard print. 😉
But one big change? People are always coming over! Now that we have one really big family [Paul has step parents, step siblings, and all of his family lives here. It makes for such fun holidays because you always see everyone!] people always pop in and out. And one of our best friends, Austin, just moved two streets over. So I have a feeling I'm going to be cooking dinner for 3 more often than not.
The day after we got married, people came over to drop off wedding gifts! haha. So I'm quickly learning how to whip up easy cocktails and cheese boards for our guests! I thought I'd share 4 of my tips for hosting a party quickly [or just anyone in general] in case you run into the same problem.
1. Have an Easy Tray of Cocktails Available
We had to get rid of our bar cart. RIP. We received so many beautiful China pieces and serving pieces I needed a place to store them, so I keep a cabinet stocked while a tray of sparkling water, champs and vodka is on top of it. Just cut up a few limes and people can easily pour champagne or make a cocktail. I also love to keep cute cocktail napkins on hand [Design Darling has my favorite] because it's a bright addition to your spread and they get used quite a bit! I also always stock up on cheese and crackers at the grocery store, because if all else fails I have the two best food groups: carbs and cheese.
2. Keep a Tray of Candles on Your Coffee Table
My favorite hosting trick is to keep a tray and fill it with candles! I used to keep a cake stand in my kitchen filled with 4 candles and when all the scents mix together it was amazing! Try to stay in the same family, lavenders, vanilla, etc. I just light them 5 minutes before and the scent lasts for hours because of all the oils in the air! These are a few of my favorite candles:

3. Find a Go-To Red Lip
My parents of all people have actually brought a party over to our house! We were watching a movie on the couch and they texted and said, "We are at dinner with friends, can y'all whip up dessert and drinks for us? We'll be over in a few." I had on leggings, and not the cute lulu kind and no makeup! They had all been dressed up from a nice dinner, so I threw on jeans and an easy top and a bright red lip to look much more put together. I love MAC Ruby Woo, but it's a heavy matte that can require a face of makeup to balance out. Laura Mercier Mon Cherie is a really easy texture that can glide on whether you have on makeup or no makeup! It also isn't super overpowering [I think because of the creamy texture], while maintaining a beautiful pigmentation. It helps me feel more put together in 30 seconds and I can focus on getting appetizers on the table.
4. Have a Party Dress in your Closet
Ahh the party dress. The ONE thing you never invest in, but always need. When someone has a last minute party I never have time to run to the mall and if I do, I'm always out of luck. Granted, I wouldn't always wear this dress to have people over [it's fancy shmancy! 😉 ] but you get the idea! I'd been wanting this dress for ages and finally added it to my closet! I love the cut of it and the large print. It makes a statement without being fitted, etc. However, you don't want to spend a lot of money on an item that you aren't sure when you'll use next! Find a website with lots of options for less. I share Chicwish a lot on my blog and they are actually known for their well-priced party skirts and dresses like this! You can view all of their options here, or shop my look here. I'll share a few favorites below!

So whether you love having people over on a regular basis, or about to get married and are unsure of what to expect, I hope these tricks help make your home feel welcoming to everyone! I love cleaning my house and keeping it decorated, but my favorite time is when tons of friends are over, wine has spilled, crumbs are on the floor and laughter is in the air. It's when you know you've made an inviting space that people want to spend time in, and there is no better feeling!

Brought to you by Chicwish