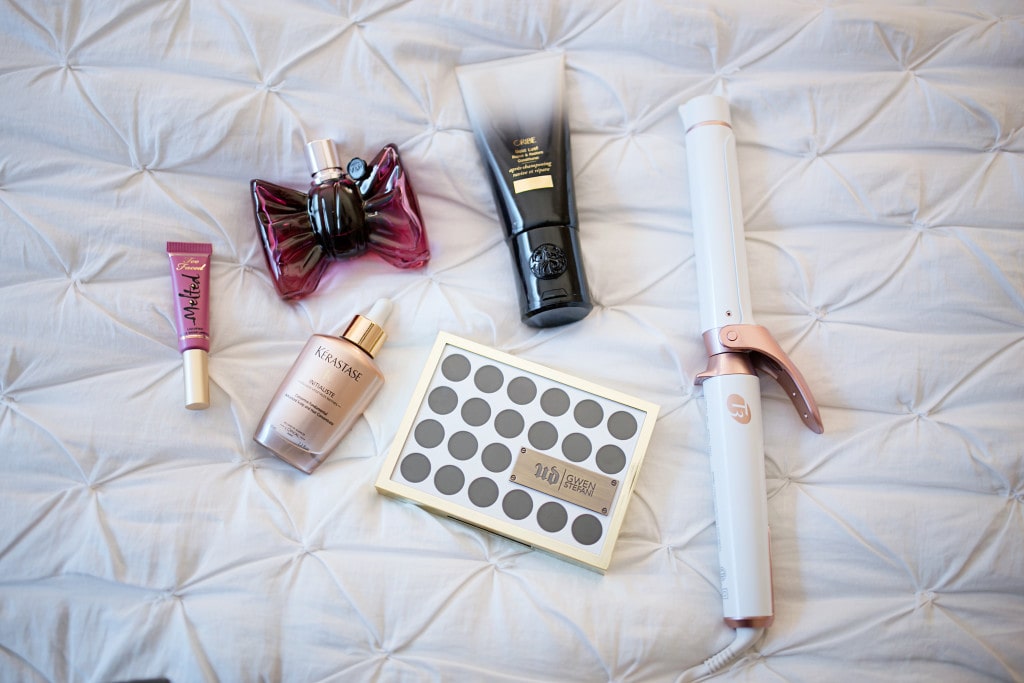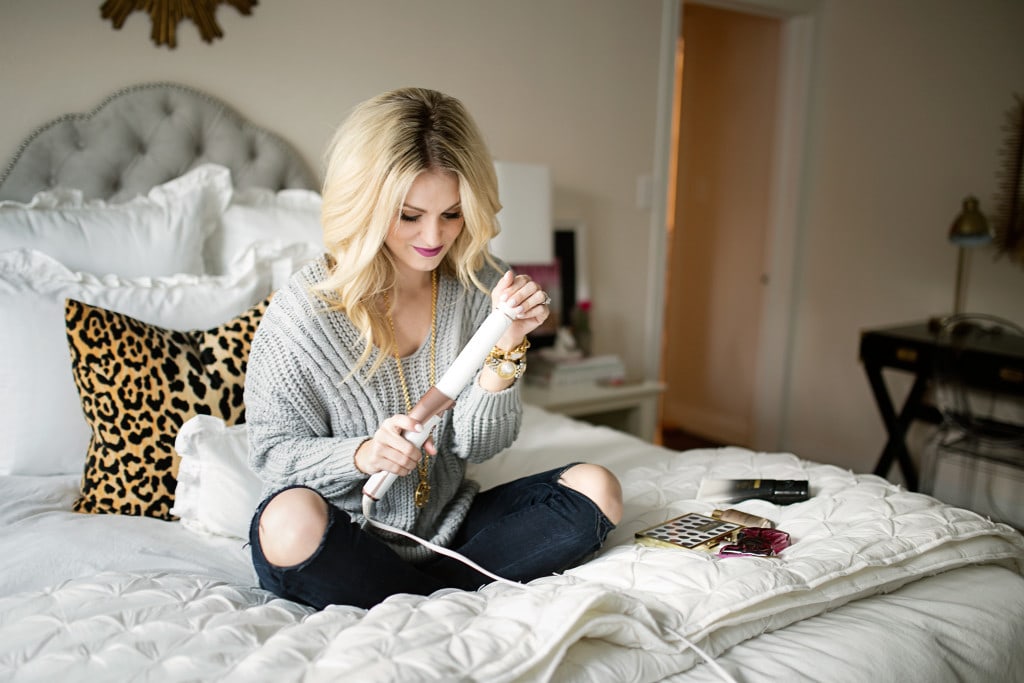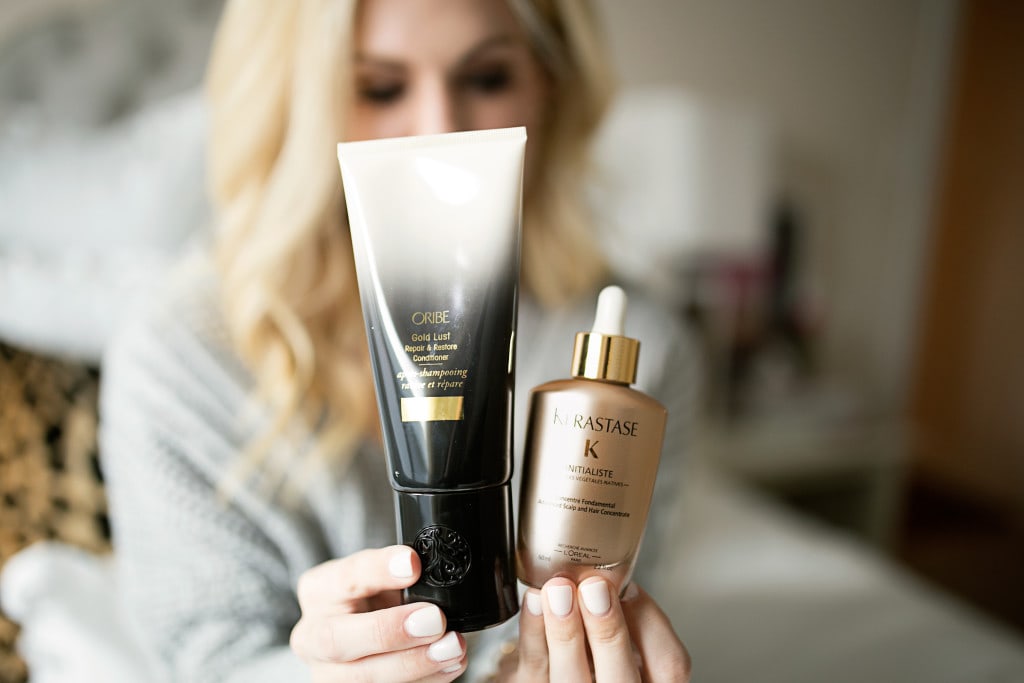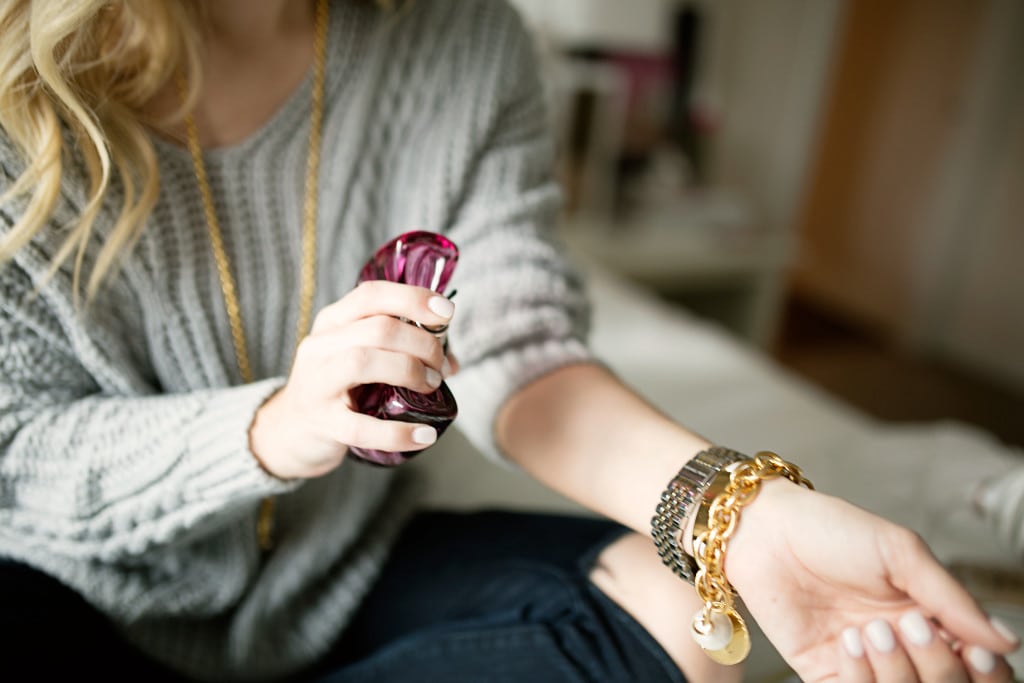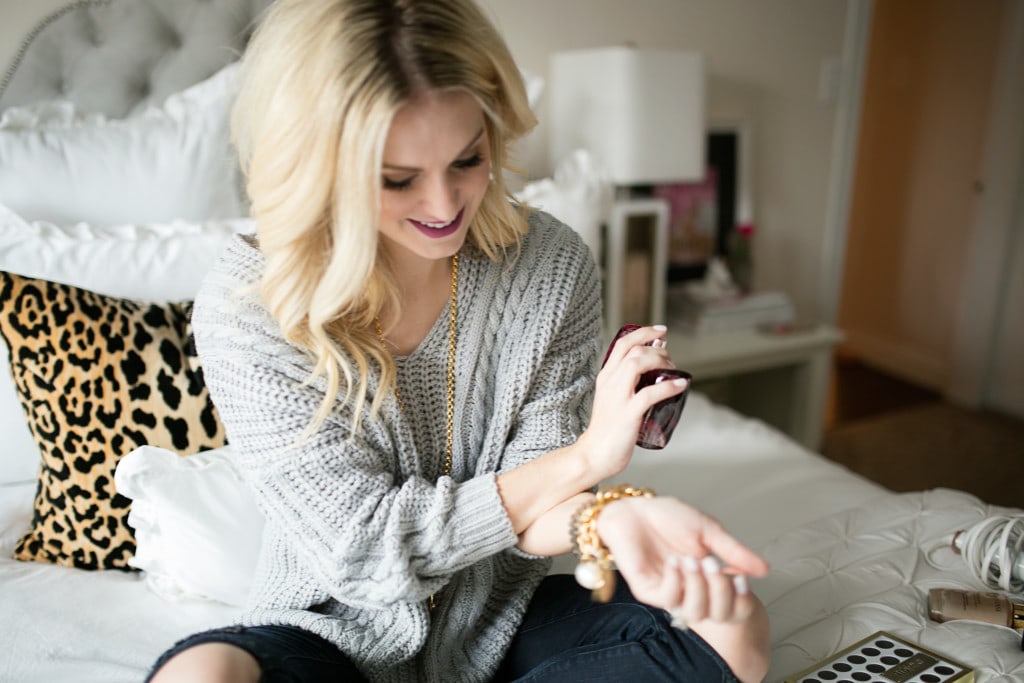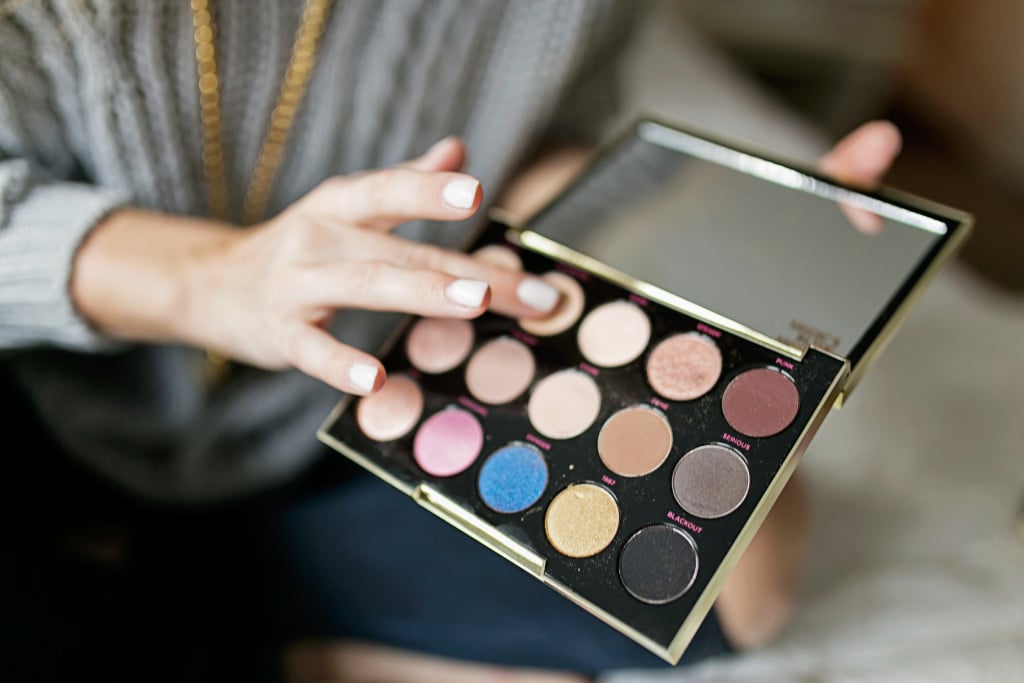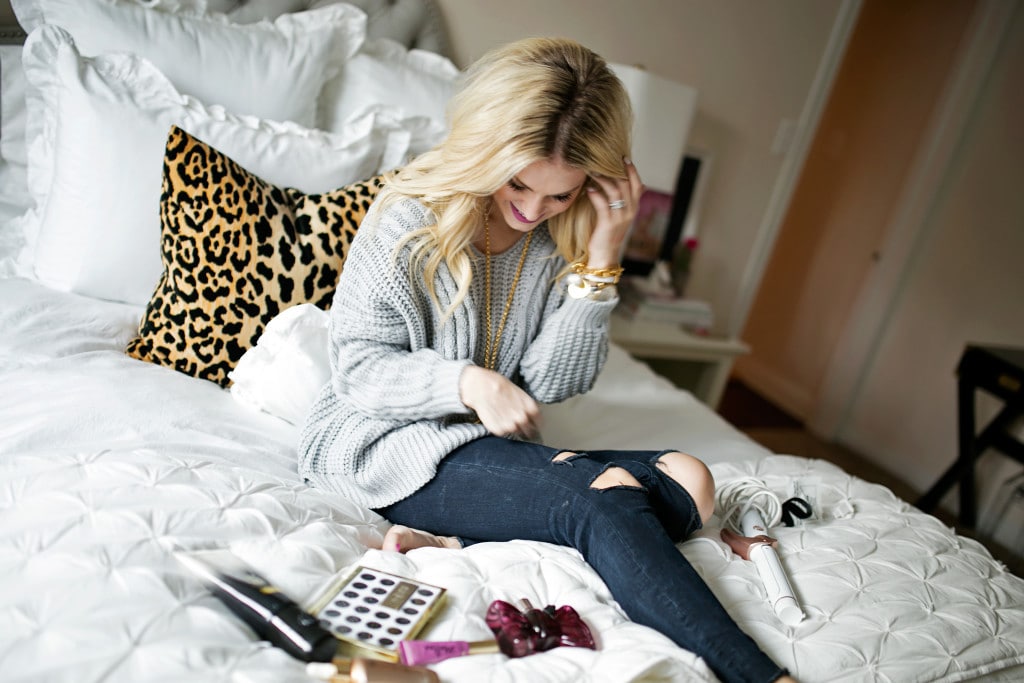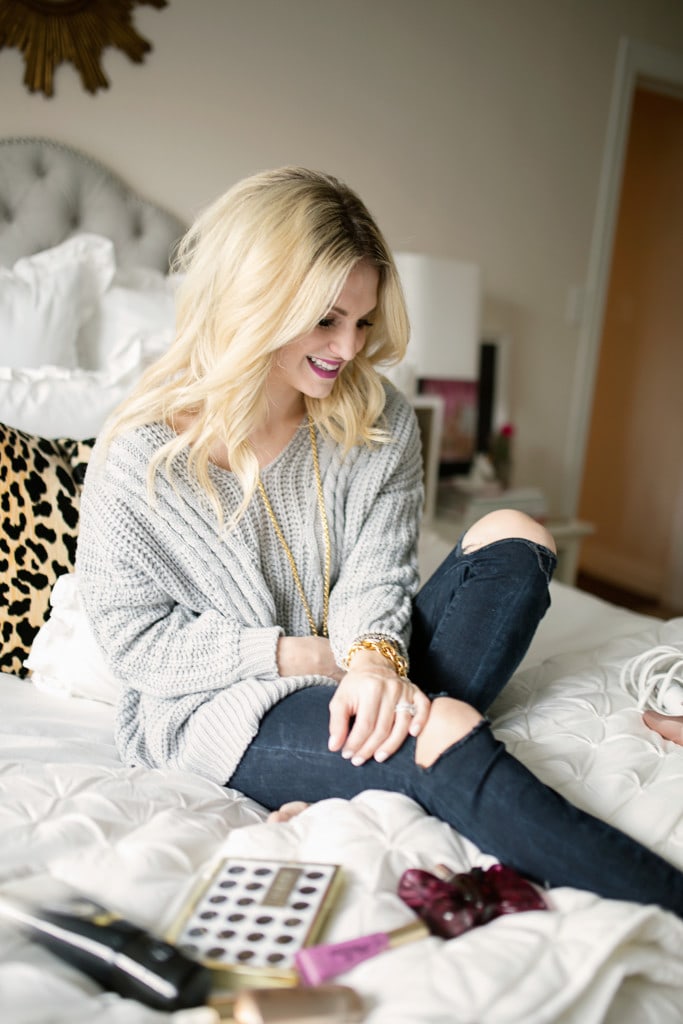 Photography by: Angie Garcia
---
Monthly favorites are back!I haven't done one in a few months and knew I needed to share, since I had a big basket of products piled up! I keep a basket next to my desk of products I test for weeks. If I love them I keep them in there so I remember for a blog post, but I have to go back and forth from my office to my bathroom while getting ready in the morning.
After walking back and forth with some of these for two plus months, I knew a monthly favorites was long overdue. 😉
I dwindled the box down from about 12 products to these seven, so while a few are pricy I truly think they are the ones that are most worth your investment.
I was a loyal girlfriend to the GHD curling iron. But it died on me a few weeks ago. There was no warning. It just started sounding like ET one day making alien noises and wouldn't turn on. I refused to be "that girl" at Sephora wanting a refund after I had used it for 400 plus days, so I knew I needed to just bite the bullet and get a new one. I wanted to test out the T3 for y'all after getting lots of questions about the differences. I love this one for lasting curls.
Differences:
GHD: The clamp isn't heavy and it took some getting used to with the T3. The first time I tried the T3 I was worried I'd return it because the clamp felt like it would pull my hair out. However, my GHD wouldn't always keep my curls every time I slept. I felt like I was having to touch up more often.
T3: It comes with a 1.25″ barrel, and I wish it standard came with a 1″. I can purchase that attachment, but I haven't yet. But, I'm starting to think a 1.25″ barrel might even be better because I've gotten way more compliments with that than I ever did with a 1″. #GoFigure. I also learned that the clamp doesn't pull my hair out at all and just smooths it more so the curl lasts even after you sleep. The curls are bigger, but definitely smoother. With the GHD sometimes I'd have to recurl a few pieces and I don't with the T3.
So both are amazing, I just say T3 for big, bouncy curls that last. GHD for tighter curls that may not stay as long.
I love Too Faced Melted products! They go on so smoothly and you don't even have to pay attention. I picked up Melted Fig and love the dark fall tone [this is what is pictured in this shoot.] It's a really pretty winter shade that isn't as intense at MAC Rebel. However, you HAVE to use a lipliner. It bleeds really bad if you don't. I use UD Bittersweet liner, and it is the perfect color to pair with it. This also melts into the most beautiful stain. I feel like with my complexion it is really hard to find a beautiful berry stain. After a few hours and a meal later, this Melted Fig leaves a stain on my lips that makes it seriously hard to wash my makeup off at night. I just think, "Wait, but I want my lips to always look like this!" haha. And normally once my lipstick fades I hate it.
This smells like a really expensive macaron. And I'll smell like that any day. But seriously, it's just a sweet perfume that takes all the good notes of a Bath & Body Works Body Spray [think caramel, peach, blackcurrant] and mixes it with blossom notes to make it smell, well, less cheap. That isn't a lovely way to describe something, but it's honest. It's also a perfume you have to tell yourself to not be aggressive with. I'll smell it and fall in love all over again and have to remind myself that 6 pumps is a bit much.
I read online this was like latisse for your hair. And I firmly believe in lash serums. But, I don't believe in Kerastase. I've had the treatments. I've had the shampoos. I've had the lotions. Each time I think, "Ehhh, this is overpriced." And while I know a lot of cheaper shampoos give you "fake" good results early on [they are just coating your hair with wax] and it takes awhile for a good shampoo to fix your hair, I still think something this expensive should have instant results.
But I couldn't get over the "latisse for your hair" comparison. I've been using it for almost a month, and my biggest notice is just how soft and full your hair seems. I went to lunch with my hair dresser the other day and she asked me what I was using because she loved my hair. It makes my hair noticeably more manageable, so while it hasn't been long enough to notice a change in growth, my hair stays smoother much longer. You pump it on your scalp and the purpose is to care for your scalp and new hair [which makes complete sense because the hair you see is already damaged]. But I feel like while making my scalp healthy, it is allowing my entire head of hair to behave. I'm not sure the science [clearly], but whatever it is is making my hair a lot smoother, so I'll love this Kerastaste product forever. I just will still judge the shampoo.
Paul got me this palette for Christmas, and I'm so impressed by how the eyeshadows feel on your lids. It's like pigmented cashmere. At first, I didn't think I'd even bat an eye at the palette, because I don't like the Naked palettes. I find them really promoted and overrated. But these formulas are all much softer and each one blends perfectly together. Whether I use the blue to blend out my shadow or the dark copper to cut my crease, this palette has the perfect juxtaposition of pigmentation and softness.
In simple terms: you get lots of pigment without looking unnatural, like you have gold foil eyelids and you don't have to spend 20 seconds blending the color out.
6. Oribe Gold Lust Repair and Restore Conditioner
If you don't want to spend money on your conditioner, mix a drop of this each time you condition. It will last for months but Oribe works to make your hair incredibly healthy, so you get long term results without spending a fortune on something you go through quickly! My hair feels like silk when I get out of the shower each time I use this and it air dries feeling like a toddler's hair!
7. Off The Shoulder Chicwish Sweater
I get a little stressed with shopping for winter clothing. I honestly think I have only purchased 5 sweaters this season [which is normal, but being a fashion blogger it is technically a sin]. I don't want to spend $200 [but I really like the $200 sweaters] and then I don't want to spend $40 and it wrinkle and get holes in it and fit boxy at the bottom. I want cable knit, but I don't want a preppy style. I want off the shoulder, but I don't want Ashley Olsen. This is a Chicwish sweater I tried a few weeks ago and thought it really brought all those wants together. It's a good price point while keeping you warm, too! I wore it in Austin last weekend a few times and y'all kept screenshotting me on snapchat! So I assumed it was the sweater and wanted to share it with you all. It also has a really nice front slit so you can either front tuck it or wear with leggings [sometimes sweaters can only be styled one way].
If I go on any longer I'll start talking about the other products that didn't make it out of the basket for this post, and these are enough! haha.
Did you have any favorites this month?!